Last Updated on January 29, 2022
List of 18 of the Very BEST Keto Mug Cake Recipes!
Here you will find 18 of the best keto mug cakes and recipes for low-carb keto-friendly desserts! Mug Cakes are quick keto dessert recipes you can have ready in minutes.
Listotic viewers go absolutely crazy over our 3 ingredient peanut butter mug cake and 2-minute microwave brownie. But with so many people asking for low-carb dessert options it was time to get this best list of keto mug cake recipes together.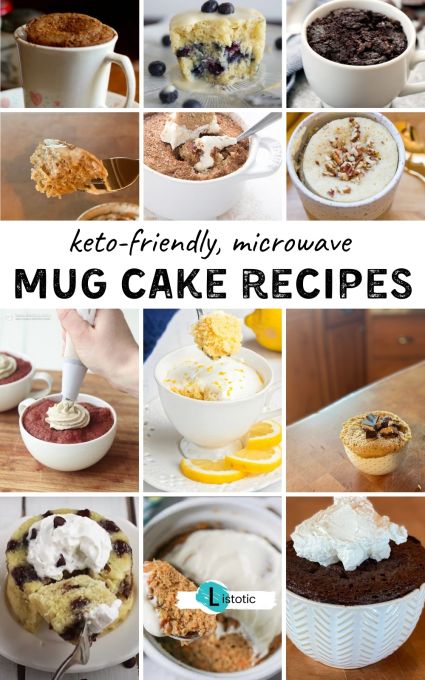 Do mug cakes work?
Yes! absolutely do! The key is not to overtake your mug cake. The quick cooking action of the microwave might make you think you didn't cook your cake long enough, but as long as the center isn't completely just batter. chances are your mug cake is done. Most of these recipes call for an egg and a little baking soda to keep the cake fluffy and moist. Not only do mug cakes work, they are usually ready in 90 seconds or less. If you haven't tried mug cakes before, you are going to want to work your way down this list of 18 Keto mug cake recipes.
See how to make them all on this Keto Mug Cake Video
/
If you like cinnamon rolls, cinnamon cake, and basically anything cinnamon, you are going to enjoy this Cinnamon Keto Mug Cake Recipe. With a heaping teaspoon of cinnamon, this Keto cinnamon roll mug cake for one is a sweet breakfast or after-dinner dessert.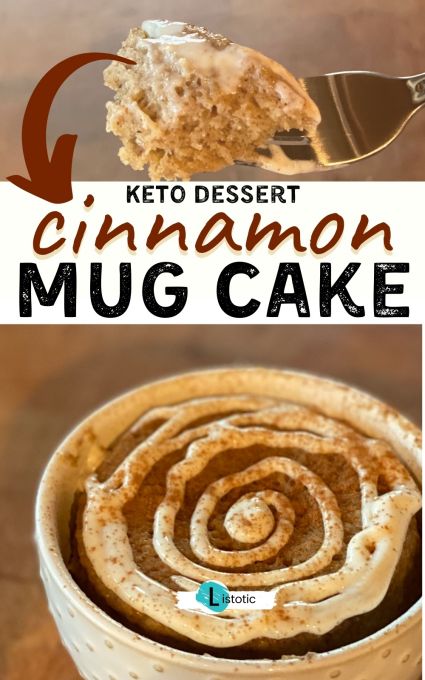 Sometimes just one piece of cheesecake is all you are craving. This recipe checks off those cravings for cheesecake in just a simple microwave minute. You can make this super quick Cheesecake Keto Mug Cake Recipe and have it in your refrigerator ready to enjoy after a long day at work. What I love the most is that you can even add an almond flour crust so you get all the textures of a cheesecake you love but without the carbs!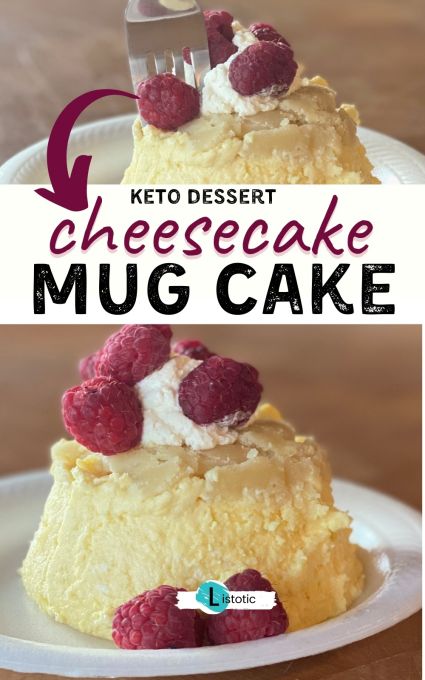 If you want a fluffy chocolate cake this recipe can be ready to eat in 2 minutes! I would say having a warm chocolate cake that quick is a luxury you weren't expecting when you entered adulthood. No worries this is a low-carb keto chocolate cake with chocolate chips. It's my all-time favorite of the keto mug cakes!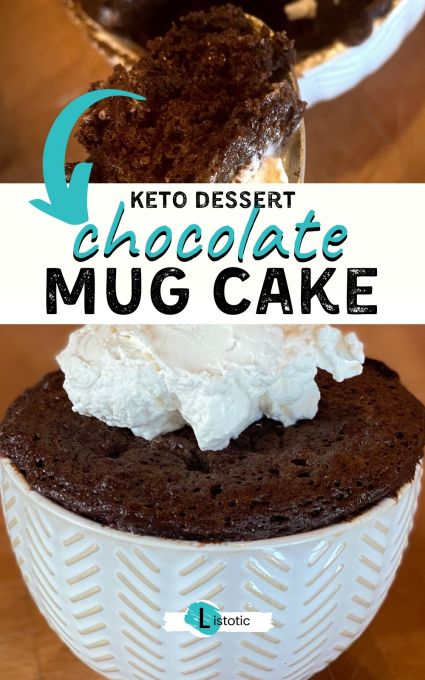 4. Banana Bread
This is another option of keto mug cakes that could be used for breakfast or dessert. Banana bread mug cake has all the homemade banana bread comfortss. My kids and I absolutely love banana bread any time of day and this paleo-friendly recipe is a quick fix for afternoon treats or a sweet weekend breakfast. Get the recipe and tips by clicking over to The Roasted Root Blog.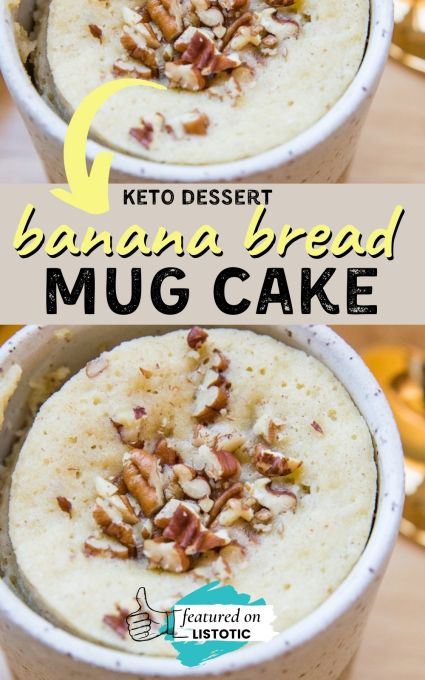 5. Lemon
I think having mug cakes made up for small parties is a cozy yet classy touch! I could see the lemon mug cake being a hit for a small bridal shower celebration or a Mother's Day brunch. The frosting on this keto lemon mug cake is optional but in my opinion, it is a must! Click over to see the recipe on Low Carb Yum.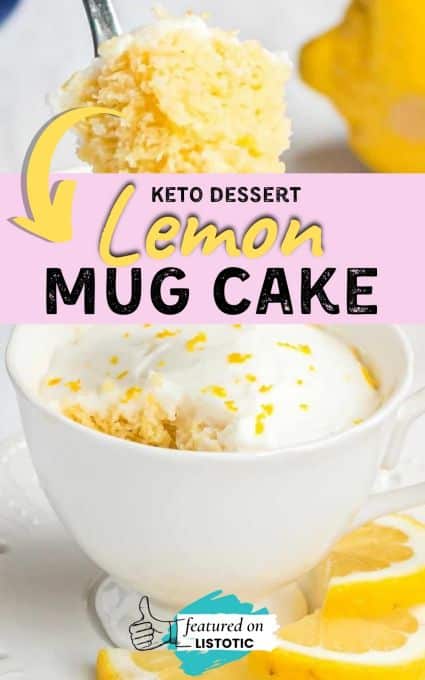 So, in my eyes, it's not peanut butter and jelly that go together… it's for sure peanut butter and chocolate! This peanut butter keto mug cake can be made with any sort of nut butter you prefer, so it is a versatile recipe. You can even add some keto-friendly dark chocolate chips or top it off with some low-carb peanut butter cups. Yep, I'm totally drooling over this mouth-watering keto dessert. Get the recipe for peanut butter keto mug cake right here on Listotic.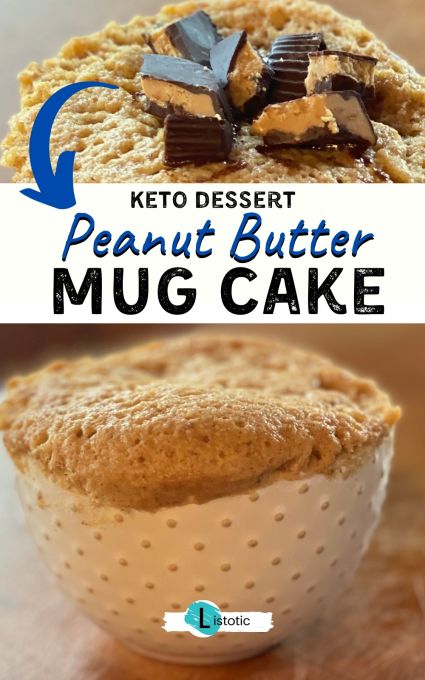 7. Vanilla
Made with coconut flour and almost flour this low-carb vanilla keto mug cake hits the spot when it comes to fresh homemade vanilla cake. The absolute best part about this vanilla cake recipe (besides the fact it is done in less than 2 minutes!) is you can top it off however you wish: berries, whipped cream, chocolate chips sprinkles, syrup, etc… Really, you can't go wrong with this classic vanilla cake in a mug. Get the super-easy instructions here on Listotic.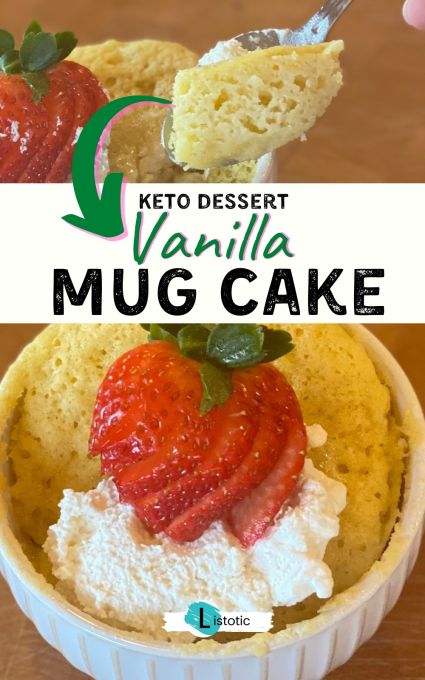 8. Chocolate Chip
Chocolate chip mug cakes remind me of my childhood easy bake oven. It's the quick keto dessert with a warm homemade taste you can make yourself in just a few minutes… without mom's help. I would say this recipe is a great keto-friendly solution when you are missing Mom's classic chocolate chip cookies. Get this super easy recipe here on the sponsored blog post by Choc Zero a low-carb chocolate chip.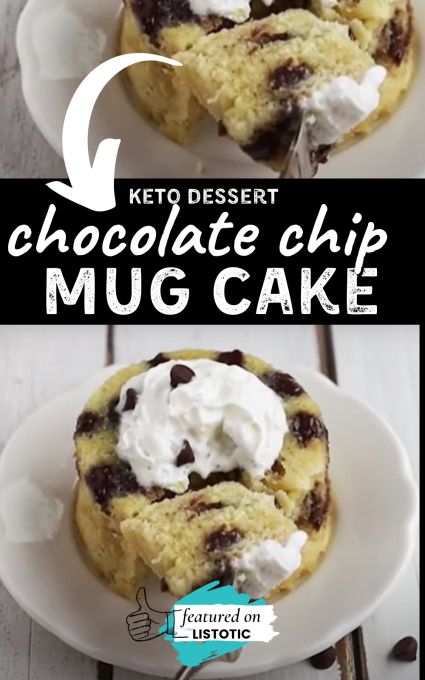 9. Funfetti
This funfetti cake is the perfect quick keto dessert to whip up for a birthday celebration. This funfetti cake is made with stoka sprinkles. It's a low-carb ketogenic-friendly birthday cake with all the fun. See how to make this funfetti keto birthday cake on Listotic.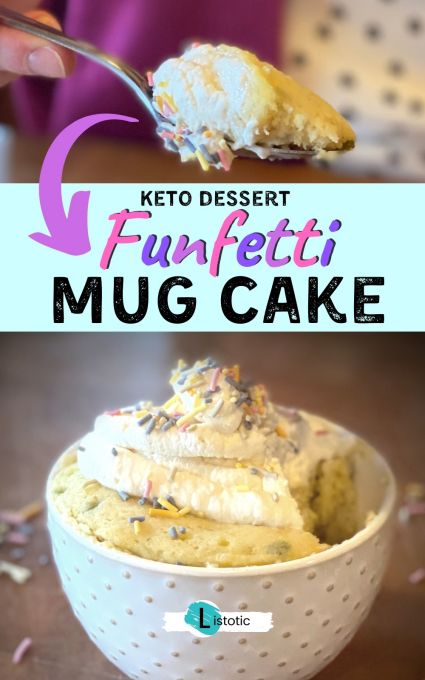 That was only half of the Best keto dessert recipes- keep scrolling!
So, are limes keto-friendly? But of course! While oranges and orange juice might not be the most ketogenic diet-friendly citruses, limes are! So, feel free to make your keto desserts with lime juice, it's only on the approved list! Be sure to add this key lime cheese cake mug cake to your easy keto desserts approved list too! Get the step-by-step instructions on Listotic.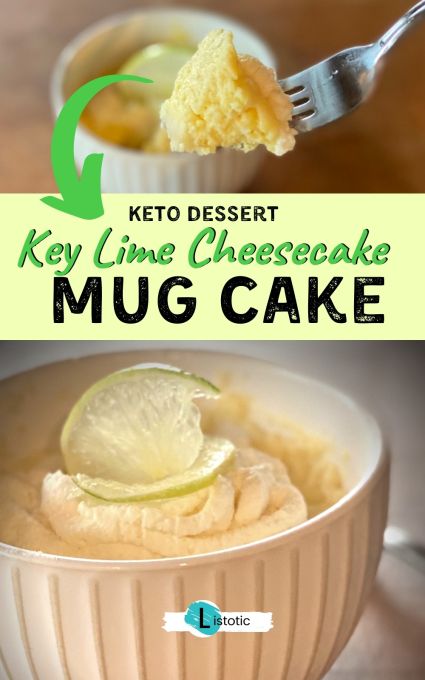 11. Gingerbread
Spice it up with this Gingerbread mug cake. How comforting to whip this up on a winter afternoon and serve it with coffee. Scratch that… this recipe actually calls for coffee in the ingredients list! Two for one mug cake and coffee… sounds like breakfast to me. See the full recipe and tips on Lowcarb-ology.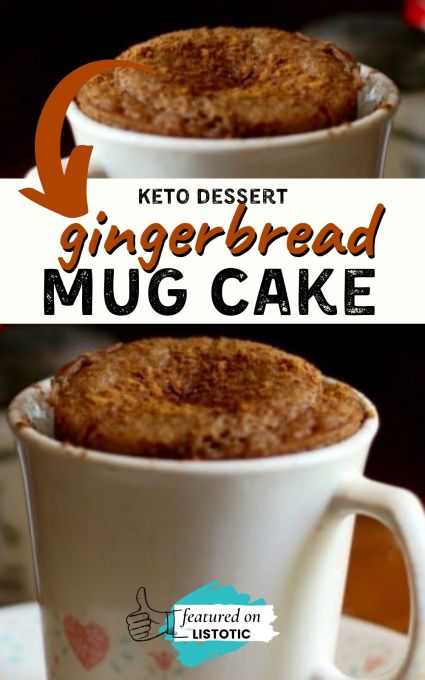 12. Blueberry
I'm a sucker for sweet and tart blueberry pastries. This mug cake looked exactly like a blueberry muffin to me. With only 4 net grams of carbs, this looks like a winning blueberry breakfast or quick keto dessert for a low-carb diet. See how to make this quick keto blueberry mug cake at the recipe site Delightfully Low Carb.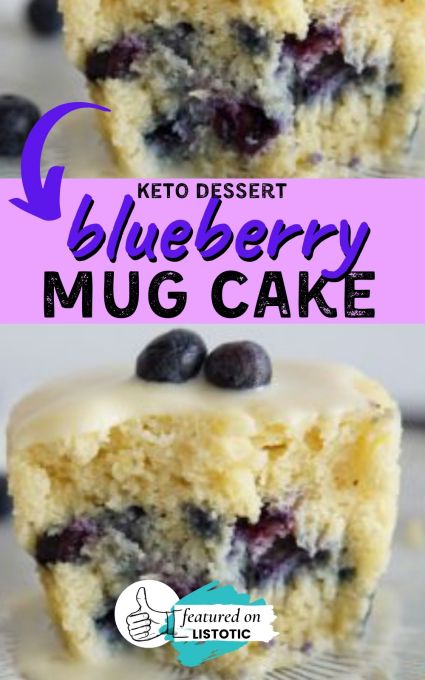 13. Carrot
First off, I want to say Carrot mug cake as a keto dessert recipe wasn't something I've been craving but when I came across this healthy mug carrot cake that is low carb too I really did a double-take. Because this mug cake looks so delicious with the cream cheese frosting I felt it needed to be on this list… and sampled for sure! Get this delicious recipe over at My Life Cookbook.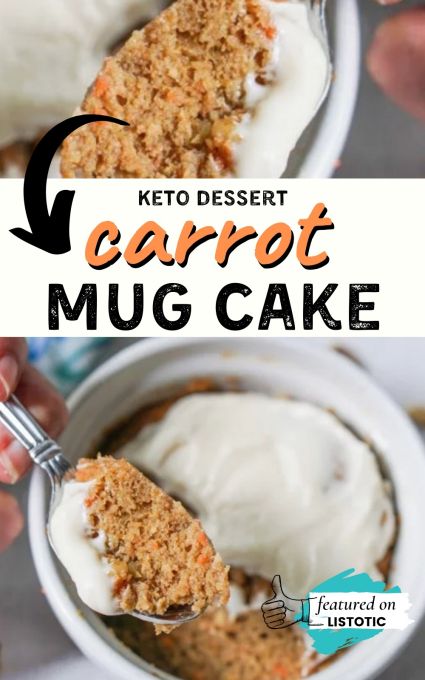 14. Pumpkin
Once we hit the month of October everyone is "pumpkin spice everything!" right? Well, I have a pretty firm stance on the fact that we can not limit ourselves to pumpkin spice only in the fall. It's a crime. Pumpkin spice deserves its spotlight year-round in my opinion. There is a good chance if you have pumpkin puree in your cupboard then you also have all the ingredients to whip up this pumpkin mug cake keto dessert too. Get the recipe on The Big Man's World.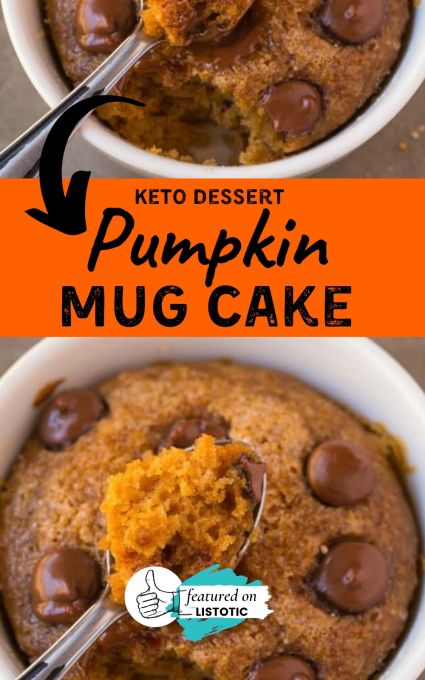 15. Red Velvet
Of all the keto mug cakes, I would call this the "fanciest" even including the cheesecake options. Mostly because a red velvet cake is a choice someone might make if they like chocolate but they don't want chocolate. Flavors are similar to chocolate in red velvet but with a more vanilla overtone. The red color comes from beetroot. It's a fancy dessert perfect for celebrations and especially Valentine's Day easy keto desserts. Surprisingly this low-carb red velvet mug cake is super simple to make, yet it will impress anyone who is lucky enough to enjoy it. Get the step-by-step instructions on the blog for Keto Diet.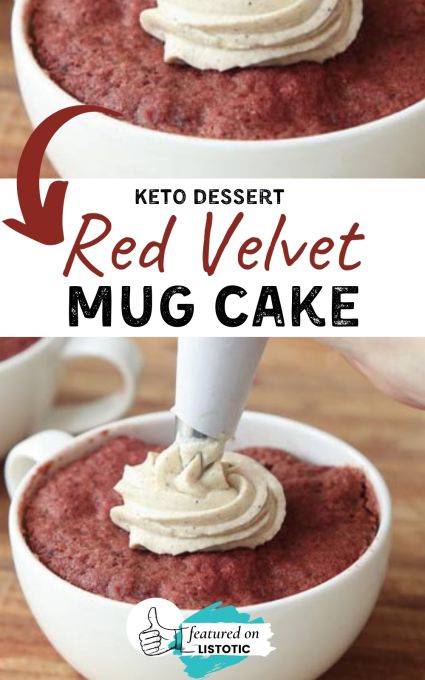 16. Snickerdoodle
This is weird to say but I had no idea what a snickerdoodle cookie was until I met my in-laws. Turns out, I wish I had known about it sooner that is for sure. Snickerdoodle cookies are basically cinnamon sugar cookies. Many times they are crispy but my favorites are when they are slightly chewy… sort of like a sugar cookie, everyone has their own preference on if they want it to be crispy or soft. Since I love a soft snickerdoodle this gooey mug of cinnamon snickerdoodle goodness is the ticket! See the full recipe and lots of great mug cake tips on the blog site All Day I Dream About Food.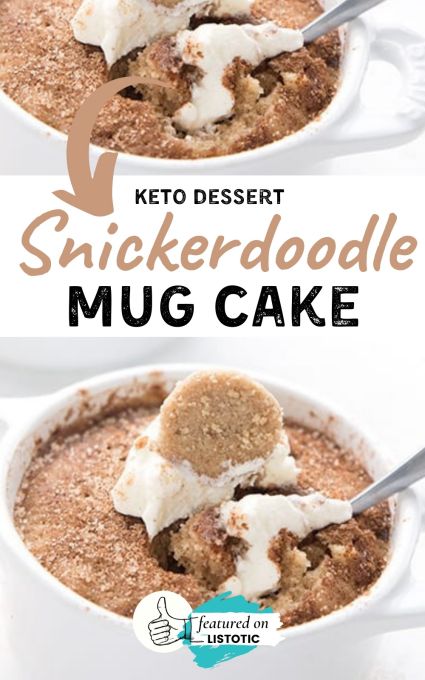 17. Brownie
The keto brownie in a mug is a quick keto dessert every chocolate lover will enjoy. I'll even go as far as to say that even if you arent' huge on chocolate the average person can't resist a brownie once in a while. Good thing this recipe is made for one because it would be deadly if it was an entire pan sitting on the counter at my house. See this chocolaty recipe on Kirbie's Cravings.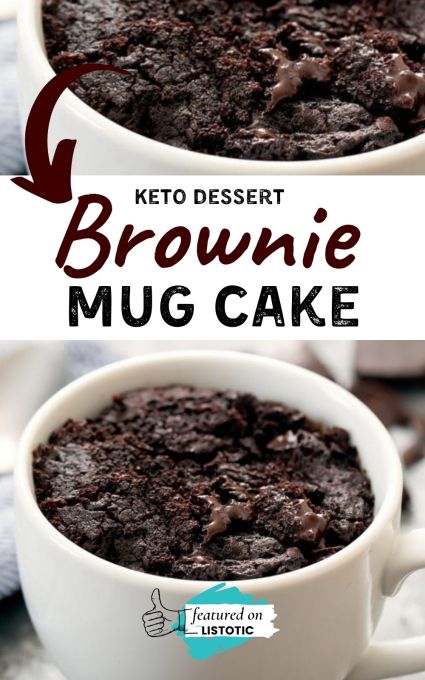 18. Carmel Apple
Finally a really sweet keto dessert, Carmel apple mug cake. Just because this delicious photo shows ice cream on top doesn't mean it needs it. Melissa from I breathe I'm hungry food blog pinky swears it is equally as good with or without the ice cream… that might need to be something we test out just to be sure. What a delicious-looking caramel apple mug cake to enjoy by yourself or whip up for the family to enjoy together. See the full recipe over on the I Breath I'm Hungry food blog.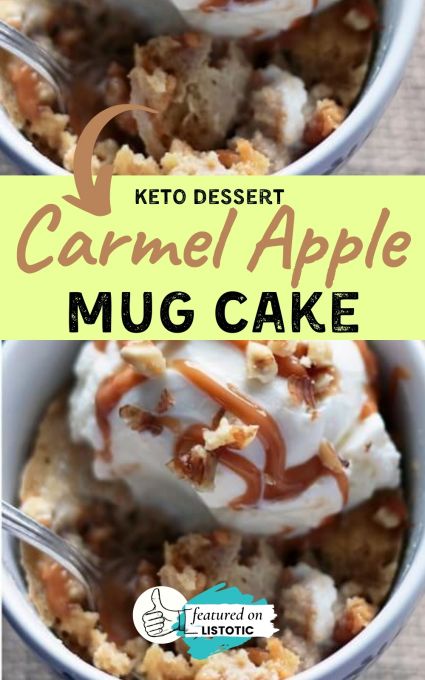 So, after all, 18 mug cake recipes are you still wonder if mug cakes really work? I hope you found a few that not only work but also you'll be coming back to because you saved it on your Sweet Keto Dessert Pinterest Board.