Last Updated on October 7, 2021
Single serving microwave keto vanilla mug cake with whipped cream and berries!
This Keto vanilla mug cake is a versatile dessert. Having an after-dinner dessert is a must for all dinner parties, holidays, and parties. But what if you or your guests are on a Keto diet or following a sugar-free, gluten-free meal plan? This keto vanilla mug cake can be your go-to dessert for any occasion or to enjoy by yourself at home! Read on for easy step by step instructions to this super simple mug cake recipe.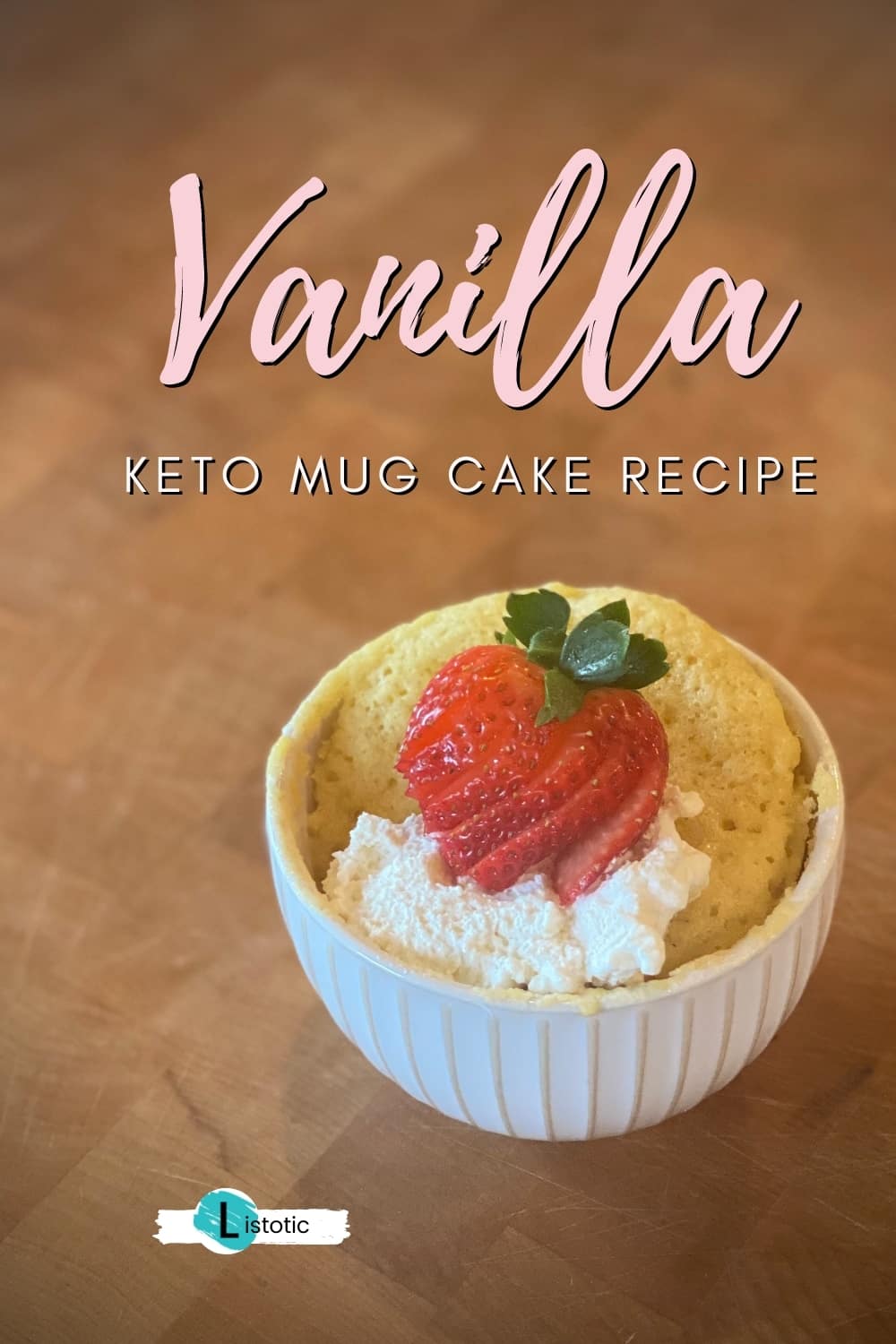 How do you make a mug cake from scratch?
The key to making a mug cake from scratch is actually pretty simple. You just want to make sure you have the right combination of wet and dry ingredients. In this vanilla mug cake recipe, the dry ingredients are almond flour, coconut flour, baking soda, and salt. The butter, egg and vanilla mixed with the sugar is where you will start with your wet ingredients. I don't need to get into a chemistry lesson here but this the basis of making any cake from scratch.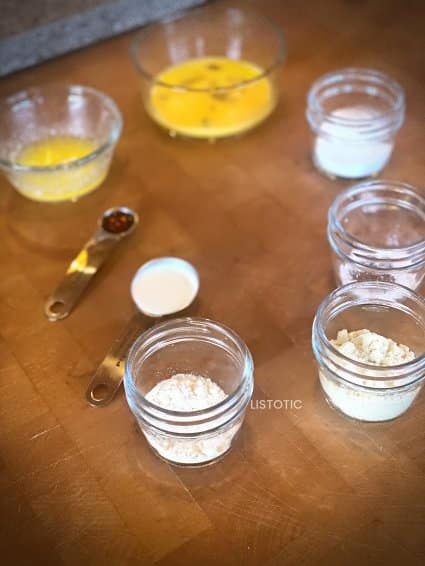 How do I find ketogenic diet-friendly ingredients?
All the ingredients for this recipe can be found in the Thrive Market
. If you haven't heard of the Thrive Market before it's definitely worth the look. Thrive has all the ketogenic friendly foods you need to make recipes like this keto mug cake and more. Subscriptions are cheaper then most groceries pick up minimums plus it gets delivered directly to your door (Note: you will have to pay a monthly fee of around $10/mo). Click here to see if Thrive Market might be the right place for you to purchase the Ketogenic products you already like to buy. Plus, they deliver it to your door!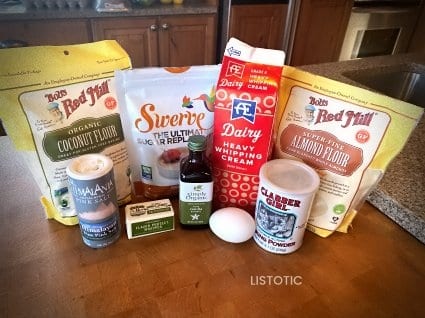 Step by step instructions for vanilla keto mug cake
Ingredients
2 tablespoons melted butter
1 tablespoon heavy whipping cream
½ teaspoon vanilla
1 whole egg (beaten first)
2 tablespoons swerve or xylitol
Pinch of salt
2 tablespoons almond flour
1 tablespoon coconut flour
½ teaspoon baking powder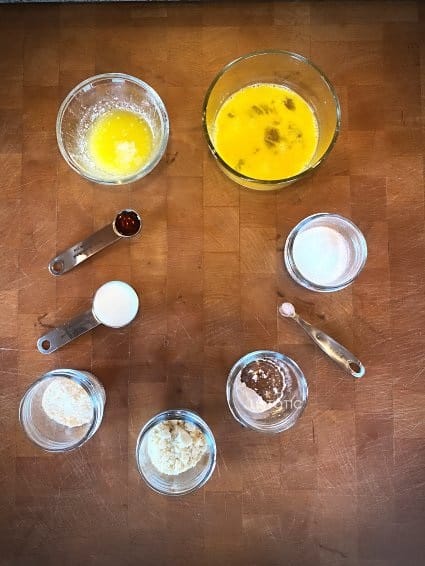 Unsweetened Whipped Cream Ingredients
¾ heavy whipping cream
1 teaspoon vanilla
Vanilla Mug Cake Instructions/Steps
Firstly, melt your butter. It is best to put the microwave on a lower power to avoid melting the butter too quickly.
Secondly, whisk your egg
Next, mix your egg, butter, heavy whipping cream, and vanilla.
Stir in the swerve, salt, almond flour, coconut flour, and baking powder. Mix until everything is incorporated scraping the sides as you mix.
Microwave on full power for 1 minute and 15 seconds. Let it sit 1-2 minutes after it is done cooking.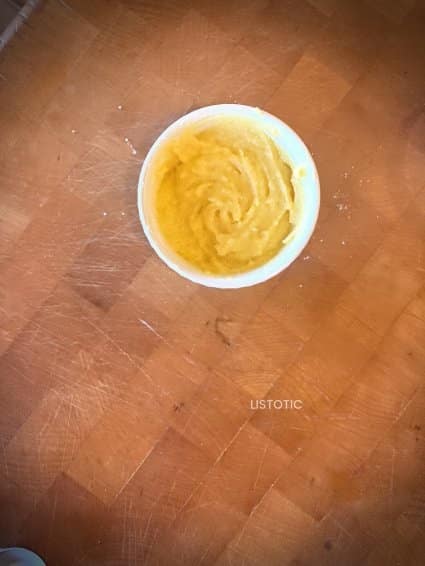 Finally, let your keto dessert cool or serve it warm!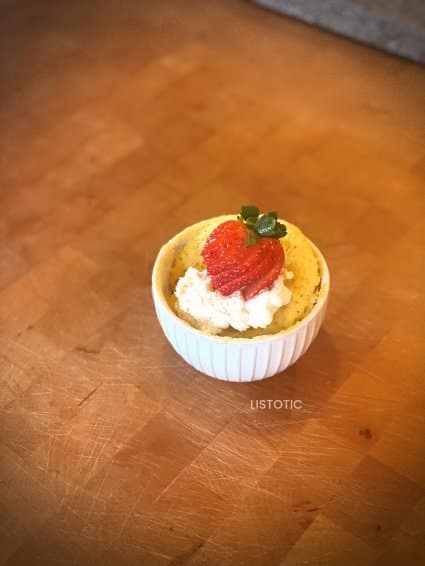 So, you might be looking for a little something to add on top of your vanilla cake in a mug. For that, I would recommend some sugar-free whipped topping with berries. Follow the simple instructions below.
Unsweetened Whipped Cream Instructions
Place heavy whipping cream and vanilla in mixing bowl.
Using an electronic mixer mix on high for several minutes until the liquid gets thick and forms peaks.
Spoon the whipped cream on top of your keto cake.
Keep refrigerated 1-2 days
NOTES: If you prefer your whipped cream sweeter you can add sweetener prior to mixing. But if you are adding berries, I don't find it necessary.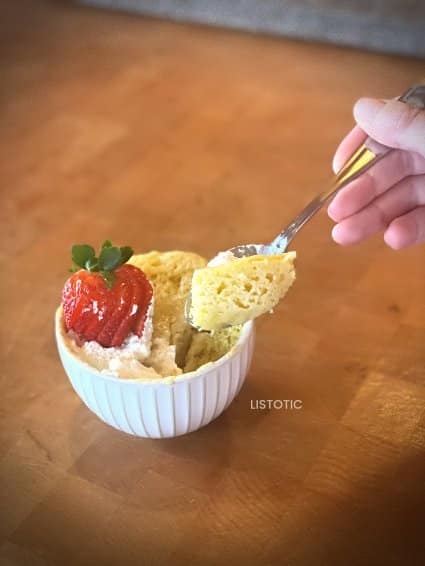 Want more keto dessert ideas? Try this other favorite (super easy) Keto Dessert: Low Carb Keto Friendly Mousse Dessert Recipe
So next time you need a quick keto dessert for you or your guests you are all set! Pin the image below to Pinterest so you can find it anytime!