Last Updated on July 8, 2021
Quick & Easy Microwave Low Carb Bread Recipe
If you're on a low carb diet, then you know the grief and suffering that comes from the absence of bread. For me, toast with breakfast, a sandwich for lunch, and even more bread with dinner used to be a staple at every meal. Why not!? It's soooo dang good. So, I searched for a quick fix for low carb bread.
Fortunately, you can still eat bread (microwave keto bread) while keeping your carb count low with this Low Carb Bread Recipe! You can thank coconut and almond flour for that. I've always got my pantry stocked full of both of these flours because they compliment each other really well. Plus, they make some great microwave keto bread, too.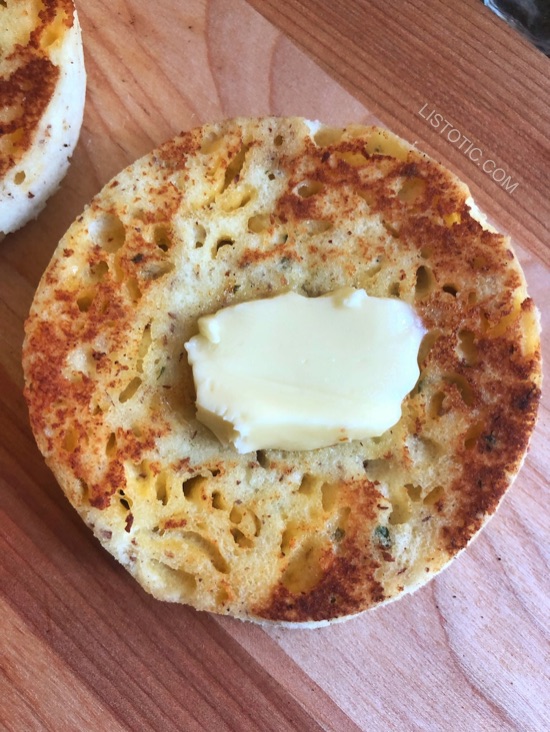 Almond Flour vs. Coconut Flour
Both flours are low carb, high in fiber, high in protein and gluten-free. When you are following a low carb or ketogenic diet, they are a great substitute for regular flour. Often times, I think they are better mixed because they both have their own qualities.
Almond Flour
Almond flour is my favorite because it has a very neutral flavor. And, it creates the moistest muffins and breads because it doesn't soak up moisture like coconut flour. You usually have to double or even quadruple the amount of almond flour when substituting for coconut flour. Unfortunately, a lot of people have nut allergies and they aren't able to enjoy this flour.
Coconut Flour
Known as a great anti-inflammatory, coconut flour is higher in Omega 3's. I personally think it's the healthier of the two flours, but the flavor is quite strong and can overwhelm a lot of recipes if you overuse it. In addition, it's incredibly absorbent, so you tend to get a drier outcome with most recipes. However, coconut flour gives bread the structure it needs so it doesn't just fall apart.
These two flours complement each other really well in this recipe.

Keep calm and make keto bread in the microwave.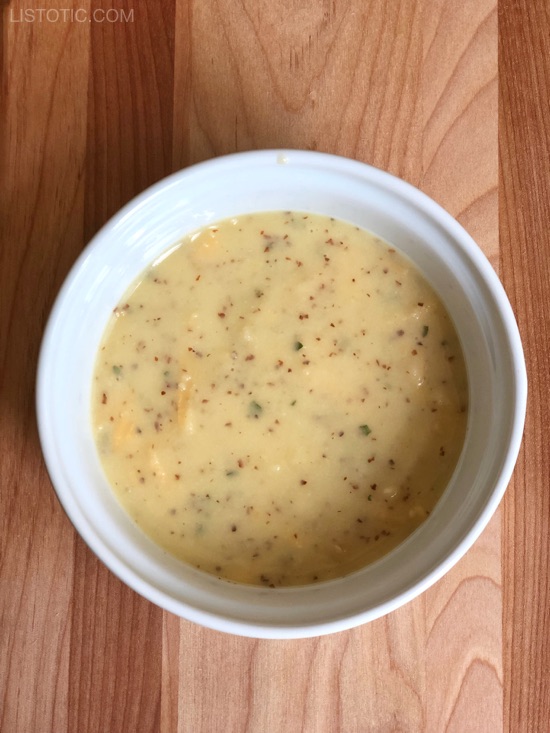 Making Low Carb Bread Recipes in a Mug!
I discovered mug cakes and breads a few years ago, and have been hooked ever since. It's such a crazy concept to me, but with the right ingredients, you can actually get pretty good results– and in just a few minutes!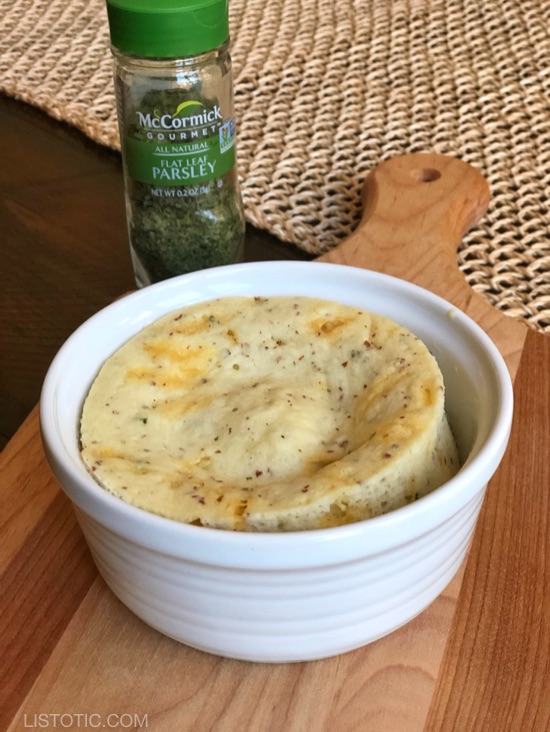 Without a doubt, this easy mug bread is definitely better toasted with a little butter. Trust me, the butter really does make all the difference! And, it reminds me of an English muffin only a little softer and less dry.
Mmmmm! Just look at that toasty muffin with butter!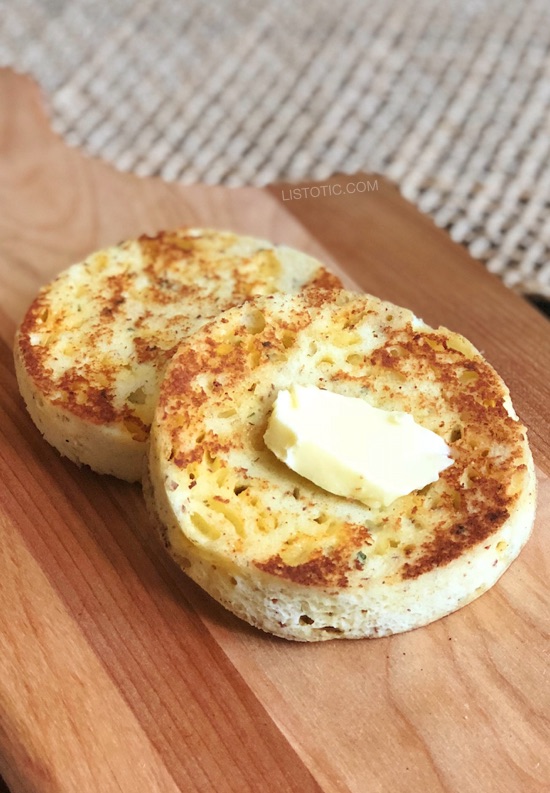 I like to change it up a bit every time I make it with different seasonings and herbs, but my favorite additions are definitely garlic powder and a little rosemary. Cheese is also good! Duh.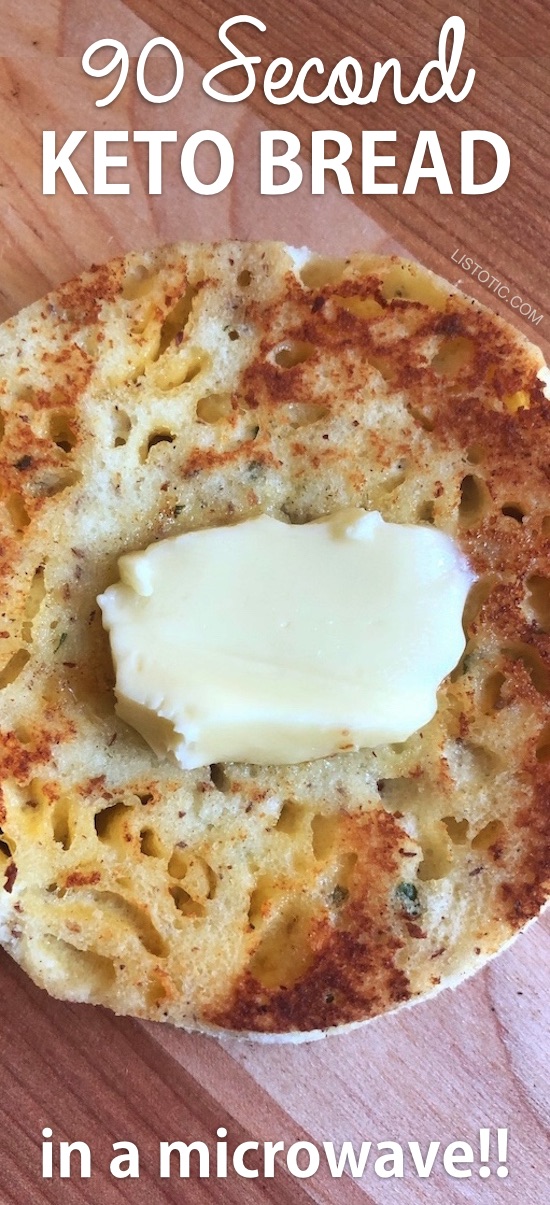 Print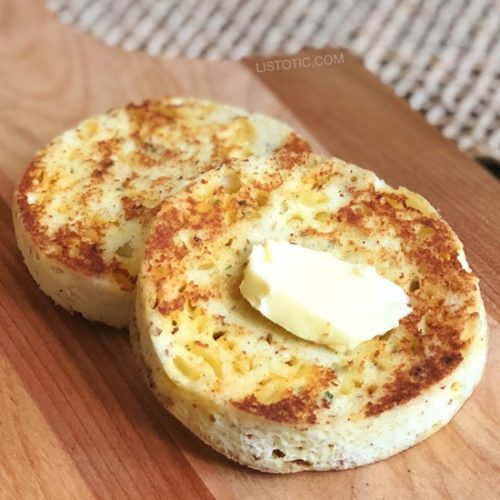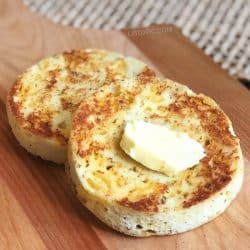 90 Second Keto Bread (in a microwave!)
Author:

Prep Time:

5 minutes

Cook Time:

2 minutes

Total Time:

7 minutes

Yield:

1

serving

1

x

Category:

Low carb
---
Description
Make Keto Bread in a microwave in as little as 90 seconds!  Tasty and low carb.
---
1 tbsp

almond flour

1 tbsp

coconut flour
Large egg

1 tbsp

milk

1 tbsp

olive oil

1/4 tsp

baking powder
pinch of salt
Optional Ingredients:
1/4 cup

shredded cheddar cheese
garlic powder, herbs or spices of your choice
---
Instructions
In a small bowl, whisk together the egg, flours, milk, olive oil, baking powder and salt. Then, add in the herbs and cheese, if using, and stir to combine.
Next, pour the batter into a small microwave safe bowl or wide mug and microwave for 90 seconds.
Place the mug or bowl upside down on a cutting board or plate and let the bread slide out. Then, cut it crosswise making two round english muffin shaped biscuits.
Finally, to toast, place the bread rounds on a high heat skillet with a touch of butter or oil for 30-60 seconds on each side.
---
Notes
With the combination of the coconut flour and almond flour, this biscuit has just the right amount of structure and moisture. If you are using just coconut flour, I would only use 1.5 tbsps. Plus, if you are using just almond flour, you will probably need 3-4 tbsps.
This multi purpose bread can be eaten as toast or sandwich bread! It's absolutely delicious with a fried egg, a few slices of bacon, cheese and avocado piled on in between.
Keywords: low carb bread, microwave bread, keto bread, microwave bread,
Customer Comments:
Absolute winner!!! Have tried a lot of recipes but this one is A+++! — Martha K.
Keto Bread Option at Aldi's
BUT WAIT, what if you don't have a microwave handy? What if you need to be able to come up with keto-friendly bread on the fly? There is an option for you! Did you know you can buy keto-friendly low carb bread at the grocery store? Yes, l0w carb bread is available for purchase. In short, everyone is raving about it — Aldi's L'oven Fresh with zero net carbs! Read more about it here. So, which keto bread option do you choose: Lisotic's 90-second bread recipe or Aldi's Lovin Fresh? Save the pin below and then leave us a comment too!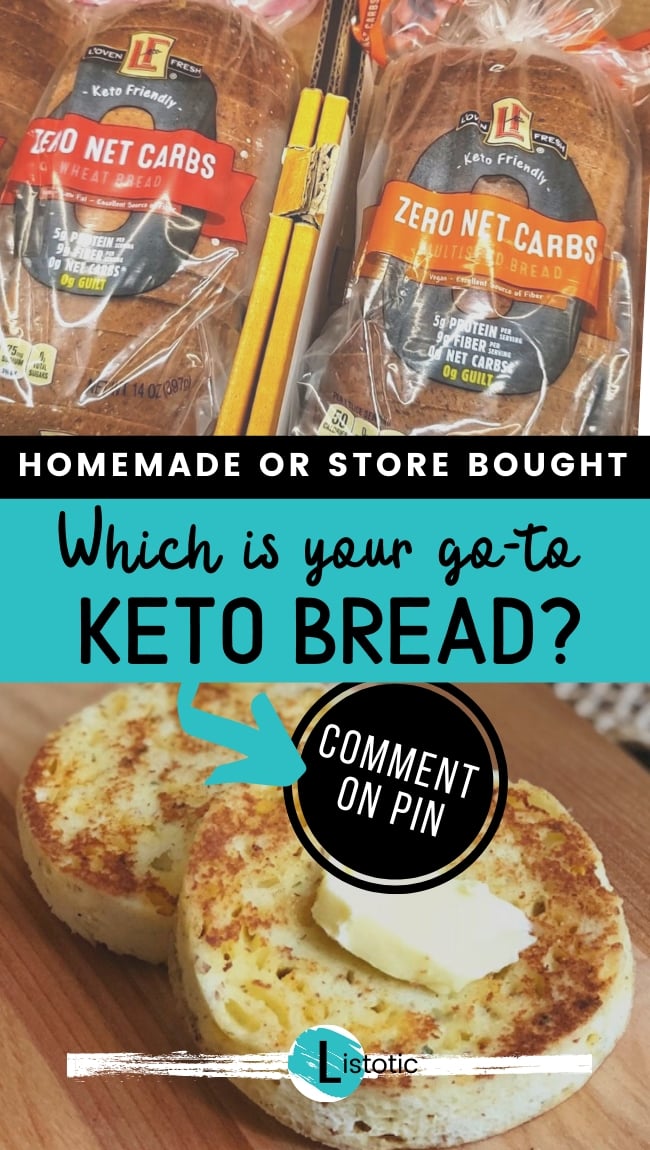 More low carb recipes…