Last Updated on March 22, 2021
Microwave Keto chocolate cake might just change your world.
Before we get to the Keto chocolate cake in a mug recipe. Let's talk chocolate in general, shall we? It might just be me but there is no wrong time of day to have chocolate. Breakfast, lunch, dinner, supper, after dinner, bedtime, midnight… ANYTIME.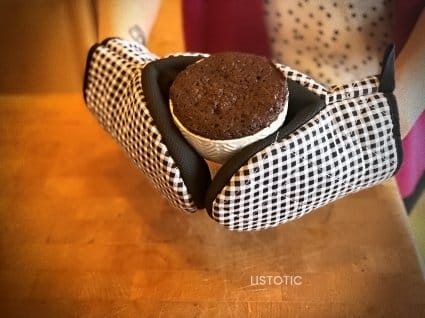 Perfectly portioned guilt-free chocolate keto dessert!
Did you know the Cacao (pronounced Cu-COW) bean is a superfood?
Yes, in fact, Cacao is a superfood! Cacao is the unprocessed cacao beans. "Normal cocoa powder and chocolate have been chemically processed and roasted which destroys a large amount of the antioxidants." Cacao is an enjoyable and healthy part of a nutritional diet.
Great, now we can feel good about eating chocolate. Specifically keto chocolate cake! But truly, regular cocoa can go with any special diet. Just by swapping cacao for cocoa can make a decadent yet healthy dessert.
Grocers like Thrive Market even have a whole line of ketogenic chocolate. They have a line of cacao as well as ketogenic friendly 100% sugar-free cocoa bars that aren't bitter. Chocolate truly made to be enjoyed by real Chocolate lovers.

Where can I get Ketogenic Cacoa products?
You can get Keto-friendly foods delivered directly to your front door. For this service check into Thrive Market. Thrive Market online grocer that helps you find all the right foods. It is especially helpful to those following a more exclusive meal plan.
Thrive Market has a monthly or yearly membership. The yearly subscription is $59.95 with low prices on healthy foods. Thrive helps people with restrictive diets find the foods that are right for them. Check out Thrive Market if you would enjoy diet-friendly foods delivered to your doorstep.
How do you make a keto chocolate mug cake?
Finally, Let's get to the Keto chocolate Cake dessert! Watch this video to see how easy it is!
Now, here are the step-by-step instructions for making this chocolate keto mug cake!
Ingredients for Chocolate Keto Mug Cake
2 tbsp. butter
1/4 c. almond flour
2 tbsp. cacao powder (or cocoa powder)
1 large egg, beaten
small handful keto-friendly chocolate chips, such as Lily's brand of chocolate chips
1 tbsp. C&H light all-natural sugar and stevia blend
1/2 tsp. baking powder
Pinch Himalayan pink salt or kosher salt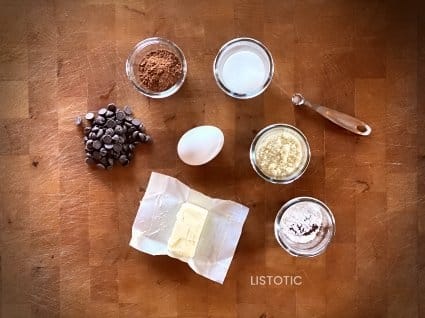 Ingredients for Whipped topping
¾ cup heavy whipping cream
1 teaspoon vanilla
Instructions for Keto Chocolate Cake
First melt butter in a microwave-safe dish on low power
Second, add the egg and beat together with a fork
Next, add your sugar and dry ingredients. (almond flour, cocoa, baking powder, salt)
Last, add your Chocolate chips next.
Cook 1:15 cooked in a 2450mh microwave oven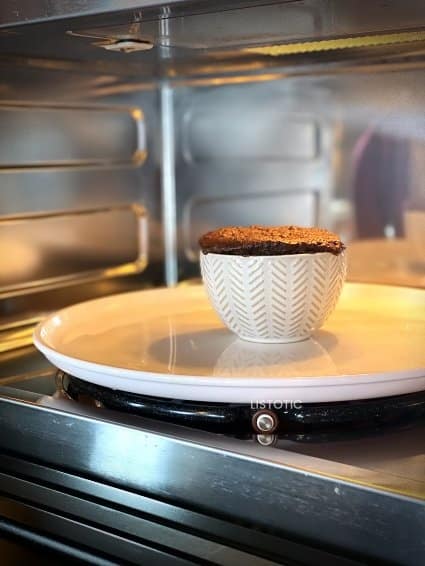 Instructions for Whipped Topping
The whipped topping can be made quickly and easily. If you are planning on serving this Keto chocolate cake as a dessert to guests make sure you add this simple step.
Simply pour the whipping cream and vanilla into a mixing bowl. Turn mixer on low power first then up to full power. Keep mixing until stiff peaks form and the whipped topping is scoopable with a spoon.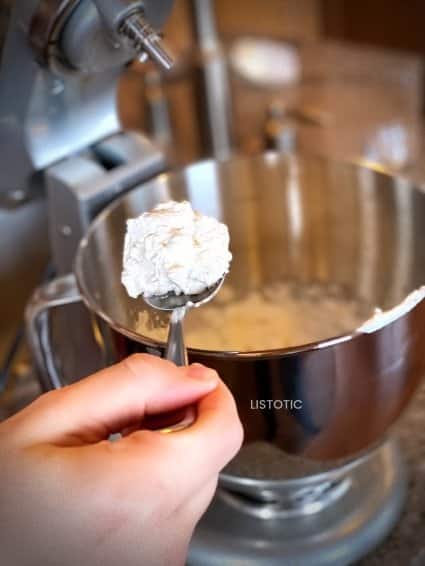 Instructions for Serving
Wait at least 3 minutes before eating this double chocolate keto chocolate cake because the chocolate chips will stay hot in the mug for several minutes after cooking.
Add a spoon full of whipped cream just before serving
"Taste like a lava cake" – happy taste tester!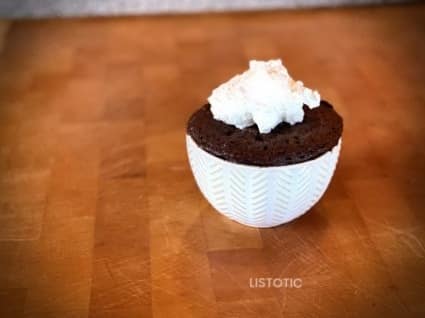 Notes/Tips
Make single-serving Chocolate Keto Mug cake ahead of the party time! If you are having dinner guests over, just mix up a few small mugs of chocolate mug cake so when the meal is over you'll be able to serve up some warm chocolate cake in minutes!
If you prefer a fudgier cake try microwaving for slightly fewer seconds.
This recipe calls for pink Himalayan pink salt for added minerals and nutrients. If don't have Himalayan pink salt you can use kosher salt, and if you don't have that, regular table salt will work.
Wait at least 3 minutes before eating because the chocolate chips will be hot.
The sweetener in this recipe only counts as 12 grams of carbs. But the CH includes some carbs made of real sugars. If you have a sensitivity to sugar you may want to choose to use Swerve or another substitute sweetener. Replacement would be 2 tablespoons of Swerve, and 24 grams of carbs.
Not following a Keto Diet? You can use granulated sugar instead of a sugar substitute.

Yep, you should save this idea on Pinterest! Pin the image below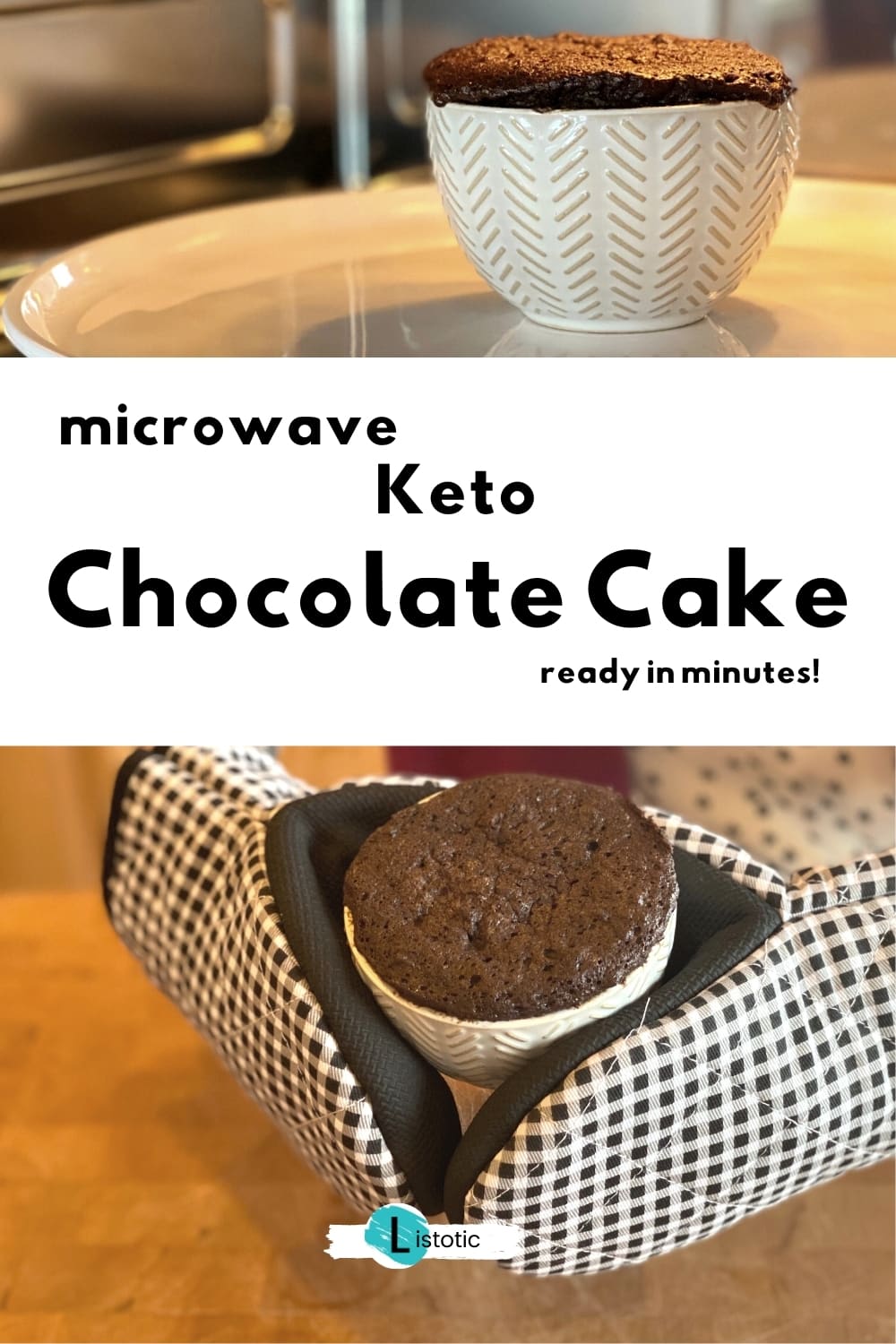 If you like Keto Chocolate Cake then you might also like these other keto chocolate treates.