Last Updated on February 14, 2022
If you've jumped on the air fryer bandwagon you know that using an air fryer cuts down on the mess and the amount of time you spend prepping and cooking in the kitchen. These air fryer keto recipes for beginners will become your favorite go-to meals! With many different low carb air fryer recipes below you will have plenty of great tried and true recipes for your family to enjoy!
Keto Air Fryer Recipes For Beginners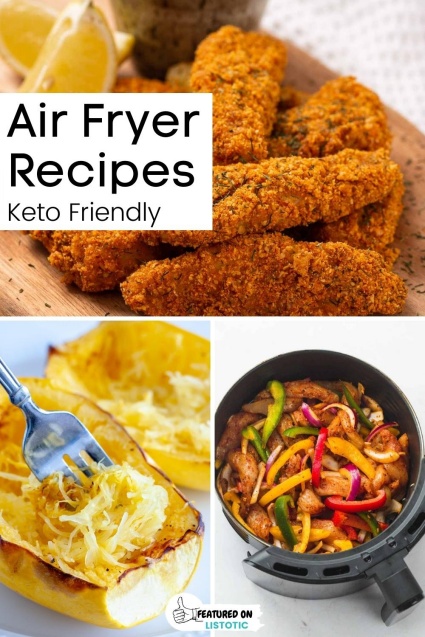 Why is Air Frying Food Healthier?
Simply stated, air fryers have made it much easier to eat healthier. Air Fryers cook foods by using a heating element and a fan that circulates the heat which consequently, helps crisp the food similar to oil frying- but without the oil! If you love the taste of fried foods, air frying will be your new favorite way to prepare all of your favorite keto meals without all of the fat and calories!
Wondering what to make for breakfast? Check out this crazy good Cinnamon Orange Keto Waffle recipe that you can whip up in no time at all!
Appetizers + Side Dishes
Air Fryer Tortilla Chips
These low-carb tortilla chips are easily made at home courtesy of your air fryer. In this case, these tortilla chips taste so much better and are much healthier for you. Check out the details over at My Dainty Soul Curry.

Air Fryer Mozzarella Sticks
Hip 2 Keto said it best, "The only thing better than cheese is fried cheese!" I couldn't agree more, but what if there was a healthier way to enjoy them? Well, there is! There is nothing better than crunchy and savory breaded mozzarella sticks.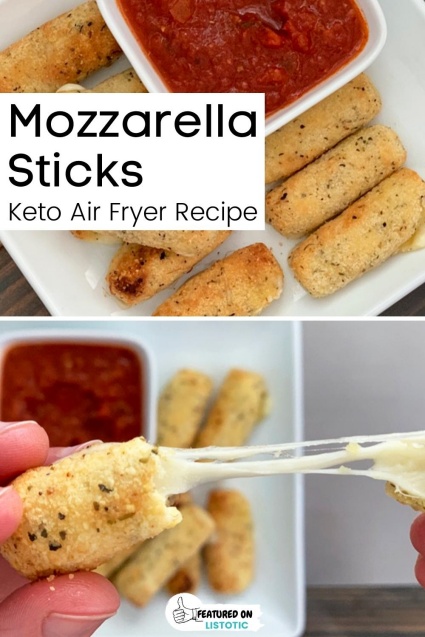 Garlic Parmesan Brussels Sprouts
These crispy air fried brussels sprouts make a tasty keto side dish. Drizzle with garlic parmesan butter for the ultimate flavor explosion! Sometimes, I like to add a keto-friendly maple syrup before I take a bite. Trust me- it's incredible! Save this because it will become one of your favorite low carb air fryer recipes!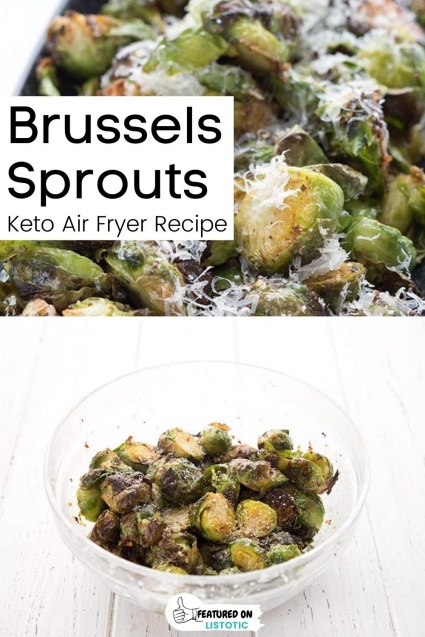 Zucchini Fries
These keto-baked zucchini fries are crispy and very flavourful. They are not only a healthy gluten-free snack but they also make an excellent low-carb side dish or appetizer. In this case, these zucchini fries are baked in the oven but I have no doubt these would be excellent as an air fryer keto recipes. Check out the details over at Green and Keto.

Keto Cauliflower Wings
When I first made these cauliflower wings, my husband was very impressed! Without a doubt, you too will want to make these again and again! They are crispy and tossed with a buttery and tangy sauce that compliments the cauliflower wings perfectly! Head over to Pinch Me Good to get step-by-step instructions.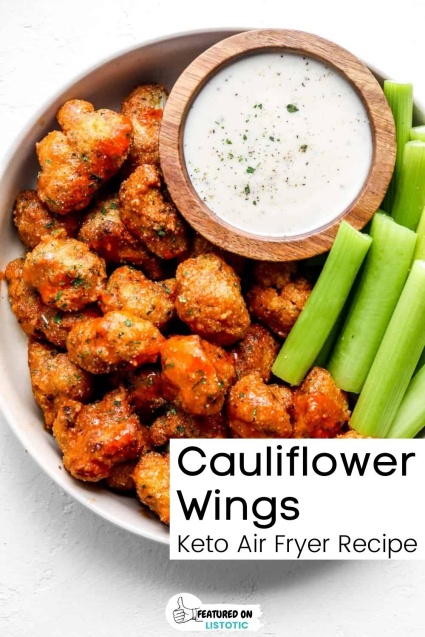 Air Fryer Chicken Wings
Chicken wings are always a crowd favorite. These air fryer keto recipes would be nothing without including some amazing chicken wings! Therefore, these chicken wings from Low Carb Spark are the best I've made in the air fryer. They are a crispy, juicy, and much healthier alternative. These will quickly become one of the essential appetizers when it comes to game time.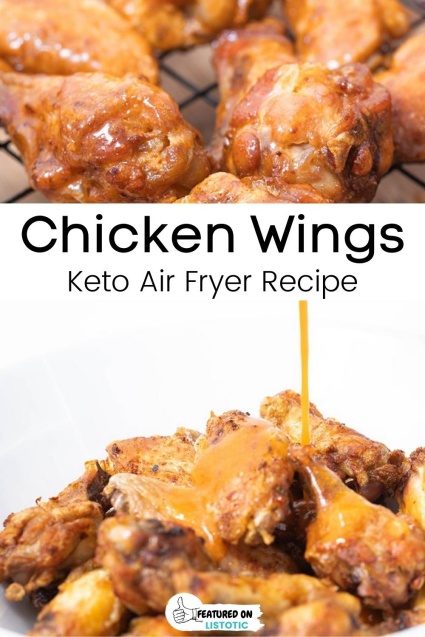 Fried Pickles
First off, these air fryer pickles are coated in a delicious parmesan and panko coating, therefore making them crispy and delicious. An alternative to panko you could use is pork rinds. In comparison, they are both equally delicious. This is one of my favorite keto air fryer recipes.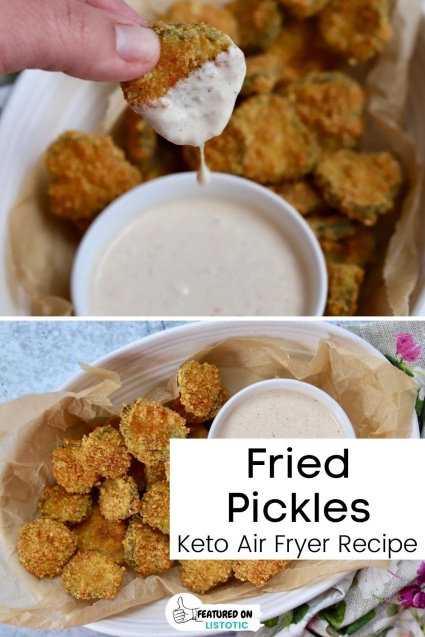 Spaghetti Squash
Spaghetti Squash can be used in so many different ways. In particular, my family's favorite is these spaghetti squash tater tots. Another great recipe is this basil pesto spaghetti squash. Additionally, they are such a simple side dish or a great substitute for pasta. A great option for those looking for a low carb, keto, and paleo-friendly recipe.

Need a quick dessert to satisfy your sweet tooth? No problem with these Keto Minute Mug Cake recipes! This Easy Keto Chocolate Frosty is another favorite!
Lunch + Dinner
Air Fryer Chicken Legs
To make these healthier air fryer chicken legs, you only need a few simple ingredients on hand. In less than 30 minutes you can have an easy, quick, and healthy meal you'll want to add to keto air fryer recipes arsenal. This is one of many great air fryer recipes for beginners!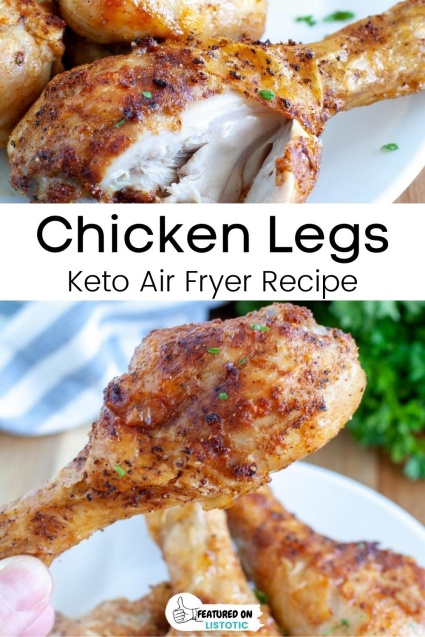 Air Fryer Chicken Fajitas
Making fajitas in the air fryer is not only convenient but it also cooked quicker, and crisps quicker than baking in an oven. Consequently, this makes it one of my go-to air fryer keto recipes. These air fryer chicken fajitas are bursting with flavor and the peppers and onions have a great crunch making this the perfect weeknight.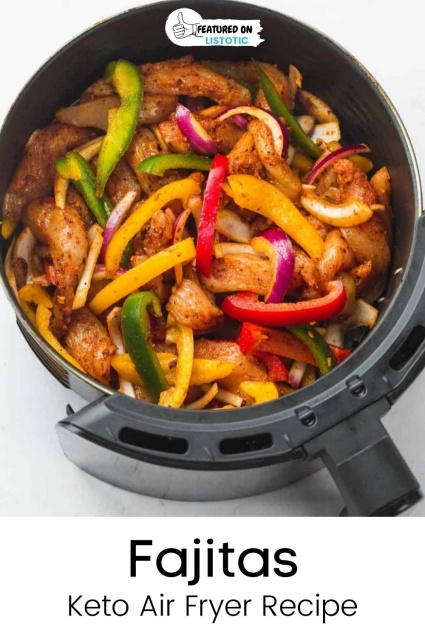 Air Fryer Chicken Strips
These crispy low-carb chicken strips are quick, easy, and delicious. They are easy to whip up because it includes just a few ingredients. Head over to My Life Cookbook for the secret recipe!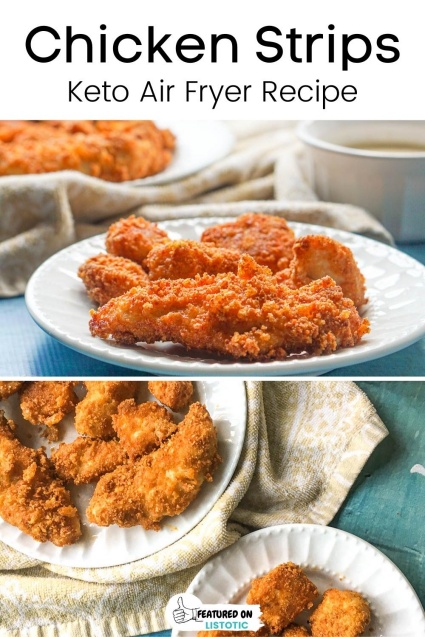 Ginger Garlic Salmon
This is my favorite way to cook salmon. Marinated in a simple ginger garlic sauce, this ginger garlic salmon recipe is one you will want to make again and again. As a result, there is virtually little to no cleanup which I am all about! Not only is it insanely delicious, but it also takes just 10 minutes to cook in the air fryer. Using an air fryer is so easy to use and even easier to clean up! This is one of my kid's favorite keto air fryer recipes.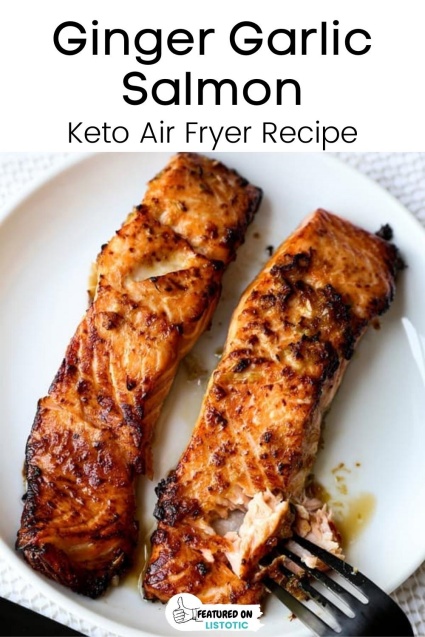 Keto Air Fryer Meatballs
This is one of my favorite air fryer keto recipes I've made in a long time! Not only are these meatballs made perfectly in the air fryer but they are also great on top of low carb spaghetti or as an appetizer! Head over to Keto Connect for the recipe!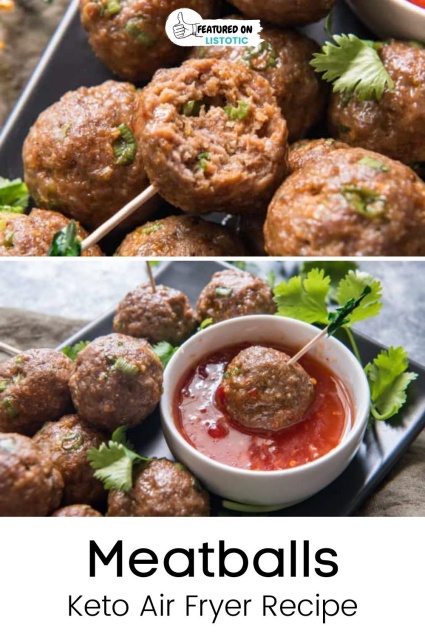 Air Fryer Steak
Have you ever thought about cooking steak in an air fryer? It's much simpler than you think. This method of cooking steak in the air fryer will provide you with the most perfect juicy steak each and every time! After all, your air fryer can make more than just fried food! Give this recipe from Whole Kitchen Sink a try.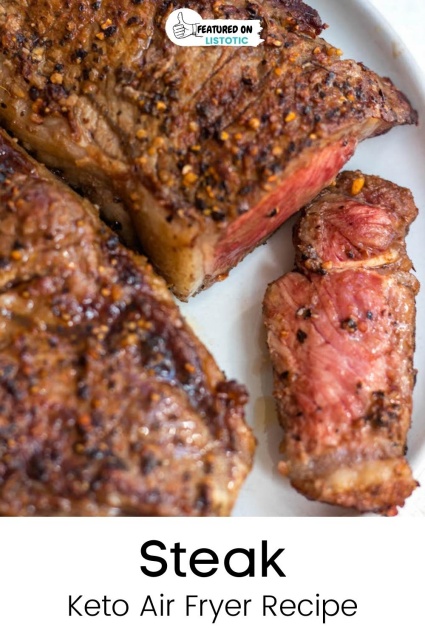 Keto Fish Sticks
These air fryer keto fish sticks are a recipe you will definitely want to make if you like seafood! They are not only gluten-free but are keto-friendly and easy to whip up with a crunchy texture. With only a few ingredients this recipe from Beauty and the Foodie will have you adding these to your menu.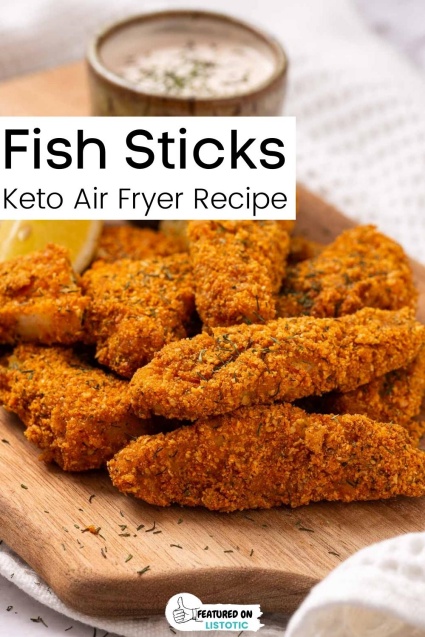 Air Fryer Pork Chops
If you want juicy, tender, and easy pork chops look no further! Not only do they have the perfect flavor but they cook in less than 15 minutes. They will no doubt come out perfectly thanks to Noshtastics instructions.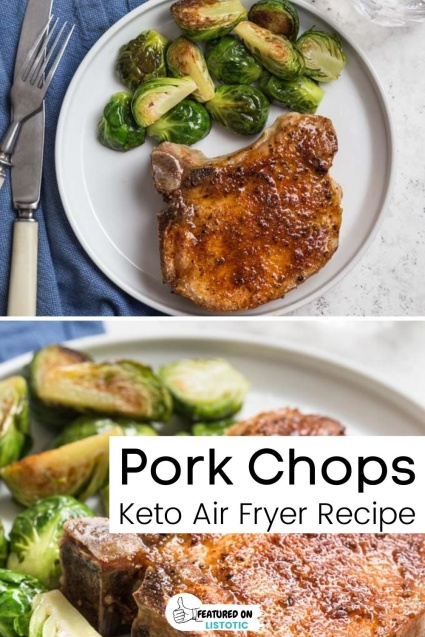 Keto Chicken Parmesan
This crispy air fryer keto chicken parmesan has been a weekly staple for my family. This is a favorite among my low carb air fryer recipes. In as little as 30 minutes you can dish up this flavorful dinner for busy weeknights. Head over to Stylish Cravings for the details.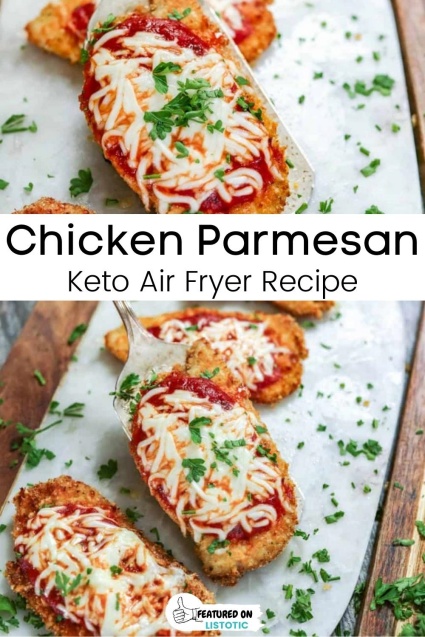 I hope you enjoyed this list of low carb air fryer recipes! Don't forget to pin your favorite recipes so you don't miss out.
You might also enjoy:
Chocolate Peanut Butter Fat Bombs