Last Updated on September 12, 2023
DIY grain bin gazebos are a popular growing trend- learn how you can build your own for less than you would imagine!
Converting grain bins into fun gazebos is a growing trend among farmers and many homeowners. If you're looking for affordable ways to transform your backyard, head over to our backyard on a budget post! Grain bin gazebos can be used to create outdoor patios, outdoor kitchens or barbeques, and so much more. Some people have even made larger grain bins into homes or backyard she sheds. The possibilities for repurposing grain bins are endless! A grain bin gazebo is a perfect spot for family gatherings! Check out all of the creative outdoor retreats below to find your inspiration!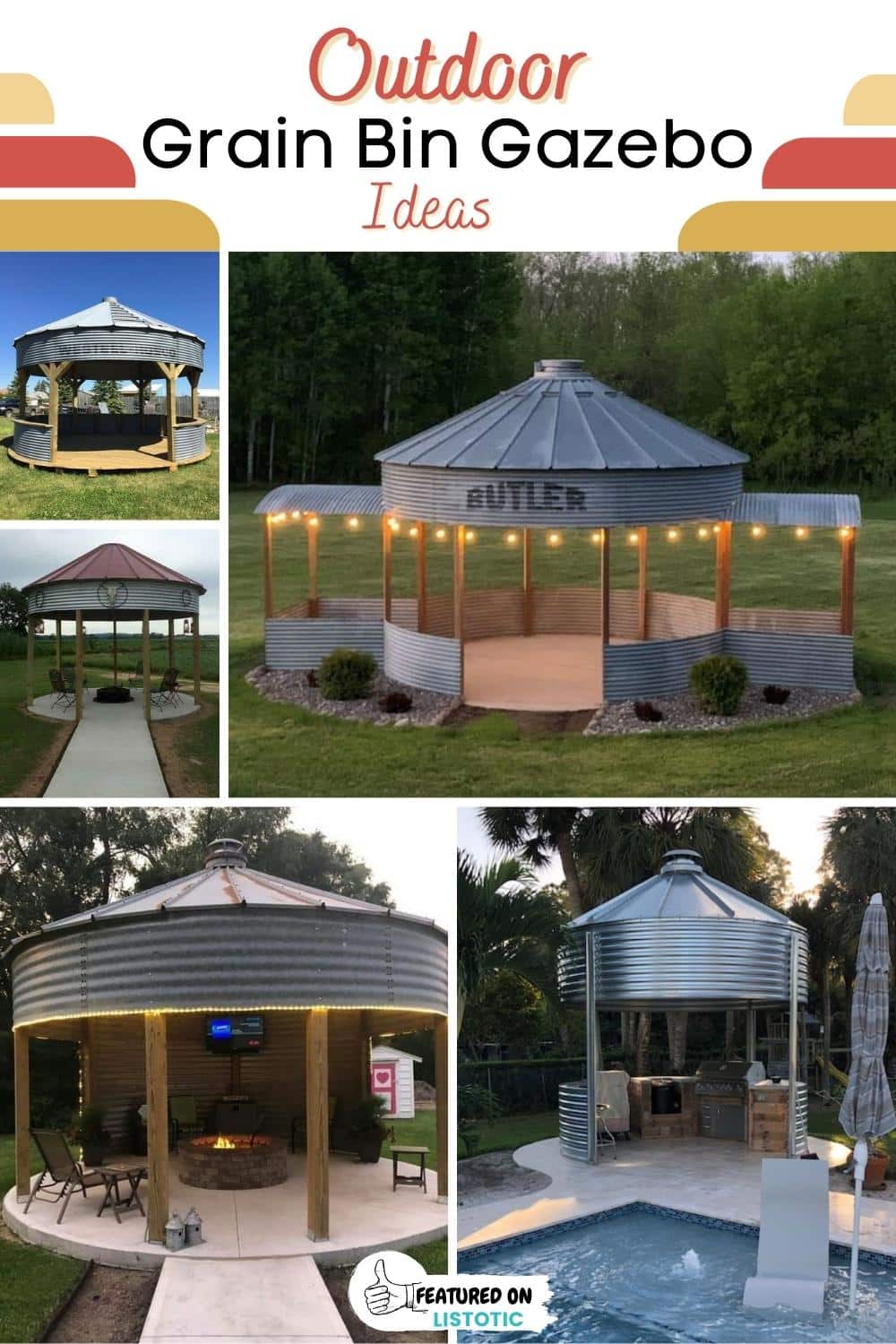 Where can I find a Grain Bin?
Check out far in your area. The best places to look for used grain bins are old farmsteads, whether they're occupied or abandoned. Just be sure you get the owner's permission before setting foot on the property, even if it looks like nobody would mind. However, many of the unused bins you're likely to find in such places have major structural issues. There are reasons why they are empty and not in current usage. Sometimes, they simply are not needed. Ask around for leads to discover likely properties, drive around and take notes of what you think you see, or visit and call the landowners.
Advertise in your local newspaper, especially those aimed at farmers and ranchers. Be specific as to what you want, as "grain bin" means different things to different people. Explain you would like to turn it into an outdoor bar or gazebo.
If you are unable to find a used grain bin locally, I recommend you buy a new grain bin rather than try to move a used one across a long distance.
Construction & Materials Needed
Grain Bin: Typically, you can secure a grain bin for little to no cost. If you'd like to purchase a new grain bin then I'd recommend setting aside a few thousand dollars for a brand new one.
Foundation: Whether that be concrete, wood, or gravel, having a base will be your next budget-friendly item to consider.
Support Beams: Many people use steel beams, but you can use sturdy wood poles as well.
Equipment Rental: You will need some kind of equipment to lift and transport the grain bin gazebo from one location to the next.
This grain bin gazebo is the perfect spot for wedding nuptials and celebrating tieing the knot! In addition, decorating your grain bin gazebo with flowers, rustic accents, and outdoor lights will make for a beautiful gathering place sun up or sundown. Get your inspiration from Lakeside Occasions.

A grain bin bar can be the perfect spot to host outdoor barbeques as well as hosting a multitude of outdoor gatherings. Invite your friends over and enjoy refreshing drinks in your very own outdoor bar! Check out this gorgeous grain bin gazebo from Crescent Hill Acres for inspiration!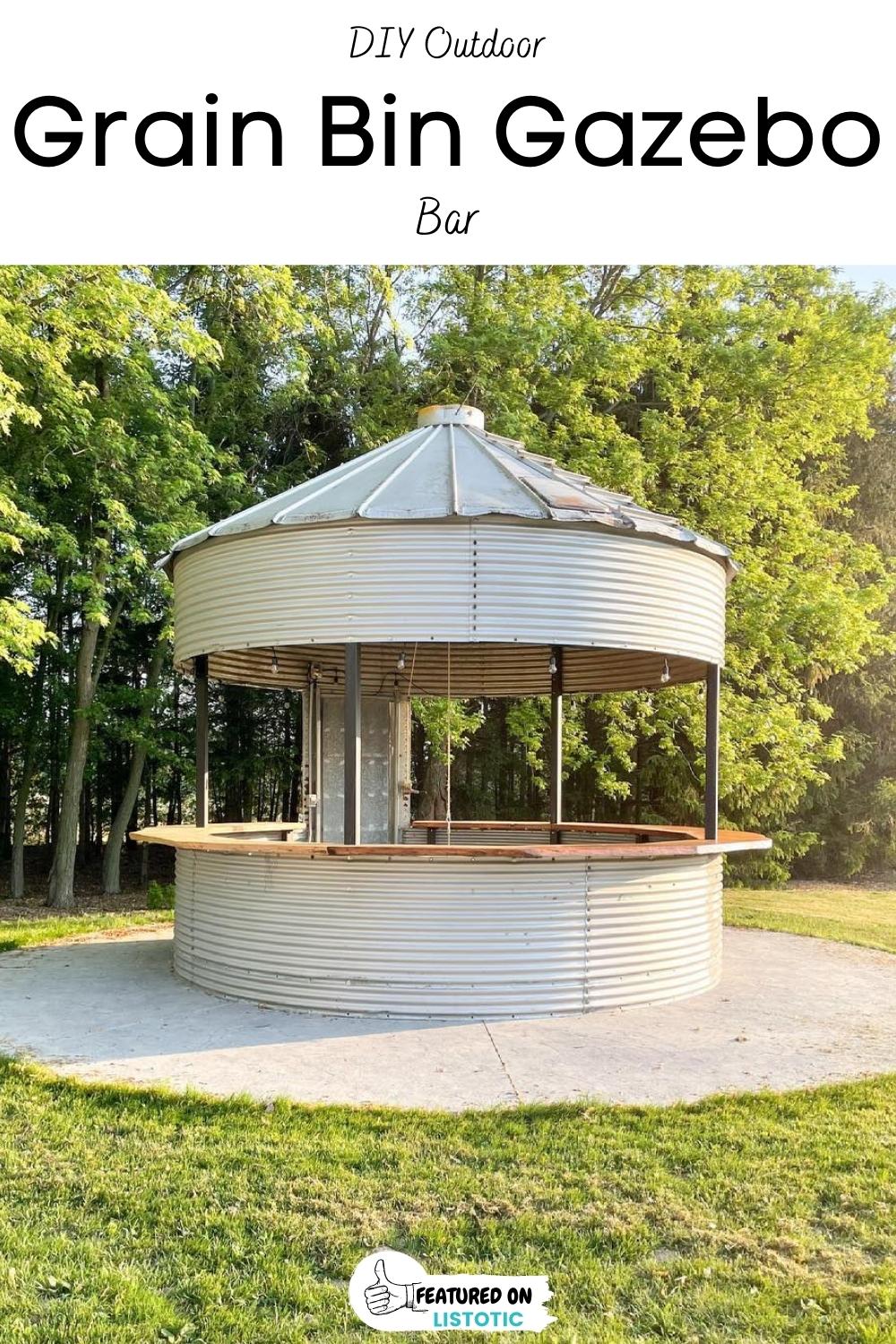 Next, this grain bin gazebo has a mixture of tin and wood with wood flooring. Nevertheless, this combination makes for a great outdoor patio. For one thing, I could see myself relaxing on a hot summer day shaded in this gorgeous grain bin gazebo. Check out Hinged Bins for more information!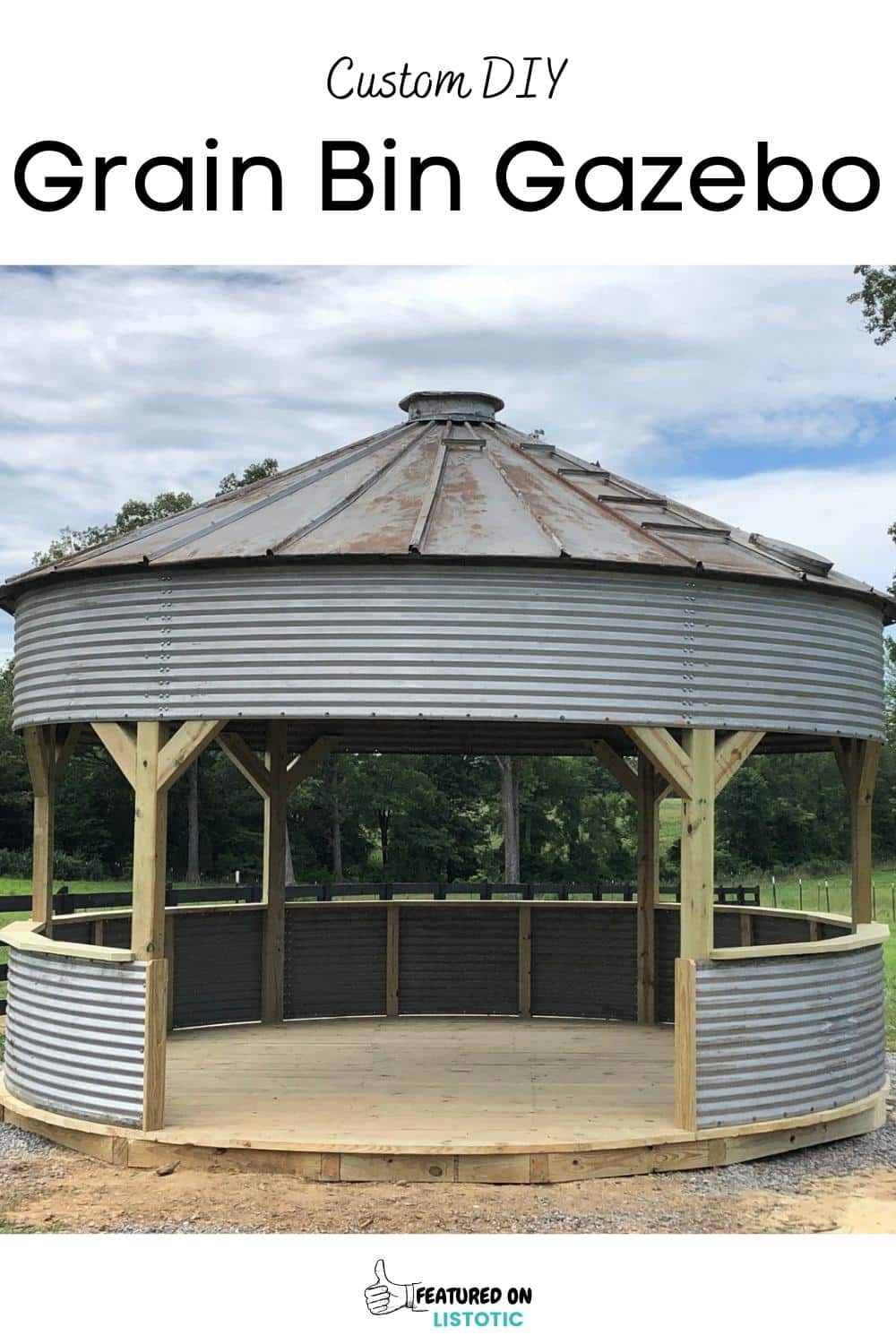 4. Outdoor Fire Pit in Gazebo
This DIY Grain Bin gazebo is a great outdoor patio to build for beginners. Not only does it have a fire pit inside, but it also has open columns to allow the breeze to pass through.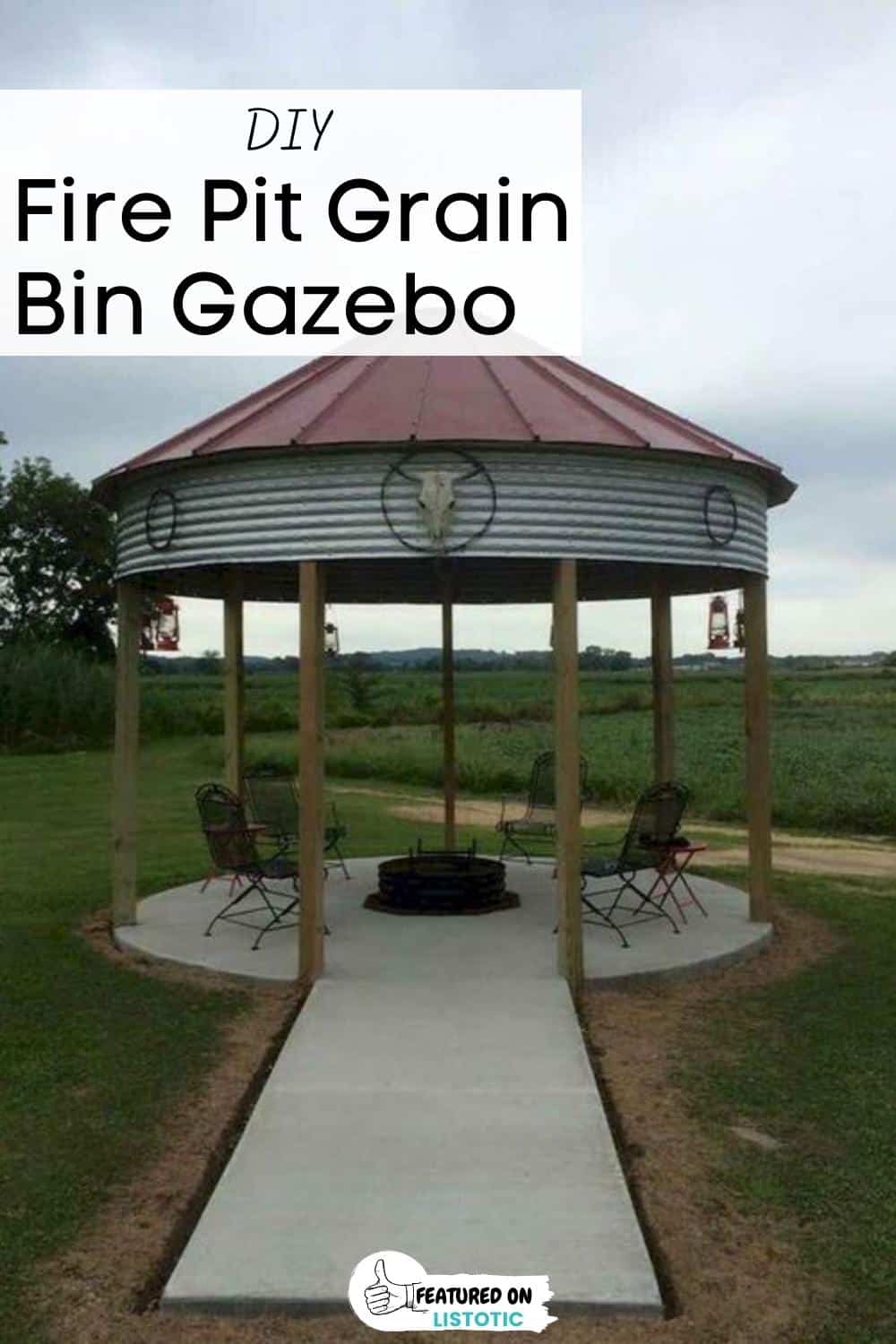 5. Gazebo with String Lights
This outdoor grain bin gazebo can be used in so many forms. For instance, you can place your grill, smoker, a few flower planters, and a few chairs for a welcoming retreat.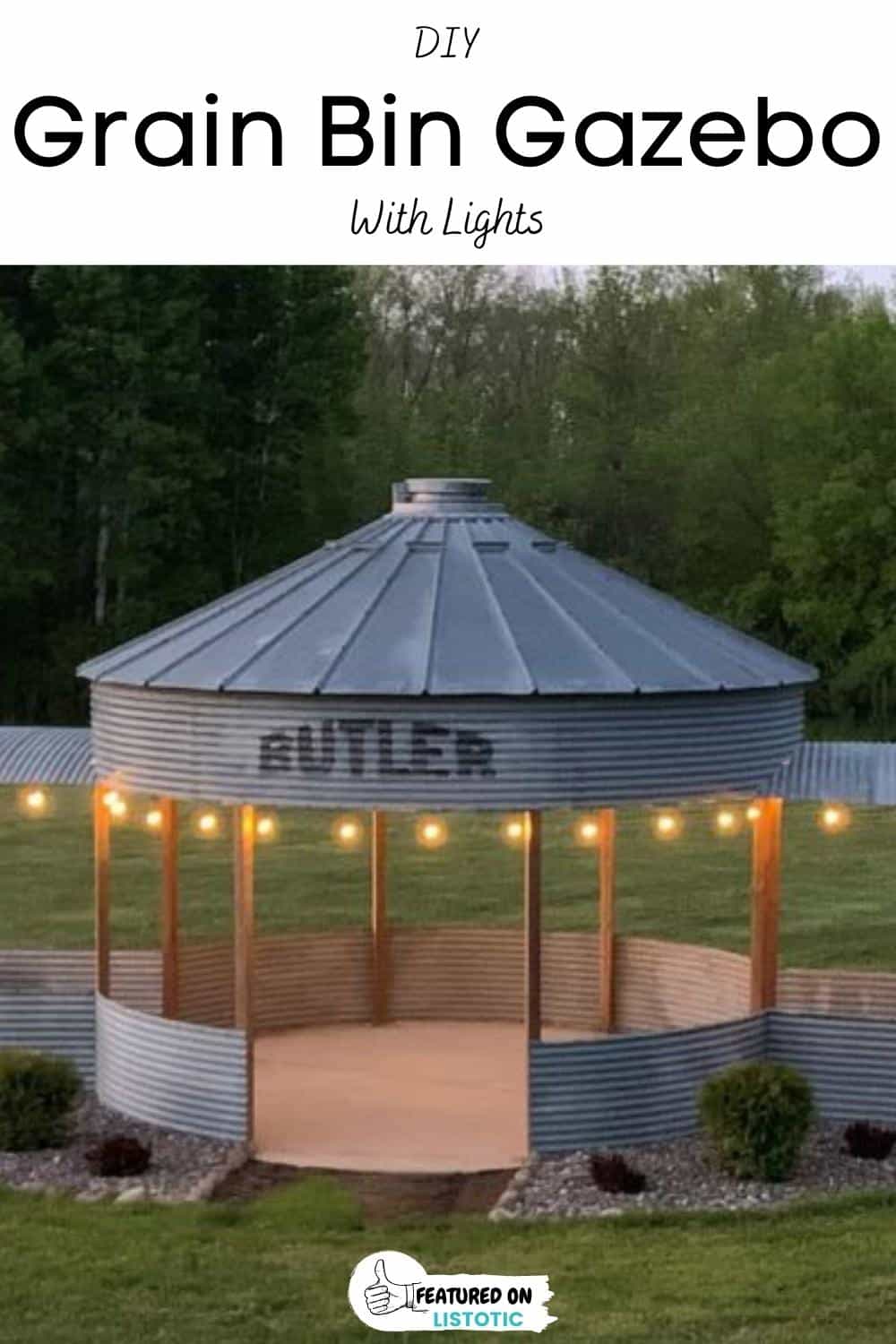 6. Outdoor Grain Silo Gazebo
This one is one of my favorites! I love the mixture of wood and galvanized steel. This would be the perfect hangout spot with friends. Undoubtedly, your friends and family will enjoy this beautiful outdoor gazebo.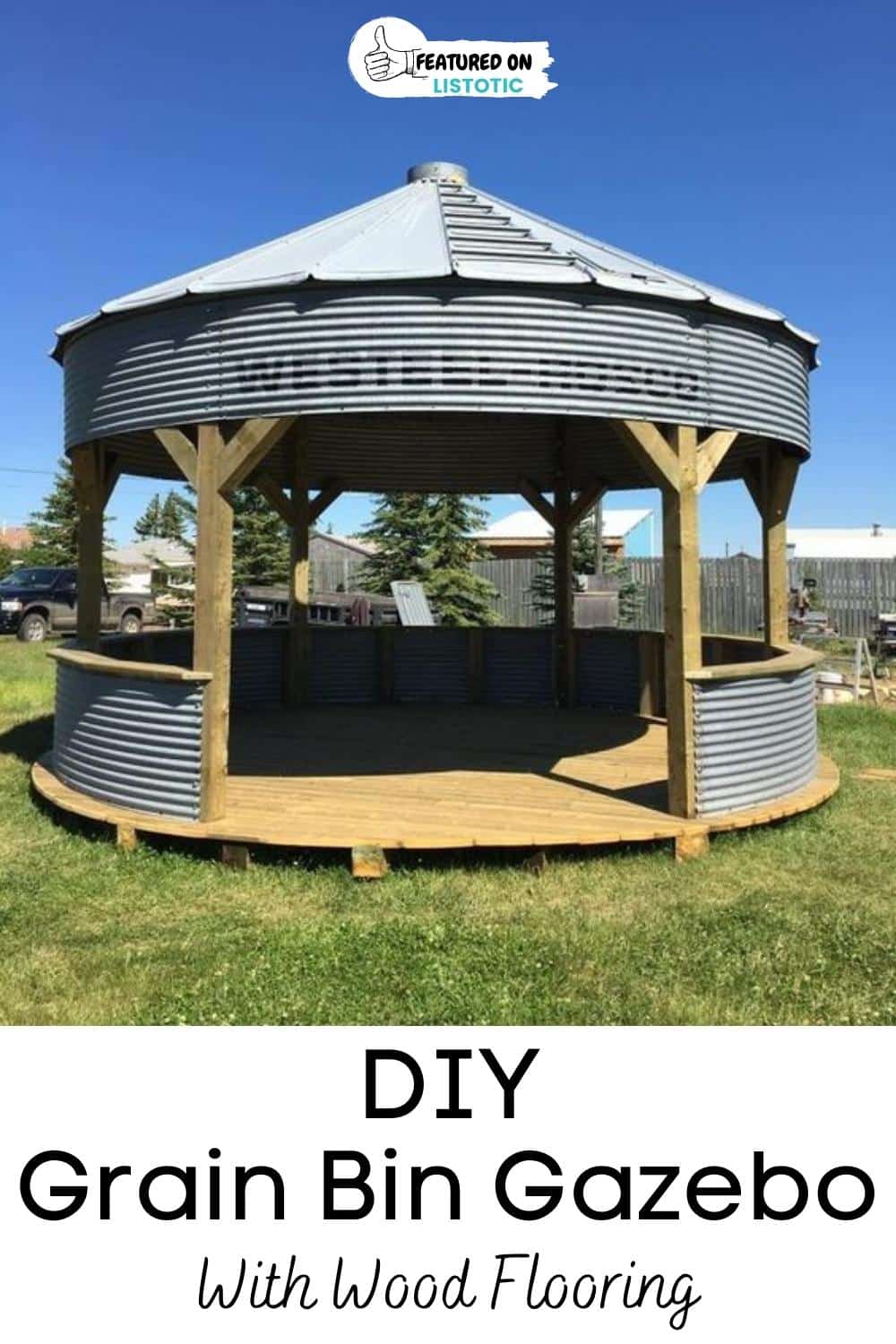 When it comes to grain bin gazebos, this one will surely stand the test of time. If starting off with a clean slate is more your speed then head over to Leslein to find out more.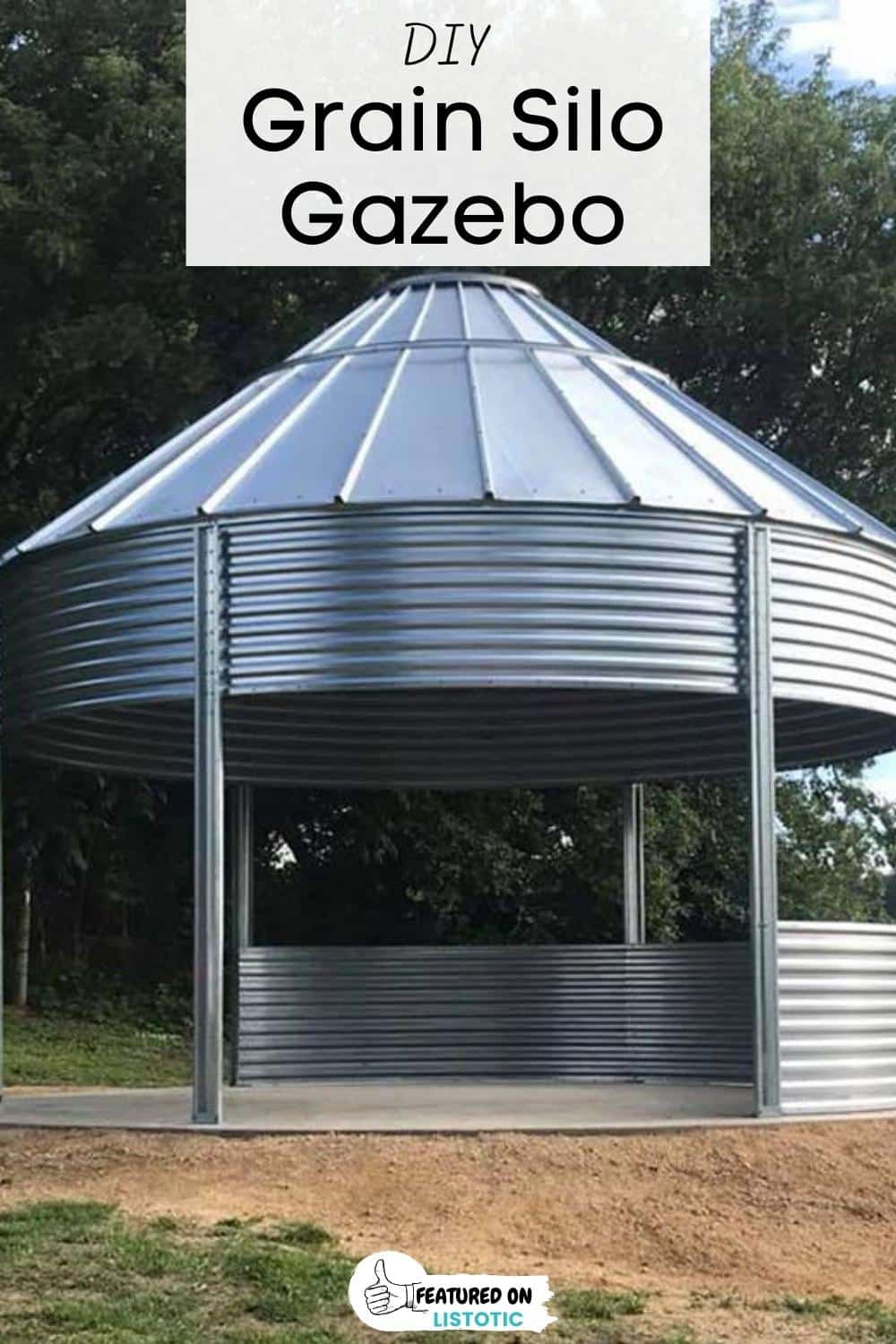 This peaceful grain bin gazebo has everything you need to get away from the hustle and bustle of life. Surely, you'll be able to achieve some peacefulness while enjoying a cup of coffee. Head over to yahoo life for more information.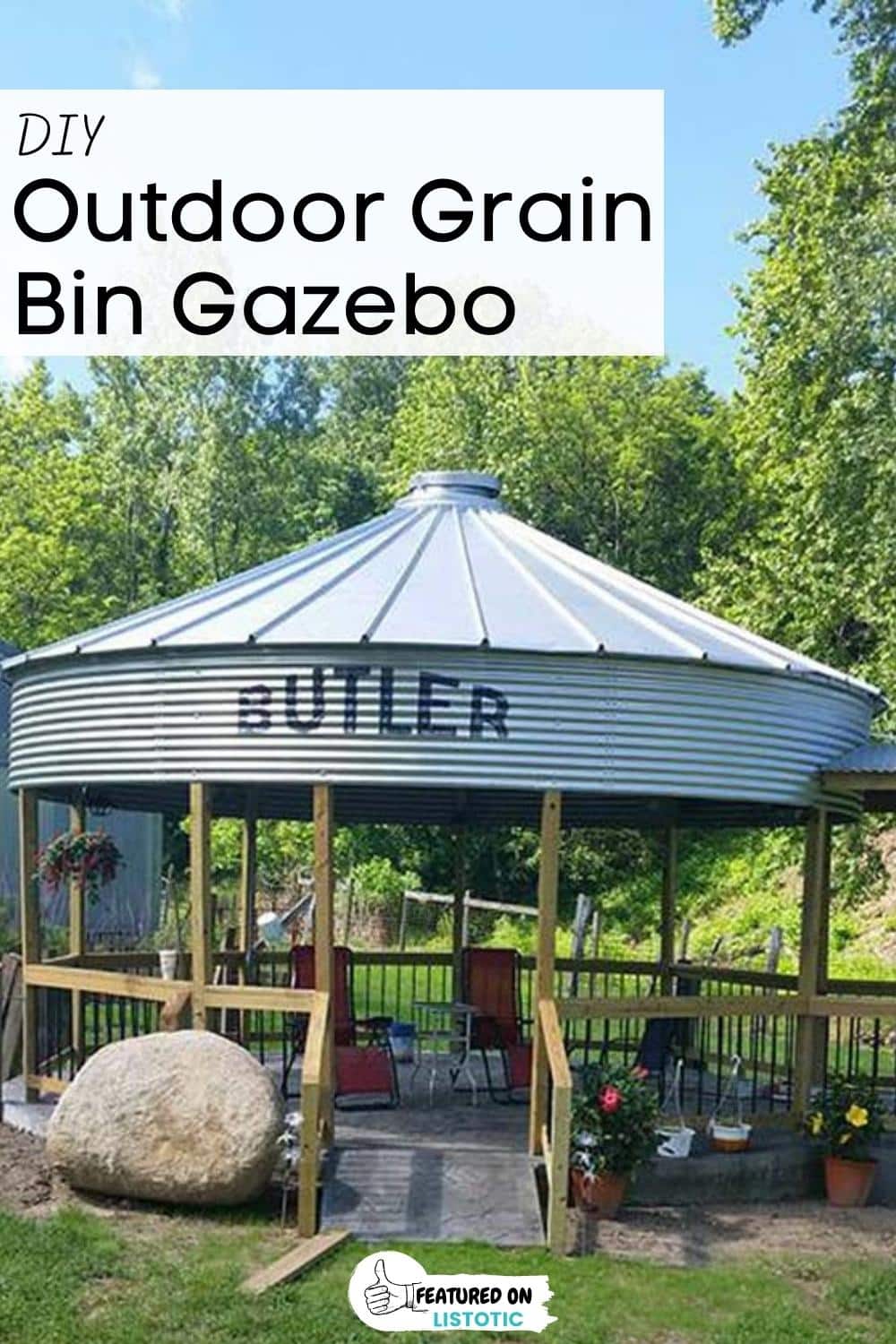 This corn crib gazebo has been given a new life. I love how it includes charming metal shades over the windows. Consequently, this corn crib bin is minimal maintenance with its wire walls.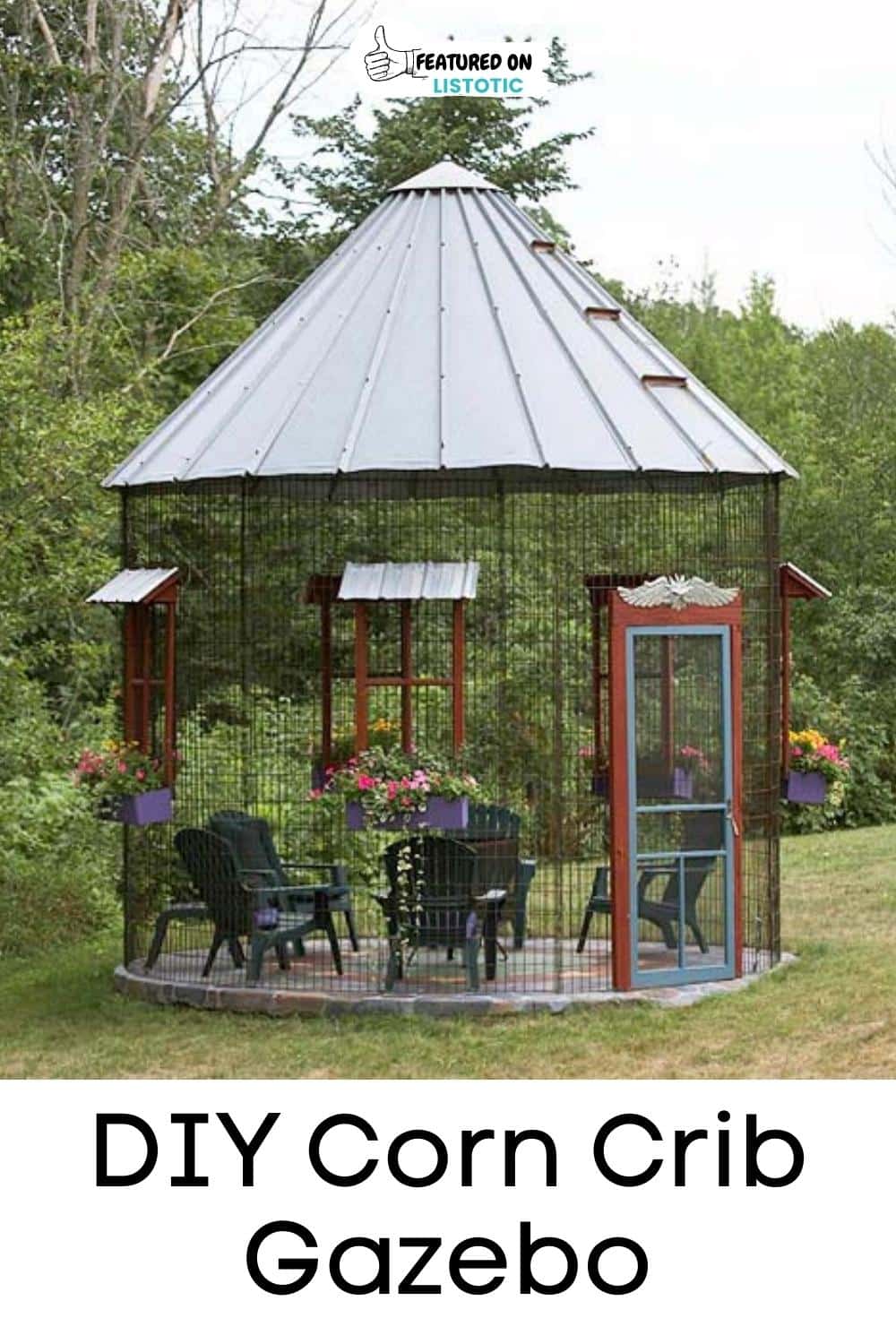 Now, this is a place you can go to get away from it all! This grain bin gazebo pool house is the perfect place to hang out. This pool-side grain bin gazebo bar has great additions to your outdoor needs.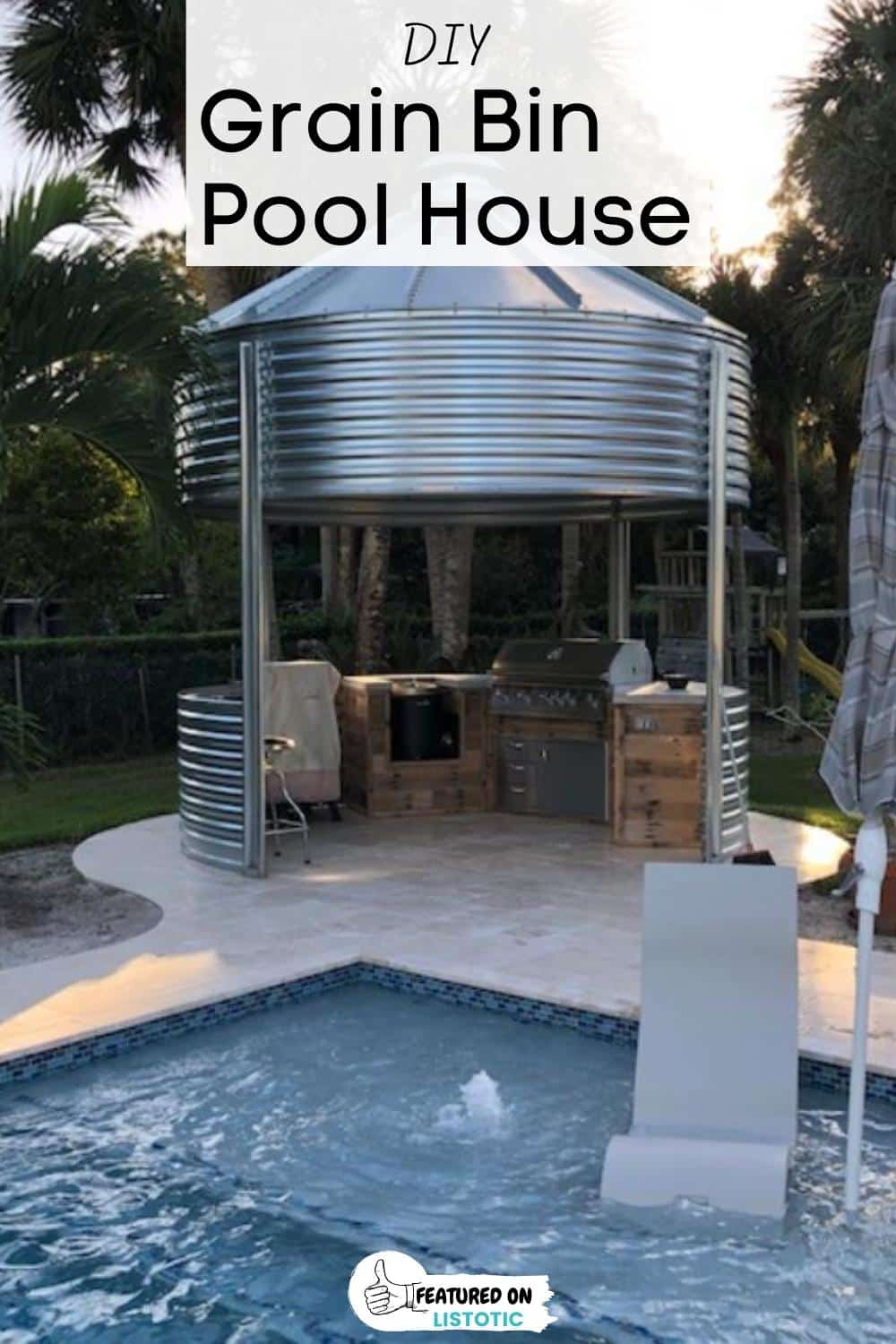 If you're looking for a great outdoor space to enjoy your time by the lake, look no further. This grain bin bar gazebo is the perfect spot to hang out when you've had a busy day on the water.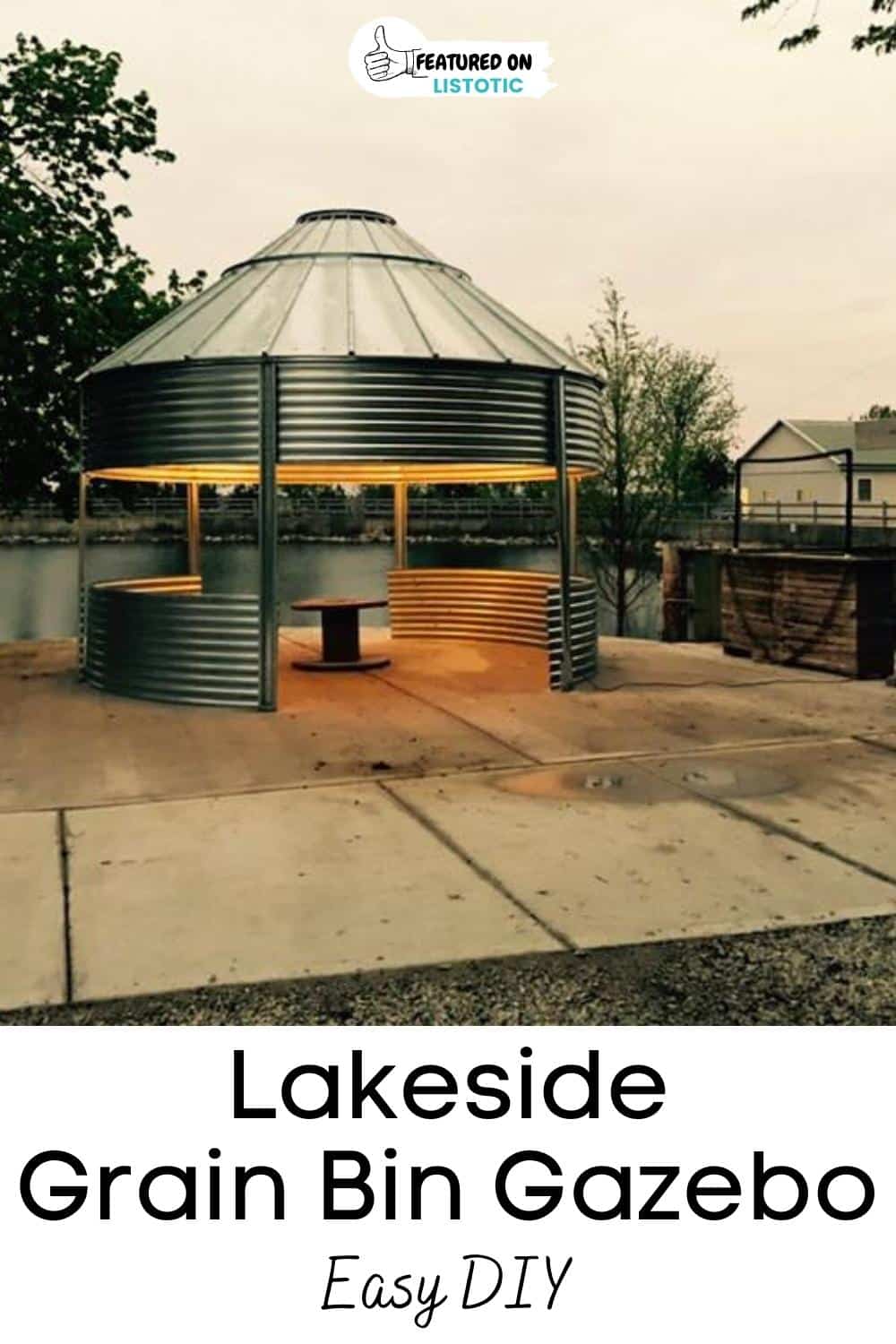 This grain bin gazebo has all you need for a summer gathering under the stars. Not only is this gazebo equipped with concrete flooring, a fire pit, and string lights but it also has a television. For this reason, I can see many football games being enjoyed out in this great outdoor space.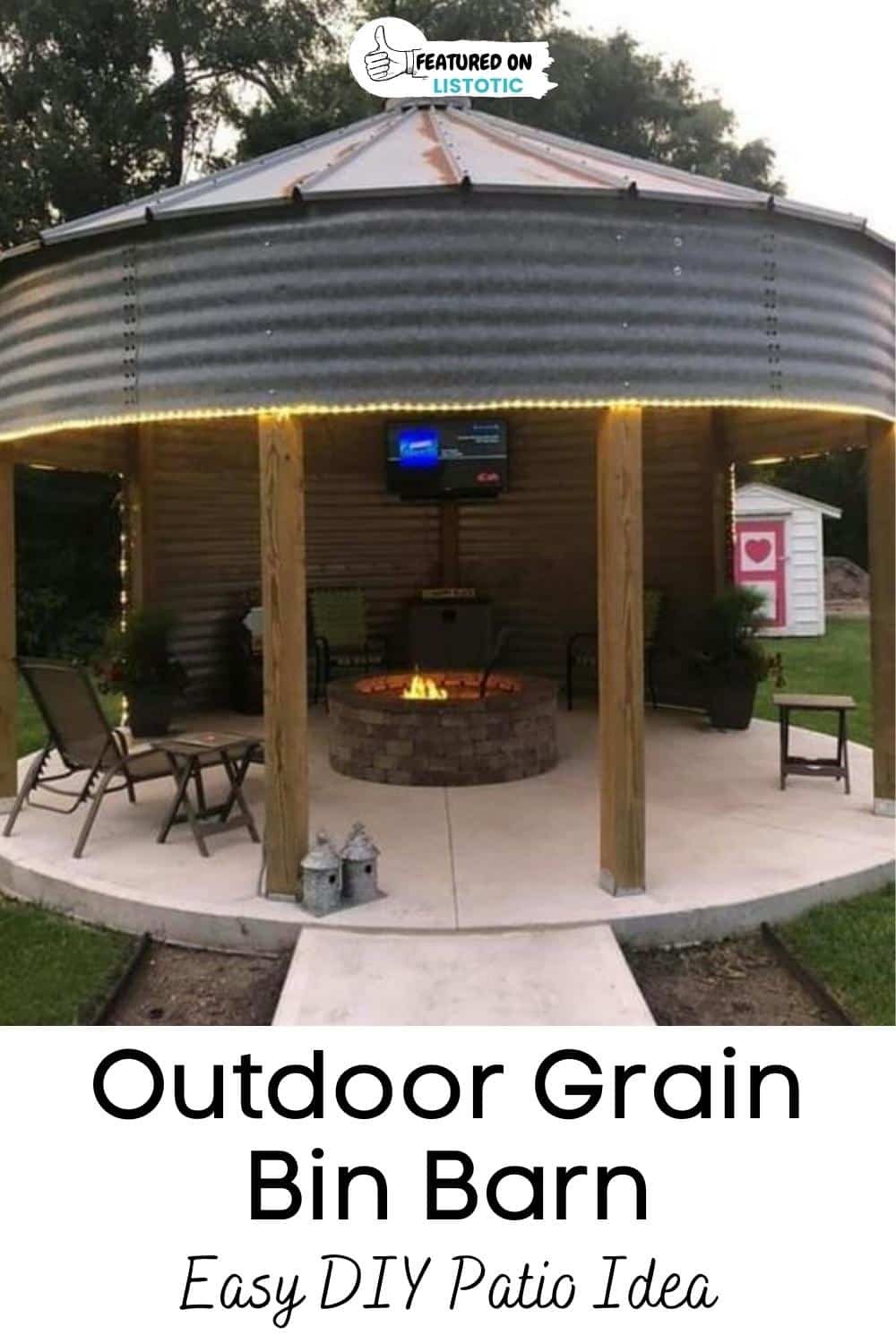 Last, but not least, my favorite galvanized gazebo. I found this idea over on twitter. Personally, I love the wood shelf and the fire pit. Nevertheless, it looks like the perfect spot to hang out on a warm sunny day or to host an evening gathering.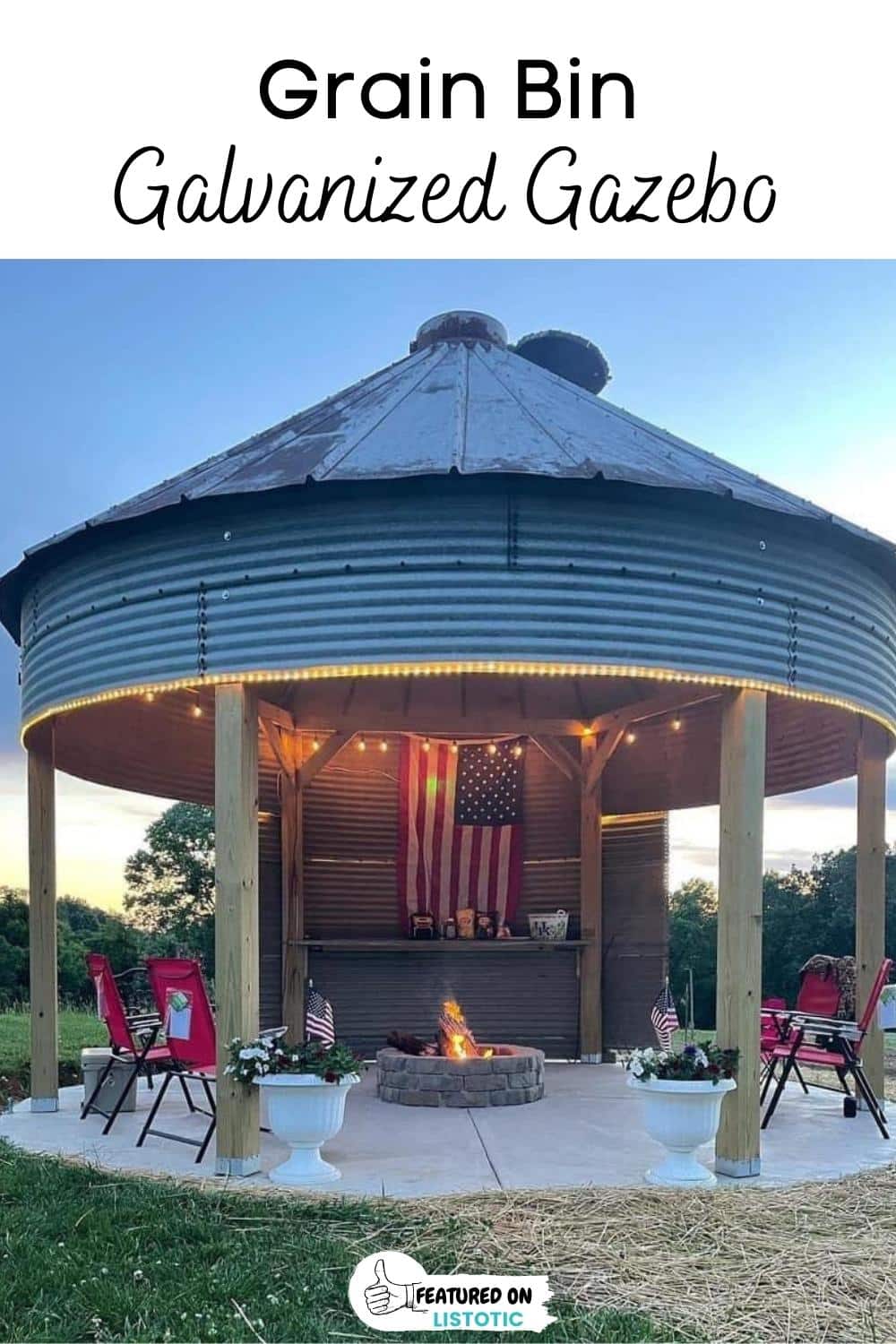 If you're looking for a step-by-step process for dismantling a grain bin, head over to dengarden for a picture tutorial. They provide an in-depth dismantling process.
Grain bin gazebos are fun yet functional during any kind of weather!
If you're looking for great DIY backyard ideas head over to Backyard Patio Ideas on a Budget and Backyard Deck Ideas on a Budget.