Budget-Friendly Backyard Deck Ideas!
Backyard deck ideas create square footage for family get-togethers. They are perfect for summer barbecues. Or you may just like to enjoy being on a deck with a cold beverage while the sunsets. Professionally built decks by licensed contractors tend to be expensive, but the price tag plunges the moment you take on the job yourself. Building a deck yourself with these deck ideas is doable and cheaper than hiring it done. These backyard deck ideas on a budget will provide you will multiple ideas including DIY deck railing ideas and DIY privacy screen ideas to keep your cost at a minimum. If you are up to the task, get ready to be inspired!

Refinish A Wood Deck
If you currently have a deck that needs a facelift, look no further! Splinters will develop as your wooden deck ages. This is a common problem to deal with when maintaining a wooden deck. Carrie over at Carrie this Home shows you how to refinish a splintered wood deck on a budget. The result is a fresh and stylish deck you'll enjoy for years to come!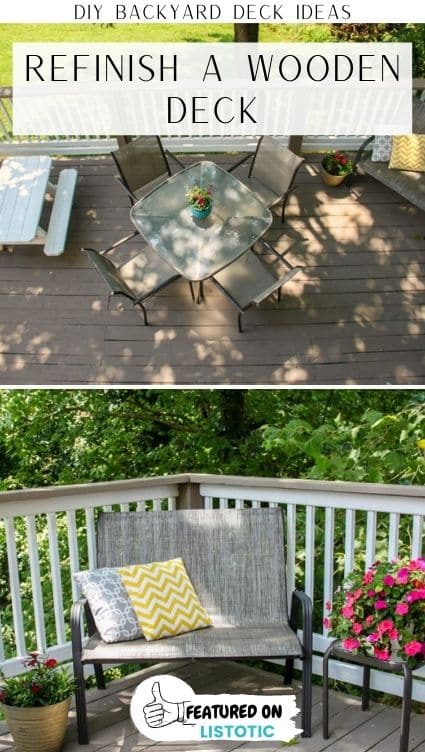 Easy Low-Cost Deck
If you're looking for easy backyard deck ideas on a budget, look no further! This 16×16 one-level deck has all you need for entertaining, plus DIY planters to grow a garden. You will need to commit some time to this project. But, As a result, you will have a large deck to host your future backyard parties. Head over to Home Talk and discover Scott's easy deck plans. If you're looking for additional backyard ideas check out these backyard patio ideas on a budget.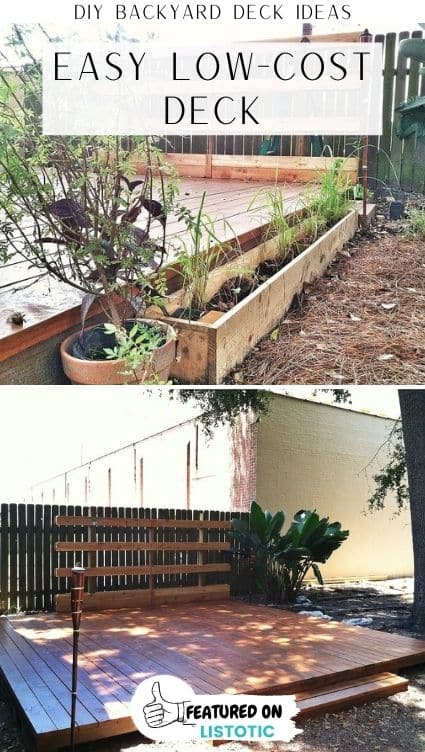 Multi-Level Deck
Laura, author of My Shiny Nickels blog is all about being frugal with her nickles. She and her husband downsized. But they wanted a beautiful backyard deck, so they saved money by doing the deck themselves. They created a paradise out of an empty and dusty backyard! They saved so much money that they were able to add fun details like a pergola, stairs, and hammock!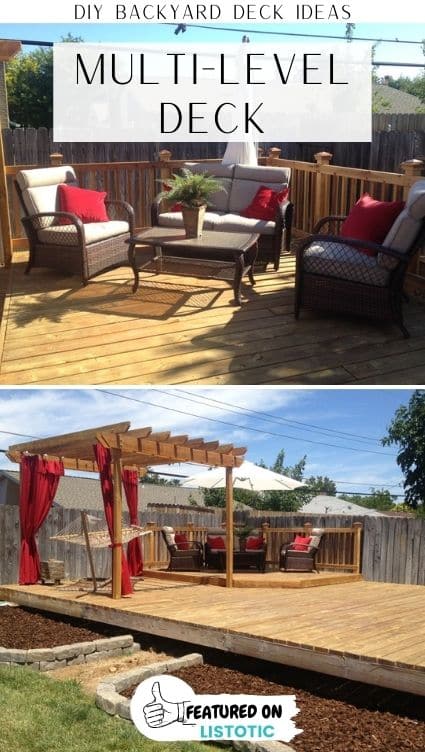 Easiest Deck in the World to Build
Dagmar over at Dagmar's Home built what could arguably be called the easiest and most simple backyard pallet deck in the world! She and her husband, Don, had pallets left over from their stone driveway project. Instead of getting rid of them, they re-purposed them as a quick-to-build backyard deck, by pushing four pallets together and placing an outdoor rug over top. The result, an instant deck!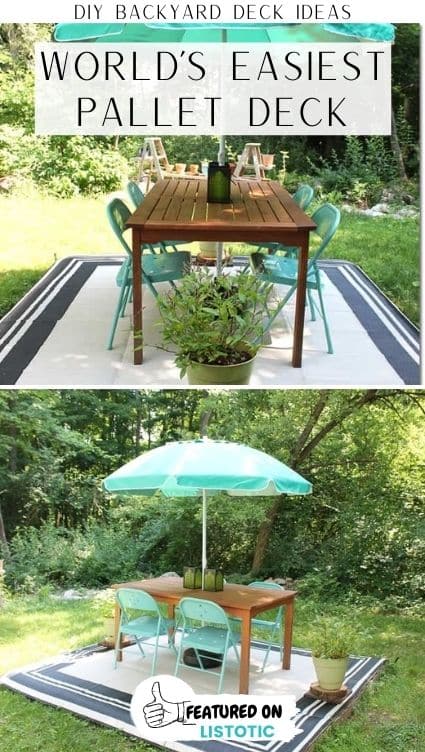 Floating Deck Ideas
The Spruce has step-by-step directions that make building this backyard deck easy and frustration-free. Floating decks can be set directly on the ground or, preferably, a bed of gravel. But it's best to support the deck on concrete blocks like demonstrated. This keeps the wood off the ground and away from moisture so the wood stays drier and lasts even longer. This is one of my favorite deck ideas!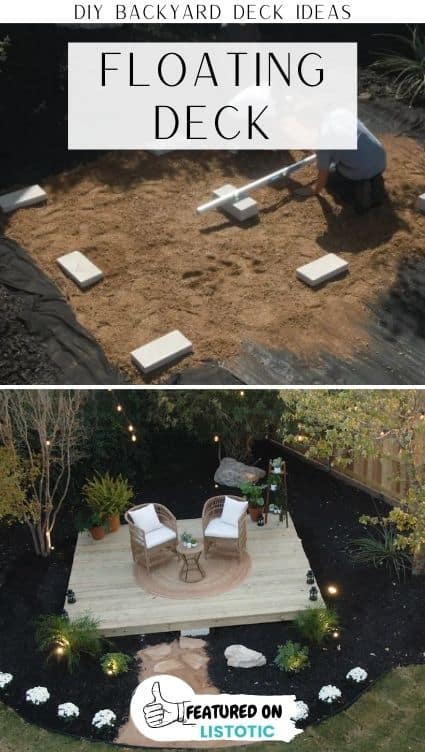 Rope Light Deck Railing
Looking for DIY deck railing ideas to spruce up your deck at night? In this case, look no further than rope lighting! Rope lighting provides that instant ambiance when the sun goes down! Discover tips and tricks when it comes to adding rope lighting to your railing over at The Handyman's Daughter.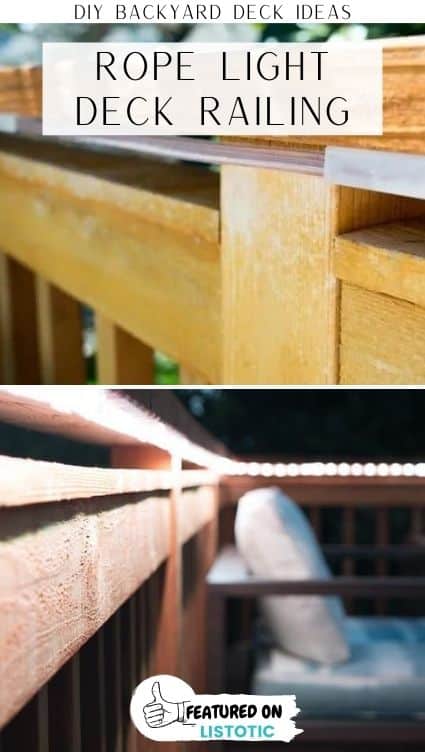 Island Deck
Create yourself a wonderful island retreat in your backyard. Out of all of the backyard deck ideas on a budget, this deck is the most maintenance-free solution. It is built with composite decking and hidden fasteners making it maintenance-free. It is designed to go together fast and to fit in anywhere in your yard, without footings or ledger boards! The result, a beautiful deck!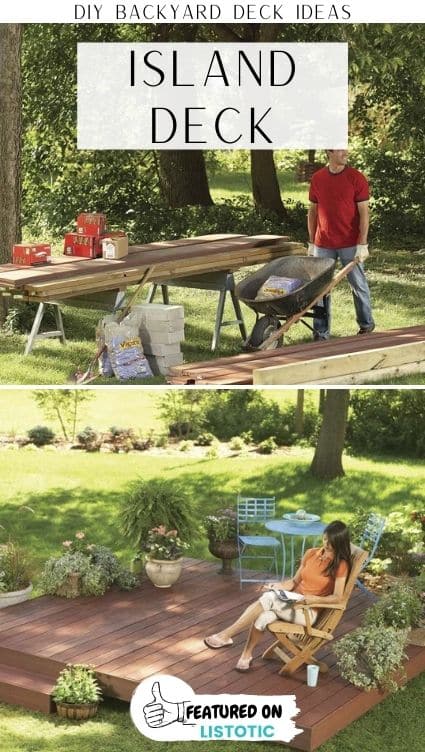 Backyard Deck Ideas Privacy Screen Fence
Block out noisy neighbors, unattractive views, and wind with this privacy fence. It is easy to build and will fit most decks. And it'll make your deck a more comfortable, welcoming place to gather. Finally, spruce it up by staining or painting! Listotic has more ways to add simple yet effective privacy to your backyard.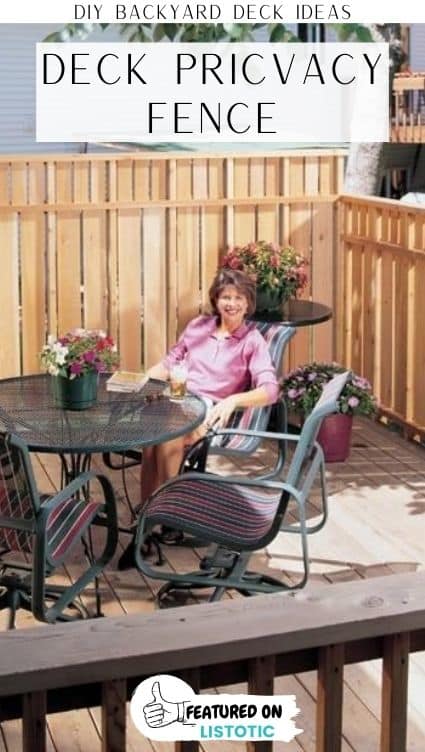 Privacy with Plants
Planting a few small trees around the edge of your deck will provide your deck with the much-needed deck privacy screen you may be lacking. Add a few plants to create a soft, leafy curtain without taking up a lot of space in your yard. Trees such as crabapples will offer springtime blooms whereas smaller maple trees will provide bold fall colors.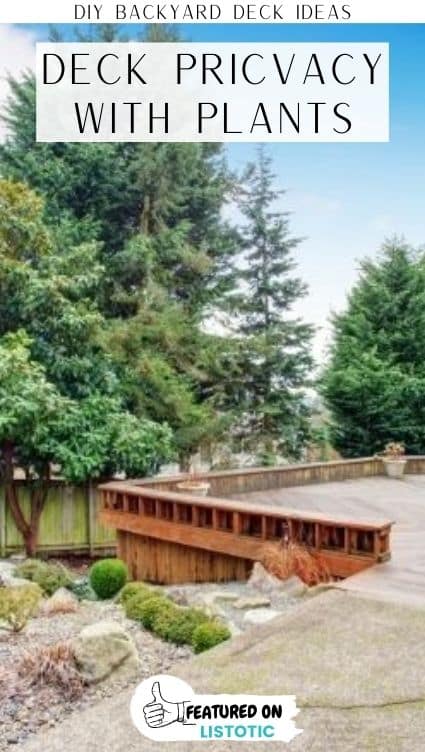 More Deck Ideas and Deck Railings
See-Through Deck Railing
When it comes to looking into your options for your deck railing material and design, indeed you'd like something cost-effective. Consequently, these livestock panels will fit into your budget, while also providing you a unique and surprising design. Looking for more ways to enhance your property? Discover these easy curb appeal ideas anyone can do!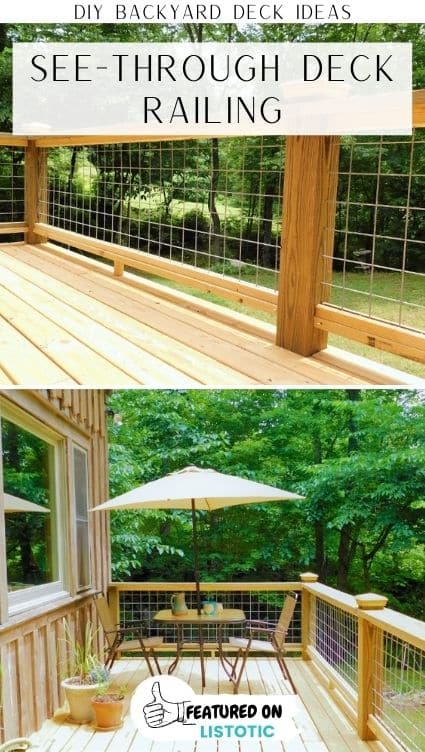 DIY Cable Railing
If you're looking for a deck cable railing, this is a clear winner! First of all, it is sleek and modern. Second, it's easy on the budget! It's also a great way to preserve your view. Enjoy your view without obstruction while keeping your family and pets safe. See how to do this cable deck railing on DIY Pete.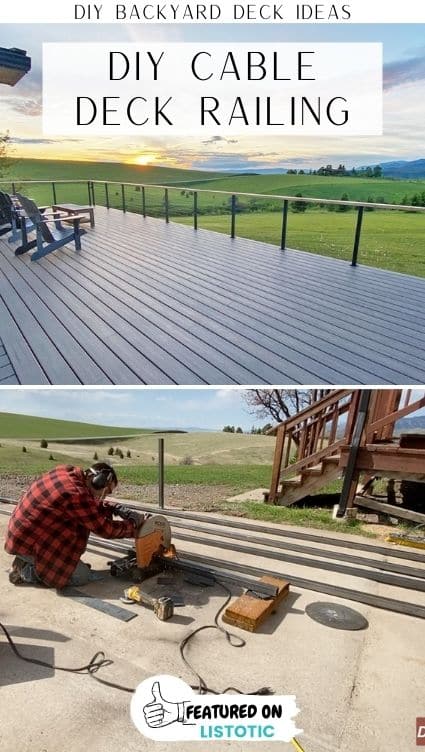 Deck Ideas Slide on Bar Railing
This portable slide-on bar railing is a great way to maximize your deck space. Slip it on and off to add extra counter space on your deck or balcony. This is one of my favorite backyard deck ideas, not to mention easy DIY deck railing ideas. See how to make it on Home Talk.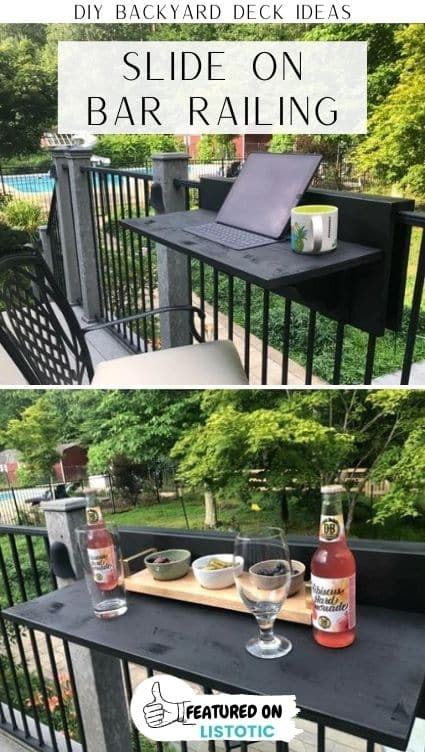 DIY Pergola
Have a weekend to spare? Head over to DIY Network and watch their DIY pergola over deck video tutorial. In particular, adding a pergola will provide you much-needed shade from the sun. Adding some vine plants can also give you a deck privacy screen. As a result, you have a welcoming place to gather with your friends.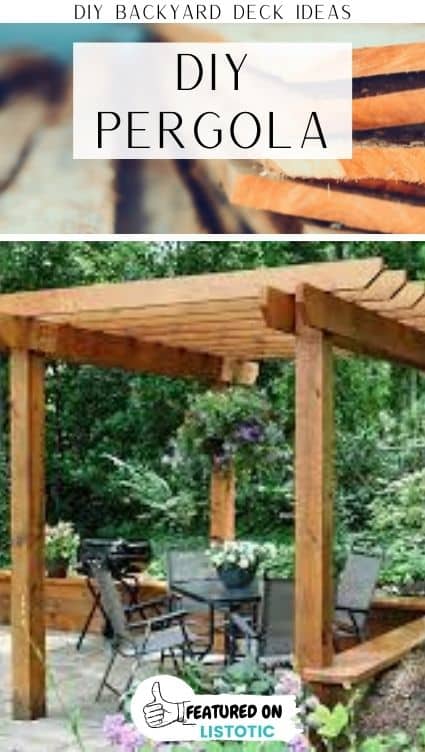 Jump into summer with any of these backyard deck ideas. Be sure to check out more inspiring backyard patio ideas as well. Listotic also has Backyard games that are perfect for those summer events you're bound to host on your backyard deck!
Save this pin to Pinterst so you can come back for deck inspiration whenever you want!