Last Updated on October 8, 2021
Fun backyard game ideas you can DIY!
I'm looking forward to summer so much this year, I've already gone on a hunt for some of the best backyard games and activities for kids… AND adults!
A lot of these would make for fun party games (4th of July, maybe?), but some of them are so simple and cheap to make, you could play them anytime. It's definitely a great way to get the family to spend more time outdoors.
If you're really crafty (or know someone who is), you might enjoy constructing a giant lawn chess game or even a backyard bowling alley! Why leave the house when you can have so much fun in your own backyard?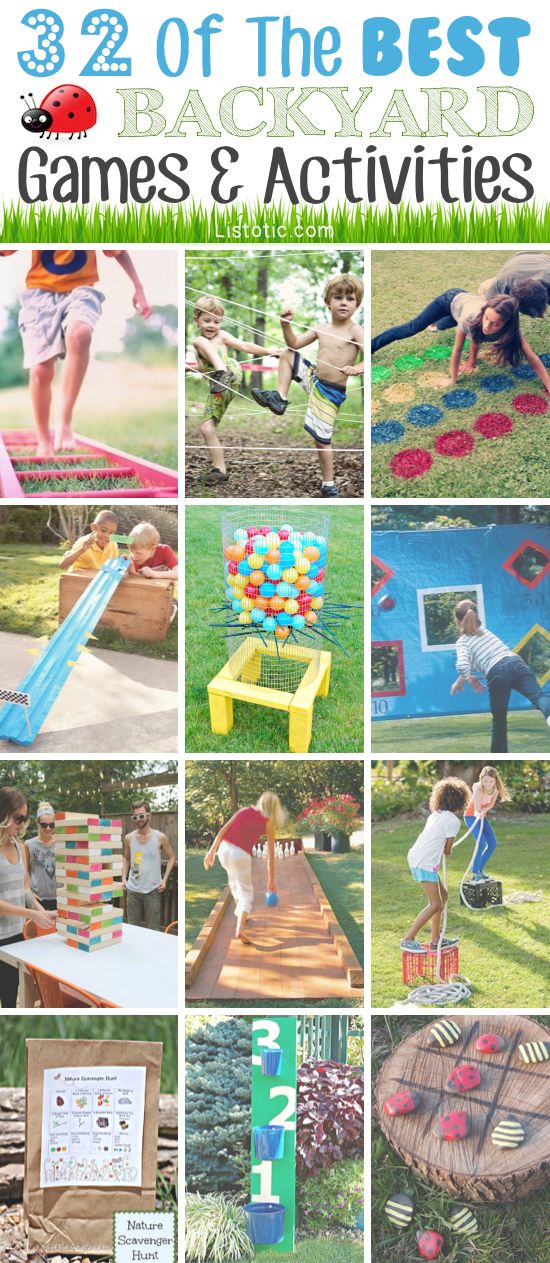 1. Yard Twister
My first thought when I saw this was "FUN"! But then, I thought "Wouldn't the paint ruin your lawn?". Turns out you can use ground marking spray to prevent damaging your grass, and within a few weeks it grows out. Hadn't thought of that! You could make the board as big as you'd like so that a lot of people could play at once. And, you can customize the size of the dots depending on the age of the players; smaller dots are better for little hands and feet. Get the full instructions here.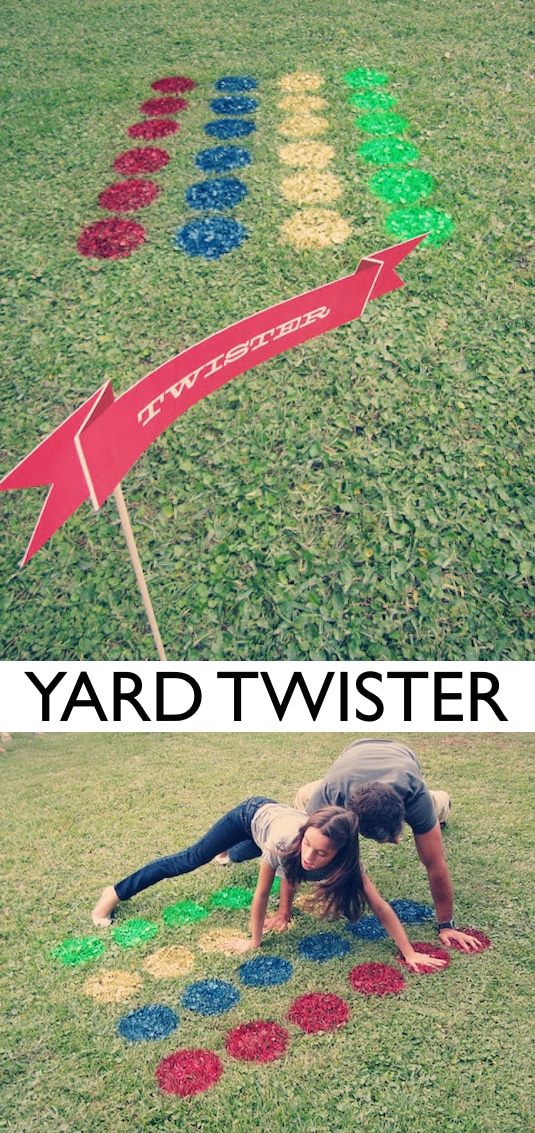 2. Jumbo Backyard Ker-Plunk Game
Believe it or not, this is made with really simple materials, and you can purchase the ball pit balls on Amazon. Get your drill ready because anything in jumbo size is so much more fun! Go check it out here.

3. Giant Jenga
With just a couple of 2 x 4 boards you can make your very own Giant Jenga Set! You wouldn't even need a saw because most lumbar yards and home improvement stores will cut the boards to any length you want. I love how this set was painted on the ends in pretty spring colors! Believe it or not, this game has become so popular you can actually purchase a Giant Jenga Set for about $100 on Amazon (just in case you're not much of a do-it-yourselfer). This would be fun to set up at an outdoor graduation party!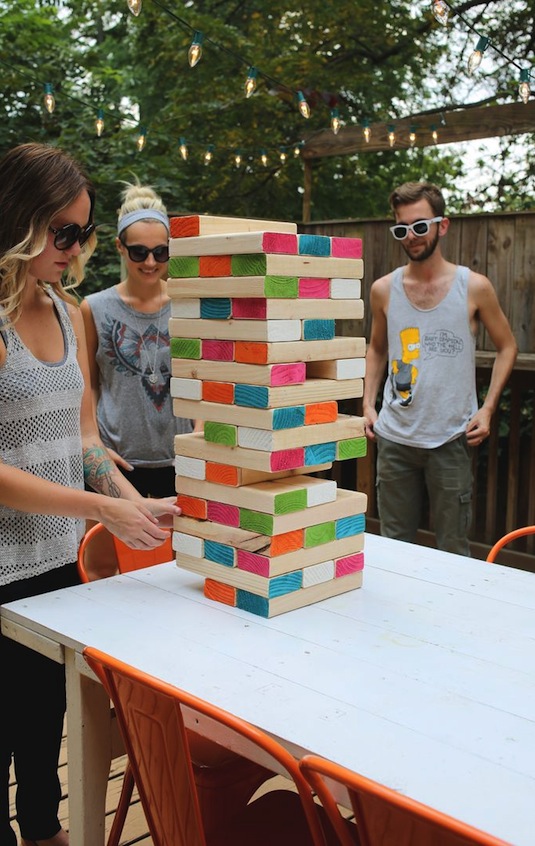 4. DIY Passing Practice Tarp
How fun is this?! Simply cut out several sized squares in a tarp, line the edges with colorful duct tape, and mark each one with different point values. This is perfect for a future quarterback (or just plain, good ol' fun). You could make it into a game by seeing who can get the most points in 10 throws. Click here to get a plastic tarp, colorful duct tape and light up footballs to throw.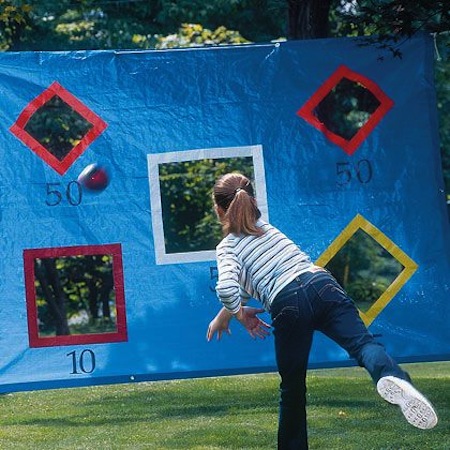 5. DIY Ring Toss Game
This one is fun for any age! All you need is some rope and duct tape to make these colorful rings. The further you stand back, the harder it gets. You could even mark lines in the yard and assign each one with a different point value to make it more challenging and entertaining! Get the instructions here. Oh and if you don't want to DIY it yourself amazon has a fun yard ring toss game you can pick up for around $20-25.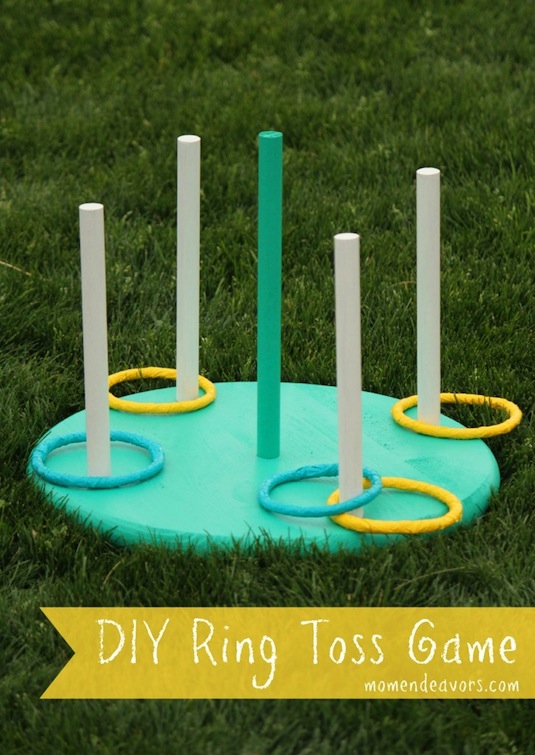 7. Giant Outdoor Chess
My husband and I recently bought a new fancy chessboard and its' been so fun. I have been holding a small tournament. I've even got our scores written down on the chalkboard in my office– I mean business! I absolutely love the idea of taking it outdoors. This would not only be fun but would keep us both a little more active. Although, I'm curious to see if it would be a little harder to strategize with it being a little harder to see the whole picture.
Simply use pavers or tiles to create the board, and then you can find giant chess pieces on Amazon. I'm not crazy about the grass for the darker squares because I think it would be hard to maintain, but perhaps a darker tile in lieu of the grass, or you can also find outdoor boards on Amazon and skip the whole DIY thing. Hehe.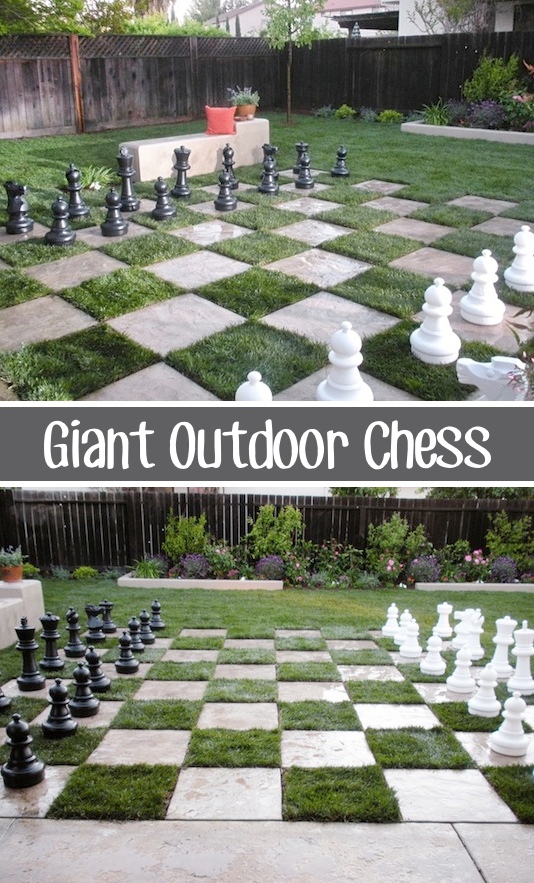 8. Nature Scavenger Hunt
A good scavenger hunt is one of my favorite childhood memories! I think all kids love exploring the outdoors. It could be done in your own yard, a park, or even on a camping trip. We have a fun free printable scavenger hunt for you to try. It's great for ages 3-10!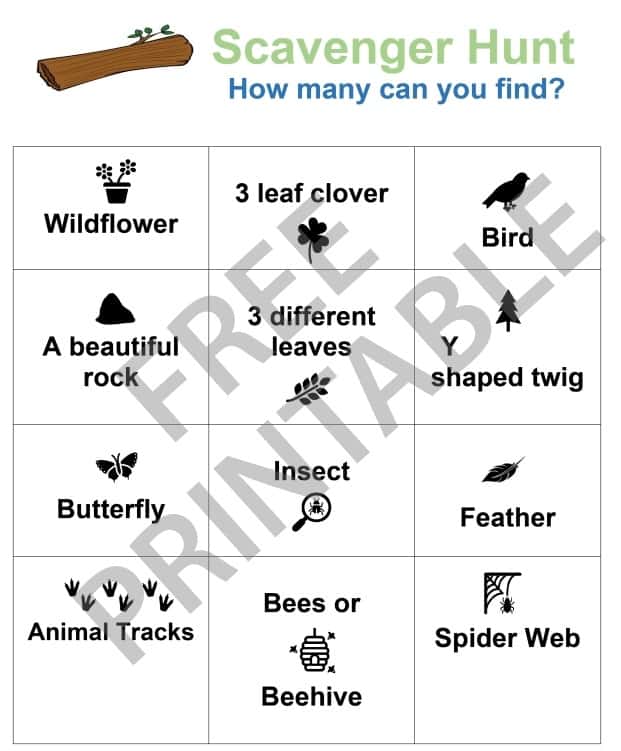 9. Bean Bag Toss
Drill a couple of different sized plastic buckets to a board, and have fun seeing who can get the most bean bags in (or rocks) into the buckets. You can keep score by assigning the buckets with different point values based on their size. Try these already numbered nesting buckets from amazon. This could keep the kids entertained for hours!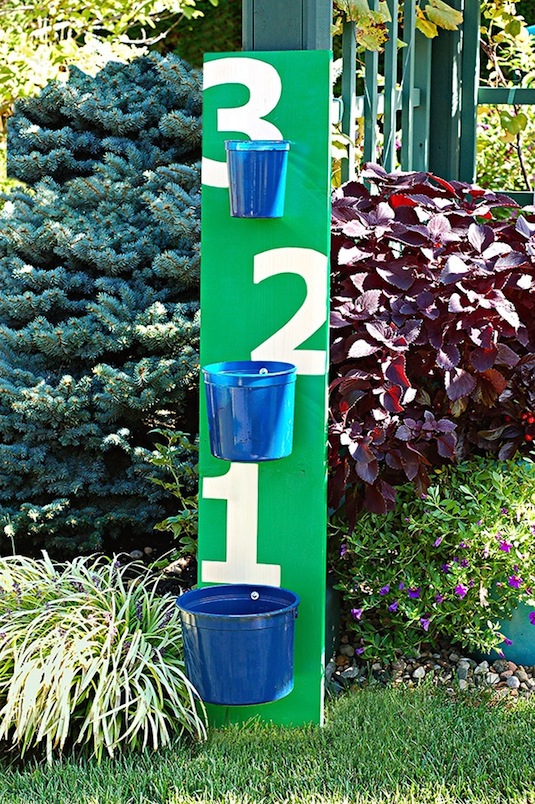 10. Backyard Obstacle Course
This is where your creativity really comes into play. You can use just about anything to create a fun obstacle course in the yard– hula hoops, tires, ladders, pool noodles, string, rope, buckets, cones, boards…. you name it!Next, all you have to do is sit back in your lawn chair with your stop watch and summer beverage (try this two ingredient pineapple soft serve), and keep track of how long it takes to complete the course. This will keep the kids active and busy trying to go for the record!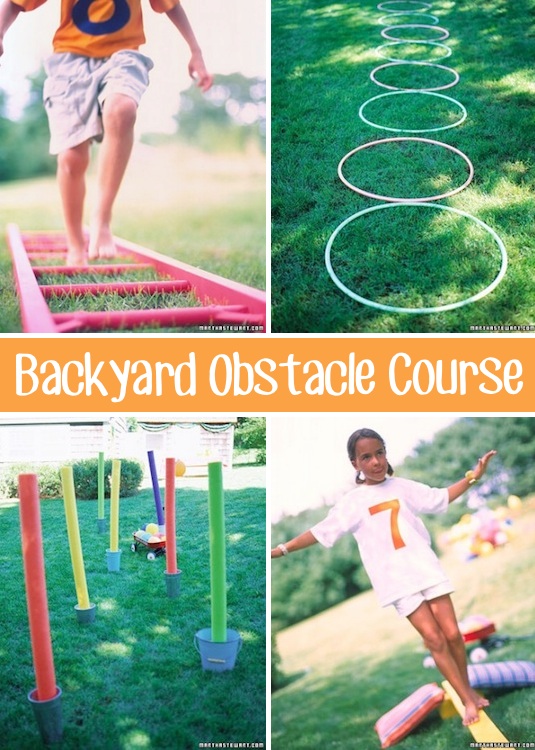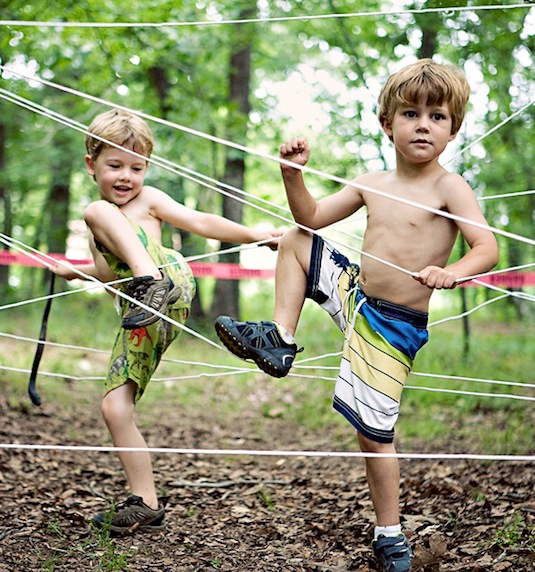 11. Jumbo Checker Rug Game
Although this is available to purchase from Amazon for around $15, it would be so easy to make! You could use just about anything for the checker pieces, and with a little bit of fabric paint, you could make a custom board. There's just something about being outdoors that makes this classic game so much more appealing.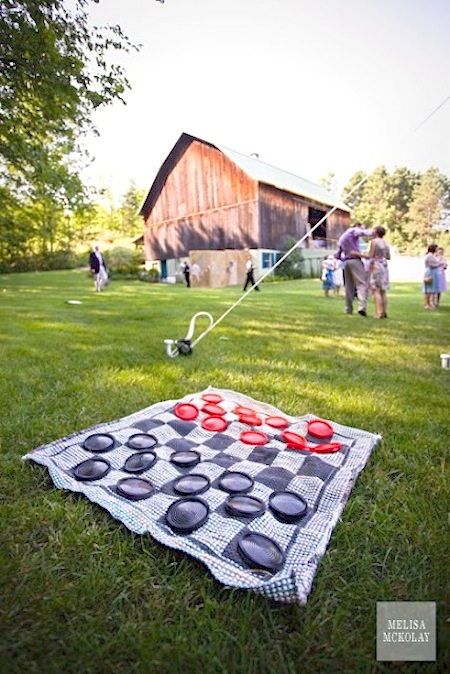 12. Backyard Bowling
This backyard game would take a little more skill than most to really set up nicely, but your yard would be the hit of the neighborhood! Maybe even simplify it a bit with homemade bowling pins made out of empty water bottles, and construct your own alley with the use of your porch or driveway.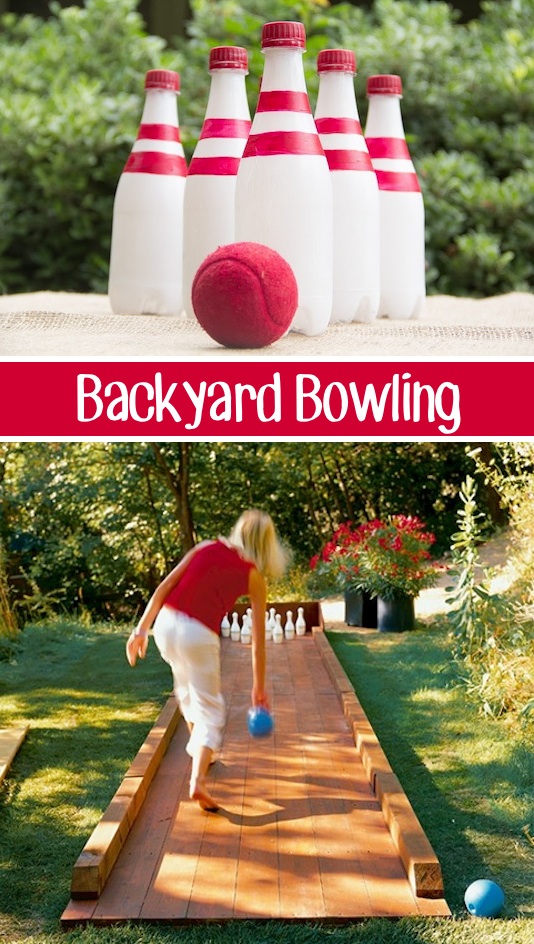 13. Use Your Noodle
It turns out you don't need a pool to get really good use out of those noodles! Not only are they good for keeping your boots upright, but there are so many outdoor games to be played with them. Blow up a few balloons, and see how many balloons the kids can get into a basket using just a pool noodle.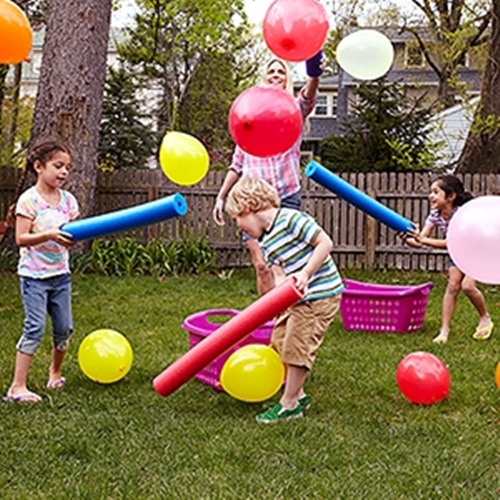 14. Outdoor Tic-Tac-Toe
This is one of my favorite spring projects! It's the time of year when you just can't get enough of the outdoors. I love the idea of constructing your own tic-tac-toe board in a fun outdoorsy theme– great for any age! You could even use items you find in your own yard to put it together. If you aren't wanting to waste anytime painting rocks to play a game you could try this giant tic tac toss yard game that will keep everyone moving!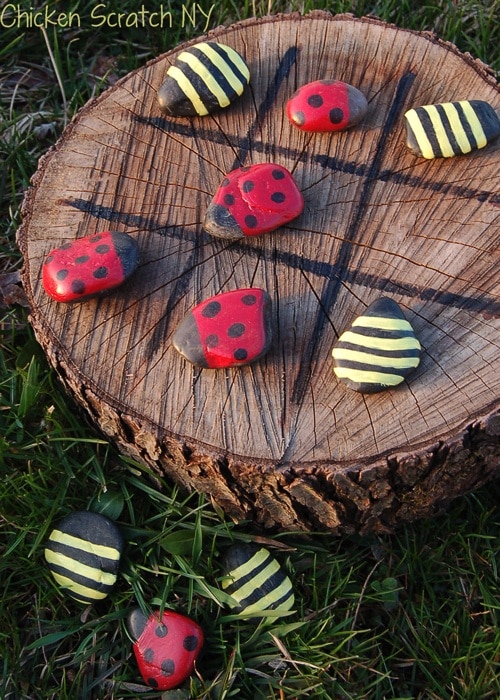 15. DIY Dunk Bucket
This is a backyard activity you'd probably want to save for summer, but just imagine how fun this would be! While the construction behind it would take a little bit of effort, but definitely well worth the time spent. This could be one you save for a 4th of July party! I'm sure you'd have plenty of kids volunteer to get wet.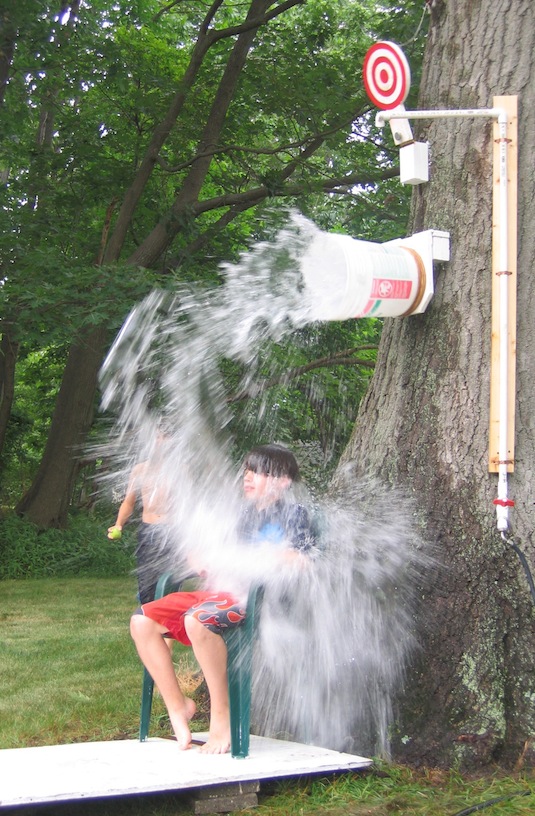 16. Pool Noodle Olympics
These things are so versatile! You can bend them, cut them, and shape them into just about anything. Pool noodles are also really light weight and cheap, which is why pool noodle olympics are a must for every backyard party.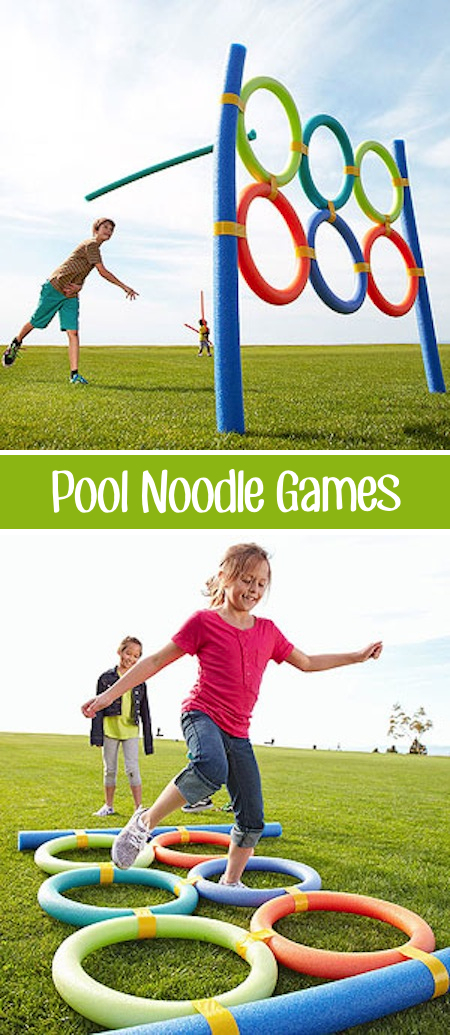 17. Giant Pick-Up Sticks
This classic game has never been better! What's a better way to get the kids to spend a little more time outdoors and learn a game that you played in a your childhood? I personally just like the idea of jumbo games, but I'd also like to freshen my pick-up stick skills in a BIG way (no pun intended). Get the instructions to diy it yourself here. Or purchase the Jumbo pick up sticks outdoor game off Amazon here.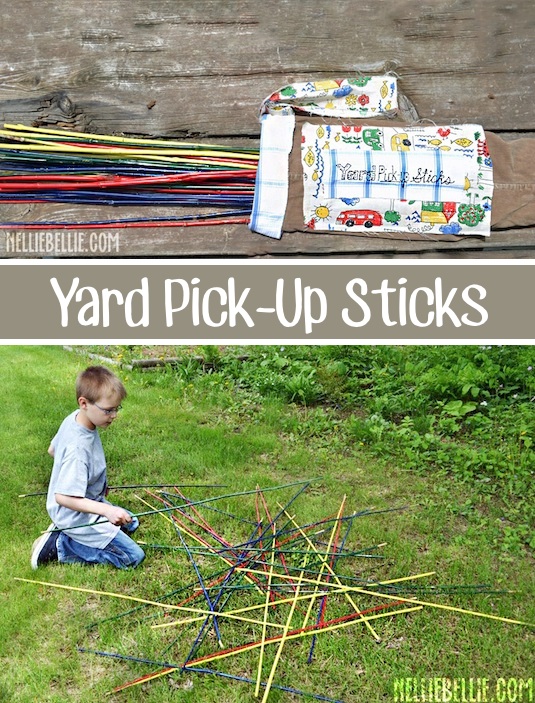 18. DIY Water Wall
Oh, the fun you can have with a peg board and zip ties! This is like a science experiment that is just as much fun to build as it is to play with. Start saving all of those plastic containers, and have fun making your very own! I especially like the idea of cutting out pieces of an old garden hose.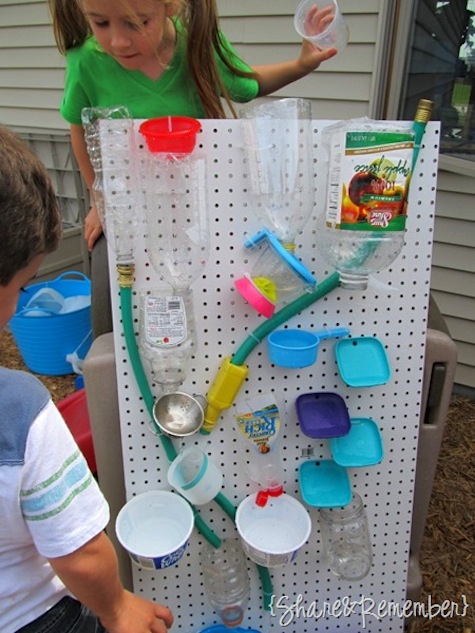 19. Tin Can Toss
Sometimes a little bit of fun can be packed inside of those tin cans, too! Hang them from a homemade structure, and see how many bean bags, rocks or balls you can get into the different sized cans. You could even label each one with a point value based on its size.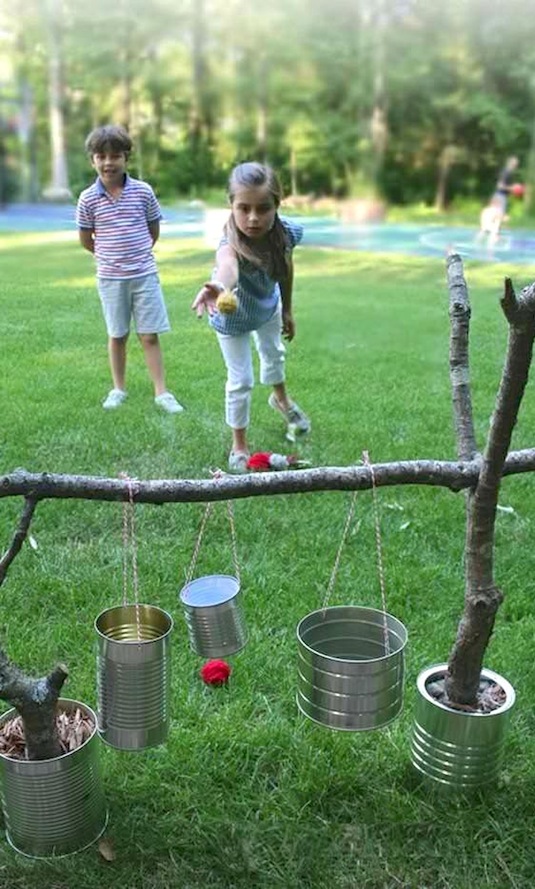 20. Lawn Scrabble
If you're a Scrabble junkie like myself, you just might be up for this challenge! The fun part would be tip toeing over all of the scrabble pieces to put your word down. That's all you'll need is 8 feet of space, 225 pavers, and a lot of craft-store wood plaques. That's not too much to ask, right? Read more about how it was done here. For a similar word game that you can play outdoors using giants check out this seriously JUMBO Bananagrams Word Board Game!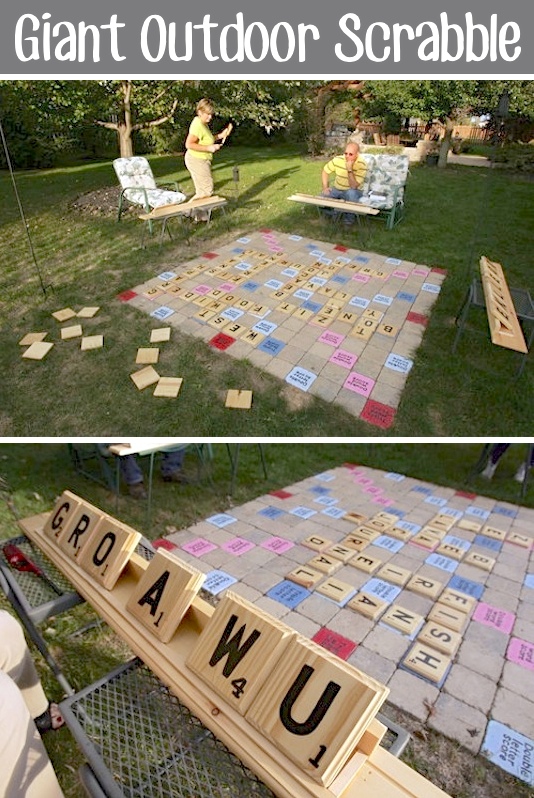 21. Stumps Tug-of-War
This game isn't just about strength, not when you add in a few upside down milk crates or wood stumps! See who can keep themselves balanced while trying to pull their opponent off. You could even make a mud pit to make it more interesting.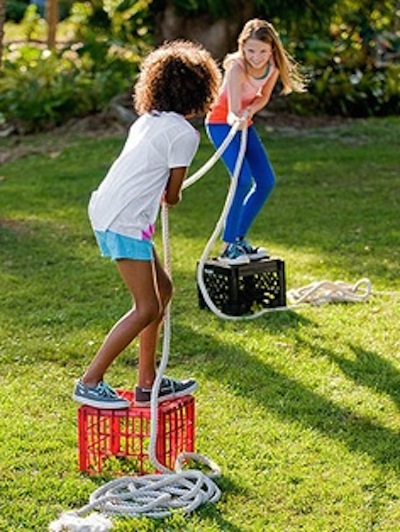 22. Ice Block Treasure Hunt
Get excited about summer, because this is one of my favorite outdoor activities for the kids! They have so much fun excavating the toys out of the ice. Just give them a few tools (hammer, screwdriver, etc.), and watch them dig for joy. They will want to do this over and over again! Get the full details here.
This would also be a great idea for a backyard Halloween party activity! Just replace the toys with some dollar-store skeleton bones!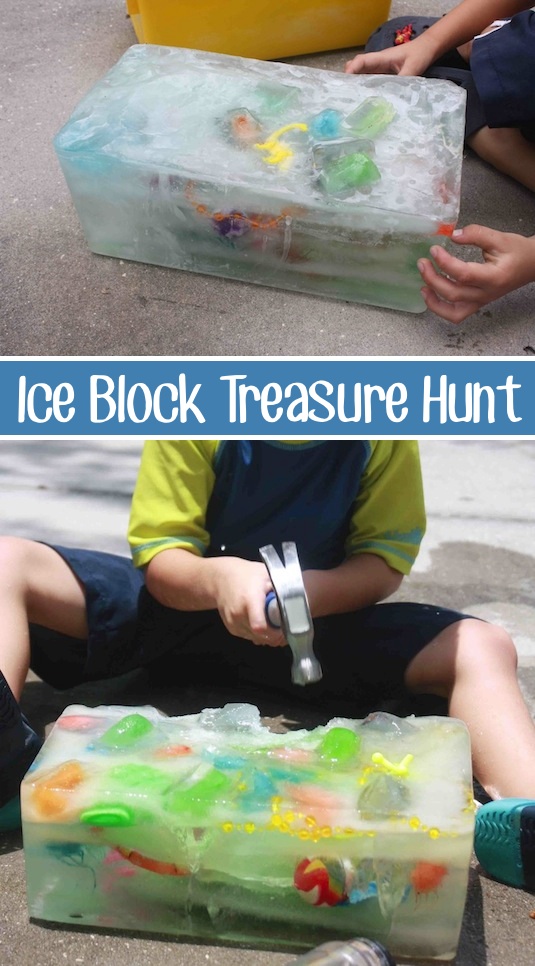 23. DIY Cornhole Board
This classic is one of my favorites because it's fun for all ages! I like the idea of customizing it, too. You could paint it in patriotic colors for a 4th of July party, or just use it all year round for backyard fun. Make your own cornhole board with these instructions. Don't forget the regulation size & weight cornhole bean bags!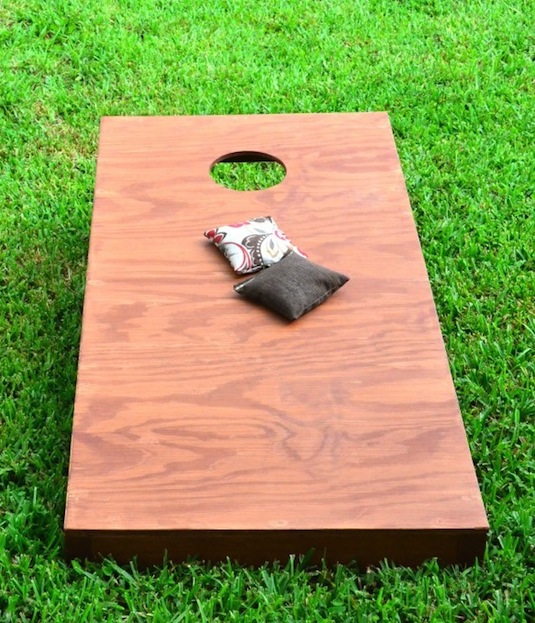 24. DIY Water Blob
This is better than a slip n' slide! Although it's "water play", it's completely dry (unless you add water to the top). I can image it gets pretty warm towards the end of the day, so it could even be fun on a cooler spring day. I would even try filling it with a bit of glitter and/or food coloring! Get the full instructions and see more pictures over at Homemade Toast.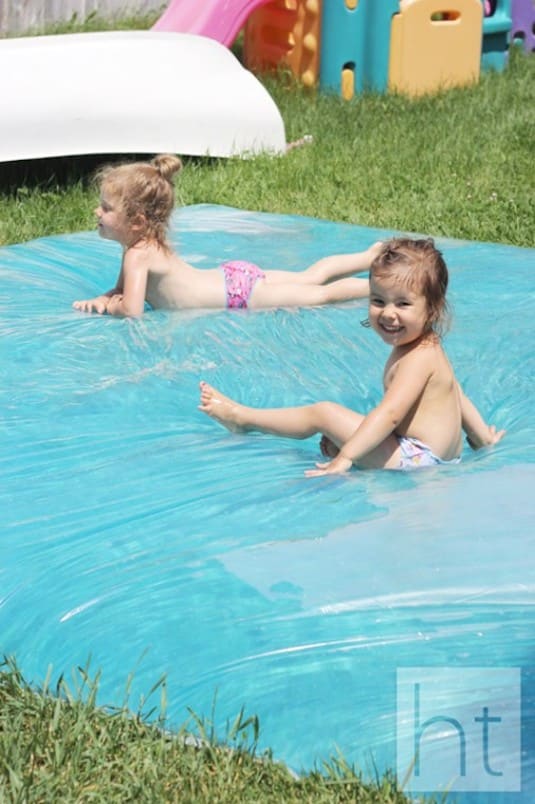 25. DIY Plinko
Are you thinking what I'm thinking? The Price is Right! This could be an interesting project that the entire family would enjoy. If you like the circus, why not bring a little bit of the fun to your very own backyard? Don't forget the decorations! An Outdoor Carnival Giant Decorating Kit would be perfect for your backyard game day.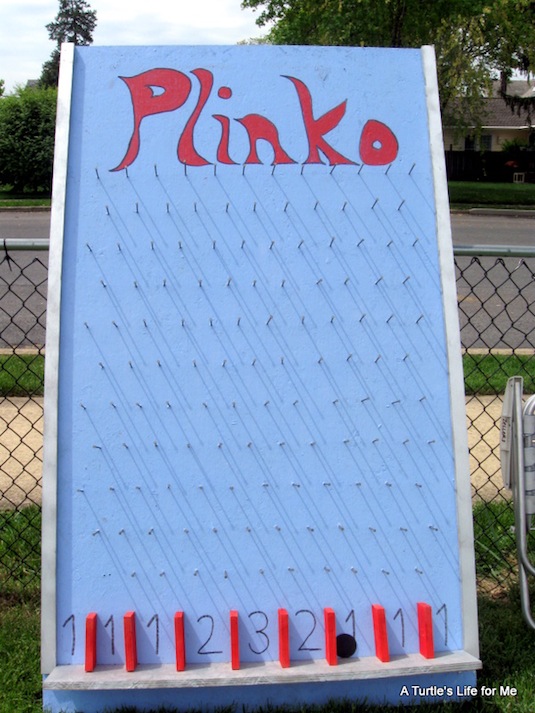 26. Balloon Dart Board
What a fun backyard carnival party game! I say, let the kids blow up the balloons and you staple them to the board! For a party, you could fill each balloon with a number that wins a corresponding prize. Just pick out balloon colors that match the holiday or party theme. Instructions can be found at She Knows.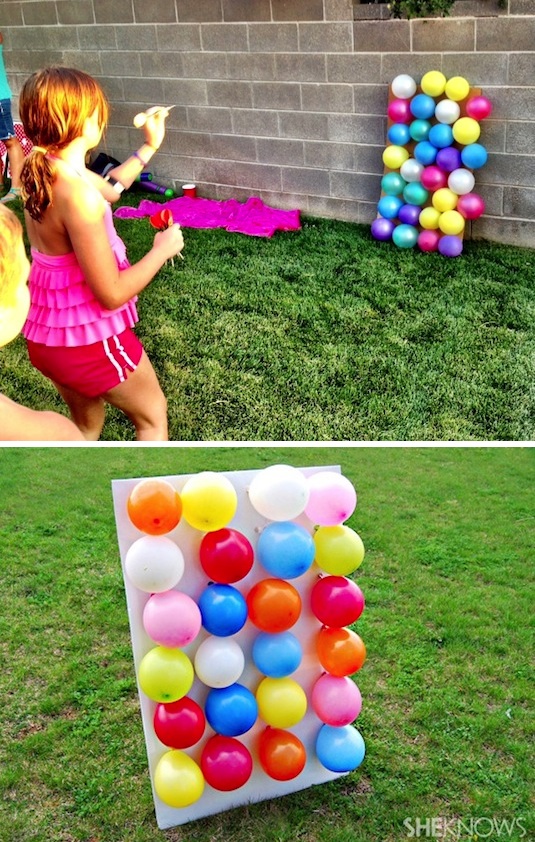 27. Bean Bag Bowl Toss
If you visit The Dollar Store, you could put this game together for about $5. Make your own point signs for each bowl, and see who can get the most points in just a few turns. You could even make bean bags with dried beans and scraps of fabric. Or purchase some colorful small bean bags for fairly cheap off amazon.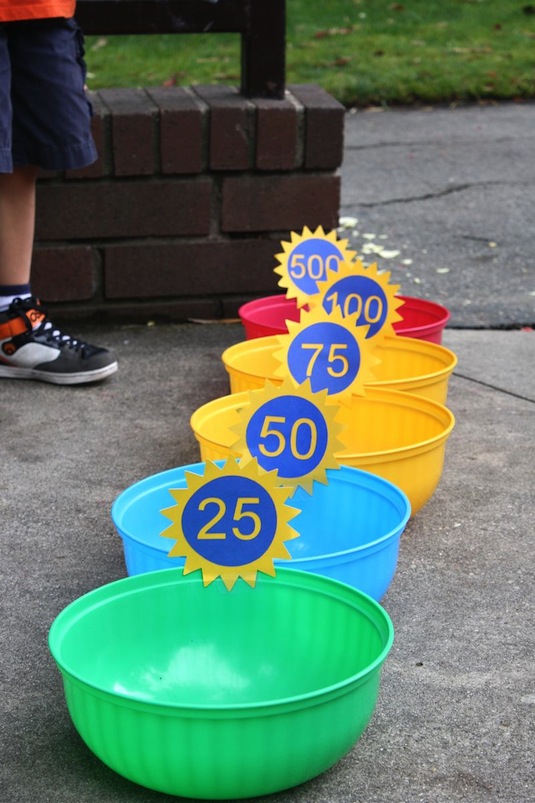 28. Human Board Game
This is such a unique way to use sidewalk chalk! Create the board of your choice, making it as easy or as difficult as you think the players can handle. Make a jumbo sized die with a box and constructions paper Or buy some giant inflatable die here. You would need a good sized driveway for this, but you could also do this indoors with blue painters tape instead of chalk. Get the full details here.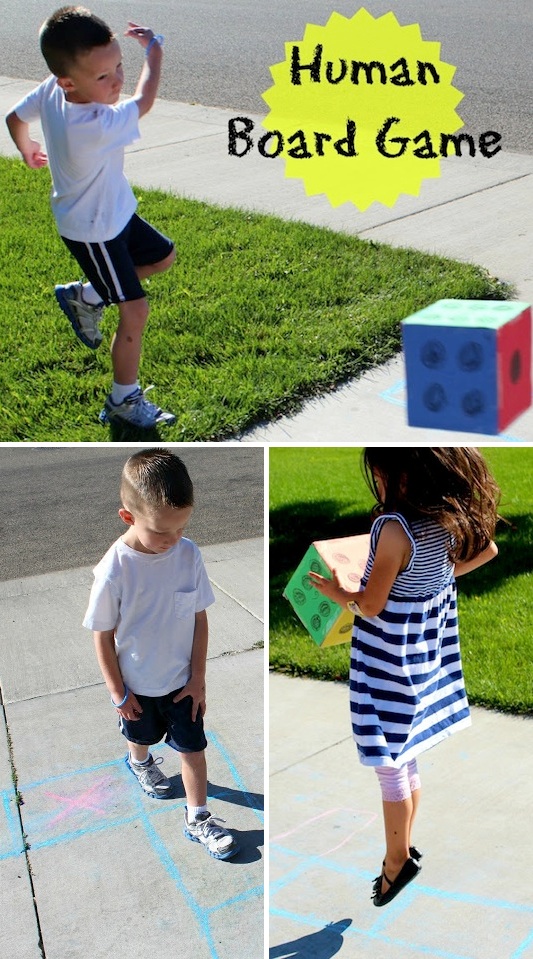 29. DIY Slip N' Slide
Plastic sheeting! I would have never thought of this. If you've got a hose, I think the kids could manage to have a lot of fun. I'm also digging the PVC pipe sprinkler and hanging pool noodles.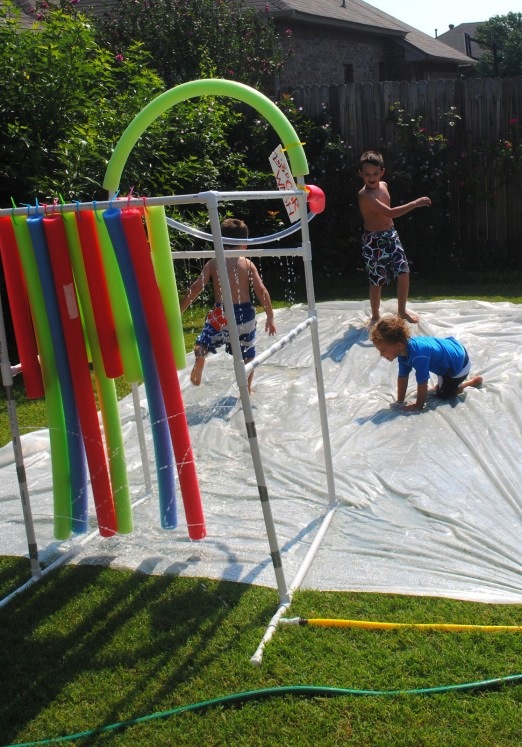 30. Bean Bag Ladder Toss
So simple! Label each rung of the ladder with points. First, see who can get the most points possible by tossing a bean bag or ball! I love how easy this would be to set up, and if you have a since there's no purchase required.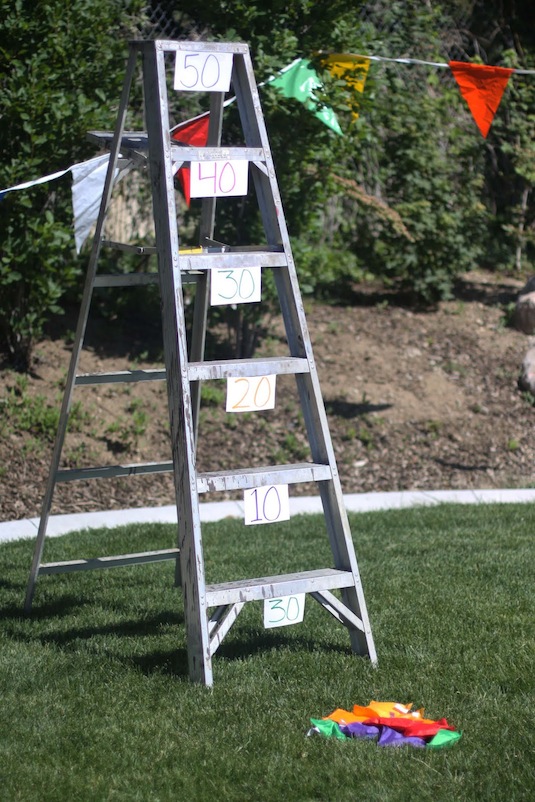 31. Colossal Connect 4
Ok, you got me. Technically this isn't "DIY" (obviously, but I'll bet you could make one). It just so happens I'm a master Connect 4 player, and I plan on having one of these in my yard this summer because I WILL play it every day. Every day. Pick one up here.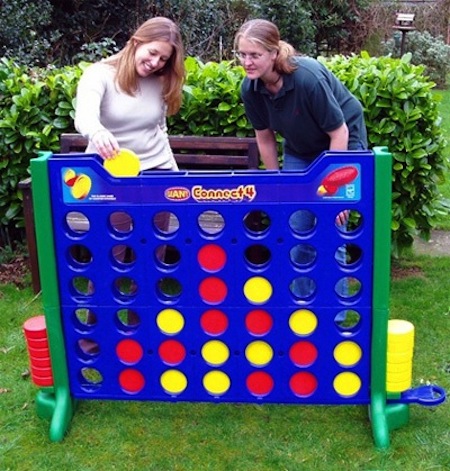 32. Backyard Glow Stick Games
Just because it gets dark doesn't mean all of the outdoor fun has to end! Glow sticks will keep the party going. Wouldn't these be awesome for a 4th of July party? You could even fill balloons with glow sticks and make a glowing balloon dart board. Or, outline the ring of your cornhole board with a glow stick so you can continue playing all night!