It's graduation time and outdoor graduation party ideas are here!
Celebrate with these ideas because they are fun and budget-friendly too!
Do you have a high school or college graduate this year? I'm guessing your first step is deciding where to host the party? If you have decided to have an outdoor graduation party; you are in the right place! Listotic's list of fun and simple outdoor graduation party ideas is here to help! But don't know where to start? Before you panic, we are here to help you decide how to decorate your outdoor living space for graduation. Check out these fun backyard graduation party ideas. Enjoy these DIY party decoration ideas for an outside graduation party!

Backyard Picnic
Picnic theme will suit almost any outdoor living space! Picnics are relaxing but fun. A backyard picnic is one of the most clever graduation party ideas because it is so easy to do. Include easy meal options too! Like sandwiches, cheese plates, fruit, and mini pies! I love the idea of having some blankets & pillows on the ground for seating. What a simple way to get more seating for the able-bodied people. Renting picnic tables would be another great way to stay with the theme. Get more outside graduation party picnic ideas at La chica de la casa de Caramelo!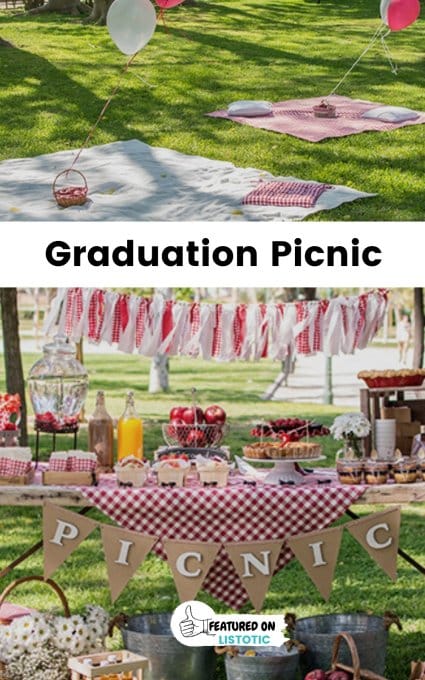 Sports Party
Does the graduate love sports? Because this outdoor graduation idea is for sport fans! Sport-themed parties are simple ways to incorporate hobbies into the decor. Grab decorations from the garage! You can set up little grass patches to display the graduate's sports equipment. But of course, you don't want to forget the popcorn, sports drinks and surely use team colors. Another great part about backyard graduation party ideas is your fence can serve as a display wall. No worries about adding nail holes to the outdoor fence to hang some banners because… well… who cares? See this sports graduation party on Kara's Party Ideas.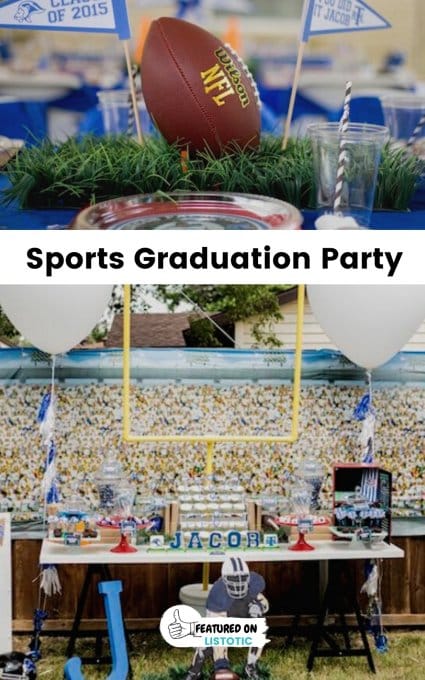 Host a Luau
A summer Luau is the perfect setting for summer parties. So, why not make that the theme of your outside graduation party? You don't even need a pool for a fun Hawaiian Luau Party. (Although that wouldn't be a bad idea!) I especially love the seashells and citrus for really accessible Luau decor. Get backyard luau ideas from our friend Linda, at Life on Summerhill.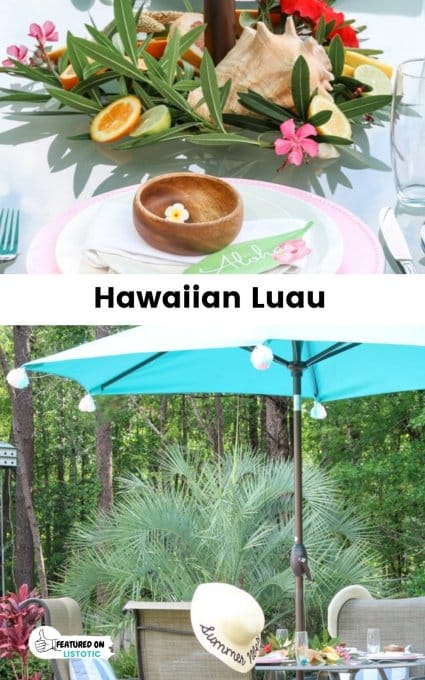 Surly a DIY pineapple palm tree fruit tray would make a great conversation piece? Especially for a summer Luau Backyard Graduation Party. Get the instructions on how to make a pineapple palm tree on ehow.com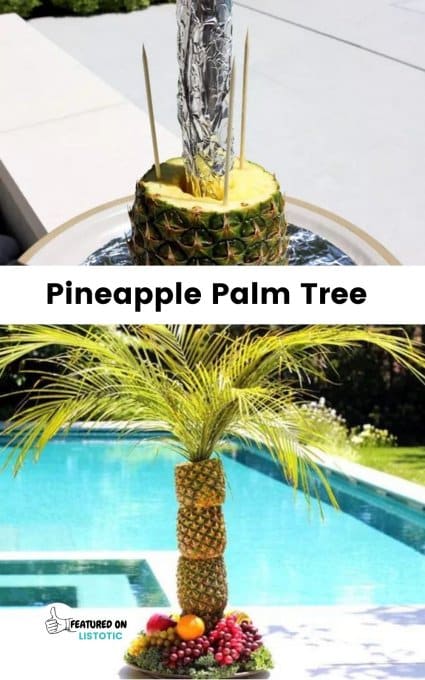 More Ideas for backyard party
Tie-Dye Party
Colorful and fun is what this idea is all about. Take some inspiration from Beijos Events. This backyard tie-dye party is so stunning! Create a fun, colorful, and bright party atmosphere in your own backyard with a Tie Dye theme. Varied Balloons, flowers, and miss-matched colored plates help to pull this idea off. Also, check out this list of fun things to tie-dye on Listotic.

So many great things you can tie-dye for your Backyard graduation party ideas. I really like tie-dye themes because you can mix and match as many colors as you want. DIY tie-dye projects make throwing a graduation party so much more fun to get ready for. You can even stand out with some Tie Dye Party invitations!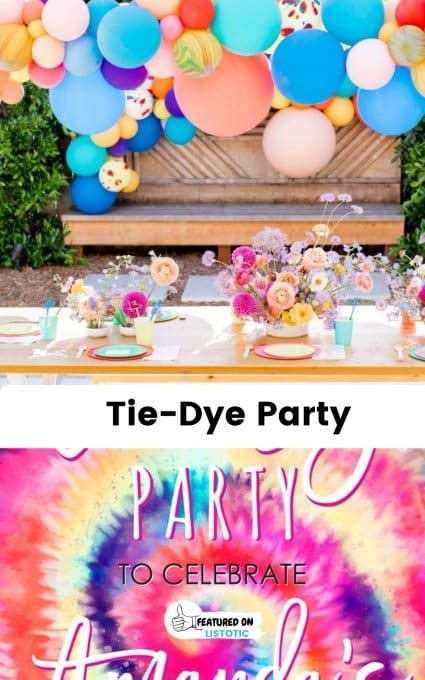 After-dark graduation party
Deciding the time of day of your graduation party is challenging. Usually, there is at least one graduation party your graduate's party will be at the same time as. A solution could be to try an after-dark graduation party. How about these outside graduation party ideas? Hang some DIY hanging flower pot lights all over your backyard! Simple table settings with lots of outdoor garden lights set a relaxing atmosphere. More ideas are to have a fire pit, roast marshmallows, and light up the yard with your walkway with photo luminaries. Get Instructions for this DIY globe light at The Garden Glove.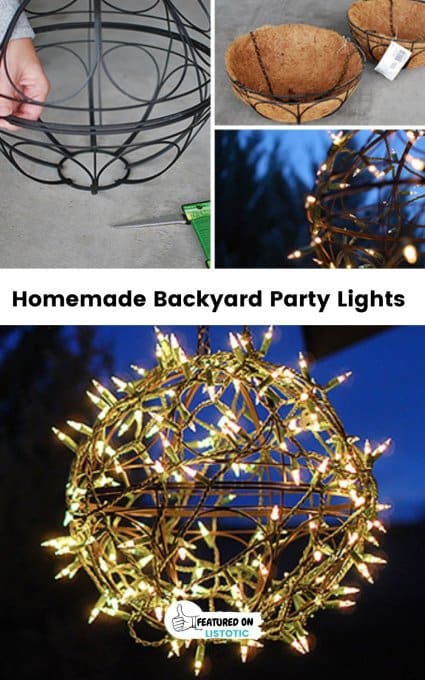 Do you have a college graduate (21 and older) who loves wine? How about these outside graduation party ideas? You might even add in some fun ground lights using wine bottles. This is a cheap and easy backyard lighting idea from More Organics. Read more on how to make these cheap wine bottle backyard lights.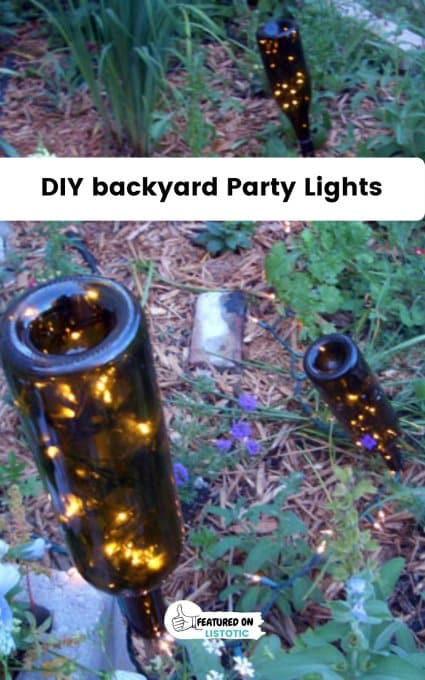 Oh, and if you are having an after-dark party don't forget the glow stick outdoor graduation party decorations ideas! Kids and adults of all ages love glow sticks. I don't think we will ever outgrow them because they are so fun. Get the full list of glow-in-the-dark ideas on Listotic.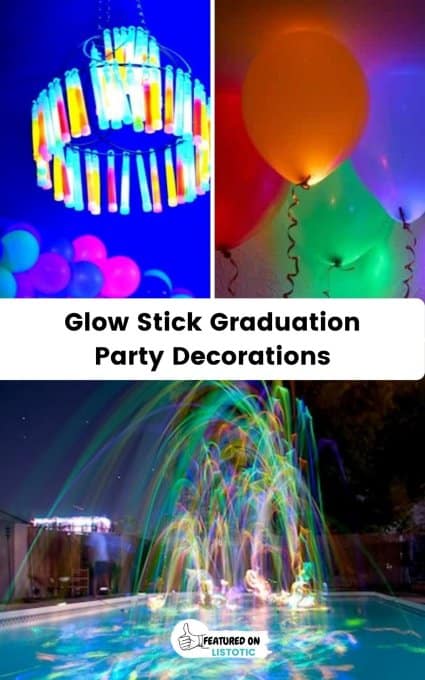 Rustic Ideas
A rustic graduation party means everything doesn't have to be perfect. You can upcycle old pieces from your home, garage, or grandpa's barn! Use old antique furniture to make some super cool party food displays. Recycled wood pallets make a great display for photos, awards and so much more! To see how to turn a wood pallet into a rustic photo display visit Old Salt Farm.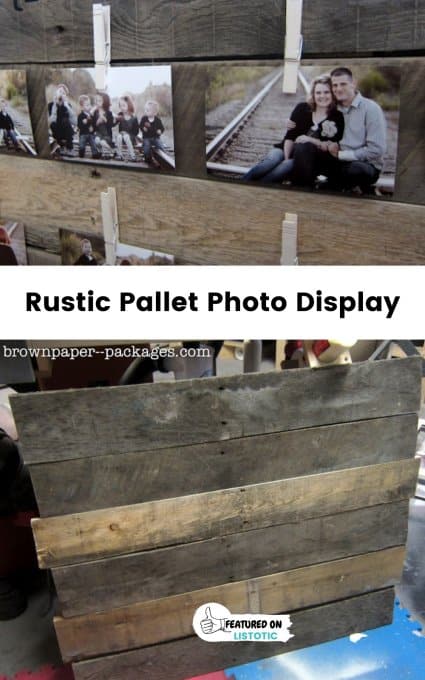 Rarely you have a grad party without some photo centerpieces because everyone is there to see how the grad has grown. Why not use your tables as your main outdoor graduation party decorations? Wood slabs and mason jars can go a long way when it comes to rustic party decor. See more DIY mason jar ideas right here on Listotic.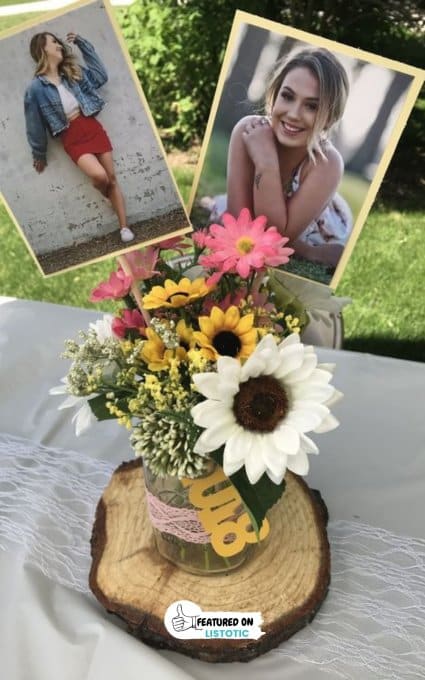 Donut Party Ideas
Yep, donuts made the outdoor party theme list because… well surely everyone loves donuts! The donut party theme has been going on for a while. Donut walls make with pegboard… and even donut graduation pictures!! Why not surround your graduation party idea theme with donuts. Don't forget the Krispy Kream doughnuts!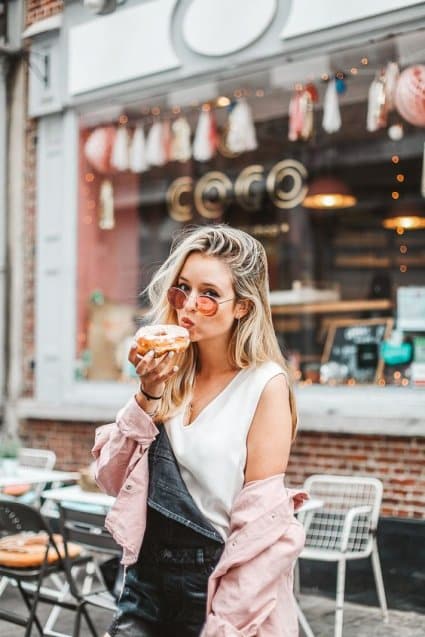 You can get this 6 ft donut wall off Etsy as your outdoor graduation party decorations. Buying one is a quick option, but you can also make your own DIY pegboard donut wall instead!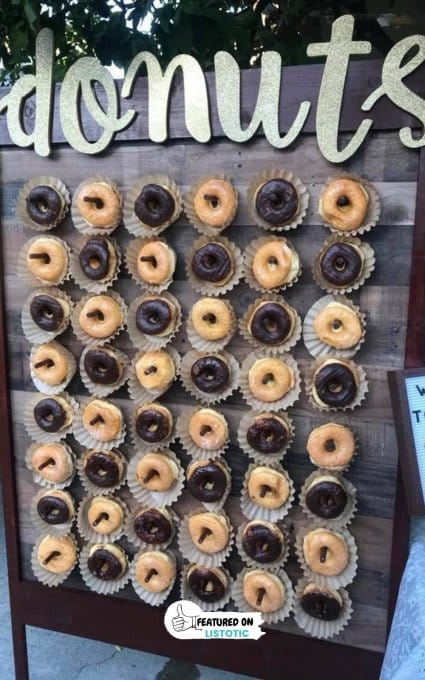 Backyard Fiesta & taco bar!
Who doesn't love a good taco bar? Really! So, go grab some piñatas and set up a taco bar in your backyard. Fiestas are fun outdoor graduation party ideas.

One thing is for sure, everyone will be excited about the food. This is my favorite outdoor graduation party idea. Firstly, it's fun and colorful. Secondly, the food choices are easy and everyone can find something they like. Finally, all the food & party decorations can are within a budget. So they are cheap to host. See how they did this "taco bout a future" backyard graduation party on Life With Ciera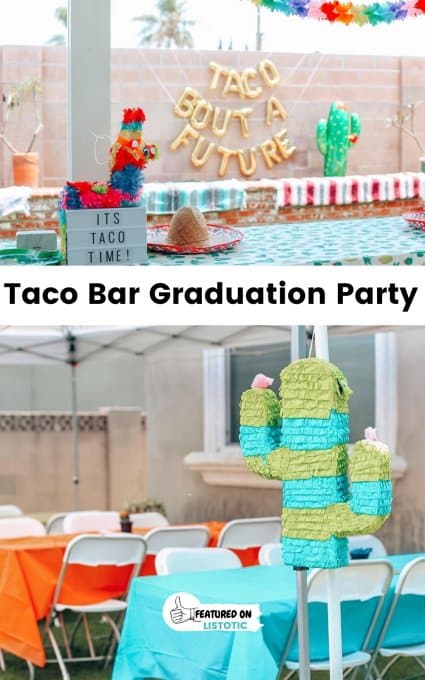 So, did you find outdoor graduation party decorations you like? Surly you enjoyed these outdoor graduation party ideas? I know I love them because they are so budget-friendly and so fun! Listotic has even more backyard decor ideas and backyard games you will love. Make sure to check those out too!