Last Updated on September 23, 2021
Your home should feel just like that– home! Design is a matter of taste, but just about everyone wants their home to be stylish, up to date, and a reflection of their personality. It can sometimes take quite the vision to see past all of the out dates, but with a little bit of creativity and elbow grease, you can completely transform your home even on a little budget with these DIY remodeling ideas.
A lot of this might require a few DIY projects, but at least you can have some pride in doing it yourself! The key is to do your research and don't rush. Here are a few DIY remodeling ideas and projects that will hopefully get you inspired to transform you home into your own little piece of heaven!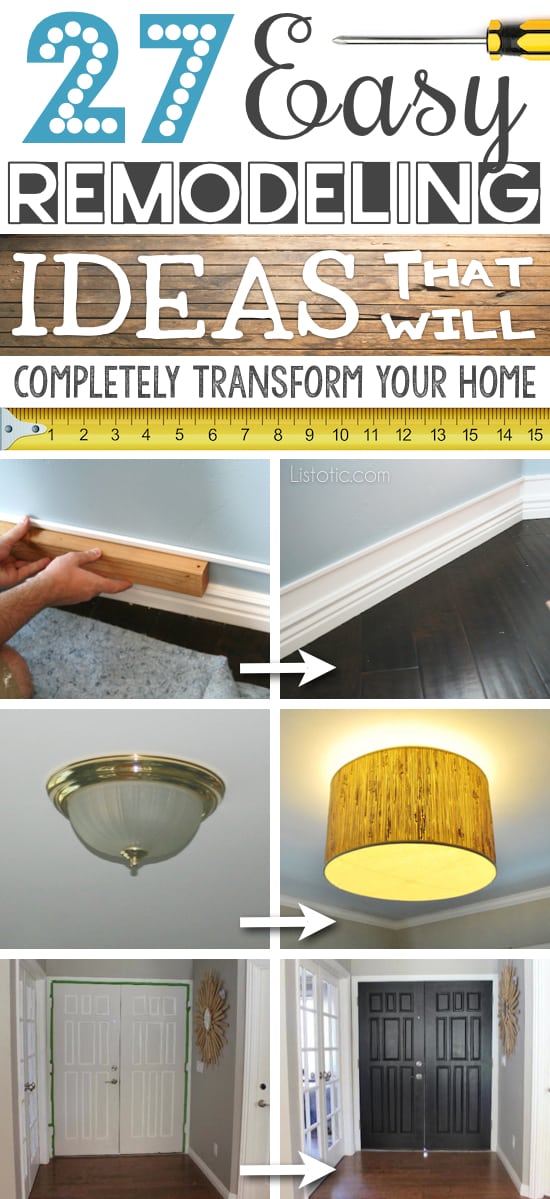 This post may contain affiliate links. Please see our Disclaimer Policy.
1. Faux Thick Baseboard
Molding and trim go a long way in making your home look and feel more custom and expensive, but that's just the thing, it's expensive! To get the look without the added cost, beef up your baseboards by adding a slim piece of trim a few inches above your baseboards, and then paint in between. Brilliant! Go check out more details and pics over at The House of Smiths.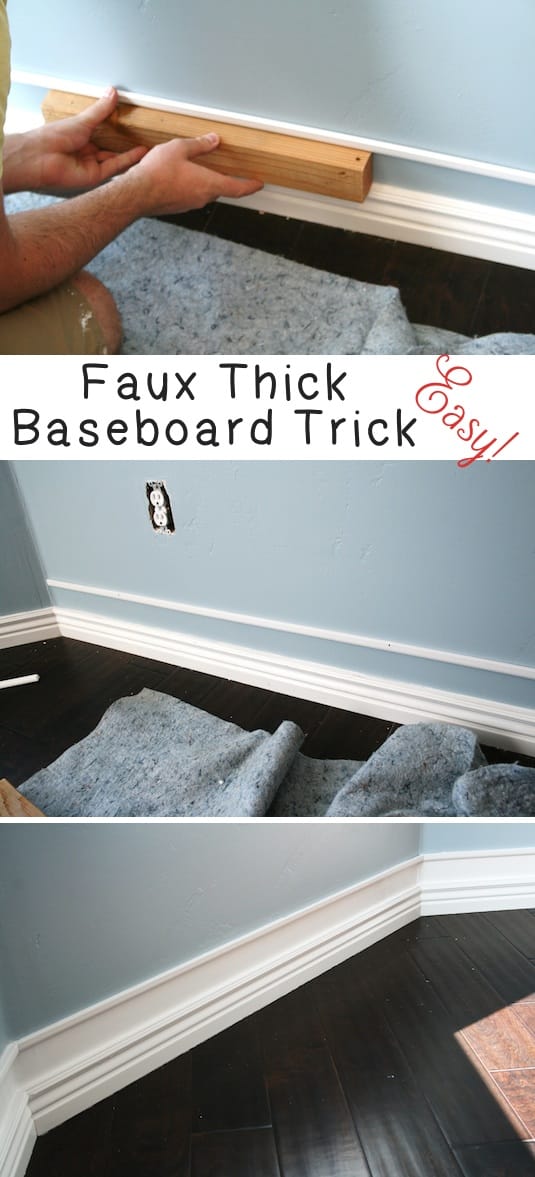 2. Framed Mirrors on Flat Doors
Flat panel doors are about as basic as they get, and can really make your home look outdated and boring. Adding framed mirrors to bathroom or closet doors not only serves a purpose, but looks much nicer and gives the illusion of a larger room. Just be sure to paint the trim of the mirror the same color as the door if you want it to look built-in (you could even caulk the edges before you paint to make it seamless). Liquid Nails Mirror Adhesive is the best way I've found to keep them flush and securely hung on the door.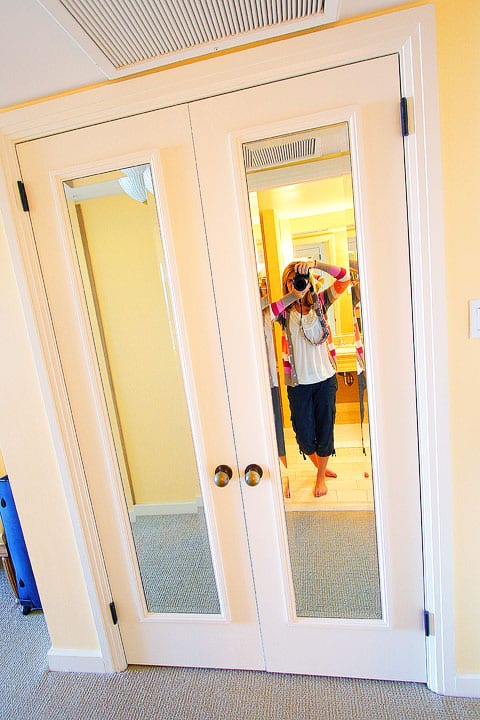 3. Revamp Your Existing Mirrors
You may have seen or even already applied this DIY remodeling idea of adding trim to one of your existing bathroom mirrors (it makes such a difference!), but I'm also in love with the idea of adding a shelf either in the middle of the mirror to separate two sinks, or off to the side for extra storage space. It can completely transform a lifeless bathroom! Go check out more details about this project here.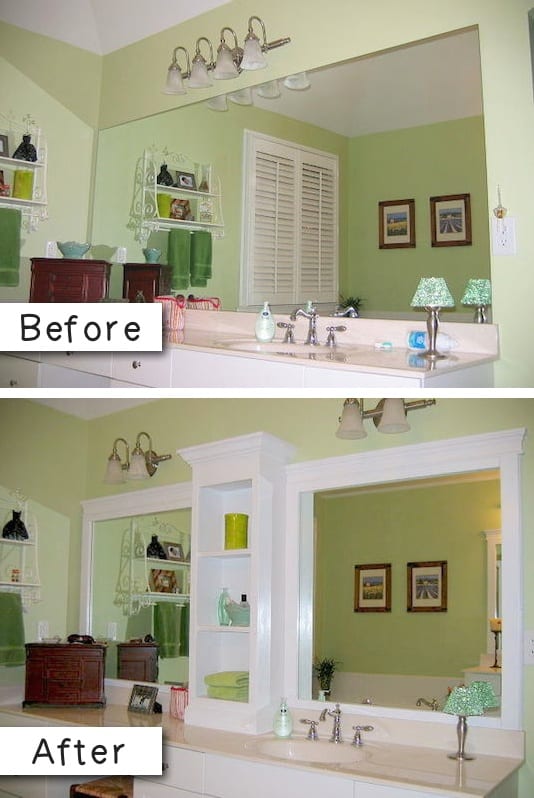 4. Paint Your Ceiling Fans
It seems like such a waste to throw away a perfectly good working ceiling fan when you can completely change the look and color with a little bit of paint! To really get a custom look, consider switching out the glass bulb covers, too. Go check out the details and instructions for this project here.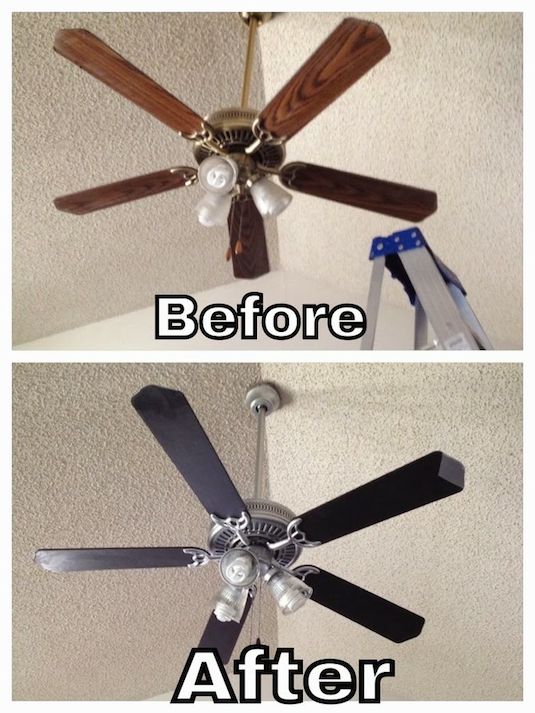 5. Add Color To Your Ceilings
Don't forget about the fifth wall– your ceiling! You would be surprised at how a pop of color on the ceiling can take your room decor to all new heights. An ultra-flat paint looks best because it eliminates glare and hides imperfections, but you really can't go wrong with your color choice as long as it compliments the rest of the decor.

6. Trim Windows & Doors
Adding trim and molding to just about anything will make it look more upscale, but framing your windows and doors is one of the most effective ways to boost your home's decor. Even just adding a single piece of molding to the top of a window can completely transform it, while also hiding the hardware from blinds.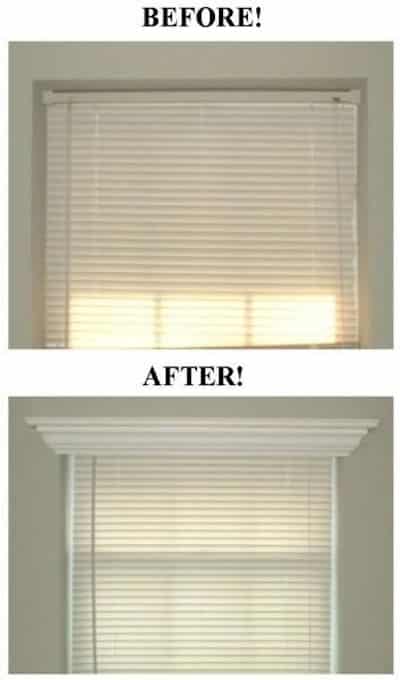 Adding molding to doors and windows is easier than you would think. Check out this detailed tutorial from The Handyman's Daughter! She used a plinth block to give her door trim a more finish look. It really does make a huge difference.

7. Paint Your Entry Door(s)
A dark or fun color choice on the inside of your entry doors can really help separate the space and add a lot of character, especially if you have a light paint color on the surrounding walls. It also makes the white trim pop! I love the way it turned out! I've also seen this done with a bold color choice that matches the entry rug to tie everything together.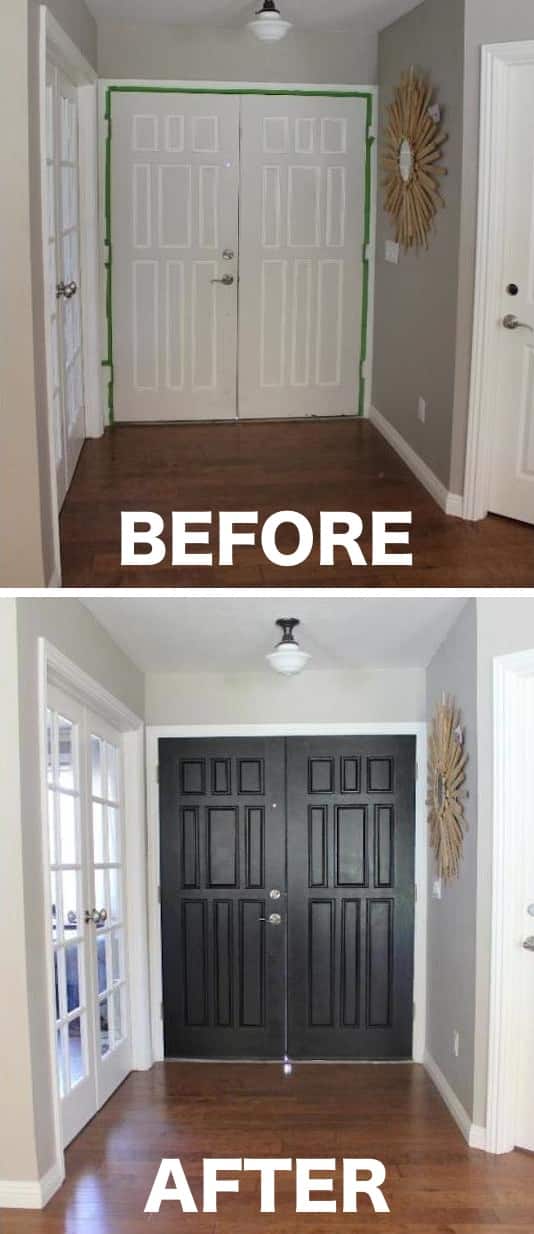 8. Frame Your TV
I've been seeing this a lot lately, and because the TV is the main focal point in just about every living room, It makes a lot of sense to mount it with a good-looking frame. This one was done with recycled wood from a fence that had fallen down in a storm, and I love the way it turned out! They managed to make it in under an hour, and because it's sitting on the mantel, there's no need to mount it to the wall unless it's low enough for little hands to reach.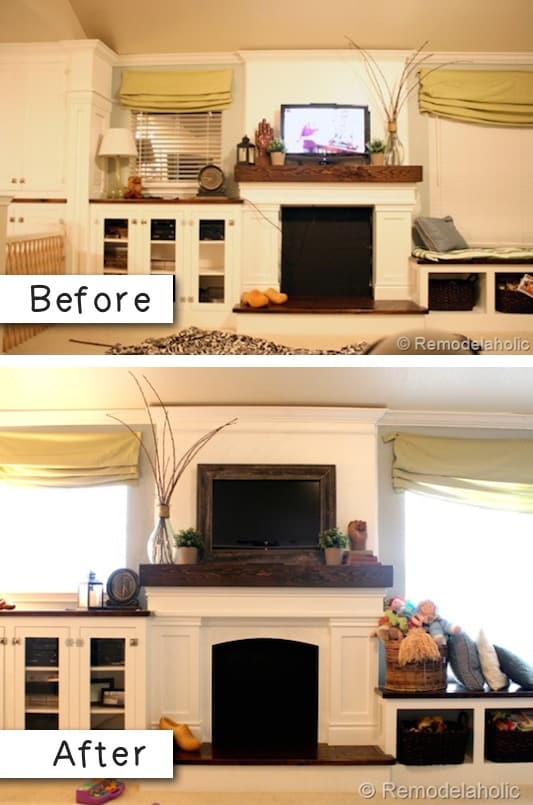 9. Revamp Your Old Light Fixtures
Instead of replacing your old, ugly light fixtures with costly ones, considering using the actual light components and just replacing the cover! Even something as simple as Rust-oleum paint to cover up the brass will give them a nice update, but if you want to take it a step further, you can also use a drum lamp shade like the one you see here (this one makes the light more fitting for a large room), or how about a little bit of Pottery Barn inspiration like this DIY Crystal Flush-mount. So many possibilities!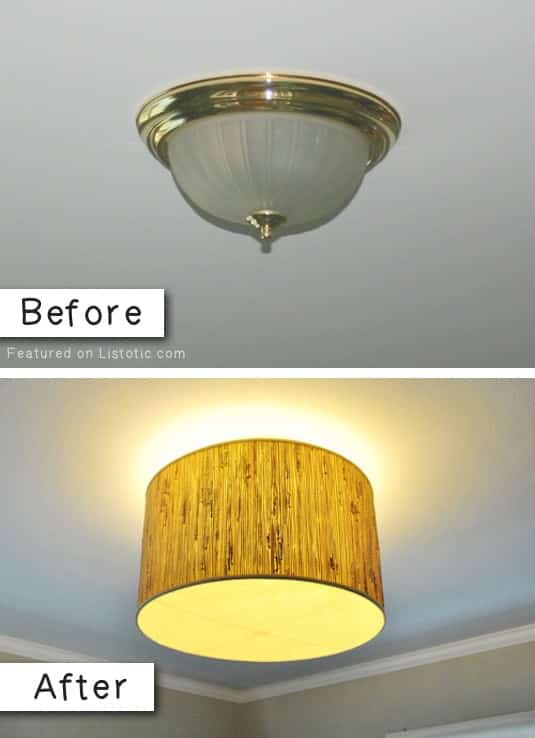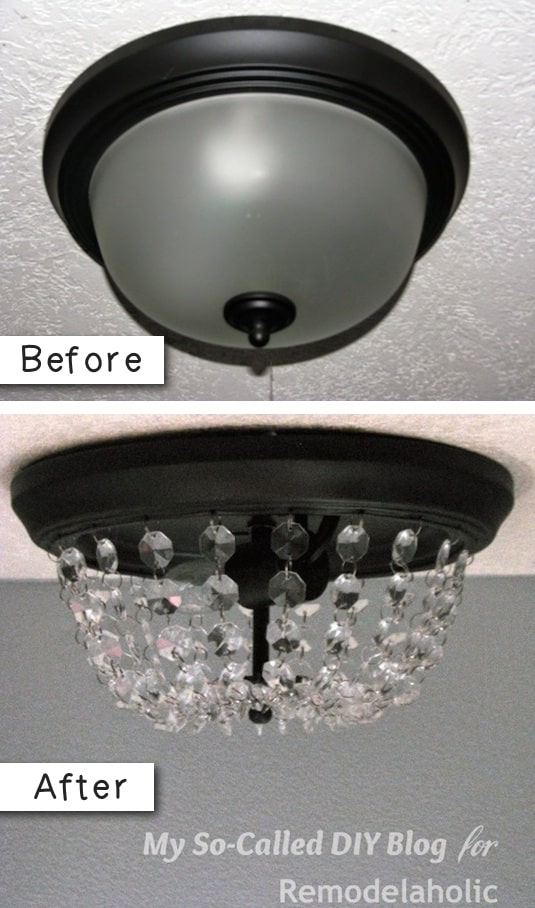 10. Mini-Blinds To Roman Shades
Break out your scissors for this DIY remodeling idea! You can easily turn your old mini-blinds into roman shades with a few snips (oh, and a bit of sewing for the actual shade), but you can easily use the hardware from mini blinds to customize your own shades! Apparently, you can also buy blinds at Walmart for less than $5, so even if you don't have blinds to spare, you can pick them up new for little cost. Go check out the step-by-step instructions for this project over at Sawdust & Embryos. Your windows will thank you!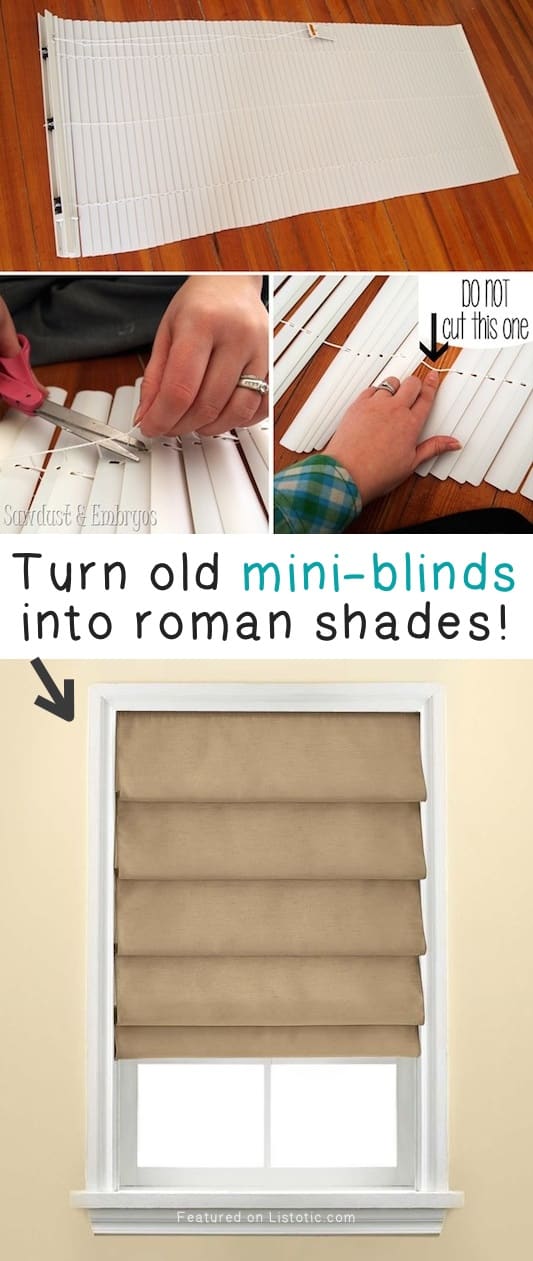 11. Add Molding To Cabinets
Outdated cabinetry has the biggest impact on your home's decor, especially if the color and design doesn't match your style, and it can certainly be one of the biggest investments in your home, but with a few added pieces of molding and paint, you can make them look brand new on a budget! To add molding to flat doors check out this tutorial here, and if you like the breadboard, you will want to check out this inspiring transformation.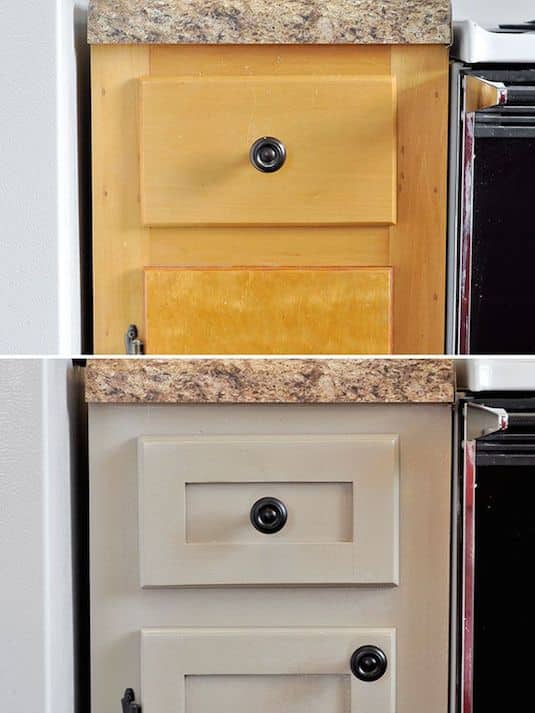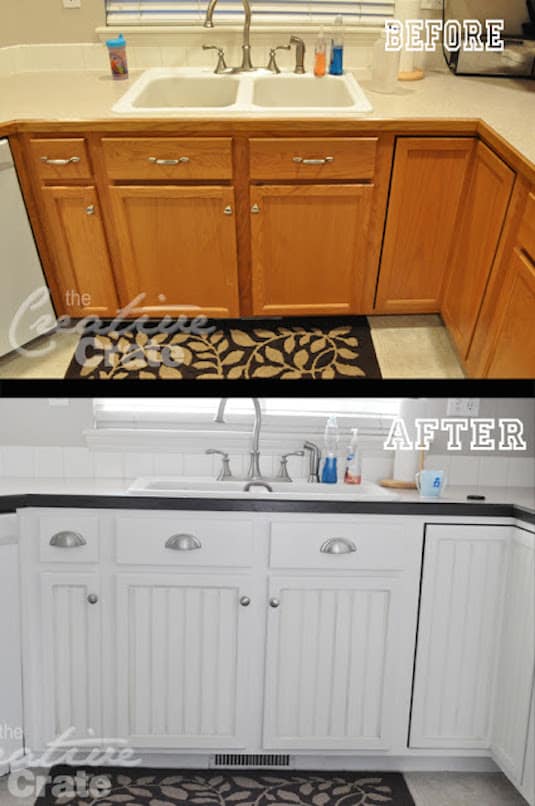 12. Hang Curtains High & Wide
Just because you have small windows doesn't mean you have to frame them small! Give the illusion of larger windows by hanging your drapes high and wide. This creates more drama to the room, making the walls look taller, and room airier. And, the more panels, the better. You want your curtains to look full and luxurious! Read more about this here.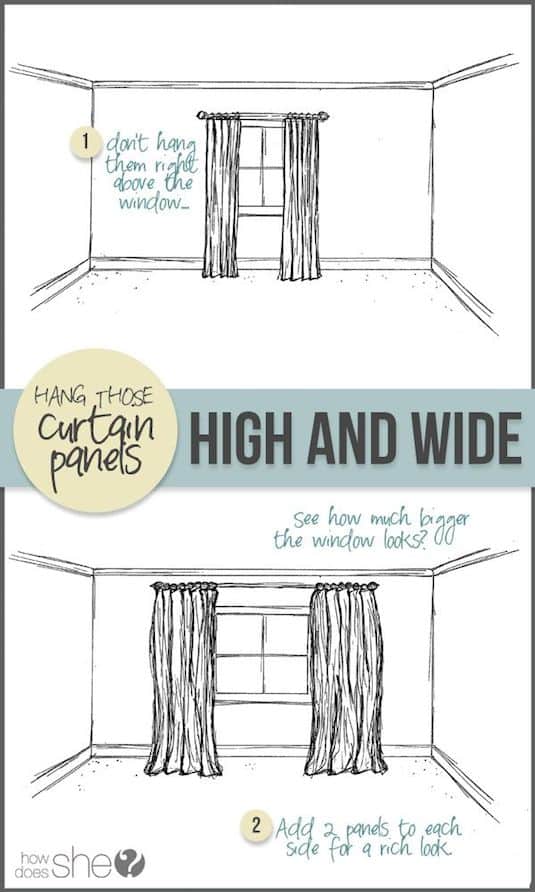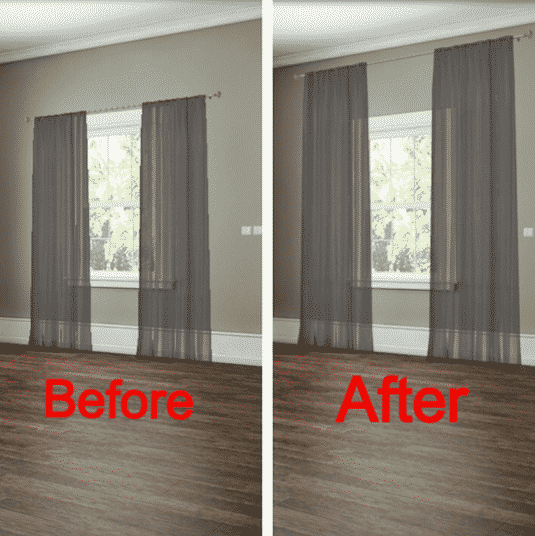 13. Transform a Wall
Think beyond just texture and paint, and pick a wall or two in your home that you can showcase with wood or other timeless materials. If you are resourceful enough to use pallets or recycled wood, you can do this for less than $50! A spotlight to show off the wall doesn't hurt, either. Check out this project using pine wood planks here.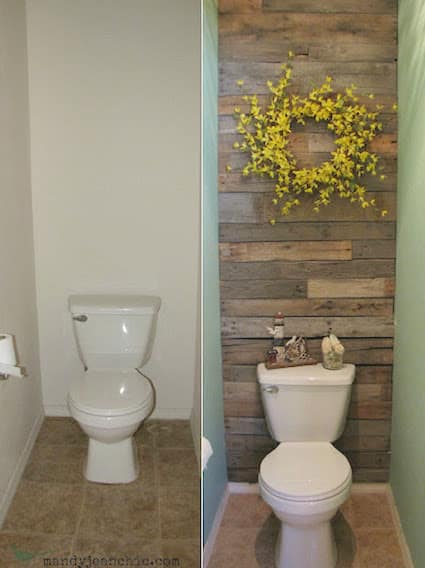 14. Say Goodbye To Brass
In one of my first homes, I spent a couple of years replacing all of the brass (hinges, door knobs, light fixtures, faucets, ceiling fans, etc.), and it really added up by the end of my anti-brass frenzy! If only I had known about Rust-Oleum then! Did it even exist? I'm not sure, but it would have saved me a lot of money. It's ideal for fixtures that don't get touched like ceiling fans and lights, but you can also use it on faucets and door knobs with a little bit of touching up now and then. You can buy this stuff in oil rubbed bronze, nickel, iron, rust, or steel!
If you're as inspired by this stuff as I am, go check out this faucet redo over at Sincerely Sarah D. and light fixture update over at One Hundred Dollars A Month.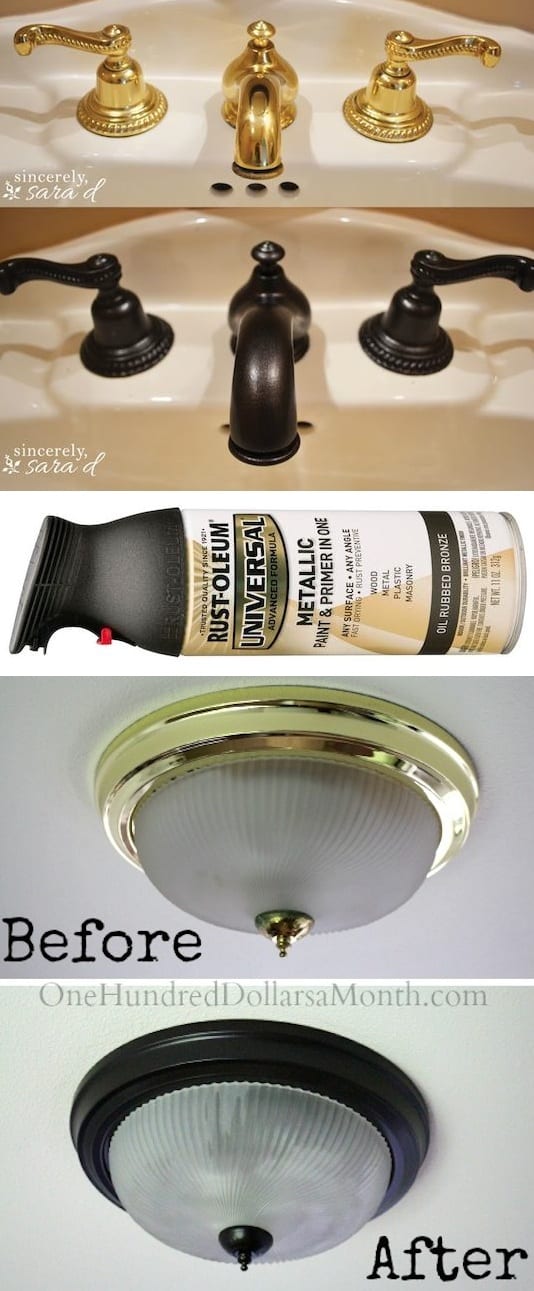 15. Cover Up Laminate Countertops
The nice thing about laminate countertops is that you can cover them up for less than $100! I've had those white laminate countertops, and there wasn't a second that went by when they didn't look dirty– you see every crumb! I love the look of concrete, and I'm excited to say, there is a relatively easy way to get the look without all of the hassle. Go check out more pics and full instructions over at A Beautiful Mess.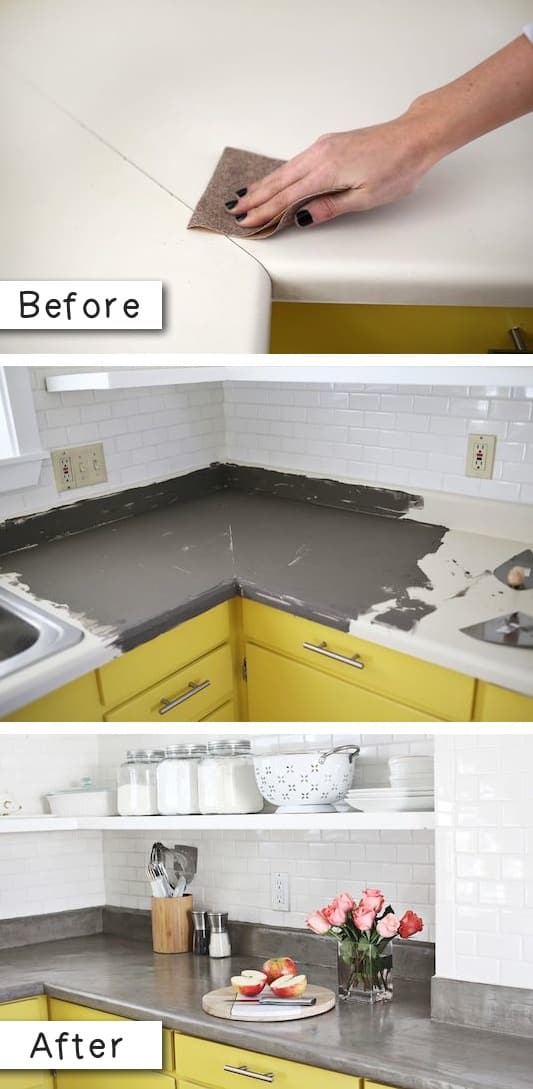 16. Re-Stain Or Paint The Oak
I feel like brass and oak go hand in hand– what were we thinking!? We spend so much time trying to cover it up, and there's a reason for that, just look at this before and after photo! Staining or painting over an outdated oak banister, cabinetry, or molding is the surest way to bring your home up to the 21st century. Check out the full instructions for this project over at Creations By Kara.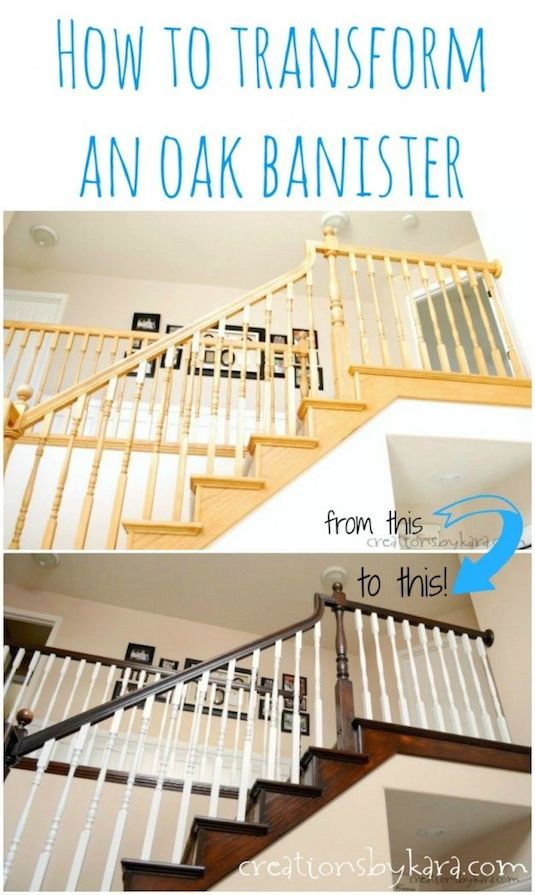 17. DIY Wainscoting
A terrific way to add character to any wall is with wainscoting because it brings dimension and value to plain walls. I especially like this DIY remodeling idea for an entry because you could even add hooks and shelving to the top piece of trim. It's easier than it looks! Go check out the tutorial over at Lovely Crafty Home.

18. Paint Your Sinks & Tubs
I had a garden tub in my master bathroom a few years back that had lost most of it's coating from years of being cleaned with harsh chemicals and brushes (oops! Hehe), and the cost and process of replacing the tub was ridiculous! We were going to have to take out the window just to get the tub in. After doing a little research, I realized there was a much easier and more cost effective way to get that new tub I really wanted– Epoxy paint! I hired someone to apply it because I was nervous about getting an even coat on such a large surface, but the results were nothing less than amazing. I've since moved, but the paint looked the same several years later after being applied.
With my experience, I highly recommend this for covering up outdated or surface scratched sinks or tubs. Check out the full instructions for this sink transformation here. If you're not comfortable doing it yourself, it's still a lot cheaper than replacement.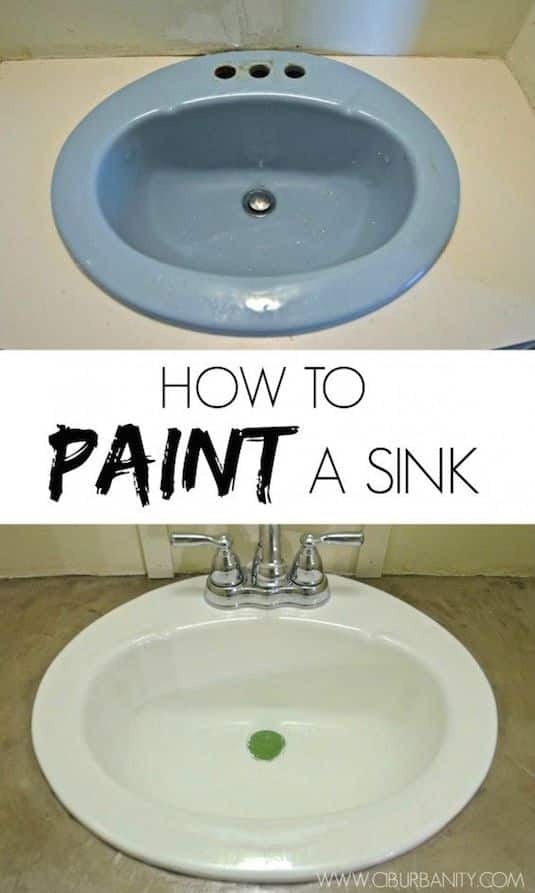 19. Transform A Closet
Closets are great and all (hidden storage!), but what if you could turn that space into something that will not only store your things, but make a pretty addition to your home? I really like the idea of turning a hall closet into a mini mud room, but you can also use this DIY remodeling idea in a bedroom that needs extra space for a desk or changing table. Get the details and full instructions for this closet project over at The House of Smiths.

20. Give Your Air Grille A Makeover
Unfortunately, the return air grille is a necessity (dang, that ugly thing!), but check out this DIY remodeling idea that makes it a little more pleasing to the eye! It was done with a fancy sheet metal you can buy from your local hardware store, painted to match the trim, and then framed with pine.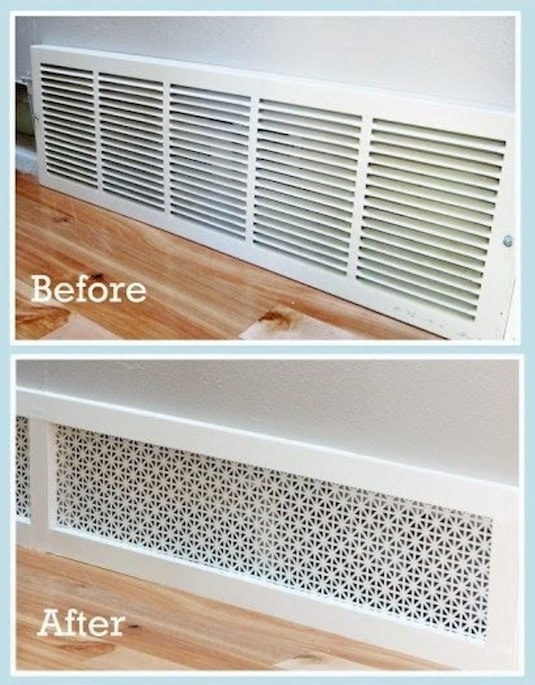 21. Add Wood Accents
Dress up your builder grade cabinetry with wood accents you can find at your local hardware store! This gives them a more custom look for just a few bucks. Go get the instructions for this cabinetry revamp over at The Idea Room.

22. Chalkboard Paint Makeover
Chalkboard paint is my new best friend! It's functional, charming, and really easy to add to any room of the house. I have a chalkboard wall in my kitchen that is the focal point of the house, and a lot of fun for the entire family. I really like this DIY remodeling idea of using it on a single cabinet door for notes, quotes or grocery lists. All it takes is a little creativity, a paint brush, and the paint, of course. 🙂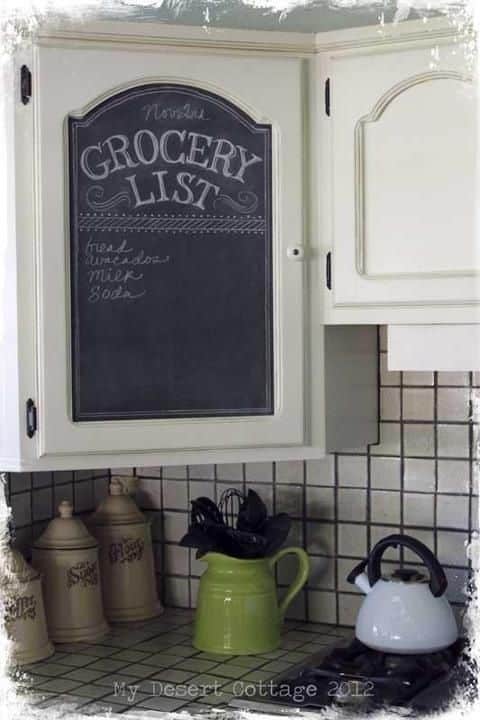 23. Give Your Fireplace A Facelift
Although rarely used (mine anyway!), fireplaces tend to be the focus of attention in most living spaces. It's where you hang your TV or decorate with family photos. With it being at the heart of the home, a fireplace makeover can make an enormous difference in the feel and interior design of your home. Check out this fireplace makeover that was done for under $200 (assuming you have most of the tools). It's a far cry from where it started! The transformation is incredible.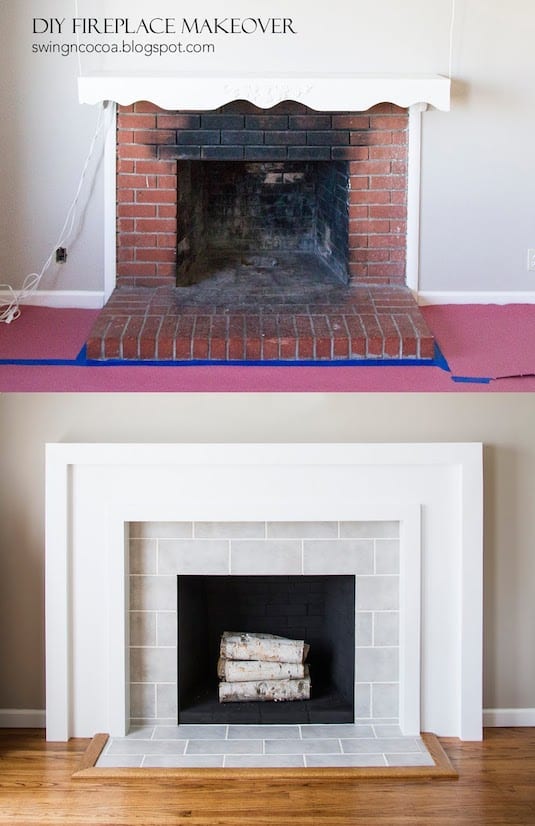 24. Paint Your Floors
Yes, you can do that! Two words comes to mind when I think of linoleum– ugly and outdated. Unfortunately, floors can be very expensive to replace, but what if you could just slap a few coats of paint on there?! Ok, maybe not that easy. There is the preparation, the wait time, and a good sealant involved, but it sure beats spending your savings to update your floors. Check out this tutorial!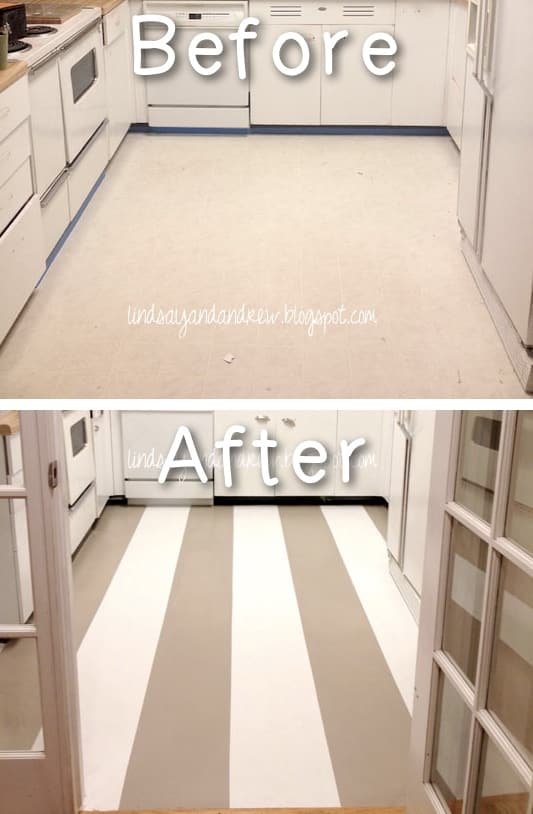 This painting technique also works on tile floors and kitchen backsplashes, and I absolutely love this DIY remodeling idea of using a tile stencil. I think this was very tastefully done! You can see more pictures, step-by-step instructions and find out where to buy the stencils for this project over at Hometalk.

25. Add Glass Shelves
This has never really occurred to me, but glass shelves add extra storage space while still keeping a space feeling open and airy. I love this DIY remodeling idea for the kitchen so that your herbs can grow big and healthy. This tutorial shows you how to easily do this with quarter round! The hardest part is all of the measuring, but a glass manufacturer can do all of the cutting for you.

26. Cabinetry Top Makeover
Molding and trim seem to be the key in making your home feel and look more custom, and the top of your cabinetry is no exception. If you have cabinets that don't quite reach the ceiling, this project is for you. Check out the step-by-step instructions for this project over at Family Handy Man.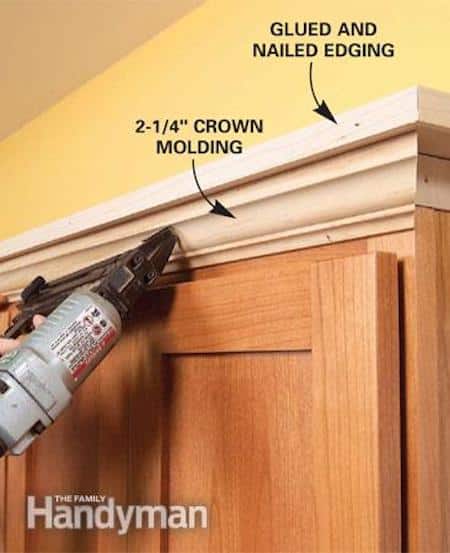 27. Spruce Up Your Shower
Customize your shower insert by adding natural stone or tile to the area just above where it doesn't quite meet the ceiling. This will make the entire shower feel and look more upscale. And when the shower curtain is closed, this is what you see anyway! It is also more functional than sheetrock because it will resist water spots and mold a lot better.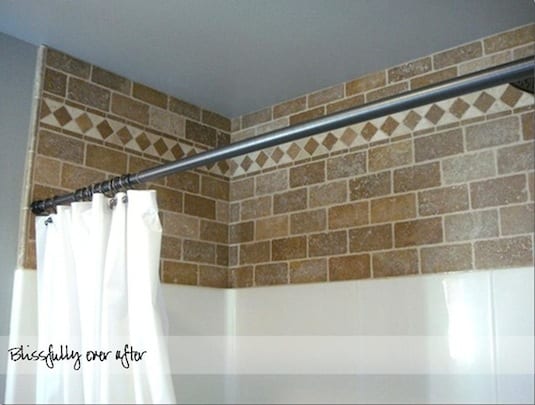 28. Update Brick With Stain
It turns out that concrete stain can stain more than just concrete. Try using it on brick to completely clean up an old fireplace surround or wall. Check out this You Tube video with tips on how to get the job done right.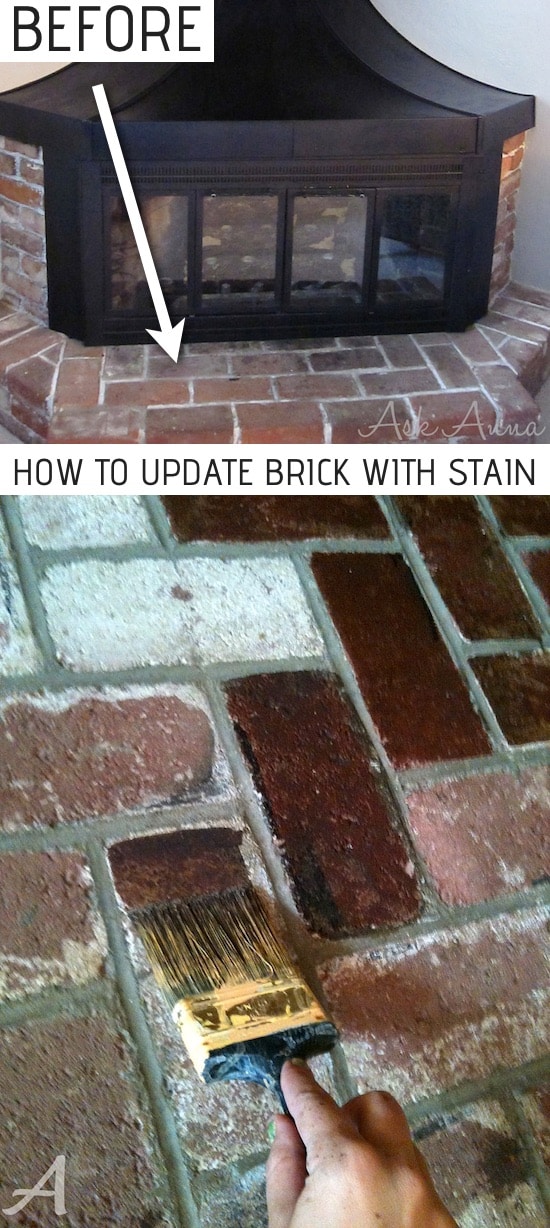 29. Fun Accent Wall
Use painter's tape to create a fun mosaic accent wall! I love this idea for a small wall in a nursery, kids' room or game room. You could go super crazy with lots of fun colors, or keep it simple and elegant with different shades of the same color. Just hop on over to Hometalk to see the full instructions and more pictures for this easy paint project.

30. Hide Ugly Cords and Cables
Ugly cords and cables leading to a mounted TV or other electronics can make your home look messy, cluttered and disorganized. A cheap and simple way to transform your entertainment center is to use an inexpensive baseboard Cord Channel. Install it yourself while you stay on budget with your room remodel. Simply hide cords to a wall-mounted TV or behind a TV stand using an affordable wall attachment. I love this quick and easy DIY remodeling idea to upgrade your living room appearance!