Last Updated on July 27, 2023
Flower Arrangement Tips to Arrange Flowers Like a Pro!
Arranging flowers can be intimidating and frustrating! The bouquet always looks so pretty in the store, and then you get home and plop it in a vase only to be disappointed. Arranging flowers is definitely an art, but with these flower arrangement tips and tricks up your sleeve, you can create floral arrangements as good as the pros! It takes a little bit of practice and creativity, but just about anyone can make store-bought bouquets or flowers picked right from your garden look stunning in a vase. I've gathered a few flower arrangement tips that will make any flowers look better.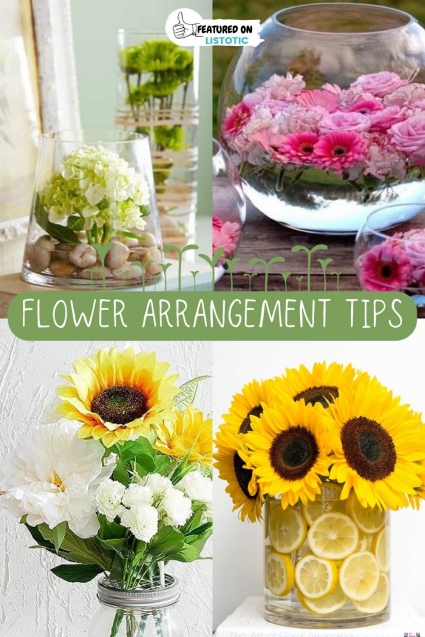 This post contains affiliate links. Please see our Disclaimer Policy.
1. The #1 Secret
If you have ever tried arranging flowers in a wide mouth vase or bowl, then you know that the flowers tend to just fall to the side, making it difficult to arrange something that looks half-way decent. If you form a grid with cellophane tape (or any tape you have on hand), the tape will support your flowers and give you better control of your arrangement. Just be sure that the rim of your bowl or vase is dry and your container is full of water before assembling your grid. The only downfall I've found with this method is that it is more difficult to change the water.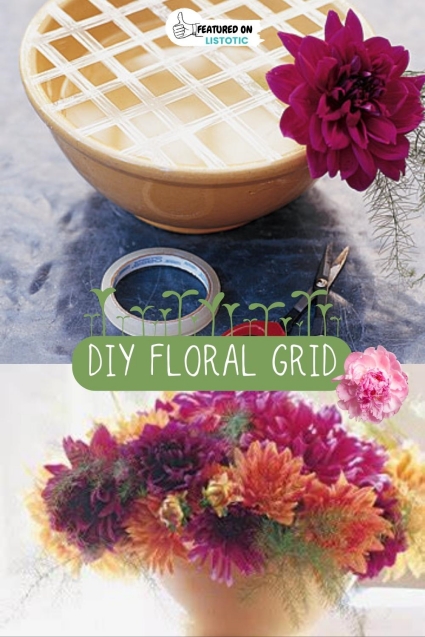 2. Budable
For smaller vases or jars, try Budable! It's a stretchy silicone cap that stretches up to 4x its size. The tiny holes are perfect for precise control of your flowers, even allowing flowers that have been cut too short to stand up at any length. My favorite thing about this design is how easy it is to change the water without having to rearrange the flowers again, although you do have to make sure the rim of your vase is 100% dry, or it will slip out of place. I even clean the rim of my vases with rubbing alcohol before applying this cap for a better hold. Also, be careful with thorny flowers like roses because they will tear the silicone. The thorns must be removed first to prevent damage.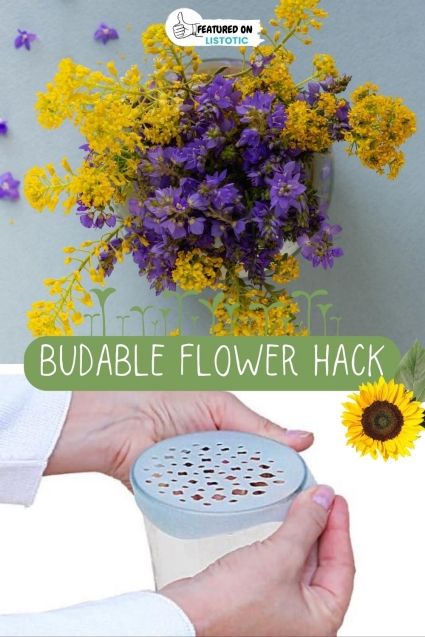 3. Easy Arranger
Out of all of the flower arranger helpers, this Easy Arranger is probably my favorite! It comes in a 3 pack of varying sizes, and they fit all of my vases. What I like most about it is that they are bendable, and because of their rustic look, it doesn't bother me if the wire shows a bit over the edge of the vase. The only downfall is that it is more difficult to change the water without having to rearrange the flowers a bit, unlike the Budable.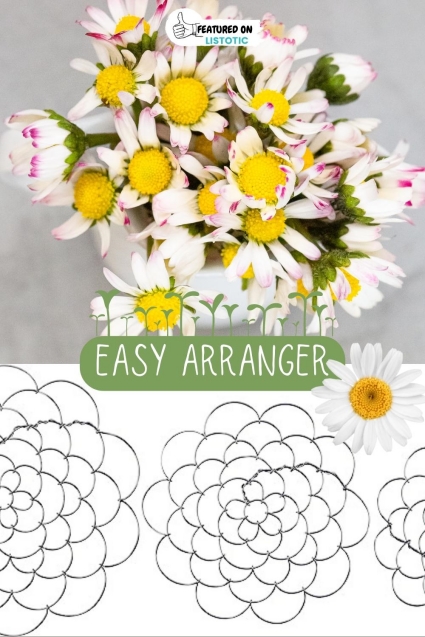 4. Mason Jar Flower Lids
I stumbled across these mason jar flower lids while on my hunt for an easier way to arrange my flowers and couldn't resist sharing! I use my mason jars as vases more than anything else, and I honestly can't believe I didn't know about these before. They're so simple to use, and I also love the added rustic touch to the jars.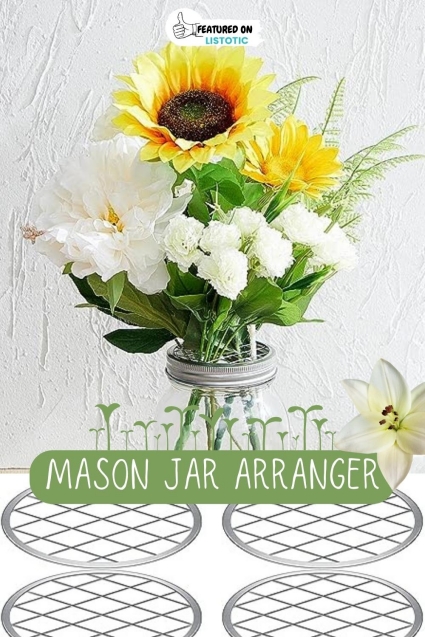 5. Double the Vase, Double the Fun
This is one my all-time favorite ways to add a little pizzazz to any vase! Not only is it gorgeous, but the small vase inside of the larger vase makes it easier to assemble your bouquet. You can fill the outer vase with anything that fits the season: lemons, limes, oranges, large leaves, acorns, rocks, or seasonal items. You get the idea! Larger flowers work best because they tend to cover the rim of the outer vase, but it's a little trickier to change the water, so choose flowers that aren't finicky about having fresh water, or just be aware that when you do change the water, your vase may need reassembling.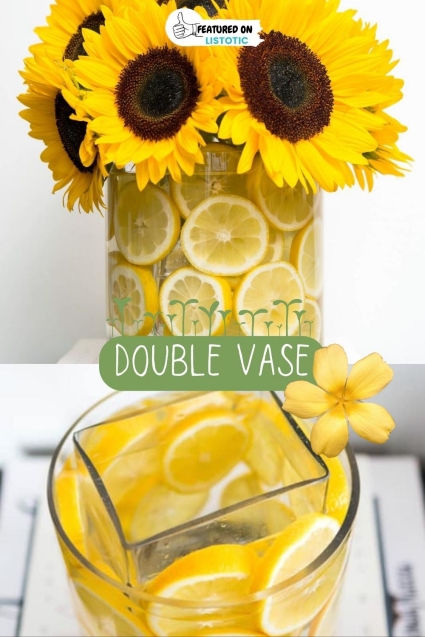 6. Disguising Your Stems
Use large flat leaves such as aspidistra to line a glass vase and disguise your stems. This is helpful if you are using floral foam to assemble your arrangement, or simply want a beautiful and unique look. Don't be afraid to use faux leaves as they are available year-round. Read more here.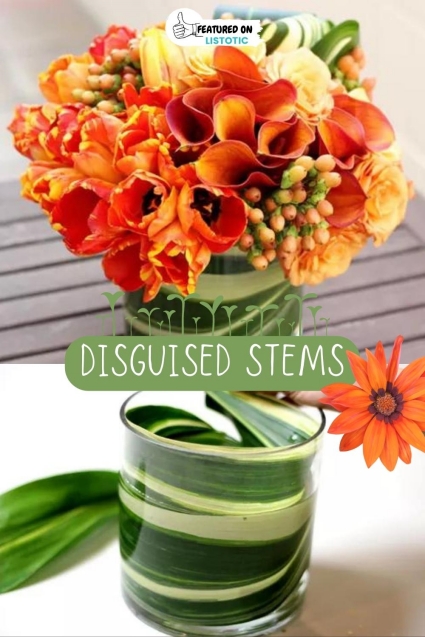 Check Out the Rest of the Flower Arrangement Tips
7. Bubble Skirt
Floating flowers are a fun way to decorate for special occasions, or to simply create something different for your dining room table. Most flowers float pretty well on their own until they start to pool with water and slowly sink. For a longer lasting centerpiece, use bubble wrap to make little skirts for your flowers. Check out the details here.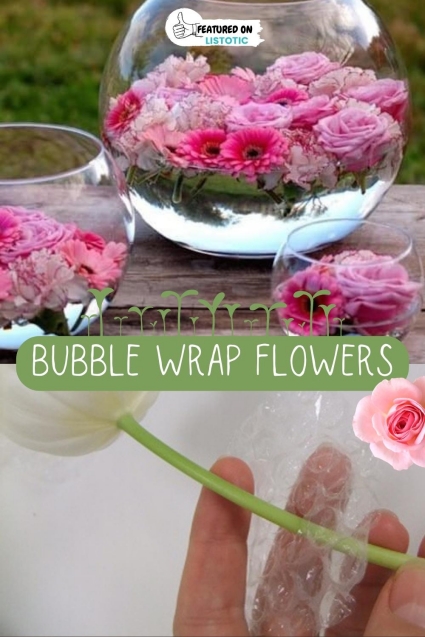 8. Tower of Flowers
Create this impressive tower of flowers with just a few varying sized pots and your choice of flowers or herbs! This is perfect for a patio or deck that is in need of something prominent and high for a large corner or section in need of disguise. Read the full instructions here.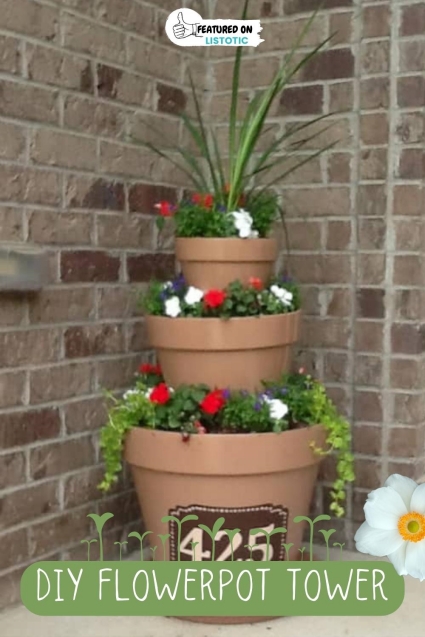 9. Keeping it Inside
Instead of the traditional vase of flowers, think outside of the vase (or inside rather), and choose one large flower or group of flowers to showcase inside of a cylinder vase or glass. Use rocks to keep the flower(s) upright and add just enough water to keep the stems soaked. I think this looks really stylish and unique! It's also budget-friendly considering you only need one flower to make it pretty.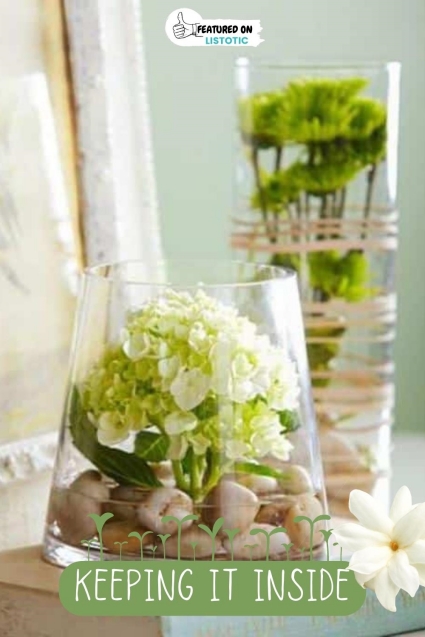 10. Vase Envy
The flowers aren't everything. The vase you choose makes a big impact on your floral arrangement, so get creative and don't be afraid to use odd containers as your vase. Anything that will hold water will do! Just look through your drinking glasses and you'll find a variety of vases you probably never thought to use. Even a tin can be a beautiful way to showcase flowers.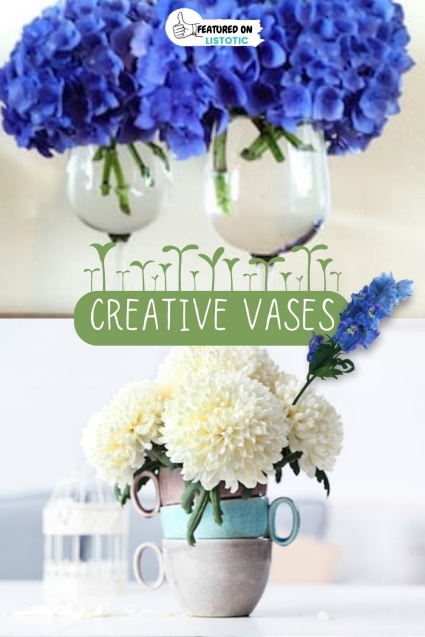 11. Floral Foam to the Rescue
For odd-shaped containers, use floral foam to help create shapes that would otherwise be impossible. Floral foam also helps in any vase or container that is not transparent to create height and drama to flowers that would otherwise fall to the side. It can be easily cut to any shape or size you want, then you simply soak it in water for 20-30 minutes before beginning. Read more about this centerpiece here.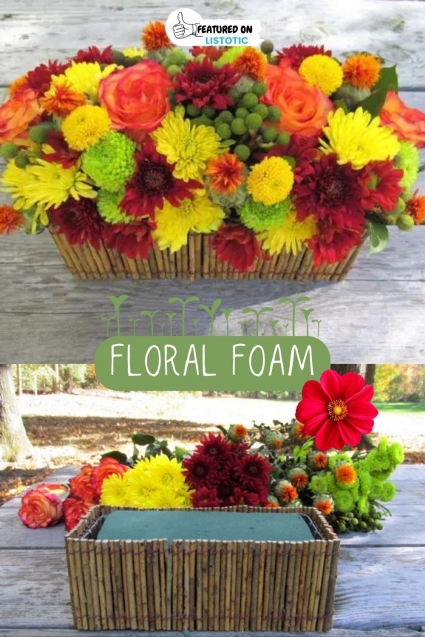 Check Out the Rest of the Flower Arrangement Tips
12. Make Them Last
If you're going to go through all of the effort to put together your own flower arrangement, you want to make sure it lasts, right!? Other than cutting the stems at an angle and removing any foliage that would be under the water line, I wanted to know what I could add to the water to keep my cut flowers looking perky for longer. And, honestly, after reading up on it, I'm not convinced that adding bleach, soda, or vinegar to the water does more good than harm.
The only thing that seems to double the life span of my floral arrangements is popping them in the fridge at night before bed. I'm lucky enough to have an extra fridge in my garage that I leave space in for this exact reason, and it is probably the most important step if you really want your flowers to last! I suppose there is a reason flowers are kept in the fridge at most florists.
Don't forget to change the water!
Changing the water as soon as it starts to look anything less than clear is also very helpful. For flowers that have a thick, hard stem, try pounding the ends with a hammer to help them absorb water better. I've also found that hairspray sprayed on the underneath part of fragile flowers keeps them from losing their leaves and drooping as fast. You can also lightly mist the rest of the bouquet for longevity.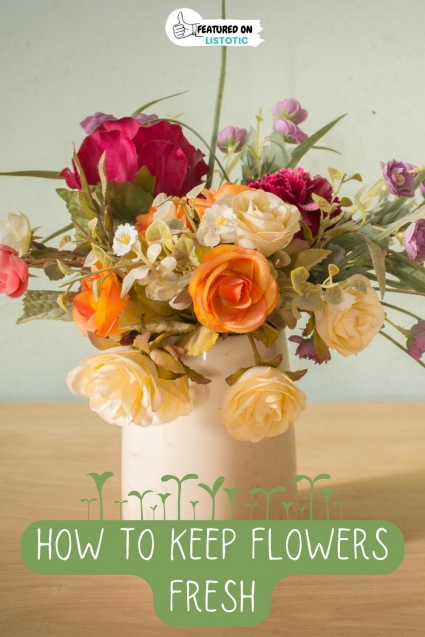 13. Boring to Beautiful
I can't help but pick up a bouquet of flowers just about every time I'm at the grocery store, but it can be intimidating to most people arranging them in a vase. Unfortunately, you can't just plop them in there and expect them to look beautiful, but with the help of the tape grid that we talked about or the use of an Easy Arranger, you can arrange your flowers like a pro!
For your basic arrangement, cut your stems so that they are about 1. 5 times the height of your vase. After cutting and cleaning off the foliage on your flower stems, separate your bouquet by flower and filler type before beginning. Start by creating a foundation and shape for your flowers by using your large greenery and focal flower(s) first. Then fill in the gaps with your remaining flowers and fillers, ensuring that they are all at slightly different heights. You can read more tips like this over at Earnest Home!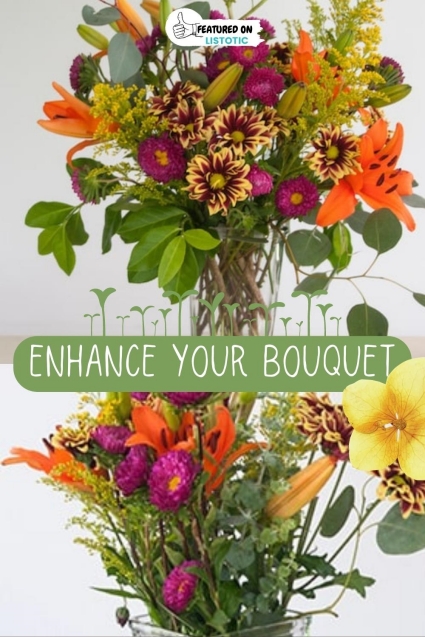 14. Add Some Life
Take a simple flower vase (with a few flower stems) from boring to exciting! Inexpensive guppy, goldfish or beta fish can bring a basic flower arrangement to life – literally. Create a spectacular table arrangement for a wedding reception or birthday party. Adding fish is inexpensive, easy to make and can double as a long-lasting party favor!
Important Note:
Water temperature and PH balance must be suitable for the type of fish you add. Be prepared to feed your fish and change the water often.
When the party is over, send a fish in a clear plastic bag filled with suitable water home with your guests, or move your honored fish friends into their spacious dream fish tank. Click here for more tips on caring for goldfish.