Last Updated on May 17, 2022
First, Glow sticks are one of those mysterious toys that keep kids (and adults) entertained for hours. Who knew there were so many fun things to do with them; everything from kid's crafts to party decor! You can find them at the Dollar Store or Walmart in the party section for really cheap, too. Wait for them to go on sale, and then stock up. With Halloween coming soon, I've rounded up 20 of my favorite glow stick ideas and crafts that will have you inspired to go out and have some fun in the dark.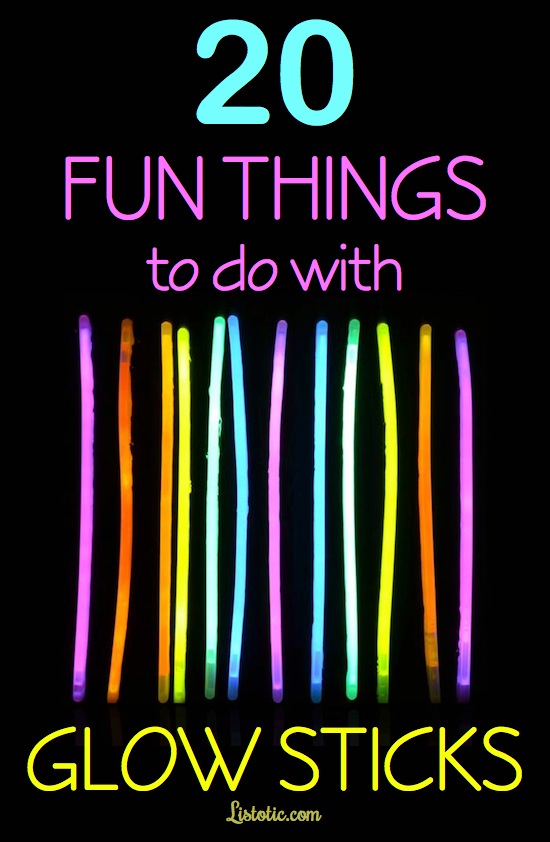 Must Have Easter Basket Stuffer Ideas for Kids
Calling all last-minute shoppers! Are you wondering what to put in your child's Easter basket? Here are a bunch of simple and great ideas for kids. I have saved you time and energy searching for the perfect Easter basket ideas for kids. Below you will find Easter basket for boys and Easter basket for girls. There are a ton of easy-to-buy Easter basket ideas below. I don't know about you but when I was a kid, I always looked forward to white chocolate in my Easter basket and a family egg hunt at my grandparents' home. Every year I always get excited to help that clever little Easter bunny out. These Easter basket ideas should give you some inspiration for filling up that Easter basket with items the kids will love!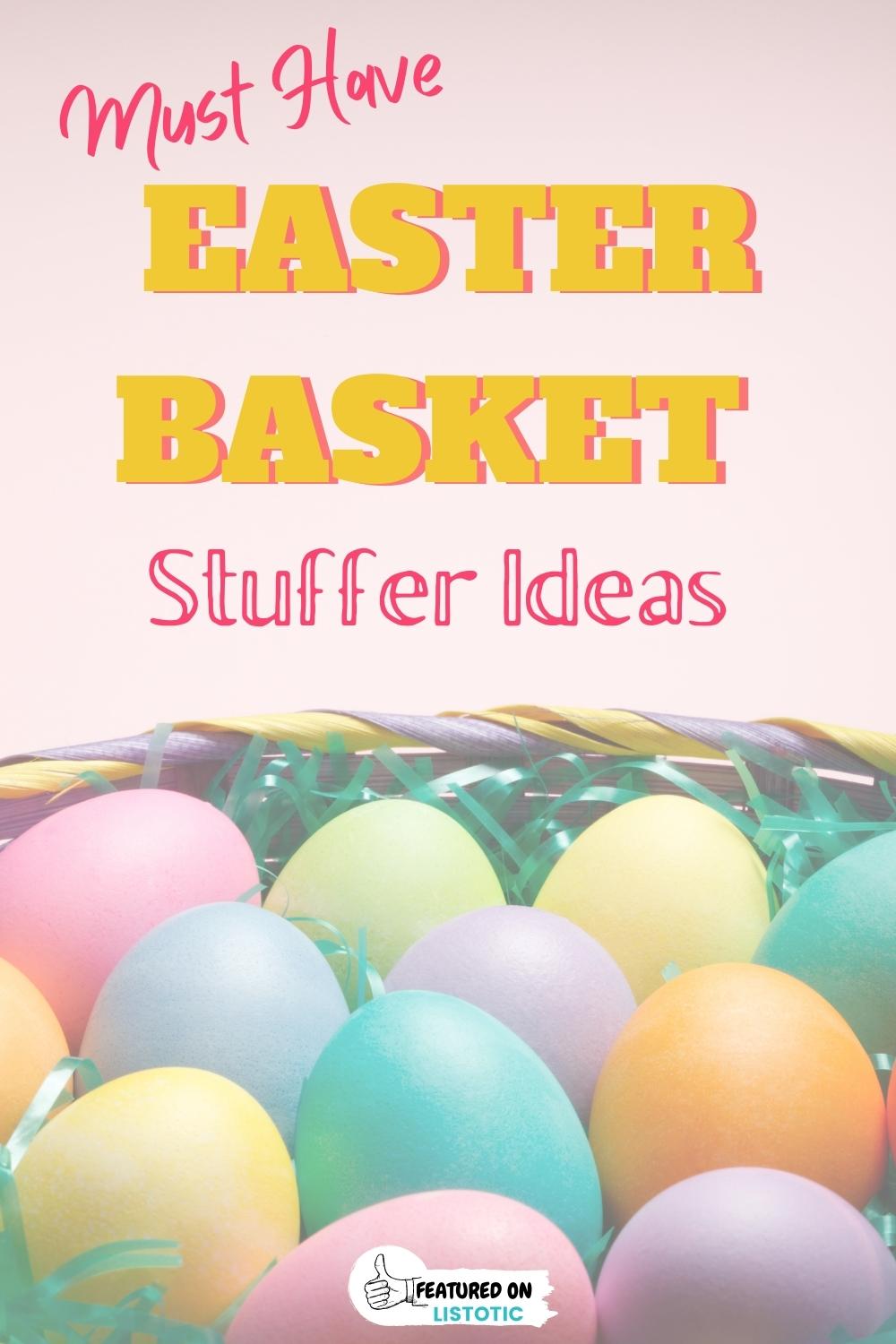 This post contains affiliate links. Please see our Disclaimer Policy.
1. Glow Stick Ring Toss
The only thing that could possibly make a ring toss more fun is doing it in the dark with glow sticks. Also, you can make a pole out of just about anything, and make your rings as big or as little as you'd like. The necklace glow sticks seem to be a perfect size, but you could also connect a few of the bracelet glow sticks together.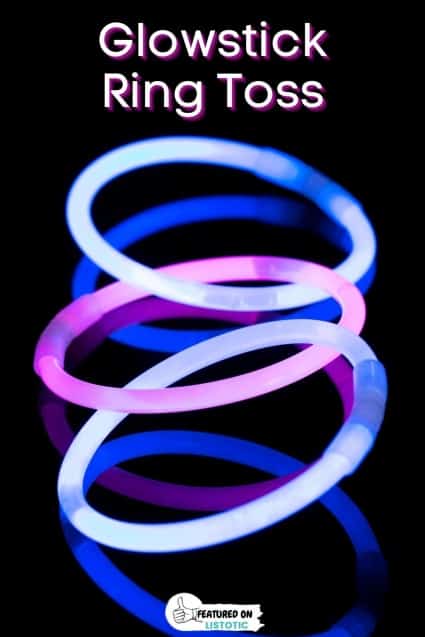 2. Glow Stick Balloons
Fill balloons (white or colored) with glow sticks for awesome party decoration, or just as a fun pastime for the kids. After your balloons are half-filled with air, carefully insert a glow stick or two, and then finish blowing them up and tying them off. Of course, these would be really cool if they were hung from the ceiling!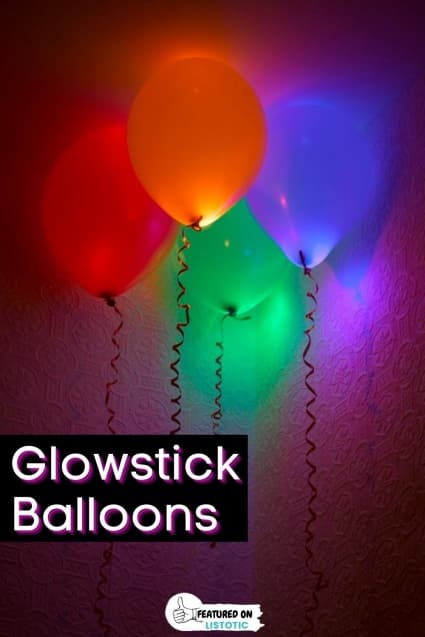 3. Glow In The Dark Bowling
Water bottles and glow sticks make for perfect glow-in-the-dark backyard bowling pins. Make at least six of these, and use any kind of ball (basketball, soccer ball, etc.) to knock down your glowing pins.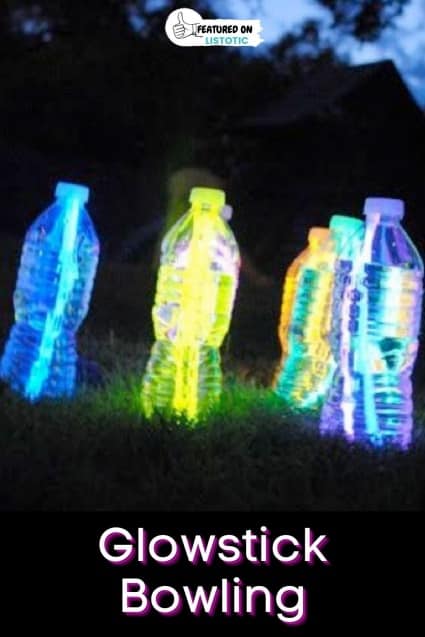 4. Glow Jars
Although these only last a few hours (you can reactivate them by breaking up another glow stick), their magical feel makes them well worth it. In fact, kids have a lot of fun watching them glow in the dark!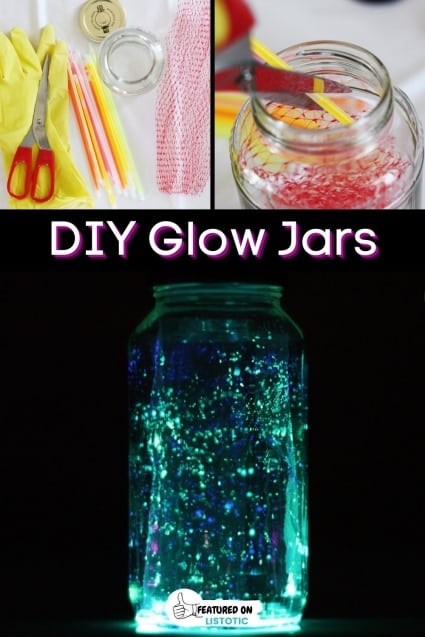 5. Glow Stick Chandelier
Clearly, we are getting fancier with the glow sticks! First, hang a plant hanger upside down, and then hang glow sticks from it to create this clever glowing chandelier.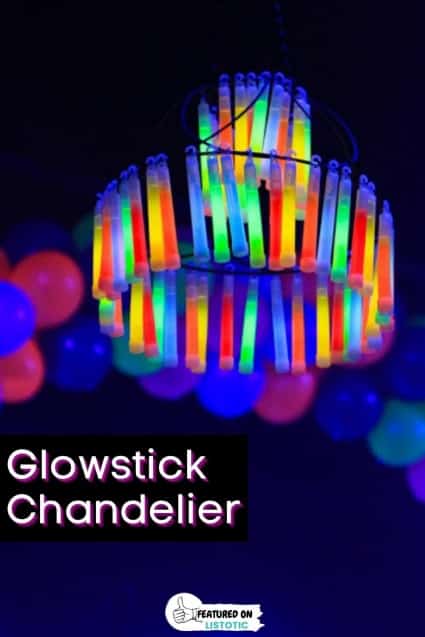 6. Glow Stick Cotton Candy
This glowing treat will be the hit of the party! Of course, the kids are going to be very excited getting to eat glowing cotton candy!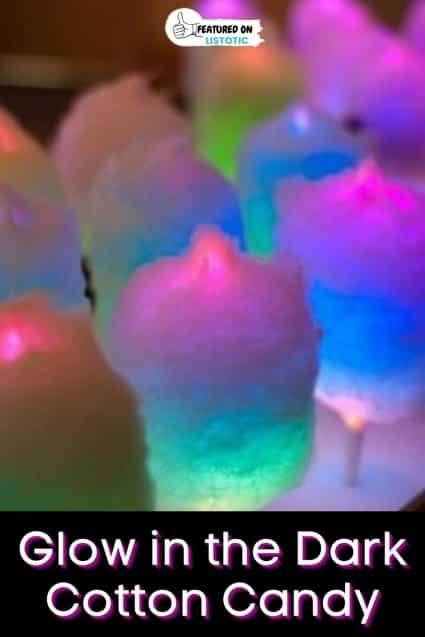 Check Out The Rest Of These Glow Stick Ideas
7. Glow In The Dark Easter Eggs
Add some serious fun to Easter this year with a nighttime Easter egg hunt! First, fill the plastic eggs with a glow stick. Next, add a few treats, and finally, watch the kids giggle with glee.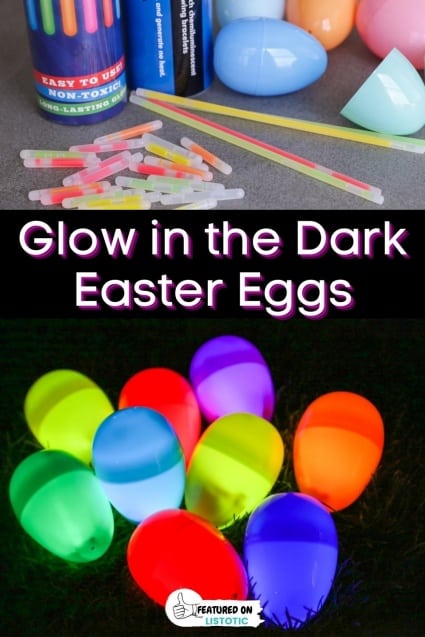 8. Glow Stick Hula Hoop
Use the connectors on the necklace glow sticks to make one large hoop, and then connect it to your hula hoop with tape or zip ties.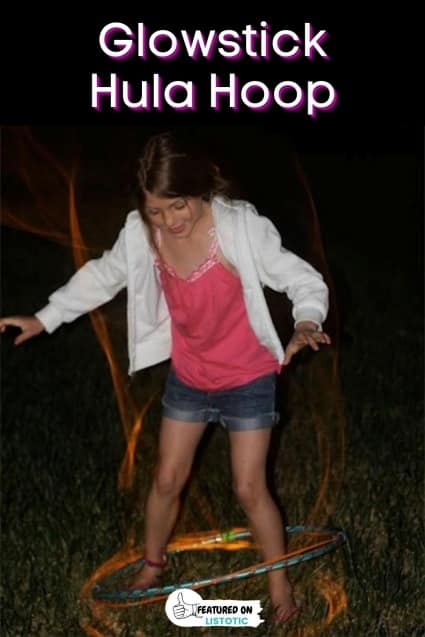 Check Out The Rest Of These Glow Stick Ideas
9. Glow Stick Word Art
Use the bracelet size glow sticks to create words and phrases for any special occasion. How fun! Surely, it will look like a real neon light.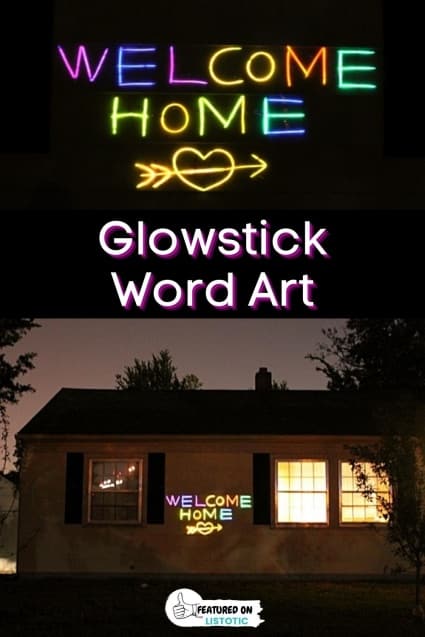 10. Glow Stick Hopscotch
Night-time hopscotch using glow sticks!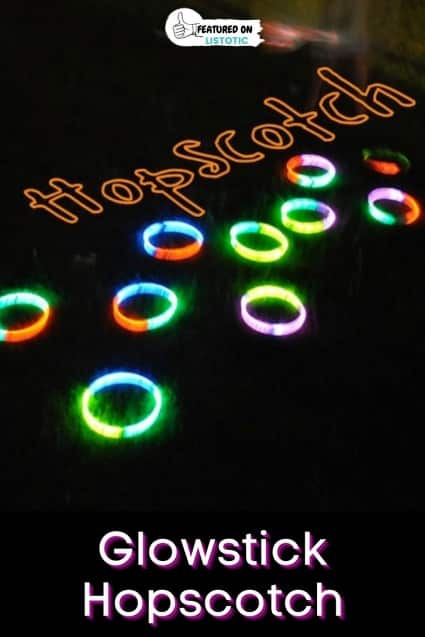 11. Glow In The Dark Drink Cups
This is probably my favorite glow-in-the-dark party idea. Don't worry, the glow sticks aren't actually in the beverage. They are resting at the bottom of one cup, with a clear plastic cup on top where the drink goes. Genius! Certainly, this can be used for adults and for kids.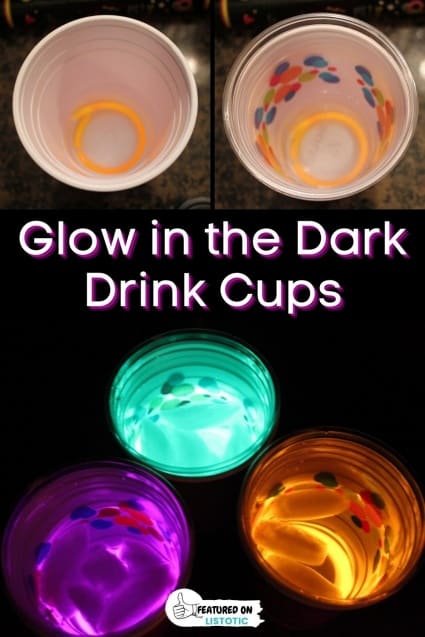 12. Glow Stick Pool Party
If you're going to have a glow stick party, why not have it in the pool?! The more glow sticks, the better!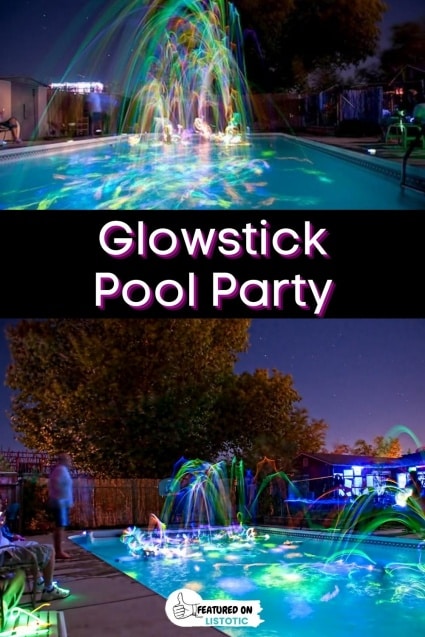 13. Glow Stick Pool Lanterns
If you like the glow stick balloon idea, you might want to try letting them float in the pool for an outdoor party.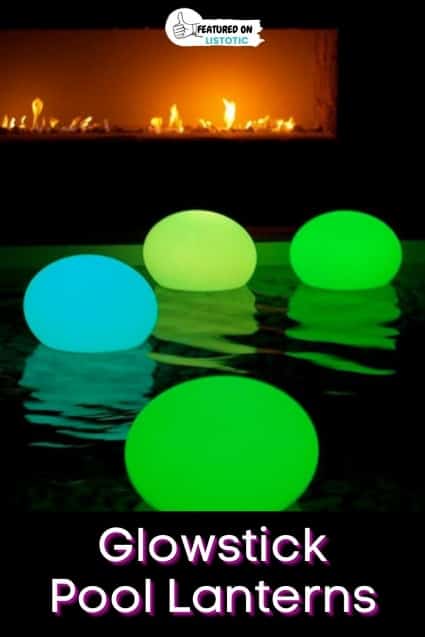 14. Glow Stick Beverage Tub
Place glow sticks at the bottom of a large glass or plastic bowl, fill with ice and use it to chill and light up your drinks.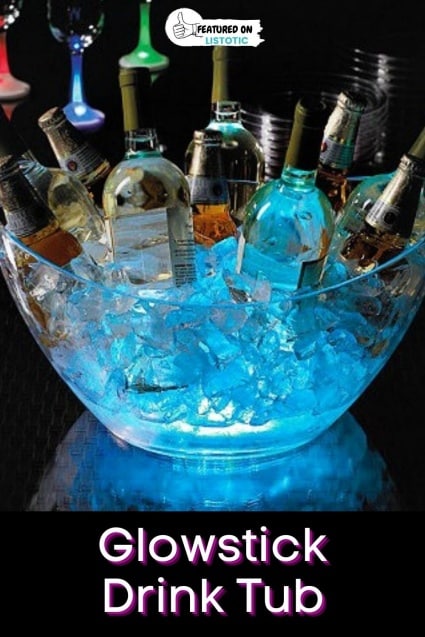 Check Out The Rest Of These Glow Stick Ideas
15. Glow Stick Firefly
This fun craft using recycled materials will keep the kids entertained for hours. The great thing about this project is that you can simply unscrew the top and replace the glow stick when it runs out.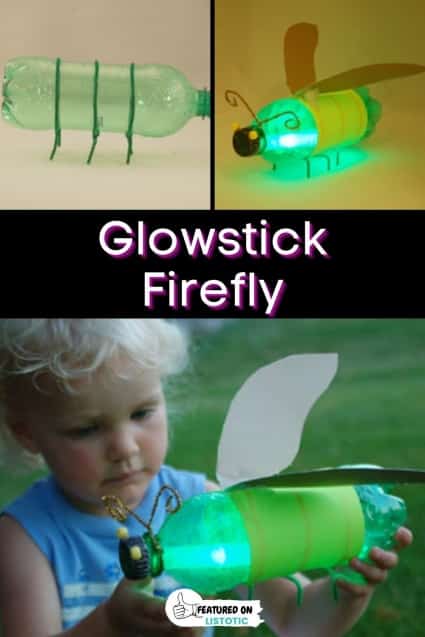 16. Glow Stick Floating Hands
Creepy! Fill surgical gloves with glow sticks. Then blow them up, and let them float in your pool.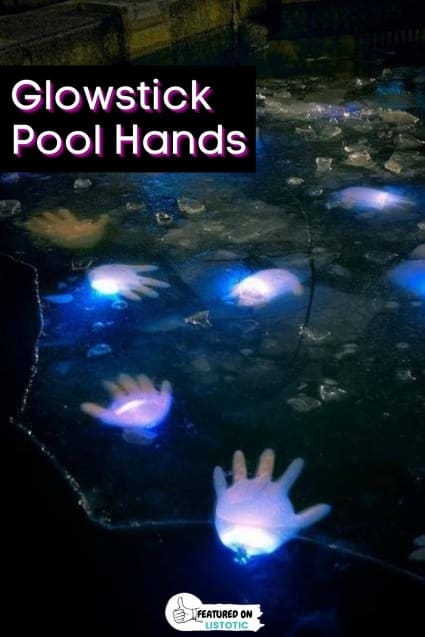 17. Glow Stick Balloon Ghosts
I love these! Although impressive, they are easy to make with just white balloons, green glow sticks, and Sharpies to draw the ghost faces. I'll bet you could even throw a little cheesecloth over top for a real ghostly effect.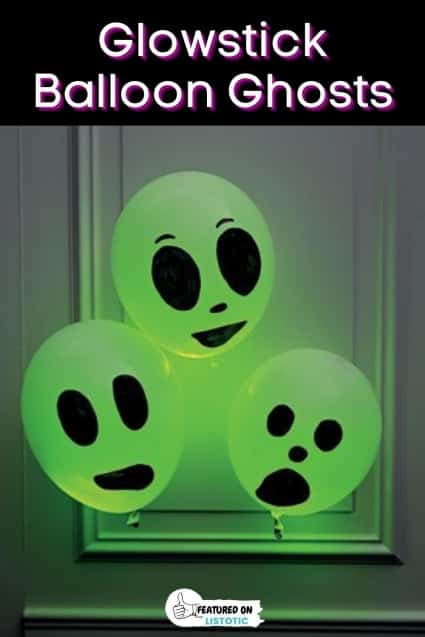 18. Glowing Ghost Cups
This is a fun project that even the little ones can pull off. You could essentially decorate the cups however you'd like and use them for Halloween or any type of party.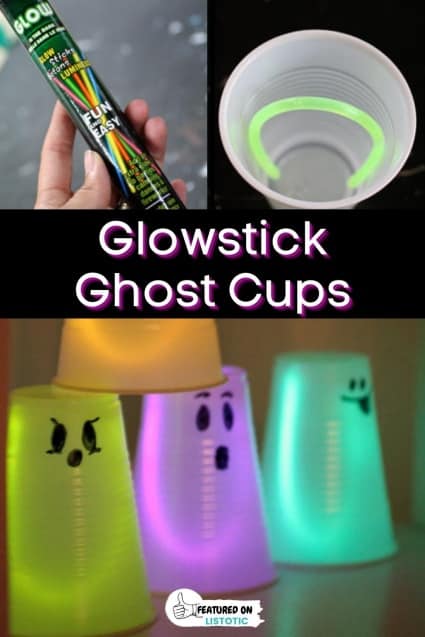 19. Glow Stick Spiders
I'm digging these glowing spiders for the front porch this Halloween. Also, they're made with glow sticks and Styrofoam balls; easy enough!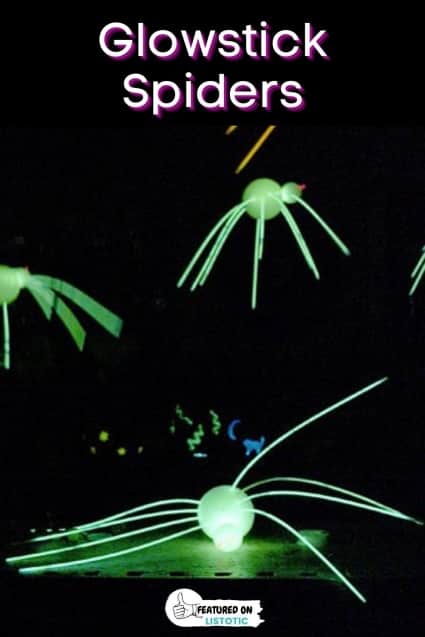 20. Glowing Ninja Turtles
Because I grew up watching the Ninja Turtles, I had to include this project. It's interesting how they're made with watermelons; I think that's a first. Such a cool idea! Also, you could use glow sticks for your jack o' lanterns instead of the traditional candles.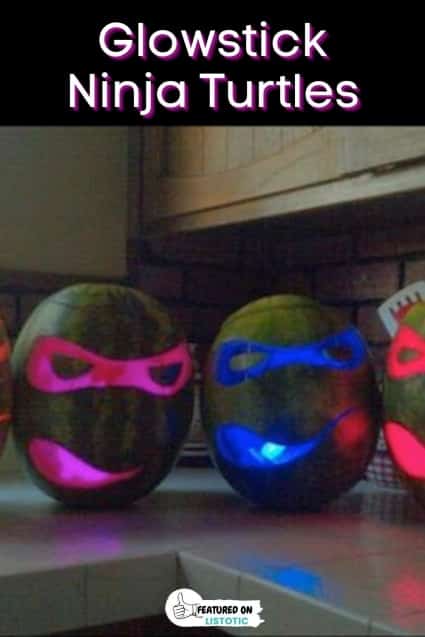 21. Magical Fire Flames
While this may not be a glow stick idea, it is a super fun way to change the colors of your fire pit flames! These magical flame packets work for both indoor wood fireplaces and outdoor fire pits. The multi-colored flames are a huge hit for all ages. These dancing rainbow flames are a fun way to celebrate a birthday, wedding, or just a random weekend fire! They are great to have on hand for your summer fires! Snag these ultimate flames for your summer get-togethers. Just make sure you toast your marshmallows before you use the Ultimate Flames.