Calling all last-minute shoppers! Are you wondering what to put in your child's Easter basket? Here are a bunch of simple and great ideas for kids. I have saved you time and energy searching for the perfect Easter basket ideas for kids. Below you will find Easter basket for boys and Easter basket for girls. There are a ton of easy-to-buy Easter basket ideas below. I don't know about you but when I was a kid, I always looked forward to white chocolate in my Easter basket and a family egg hunt at my grandparents' home. Every year I always get excited to help that clever little Easter bunny out. These Easter basket ideas should give you some inspiration for filling up that Easter basket with items the kids will love!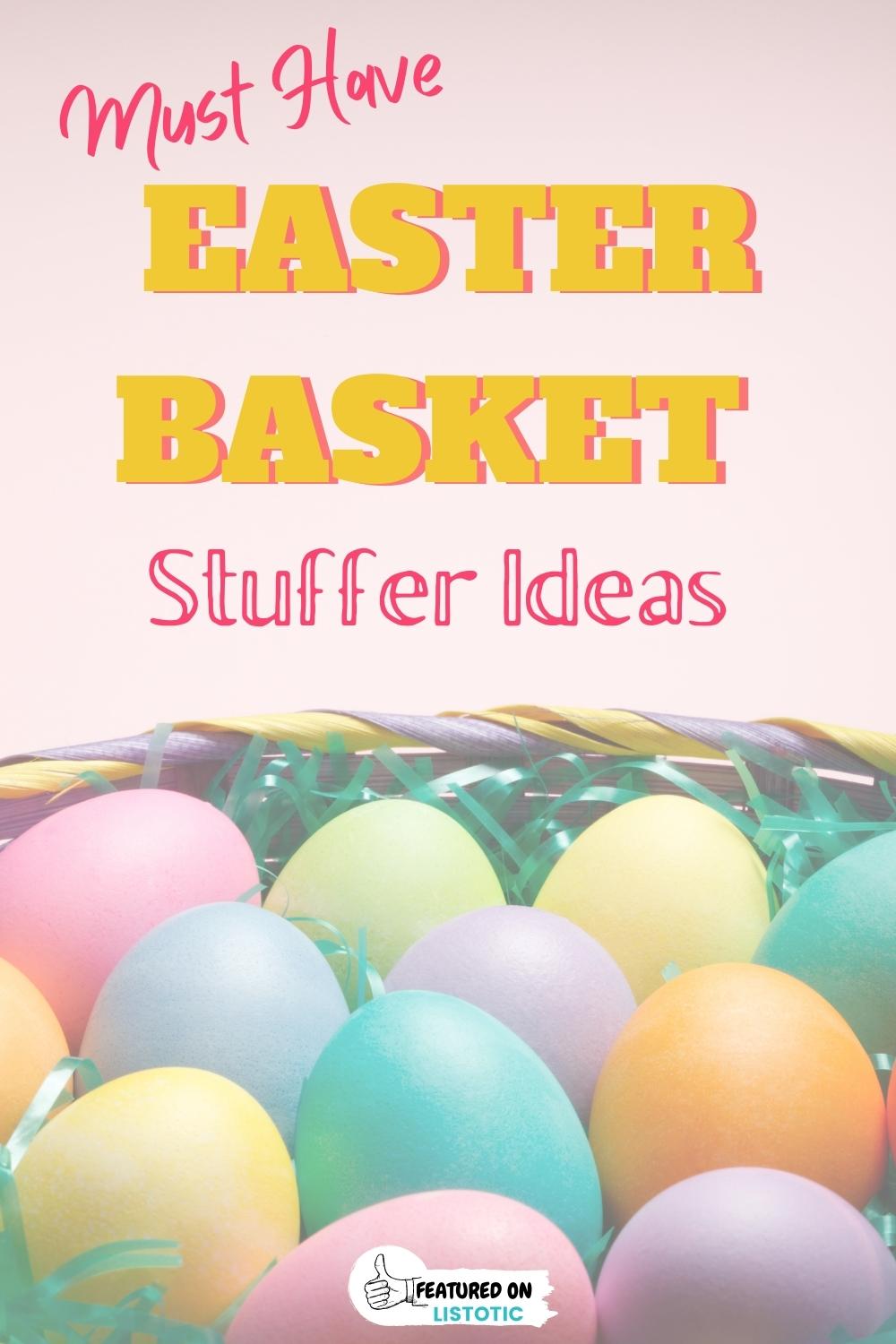 This post contains affiliate links. Please see our Disclaimer Policy.
MUST HAVE Easter Basket Ideas for BOYS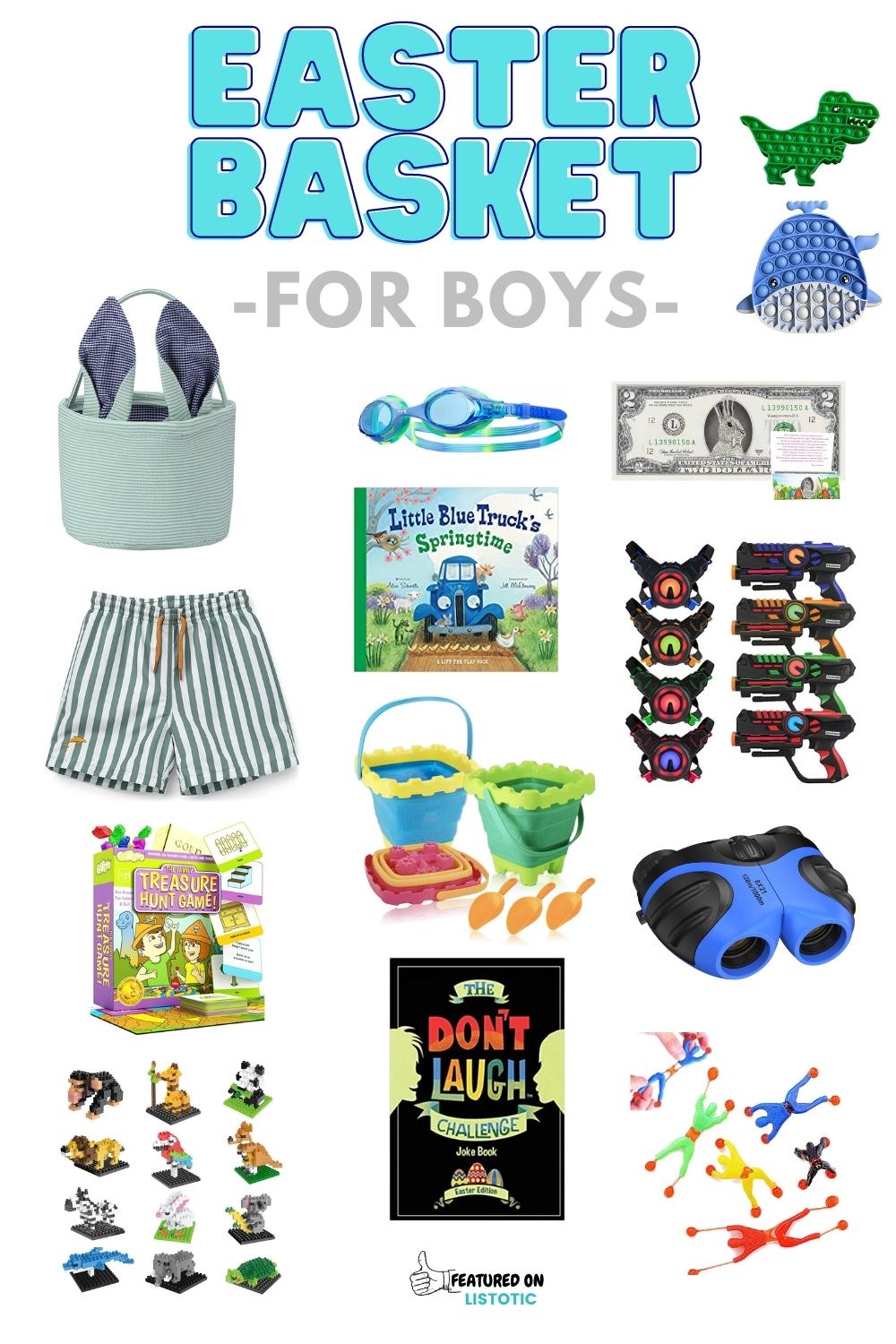 This Easter Basket is a great base for all the goodies your kids are going to receive. In addition, you could also embroider their name on the side! We have a tradition where we leave the boys' Easter baskets out and the Easter bunny comes and fills them!
What kid doesn't like pop its? These are not only a great stress reliever but a good distraction as well! My boys love any version of a pop it. These dinosaur and whale pop its are perfect for your kiddo's Easter baskets!
This two-dollar bill from the Easter Bunny is the perfect addition to your kids' Easter Basket. This will make a special addition to your child's Easter basket for boys.
This mini animal building set is always a hit in my Easter basket for boys. With 12 building block sets, these easter basket ideas for kids will give them a variety of mini animals to assemble. What boy doesn't like lego sets? Mine always ask for legos!
These are a must-have when it comes to Easter basket ideas. Every summer the boys need a new pair of swimming goggles. These are highly rated and come in a variety of different colors.
First, I always try to add a game of some sort to any bundle I give my kiddos. My younger two boys love this Treasure Hunt game. Additionally, this game is great for the entire family. It allows my children to feel like a detective. As a result, this is a great board game for toddlers ages 3 years old and up! My boys love the little jewel pieces.
Now, this laser tag set is one of my kid's favorite toys. They love running around the house playing laser tag. Additionally, these also work great outside at night since they light up. Without a doubt, your kids will love to see this laser tag set in their Easter baskets!
The sticky men keep my kids entertained despite their small stature. They make a great addition in your Easter basket for boys. Additionally, they are small leaving plenty of space for other goodies your kiddos will enjoy.
This joke book is filled with hours of fun for friends and family. It's a great idea for an Easter basket for boys. This book is perfect for that elementary-aged kiddo in your life! Additionally, it makes for a good clean funny joke book!
First off, my kids love this Little Blue Truck series. We have all of the books. This springtime book is no exception! This one is a huge hit with my three-year-old son. We've read it so many times, that he can recite it!
Each summer I gift my boys a new pair of swimming trunks. These are some of my favorite pairs of trunks. The striped pair have held up really well. Having three boys, I've passed down these to my younger sons. Additionally, if you have a vacation coming up, it's nice to have at least one extra pair of swimming trunks.
If you are planning a beach vacation this year, go ahead and add these to your Easter basket ideas. These collapsable sand buckets not only are easy to pack due to their ability to collapse, but they also come with shovels. Additionally, they are made out of silicone making them easy to pack in your beach bag!
Must Have Easter Basket Ideas for GIRLS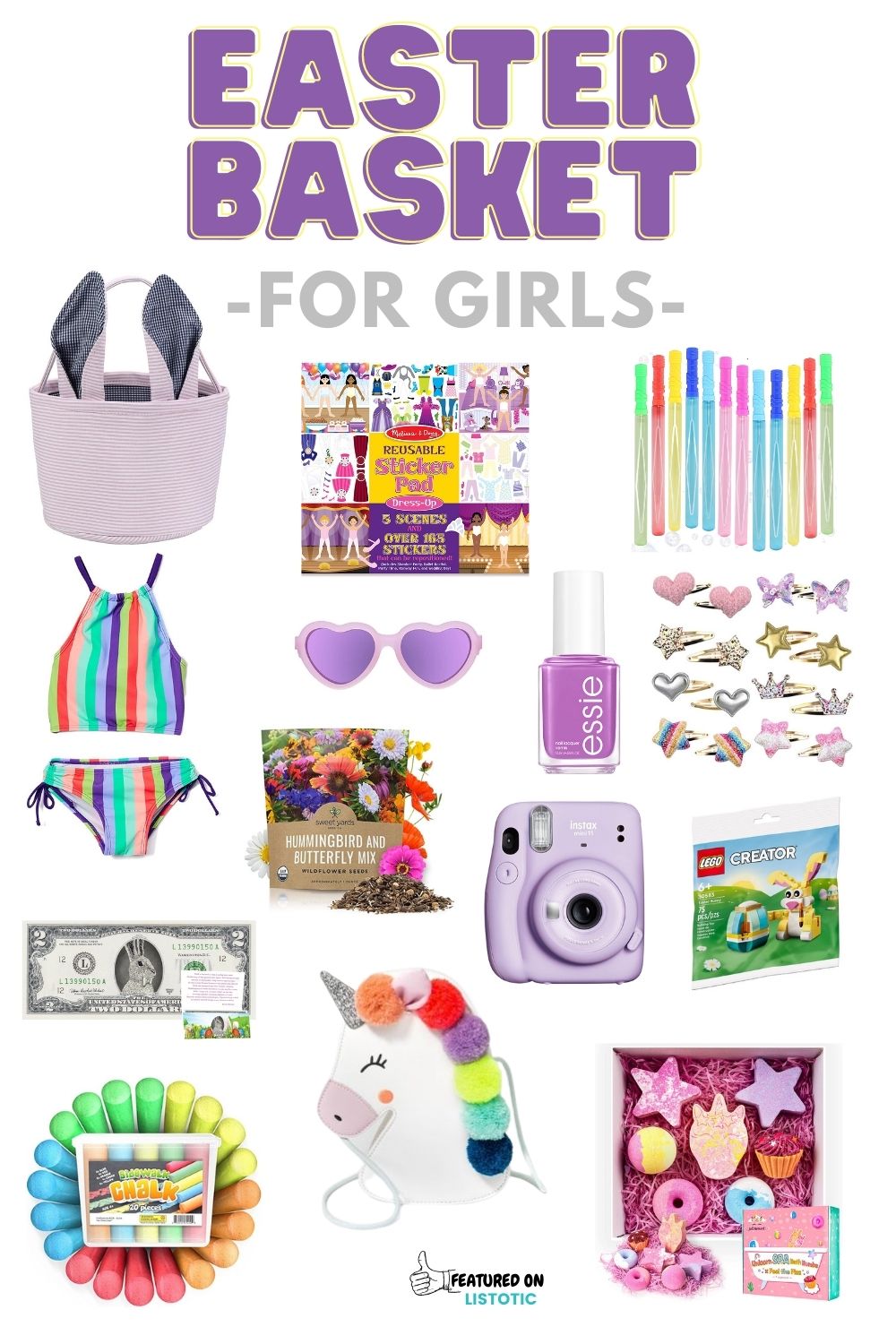 First off, you need an adorable Easter Basket for kids. This Easter basket for girls is the perfect basket to fill up with goodies. Also, it comes in a variety of colors and would be super cute if you embroidered their name on the outside.
This dress-up sticker book is great for girls who love to create. This reusable sticker pad features removable background scenes including a slumber party, ballet recital, party, fashion show, and wedding. Everything a little girl could want to create!
This adorable swimsuit comes in a variety of prints, my favorite being the rainbow-striped swimsuit! What girl doesn't need a few cute swimsuits to choose from?
When your little girl steps out with her squad, she can carry her essentials in style with this adorable Pom Pom Unicorn Crossbody Purse. She can easily toss a chapstick, sunglasses, hand sanitizer, and other accessories in this cute stylish bag!
These stylish polarized heart-shaped sunglasses will step up your daughter's fashion game! Additionally, these are made with flexible rubber frames and impact and shatter-resistant lenses that won't break when bent, twisted, or stepped on; They are durable and are safe for babies, toddlers, and kids making it the perfect Easter basket kids gift.
This is an annual gift we give our kiddos! They always need a restock of sidewalk chalk when spring rolls around. The best part about this is it comes with a sturdy case to easily hold the chalk.
These wildflower seeds are great for flower boxes, planters, or planting in an open area. Additionally, wildflowers are a great gift if your little girl loves flowers or is interested in gardening.
It doesn't matter what your age is, kids always get excited when it comes to bubbles! Simply stated, this 12 pack of bubble wands will fit perfectly in your Easter basket for kids.
Add some extra fun with a lego Easter bunny and Easter egg. Without a doubt, this quick and easy holiday lego set will be a great addition to your Easter gift basket for kids.
These hair clips are the perfect accessory for any little girl. They have super cute butterflies, hearts, stars, and crown designs making these little hair accessories an adorable feature to their basket. Additionally, these make a great addition to an Easter basket for girls.
These bath bombs are a great Easter basket stuffer gift. Included are seven different scents free of any harsh chemicals. Additionally, it has the best smelling essential oils. These bath bombs will make your skin feel silky smooth.