Last Updated on April 7, 2023
Fun, Affordable Easter Basket Alternatives
For All Ages!
I am all about budget friendly gifts that are practical. These Easter basket alternatives are so practical and give a fun twist on the traditional basket.
If you are looking for something creative, fun and out of the box to use as an Easter basket that is not actually a basket, here are 18 Easter basket ideas that every age will love! How many kids get excited about the actual basket, right?
Ideas for Affordable Easter Basket Fillers
Amazon, the Target dollar section, Dollar Store chains and other discount stores are all great options when it comes to filling your Easter baskets. Here are some of my favorite alternative baskets for both little ones and older ones. I've also included a few ideas at the end just to give you more options as to what to use when thinking of fun storage alternatives.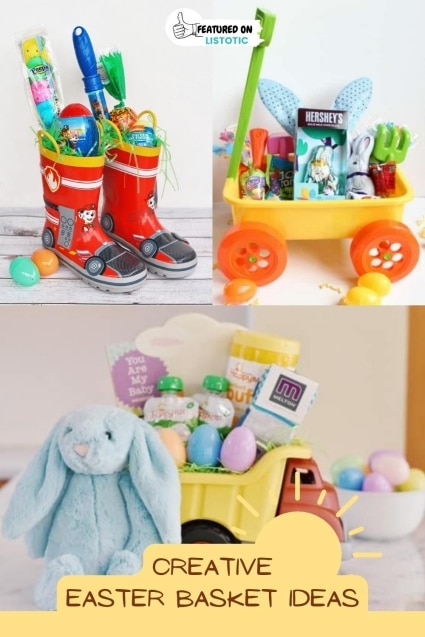 1. Umbrella
Now this is a clever and unique idea! I know my oldest would love to receive an Umbrella as his "basket!" I love how Barb incorporated useful items such as a placemat, reusable Popsicle molds and an Easter craft. This would make any child excited Easter morning.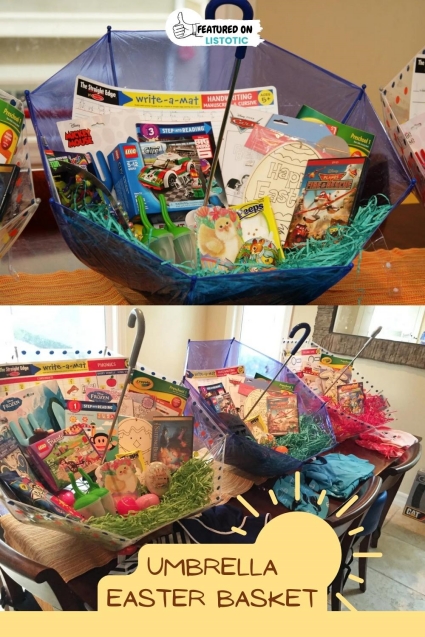 2. Rain Boots
This is my absolute favorite idea yet! Each Spring my boys always receive a new pair of rain boots so why not make it even more special by filling it with goodies!
Bubble wands are always a must and of course some fun treats like Peeps, Cadbury eggs and jelly beans. Another treat my boys like are those fun peanut butter Easter eggs!
Zappos is my go-to whenever I purchase shoes for the boys because they have one day free shipping and free return shipping!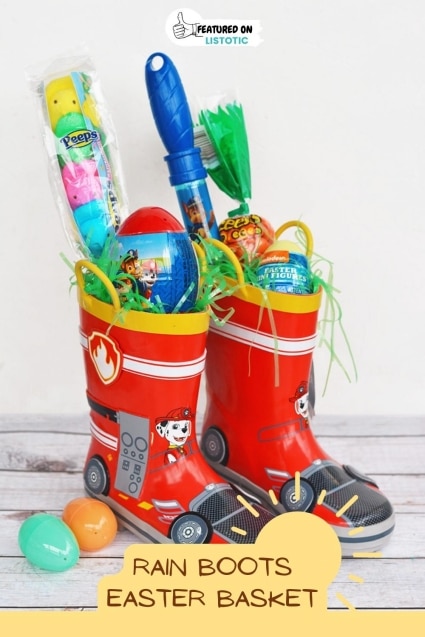 3. Toddler Swing: (Source unknown)
I couldn't find the source to this awesome idea! If this is your photo, do let us know so we can give you the appropriate credit!
This is one of my all-time favorite ideas for a toddler! Each of my boys loved their toddler swing. It brought years of giggles and smiles until they were ready to upgrade to the big swing!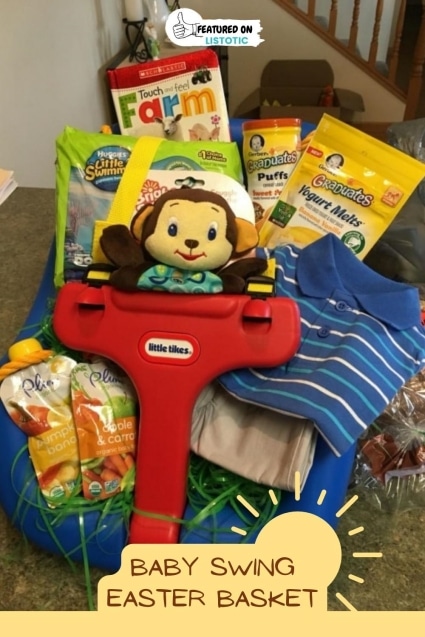 4. Dump Truck: Making the World Cuter
How adorable is this alternative Easter basket from Making the World Cuter? She filled her sons recyclable dump truck with goodies like a Jellycat Stuffed Bunny, an Easter themed book, his favorite snacks and a few Easter eggs.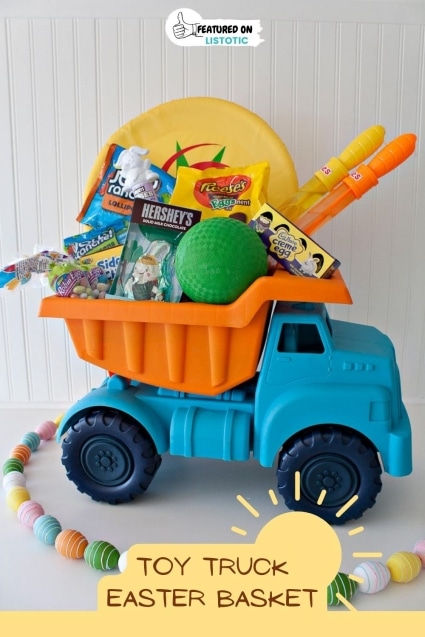 5. Sand Buckets
Sand buckets in my opinion are much more useful than the traditional Easter Baskets. This one is always a hit and very cost effective! Toss in some sidewalk chalk, Easter eggs, an Easter themed/religious coloring book, bubbles and more.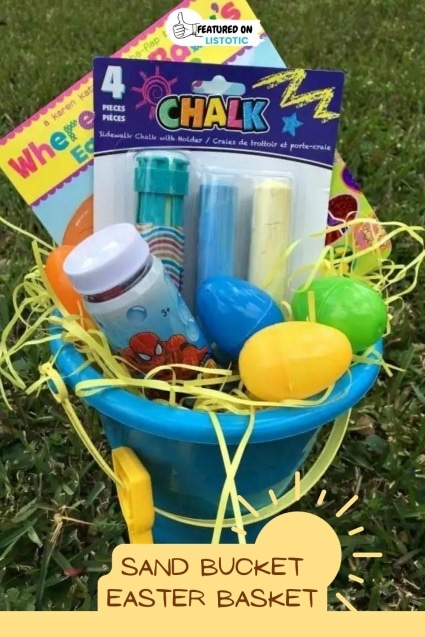 6. Kiddie Pool
This is a great gift idea for a family with multiple children! Fill it with summer related items such as a ball and bat, pool toys, squirt guns, Easter candies such as chocolate bunnies, jelly jeans, and Easter eggs, Books and more! The photo below was submitted by Kendra to KKYR Radio in Texarkana, AR.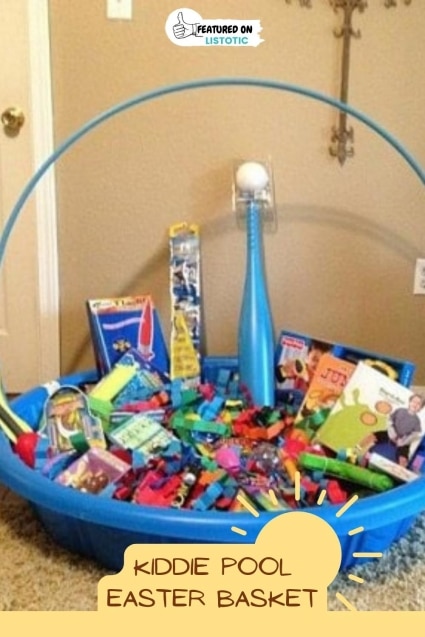 7. Potty
I love this idea for the fact that you can make potty training even more fun for your toddler! That Easter Bunny is quite clever when he thought of this idea!
Stock it full of fun packages of underwear, some themed Easter drinking cups that can almost always be found in the target dollar section, among many other goodies that will sure to be a hit with your little one.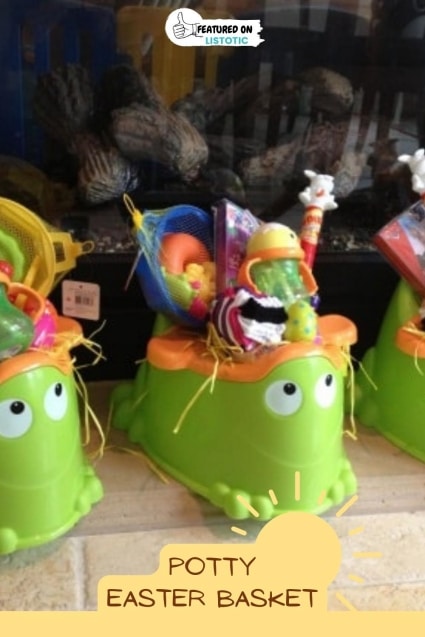 8. Garden Wagon
Need a helper in the garden this year? Turn a cute garden wagon into a fun alternative "basket." Fill it with garden gloves, small garden tools, a sun hat, a few seed packets and of course some fun Easter themed goodies!
How fun would it be for your little one to plant their own section of the garden and help tend, nurture and watch it grow? My boys take their planting pretty serious around here since their Dad is a farmer. It's very rewarding to nurture a tiny seed and watch it grow and flourish!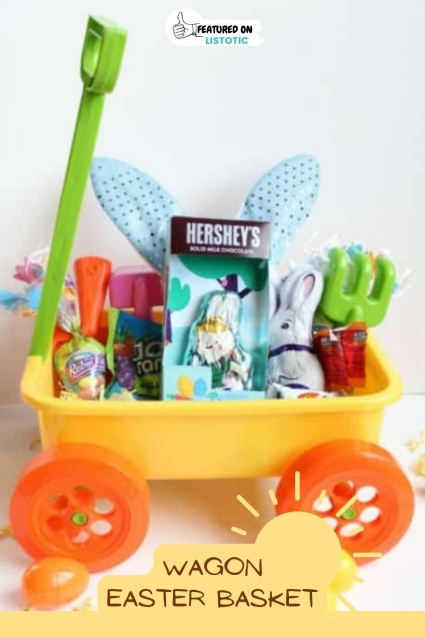 9. Candy Box
This DIY Easter basket is perfect if you are a last-minute person. Get creative and have fun designing your box. The options are endless–you can choose different candy or all the same! Fill it with a chocolate bunny, Easter eggs, jellybeans, you name it!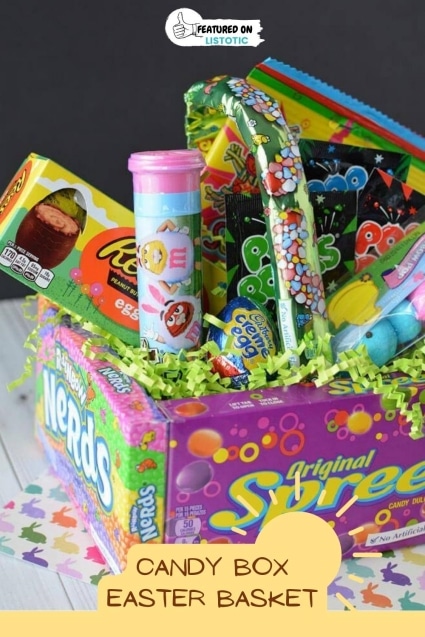 10. Football Helmet/Sports Helmet
This will definitely please the football lover in your life! Think outside the "basket" and replace it with something they will love and use for years to come. I would fill it with some gum, football gloves, a small football, and your favorite team's t-shirt.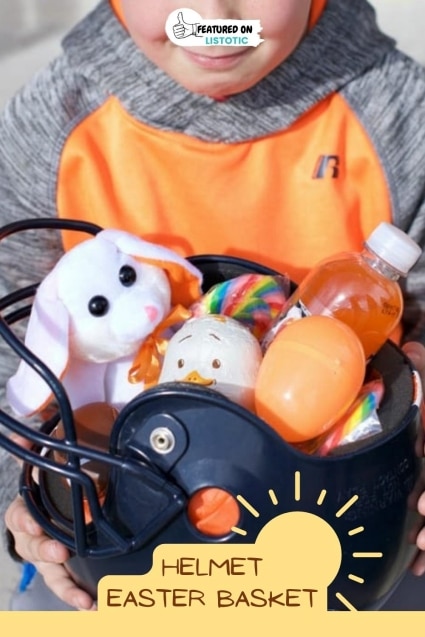 11. Tackle Box (Source Unknown)
I couldn't find the source to this awesome idea! If this is your photo, do let us know so we can give you the appropriate credit!
A tackle box is a great idea for both teens and younger kiddos. Toss in some "edible bait" including Swedish fish, gummy worms and goldfish! You could also throw in a life jacket and or fishing pole to complete the package!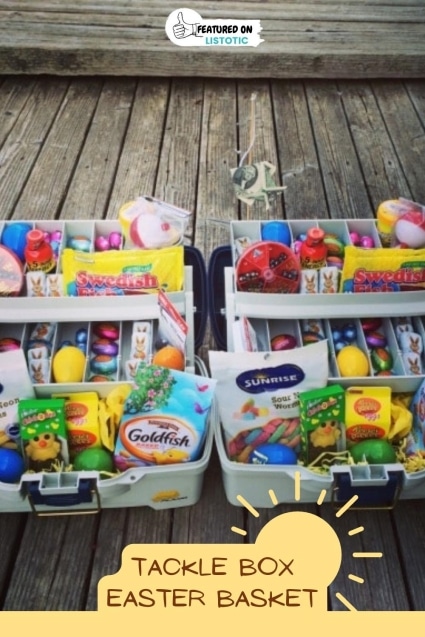 12. Baseball Hat for boys/teens (Source Unknown)
Now I am tipping my hat to this idea! This is such a fun option for a teenage boy. Toss all of their favorite treats into their favorite team's hat and your good to go.
I couldn't find the source to this cool idea! If this is your photo, do let us know so we can give you the appropriate credit!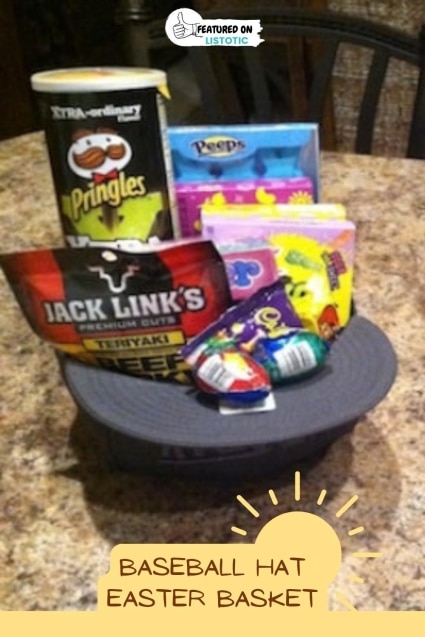 13. Toolbox
Now this is a great option for a teenage boy. Fill it with their favorite treats, tools, a gift card to their favorite store. This will surely be a hit with any teen.
How fun would it be to gift tickets to watch their favorite team play? I am all about gifting fun things to do to get out of the house.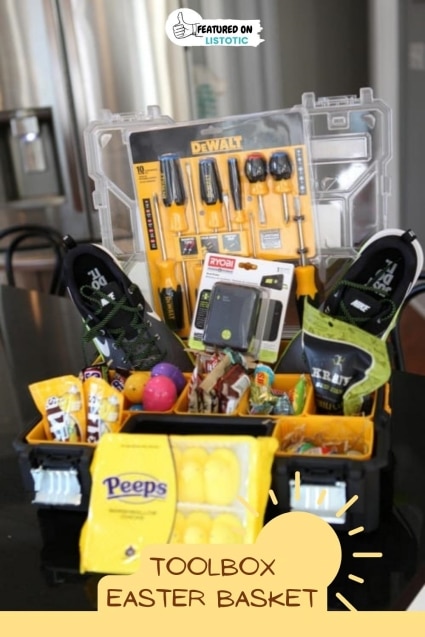 14. Beach Towel
I love this idea just for the fact that it means that warmer weather is on its way! Check out the easy DIY instructions on how to wrap the beach towel around the pool noodle!
Feel free to fill it with pool toys, sunglasses, a stuffed animal or maybe even a fun rubber duck! My boys would love squirt guns and bubbles. Bubbles are always a hit with my kiddos.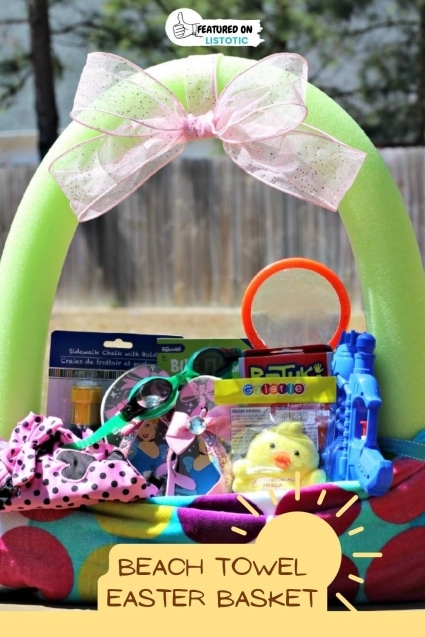 15. Mixing Bowl
This is such a fun twist on an Easter basket! Perfect for your teen who is into baking. Gift them their very own mixing bowl with fun accessories including whisks, pastel measuring spoons, patterned cupcake liners, fun sprinkles and more!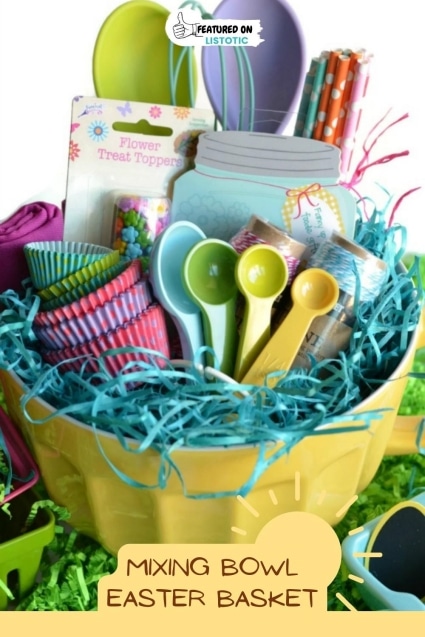 16. Makeup Bag
This is fitting for a younger teen. You can choose to fill their makeup bag with makeup for beginners such as lip gloss, mascara, a neutral eyeshadow, a makeup brush or you can fill it with fun socks, travel sized lotion, nail polish and of course chocolate!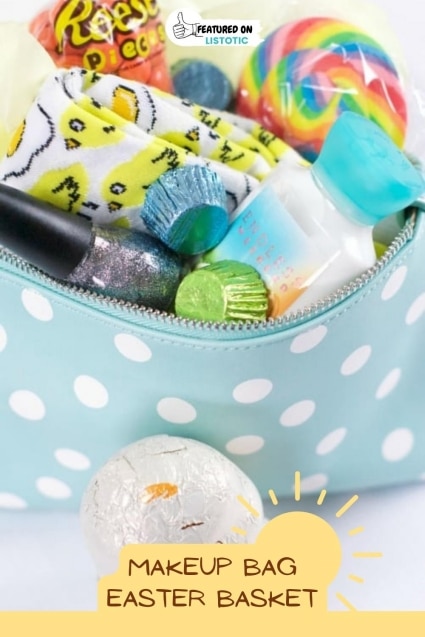 17. Movie Basket
I personally love a movie gift basket. Who doesn't love going to the movies? This one will surely do the job! Fill it with their favorite candy, popcorn, a movie gift card and they are set.
I love having popcorn tubs at home because they make movie time in our home even more special. Get creative with your choices. Any movie lover will love this thoughtful gift.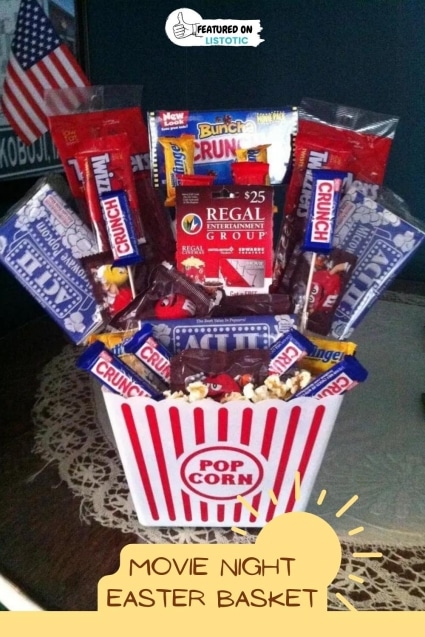 18. Beach Themed Bucket
This is another great option for your child at any age! Almost every year my boys need new swimming trunks and goggles. I love the practicality of this idea. Toss it all in a bucket and you're good to go!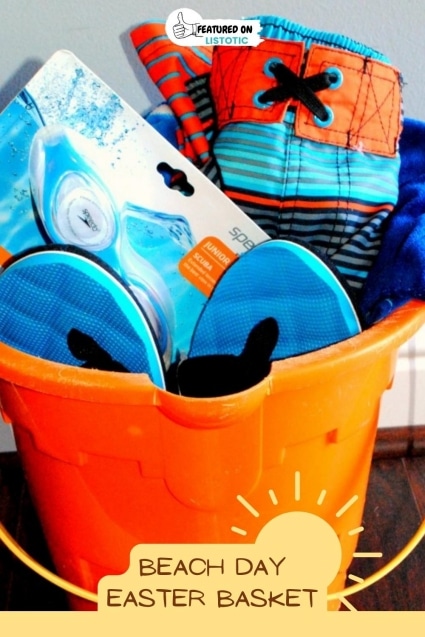 More Creative Easter Basket Alternatives
[Note: These alternative Easter Baskets include links to Amazon. If you should purchase from these links, we may receive a small commission at no additional cost to you.]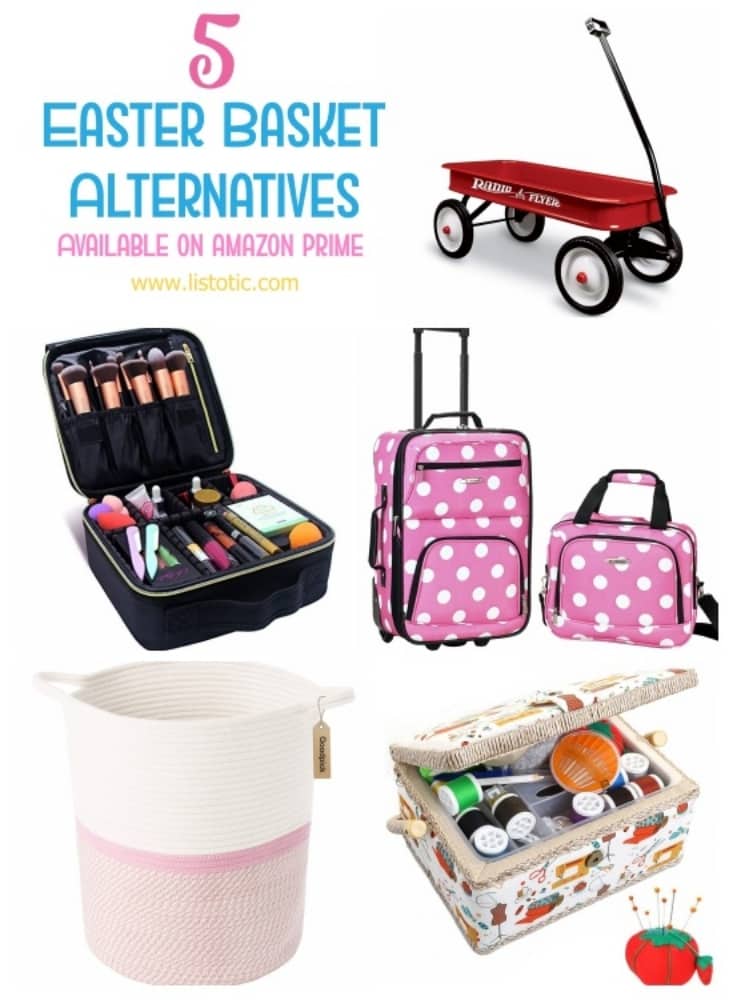 1. Radio Flyer Wagon
This is a great option with Spring and Summer weather in the near future. How fun would it be to their Easter treats filled up in a fun wagon?
I have this particular wagon and it is so fun to pull the boys and pull each other around in it. It's great quality and can be used for so many other tasks as well.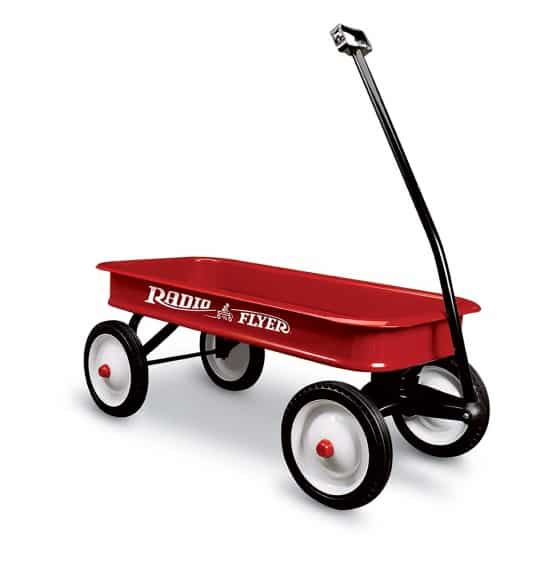 2. Portable Makeup Bag
This bag is amazing and has been circulating the blogging community for a while now. I love the separable sections to keep all your necessities orderly and tidy.
You can also design your own compartments with the adjustable dividers. It's very versatile and a must if you travel a lot. It can also be used to carry electronics, a tote bag, you name it!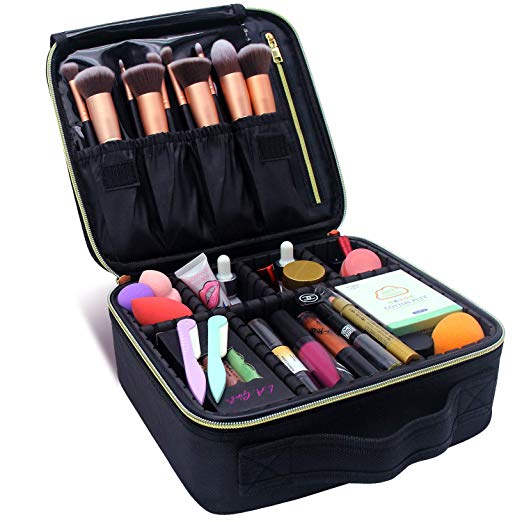 3. Carry on Suitcase
If you are in the market for a carry on for your child, this is another great option to fill with their Easter gifts. A back pack could also work well as well!
This would come in handy if you're planning on going on any overnight stays in the future. This would be a great way to tell your kiddos about it!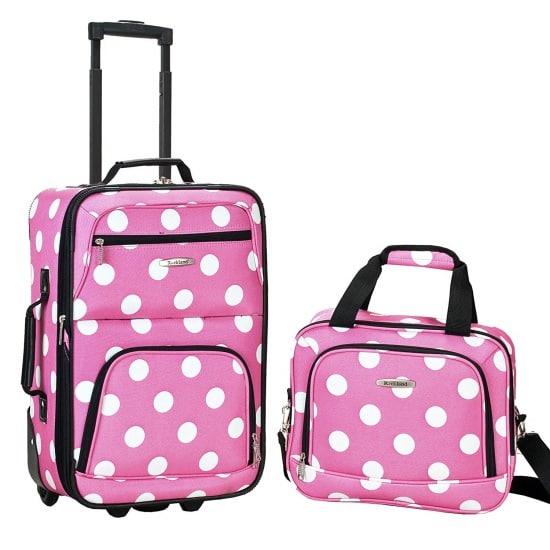 4. Kids Hamper
I love this idea because honestly, who doesn't love a lot of storage options? This comes in handy because *fingers crossed* your child actually puts their dirty clothes in it and it could also encourage them to become more organized and tidy.
It is a woven basket made of cotton rope and the workmanship is nothing shy of beautiful. I love this particular hamper because it doesn't scream "KIDS" but is subtle enough to grow with them. It also comes in blue!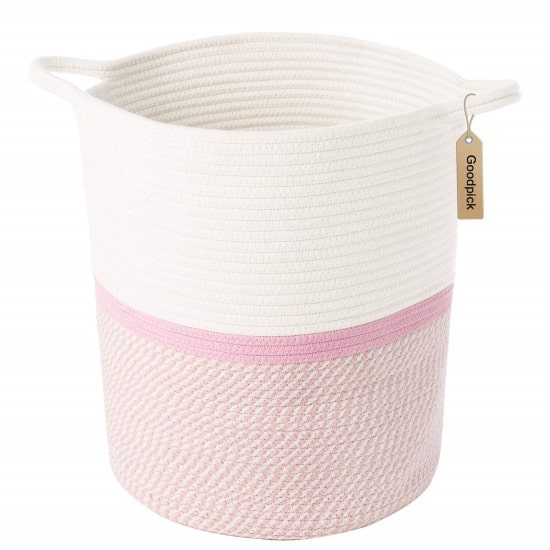 5. Sewing Basket
This is another fun option if your child is interested in sewing. This would be a great way to incorporate their Easter gifts into this fun sewing basket.
Bonus it also comes with sewing supplies and a tomato pin cushion! It is a very affordable option and would please almost any budding sewer.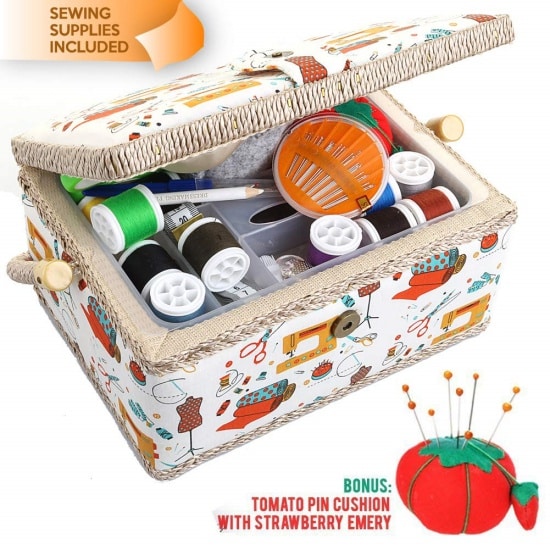 I hope this list inspired you to think outside the "basket" and introduce you to some special and creative options you wouldn't have thought about! There are so many fun and different ways to put together an Easter basket your kids will love.
These ideas are just a starting point. Feel free to get creative, take a photo and post to our Facebook page. I would love to see what you came up with!
If you or anyone you know might like this post, feel free to share it. We would be so grateful!
Happy Easter Listotic readers!
Katie