Last Updated on November 10, 2021
Mason Jar Crafts for all Ages
Although intended for canning, it seems as though mason jars are used for everything BUT canning! Their vintage and rustic charm has become more popular than slap bracelets were in the 90's. I have to admit, I love mason jar crafts, too. I actually paid an unreasonable price for mason jars today at Hobby Lobby– $2 a jar! That was out of pure laziness because I know you can buy these things for pennies at thrift stores, antique malls, and flea markets.
Maybe it's their affordability that makes them so desirable? Either way, here are a few of my favorite unique ways to create delightful mason jar crafts. Everything from home decor to gifts and holiday projects!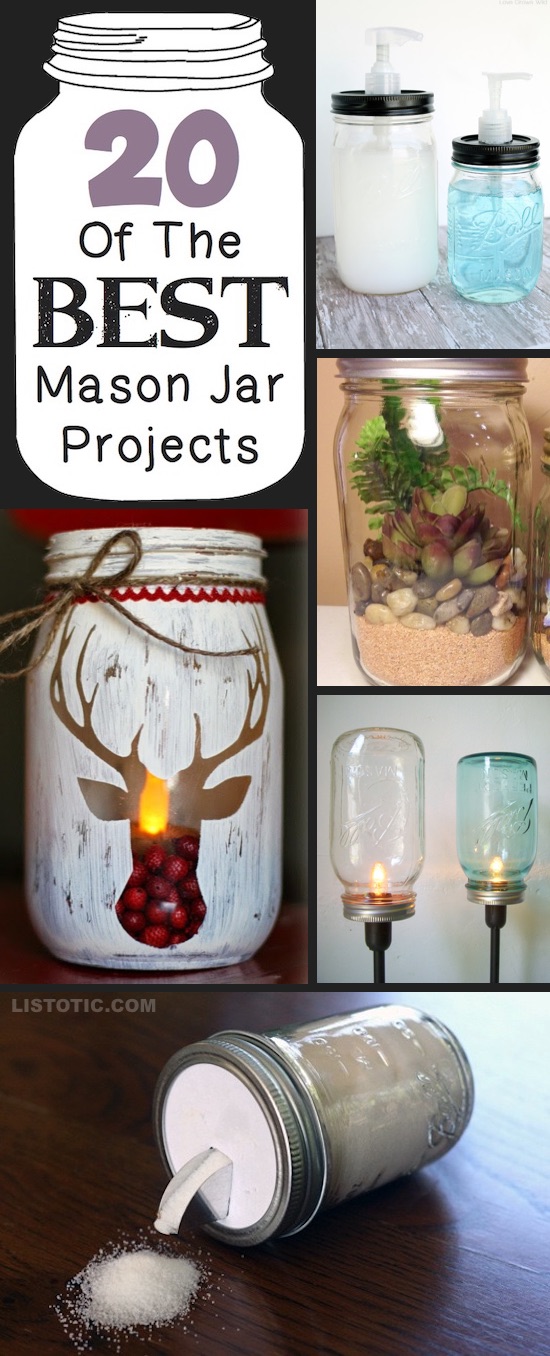 This post contains affiliate links. Please see our Disclaimer Policy.
1. Chalkboard Mason Jar Centerpiece
You could get really creative and use tape and stencils to cut out just about any shape you'd like. Maybe a pumpkin for Fall or a gingerbread man for Christmas? The chalkboard paint allows you to customize even further with chalk (perhaps write a name or special note if you're giving them away as gifts). Just be sure to clean and dry your jars really well before applying the paint. Rubbing alcohol works great for that.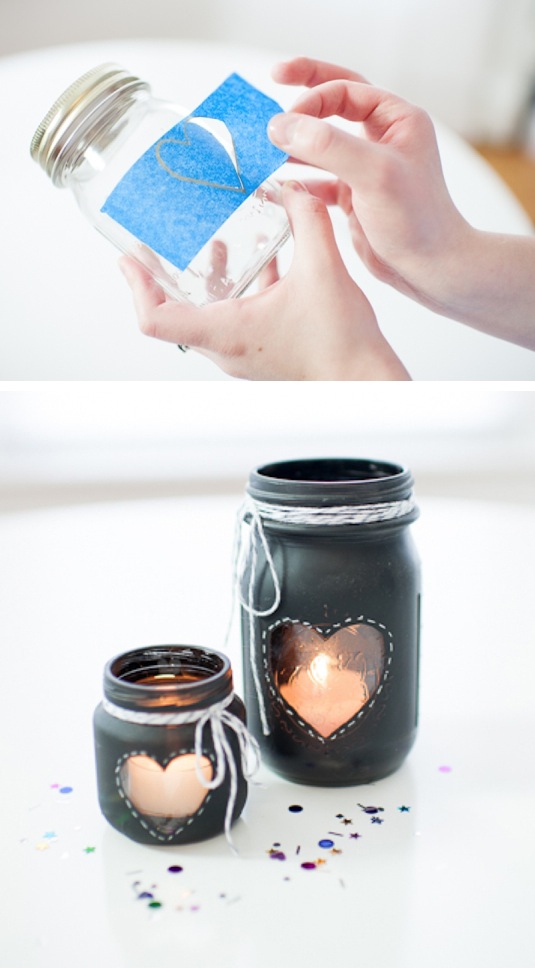 2. Repurposed Parmesan Lid
Wow! Did you know that these parmesan lids screw onto the top of small mouthed mason jars? Now you can use it to store your freshly grated parmesan or special seasoning blend. It would even look nice siting on the counter.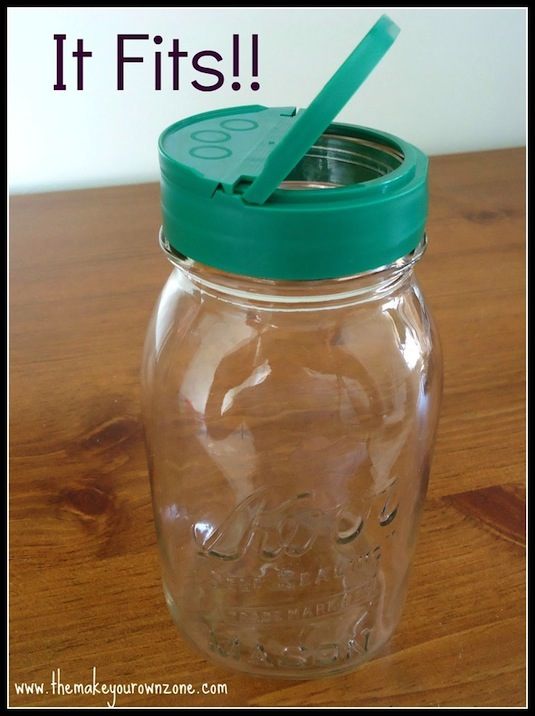 3. Mason Jar Salt Dispenser
Use the top of a Morton salt dispenser to replace a mason jar lid! Now you can use it to store and dispense sugar, salt, pepper, or seasoning! Simply use the lid to trace the exact measurement needed. Cut it on the larger side so that it fits snugly inside of the lid without having to be glued on.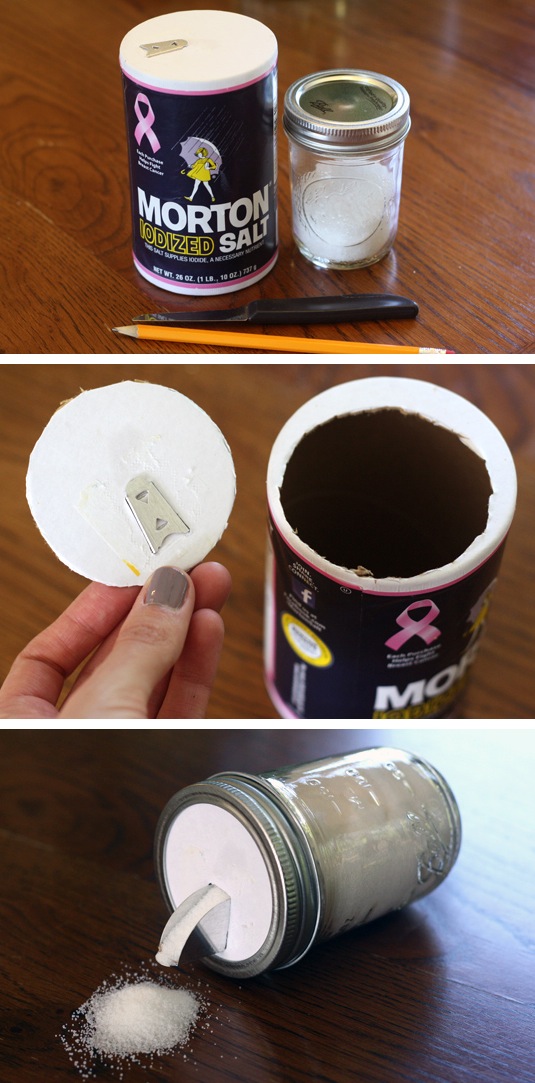 4. Mason Jar Photo Frames Craft
Easy enough! Use mason jars as photo frames. I love the way these upside down mason jars look all grouped together with different sized jars and photos.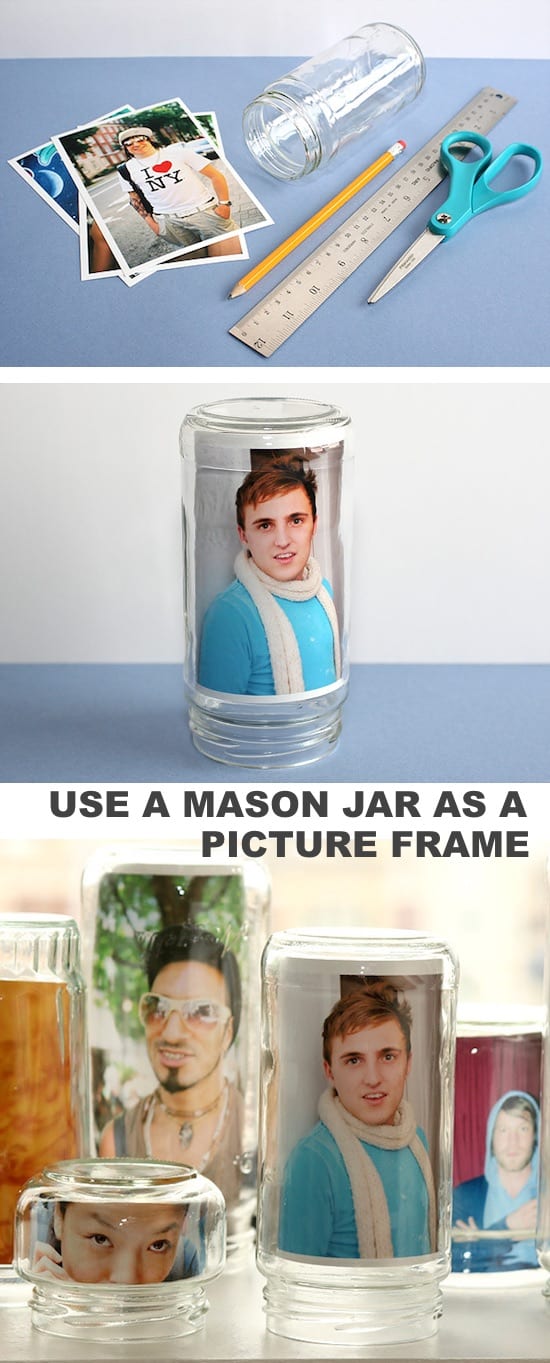 5. Mason Jar Soap Dispenser
Add a vintage touch to your bathroom or kitchen with these inexpensive mason jar soap dispensers! With the right pump, I'm assuming you could also do this for lotion or hand sanitizer. Check out the full instructions for this project here.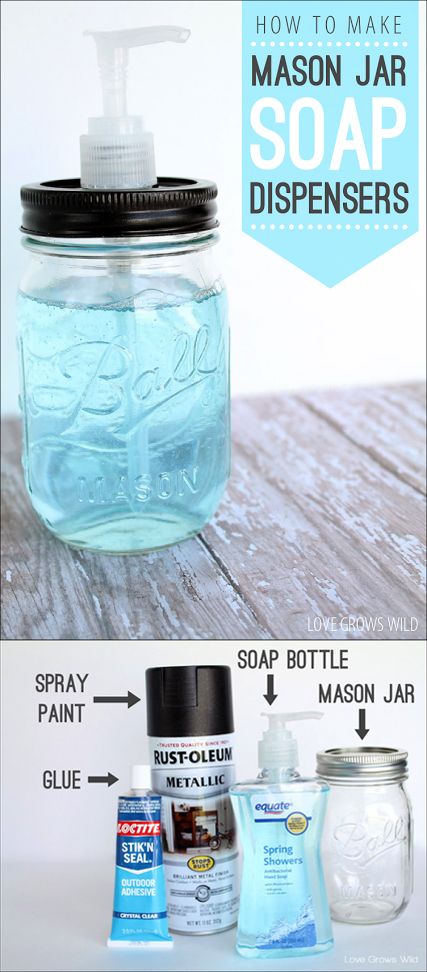 6. Mason Jar Craft Gifts
Mason jars make for beautiful gifts, especially for the holidays. Stack the dry ingredients of your favorite recipe (brownies, cookies, etc.) and print the recipe on the top or inside of the lid. Decorate the jar however you'd like with ribbon, twine, washi tape and maybe even a tag. This mason jar craft is quick to make and is a unique personalized gift.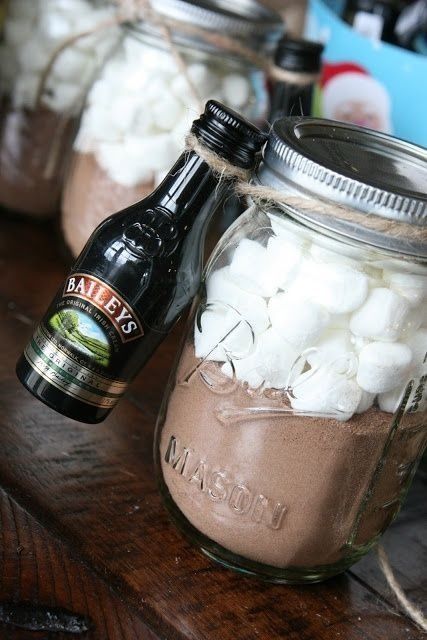 7. Mason Jar Hanging Lights
Add some charm to your kitchen with DIY mason jar lights. They look spectacular grouped together over a table! For safety reasons, the light bulbs do need to breathe, so be sure to drill a small hole in the top or bottom of the jars. Do your research before taking on this project! You can view a really good video tutorial here.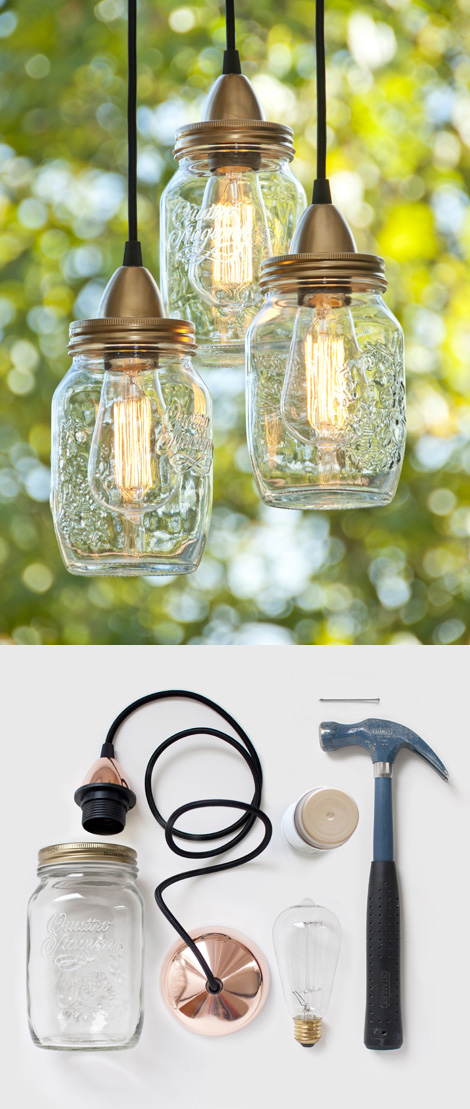 8. Mason Jar Lamps
These mason jar lamps are perfect for a small side table or fireplace mantel! They wouldn't put off much light, but they could definitely add warmth and character to just about any room. You can buy them on Etsy or easily make your own. Just remember, it's important to make sure you create a hole either in the jar somewhere or in the lid so that the heat can escape when the light is on.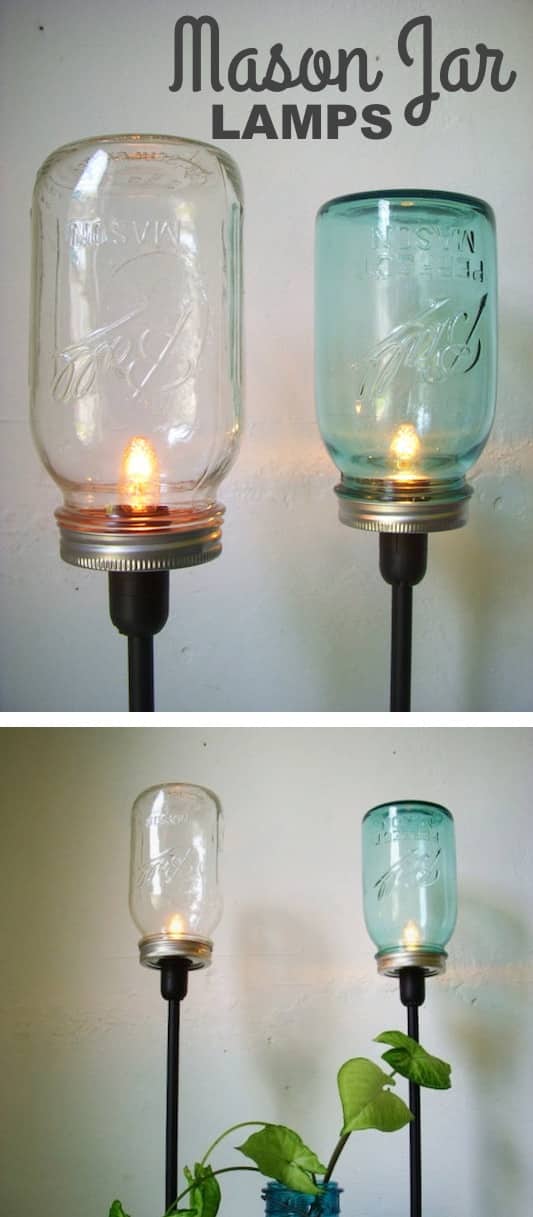 9. Mason Jar Solar Lights Craft
These DIY solar lights are easier than you might think, and so much better than the ones you can buy at a hardware store! They are perfect for a patio, and can obviously be easily moved around like a lamp to suit your needs. Check out the full tutorial and more pictures for these Mason Jar Solar Lights over at Today's Creative Life.
10. Mason Jar Mini Sewing Kit
Store all of your small sewing supplies inside of a jar and use the top as a pin cushion! Just leave it to Martha Stewart to come up with this beauty.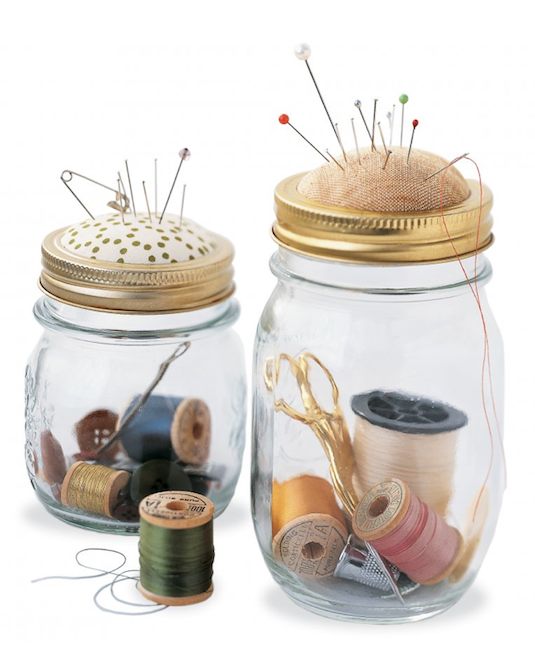 11. Mason Jar Terrarium
Mason jars are perfect for growing herbs and other small plants, especially in a sunny kitchen window, but if you don't have the light needed and love the way they look, don't be afraid to go fake! Artificial succulents these days actually look like the real thing. Check out the instructions for this project over at Hometalk.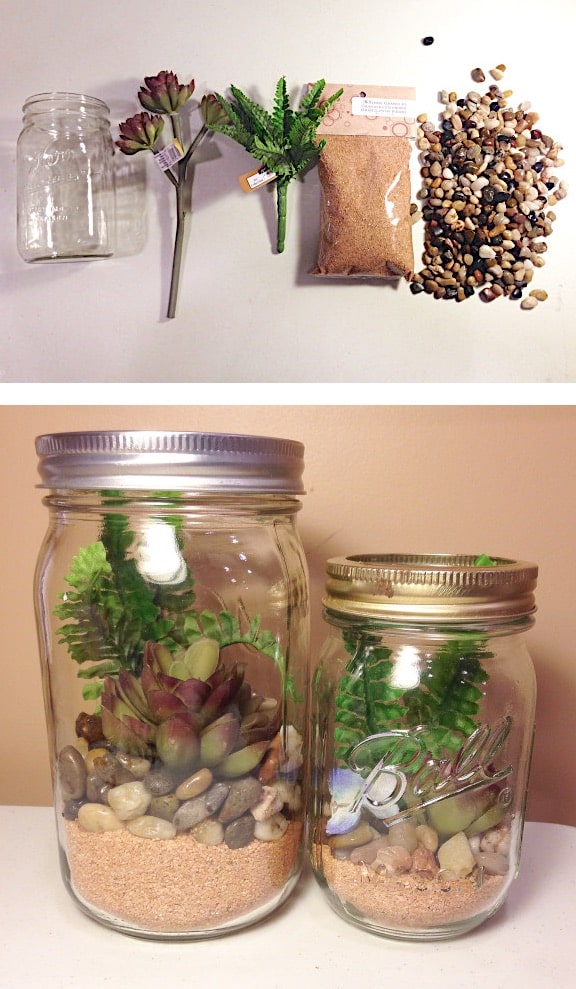 12. Mason Jar Beach Keepsake
Use a mason jar to display items from a recent beach vacation! You could even place a photo from the trip on the inside as a backdrop. I did this last year and the jar ended up full of bugs! It might be a good idea to clean and air out your shells before sealing them in the jar. Hehe. Check out the full details for this project here. It's a great mason jar craft to make with your kids.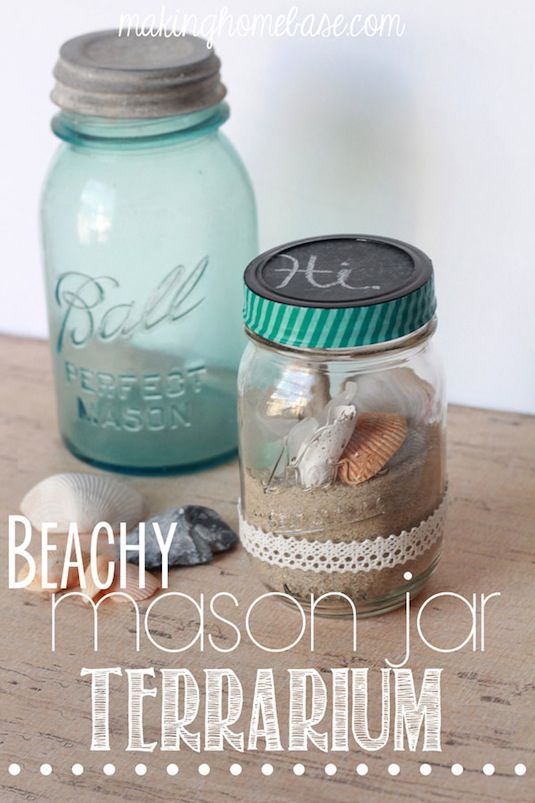 13. Mason Jar Desk Organizer
Stack and glue jars, and then use them to store your office or craft supplies. How clever and cute is this!? I like this idea for a shelf over a desk, so that your supplies are easy to grab. Check out the instructions over at It's Overflowing.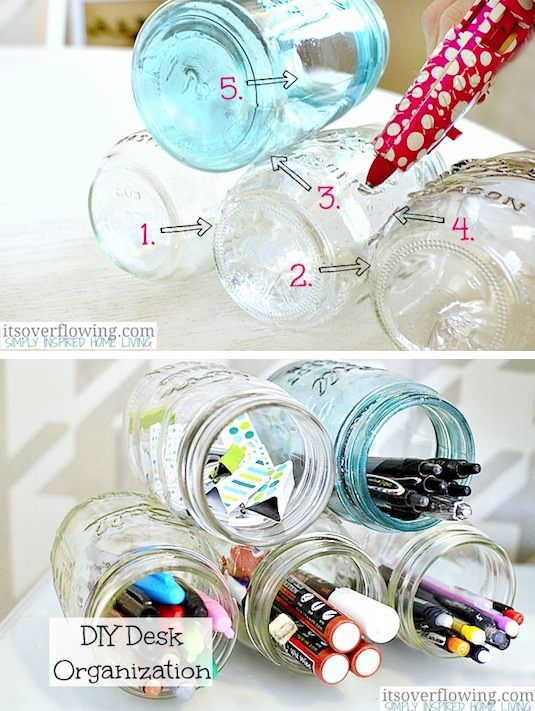 14. Mason Jar Lanterns
Use pliers and wire to turn mason jars into hanging lanterns. You could use just about any filler to make it fitting for the occasion. Top thisthem with a tea light, and hang them indoors or out. You could also simply fill them with flowers for pretty hanging bouquets. Check out the instructions for this mason jar craft over at Intimate Weddings.

15. Mason Jar Floating Centerpiece
Whether it is a wedding, outdoor party or just creating a little ambience, floating candles in mason jars can turn plain candles into a rustic centerpiece. Rustic weddings continue to be a hot trend whether it is the look or the unique ways you can keep costs down. One way to keep the costs down and rev up the look is to use mason jar floating candles. Add some simple burlap, leaf ribbon or jute ribbon to personalize your centerpieces.
You can also vary the amount of light and view of the candle by varying the depth of the water. Check out the variations below.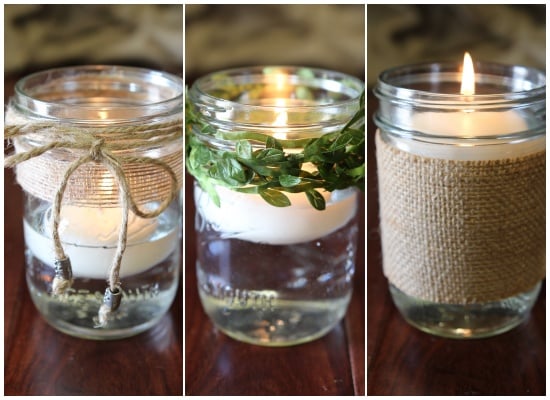 16. Mason Jar Under-Shelf Storage
Screw mason jar lids to the bottom of a shelf as a unique way to store craft supplies and other small knick knacks. I've seen this done in the garage for screws, nails and other small pieces, but I love this idea for little, hard-to-organize craft supplies even more. Check out the full instructions for this project here.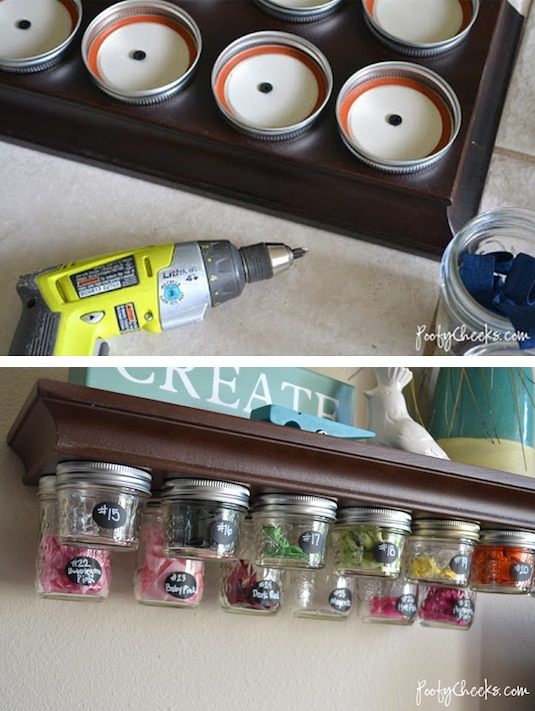 17. Mason Jar Lamp Base
I love this simple lamp idea! You could also fill it with anything you'd like that matches your decor. I'm thinking acorns, shells, pinecones, wine corks, photos or anything that suits your fancy. Check out the full details here.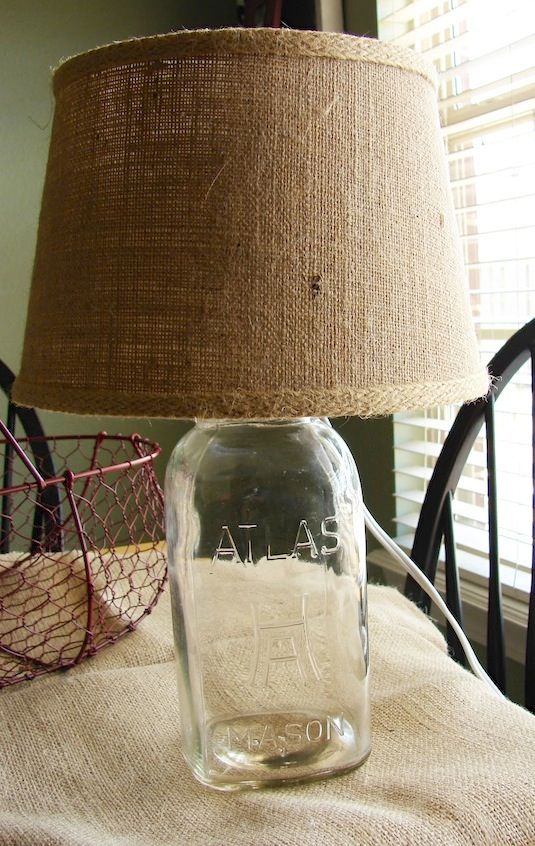 18. Mason Jar Light Makeover
Replace an outdated light cover with a large mason jar! These jars are proving to be pretty versatile. You will find a full video tutorial on YouTube on how to safely make mason jar lights and lanterns. It's important to make sure you create a hole either in the jar somewhere or in the fixture so that the heat can escape when the light is on.

19. Mason Jar To-Go Cups
With a few simple steps, you can turn mason jars into nifty to-go cups. These would make for fun gifts! That's all you will need for this project is a drill or hole punch, a straw and grommets. Go check out the full instructions over at My Frugal Adventures.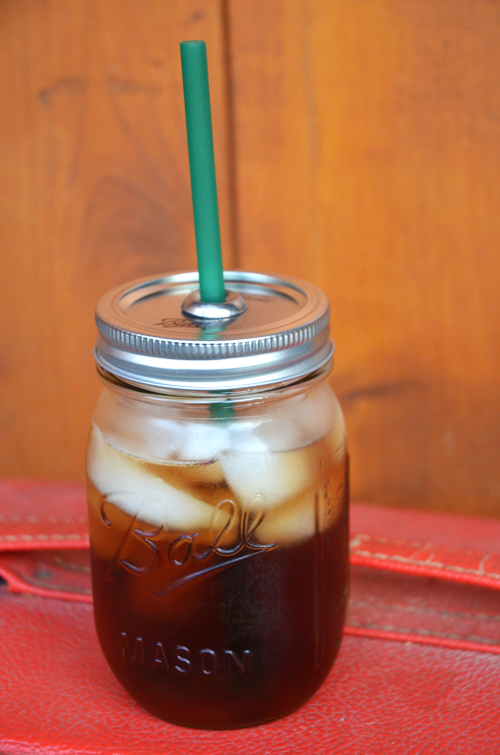 20. Mason Jar Holiday Lanterns
With a little bit of tissue paper and mod podge (or watered down glue), you can turn ordinary mason jars into festive holiday lanterns. This looks like a fun project for the kids, too! You can find a full tutorial for this easy project over at Crafts By Amanda!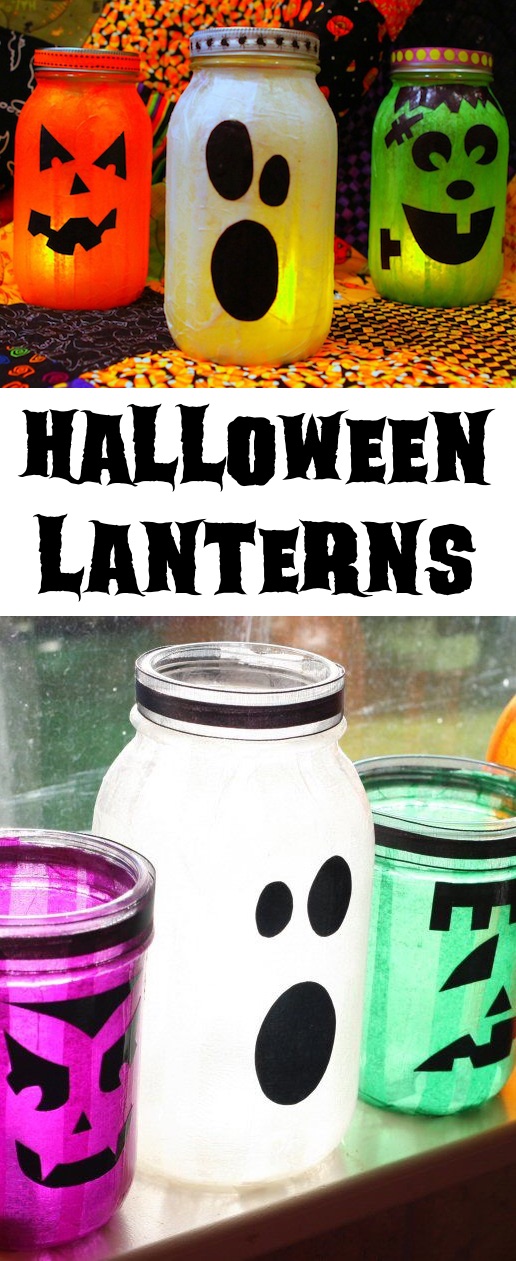 21. Mason Jar Snowman
Tell me this isn't your favorite snowman project, ever? You can't. It's the most creative and adorable thing I've ever seen made out of a mason jar! This DIY Christmas snowman would look awfully cute perched on any mantel. Go visit Vicki and Amy over at Canary Street Crafts for the tips and instructions, including where to get the supplies.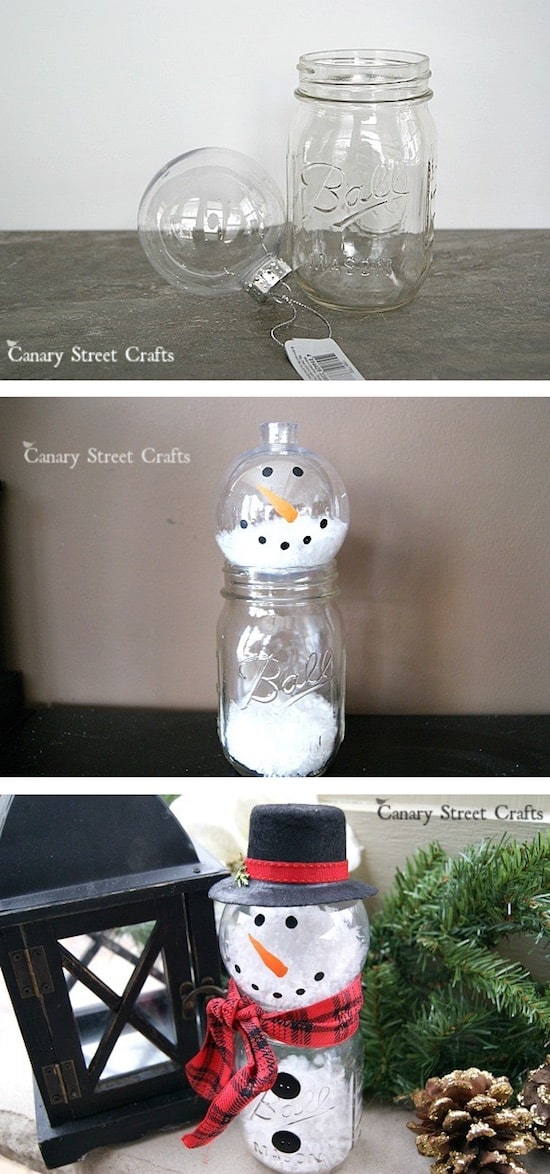 22. DIY Stenciled Jars
These stenciled jars are absolutely gorgeous, don't you think?! I love how the paint was applied; it almost makes them look like a birch log. Go check out all of the details and instructions for these beautiful stenciled holiday jars over at Vicki Chrisman, including where to get these fabulous stencils!

23. Mason Jar Sconces
No electricity required here! Simple fill a few mason jars with fairy string lights, and hang them from a few stained boards with hooks for this beautiful home decor idea. You will find the full step-by-step tutorial for this project over at Hometalk, and if you're not much of a do-it-yourselfer, the finished product is even available to buy!

24. Mason Jar Pressed Rosemary Candle
Enhance and bring to your home to live with these homemade mason jar candles with your perfect scent. These beautiful candles are made with sprigs of your favorite herbs, like rosemary, thyme and lavender. Check out the directions at Garden Therapy where Stephanie Rose shares her love of plants that have healed her from a debilitating illness.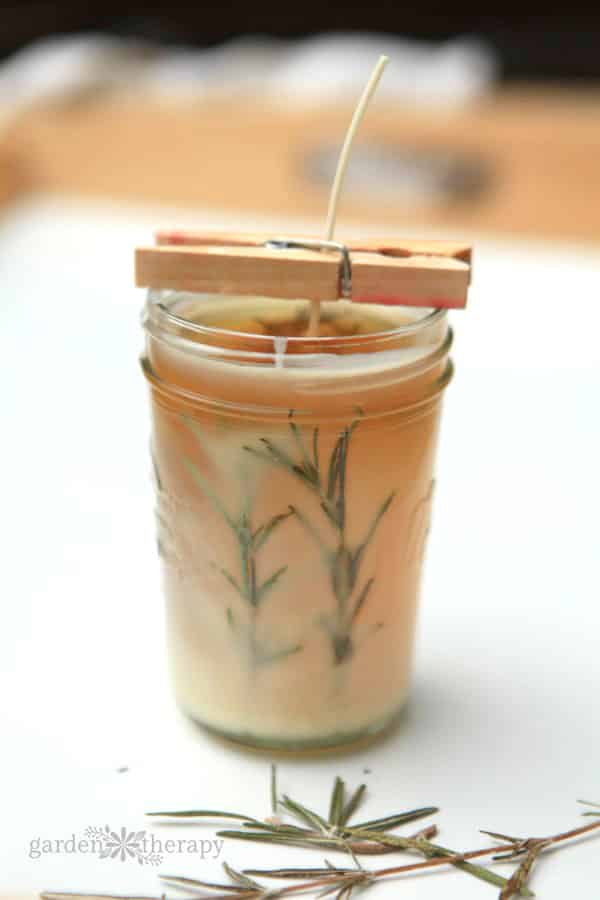 25. How to Color Mason Jars
Do you love the look of antique blue mason jars on with your rustic home décor? But you do not want the price of the real deal antique blue mason jar? Carol with Blue Sky at Home has an easy tutorial on how to color mason jars for you. I was so surprised to see how realistic the tinted blue jar came out. Click here to see how to color mason jars blue with Carol with Blue Sky at Home.