Last Updated on September 12, 2023
THE BEST DIY BACKYARD PATIO IDEAS ON A BUDGET
This is backyard living at its finest! If you are like me, you enjoy spending your summers outdoors. For instance, having the sunshine and warmth beat down on my skin, listening to the giggles of my boys playing outside all while enjoying the fresh air is music to my ears. But finding ideas for your patio or porch isn't always the most affordable. This list of backyard patio ideas on a budget is a quick way to transform any backyard space! From fire pits, patio furniture to outdoor bar carts, you'll be amazed at what you can do on a budget. Grab some tools and pin these ideas because I guarantee you will want to add more than one to your to-do list!
Backyard patio ideas on a budget mean you get to save money and spend more time outside!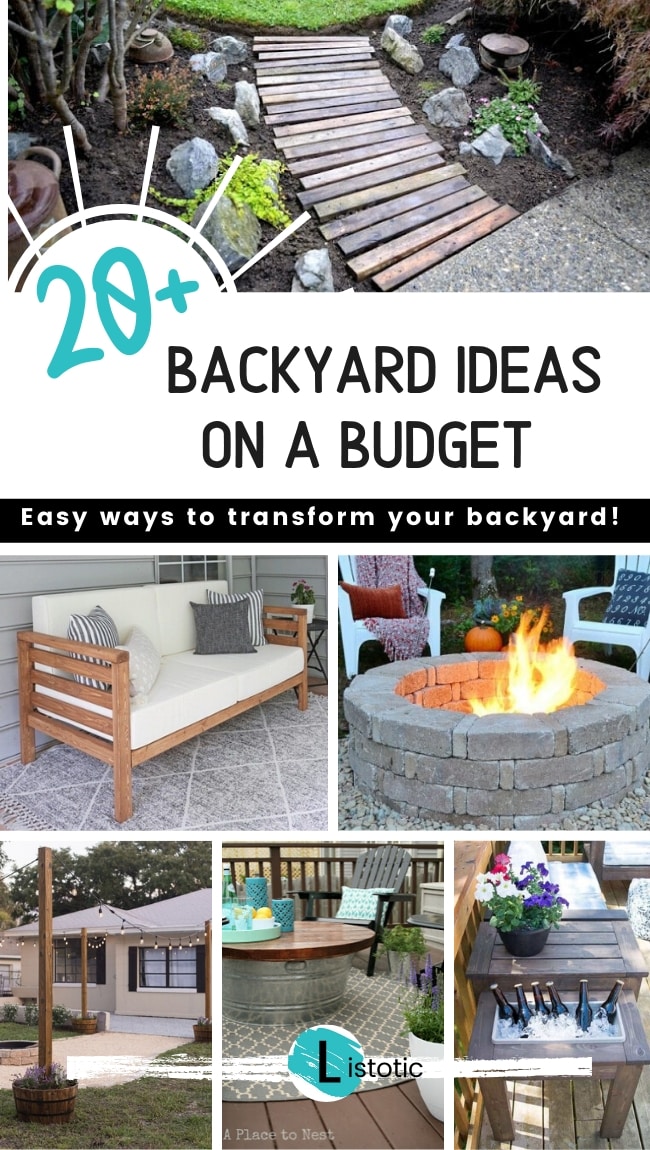 1. STRING LIGHT PLANTERS
Backyard living for beginners! This tutorial is for you. First off, this is a quick and effective way to transform your backyard at night, giving you more time to enjoy your new backyard living oasis. Secondly, these planters also have a dual purpose for example adding light and adding some gorgeous color with the flowers or plants of your choosing! Finally, you can find the instructions over at Jenna Sue Design.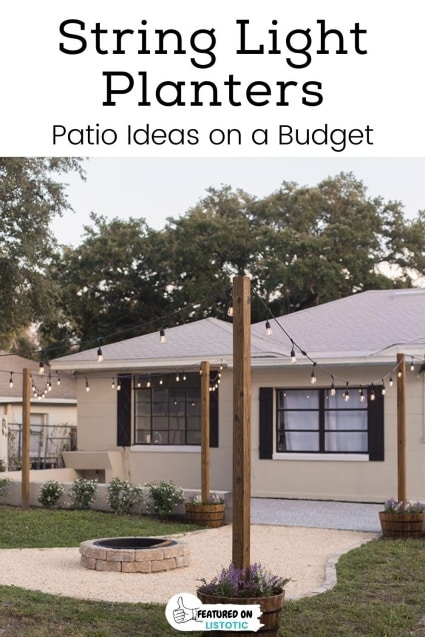 2. PEA GRAVEL PATIO
Firstly, this Pea Gravel Patio is a great addition to any backyard. Secondly, if you have a space that you're unsure what to do with this is a great way to add a fun entertaining area. Lastly, this space would look great with those string light planter boxes. For example, it would also make a great place to host an outdoor movie! The possibilities with this space are endless. Finally, head over to Love and Renovations to get Amanda's step by step tutorial.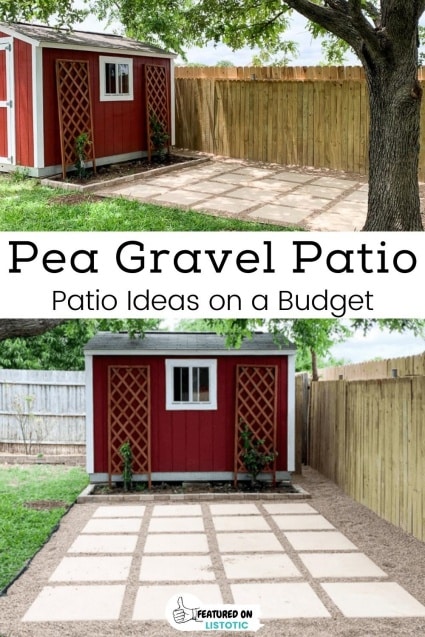 3. BUDGET FRIENDLY FIRE PIT
This is one of my favorite backyard patio ideas on a budget!
Building a fire pit is a lot easier than you think. For instance, with a short supply list you are only a couple hours away from creating a spot that will quickly become a favorite hangout spot in your backyard living area. Most importantly, you'll have a place to roast s'mores and hang out with friends and family for years to come. Meanwhile, add a few cute plastic Adirondack chairs, a few pillows and blankets and you have an inviting place for all of your guests. Head over to HGTV to check out the tutorial!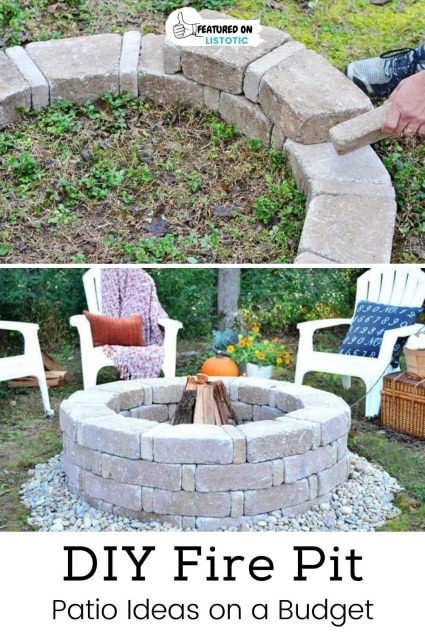 4. FIRE PIT WOOD TABLETOP
This is one of the best ideas yet! This fire pit tabletop makes a great addition for when you have extra guests and limited table seating. It is also a great place to kick up your feet! Just make sure you store it in the winter months for longevity. This is on my- or rather my husbands- to do list! Head over to The Lily Pad Cottage for the full tutorial.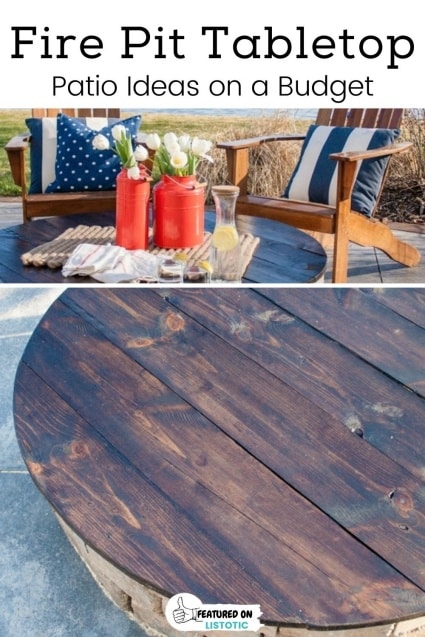 5. CURVED FIRE PIT BENCH
If you're looking for a great fire pit seating project, look at this fun outdoor project from A Beautiful Mess. My favorite part of creating your own seating is having the opportunity to completely customize the pieces. You can choose to paint a fun design like Laura did here or stain it to the shade of your choosing. Get the details over at A Beautiful Mess.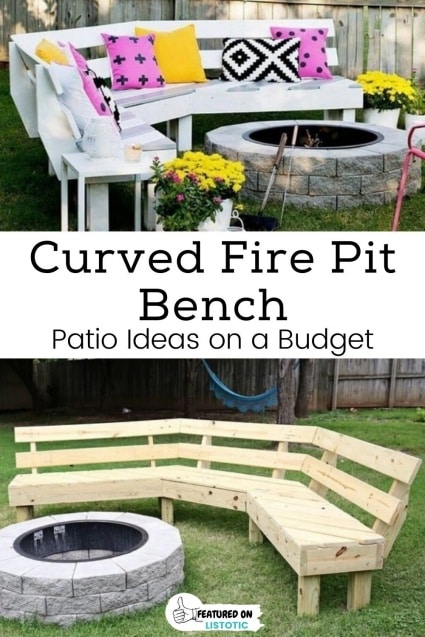 6. DIY OUTDOOR KITCHEN ISLAND
If you've been dreaming about adding an outdoor kitchen look no further! This design is sleek and functional. This large rolling kitchen island is great for storing all your BBQ and entertaining gear while also giving you a large backyard living area to serve and prep food. It has enough open storage for a cooler where you can keep all of your refreshments cold. Get step by step instructions over at Houseful of Handmade. Not only could you use an extra kitchen on the patio but it is great for backyard deck ideas too!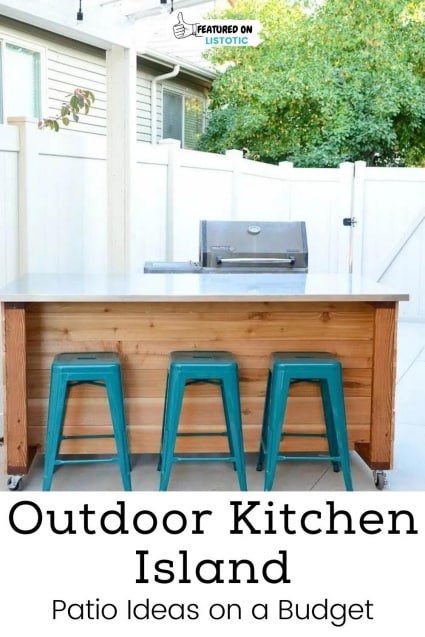 7. LATTICE PRIVACY PANELS
This is a great decorative option for some added privacy whether that be in your front yard or backyard. However, you may want to find detailed instruction for this project because this inspiration is just that, inspiration! Turn it into a living wall and grow vines for some added color as well. Plant climbing vines like clematis or ivy and it will cover this spot in no time. Head over to Loft and Cottage for inspiration!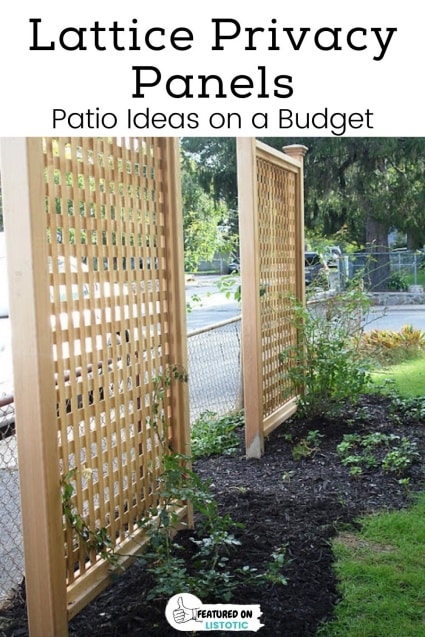 8. OUTDOOR CURTAINS
Talk about backyard patio ideas on a budget! This inexpensive project will transform any backyard for example, it creates a quaint space and provides needed privacy from the sun, neighbors and keeps the wind at bay. Catherine over at DIY Without Fear has a project guide you can download for step-by-step instructions. Finally, add some twinkle lights and you'll have a charming romantic outdoor spot to enjoy at night.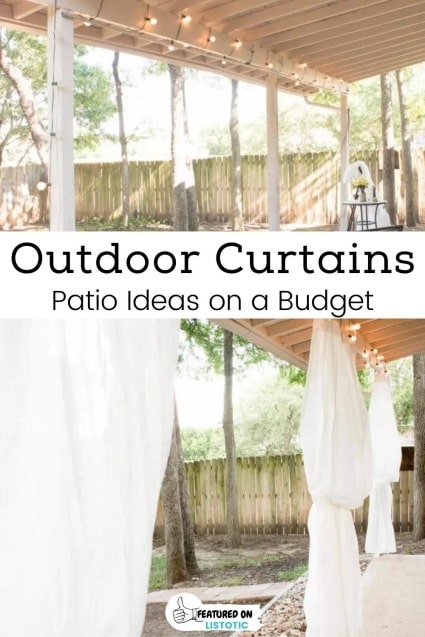 9. BUDGET FRIENDLY SCREENED PORCH
Keep the bugs at bay by installing a retractable screen. They can be used under your patio or even used as a garage door to keep those pesky bugs away. Not only do they provide you with a bug free environment, they also keep it shaded and provide extra privacy. I love that this one is motorized and you have the option of having them open or closed at the touch of a button. For a more affordable option you can opt for the manual pull down. Snag the complete details at Southern Hospitality for more information.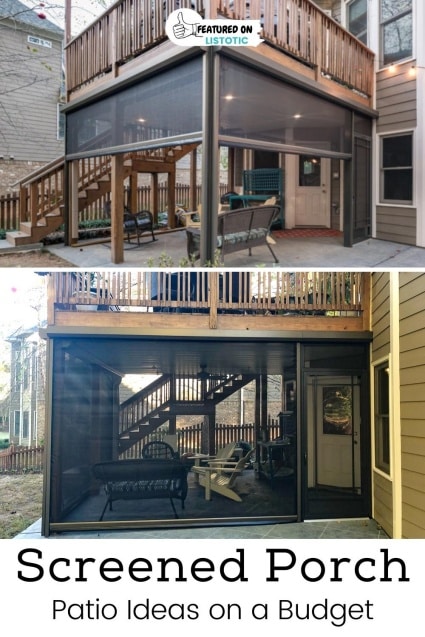 10. DIY OUTDOOR MOVIE SCREEN
Throw the ultimate backyard movie night with these simple products courtesy of BHG. This easy DIY outdoor movie screen can be set up in just a few minutes. Need a cozy spot to sit? If you have an inflatable pool place it in front of the screen and fill it with pillows and blankets to make it an even cozier spot to enjoy your movie! Check out the video tutorial for directions. If the DIY option isn't your thing, check out these great products on Amazon. Here is a great movie projector and screen bundle courtesy of Amazon. If you already have a projector check out these inflatable movie screens. If you need a projector this one has great reviews!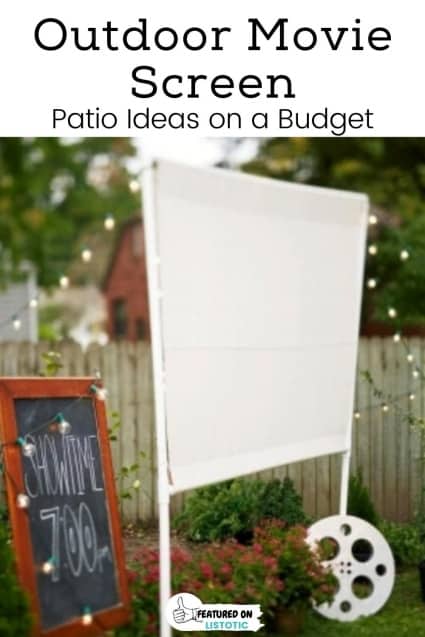 11. DIY OUTDOOR WOOD STEPS
Giving your existing stairs an updated look can transform your backyard steps from drab to fab and it gives it that extra touch that your backyard may need. You could even stain them to accent your house. It is also much cheaper than concrete steps. I prefer the look of these stairs over concrete hands down! Depending on how much space you have you could add length to the steps to accommodate a small sitting place for larger pots or even a chair. Get the details over at The Merrythought.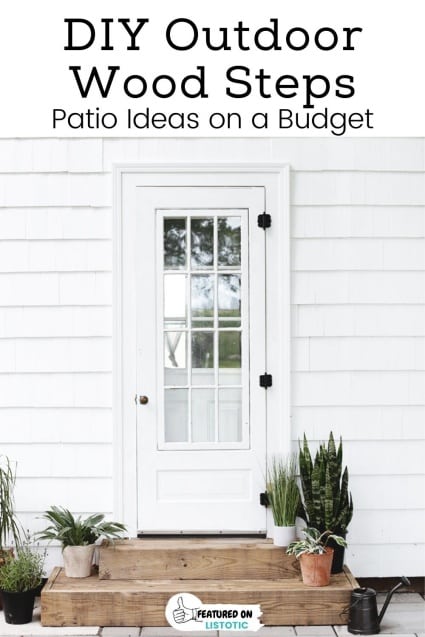 12. REPURPOSED PALLET WOOD WALKWAY
This repurposed pallet wood walkway is a great rustic option. However, if that's not your thing, feel free to use your own wood option. Donna over at Funky Junk Interiors repurposed an old wood pallet into this creative walking path. This is such a resourceful and eye-catching pathway for your front or backyard. In conclusion, this would be a nice addition in a garden as a foot path between plants as well!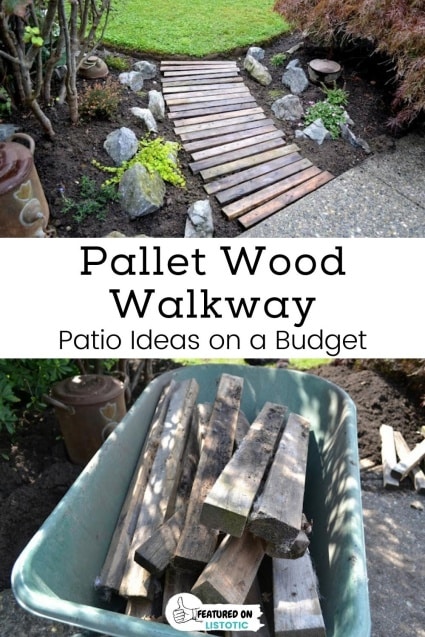 13. SALVAGED WOOD TABLE AND BENCH SET
If you have a pile of wood needing to be salvaged stay tuned for this inspirational project! The Created Home salvaged her neighbors old white picket fence and repurposed it into this gorgeous outdoor table and bench set! This project is the perfect example of one person's trash is another person's treasure. Head over to The Created Home and check out her step-by-step tutorial.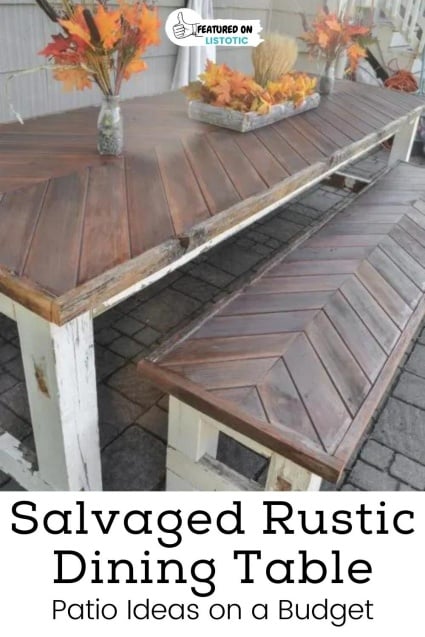 14. DIY WOOD PATIO COUCH AND CHAIR FOR BACKYARD LIVING
If you've been looking for a patio set and are cringing at spending thousands of dollars on just the right addition, I have you covered! This DIY wood patio couch and chair are the perfect addition to any backyard patio, deck or front porch. The best part, it's completely customizable! You can choose the final outcome whether that be light, medium or dark stain or you can even choose to paint them. Finish it off with cushions and pillows that are just your taste. The materials for the couch are just under $50! Head over to Angela Marie Made to download the instructions and get a step-by-step tutorial for both the chair and couch. She even has a matching coffee table to go with it!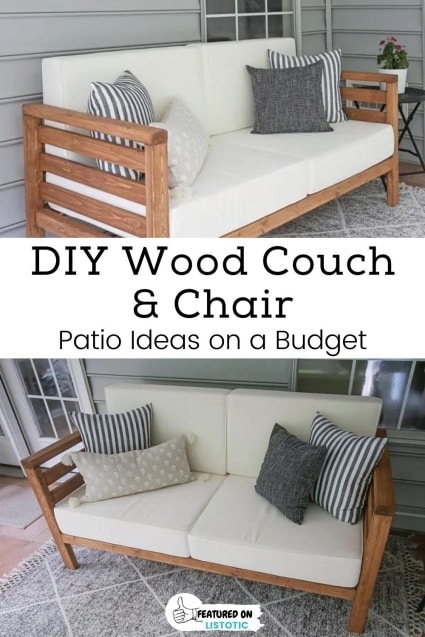 15. END TABLE WITH ICE BUCKET
This project pulls double duty when it comes to relaxing on your patio or deck. In other words, it's a great place to set your drinks but, it also keeps your refreshments cold while you relax outside. If you don't want to use it as a cooler you can switch it as a planter box for displaying flowers. Get the tutorial over at The Handyman's Daughter.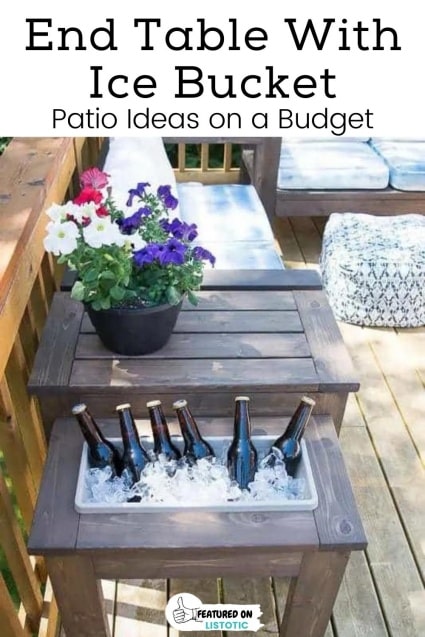 16. DIY TRASH CAN COVER
If you are looking for a solution to hiding those dirty trash cans, you are in the right place. The Woodshop Diaries has you covered-literally- with their informative tutorial. This project is a great solution especially if you live in a windy area or want to save the space in your garage. Above all, it's definitely an upgrade compared to displaying your dirty garbage cans. Meanwhile, no pesky critters can get in your trash!
Seriously these backyard patio ideas on a budget are so functional!

Source: The Woodshop Diaries
17. BALCONY RAILING TABLE
Lacking space on your small deck and would like to have some more table space for guests? Problem solved! You can easily add a long railing table to add table space. For instance, this fun bar area is perfect for placing drinks and plates on. However, it can easily be moved around or taken on and off. To sum it up, it's a clever solution to add to any entertaining space. Head over to The Handyman's Daughter for the full instructions.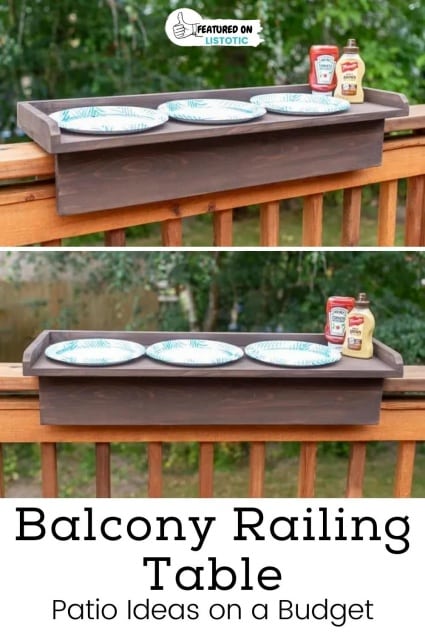 18. DIY GALVANIZED BUCKET COFFEE TABLE
This budget friendly coffee table is one of my favorite ideas. First off, it has great storage space underneath the wooden top. Second, the top is heavy enough to stay put should you choose not to secure it down permanently. I love the idea of having a multi purpose furniture piece especially if it's to help reduce clutter! You can find the galvanized bucket at any local farm and tractor supply store. Lastly, for only $60 this DIY coffee table makes for a fun and functional option. Get the instructions over at Remodelaholic.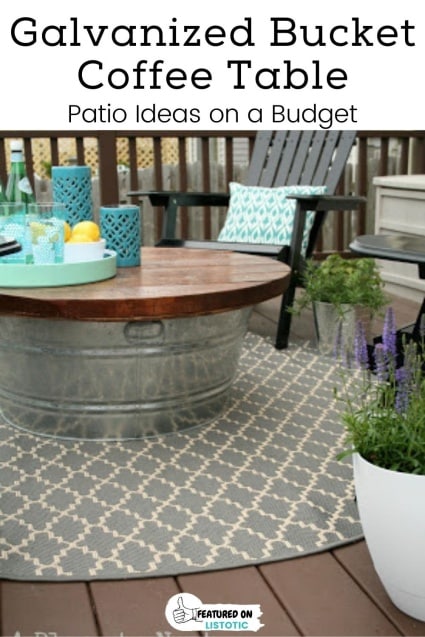 19. DIY TREE HOUSE
First off, as a kid I always wanted a tree house. Certainly, this tree house is a great option if you don't have the skill set to make something super elaborate. The best part is this tree house was made in one day! Secondly, it's low to the ground making it a great height for its zip line. Talk about a kids dream! You can use wooden boards to use as the ladder. On the other hand, I do love the sliced tree branches she used as the ladder. This is the perfect spot to play or add a few blankets and pillows and you have a cozy spot to read. Most importantly, it's an easy and creative tree house any kid would enjoy. Get the directions at Apartment Therapy.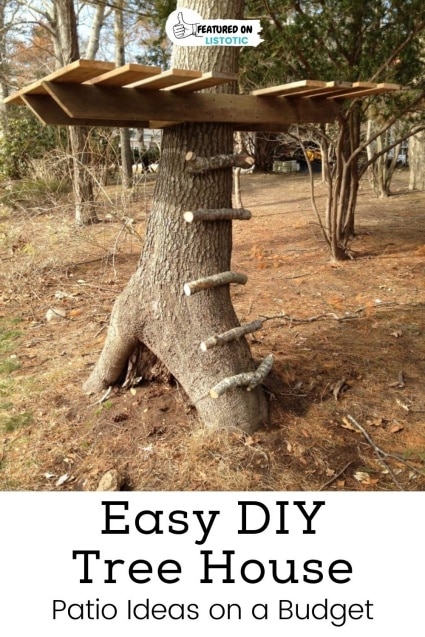 20. OUTDOOR DART BOARD
Now this is a creative and fun way to add some excitement to your backyard! Above all, this is a great option as it's easily movable. Meanwhile, this allows you to store it when the weather doesn't cooperate. In addition, with this movable dart board you will have peace of mind knowing you can position it in a low traffic area for examples, away from kids and pets. Get the instructions over at It Started With Toast.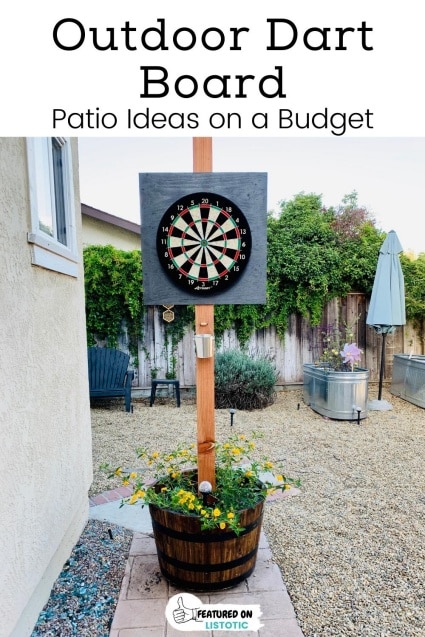 Let's get to backyard living!
Now that you've completed your backyard oasis, it's time to enjoy it right? Check out some of my favorite backyard games that will keep everyone entertained. These ideas will make your backyard the place to be this summer!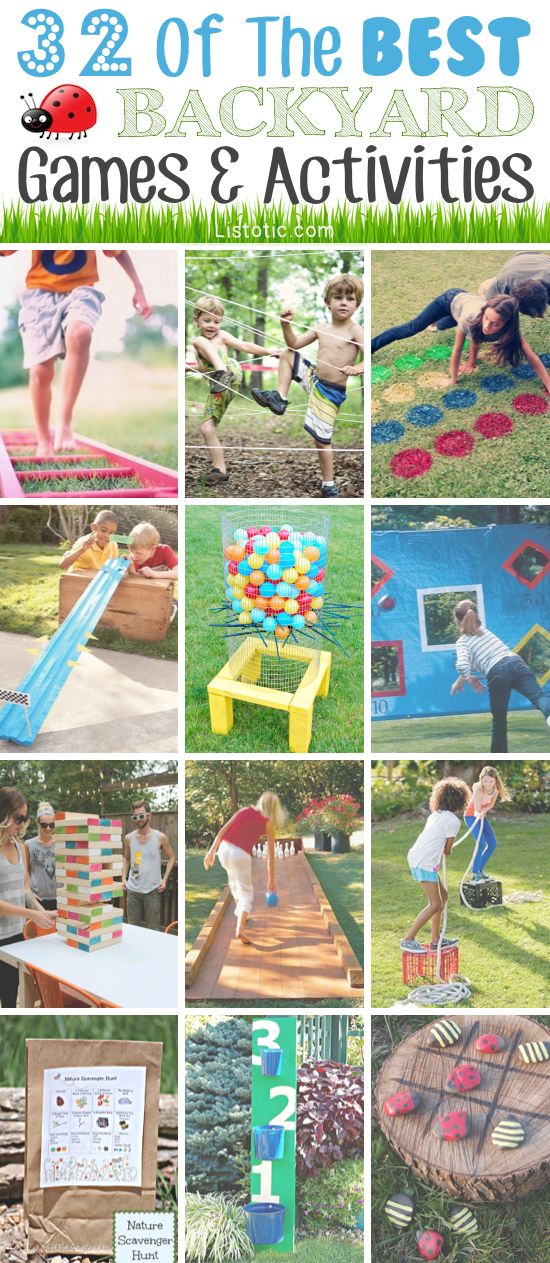 If you love these backyard living ideas you might just want to check into some amazing backyard patio furniture and accessories to really style your new space.
Shop the Look