Last Updated on October 8, 2021
Spooked by party planning? Don't worry because you can pull it off with these easy backyard Halloween party ideas.
Not sure where to start when it comes to looking up Halloween party ideas for your backyard event? Don't worry, because we have put together a list of 12 creepy ideas. You'll like these quick and easy backyard-friendly ideas. Outside Halloween party ideas need to be able to withstand the weather but are still eye-catching. Outdoor Halloween party decor shouldn't cause you to go insane. Pick a few ideas from this list for your Halloween party outside.
This post contains affiliate links. Please see our Disclaimer Policy.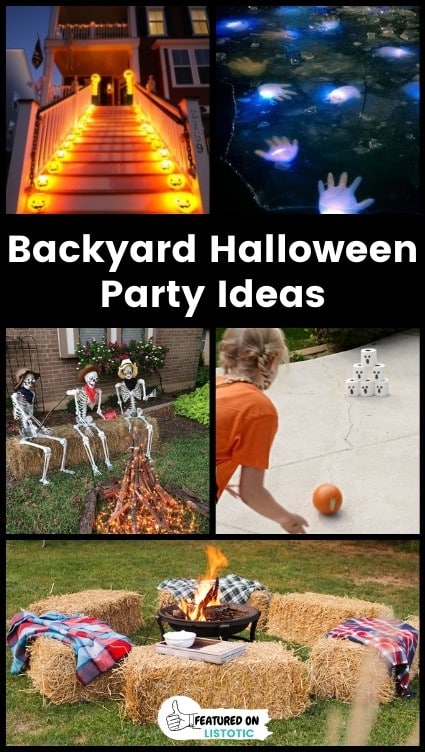 Backyard Halloween Party Ideas
1. Creepy Outdoor Halloween Party Guests
I'm sure you'll have lots of people wanting to attend your Halloween party outside. But just in case they are arriving late. Do this outside Halloween party idea that will help fill the empty seats. Set up some creepy skeleton guests to liven up the party right from the start. This skeleton campfire decoration idea from Crafty Morning is a great conversation starter for some giggles.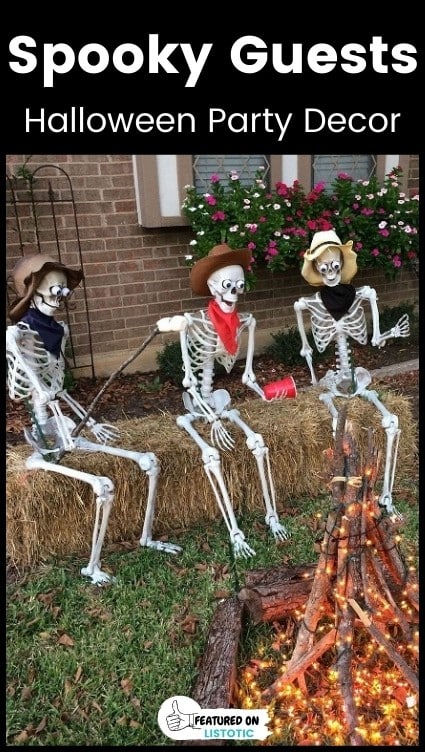 2. Hanging Spider Game
Games are a must when it comes to backyard Halloween party ideas. Why not make your outdoor Halloween decorations double as a fun Halloween game? These huge hanging spiders are creepy plus provide some entertainment. Get the details on this Hanging spider game at Project Kid.
There are so many fun game ideas for your backyard just check out this HUGE list of fun DIY backyard games.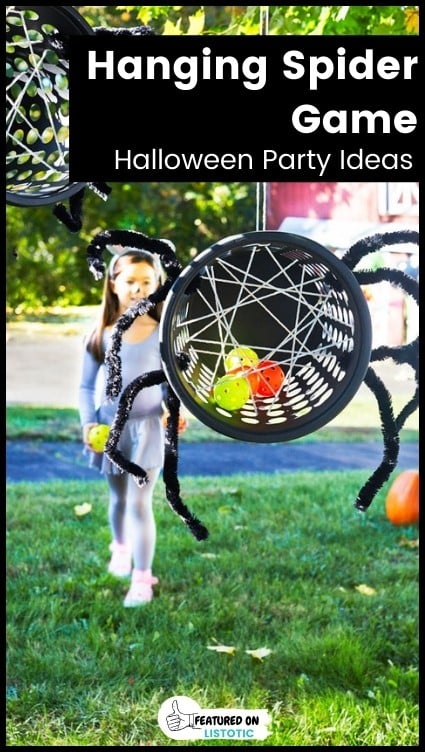 3. Halloween Yard Maze
If you decide to do this outdoor Halloween party idea you are a rockstar! Who needs to go to the pumpkin patch when you can build your own DIY Halloween maze? Get the details on How to Build Modular Maze Panels at The Never Moor.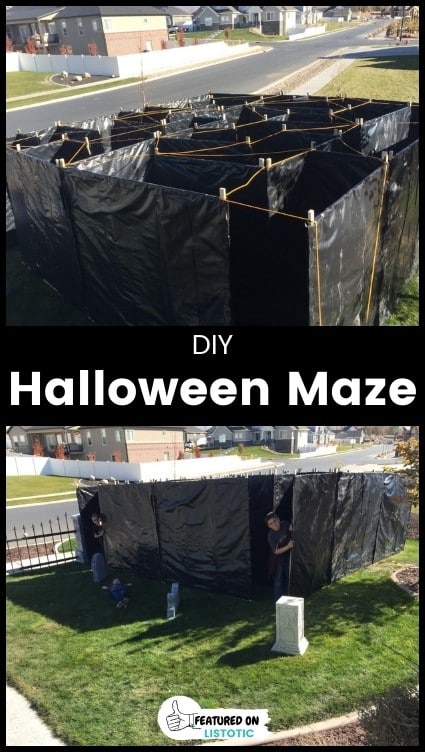 4. Pumpkin Bowling
This looks tricky! I doubt pumpkins will roll straight. So, that tells me this Halloween game is going to provide lots of laughs and entertainment. I bet you already have all the materials to put this game together, so it is an easy one to pull off. How perfect would this be for a fall backyard carnival? See just how easy it is how to make this Pumpkin Bowling Halloween party game on Housewife Eclectic.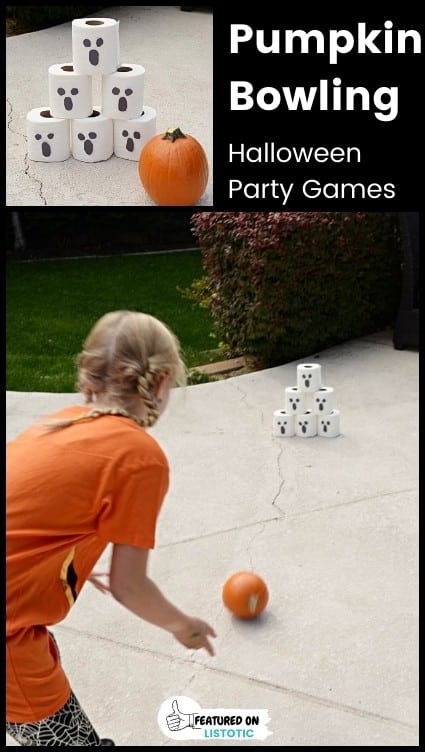 5. Outside Halloween Party Creepy Fog
Want to give the creepy spooky vibe at your Halloween party outside? I think you are going to need to check this idea out. Creepy fog is one of those things that can take your outdoor Halloween party decor to the next level. I like it because it sets the "graveyard" party-mood. Take it from the Entertaining Diva! Trust us, you'll want to read how to make your fog stay close to the ground for an extra spooky effect.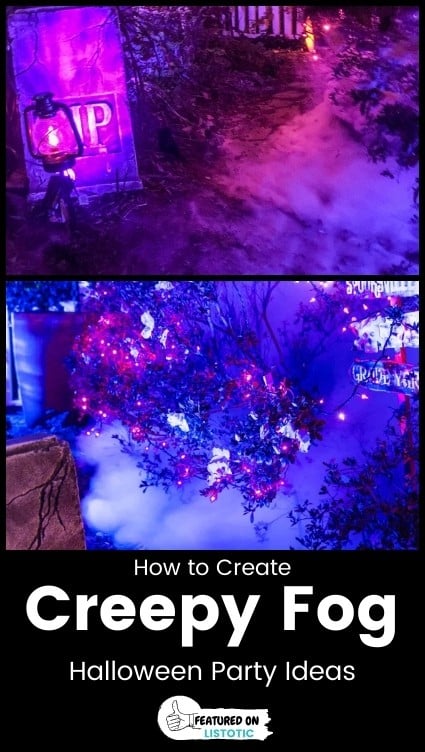 6. Spooky Forest Using Tree String Lights
I'm not sure how purple, green, and orange were deemed "Halloween light colors" but it makes sense when I see this display. Even though orange, purple and green are popular choices. Going with all red lights is equally terrifying. Making a Spooky outdoor forest definitely makes the list for backyard Halloween party ideas. Light the way with some bright strings of lights that give guests the heebie-jeebies! See more detail at Christmas Lights Etc. because they certainly know what they are talking about when it comes to Halloween string lights.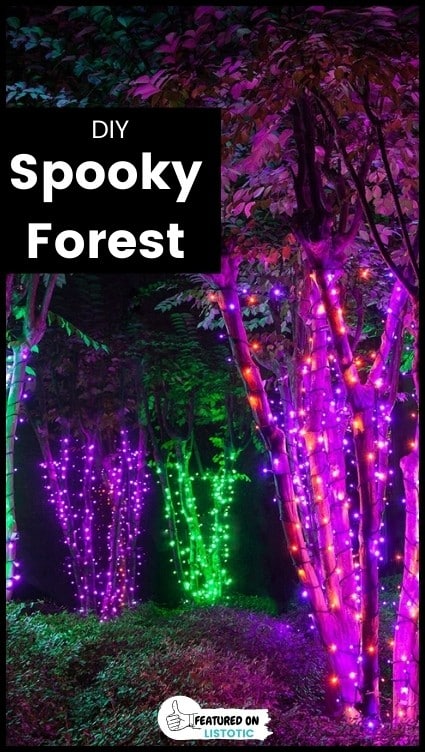 7. Glow Stick Backyard Halloween Party Ideas
You can't have a spooky Halloween backyard party without some glow sticks. Check out some creepy yet cool glow stick ideas we have right here on Listotic.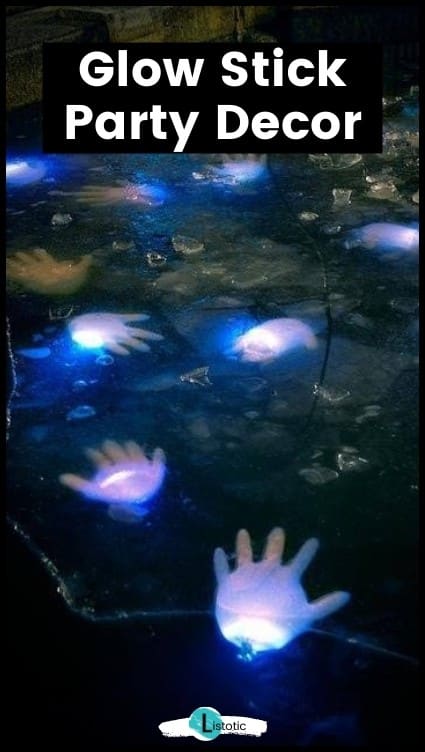 8. Backyard Halloween Party Pinatas
My kids LOVE Piñatas! Actually… come to think of it so do I! Check out this DIY Halloween Piñata by HelloWonderful.Co. You can easily follow the step-by-step instructions on making this Halloween party game. Not to mention, it will look great hanging from the tree in your backyard!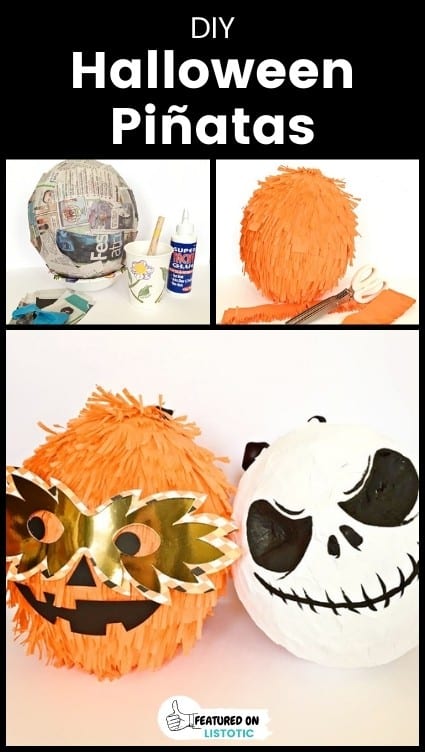 9. Party Food Table
Getting your food table ready for a Halloween party outside can be a pain. But check out this backyard Halloween party idea with crock pots. You can even serve up your favorite warm drinks using a crock pot. If you have visited Listotic before you already know that we LOVE fall crock pot recipes. So take some pointers from The Kichn on setting your outside party food table.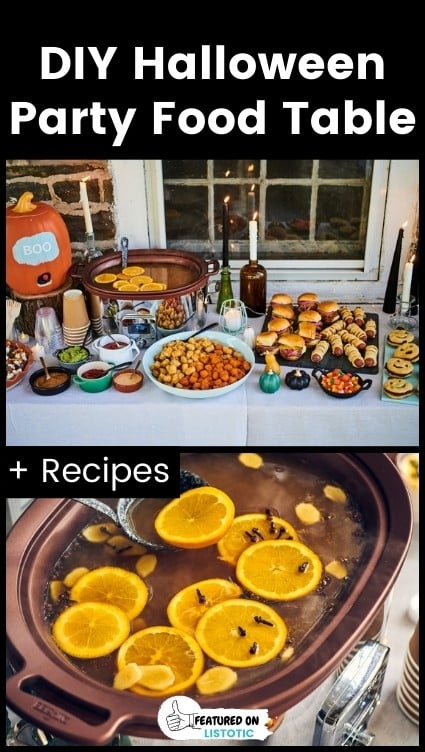 10. Hay Bale Campfire Seats for Telling Ghost Stories
When it comes to outdoor Halloween party ideas people often forget about the seating. Maybe it's just me, but banquet tables and folding chairs just don't fit the outdoor Halloween party vibe! These hay bale seats are much more like it. See how Shades of Blue Interiors set up the perfect seating for telling ghost stories.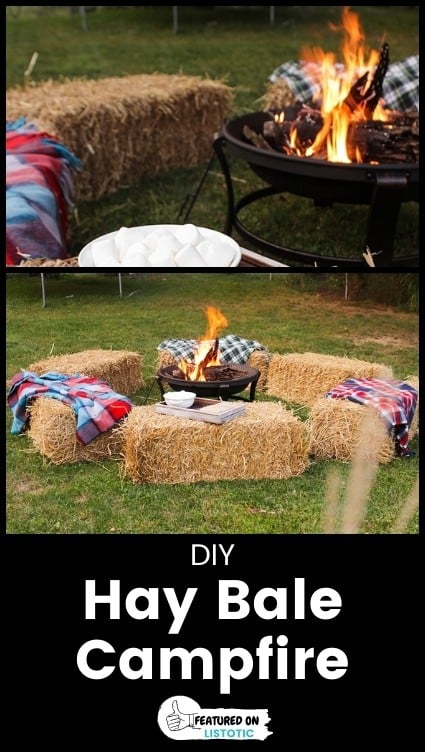 11. Witch Flying into a Tree party decoration idea
Sigh… there is always that guest who takes things a little too far. This funny outside Halloween party idea is a good reminder for guests to drive safe after leaving the party. See how to make this Funny witch flying into a tree at ehow.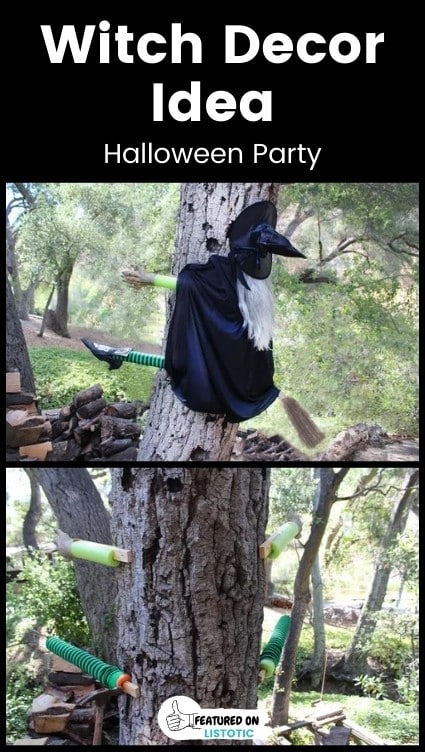 12. Cheap Pumpkin Halloween Party Lights
Planning a Halloween party can get pricy. So I love good budget-friendly backyard Halloween party ideas. DIY cheap pumpkin lights that really look expensive on the path to your party. Be sure to check out all the budget-friendly tips from Charleston Crafted.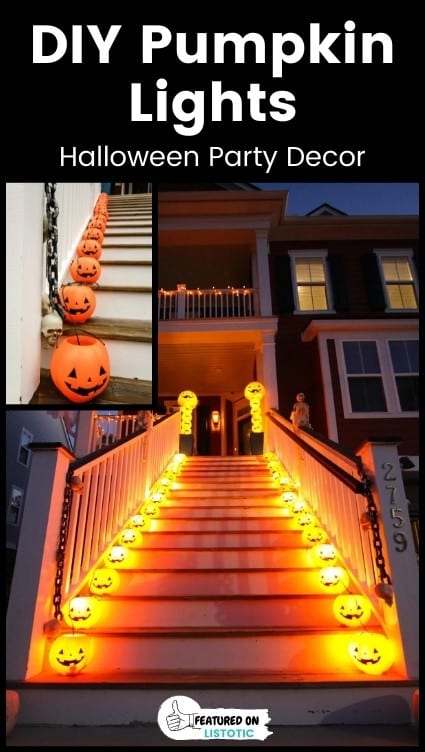 Don't forget! If you love Pinterest, save your favorite outside Halloween party ideas to your boards for later. Because we know you'll want to come back to these next year too!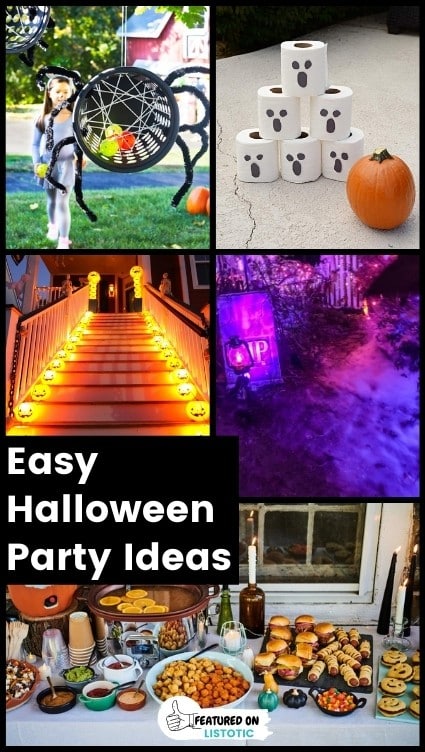 Did you find some outdoor Halloween party ideas you can use? We sure hope so because we love Halloween parties! Feel free to join our Halloween Party Planning Facebook Group. Plus here are some more Halloween ideas on Listotic for you to check out.