Last Updated on October 8, 2021
Treat your kids to a trip to the carnival — all in your backyard!
If your child has a birthday coming up, this list of carnival games is the perfect place to start gathering inspiration for the party! Furthermore, these carnival game ideas are super simple and easy to set up. They're incredibly cheap and will require minimal to no shopping for materials; you'll probably already have everything you need laying around. Throw your kids the best, most memorable birthday party with these DIY homemade carnival games!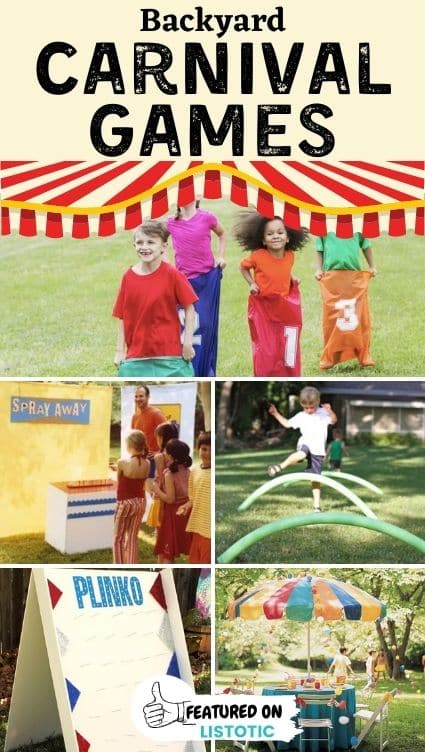 Looking for more DIY yard game inspiration? Check out our post on 32 0f the Best DIY Backyard Games. In addition, our list of DIY Recyclable Musical Instruments for Kids is surely worth considering for throwing a child's birthday party.
1. DIY Ring Toss
What's a carnival without a good ring toss game? It's a classic! This DIY carnival game has to be one of the simplest projects ever; all you need to set up is a large 12″ glows stick, some glow stick necklaces, and some masking tape! Furthermore, because it's made of glowsticks, this game glows in the dark; the perfect nighttime backyard party game! Click over to learn how to set up Home Front's DIY glowing ring toss.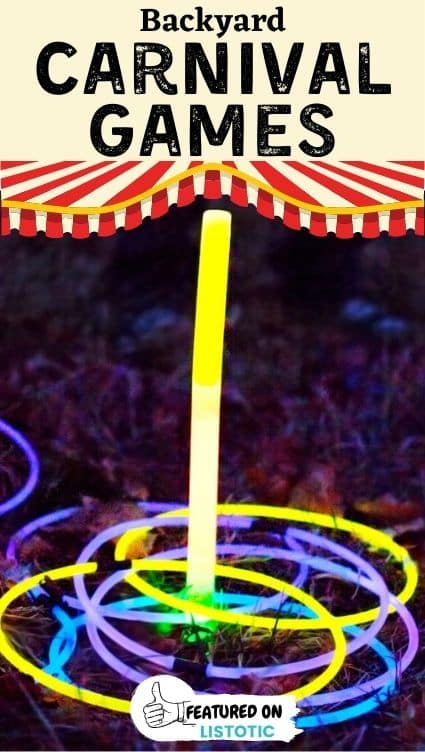 2. Beanbag Toss
This traditional backyard game is sure to keep the kids occupied for hours! Furthermore, all you'll need is a cardboard box, some craft tools, and some beanbags! In addition, minimal DIY skills are required for setup. The best homemade carnival game! Click over to learn how to set up Parents' DIY beanbag toss.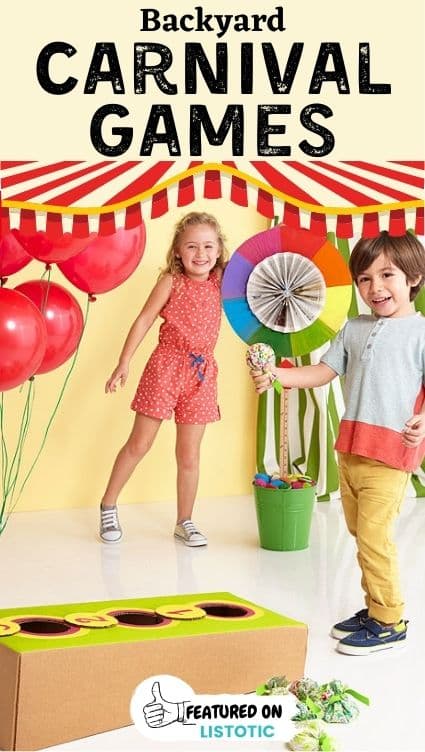 3. Balloon Darts
Let your kids test their hand-eye coordination with this DIY balloon darts backyard carnival game! In addition, as an alternative to darts if your kids are too young to safely handle them, you could swap out the dart balloons for water balloons and the darts for small rocks; just be prepared to accommodate for the mess from the water. Click over to learn how to set up Our Pastimes' DIY balloon darts game.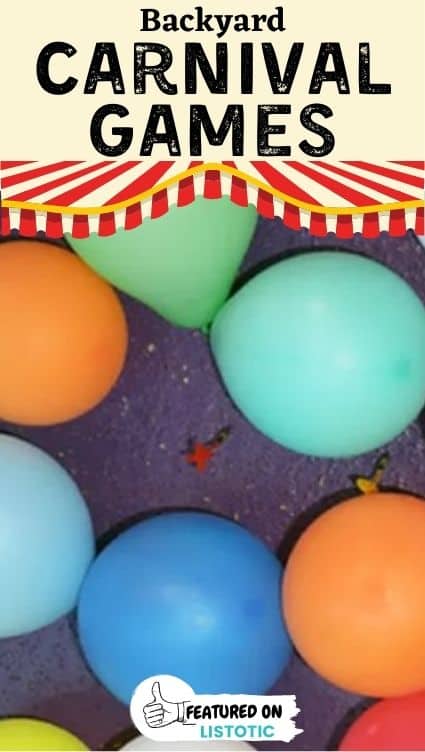 4. Duck Pond Carnival Game
Your kids are sure to love this colorful duck pond carnival game idea! If it's warm enough outside, they might even be able to go for a swim in the kiddie pool after the game is over. This game is great because of the easy setup. Click over to learn how to set up Our Pastimes' duck pond.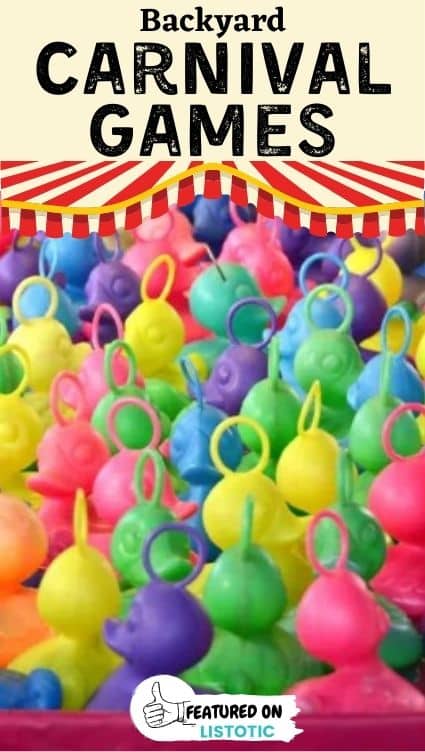 5. Spray-Away Carnival Game
Using only some water shooters, golf tees, and ping-pong balls, you can set up this fun spray-away DIY carnival game for your kids! This game is great because it should take no more than an hour to set up. You could set up a points system and reward the kids with prizes like candy for earning points. Click over to learn how to set up Martha Stewart's spray-away game.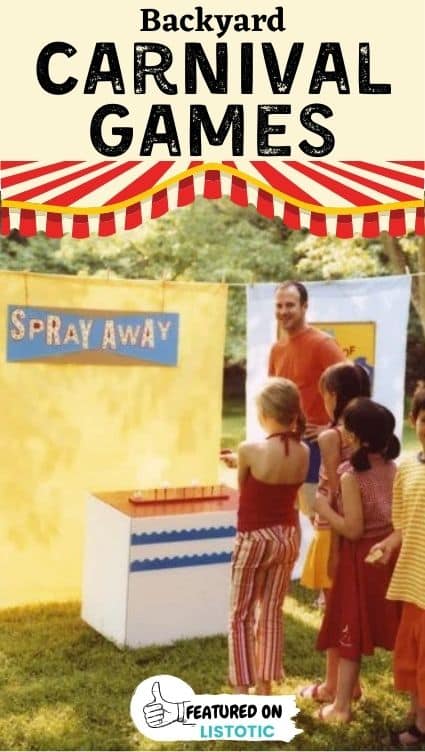 6. DIY Food Tent
Of course, you can't have a list of carnival game ideas without a food tent suggestion. So, get creative with it! Use different colors and shapes of streamers, banners, fun tablecloths, dishes and silverware, food, etc. Get creative with easy carnival-themed food choices; try popcorn, pretzels, candy, and fried foods, or go for healthier alternatives like fruits. Click over to learn how to set up Martha Stewart's carnival food tent.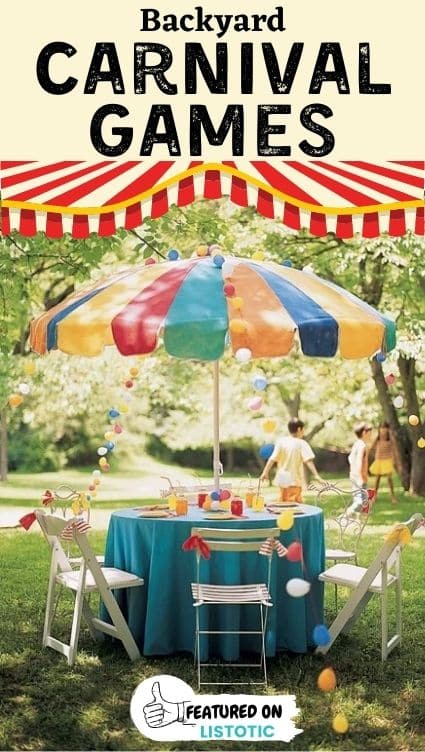 7. Plinko
Your kids will be entertained for hours with this DIY plinko game! It's the perfect homemade carnival game, and furthermore requires minimal materials. Make up prizes for the highest scores. Click over to learn how to set up Happiness is Homemade's DIY backyard plinko party game.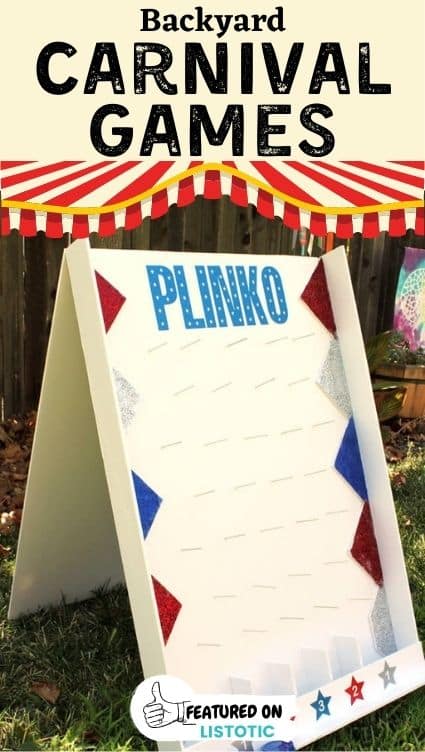 8. Water Shooter Carnival Game Ideas
Nothing's more fitting for a hot summer day than some carnival-themed games your kids can play with water shooters. There's a variety of ideas on this list, so you're bound to find the perfect backyard carnival game using only the materials you already have at home. The best list of carnival games! Click over to see Mom Always Finds Out's list of water shooter games.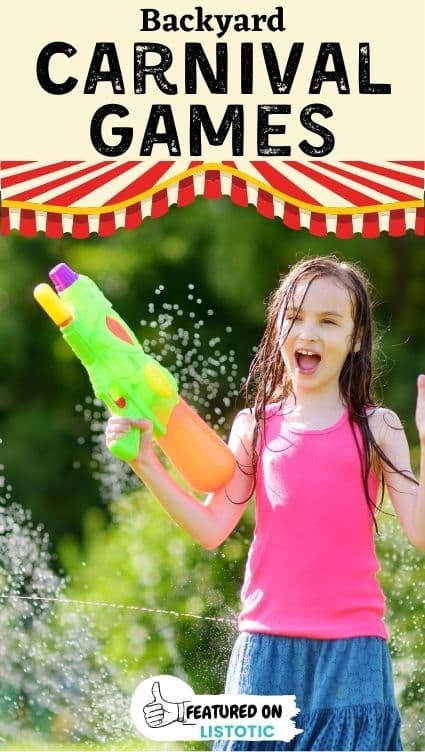 9. Balloon Bat
Help your kids take the classic don't-let-the-balloon-touch-the-floor game to the next level with this simple DIY project! All you'll need is any type of wooden or plastic stick, some tape, some paper plates, and a balloon. Additionally, you can get creative with the rules; try mixing this activity in with sports like volleyball or tennis. The perfect DIY carnival game! Click over to learn how to set up Parent Map's balloon bat game.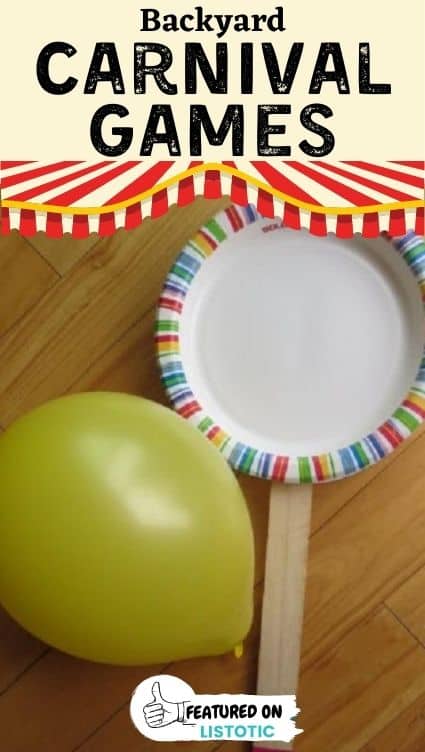 10. Potato Sack Race
Your kids are sure to have a blast with a good old-fashioned competitive potato sack race. It's fun because it is a super simple game. This list of carnival games wouldn't be complete without it! You won't need much for setup at all; so that makes it the best carnival game idea! If you can't find burlap sacks grab some king-sized pillowcases. Click over to learn how to set up Parent Map's potato sack race.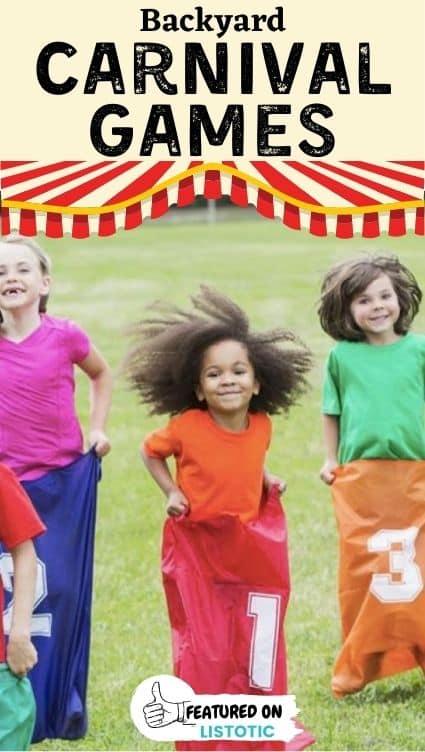 11. Kerplunk
It doesn't get much simpler than this DIY kerplunk game; your kids will have so much fun playing this homemade carnival game for hours! Furthermore, setup is super easy. Click over to learn how to set up Hallmark's DIY life-size kerplunk game.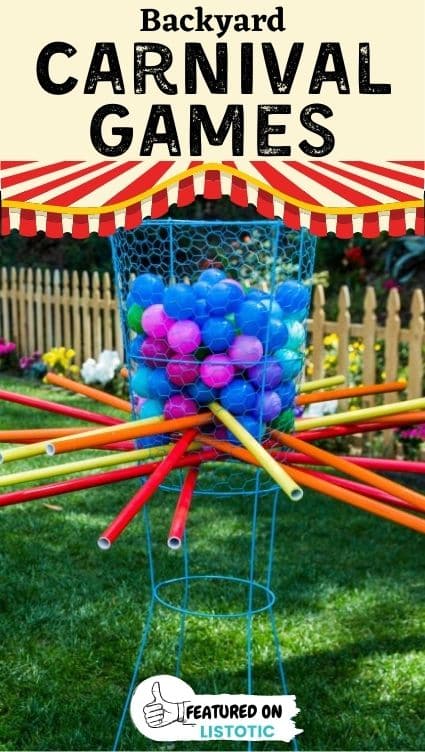 12. Hurdle Run DIY Carnival Game
Your kids are sure to have a blast testing their agility with this hurdles game! It's easy to set up because all you'll need material-wise is some pool noodles, skewer sticks, and a hammer! Furthermore, it's a great activity to get the kids up, moving outside. The best easy carnival game idea. Click over to learn how to set up I Can Teach my Child's hurdle run game.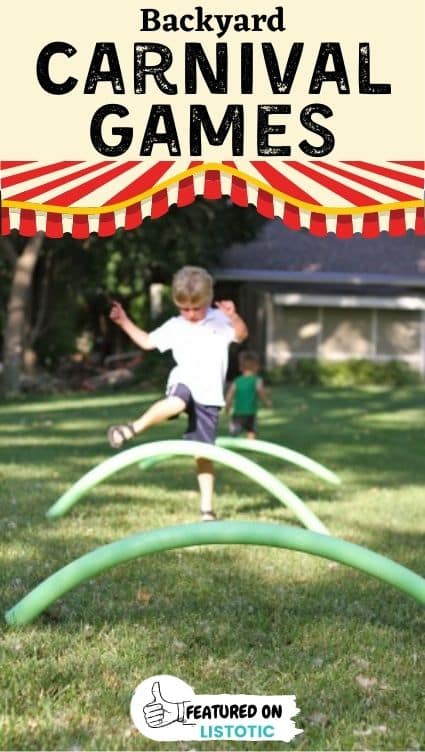 So "step right up" and enjoy these backyard carnival games!