Last Updated on June 11, 2020
I just love being sneaky, and sneaky is exactly what I consider this tasty chocolate frosty to be! My daughter has no idea that it's actually healthy because it literally tastes like a really thick chocolate milk shake or soft serve ice cream dessert. It's the perfect after school snack!
The frozen bananas seem to be the key to the creamy texture and naturally sweet flavor of this frosty– no surprise! I throw frozen banana into almost all of my smoothies. I thought raisins were natures candy, but honestly, bananas take the cake.
The frozen bananas seem to be the key to the creamy texture and naturally sweet flavor of this frosty…

Print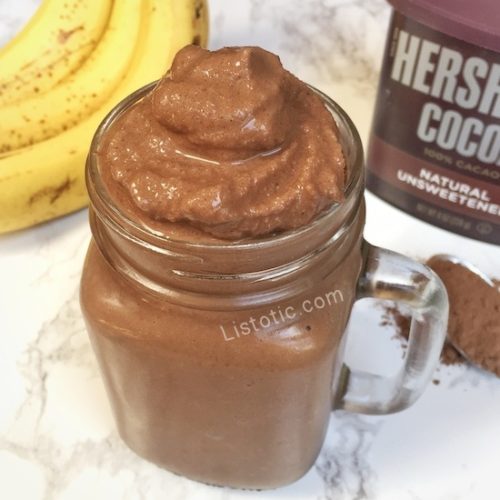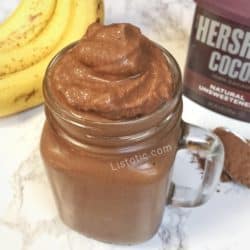 Healthy Chocolate Frosty (better than Wendy's!)
Author:

Prep Time:

8 Minutes

Total Time:

8 minutes
---
1 cup

of ice

1 cup

chopped frozen banana

1/3 cup

vanilla greek yogurt

1 cup

almond milk

1.5 tbsp

of cocoa powder

1 tbsp

of flax-meal (optional nutrition boost)

1

or more tbsp of sweetener like maple syrup or agave nectar if you're using unsweetened yogurt, almond milk and cocoa powder. (optional)
---
Instructions
Combine all of your ingredients in a high quality blender, and blend until it's nice and smooth. Start off with a little less than 1 cup of almond milk and add more as needed. It should be really thick just like a Wendy's frosty when it's done!
Savor it immediately! This recipe makes what I consider one really large serving, although my 11 year old daughter doesn't have a problem eating the entire thing in one sitting. Sometimes she lets me have a bite.
---
Notes
Occasionally I throw in a few strawberries or coconut flakes. Don't be afraid to jazz it up a bit if you'd like.
I usually just use the ingredients I have on hand, so if I only have plain greek yogurt instead of vanilla, I'll add in a little bit of maple syrup to sweeten it enough for my daughter's taste, but honestly, I prefer it without any added sweetener (plain yogurt and unsweetened almond milk). The bananas alone make it quite delicious!
You can also use cow's milk or coconut milk in place of the almond milk. Keep in mind, coconut milk will change the flavor.
You can find flax-meal (ground flax seeds) at most grocery stores. I add it to everything (cereal, oatmeal, muffins, cookies, smoothies, yogurt, etc.). It is loaded with vitamins, protein and fiber, and has virtually no taste so it's easy to disguise in just about anything.