Last Updated on November 3, 2020
Homemade products, everything from deodorant to cooking spray, can be made at home. At first, I was a little hesitant to try any of them– I suppose I preferred to just take the lazy way out and buy all of my familiar products at the store. I mean, I just love the smell of Gain! I can't give that up, right?
After doing a ton of research, I actually discovered that most of the popular homemade products are extremely easy to make, require less than 5 ingredients, are a fraction of the cost of commercial products, but most importantly, they're better for you and your health! After reading the long list of ingredients in some of the stuff I was buying, I finally decided to give some of these DIY products a try for myself.
Homemade Products for all Your Household Needs!
I created a list of some of my favorite homemade products (basically the ones that were easy enough and actually worth the time). There were a few popular homemade products that I left off of the list (laundry detergent and dish detergent) because after reading the reviews and trying to find the best recipes, they just didn't seem to hold up or work as well.
Here's the beauty of it, a lot of these household recipes contain ingredients you probably already have at home! But, you may need a few things to get started like varying size spray bottles, jars, essential oils and a cute set of labels like this chalkboard label pack. Just about everything else you can find at any grocery or health food store.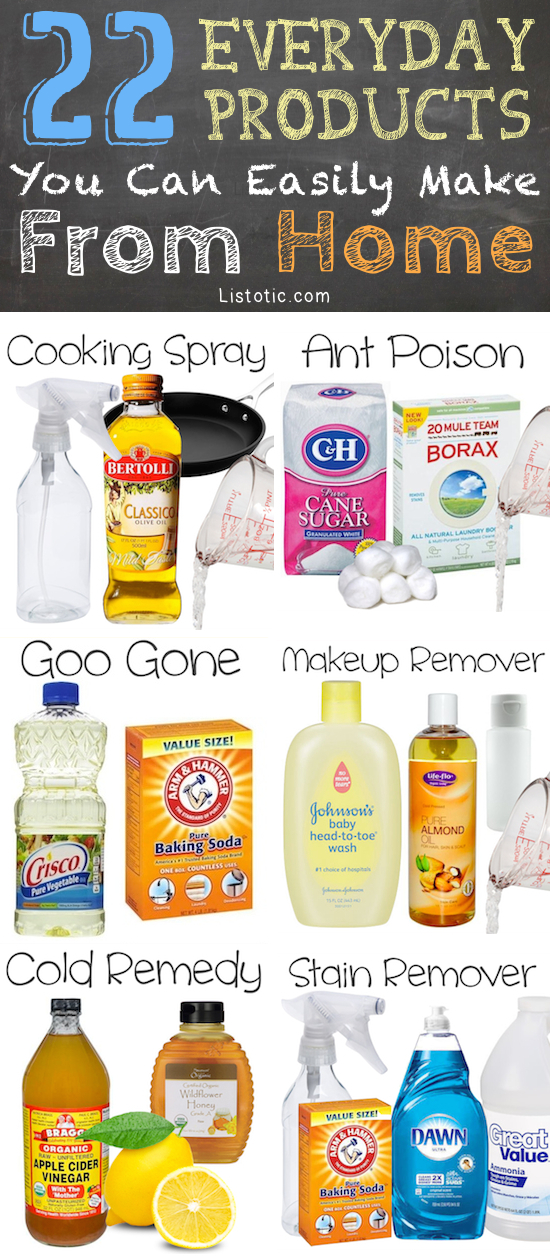 This post contains affiliate links. Please see our Disclaimer Policy.
1. Homemade Bug Repellent Product
If you're anything like me, you know how the mosquitos can completely ruin an evening outdoors, making it impossible to enjoy yourself without them biting and buzzing by your ears. Even though I tend to be the one bitten, I just can't bring myself to wear commercial bug spray– I just feel like I'm spraying poison all over my body!
Fortunately, there are natural oils that repel bugs without all of the nasty chemicals. Simply mix about a cup of distilled water with 14 drops of citronella essential oil and 14 drops of purification essential oil (a blend of natural mosquito repellents like lemongrass and rosemary). Pour into a small spray bottle and shake before each use. Spray it generously on your body and clothes, but avoid your face. You can add more essential oils if it's not as effective as you'd like. Oh, and be sure to label the bottle!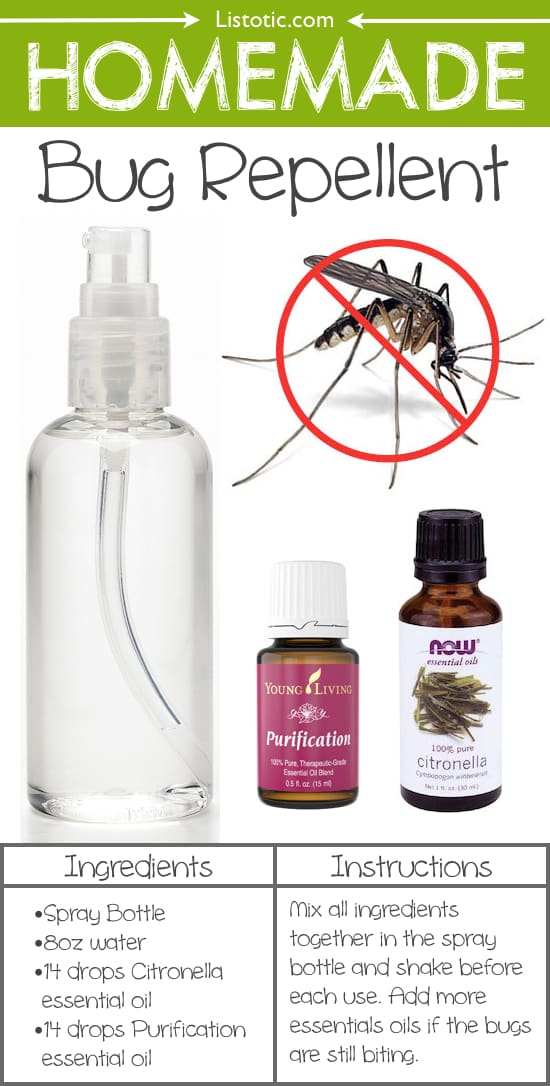 2. Homemade Deodorant
DIY deodorant is something I've been very hesitant about (I mean why go through the trouble of making it when I can just buy it?), but I've had a few friends that have experimented with it and claim that it works so much better than the store-bought stuff. Hmm, perhaps I should give it a try.
I went on a hunt for the best homemade deodorant recipe, and this is the one I found to have the best reviews. Place the shea butter and coconut oil in a glass mason jar, and put the jar in a small pot of hot water until barely melted. Remove from the heat and mix in the baking soda, arrow root powder and the essential oils of your choice. If you don't have arrow root, add more baking soda. Let it cool completely (doesn't need to be in the fridge), and scoop it into an empty deodorant container. Voila! You can see more detailed instructions for this recipe here.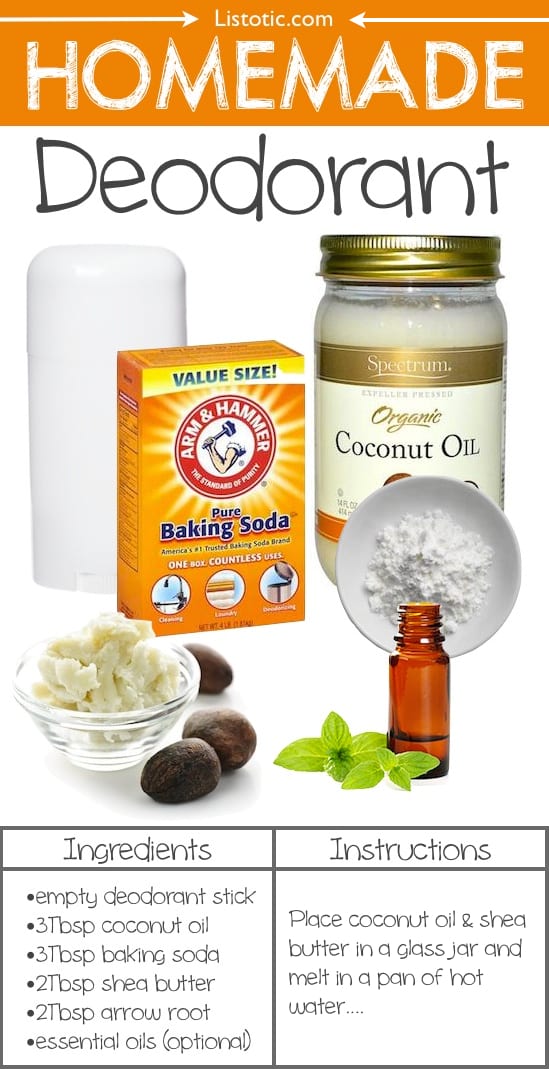 3. Homemade Cold Remedy
Mix all three ingredients and heat in the microwave for 10-15 seconds. Drink once a day as needed. That's it! This concoction will probably make you pucker, but it's worth every bitter sweet drop. It helps with a cold, sinus infection, and sore throat. If you plan on drinking this often, be sure to rinse your mouth out with water after to save the enamel on your teeth (this mixture is very acidic). If you'd like to learn more about this knockout remedy, you can get more info here.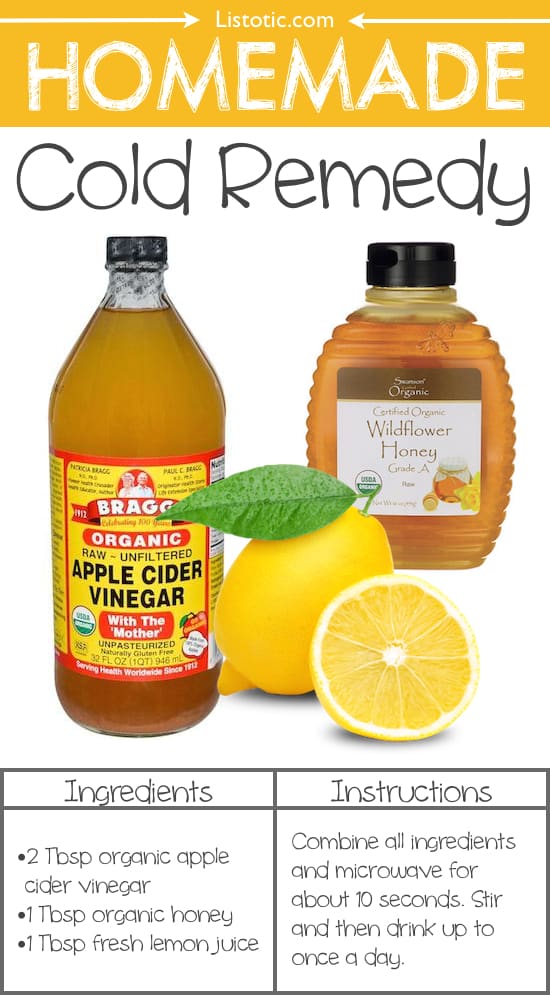 4. DIY Wood Scratch Repair
It doesn't get any easier than this, and yes, it works! I used this mixture years ago on my kitchen cabinets, and I was flabbergasted at what a difference it made– they looked brand new! It was like taking an eraser and using it on all of the scratches.
Simply mix together 1/4 part white vinegar with 3/4 parts olive oil (I'm pretty sure canola or vegetable oil would work, too). Don't worry about getting the measurements exact, you can even just eyeball it. Dip a rag or other soft cloth in the mixture and rub it on any piece of finished wood furniture or cabinet that needs a little sprucing up.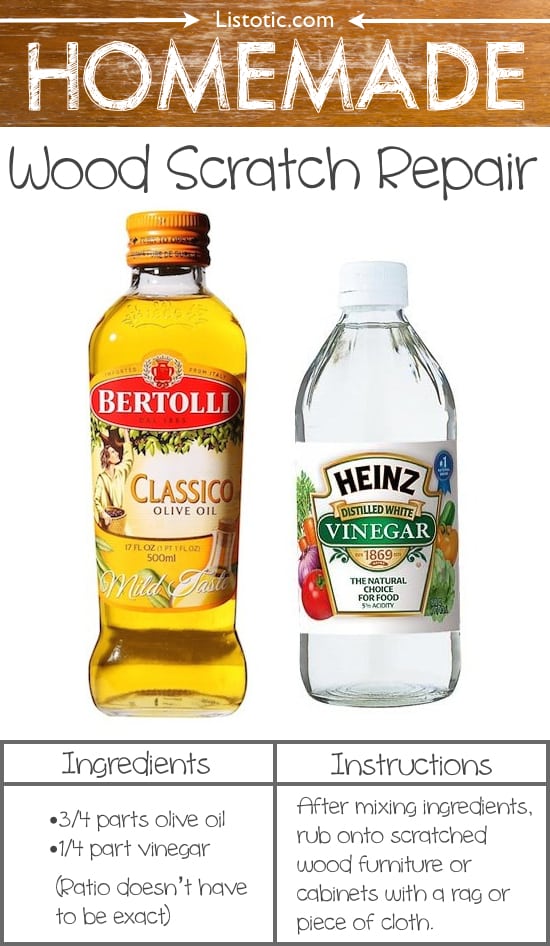 5. Homemade Fruit & Veggie Wash Product
Just a couple of ingredients that you probably already have at home to make this all-natural fruit and veggie wash! Fill a spray bottle with the baking soda, lemon juice and water, shake gently, then spray and rub on your fresh produce. Don't forget to rinse. If you'd like to label your bottle, check out this pack of 40 unique labels in varying sizes.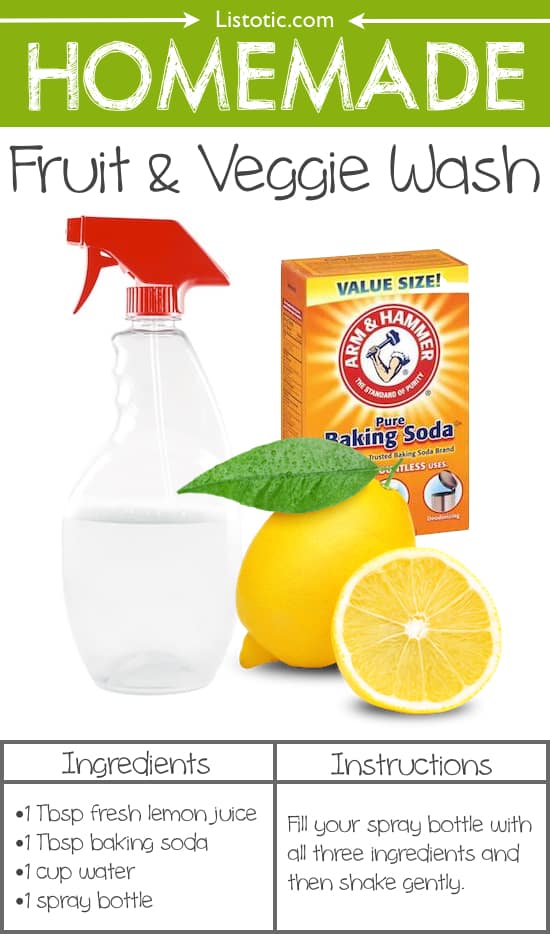 6. Homemade Jewelry Cleaner
I don't wear jewelry, but I do have a wedding ring that gets neglected. Even though I wear it every day, it's the one thing I just never think to clean! After 15 years of marriage, I think I forgot how shiny is was supposed to be.
If you'd like to bring back some of the luster to your jewelry, simply mix together these common household ingredients with hot water and let your jewelry soak for as long as you'd like (you really only need 10-15 minutes). Use a soft toothbrush to scrub if you have a lot of grooves and crevices that need reaching.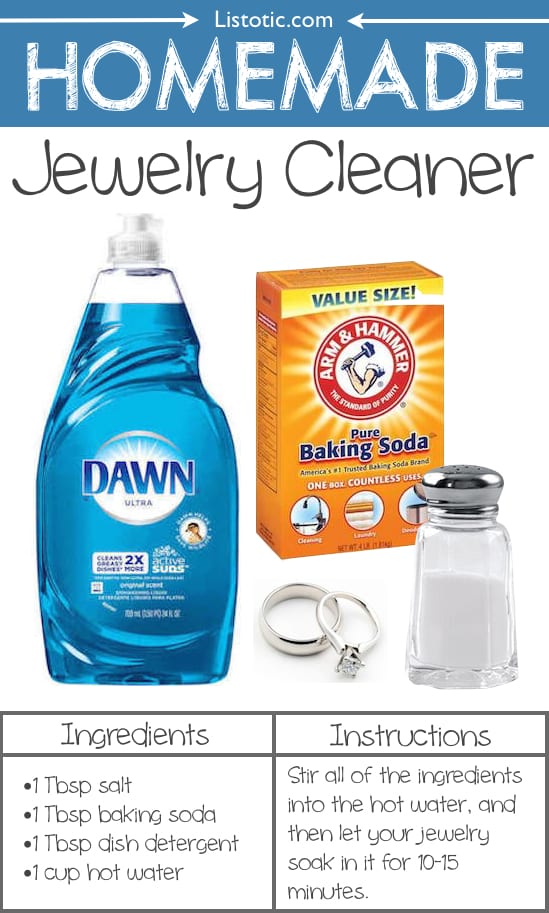 7. Homemade "Goo Gone"
One of my biggest pet peeves–I mean the one that really gets under my skin and causes smoke to blow out of my ears–is the sticker residue left behind from price tags! It is so frustrating to buy a picture frame only to have thick sticker residue left behind right in the middle of the glass cover! Arg! No worries! I found a homemade product that works.
The only thing I've found to make the process of getting it off not so daunting is Goo Gone, but it's unfortunate how much that stuff stinks. The entire house smells like gasoline when I'm done, not to mention you can never find the stuff when you need it. In a pinch, try mixing together vegetable oil and baking soda. The oil helps lift the sticky residue and the baking soda assists by making it abrasive. For a thicker paste, add a little more baking soda until you get the consistency you want.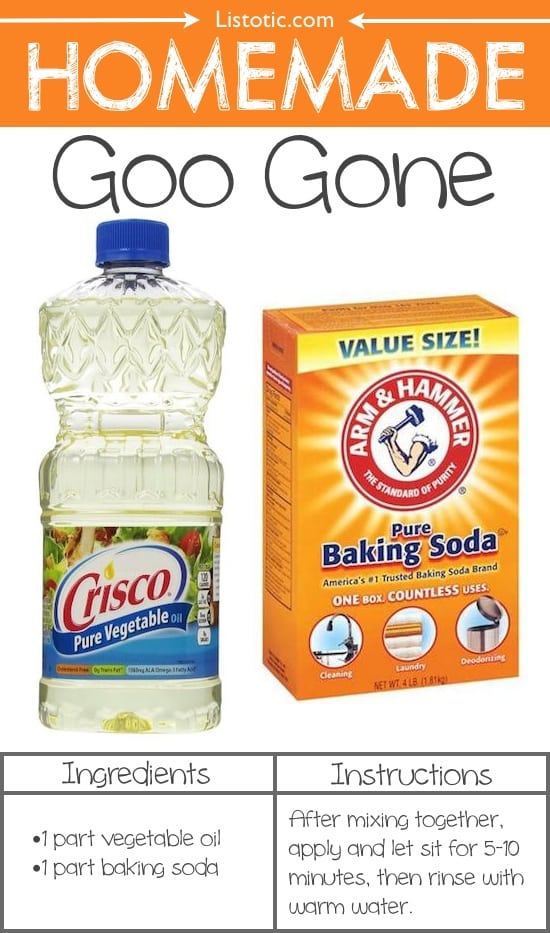 8. Homemade Detangle Spray
Duh, right?! I've never really thought about it before, but detangle spray is really just watered down conditioner (the cheap conditioners actually work better because they are usually not as concentrated). You can make a bottle of this stuff for less than a quarter!
Fill a good quality spray bottle about 1/4 full of conditioner (even less if you're using a more expensive brand or a thicker hair mask), and the rest with hot water. To get it mixed really well, only fill the bottle about half full of water, give it a good shake, fill the remaining space with more hot water, and then label it with tape or something a little nicer like these.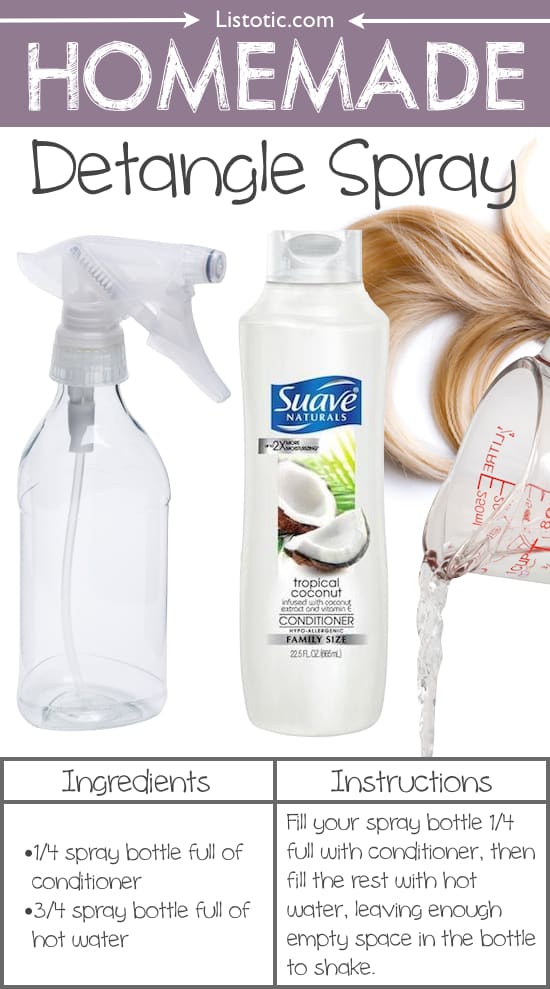 9. Homemade Ear Drops
To prevent swimmer's ear, put about 4 drops of this homemade ear drop solution (1 part vinegar to 1 part alcohol) in each ear after a day in the water. This is not for use if you already have an existing ear infection– the alcohol simply helps dry out your ears while the vinegar helps combat the build-up of bacteria. For more information, check out this article here.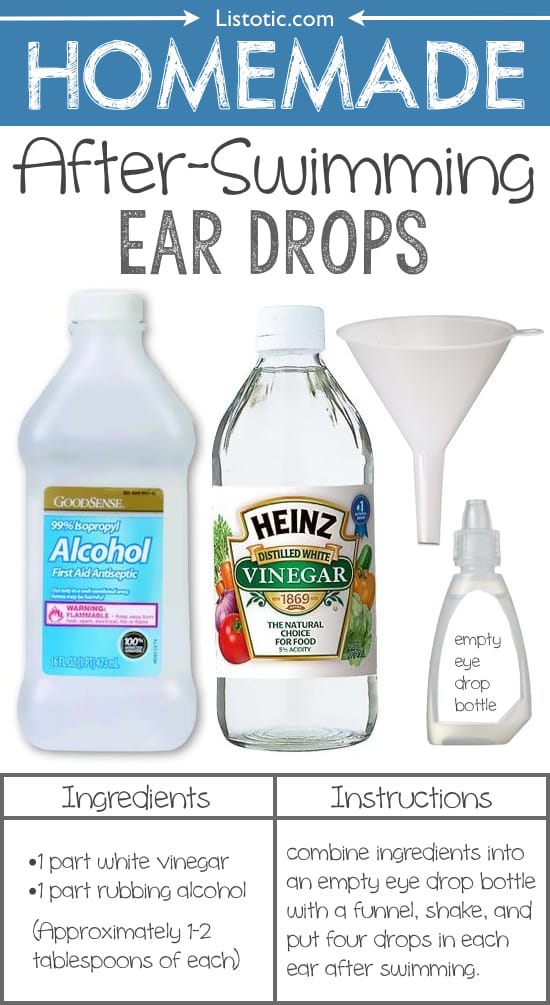 10. Homemade Carpet Powder
You may already know that baking soda works wonders in getting nasty smells out of carpet, rugs, and car upholstery, but the addition of essential oils leaves your home smelling fresh, just like the commercial carpet powders you can buy at the store, only cheaper and much better for you to be inhaling!
Mix several drops of essential oil in with a box of baking soda in the container you plan on storing it in (an empty parmesan container is a good choice!). Sprinkle the mixture onto the areas of your carpet that need odor control, let it sit for about 15 minutes, and then vacuum it up.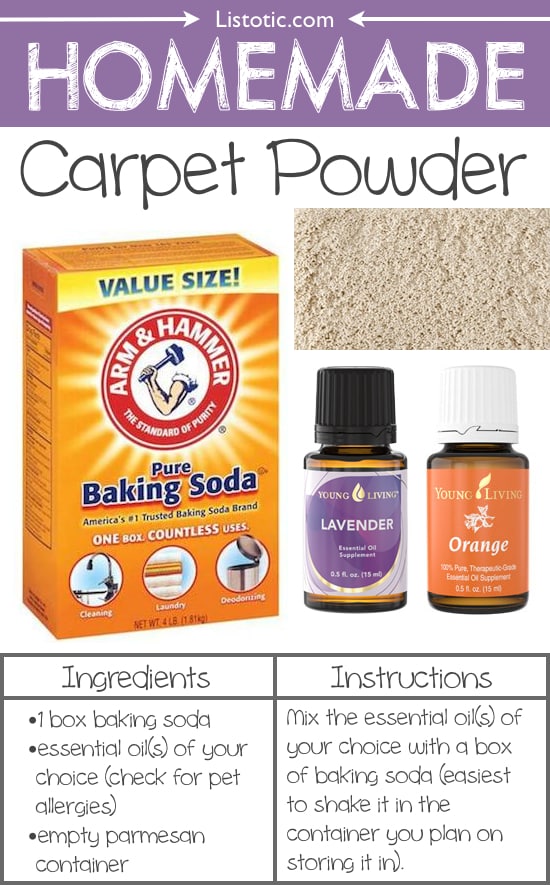 11. Homemade Glass Cleaner
These common household ingredients may seem strange to use as a glass cleaner, but if you think about it, the Dawn blue dish detergent helps eliminate grease, the alcohol helps it to dry a little faster so you don't have streaks, and the ammonia is an overall cleaner that helps with dust and other particles.
This recipe makes about a gallon, so you'll need an empty gallon container to store it. Either that or you can cut the recipe into about a 1/4 to fit into a large spray bottle. Fill your container about half full with water, pour in your other ingredients, and then top off with more water. Shake gently and use on windows and mirrors.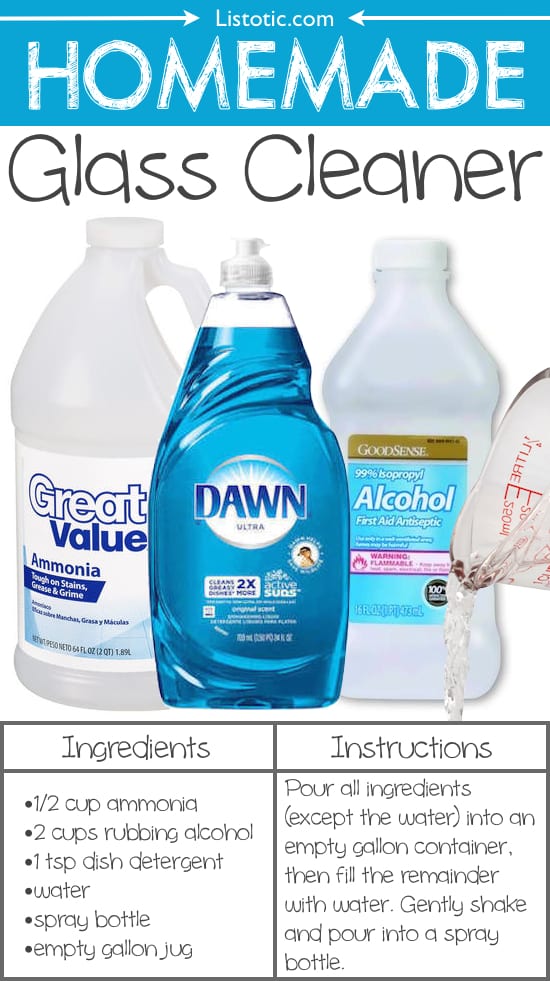 12. Homemade "Poo" Pourri Product
I've always thought this stuff was some sort of gag gift, but after some research, I've learned that "poo" pourri (love the name!) actually works better than any room deodorizer you could possibly buy. There is actually a little science behind it, too. You see, you spray it in your toilet BEFORE you go and the oils create a barrier on the top of the water that trap all of the odors below. This is starting to make sense now!
Simply fill a 3-4 ounce spray bottle like this one with 1tsp of alcohol, 30+ drops of essential oil (your choice– lavender, orange, rosemary, peppermint, lemongrass or a combination of several), and then fill the remainder of the bottle up with water. Spray your toilet bowl 3-5 times before you use the restroom. I've also seen a few recipes that put a few drops of blue food coloring in there for effect. This way you can see the oil barrier in your toilet bowl and feel better knowing your "force field" is there.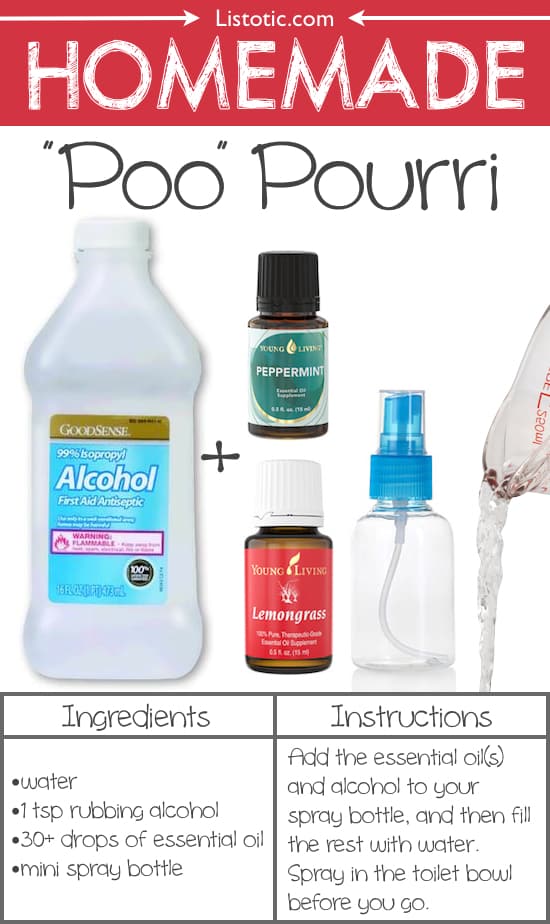 13. Homemade Bisquick Mix
Have you ever though about how simple the ingredients are in Bisquick Mix and other baking mixes? Why buy it when you can make it for less, not to mention it's healthier and tastes better, too!
Combine and mix all dry ingredients.
Chop or grate the butter.
Mix all ingredients in a food processor for about 3 minutes.
Place in an air tight container for up to 6 weeks.
PANCAKES: 2 Cups Mix, 1 Cup Milk, 2 Eggs
BISCUITS: 2 Cups Mix, 1 Cup Milk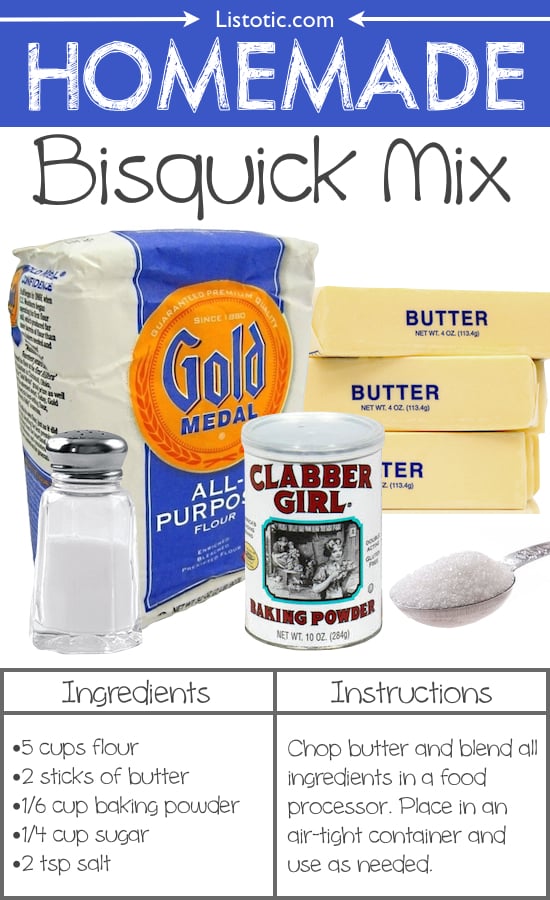 14. Homemade Stain Remover
A good stain remover is a must, especially if you have kids or do a lot of cooking (I always forget the apron– doh!). Believe it or not you can make your own stain remover that is not only cheaper than the commercial products like Shout, but works just as well, if not better. Just mix everything together in a spray bottle, shake, and spray! Let the mixture penetrate for 5-10 minutes, and then put a little elbow grease into it if you have a stubborn stain. Once removed, throw in the laundry machine with the rest of your clothes as usual.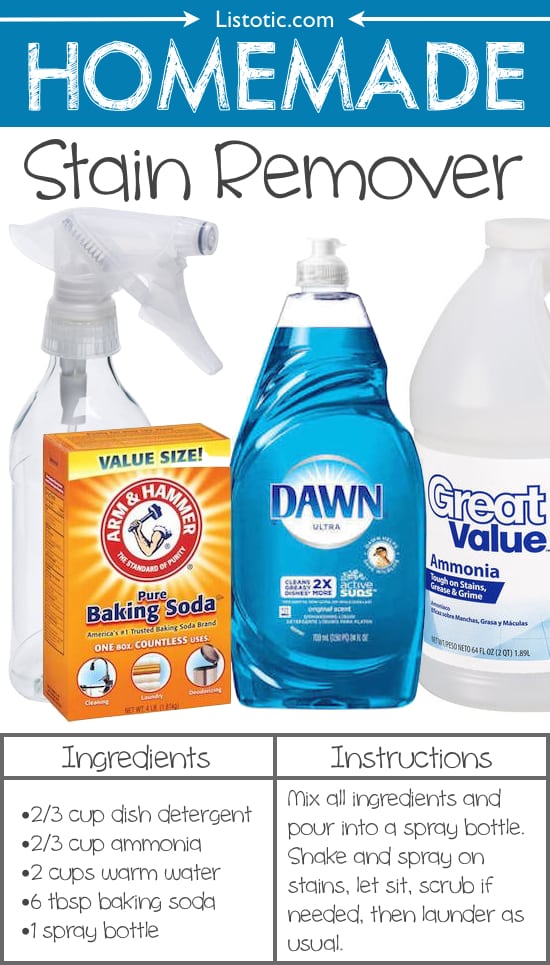 15. Homemade Makeup Remover
Just 3 ingredients! Tear-free baby shampoo, almond oil, and filtered water. Any skin-safe oil would do the job (coconut oil, olive oil, etc.), but almond oil is full of vitamin A, B and E, and isn't as greasy feeling as other oils. In fact, almond oil can also reduce the appearance of dark circles and delay signs of aging. It's the perfect oil for skin and hair!
Combine all ingredients in a small bottle and shake before each use. Use a cotton swab, ball, or pad to remove makeup, specifically around the eyes.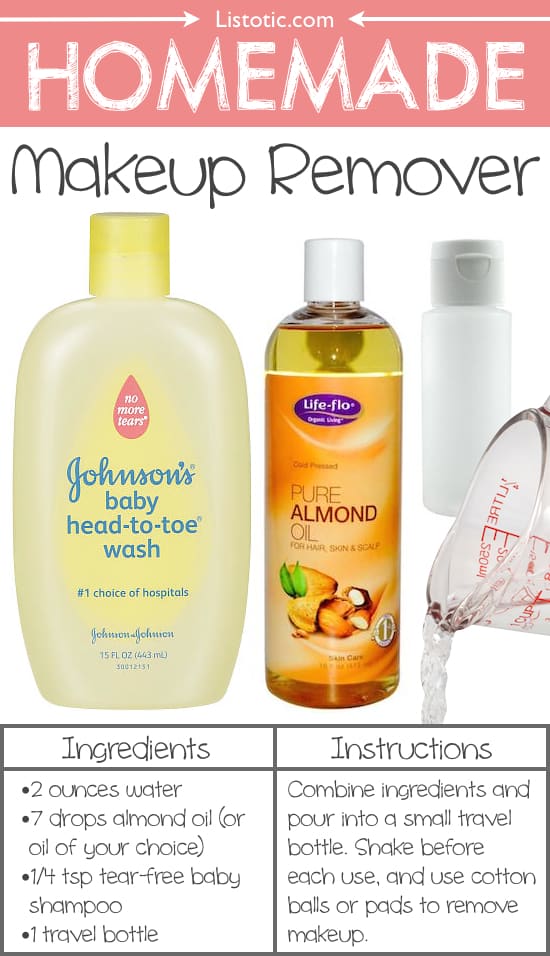 16. Homemade Sugar Scrub
I think we all know by now that most exfoliating scrubs are made with sugar (sometimes salt) and some sort of oil to give it the right consistency, and boy, when you buy this stuff at the store it can be quite expensive! Making a homemade version couldn't possibly be any easier, and you can really customize it to your own liking.
Mix the sugar, baby oil, and baby wash together in a glass jar (or whatever container you plan on storing it in), and you're done! You can also substitute white sugar for brown, and baby oil for coconut or almond oil. Get creative and add in a few other extras, too: coffee grounds, essential oils, honey, cinnamon, chia mix, oatmeal, vanilla…. the list goes on and on! This sugar scrub also makes for awesome little gifts in short mason jars with these cute chalkboard labels.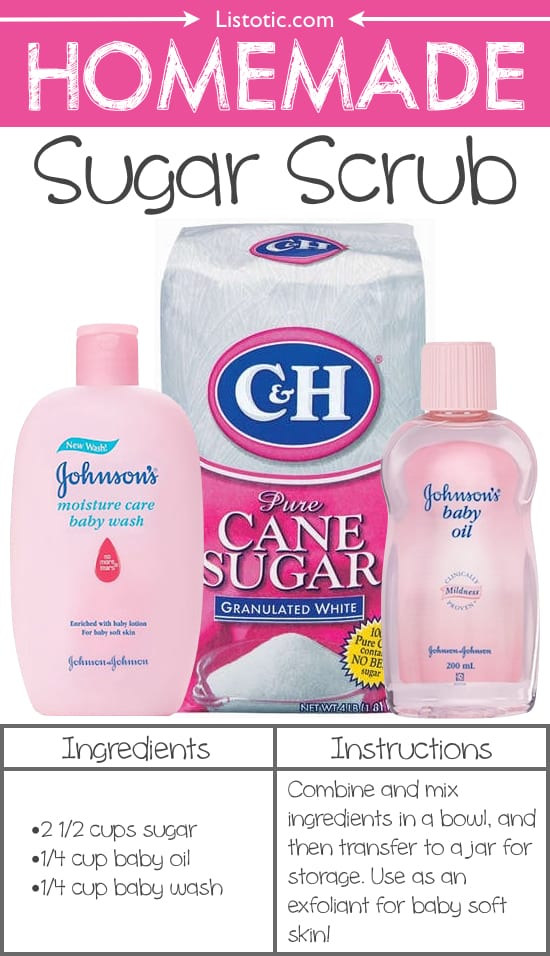 17. Homemade Ant Poison
When it rains– that's when the ants decide to come and vacation at my house! I've made the mistake of wiping them out in frustration, only to have them come right back. The key is to get them to carry poison back to their colony so that you don't continue to have the problem.
Mix together the sugar, borax, and warm water in a bowl, and then soak a cotton ball (or more if you need it) in the mixture, and then place it near the ants. It's best to place it on a piece of wax paper or something to make clean up easier. Let them devour the bait until there is no more sign of them.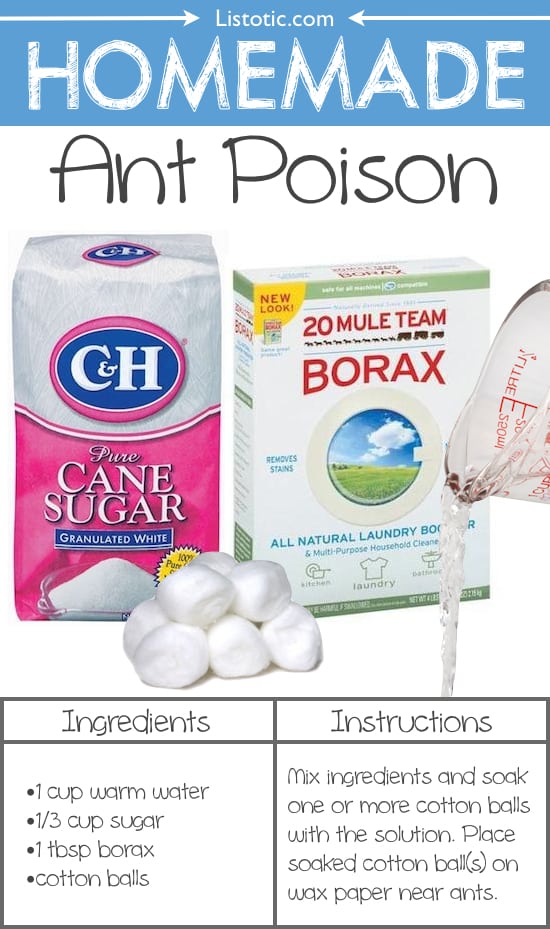 18. Homemade Dusting Spray
If you've seen the homemade wood scratch repair recipe, this is basically the same thing, only you're adding essential oils for a pleasant smell, and storing it in a convenient spray bottle. You'll never want to buy Pledge again! I'm telling you, this stuff works wonders on wood furniture. Not only does it hide small imperfections in the wood and give it a nice healthy shine, but it also works as a dust repellent, making your job a little easier.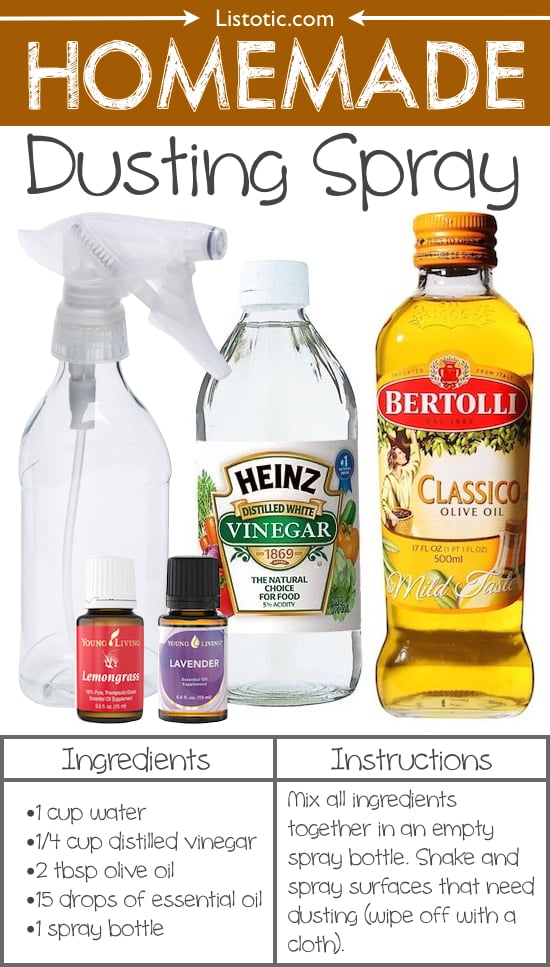 19. Homemade Weed Killer
Warning, this stuff actually works, so keep it away from your lawn, flowers, and other plants. It will kill them, too! It's best used for sidewalk cracks or mulchy areas. If you spray it when the sun is out, it has an even better effect. Goodbye, weeds!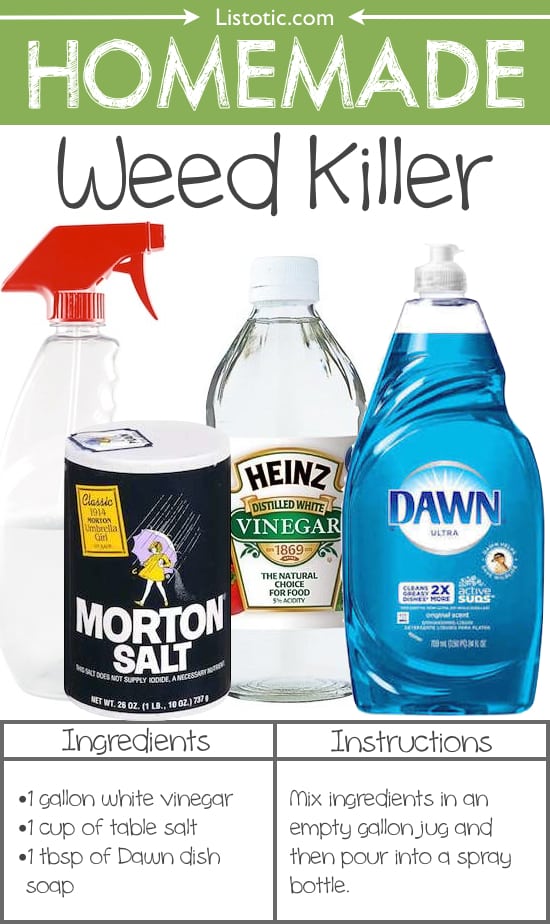 20. Homemade Cooking Spray
Over-priced cooking spray is a thing of the past! And have you read the ingredients on those cans? Propellant? That can't be good. If I had known homemade cooking spray was this easy, I would have done this years ago. It's so much healthier and cheaper than the store-bought stuff.
Mix together 1 part oil (canola or olive) and 5 parts water in a misting spray bottle, shake before each use, and then spray. You can also label the bottle if you'd like for the finishing touch.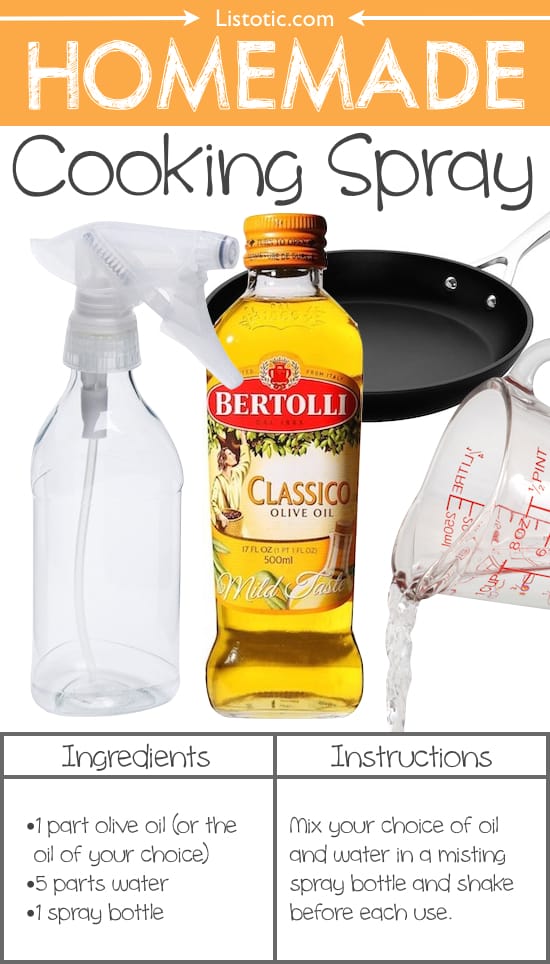 21. Homemade Foot Soak
There's nothing better than sitting down to relax after a long day, especially if you've been on your feet for countless hours, and you might as well soak your feet while you're at it! I've heard many great things about Epsom salt, but the idea behind this foot soak is that it draws impurities and toxins out of your body.
Mix the epsom salt, baking soda, and lavender essential oil together in a container you plan on storing it in, and use about 1/4 of the mixture in as warm of water as you can handle each time you soak. I like to use one of those disposable baking pans (although I reuse it over and over), and fill the bottom with marbles. Now that feels good! If you're making this as a gift, don't forget to give it a pretty label!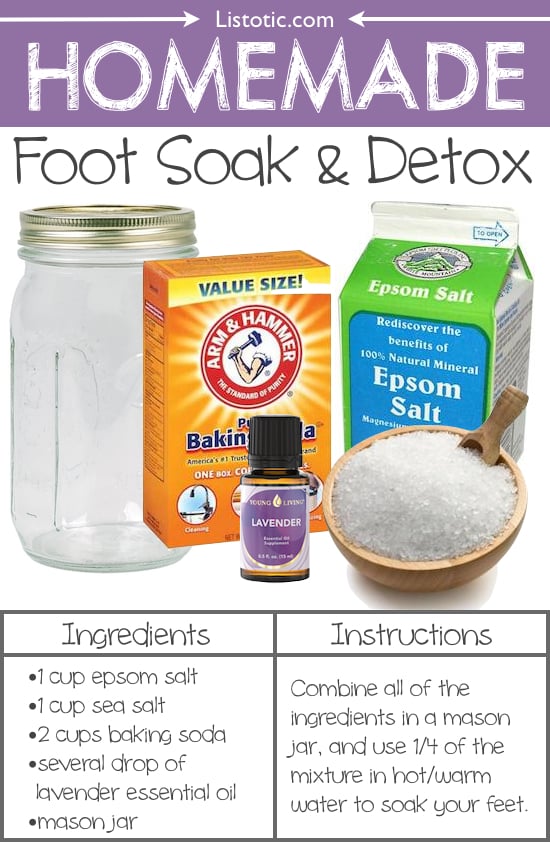 22. Homemade Spray Shampoo
Wait, I don't get it! Spray shampoo? I know, I've gotten so used to the dry shampoo that I couldn't wrap my head around the whole spray thing, but now that I understand how this stuff works, I like it so much more!
There are two main problems with my hair when I go even just one day without shampooing: #1 It's greasy looking, #2 it needs to be restyled (bed head). BUT, I have A LOT of hair! Shampooing it every single day is such a pain– first, there's the shampoo, then conditioner, then getting the tangles out, then applying the leave-in product, then comes the blow dryer, and finally the curling iron. By the time I get done with all of that, I'm ready for a nap.
Fix Bed Head in an Instant with Homemade Spray Shampoo
Here's the simplest way to get at least one day in between shampooing: SPRAY shampoo!! Spray it on your roots (for me I just spray around my hair line and where I part my hair), and then use your blowdryer for a minute or two to restyle it. Voila!
The alcohol and corn starch absorbs oil, and the melaleuca oil (basically tea tree oil) is good for your skin and scalp. I have blonde hair (this week) so this recipe works great for me, but if you have darker hair, I've heard that adding a bit of unsweetened cocoa powder will do the trick!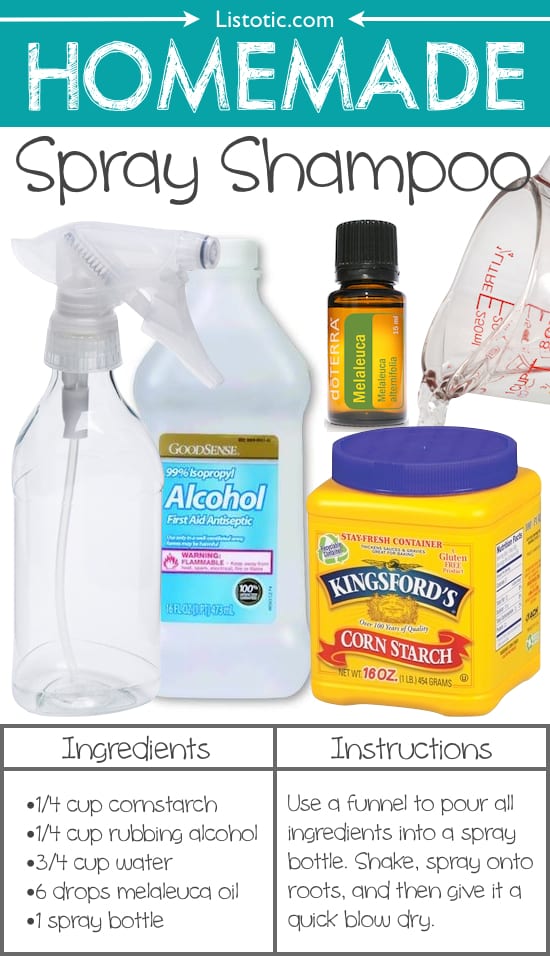 Hand sanitizer is an essential part of keeping busy kids' germ-free. Making your own homemade version of hand sanitizer is a way to customize the ingredients to fit your family perfectly. I love this recipe because it uses my favorite smelling Thieves® Essential oil. Plus, if you use the Benadryl itch stopping gel you are getting the added benefit of cooling relief from bug bites, sunburn, mosquito bites, small cuts, and poison ivy or poison oak. Not to mention the added benefits from the essential oil blend. See the full post on how easy it is to DIY your own essential oil hand sanitizer.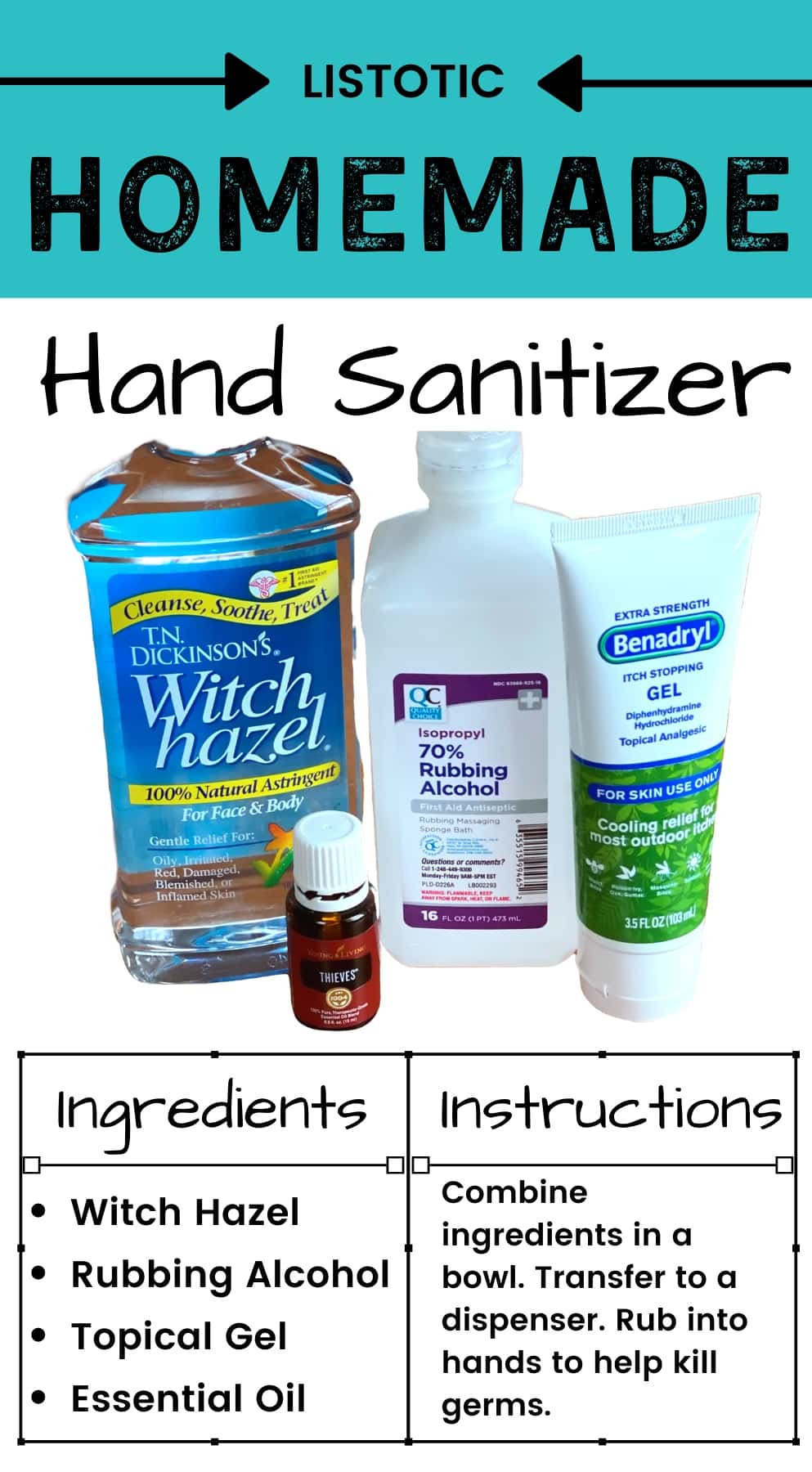 Homemade Lysol/Clorox wipes are a budget-friendly way to make sure you can disinfect. You can use these disposable wipes for quick table cleanups, doorknobs, and inside the vehicle. I always keep a box in the bathroom to quickly wipes down faucets, sinks, and toilets. This recipe a box of baby wipes and some other ingredients you probably have at home already. Click here for the full instructions for Homemade Lysol Wipes.