Last Updated on November 5, 2021
Homemade Thieves® Hand Sanitizer
Ok, it's time to disinfect! Homemade Thieves Hand Sanitizer is very easy! I like this DIY hand sanitizer recipe because you can add ingredients that provide helpful benefits other than just killing germs. Not to mention I absolutely love the smell of Young Living Essential Oil Thieves.
For a hand sanitizer to be effective it must be at least 60% alcohol. I learned this back in my healthcare days. It's amazing to me that they would even sell hand sanitizer that isn't… like, what's the point! Check your bottles there are way more non-effective hand sanitizers out there then you think! It's usually the tutti frutti-smelling antibacterial hand gels that don't actually have enough alcohol percentage to be considered effective for sanitizing.
Hand sanitizer must be 60% alcohol or more!
Ultimately washing your hands with soap and water is the very best and most effective way to keep germs away. But what if you aren't in a situation where you have running water handy. The next best solution to kill those germs is to rub on some hand sanitizer. I always have some hand sanitizer in my vehicle! I use it after I pump gas, come out of the grocery store and when my kids leave a park, playground or school.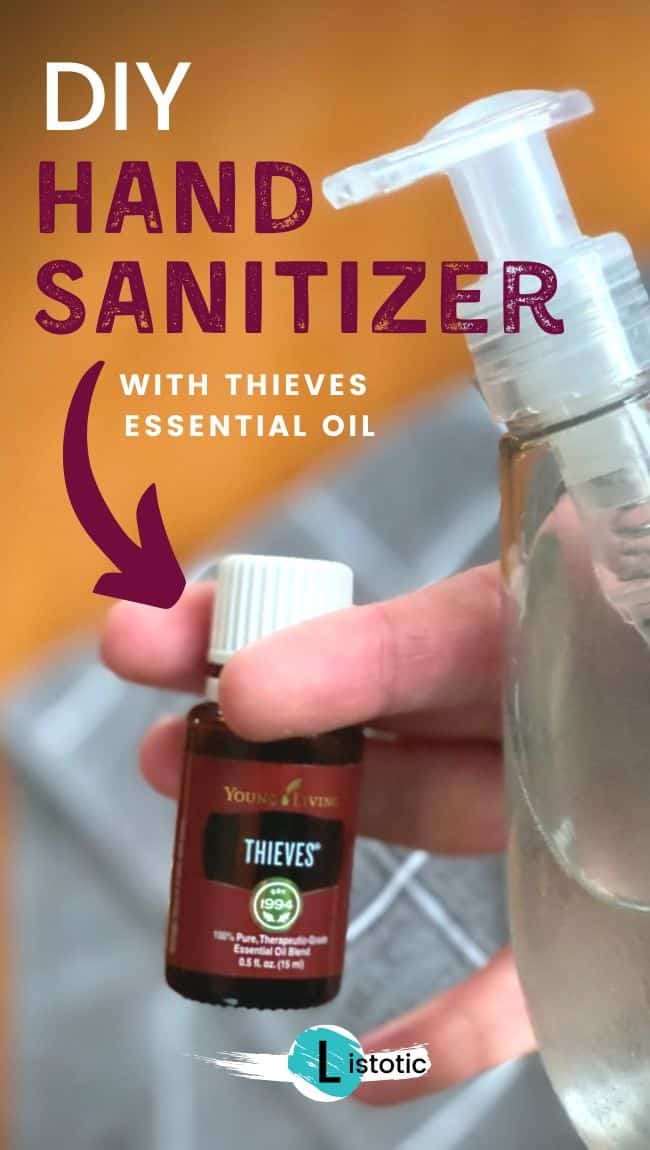 For this homemade Thieves hand sanitizer, you can certainly trade the Thieves out for a different essential oil of your choosing. Lemon or peppermint might be great options! But when I want to rid the house of some unhealthy germs, I usually get my essential oil diffuser out and drop in some Thieves.
Thieves essential oil blend has a spicy cinnamon smell with the benefits of clove oil, cinnamon bark oil, eucalyptus radiata oil, rosemary oil, and lemon oil. This combination gives a powerful cleaning combination which is why Young Living has an entire cleaning product line using Thieves oil.
Ingredients:
2 tablespoons Witch Hazel Astringent
¼ cup Topical Gel – I used Benadryl Diphenhydramine Hydrochloride – only because that is all I could get in my local drug store. What I used does have antihistamine properties and you should not use if using other antihistamines at the same time. Overall, it is best to use an aloe vera gel. Hopefully, you have better luck finding aloe vera gel than I did.
5-8 drops Thieves Essential oil blend – or essential oil of your choice if you do not have Thieves or if like something else better. The goal here is to cover the smell of the rubbing alcohol with a scent you love.
½ cup 70% (or higher) rubbing alcohol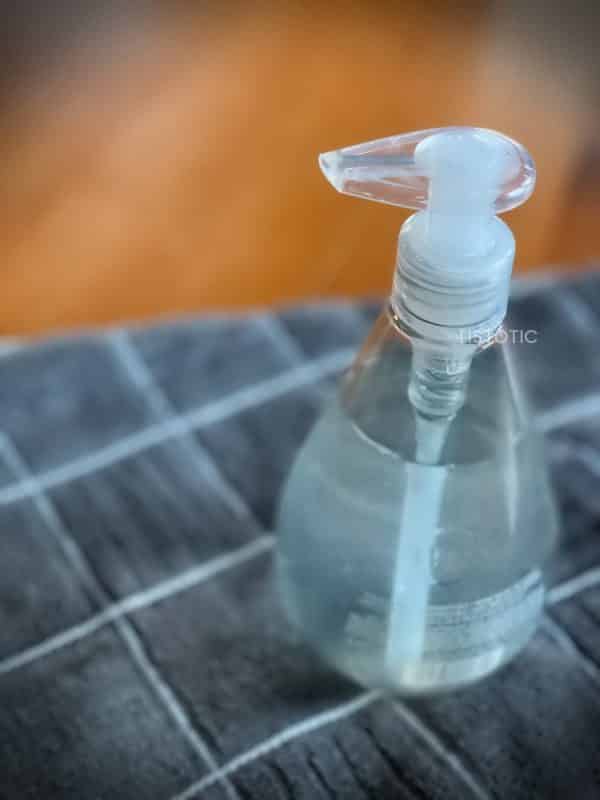 Materials:
A container that will dispense – I used a plastic hand soap dispenser that was empty and ready to get recycled.
Instructions:
In a bowl combine gel, witch hazel and rubbing alcohol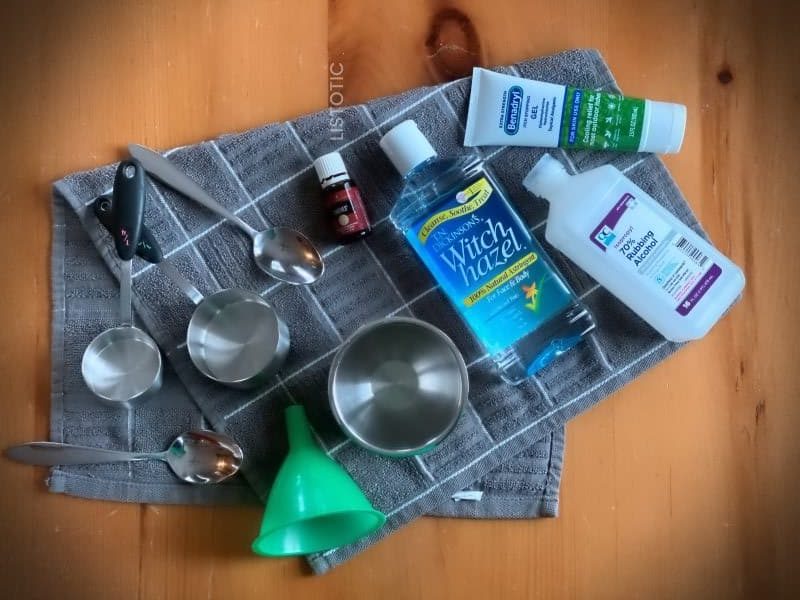 2. Add drops of Essential Oil.
(Did I mention I love the smell of Thieves; so I used quite a few drops!)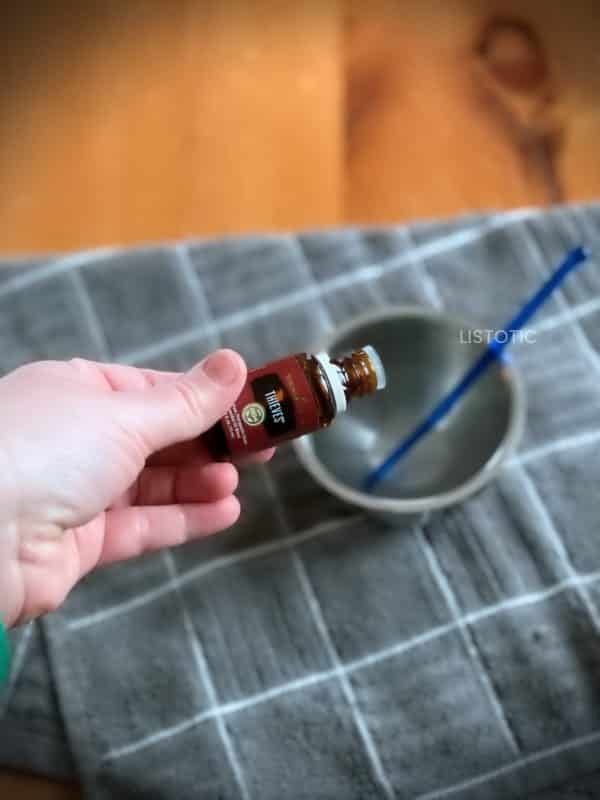 3. Use a funnel to pour the antibacterial solution into a dispenser. But if your container has a wide rim or you think you have a steady hand you might not need to use a funnel.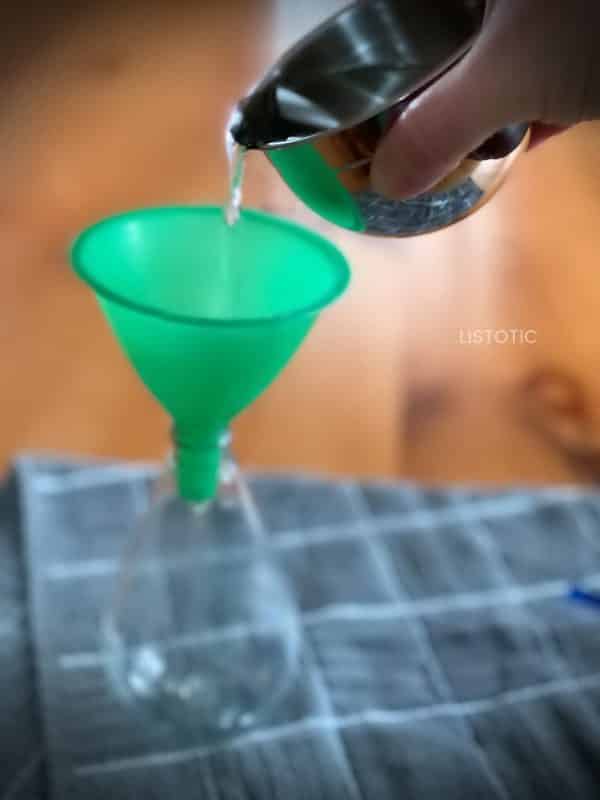 Note: I used a large hand soap bottle that had recently been emptied from my kitchen sink. So, I had room to double the batch of hand sanitizer to fill it.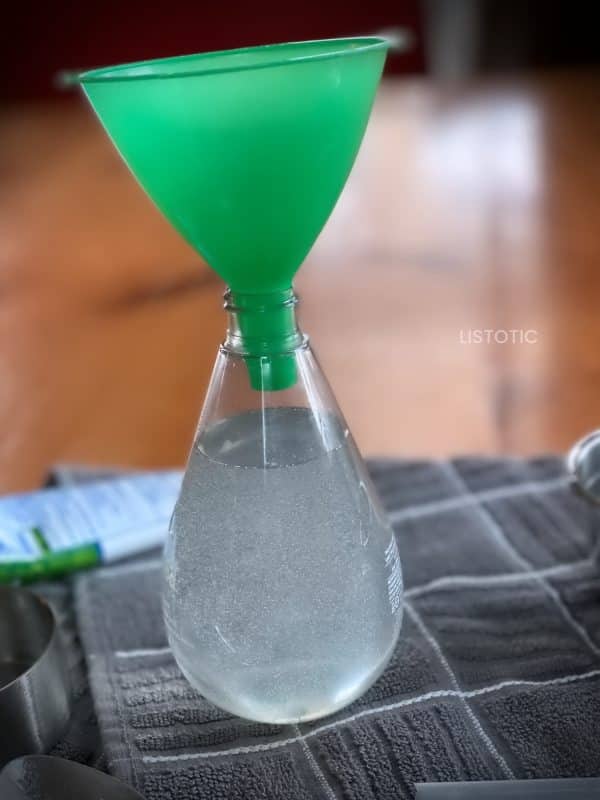 A fun Thieves label would be a great edition!

After using the Thieves hand sanitizer enjoy the lingering smell. The essential oil continues to stay in your skin and in the air; as does the softening and refreshing gel.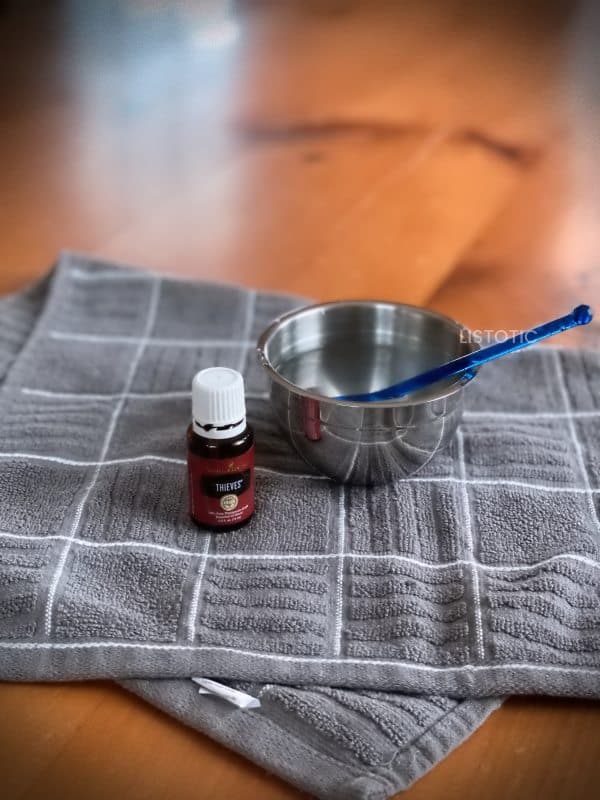 You might find this hand sanitizer a little runnier than others. If you don't like that you can add more gel. One pump is a perfect amount for full hand coverage so my recycled soap bottle was the perfect container.
To keep this recipe and more recipes for homemade products at your fingertips just SAVE the below Pinterest pin.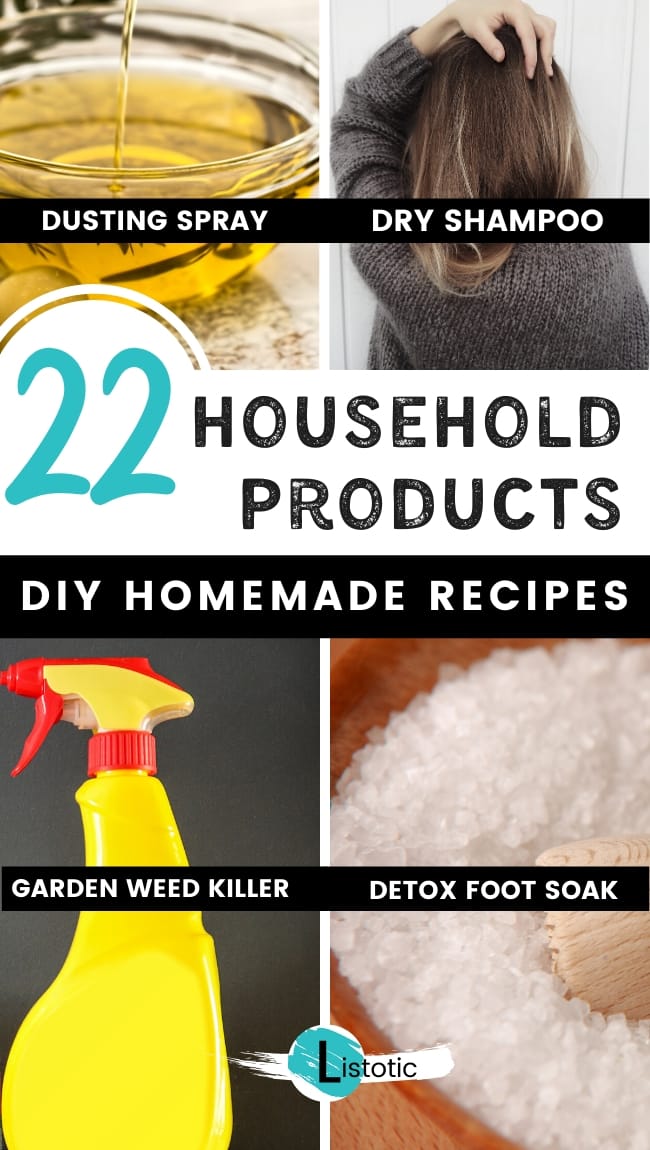 You might also be interested in learning how to make your own disinfectant wipes on Listotic.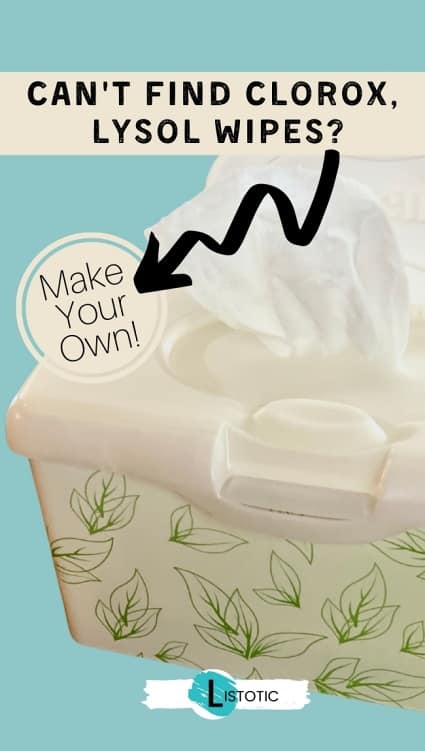 Thieves® is a registered trademark of Young Living Essential Oils.