Last Updated on July 16, 2021
Easy To Forget Places To Clean- Deep Cleaning Checklist!
Deep cleaning your home takes a lot of effort and time. Keep the house germ-free with this spring-cleaning checklist for easy to forget places to clean. Dust, wipe, vacuum, but even after all of that, is your house truly spotless? Dust and grime can build up in some pretty unexpected places. For me, a deep cleaning checklist means getting all of those hidden areas clean.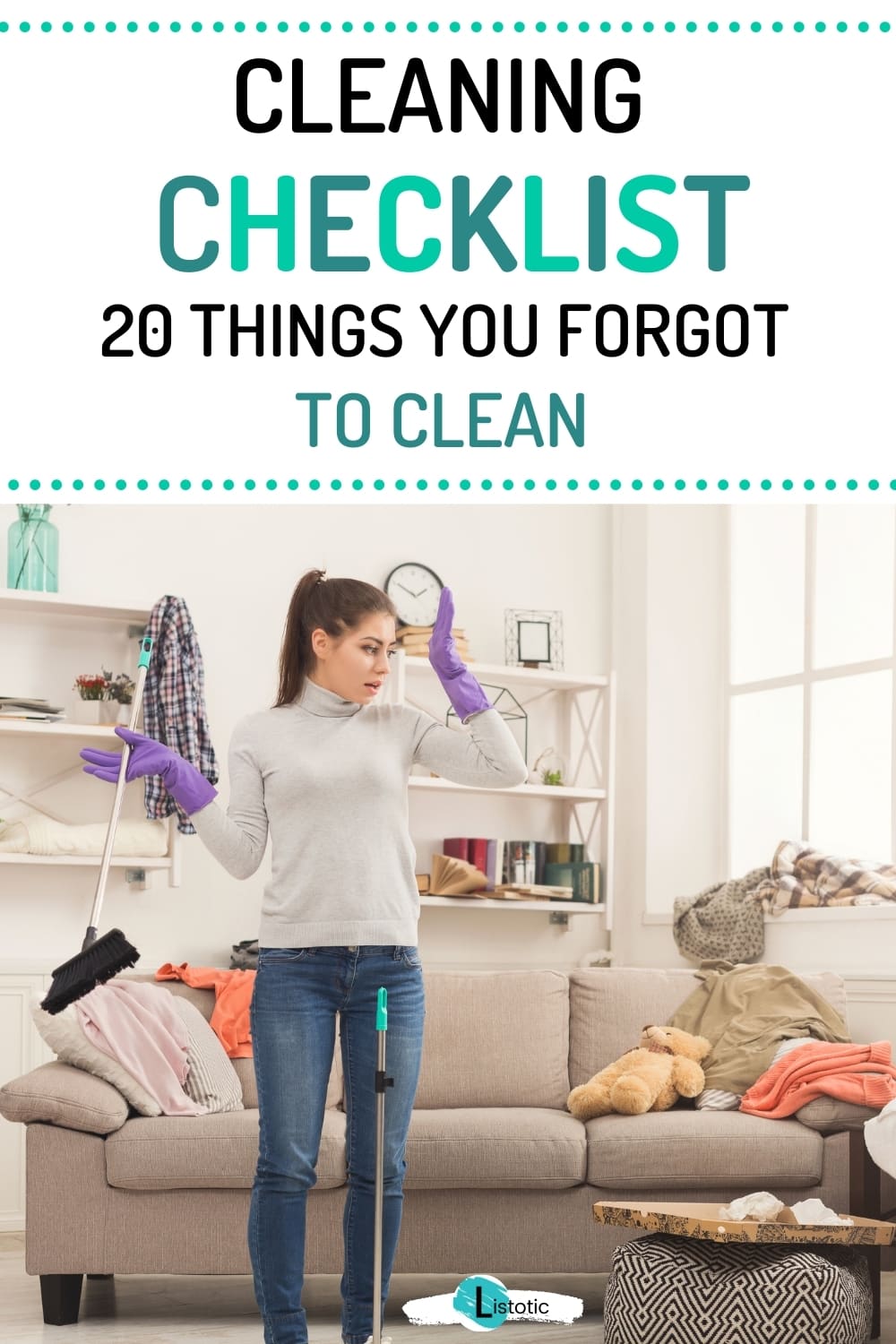 Follow the steps below to make sure you don't miss any of those hard-to-miss areas. Click Here for your SPRING CLEANING CHECKLIST Free Printable.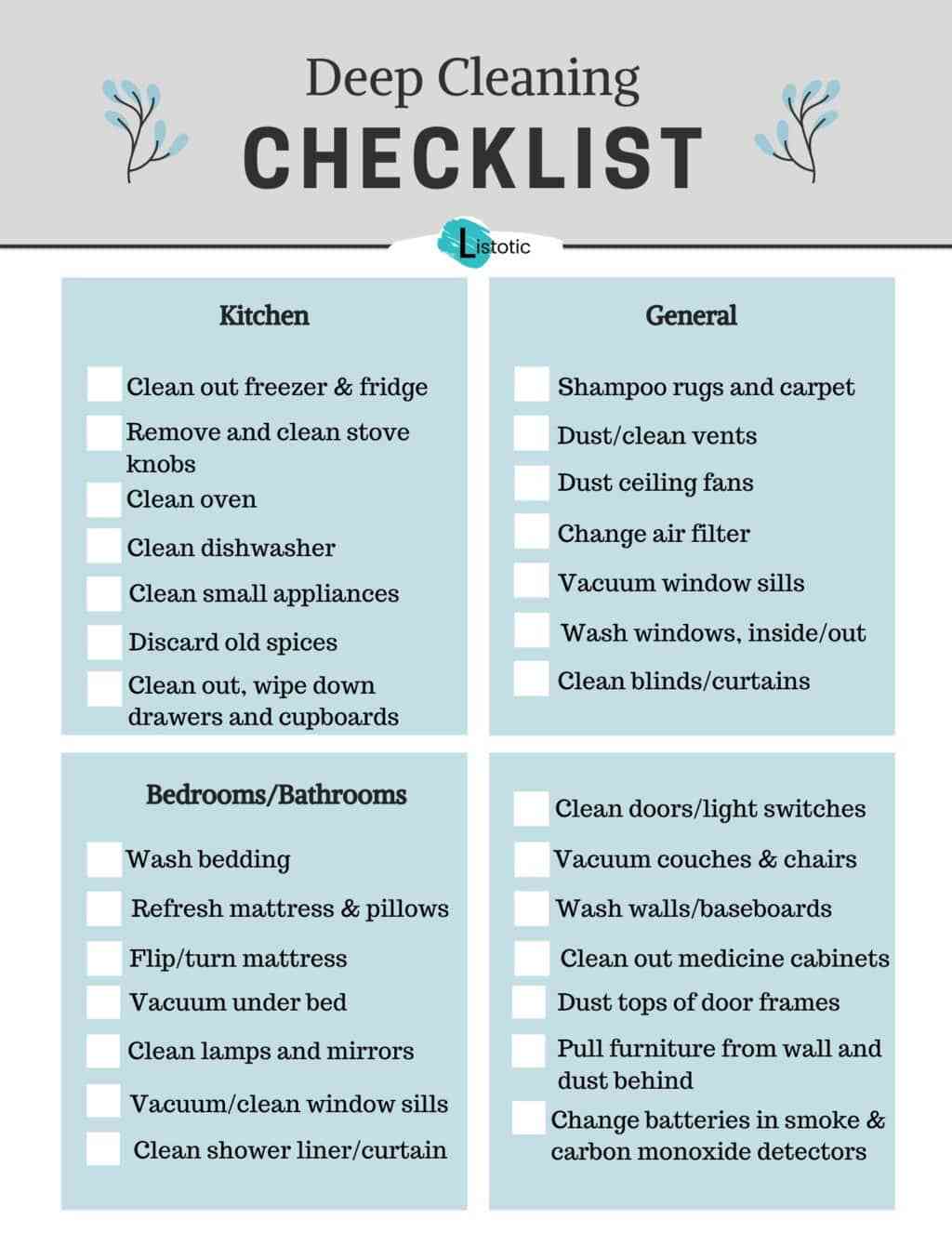 But, when do you deep clean?
Most of the time I am ready to start my spring cleaning checklist in March. But where I'm from in March there may be snow on the ground. So, some years it is April before I get going. When the weather is nice and the sun is shining spring-cleaning can begin! Open the windows and let the sunshine and fresh air in while you deep clean your home. Start by cleaning room to room.
What room should I start with when spring cleaning?
I suggest starting with the hardest-to-clean room in your home- the bathroom. The bathroom can be the most labor-intensive room. Why the bathroom? Because of the amount of time and energy for each individual task. Once you complete the bathroom, shut the door and move on! All the other rooms will be a piece of cake!
Bathroom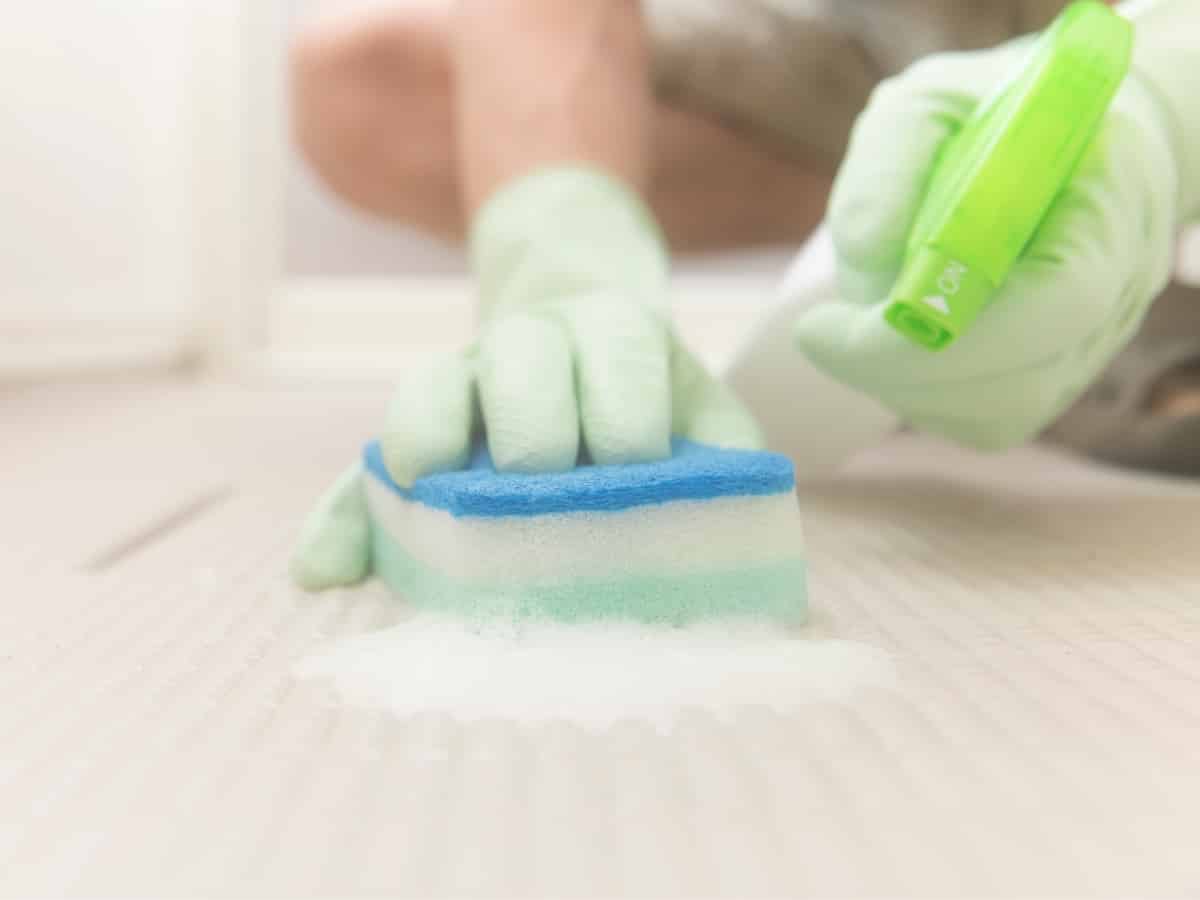 1. Toss out old and expired products
Tossing out expired skincare, makeup, and hair products will declutter bathroom storage. Decluttering your bathroom takes time depending on how often you toss your expired products. One thing is for sure, completing this task feels good!
2. Clean Shower Curtain and Liner
Toss your shower curtain, liner, and a few towels in your washer. Allow your liner to hang dry. To keep your shower liner cleaner longer, spritz with a shower cleaner and rinse with water before showering. This will extend the life of your shower liner and keep your shower a place you can feel clean while you get clean!
3. Deep Cleaning the Bathroom
Deep cleaning the bathroom means taking off the toilet lid. After that it means scrubbing toilets, scrubbing bathtubs and showers, cleaning the sink. Finally, it means organizing the bathroom closet and cabinets. Get down on your hands and knees and deep clean your bathroom floors a few times a month. I end the scrubbing with spraying room spray to give it a clean atmosphere. Another time-saving trick is to have a box of homemade Lysol wipes handy in the bathroom. Use wipes to scrub down the bathroom counter between deep cleaning binges.
Kitchen
Click Here for your SPRING CLEANING CHECKLIST Free Printable.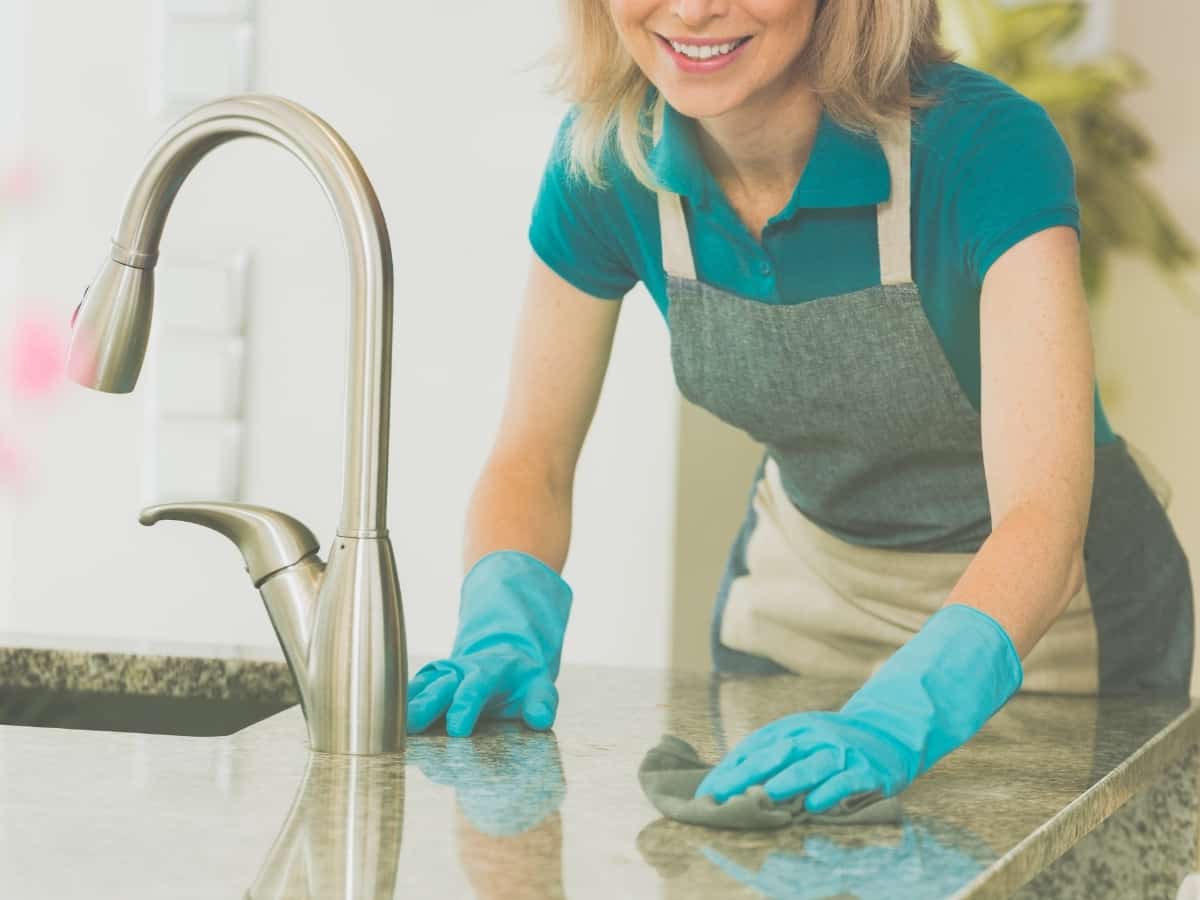 4. Clean your fridge & freezer- inside, out, and on top!
Wipe down your fridge, take out the door shelves and bins. Wash shelves and drawers in warm, soapy water. It's important to cleanse the fridge of food bacteria and spillage. When you open the doors you will have a clean and well-organized fridge and freezer.
5. Clean large and small appliances
Time to deep clean your microwave, oven, dishwasher, and small appliances. Here is a great how-to on how to clean between the glass in your oven.
Microwave – Deep Cleaning Checklist
First, take an old plastic Tupperware container,
Fill it will 1 cup vinegar and 1 cup water
Next, microwave on high for 10 minutes
Finally, finish by wiping clean with a dry towel.
6. Discard Old Spices
Like the bathroom cupboards, your spice cabinet collects many expired products. The first step to a clean and organized spice rack is discarding expired spices. Store your most-used spices and seasonings towards the front for easier access.
Living Room
Click Here for your DEEP CLEANING CHECKLIST Free Printable.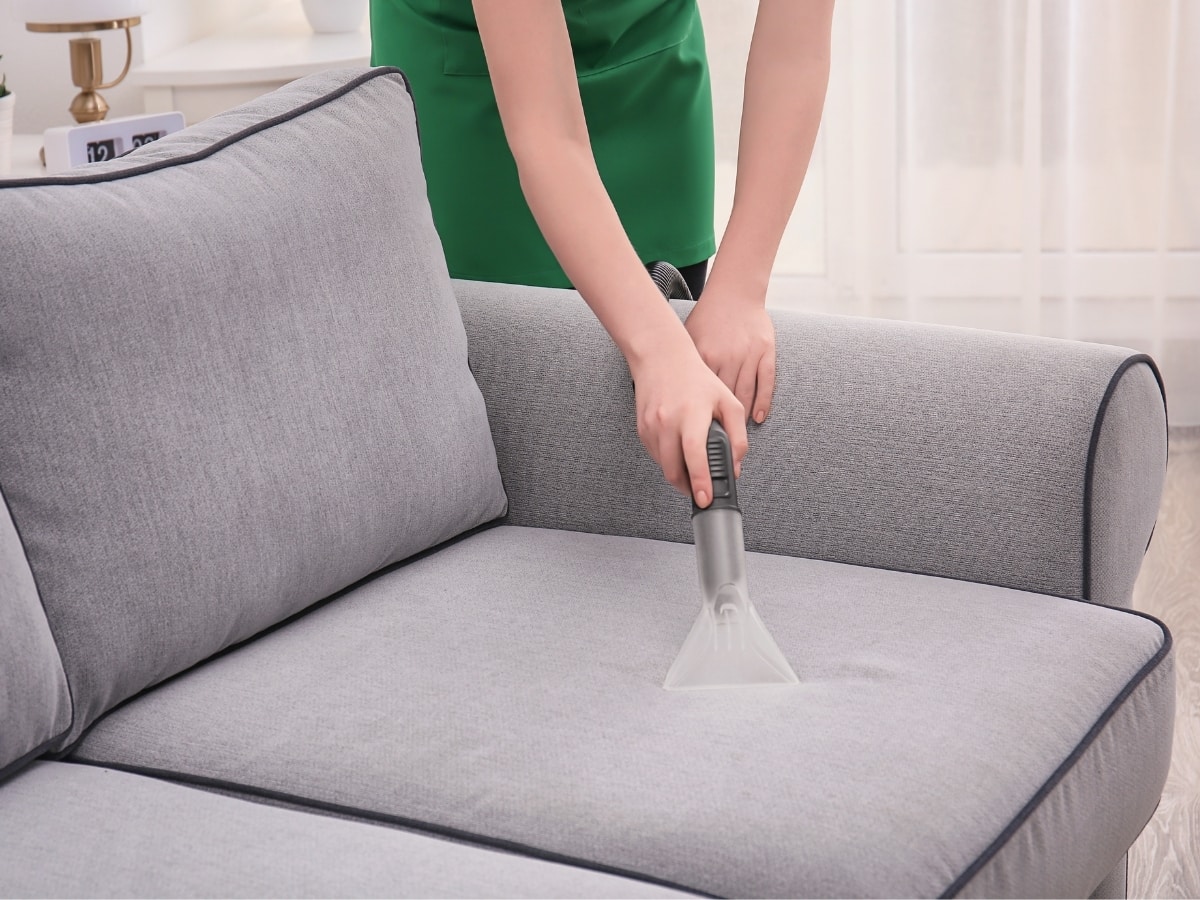 7. Clean under and behind furniture
Pulling furniture away from walls is the easiest way to clean behind and under furniture. Don't forget about the vents and trim behind these most missed places to clean.
8. Cleaning upholstery/wipe down leather
If you can remove cushion covers and the tag indicates they are machine washable, you are in luck! This is the easiest way to clean couch cushions. Otherwise, you can loosen the crumbs and dirt by beating the cushions outside on a sunny day. One benefit of doing this is the sun's UV rays work to disinfect the fabric! Spray with a scented fabric spray, and you're all set! If you have leather furniture, try this leather cleaner to refresh your leather furniture. Or use leather cleaning wipes to revive and condition your leather couches and chairs.
9. Dust ceiling fans/corners of walls and shelving
Deep cleaning is all about cleaning those easy to forget places. Grab a dusting wand and clean ceiling fans, shelving, tops of door frames, lighting, and molding. Always dust before you vacuum or mop. So that way you aren't dropping dust bunnies on your freshly cleaned floors.
10. Disinfect high traffic areas such as light switches and remotes
Light switches and TV remotes are often overlooked. With all of the dirty hands frequently touching these objects they can often be missed. Make sure you clean and disinfect them.
11. Window Sills & Tracks
Cleaning the glass on your windows is one thing, but how often do you clean inside your window sills and tracks? They can build up quickly with dirt, mold, and even dead bugs. Vacuum your window sill first. Next, soak a paper towel with soapy water to scoop up the extra gunk. I prefer using a paper towel because they get into the tracks better than a cloth towel.
EXPERT TIP: For a simple window track hack, get a sponge & mark out the track grooves and cut your sponge to create a reusable cleaning sponge that gets right into the nitty-gritty of your window tracks!
12. Shampoo rugs and carpet
It's that time of year to do an in-depth cleaning of your carpet and rugs. They've accumulated a winter's worth of germs, dust, and potentially stains. For spot treating throughout the year, this is the best deep cleaning carpet cleaner. Otherwise, it is a good idea to tackle this job once if not twice a year.
"Spring cleaning always sounds like a good idea until you're knee-deep in old toys & clothes wondering why you did this to yourself!"
Bedroom – Spring Cleaning Checklist
Click Here for your DEEP CLEANING CHECKLIST Free Printable.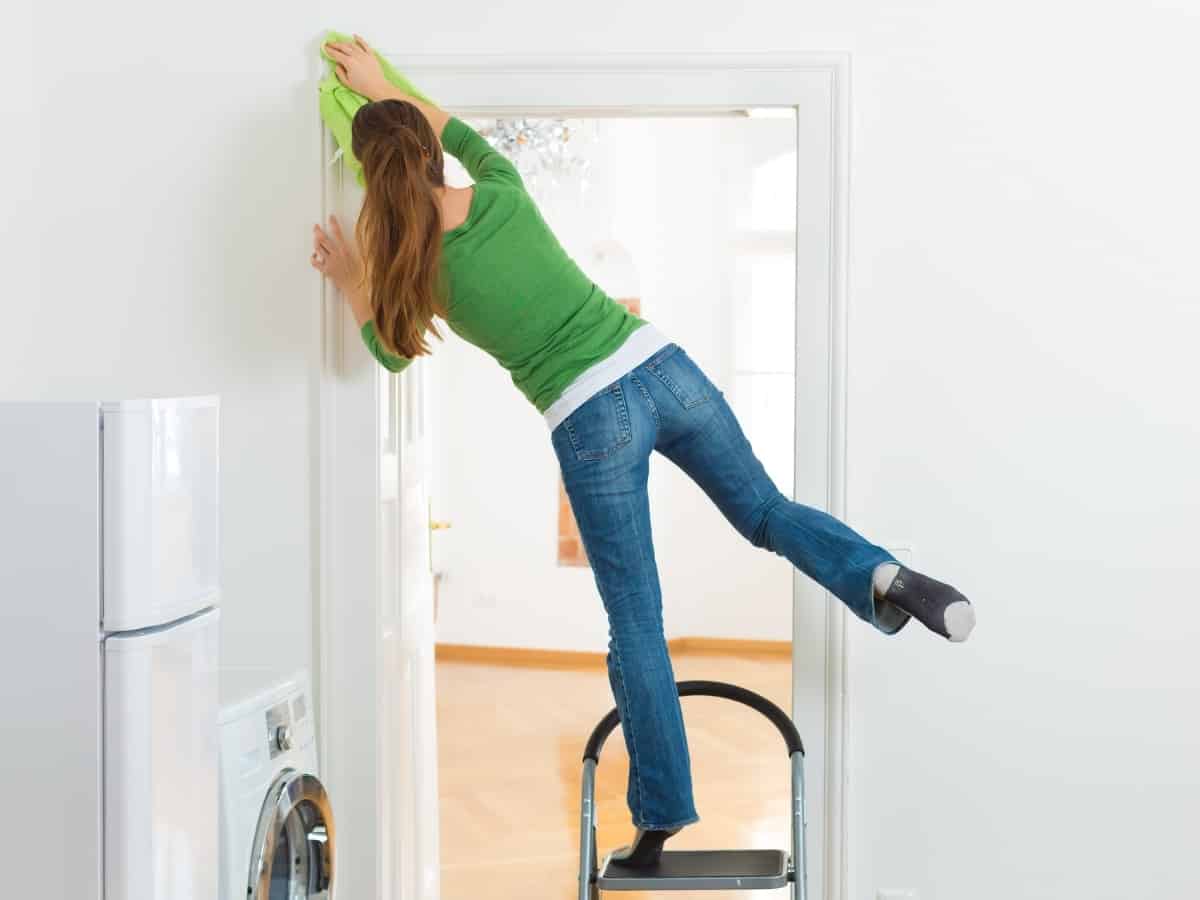 13. Dusting and wiping down vents
Dusting vents isn't something regularly cleaned until you see the lint build-up. Vents can be found in your ceiling, floor, and wall in every room of your home. Cleaning your vents is a lot easier than you may think. Simply unscrew the vent cover, dust off your vent, wash with warm soapy water, dry, and reattach. This will also help tremendously with the air quality in your home.
14. Vacuuming behind furniture and under the bed
I am guilty of this! I have furniture pads on the bottom of my furniture to prevent them from scratching my floors but not furniture sliders. Furniture sliders make it easier to move furniture. You can slide them out, allowing you to easily clean under couches, chairs, tables, and more. Typically, they are used when moving, but they also come in handy when it comes time to clean under heavier objects.
15. Dust Door Frame Tops
I dare you to run your finger along the top of your door frame. What was the result? If your finger came out spotless then you deserve a pat on the back for having such a clean door frame! If you're like me then yours came off dusty! These areas are often forgotten and can use a quick wipe down with a microfiber cloth. Don't forget your kitchen cabinets! My white kitchen cabinets need a wipe down from food debris and dust more often.
16. Refresh Mattress & Pillows
You've washed the sheets and fluffed the pillows but whoops, you forgot one of the most overlooked places to clean in the bedroom- the mattress! Simply sprinkle baking soda over your mattress, let sit for 10 min then vacuum. It's as simple as that! Over time your fluffy, clean, and white pillows develop a yellow tint caused by- you guessed it- sweat! Instead of replacing your pillows clean them. Here is great information on how to clean your pillows. This is one of the top things you forget to clean.
General Maintenance Deep Cleaning Checklist
17. Smoke detectors and carbon monoxide
Ensure that your family can be warned in an emergency. Replace the batteries in your smoke detectors and carbon monoxide detectors. That way you can be alerted if you have any gas leaks or smoke that could be harmful or even fatal to your family. It is recommended that you replace your alarms every ten years. Don't wait until they start to chirp or beep.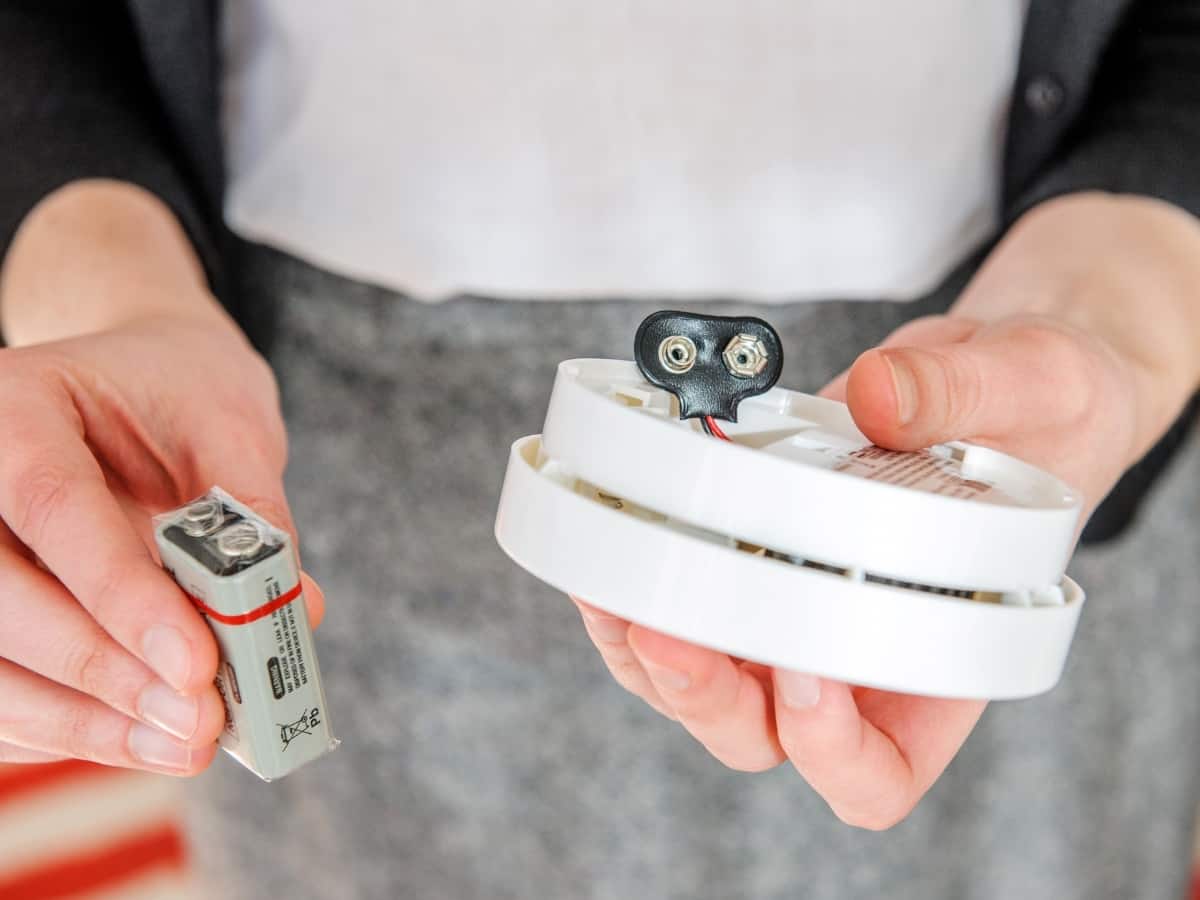 18. Change air filters
It is recommended that you change your air filter every 60 days. Signs of poor air quality are mold growth, stale air, unpleasant odors, allergies, and surfaces that require frequent dusting. When you replace your filter it will capture many of these pollutants before they recirculate back into the air. That is… if your filter is clean! Not only will it save you money to change your air filter, causing your air conditioning unit to run less frequently. But it will help with the air quality within your home. Don't let this be one of the places you forget to clean.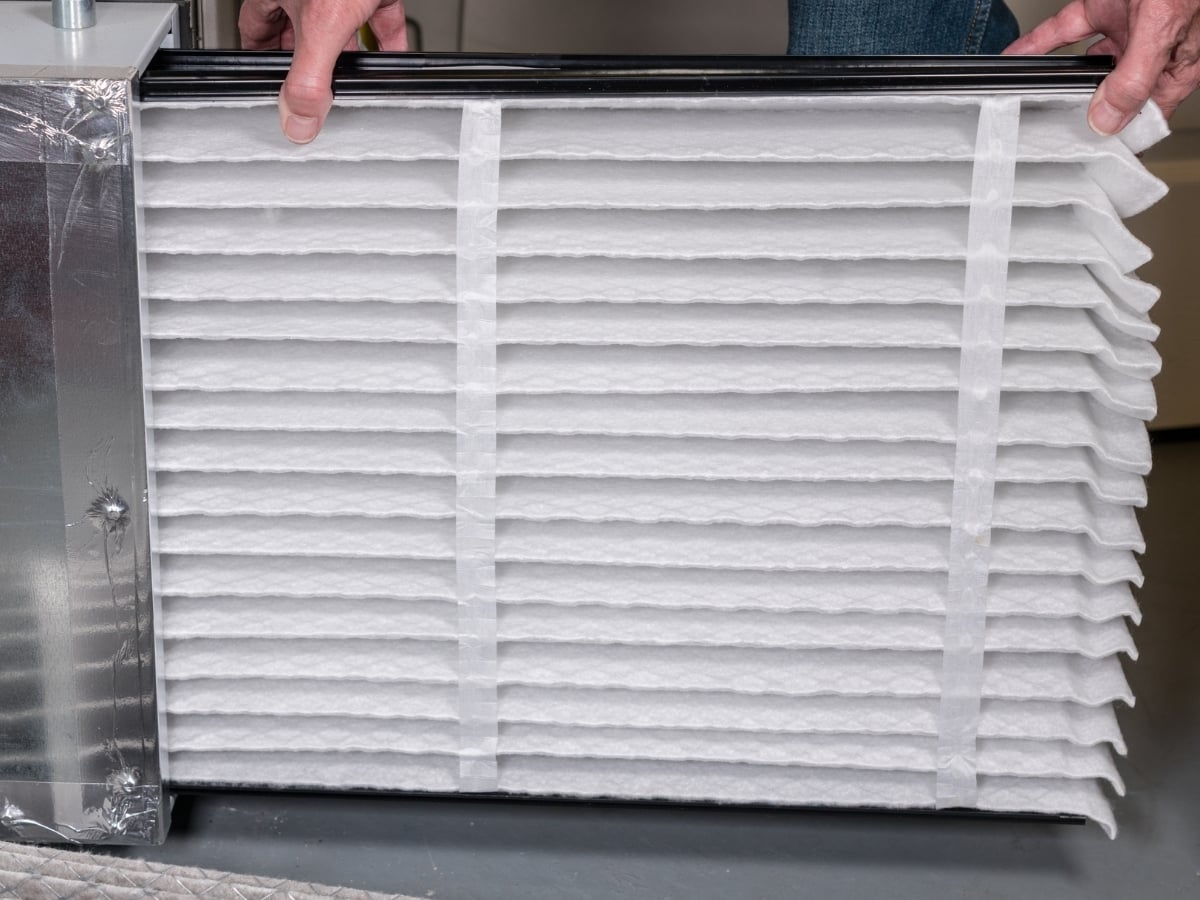 19. Cell Phone
Not room-related but one of the most used items and often less cleaned surfaces is your cell phone! It often harbors more germs than your toilet seat!
1. First, Power down your phone and
2. Next, clean with a Lysol Wipe– front and back.
3. Allow to air dry for 5 minutes
4. Finally, wipe with a microfiber cloth.
This should be a weekly if not a daily task!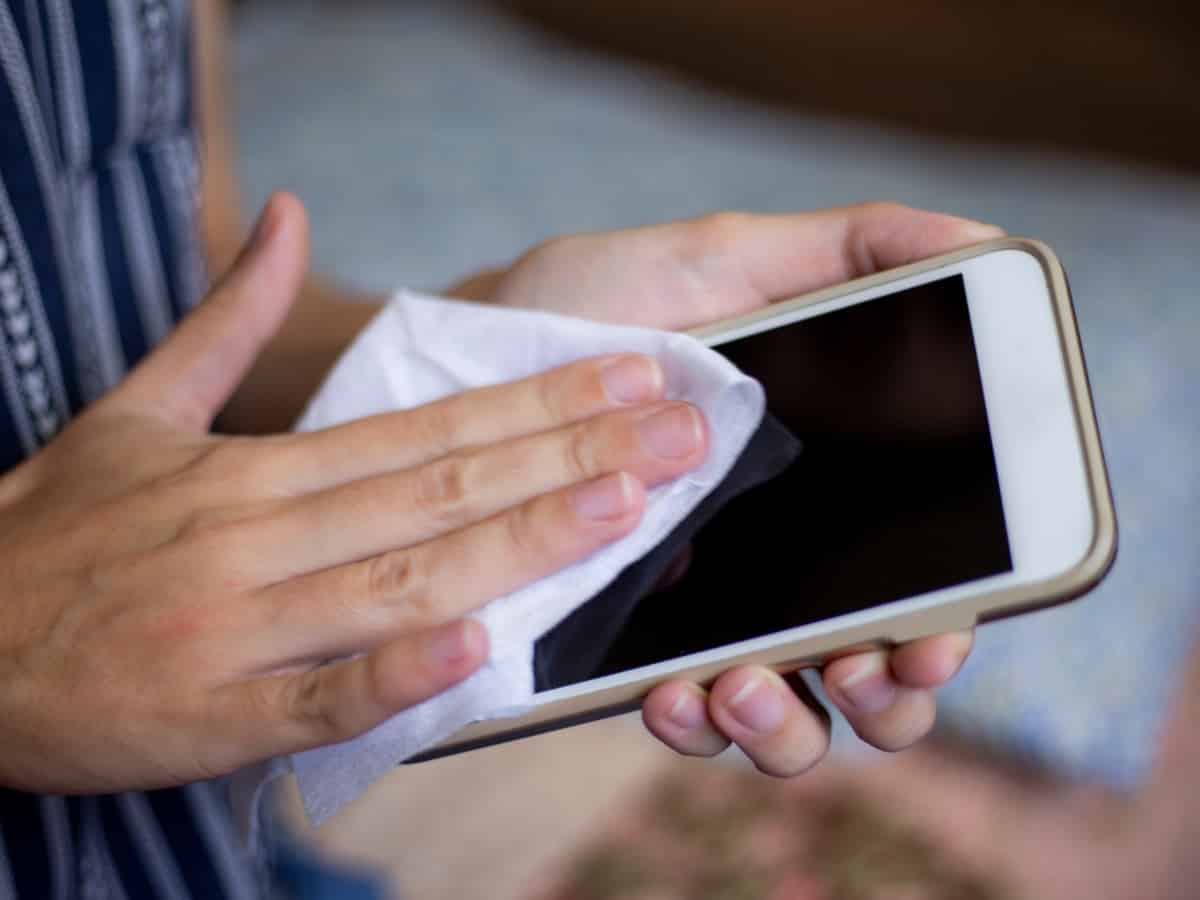 20. Your Vehicle
Your vehicle can always use a deep spring cleaning! Grab a garbage bag and dispose of trash and wrappers. Next, take the bin and place things that are no longer are needed in your vehicle to take back to their designated places in your home. I always have little toy tractors or books for the boys in the backseat. Vacuum and wipe down everything and you're good to go- at least for a few weeks!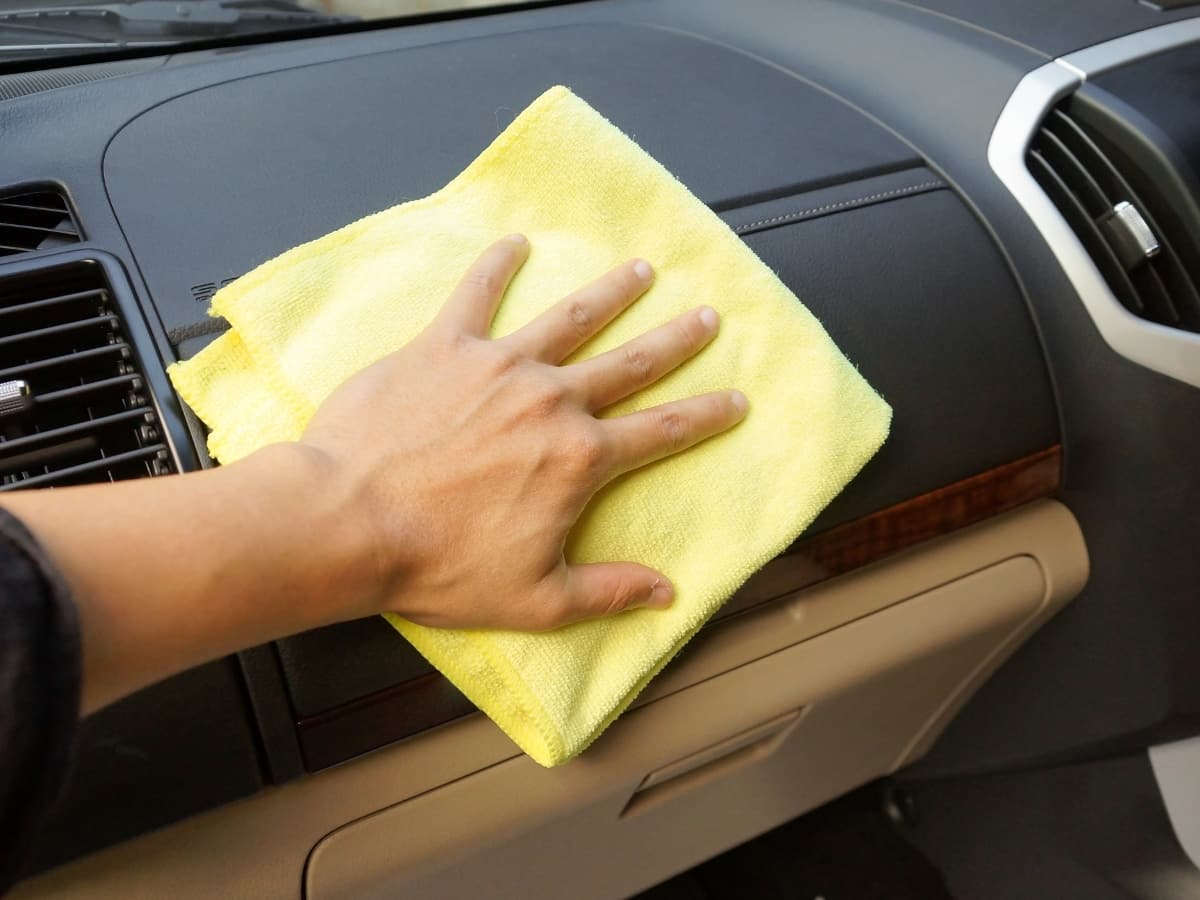 Click Here for your DEEP CLEANING CHECKLIST Free Printable.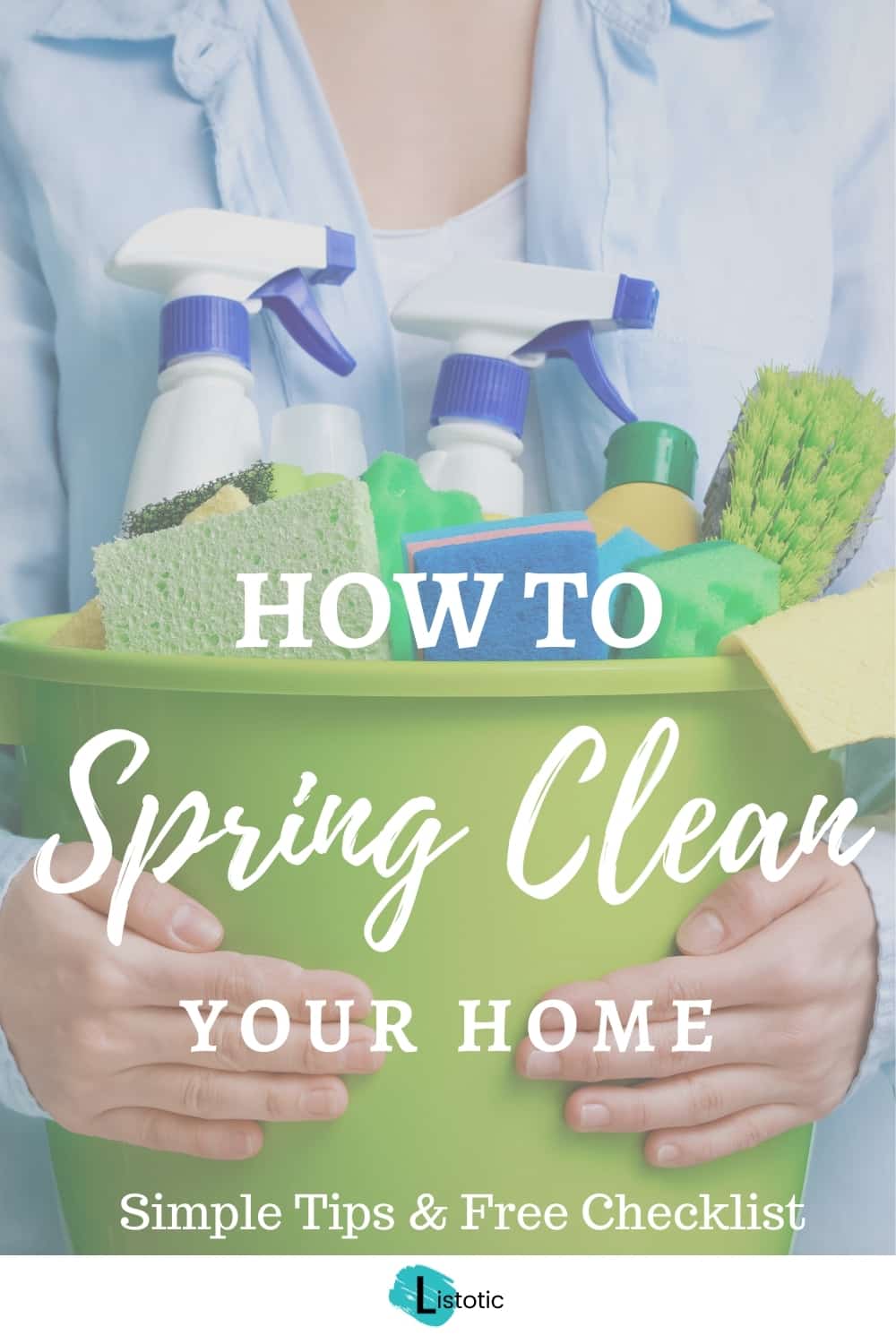 If you liked all these tips and tricks you will really enjoy 60 new uses for everyday items and this list of 55 must-read cleaning tips and tricks! Anything to make cleaning easier and faster – right?