Last Updated on August 19, 2021
It's the one part of the house that my family tends to let go. We definitely need some garage organization ideas. We toss our dirty shoes in there, pile our yard tools on top of each other, randomly stack shelves with odds and ends, and have about a dozen junk drawers. And, if you're anything like me, you don't want to go in there!
It really is hard to get motivated when you're garage looks like a dump. The last thing I want to do is spend 20 minutes looking for the rake. Fortunately, with a few simple storage ideas and clever tips, you can keep your garage clean and organized. I've rounded up a few cheap, easy and downright brilliant garage organization ideas that will make your visit to the garage, well, not so overwhelming.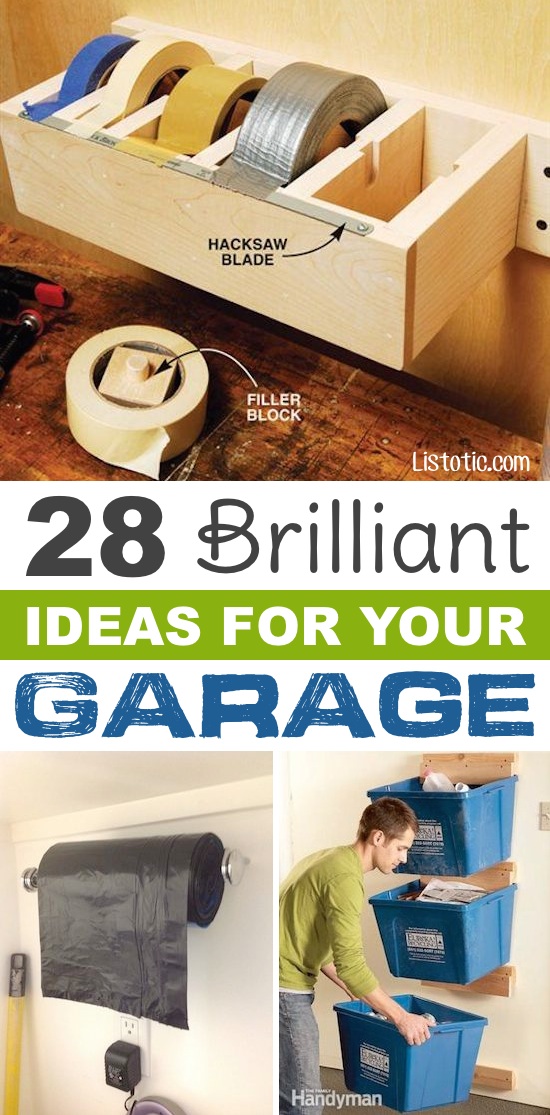 1. Magnetic Tool Holder
This magnetic tool bar reminds me of the magnetic knife holder used in kitchens; why not use one in the garage?! Instead of digging through a drawer, keep all of those tools (drill bits, screws, wrenches, nails, etc.) at an arm's reach. No more digging through a drawer to find what you need!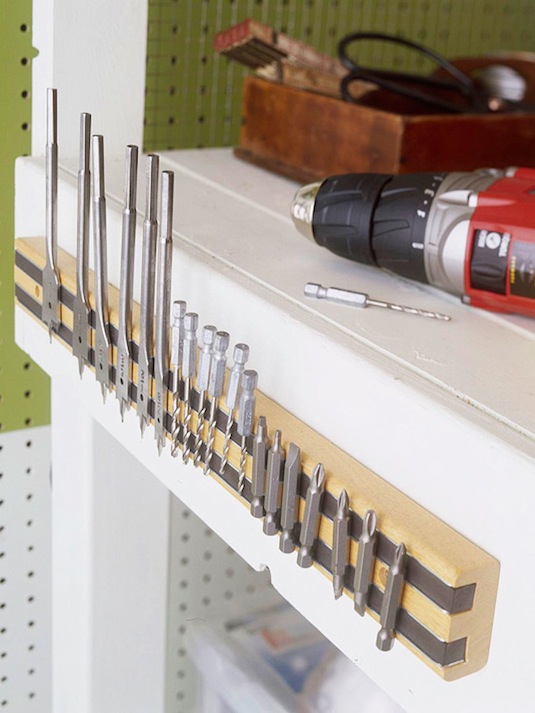 2. Create Recycle Bin Hangers
With just a few pieces of scrap wood you can keep your recycle bins from taking up valuable floor space with inexpensive materials you probably already have laying around in the garage. For example this makes each one easy to access and remove, as opposed to having them stacked on top of each other. Check out the detailed instructions over at Handyman.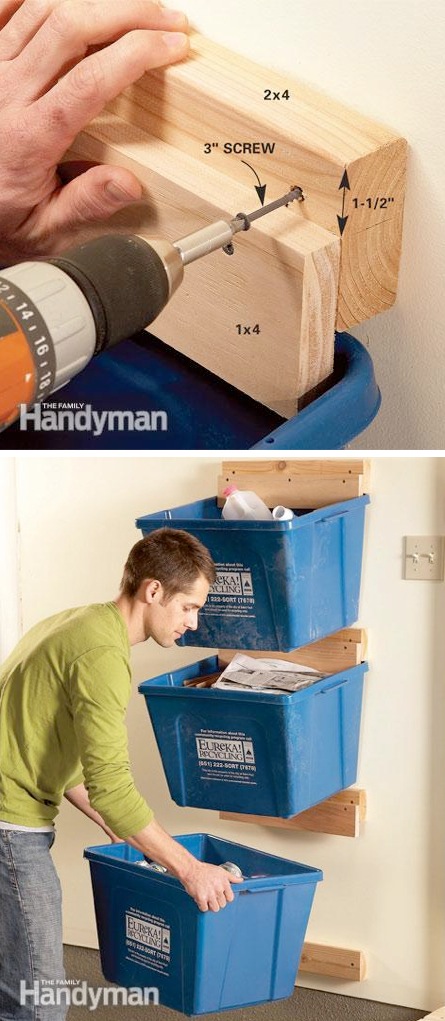 3. Repurposed Paper Towel Holder
This is one of those clever "Why didn't I think of that?" ideas. So simple, too! First, a sturdy kitchen paper towel holder (like this one shown in the picture) for your garbage bags in the garage. Because garbage bags are considerably heavier than paper towels, you'll want to make sure the towel holder is secured well to the wall. You would also need a skinny rod to ensure that it will fit through the small opening in the center of the garbage bags.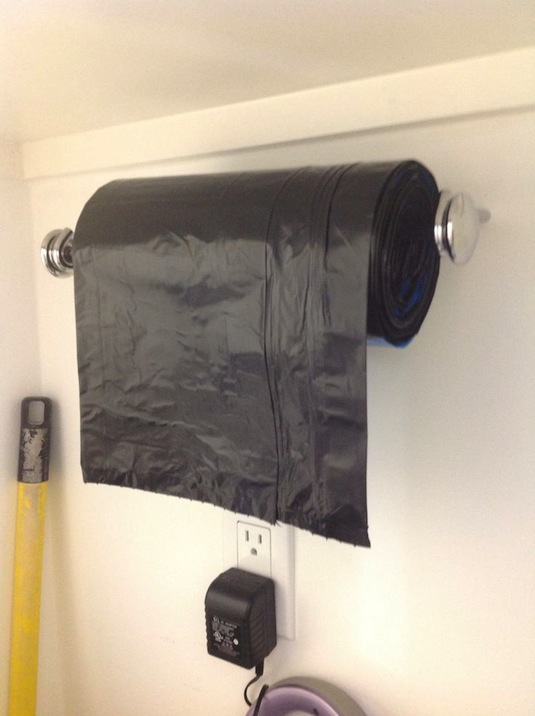 4. Tin Can Wall Storage
Use recycled cans to store small items. On one of the Cassie drilled a hole (and decorated it with a little bit of washi tape) to easily hang with a hook on her peg board. Start saving those tin cans!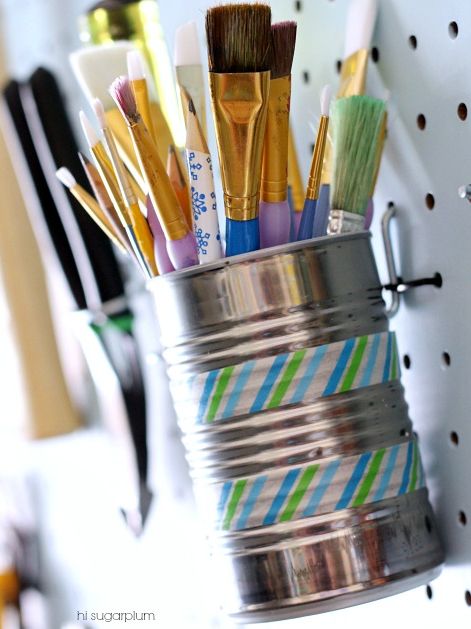 5. Easy Chair Storage
Make brackets out of scrap wood to hang your lawn chairs on, and keep them out of the way! This would work for so many other things, too! Who knew the unfinished walls in the garage could come in so handy? Go check out the details for this garage project here.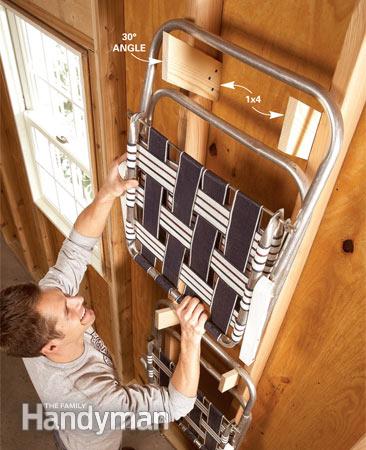 6. Screw Organizing
Start saving those jars! You can screw the lids to the bottom of a shelf in your garage, and then use them to store nails, screws, bolts and other small parts. This ensures that your jars are always in their place, and also not taking up counter space.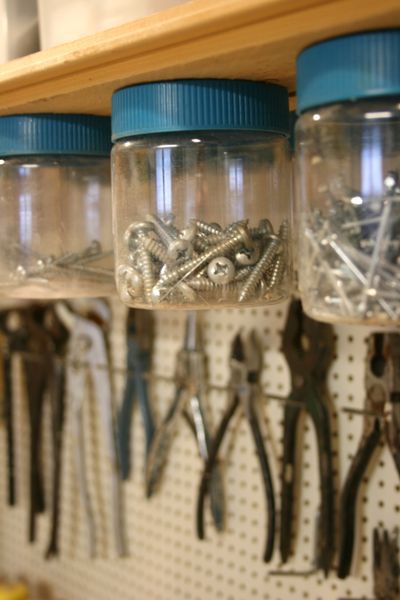 7. Bungee Cord Ball Storage
Use bungee cords to easily store sports balls! Another idea: nail slats to the studs in your wall to create pockets for storing other sports or lawn equipment (baseball bats, oars, brooms, rakes, etc). Read more about it here.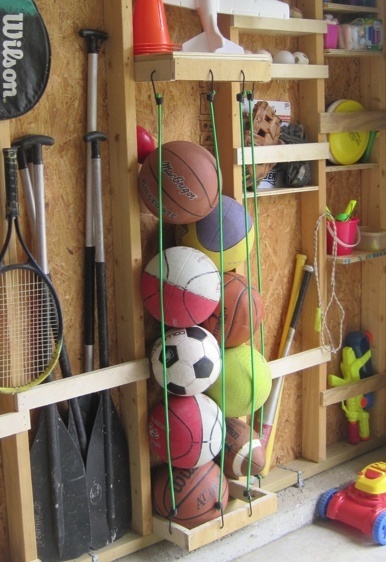 8. DIY Jumbo Tape Dispenser
If there is anything that I have a hard time finding, it's tape. The roll that I need is usually buried in one of my many junk drawers. Specifically if you've got some basic woodworking skills and tools, you might also like this DIY jumbo tape dispenser, especially for the garage or work shop!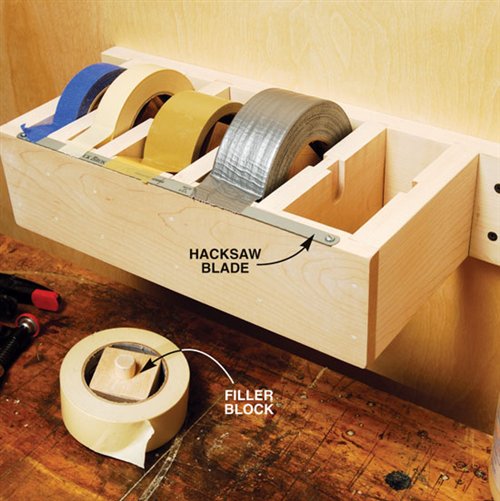 9. Lattice Rack
Use plastic lattice to store those leftover pieces of pipe and trim. This easy project only requires scrap lattice and screws– go check out the details and instructions here.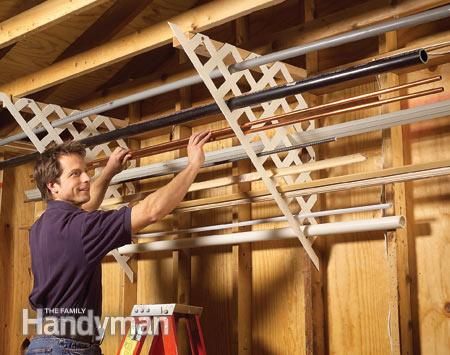 10. Suspended Shelving
No matter how big your garage, it just seems like there is never enough space! This is where using the air space above your vehicles comes in handy for holiday decorations, sports equipment, or other seasonal items that only need to be used once or twice a year. Check out the full instructions and details for this DIY suspended shelving project here.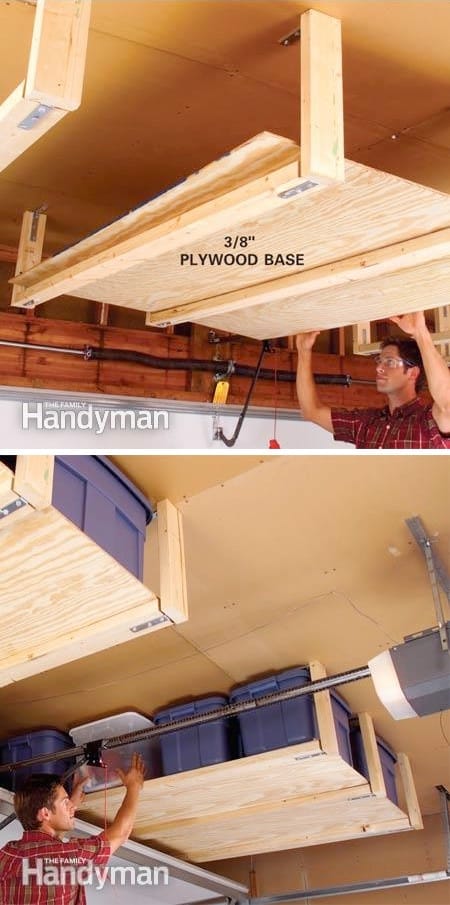 Check out the rest of the garage organization ideas
11. Mudroom IN The Garage
Don't have the space for a mudroom? How about the garage!? For example dedicate a small space next to the entryway to hang coats, backpacks, umbrellas, and hats. While you're at it, put in a little bench with basket storage or a shoe cubby, and you're set!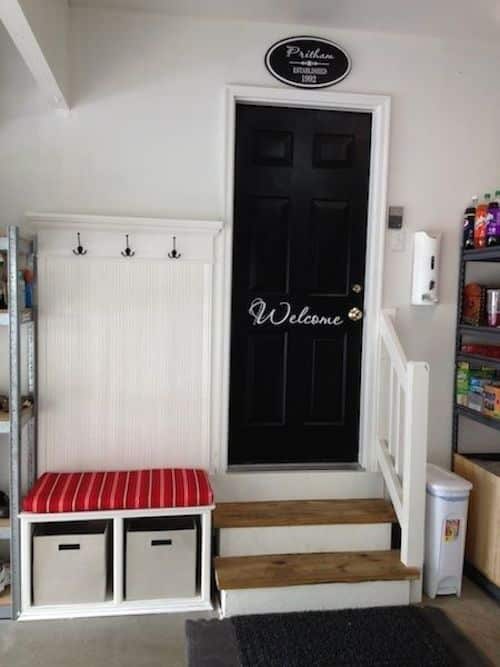 12. DIY Screwdriver Rack
Because who doesn't love to be organized!? It's always nice to know exactly where your tools are, and this easy and cheap project will help you do just that. For example you could even use pieces of scrap wood! First start by drilling a few holes and cut brackets for mounting, and you're done. Go check out the details and instructions over at Fresh Crush.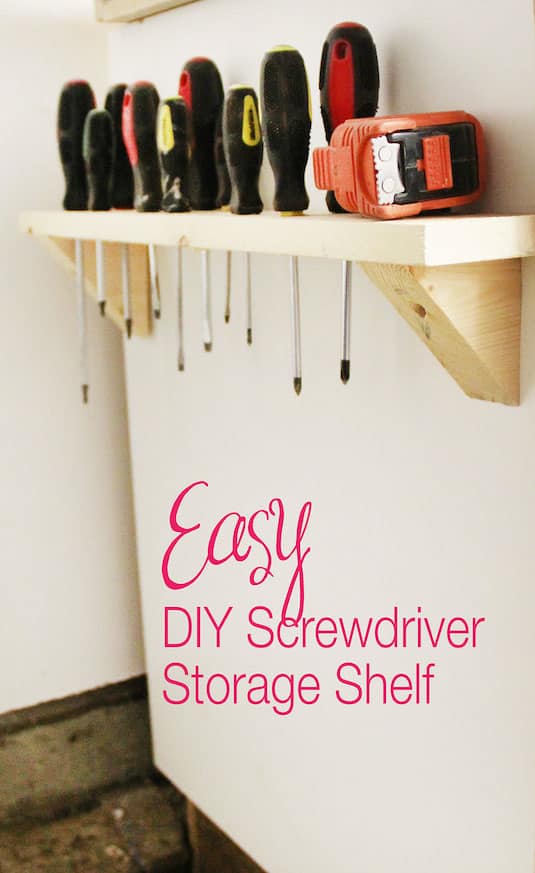 13. Peg Board Slides
Running out of wall space? First use peg board slides to store your tools vertically under the counter. Next make small slits in a piece of trim that lines the top and bottom to keep them in place and sliding smoothly.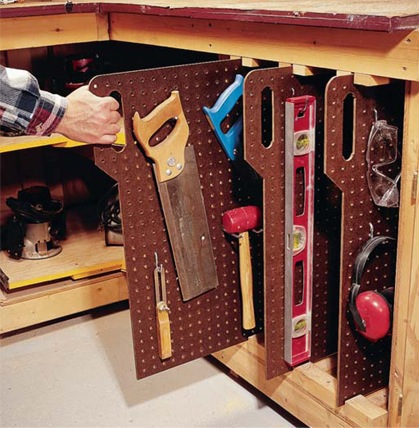 14. PVC Organizers
Keep those yard tools organized and out of the way with PVC pipes! You're going to need a good saw and drill to make this happen, but it's an inexpensive way to keep your lawn and gardening tools out of the way yet still easy to access. Get the details over at Ashbee Design.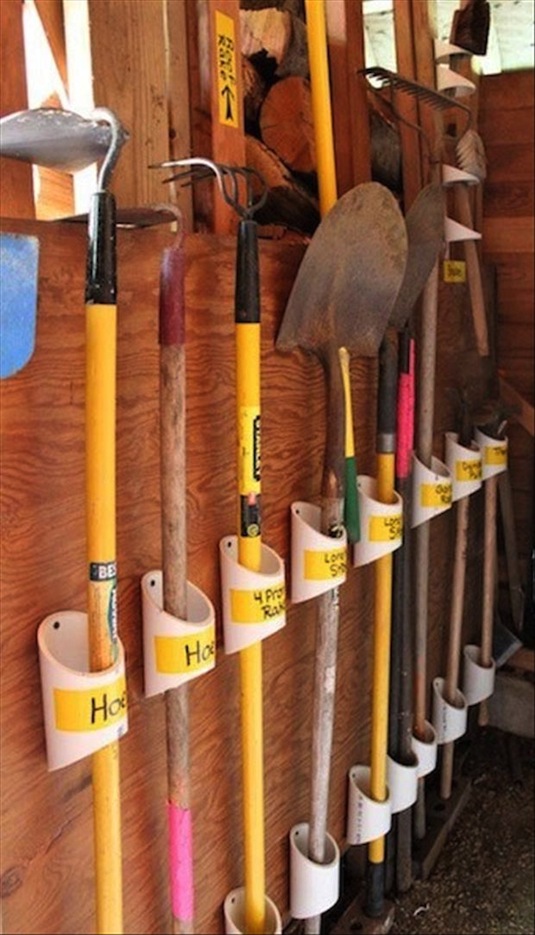 15. Upright Tool Storage
Connect large pieces of PVC pipe with screws and use it to hold all of those bulky yard tools. It's the easiest and cheapest tool slot you'll ever make! Go check out the details over at Pretty Handy Girl.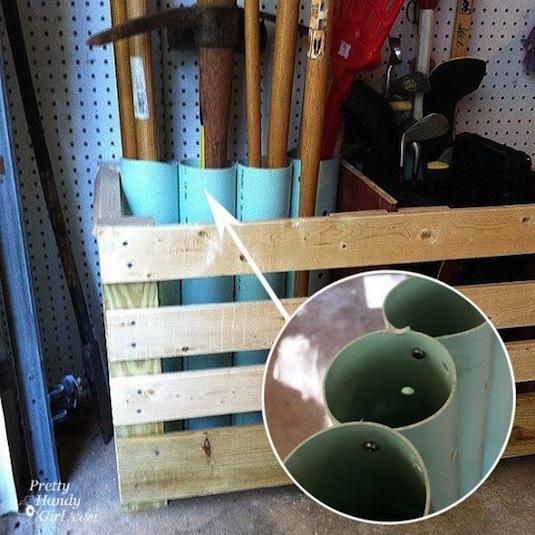 16. Sliding Lock Wheelbarrow Storage
I prefer to keep my wheelbarrow in my shed, but if you don't have the space, use sliding locks to keep your wheelbarrow standing up against the wall and out of the way in your garage. When you're ready to use it, simply slide the locks up for easy removal.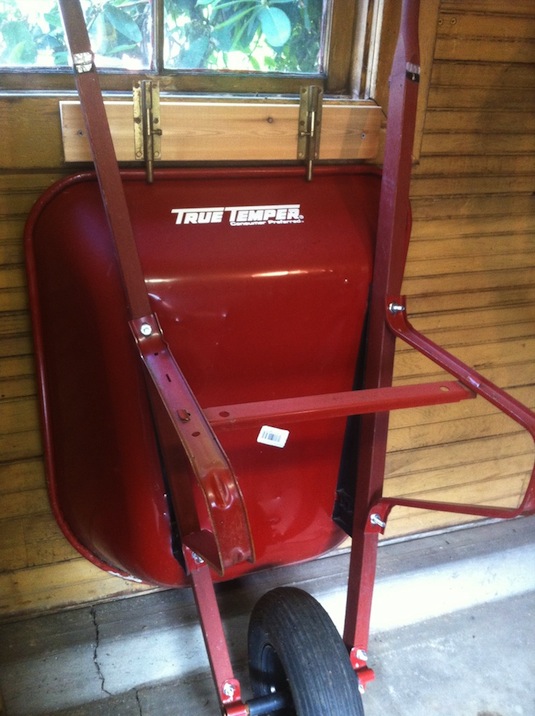 Check out the rest of the garage organization ideas
17. Paint Swatch Hook
Label your paint swatches for every room in the house and keep them together on a key ring hung on a hook for quick reference. Wish I would have thought of this years ago! Matching paint is not easy.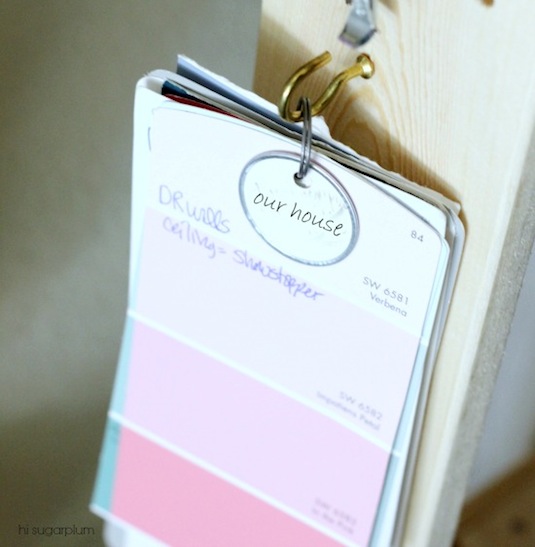 18. Sliding Storage System
Make the most out of your garage space with an overhead storage system made out of standard materials. This would be perfect for Holiday items that are only pulled out once a year! Go check out the details and instructions here.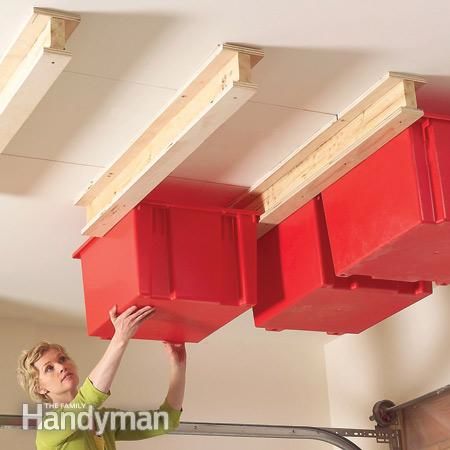 20. Separate Garden Station
It makes sense to have separate zones in the garage, but I especially like this idea for the garden. Mostly because I'm the only one working in the garden (most of the time), while the power tools are my husband's department. It would be nice to have your own organized space!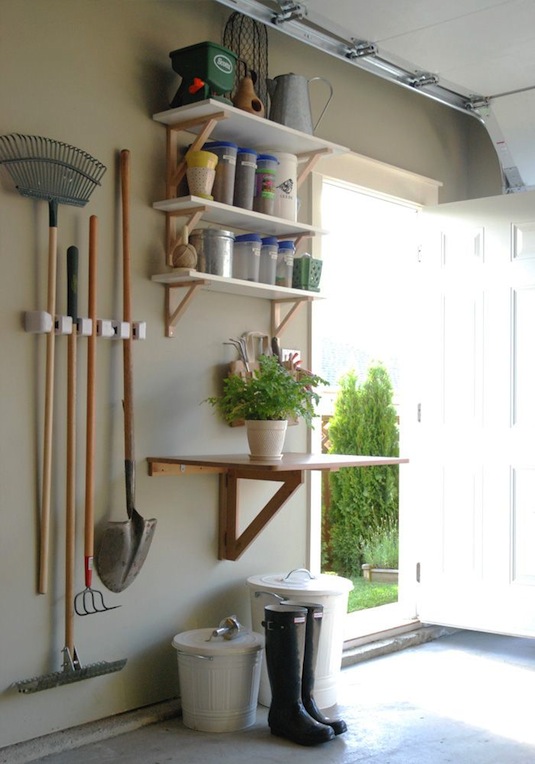 21. Storage Corral
Use scrap wood to create an upright storage corral, and create separate compartments with plywood slats. This takes up a lot less space than having all of those tools and sports equipment hung on the wall. Get more details about this project here.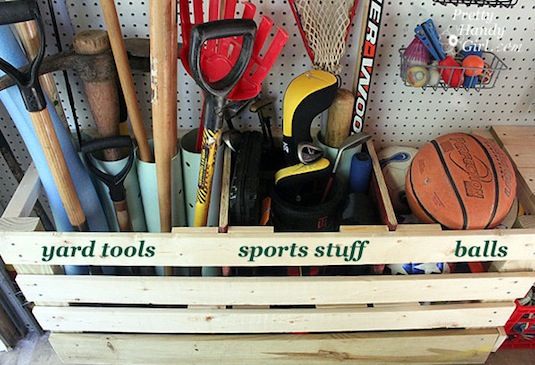 22. DIY Wooden Shovel Rack
Up, up and out of the way! A wooden shovel rack is strong and sturdy for those heavier yard tools. With this design you can fit several yard tools in one slot. Go check out the instructions over at Family Handyman.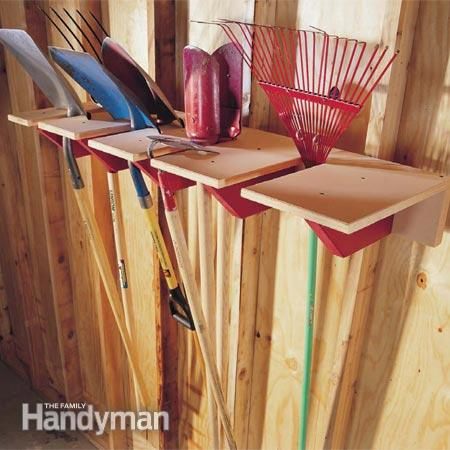 23. Repurposed Hanging Shoe Rack
I used to have one of these attached to the back of my closet door for storing shoes, but the little compartments are so perfect for the garage! You could use it to store your garden/dirty shoes, cords, and other miscellaneous items that tend to get lost in the clutter.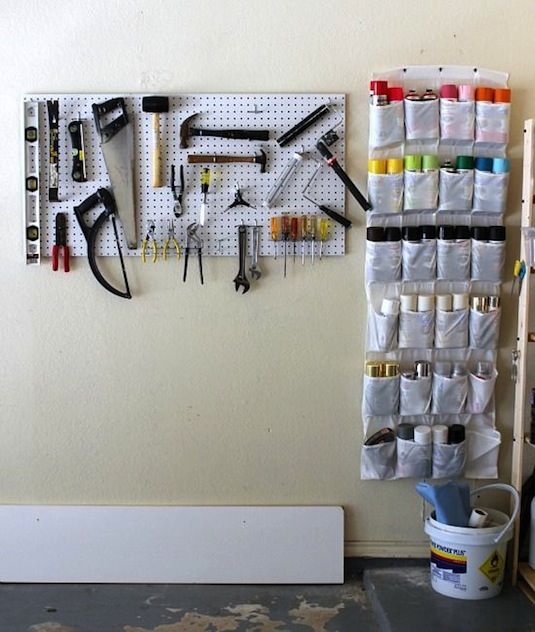 Check out the rest of the garage organization ideas
24. Metal Planter Storage
Get creative with your storage containers! Certainly these metal planters are perfect for hanging and storing cleaning supplies. You could also use them on shelves as easy pull-outs. Things don't always have to be used for their intended purpose! After label them with stencils or stickers to make finding things a little easier. I think it might be time for a trip to the dollar store.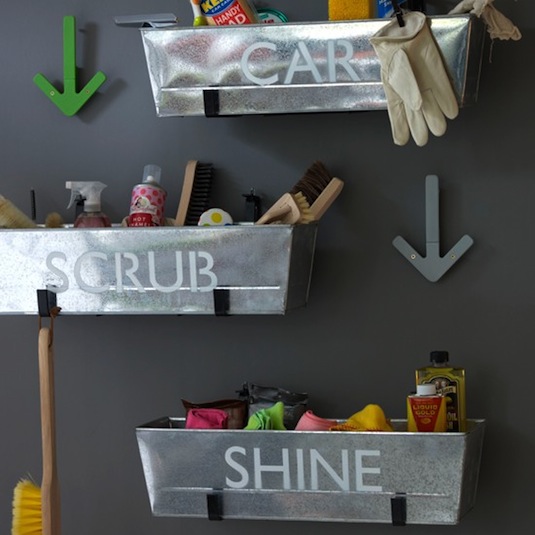 25. Out-Of-The-Way Ladder Storage
Unless you use your ladder on a daily basis, you can build two identical ceiling brackets to rest your ladder on and keep it out of your way until needed. Also, you can check out the instructions for this project here.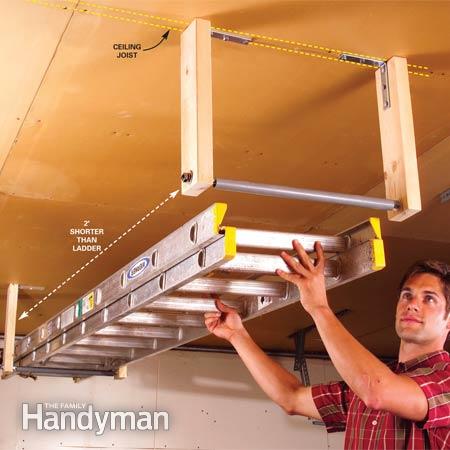 26. Repurposed Kitchen Jars
Just another example of a kitchen item that can also be utilized in the garage! I use these in the kitchen to store nuts and coffee, but they're ideal for any small items that tend to get lost in the chaos of the garage.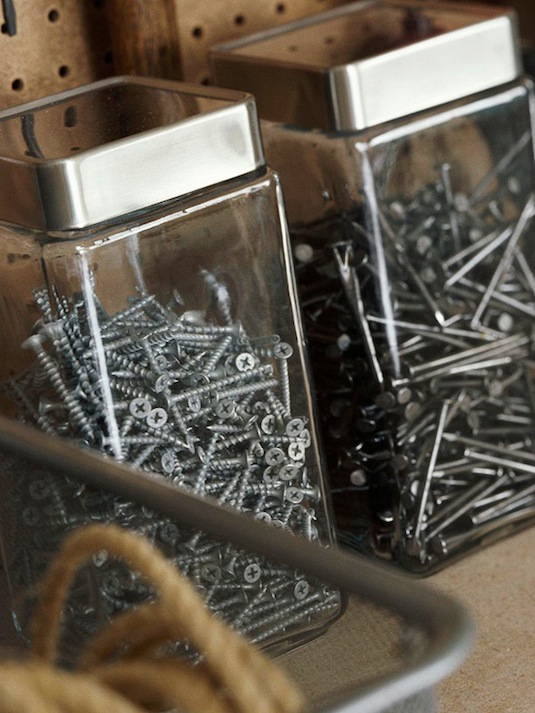 27. Plastic Tube Cord Storage
Cords are the biggest hassle to keep organized and untangled! A simple solution: first hang cords and hoses on plastic pipes to keep them tangle-free and easy to access.In particular one project I'm sure my husband will just love! Get the instructions for this project over at Family Handyman.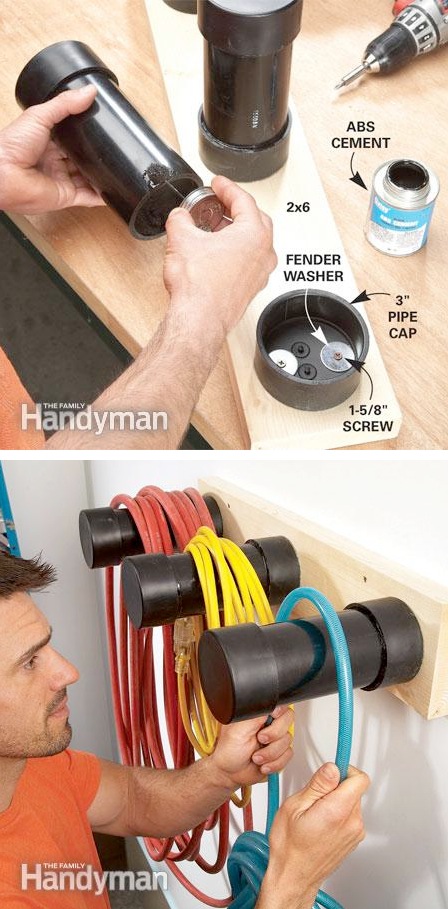 28. Space Savers
There are so many clever storage items and space savers these days, it's worth investing in a few that will help you stay happily organized. Amazon has a huge selection of clever organizers for your garage, or any part of your home!