Last Updated on June 19, 2021
Cleaning Tips That Make a Difference
Clearly, somewhere along the way, I missed out on some key cleaning tips! I've been cleaning for as long as I can remember, but apparently, I've been doing a lot of things wrong! Or, the hard way, I should say. And it's not always necessary to buy the expensive bottled stuff to get your home clean, not when things like baking soda, peroxide and vinegar actually do a better job. Although, I can't seem to break my habit of the Mr. Clean Gain scented cleaner. Who can resist the smell of fresh laundry in every room?
Spring is right around the corner, and I figure it's as good of a time as any to get started with the annual deep cleaning. Things like my lent traps, ceiling fans, and other places in the home that get forgotten about. I like to break it up so I don't get overwhelmed – tackle just a few things a week. I've compiled a list of household cleaning tips and tricks from around the web that I really found useful! Some of these are just plain genius.

1. Sanitizing Sponges
I kind of get grossed out by sponges. Do you? I just feel like they are perfect for harboring millions of germs. I do like the sponges with the rough side for scrubbing out hard-to-clean pots and pans, but end up throwing them out before their life cycle is over. What a waste! Instead, put them in the microwave for a couple of minutes and watch as the microbes sizzle away.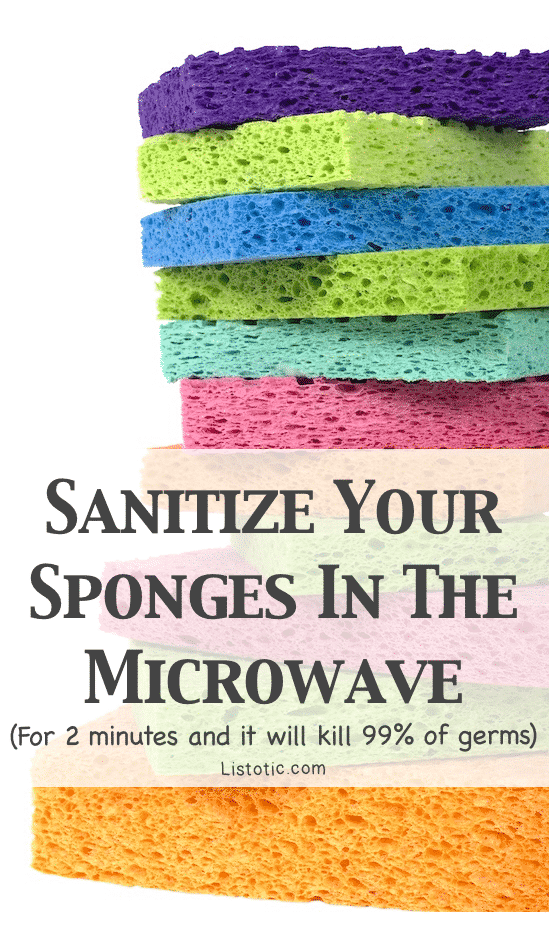 2. Kitchen Cabinet Gunk Remover
Have you taken a close look at your cabinet doors lately, especially around the handles? You'd be surprised at how much gunk can accumulate over time. To be honest, I'm not sure that I've ever given my cabinet doors a good scrub. Yikes! This cabinet cleaner only requires 2 ingredients, and you probably already have them right in the cabinet that needs to be cleaned.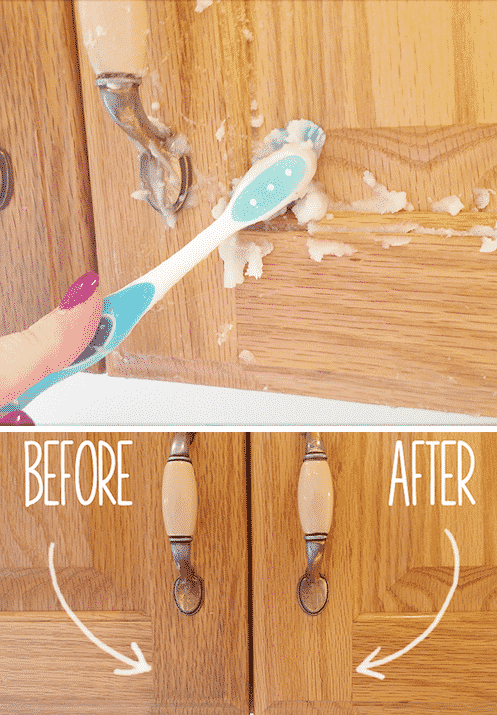 3. Clean Small Toys In A Laundry Bag
I've never thought to wash anything in my washing machine other than clothes, but I suppose a laundry bag can make it possible to clean so much more, including small lego pieces! You could also use this concept in the dishwasher.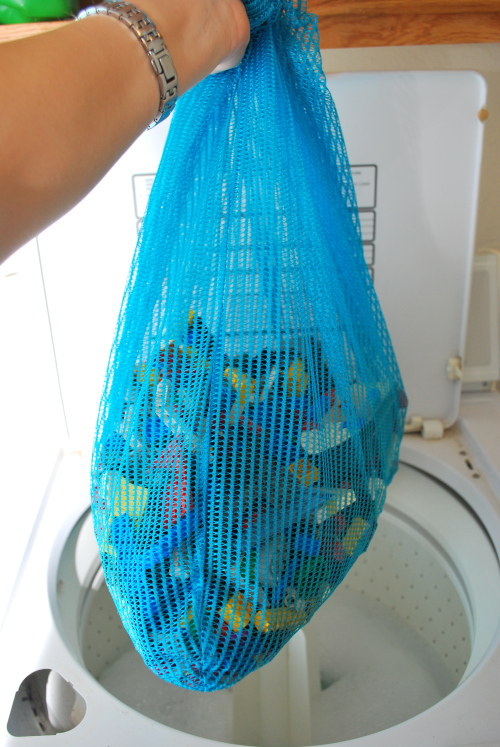 4. Cookie Sheet Miracle Cleaner
I actually have a few cookie sheets that look just like that – gross! They seem to rust and get grimy really fast. I just cover them with foil before doing any actual baking. Time for a cleaning? I think so. Not only does this cookie sheet miracle cleaner only require two ingredients, but there's also no scrubbing required! Just let it sit and do its job while you tackle other things.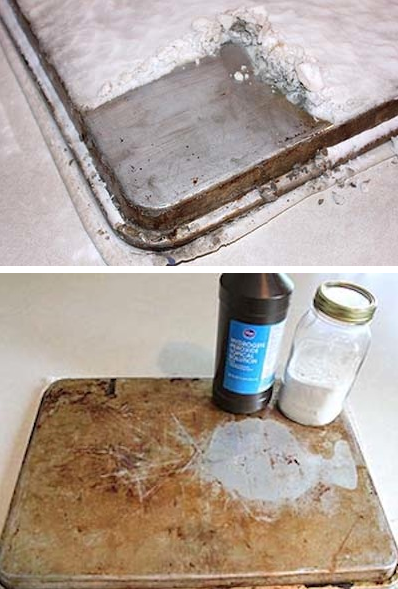 5. Clean Fan Blades With A Pillow Case
If you're anything like me, you have about a dozen extra pillow cases laying around in a spare closet. Wait, is that just me? Use one to slide onto the blades of your ceiling fans, and then wipe the blades off inside the case. No more dust in your face! So quick and easy, too.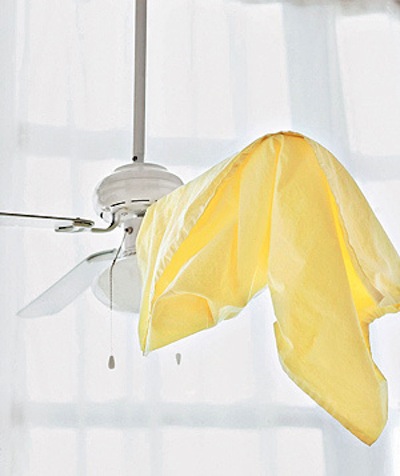 6. Cleaning Between Oven Glass
Bet you didn't know you could go there, did ya? I didn't! That double pane window on your oven somehow manages to collect grime over time, and it would seem impossible to even attempt to clean it, but it's easier than you might think! Especially if you already happen to have a wire hanger, Windex wipes, and a few rubber bands handy.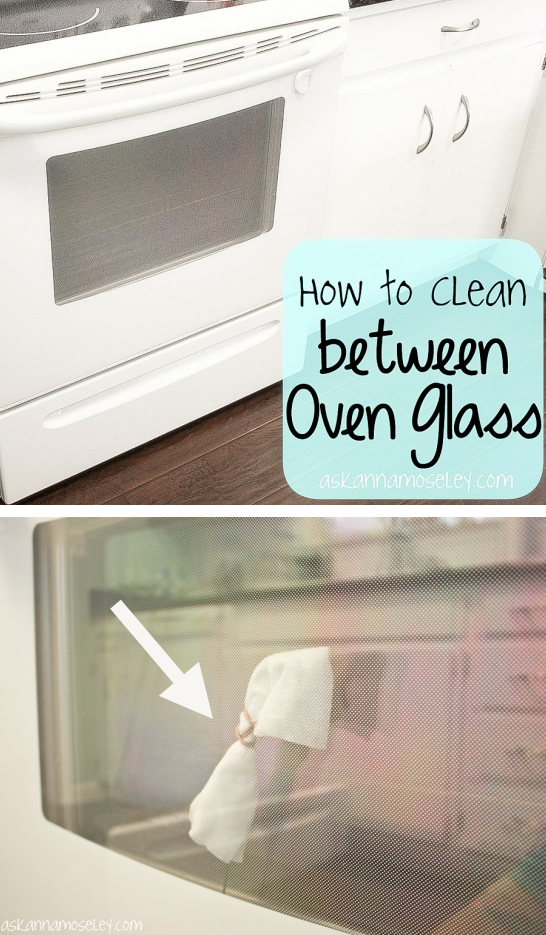 7. Removing Labels In A Flash
Why must ceramic manufacturers use the stickiest labels they can possibly find? WHY? I recently encountered this problem after I replaced all of my old dinnerware, and then spent 30 minutes trying (trying!) to remove the labels. Next time, I'll remove them the easy way with Oxi-Clean! Wish I had know this years ago.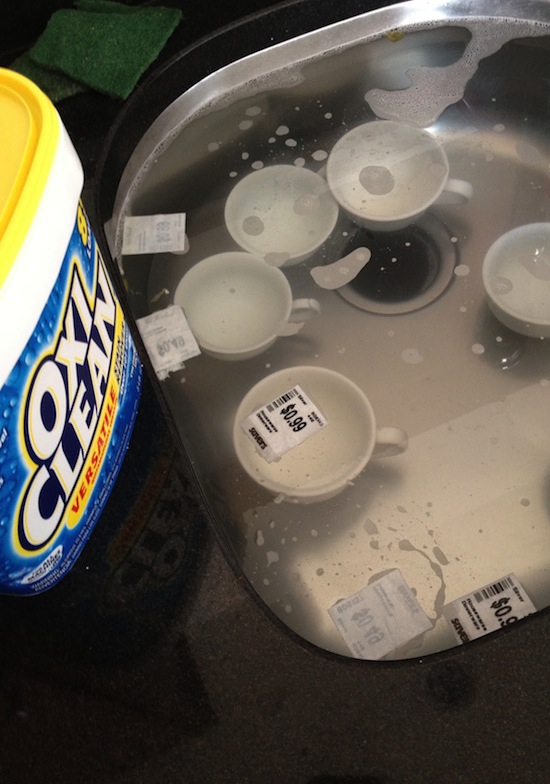 8. Use Salt To Clean Your Iron
Salt? Yep! Pour salt on your ironing board (Perhaps cover with a pillow case or something to make clean up easier), and then iron the salt with the steam option off. The dirt on your iron will stick to the salt, making for an easy clean! Get the full instructions here.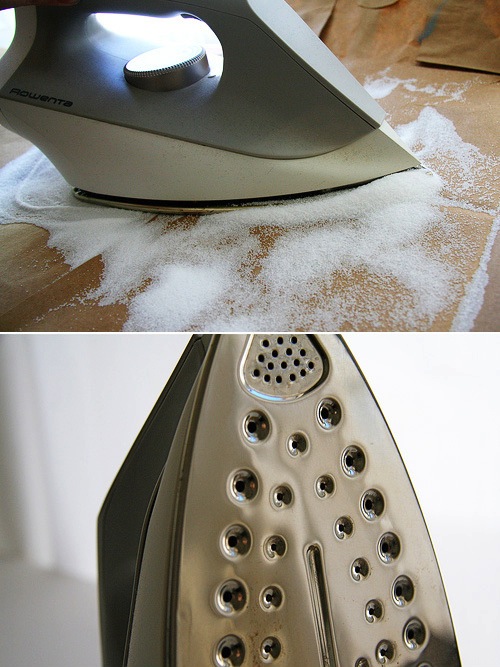 9. Squeegee Hair Picker Upper
A new use for an old item! Turns out your squeegee has a brilliant use other than getting your windows squeaky clean. Use one as a quick and easy way to wipe pet hair off of your carpets and rugs.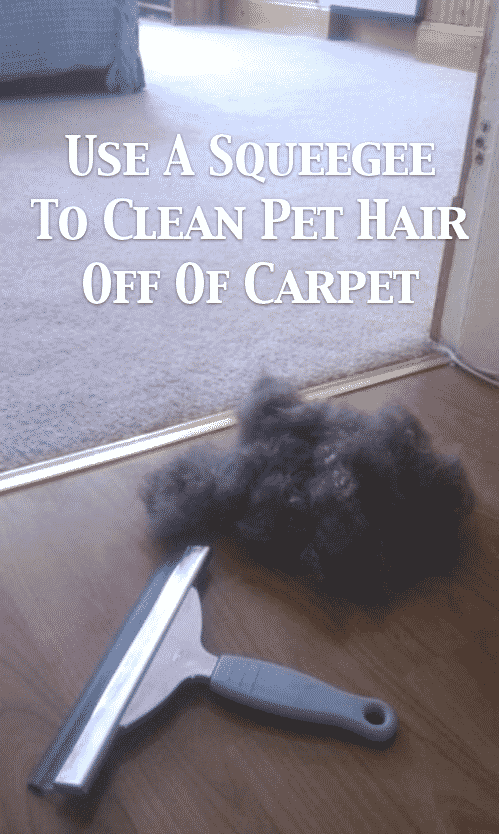 10. Rubber Gloves To Remove Pet Hair
Dampen one of your rubber gloves a little, and then use it to remove pet hair from furniture. The damp rubber material is like a magnet to hair!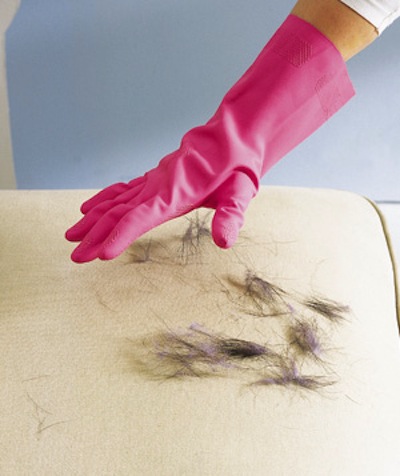 11. Shopvac Cleaning Tip
Who needs all of those fancy attachments when you have a squeeze bottle top? This would be handy getting all of those little nooks in the car, too.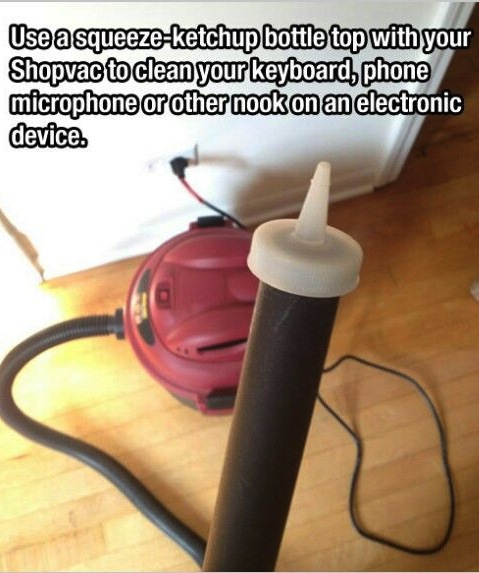 12. Cleaning Your Pillows
Did you know that all of that yellowing that happens over time to your pillows is from sweat? I didn't realize we sweat so much while sleeping. Yuck! Let me be perfectly honest here (don't judge me), I've never washed a pillow before. I just replace them after a year or so. I guess I just assumed you couldn't put them in the washing machine. Well, I was wrong. You can also make your own Miracle Laundry Whitening Solution. Time for me to hit the laundry room so I can rest in peace tonight.

13. Garbage Disposal Cleaning Trick
You might already know that ice sharpens the blades in your garbage disposal, and that throwing a lemon in there freshens and cleans it up. Why not combine the cleaning solution with the blade sharpener? Genius! Just a couple of ingredients and an ice cube tray, and you're set.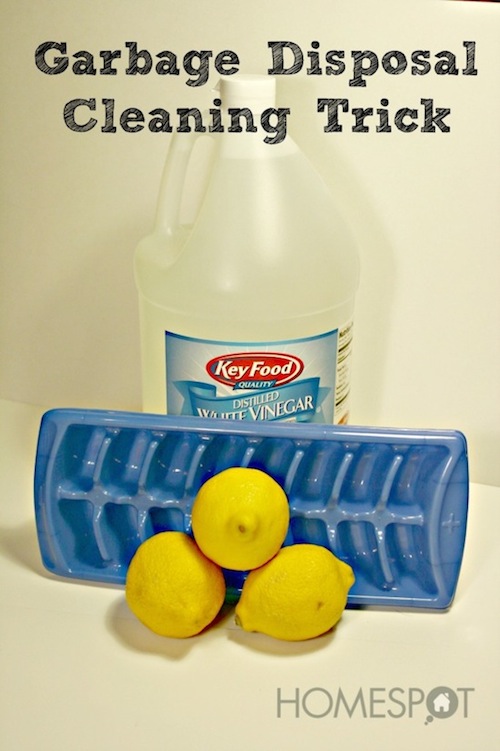 14. Removing Hard Water
I think most of us have a problem with hard water, even if just a little bit. It seems almost impossible to get off, too! I have bought those smelly abrasive cleaning products that promise to get rid of it, but even that doesn't help entirely. You'd be surprised at the one ingredient that will eat it away, and you probably already have a bottle of it in your kitchen.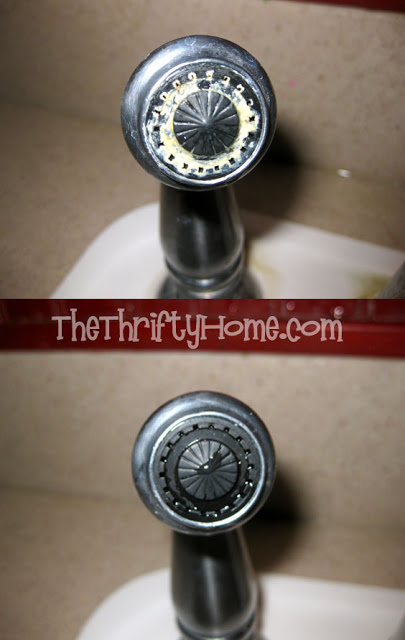 15. Cleaning Your Air Conditioner
What? Clean my air conditioner? I would never think to do this, but it could help the unit cool your house a little better. It is outside after all, collecting dust, dirt, and other debris throughout the year. All of these things hinder its ability to work at full capacity. Get the full instructions here.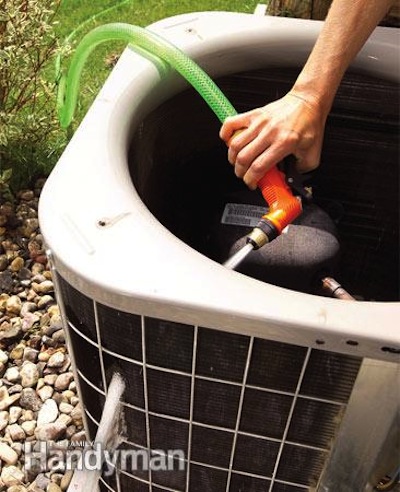 16. Homemade Grout Cleaner
Just two ingredients to make your grout lines look brand new! If it can clean that, I'm sure it could clean just about anything. It's probably a good idea to do this a couple of times a year to prevent the build up from happening in the first place.
Plus, check out this Grout Maintenance and Cleaning Guide that includes comprehensive information about grout cleaning.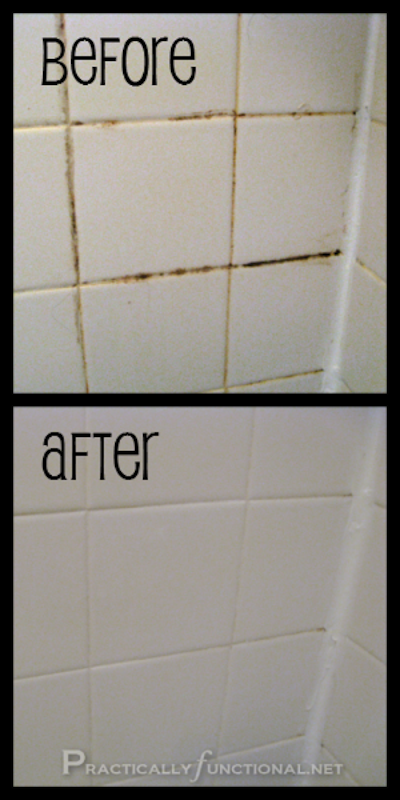 17. Getting Rid Of Mildew Stink
It's the worst! It's even worse when you go over to someone else's house, and reluctantly dry off with one of their stinky mildew towels. In fact, there is a particular hair salon that I've been to that is famous for their mildew towels. I don't know how this happens unless they're leaving their towels in the washing machine for days before switching them, but I think they should read this tip! It's so easy and just requires one ingredient.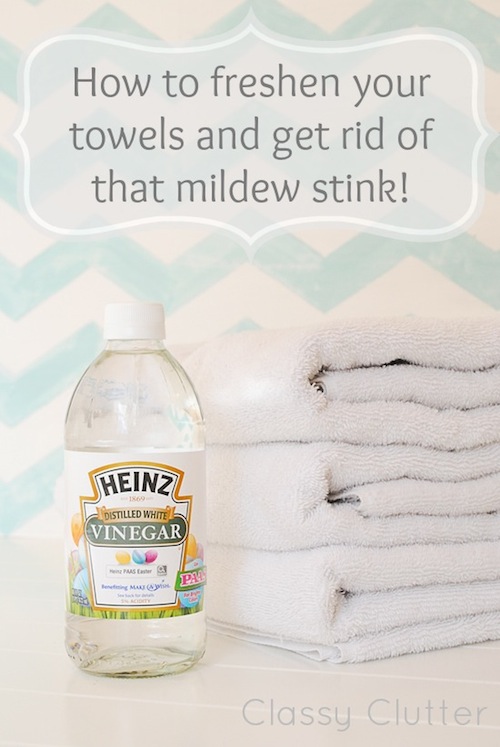 18. DIY Hydrogen Peroxide Spray Bottle
Turn your hydrogen peroxide into a spray bottle! Just replace the bottle cap with a spray bottle head. This stuff is good for cleaning all sorts of things like windows, tubs, and toilets.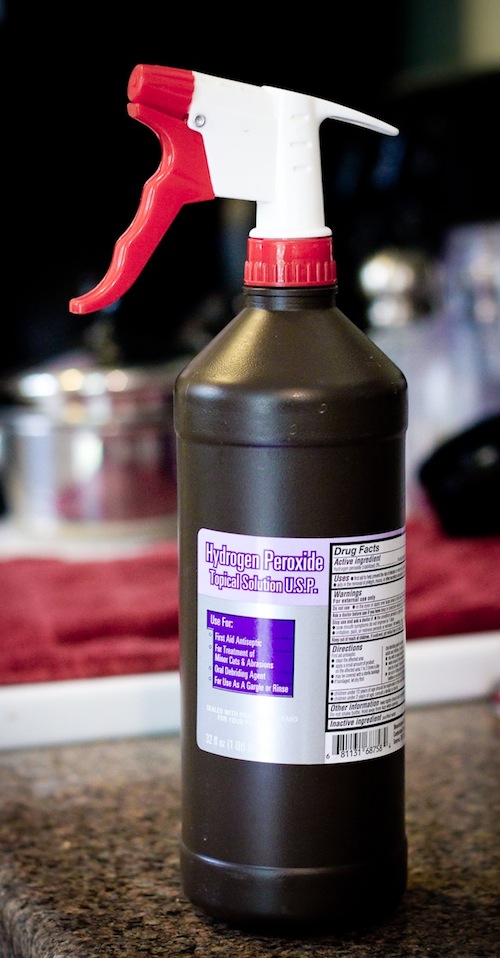 19. The Easy Way To Clean Your Burners
Stove burners are the worst for stuck on grease, drips, spills, and food particles. The heat bonds them to it, making it a not-so-easy task to remove. But, I certainly don't like scrubbing! Here is the easiest way to tackle those burners without using those arm muscles.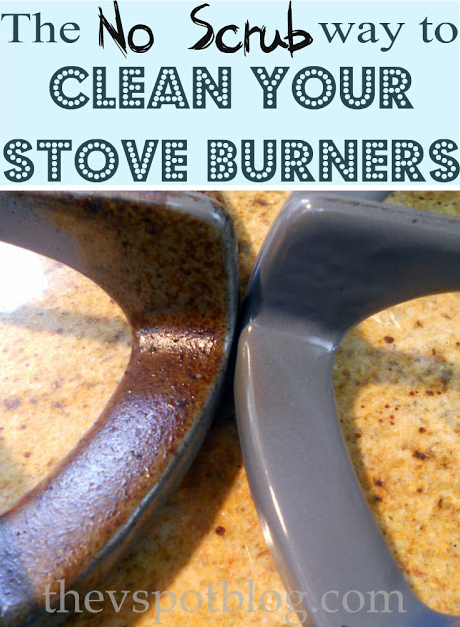 20. Fix Scratches On Wood
The easy way! I don't know how these 2 ingredients make for such a magical solution, but it seems to work really well! And I'm thrilled that I already have them conveniently stocked in my kitchen. Simply mix together 3/4 part oil (olive oil or vegetable oil) with 1/4 part white vinegar. The ratio doesn't have to be exact! Just eyeball it. Then, use a soft cloth or rag and rub the mixture into any imperfections or scratches on your wood furniture or cabinets. That's it! I can't believe the transformation on this one. I used this trick on my piano bench and kitchen cabinets– worked like a charm! They look brand new.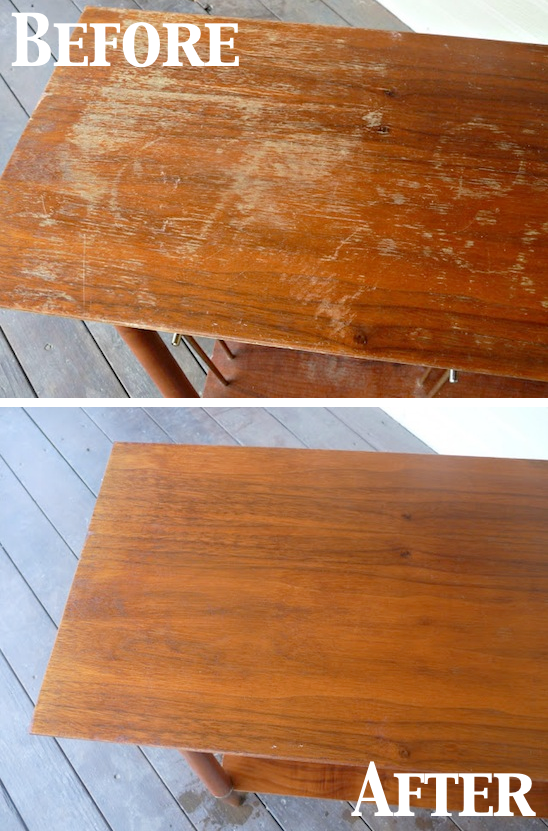 21. Cleaning Oil Stains On Your Driveway
This has always been my husband's department (I'm pretty sure I've seen him dumping cat litter on the driveway). I guess he didn't know about Pour-N-Restore, the oil stain remover that starts out as a liquid and dries into a powder! This way it's easy to apply, and then once it's dry you can just sweep it up. Very cool.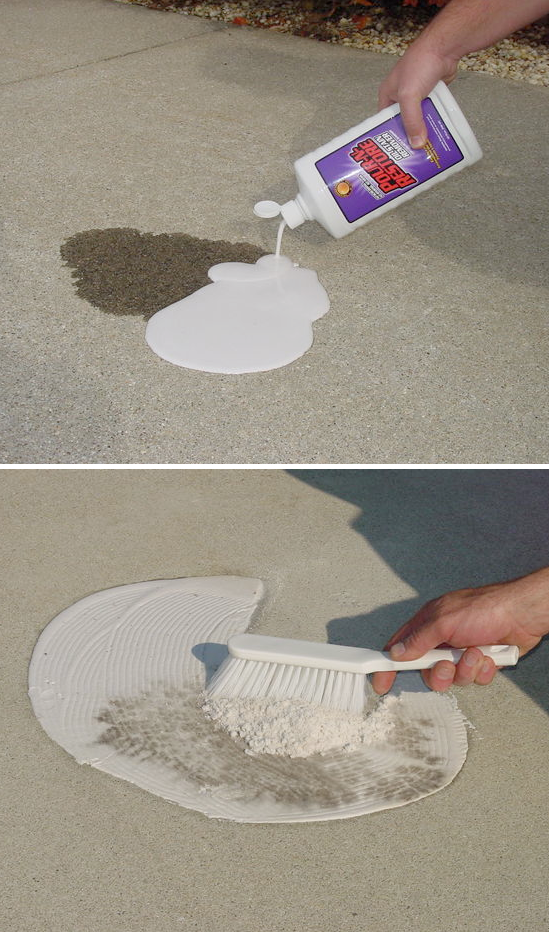 22. Removing White Marks On Furniture
How and why does this happen? Apparently, it's steam from hot dishes that gets trapped under the finish. It happens to my dining room table when a hot paper plate is placed on it. The marks tend to fade over time, but they last for quite a while. But, there is a way to get rid of them fast! You'd be surprised at how easy the technique is.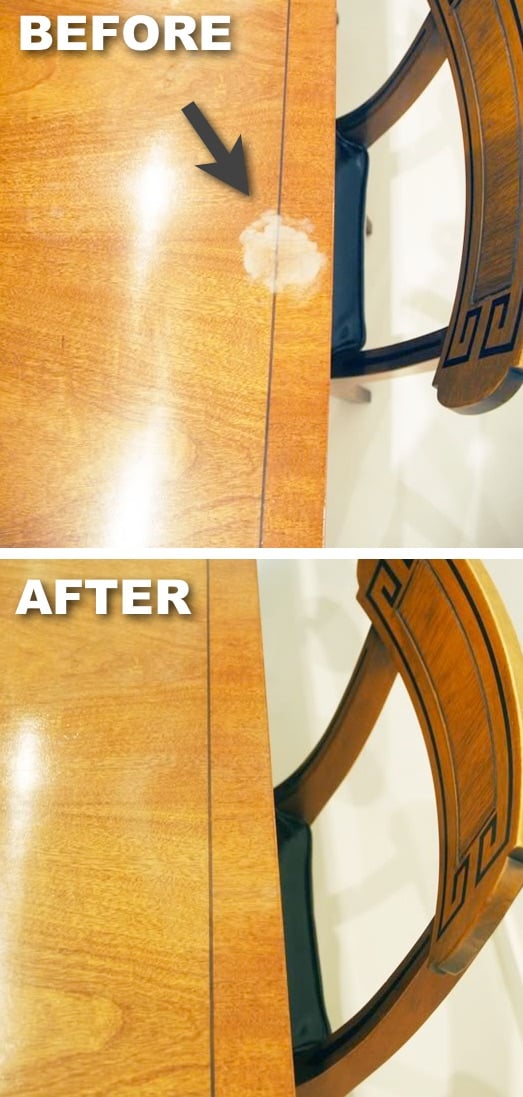 23. How To Clean A Microfiber Couch
Microfiber is one of my favorite materials. It's just so soft and cozy, and my kids love making designs in the seat cushions. BUT, it does have a tendency to showcase stains, even minor ones — there's a fix for that! And, it only requires one ingredient. It will practically look brand new after a good scrub.

24. Non-Stick Grill Means Less Mess
This is more of a cleaning prevention rather than a tip, but that's ok because there's nothing fun about scraping charred chicken off of a grill. Who knew an onion could be so magical?! Get the full instructions here.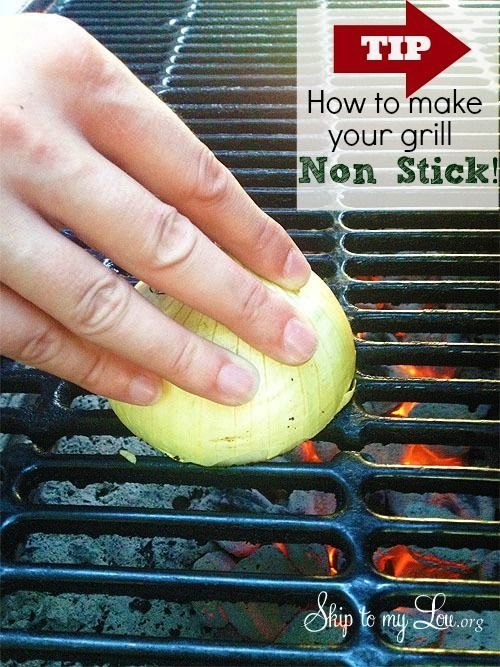 25. Reconditioning Cast Iron
I've only owned one of these beautiful pans for a few years now, and I've come to learn that they take a lot more care than your traditional non-stick pan. You certainly can't just throw them in the dishwasher, but they should last you for many, many years if not forever! This method seems to be the most popular way to get these guys clean and reconditioned. You're basically going to soak it in equal parts of water and vinegar until the rust starts to break away, and then oil and bake it. Yes, bake it! Follow the instructions here.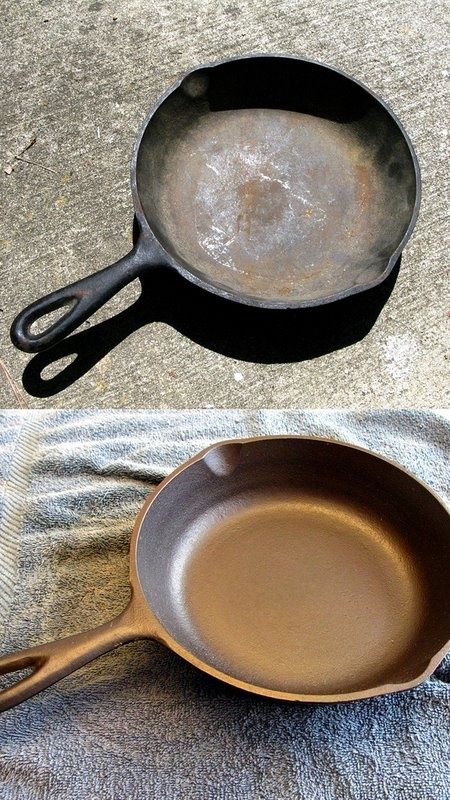 More Cleaning Tips!
26. Cleaning Cloudy Glassware
I'm going to invest in a huge bottle of vinegar, maybe even buy some stock! This stuff is amazing, and I can't believe I'm just now running into all of its wonderful uses. I buy a bottle of it for dyeing easter eggs every couple of years, but other than that, I've been missing out! Turns out it's perfect for cleaning cloudy glassware (mine is so bad it's embarrassing to have people over). Simply soak your glassware in white vinegar for about 5 minutes, and it should dissolve the hard water minerals in a snap. If you've got a tough case, you can also gently rub the film off with baking soda after they've soaked.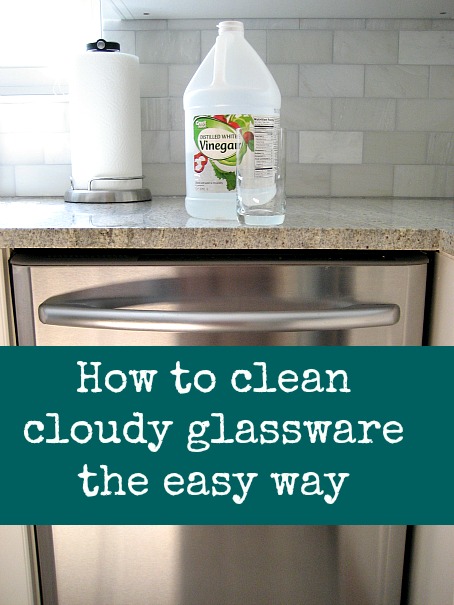 27. Removing Hard Water Stains
…the natural way! Hard to believe that a lemon can be so powerful. Not only that, but you don't have to deal with that harsh chemical smell, only the scent of fresh lemons! This method is a heck of a lot cheaper, too! Simply cut a lemon in half, and give your faucets and good rub down. Let it sit on there for a few minutes or longer, then rinse with warm water.

28. Knives & Lemon Juice
I've had such a hard time with rust spots on knives, but I've finally found a way to keep it from happening. The huge wooden knife block on my counter was the culprit! Well, when they were stored in there still wet from the dishwasher, that is. I put them in a drawer now so they have a little more air for drying, and it seems to help. Gosh, I didn't realize how easy those rust spots were to remove with just lemon juice! I'll be keeping a bottle of that handy from now on. Let your knives (and other rusty silverware) soak in lemon juice for 10-15 minutes or as long is it takes for the rust spots to go away.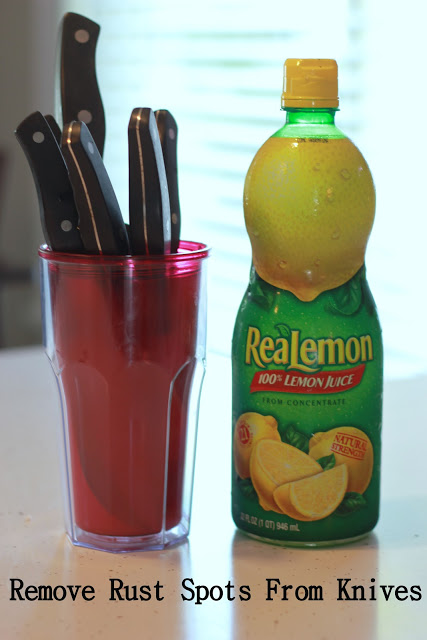 29. Cleaning Makeup Brushes
Did you know they make a shampoo designed specifically for makeup brushes? I've only washed mine a handful of times MY ENTIRE LIFE. That sounds bad, but I just forget. I guess I'm fortunate that I don't break out much, but if you do, this could be the problem! Yucky bacteria getting spread all over your face every time you use it — definitely worth the time to clean them regularly.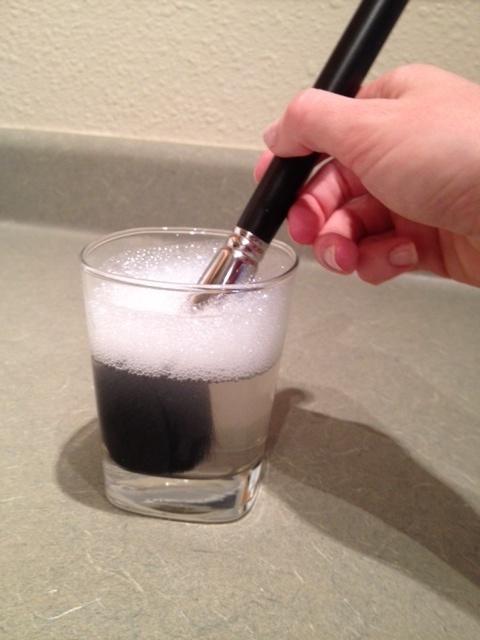 30. Shower Cleaning Wand
I actually have one of these on my shopping list (I need this terribly in my shower). I think they're meant for dishes, but what a great idea to use it in the shower! Fill it with just 2 ingredients! Equal parts of white vinegar and Dawn dish soap. Heat the vinegar up in the microwave first so that they mix together a little easier.
Use it daily after you shower to touch up spots that tend to get nasty. Never let your shower get disgusting again! You're already in there, might as well spend 30 extra seconds touching up.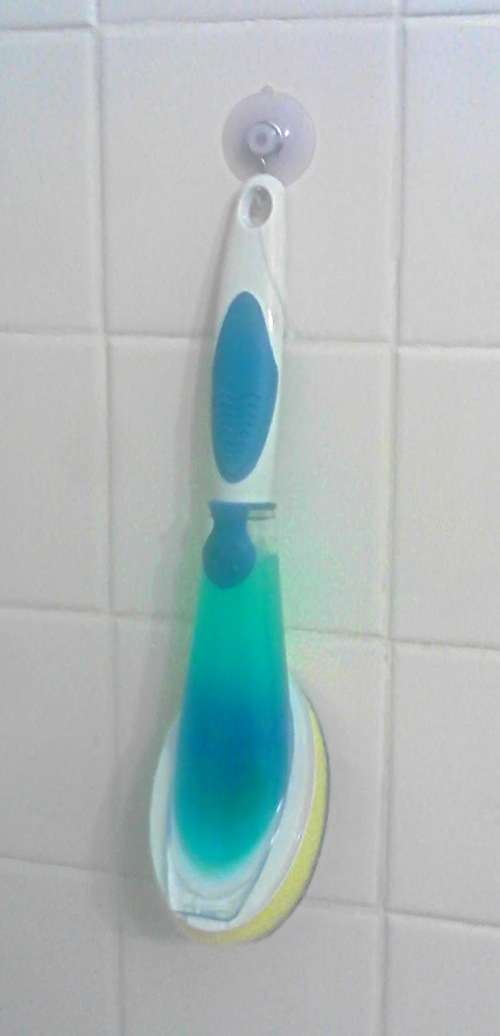 31. No-Streak Window Cleaning
Don't you hate it when you finally get around to washing your windows and they end up looking worse once you're finished?! It's not easy getting streak-free windows. Turns out there are a few secret tricks (including newspaper!) to getting the job done, and it doesn't involve windex or a squeegee.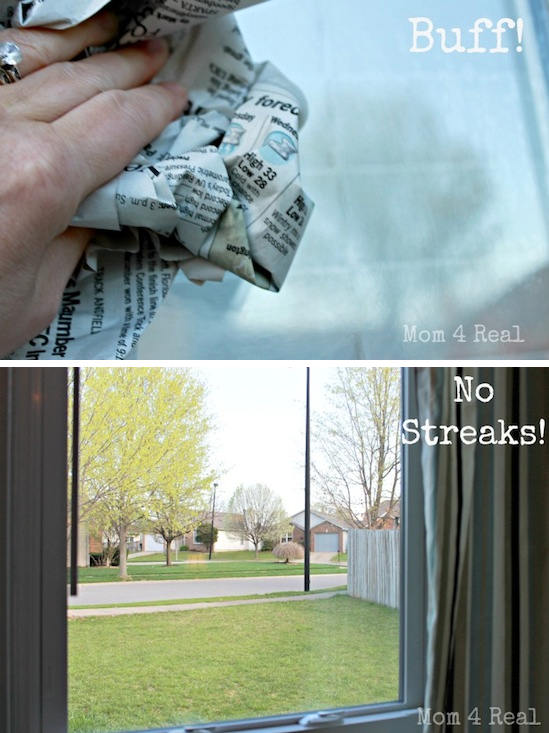 32. Mr. Clean Magic Erasers
I'm convinced these actually do contain some source of weird magical powers. I mean, how does it do it?! You'd be surprised at how many things you can clean with one of these white miracle sponges. Even nail polish doesn't stand a chance in a match against one of these guys.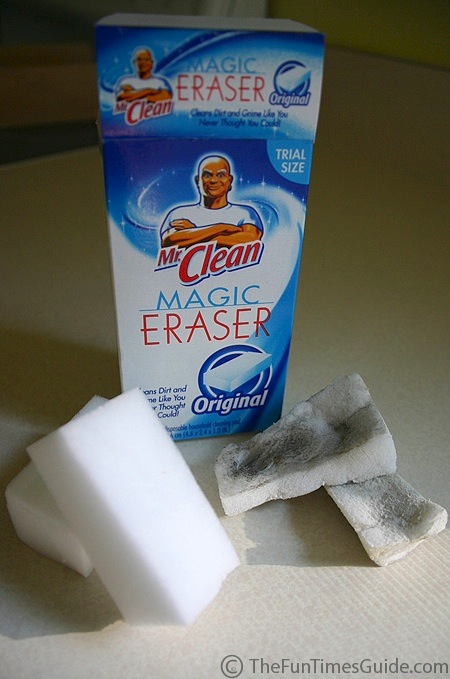 33. Cleaning A Shower Head
Again, just ONE ingredient! The best part about this little trick is that there is no scrubbing involved. Just let it sit for an hour and you're good to go. This not only looks better, it improves your water pressure. Simply fill a plastic bag with warm white vinegar, and wrap it around your shower head secured with a zip tie or rubber band. Let it soak for an hour or more, and then discard the vinegar down your drain (it cleans that too!). Most of the calcium build up should fall right off, but you can also give it a gentle scrub once it's done soaking.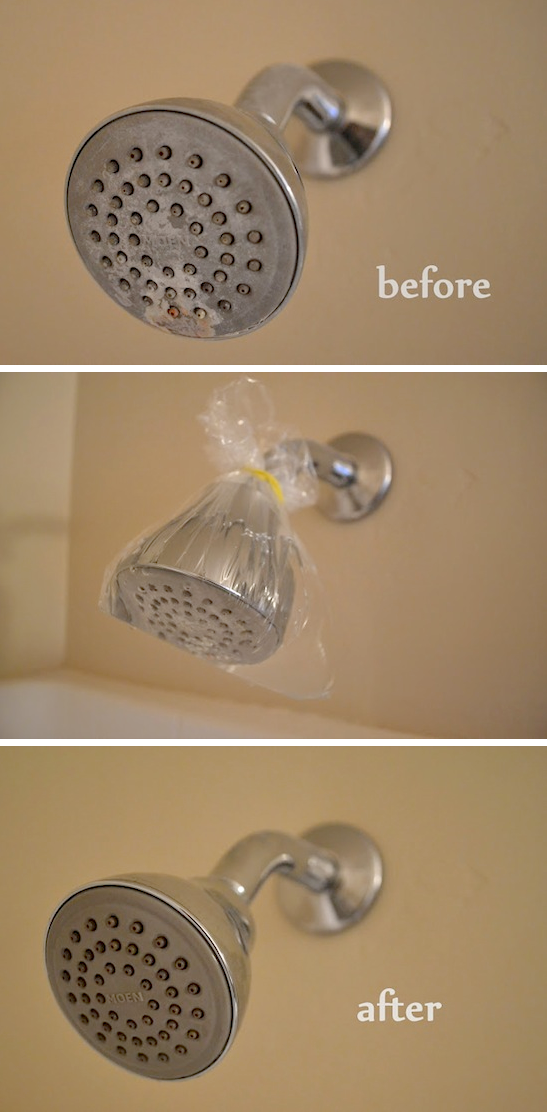 34. Cleaning A Bathroom Exhaust
I'm not sure that I've ever done this before — oops! I pay extra special attention to my bathrooms when I clean, but the ceiling is the last thing on my mind. Make the job easy with a blast of canned air! My hubby uses this stuff for his keyboard. I wonder what else you could use it for?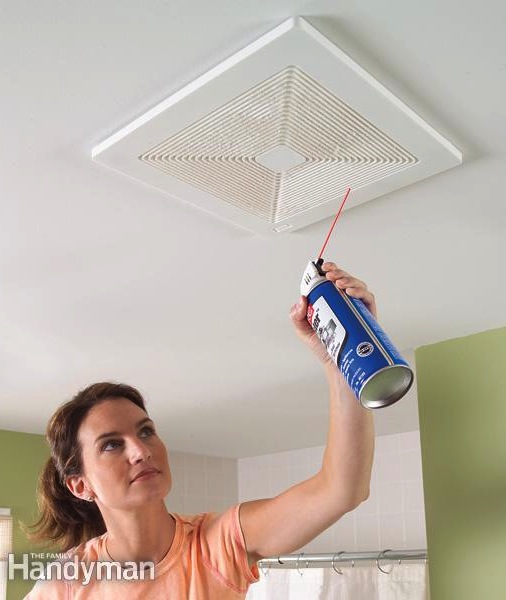 35. The Kitchen Sink
One of the most important places to clean often! Germs and bacteria collect here like a cesspool. Learn how to clean it the natural way without using harsh chemicals. It's also much better for the surface of your sink – making it look new for longer. And, don't forget to get the bottom part of that black rubber ring that lines the disposal! Have you ever put a brush under there? It's gross.
The other day, I came across this interesting post on the effectiveness of homemade cleaners. I thought you might be interested in the findings. Remember, this is not official findings, just a home experiment to share. Note: Lemons are the powerhouse ingredient!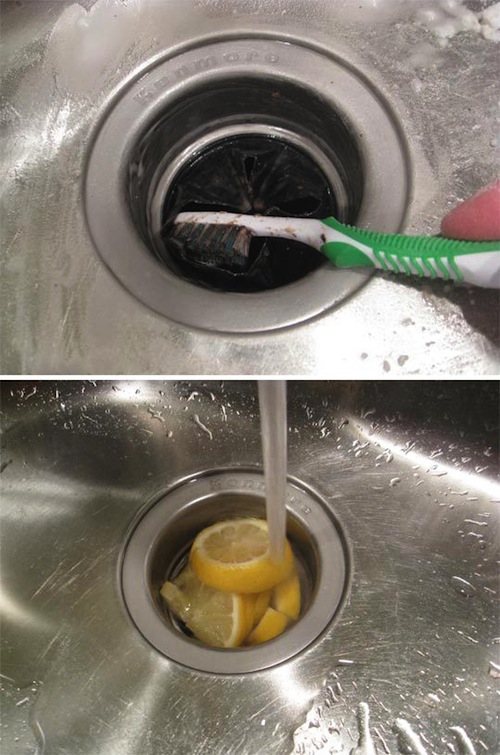 36. Cleaning Your Toothbrush
I use to boil my toothbrushes every so often, until one time I got mouth full of loose bristles while brushing my teeth. Boiling kills most of the million of germs that collect on your brush, but also takes its toll on it. There's an easy solution for that, and it only takes about 15 minutes. Once again, it's white vinegar!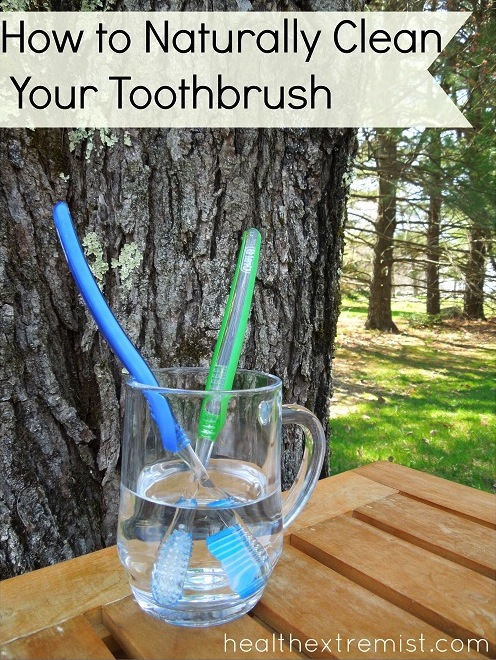 37. Cleaning A Bathtub Drain
Because I have a lot of hair (A LOT), this is often a problem in my household. I can't help that my hair is everywhere, and for the most part it doesn't bother me, but when it gets to the point where it takes 30 minutes to drain the tub, it becomes a problem. But, It's actually easier than it looks to remove the stopper and get the gunk out. Go check it out!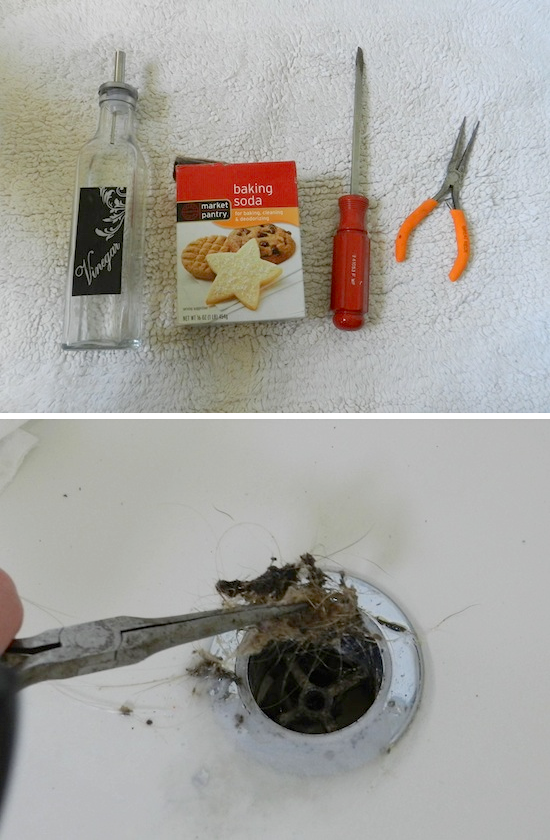 38. Naturally Cleaning An Oven
It turns out you don't need that awful, smelly oven cleaner to get all of that stuck-on grime out of your oven. Just a few natural products you probably already have in your kitchen. It's definitely about time I got around to this because everything I cook smells like pizza! I have a layer of burnt cheese coating the bottom. Then, once you have it clean, be sure to put some foil down there so your next cleaning job will be a little easier.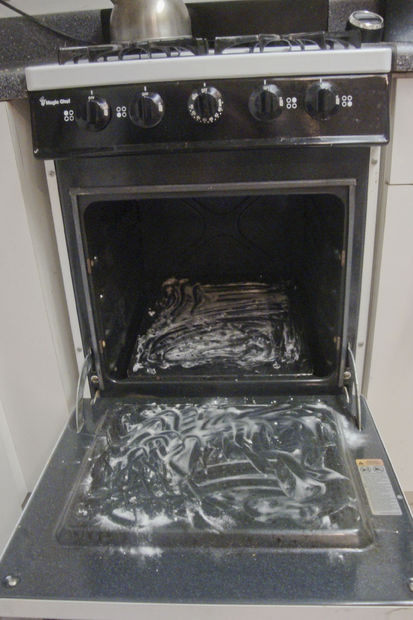 39. Cleaning Your Blinds
This cleaning tip is borderline genius. If there's one thing in my house that get's neglected, it's definitely the blinds, and I have them in every room! It's seriously an entire day project. I'm digging this idea so much, I've already gone on a hunt for an old sock (in my husband's drawer, of course.)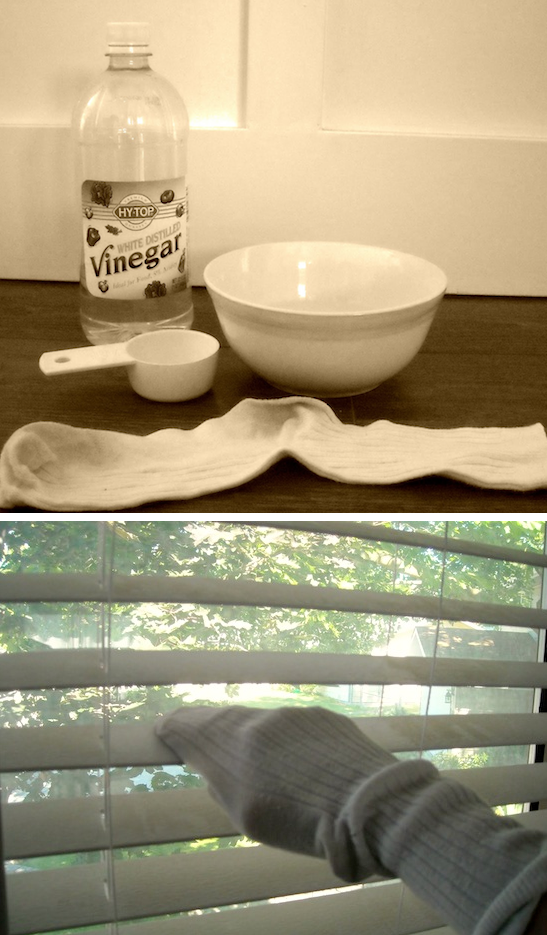 40. Removing Scratches On Ceramic
…with something you wouldn't expect! These plates look brand new in the after photo, don't they? There's no reason to replace your favorite dinnerware just because it has a few scratches. Even if you only have a few, this will certainly polish them up.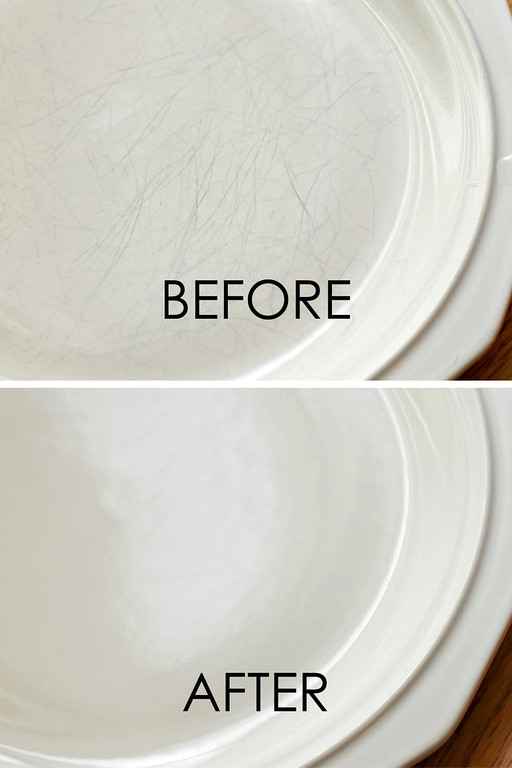 41. Permanent Marker Removal
This is actually kind of scary because we put this stuff in our mouth! It reminds me of the power of Coca Cola and how it can effectively clean your toilet. I may just start using toothpaste to clean permanent marker stains and go for a more natural toothpaste for my teeth. Get the instructions here.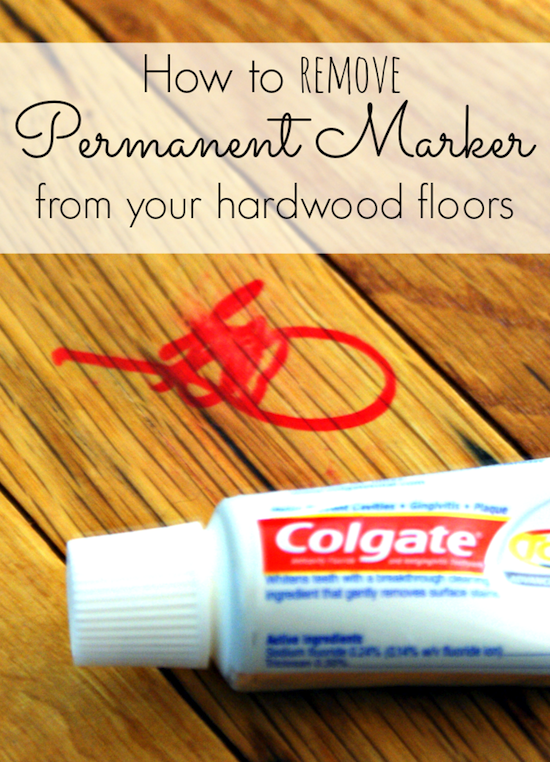 42. De-Pill Your Clothes
Those annoying little balls of fiber you get all over some of your clothes — how in the world to get them off in a clean sweep? Don't do what I do and try to pick them off one by one. There's an easier solution to this and it just involves one of your old disposable razors and some tape. Smart!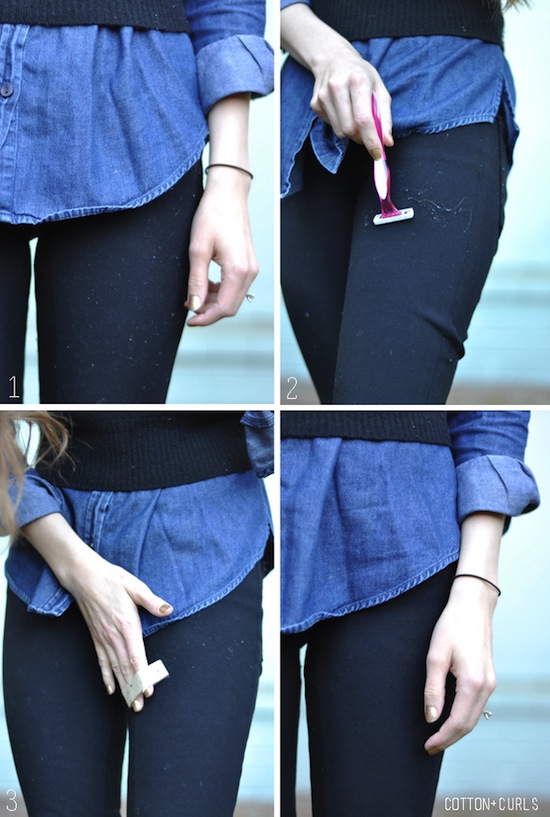 43. Iron Out Carpet Stains
It makes sense, right? The heat from the iron should activate the cleaner and hopefully pick up nasty stains (like poo or Kool Aid). I mean, I always let my kids run around with red drinks on my white carpet. They also eat Nutella on my white couch. No really, it turns out that this trick does work pretty well, even on old stains, and the gal who tested it is hilarious! Go check it out.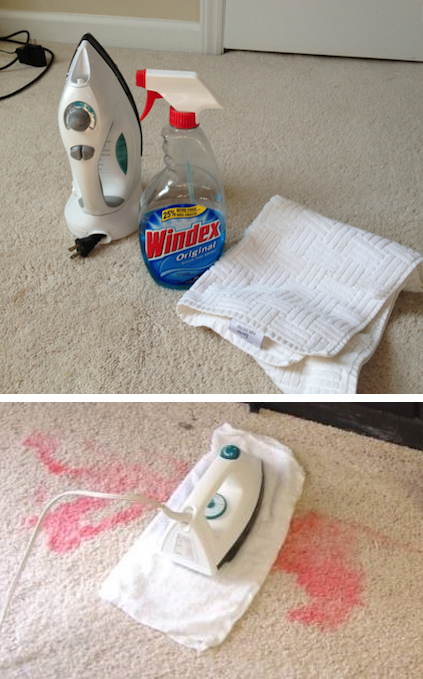 44. Cleaning Air Vents
Don't unscrew it and take it off! No need. Grab a butter knife and a rag to easily get in between each little crevice. Have you looked closely at your air vents lately? You might just need to do this. I find it helps to take a vacuum hose to it first to get a bulk of it out so you're not having to clean your rag over and over.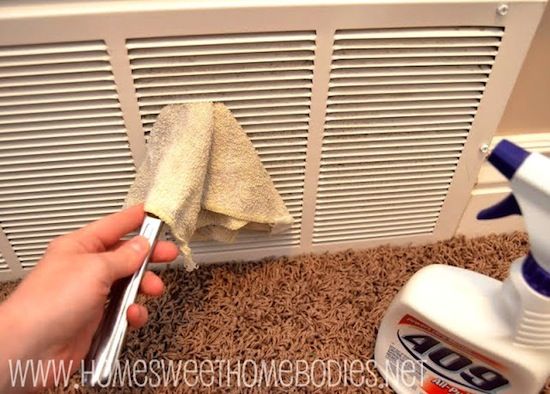 45. Cleaning A Vacuum Filter
So many more uses for your dishwasher than you can imagine. It's like a machine! Oh wait, it is a machine. Vacuum filters are extremely pricey (like ink is for a printer), but if you can get that thing clean, there's no need to replace it. Check out this tip on how to clean your vacuum filters in the dishwasher!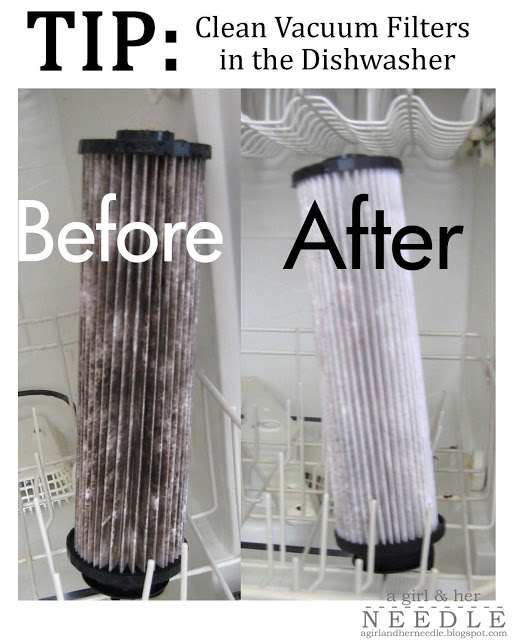 46. Getting Mold Out Of The Shower
Makes it hard to feel clean when you're scrubbing away in the shower and have to look at that! But, no matter what you do, it's almost impossible to prevent. The moisture in the bathroom is the perfect breading ground for mold. I found this awesome tip on how to easily get rid of it (it's quite unconventional), but just look at the difference! I've got to try this for my guest bathroom.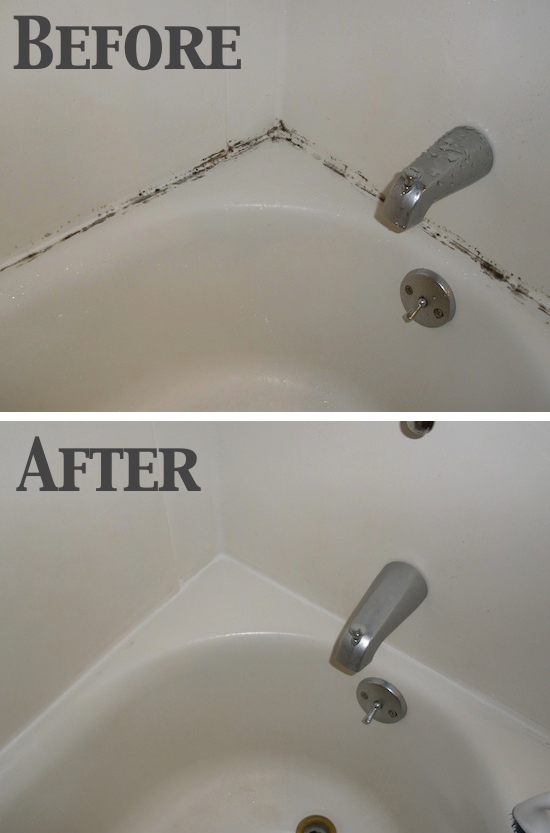 47. Cleaning Your Blender
Yeah, that's right, you've been do this all wrong for years. But that's ok because there's no point in looking back on your past mistakes when you can start doing it the smart way moving forward. To really get your blades clean, fill your blender with soap and warm water, then turn it on! Fun to watch, too.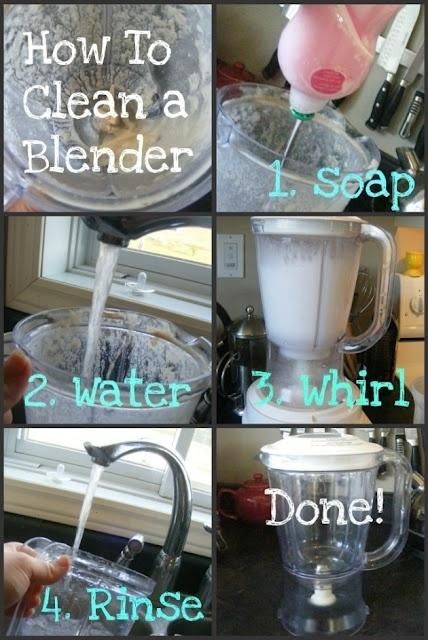 48. Nail Polish & Tile
Disaster! I would probably have a heart attack if one of my kids dropped a bottle of hot pink nail polish all over the bathroom floor. I've done this before, but fortunately is was just a clear coat, and I think it might have actually just given my tile a little extra shine. In the unfortunate case that this does happen, don't worry your little heart out. There are a few steps you can take to make it look as if it never happened. The evidence will be gone, and you'll only be left with this horrifying image of pink splatter.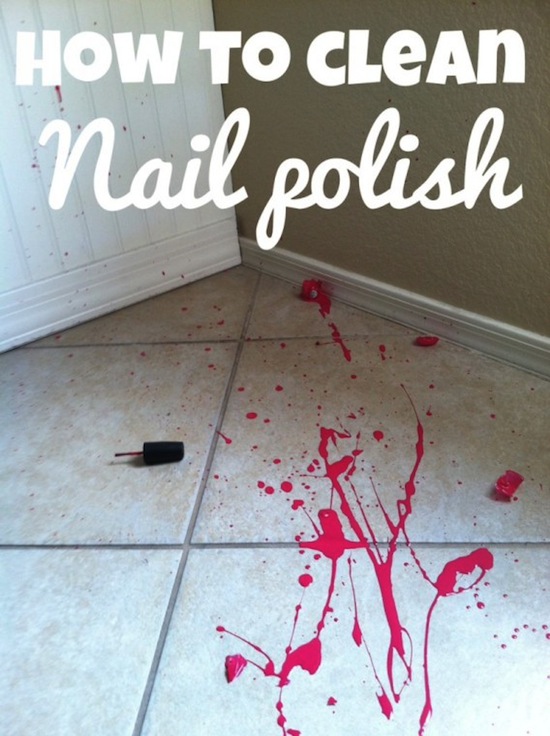 49. Cleaning Toys
Kid's are pretty gross. I mean, they have their fingers in their nose a majority of the time, and then they put their boogers randomly all over the house. I'd rather touch a toilet than anything in a toddler's toy chest, but maybe that's just me. Check out this brilliant idea. Put them in the dishwasher! Bath toys could especially use a good rinse. Just throw a little bit of white vinegar on the bottom of the dishwasher instead of using dish detergent.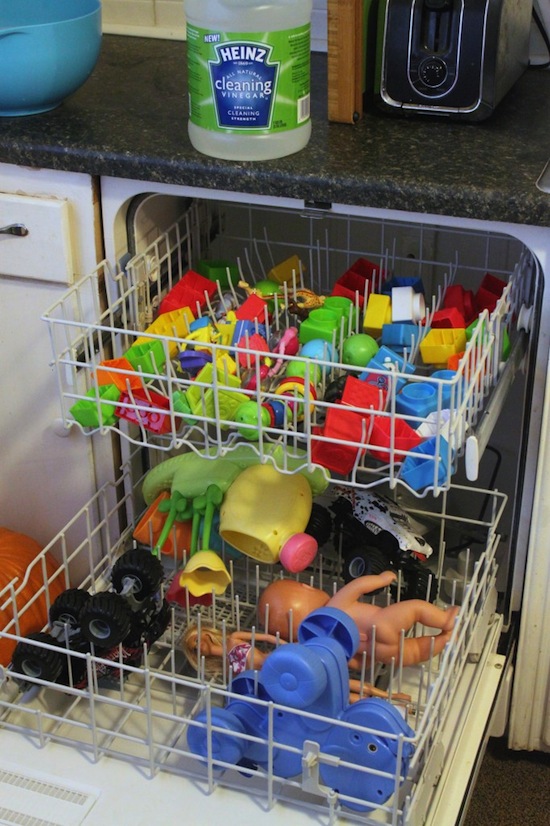 50. Magical Carpet Cleaner
This may look a little offensive, but don't worry, it's just from a spilled bottle of salad dressing. Whoa!! I'm shocked that it came up so well. And, not with just any carpet cleaner, but a magical homemade one. I wonder if we were to use this recipe with the iron trick (tips #43 on this post) if it would be even more amazing!?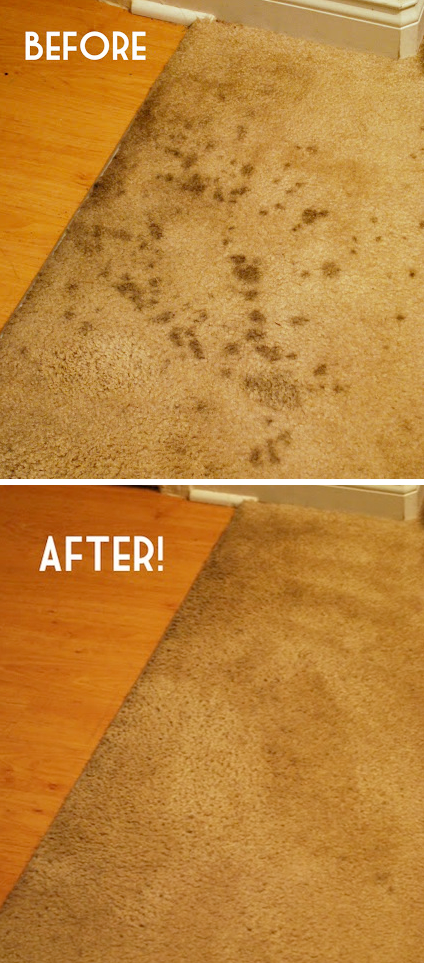 And, Even More Cleaning Tips!
51. Cleaning Silver
Natural, easy, and fast! It doesn't get much better than that. Tarnished silver isn't so pretty, but with just two natural ingredients you can have it shining in a matter of 5 minutes! Get your shine on.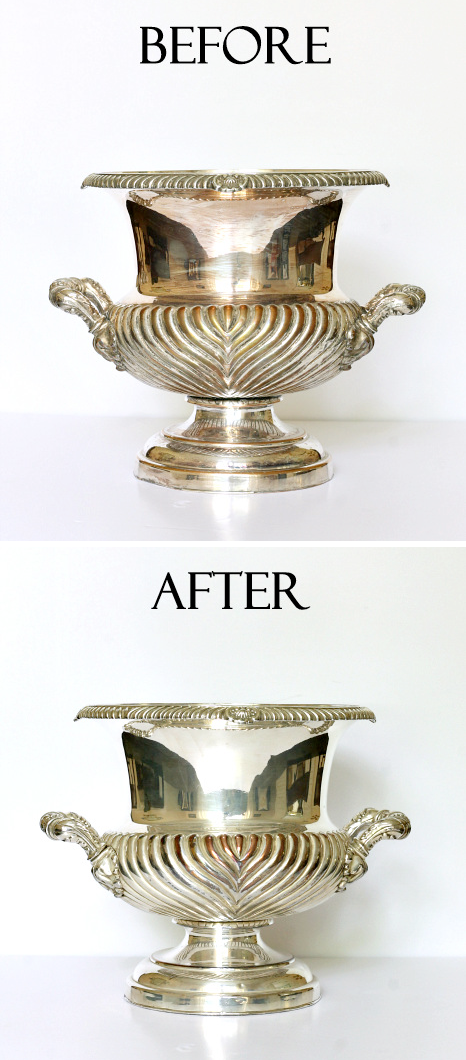 52. Nail Polish & Carpet
And I thought nail polish on tile was a disaster! I really hope this tragedy never befalls me, but in the unfortunate case that it does, I'm glad I've found this helpful tip. This is truly magic!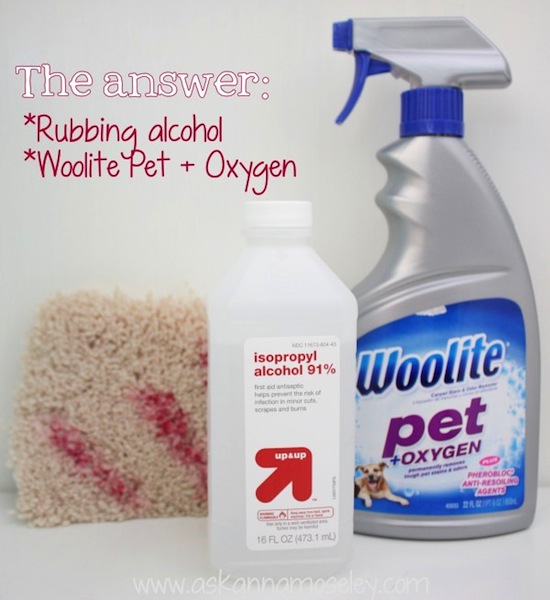 53. How To Clean Your Mattress
Wait, you're suppose to clean your mattress? Well, yes, especially if you have a dust allergy. I mean, you sleep on the thing 8 or so hours every day, so it's probably worth a good cleaning every now and again. It's also a good idea to use a mattress protector to keep dust and skin particles out of the mattress in the first place.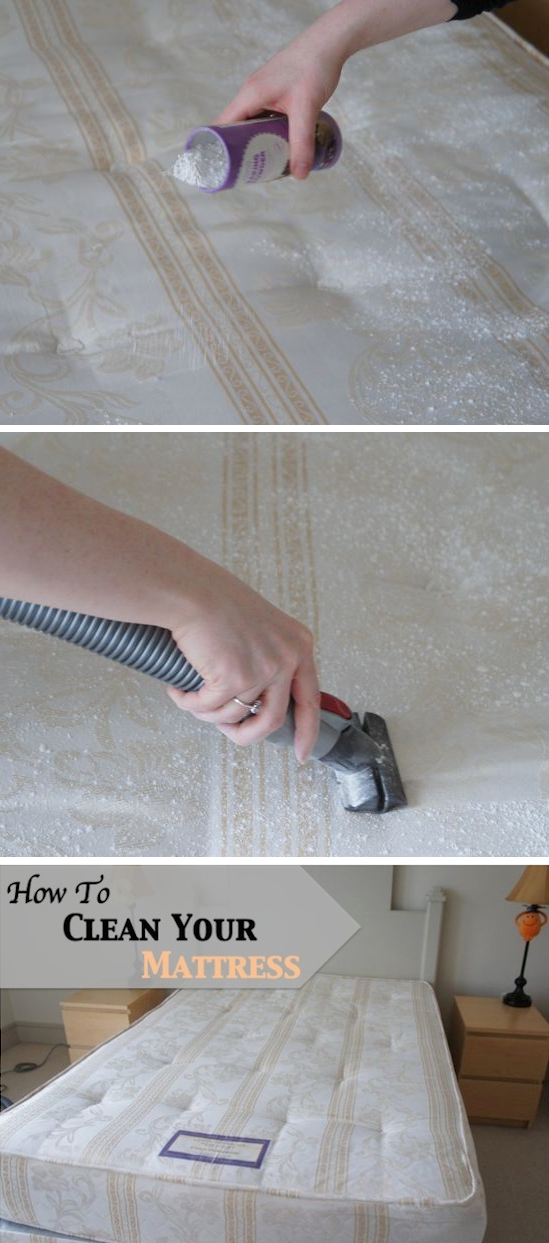 54. Magic Laundry Cleaner
With just 3 things you probably already have on hand, you can make your own laundry stain remover that works like magic. I'm shocked that I'm just now learning about this. If you have kids, keep some of this stuff already pre-made so you can get to it right away.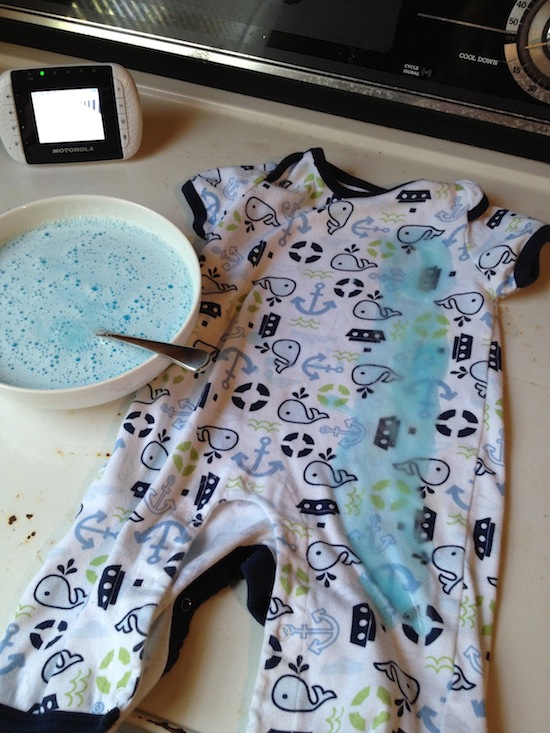 55. Tub Cleaner
Not just tub cleaner, but a tub cleaner that doesn't require any scrubbing. What? Yeah, just a little bit of time to let it sit and work its magic. Who comes up with this stuff? Some people amaze me. Like I said, It's time to start investing in vinegar.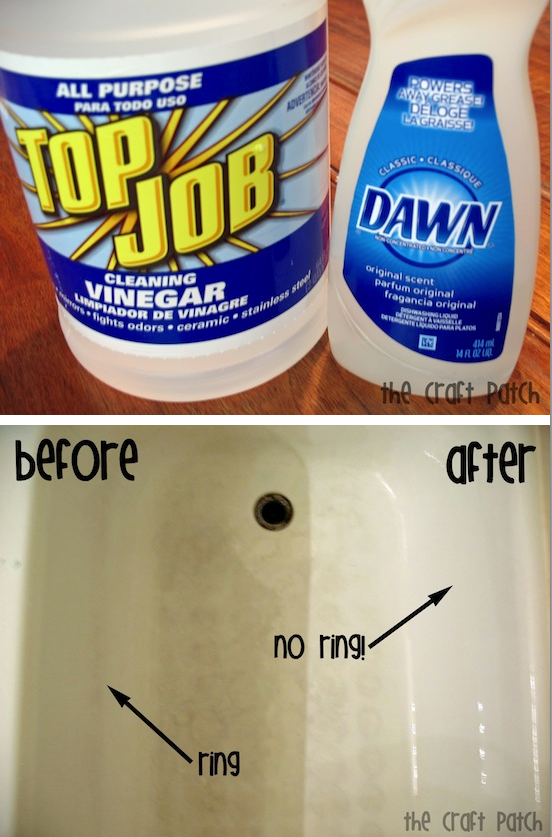 56. Back-Saving Tub Trick
This cleaning hack for the bathtub may sound strange at first ("why would I ever put a broom in my tub??"), but just take it from Jillee over at One Good Thing— it's a serious time and back saver! It's especially helpful if you have one of those large garden tubs with hard-to-reach surfaces. Check out the instructions for this ingenious cleaning tip here.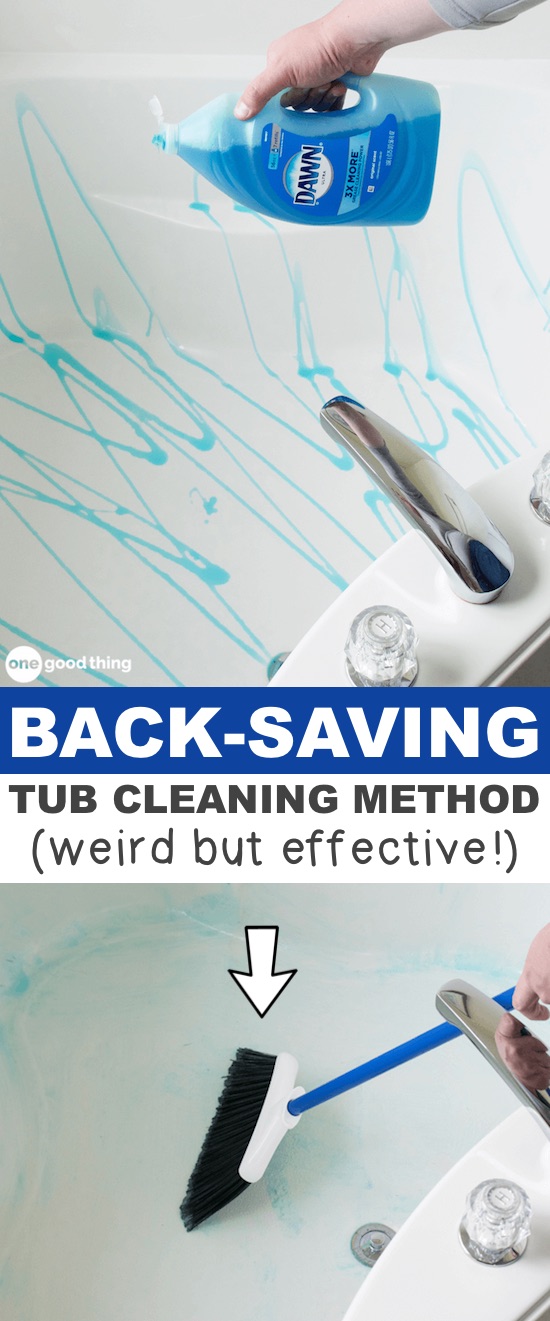 57. Best Ever Grout Cleaner
No matter how clean you are or how often you mop your floors, it's almost as if those grout lines are magnets for dirt. You may not even realize what color your grout is supposed to actually be! Take this tip from Kari over at Rad and the Rest, and use toilet cleaner to get them cleaner than ever. See how she does it here.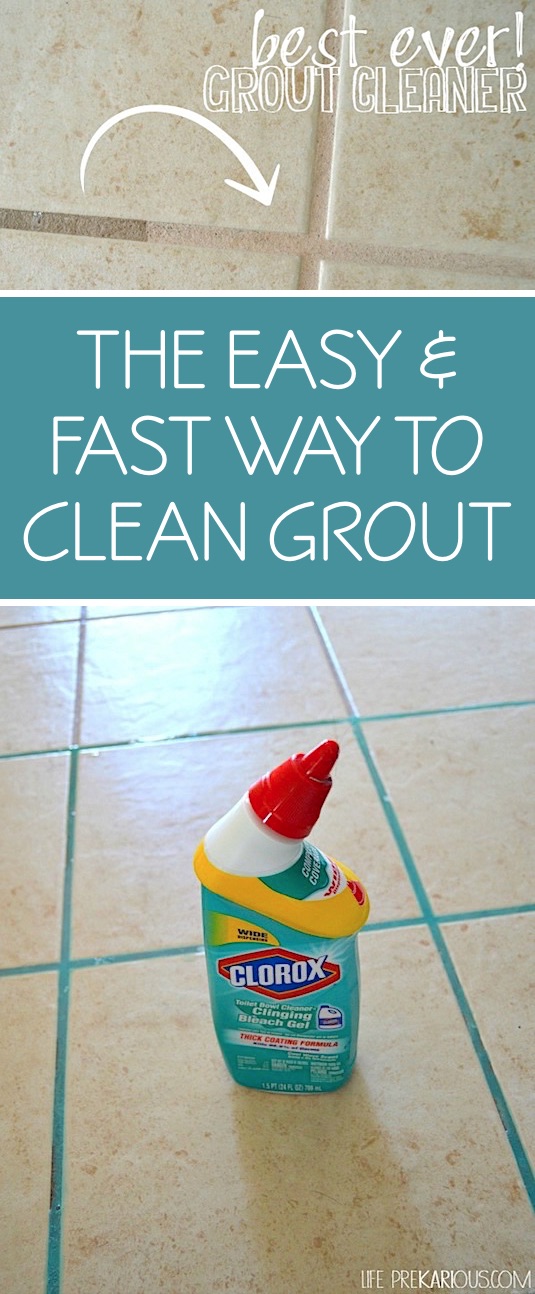 58. Return Air Vents
Yikes! I'm honestly a little afraid to look at what might be behind mine, but I think these photos alone are a good reason to actually REMOVE your return air vents and not just clean the outside. I'm pretty sure it's not healthy to be breathing all that crap in. Go check out DeeDee's tip over at Clover House to see the easiest and fastest way to clean them, including a before and after vent makeover!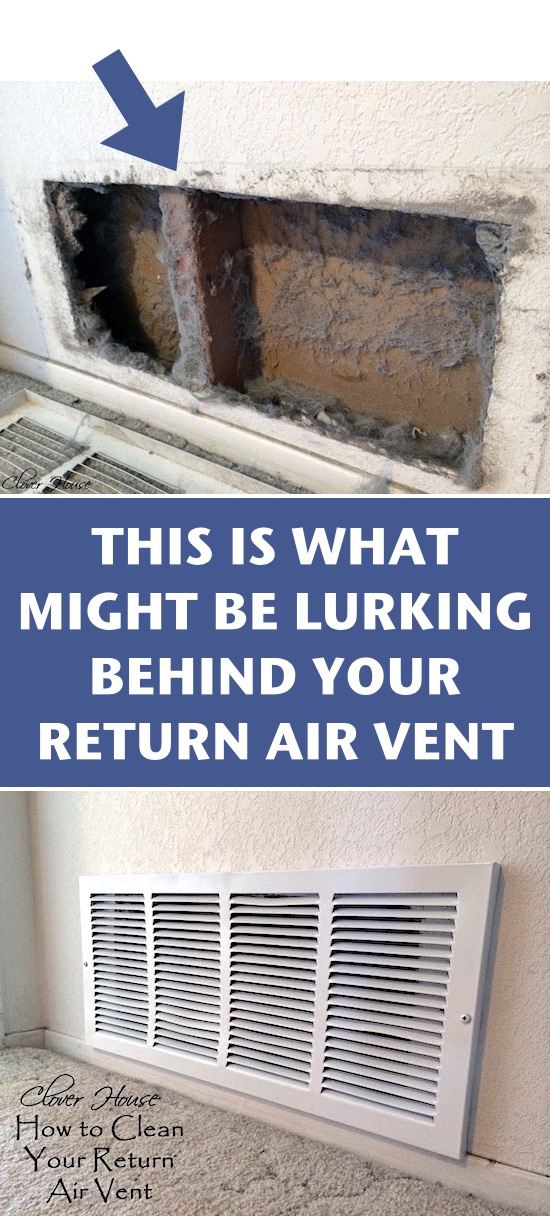 59. Car Upholstery
If you have kids, the upholstery in the back of this car might look familiar to you. Even just normal everyday wear and tear can leave your seats looking filthy, but there's no reason to pay the big bucks to have them professionally cleaned. Check out this tutorial from Fabulously Frugal on how to get them looking brand new with products you probably already have at home!

60. How To Deep Clean Your Instant Pot
Instant pots have become a kitchen staple, making meals a breeze! It really doesn't get any easier than throwing everything into a pot that perfectly cooks your food in 15 minutes.
If you use yours as much as I use mine, you may may not realize how food particles and bacteria can build up in all of the hidden cracks and crevices.
Check out this detailed post over at One Good Thing to see how to deep clean it every fews weeks, as well as a few cleaning tips for after every use to make the job easier!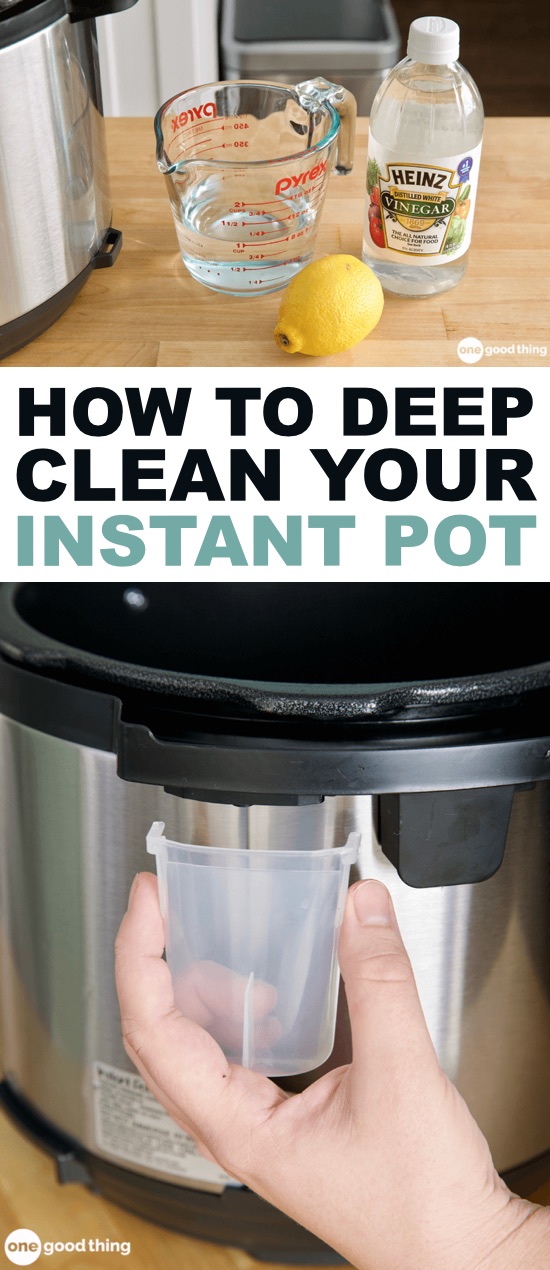 61. How To Deep Clean Your Humidifier
We run our humidifier non-stop in the winter months, and often forget what lingers inside. Over time, humidifiers build up bad bacteria that is then dispersed into the air you're breathing. Our humidifiers are meant to keep us in good health, not make us sick!
Hop on over to Modern Mom Life to see how Michelle easily cleans her humidifier to get rid of and prevent the growth of bacteria. It's pretty quick and easy, but should probably be done weekly.