Last Updated on May 12, 2021
Because I am an organization maniac, I'm always looking for easy storage ideas! I like for everything to be in its place, out of the way, and easy to find. This explains my love for The Container Store, but I've discovered that there are actually quite a few other easy and cheap ways to organize and store your belongings with things you probably already have laying around the house or in the recycle bin!
There are so many creative and clever ways to store things without spending much time or money at all. Some of these are especially nice for a small home or apartment where you simply don't have the space to just throw everything in a drawer or cupboard. Hopefully, some of these tips will help you in your quest to find room for everything while still keeping it easy to access and use!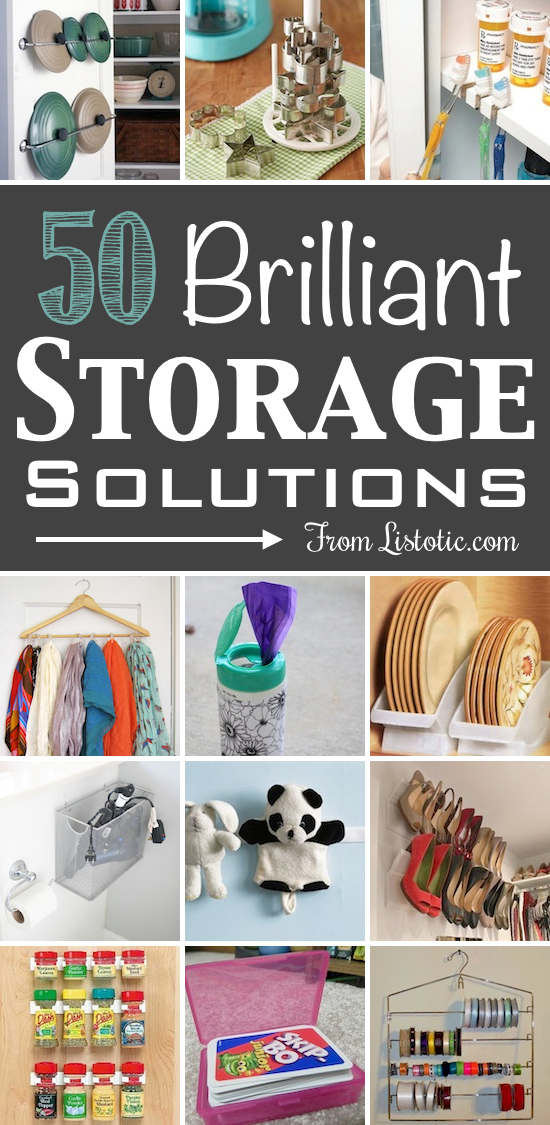 1. CD Rack Lid Storage
There's nothing more frustrating in the kitchen than trying to organize tupperware. Keeping track of the lids is a nightmare! Use a metal CD rack to keep them upright and easily seen. Store the larger lids towards the back and smaller ones in the front to keep them all in plain view.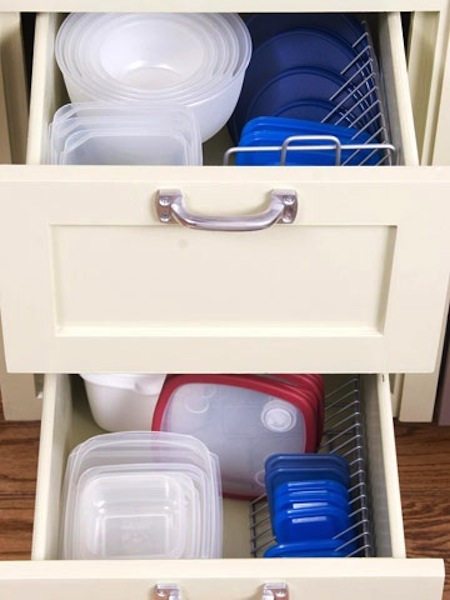 2. Wine Rack Office Organizer
Use stackable wine racks from Pier 1 and cheap plastic cups to store all of your office and craft essentials! Take advantage of vertical space and stack as many as you need to keep your office and craft supplies handy.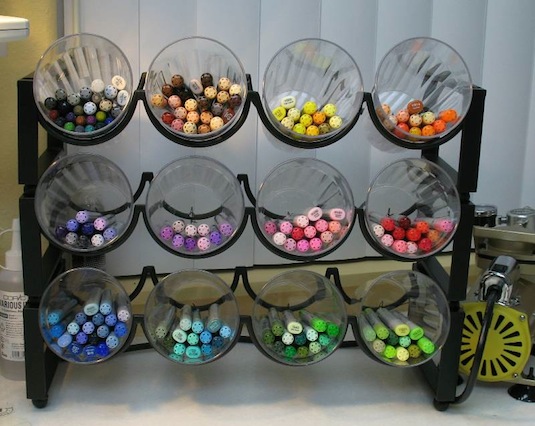 3. Paper Towel Holder Ribbon Organizer
Use a paper towel holder to keep your spools of ribbon organized and easy to get to. I like this idea because you can keep it out on a craft desk or closet shelf where you're more likely to see it and use it.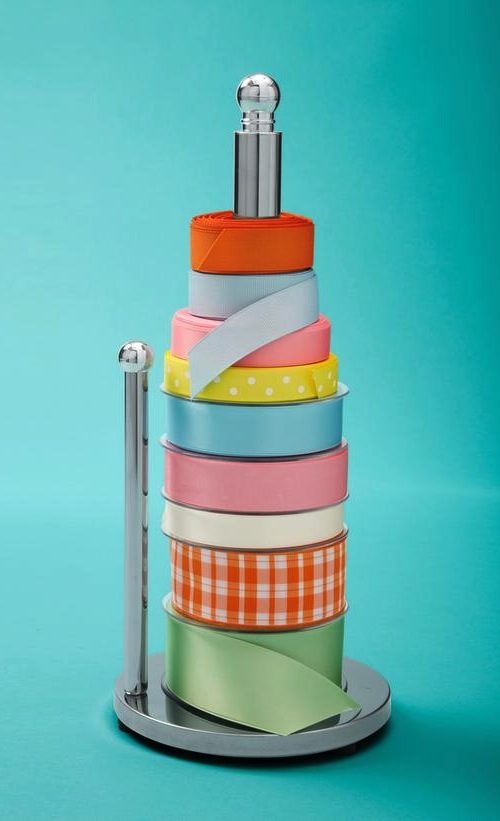 4. DIY Fabric Tupperware Lid Holder
You can make this brilliant lid holder (assuming you know the basics of sewing) for next to nothing! You could essentially use any scrap material, but I would think using something that is breathable and quick drying would be more practical, and last much longer. The best part about this project is that it doesn't take up hardly any space. I found this idea several years ago on a blog that had instructions, but is no longer active. Darn it! However, it does seem simple enough to figure out– just several large, deep pockets.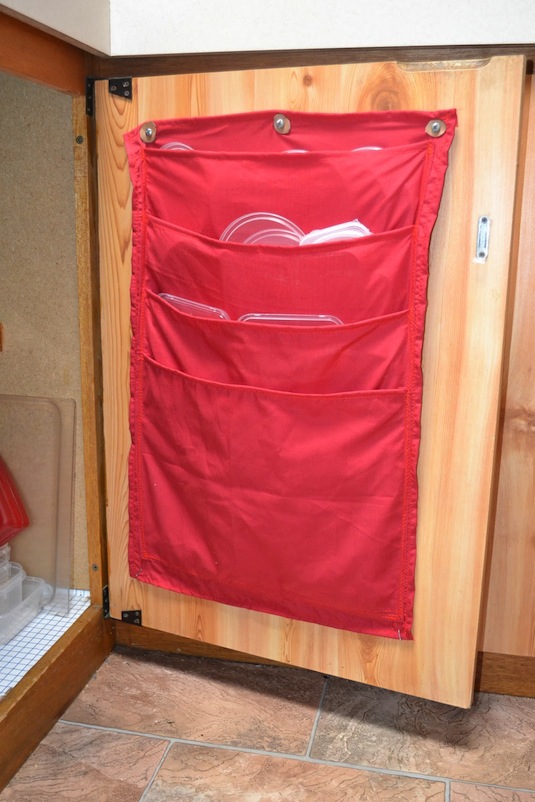 5. Soap Box Storage
Because these things only cost about a dollar, they are the perfect frugal solution for storing small items that tend to get lost. And, if you have children, you know how they like to bring toys, crayons, and cards along with them in the car? Soap boxes are a great travel solution for this.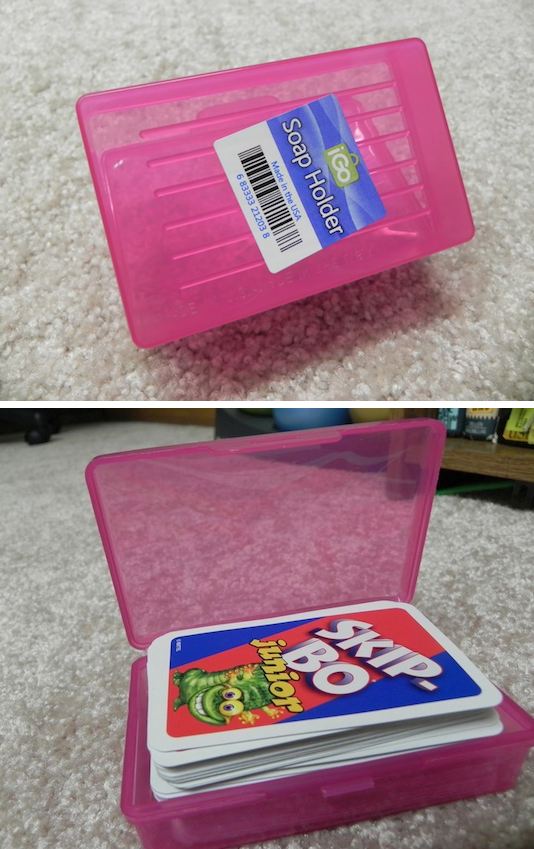 6. Dinner Plate Cradles
Instead of stacking your heavy plates on top of each other, consider investing in a few dinner plate cradles to keep them upright and easy to pull out of the cupboard. These are also nice for drying plates next to the sink.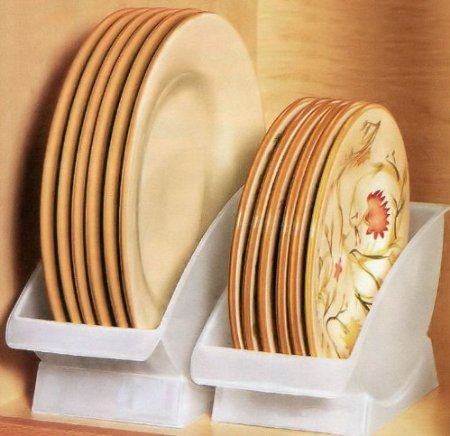 7. DIY Closet Organizers
Hats and scarves! The two awkward things in the closet that are hard to find a space for. Make your own organizing rack with a single sturdy hanger and shower curtain rings. Chances are you've already got a hanger on hand, and the rings only cost $2-3.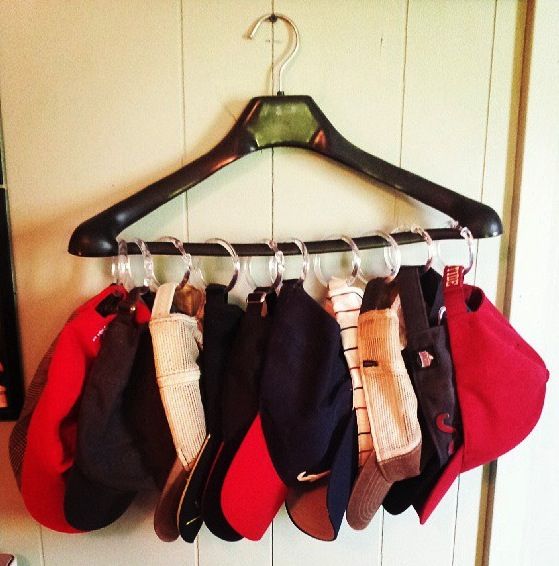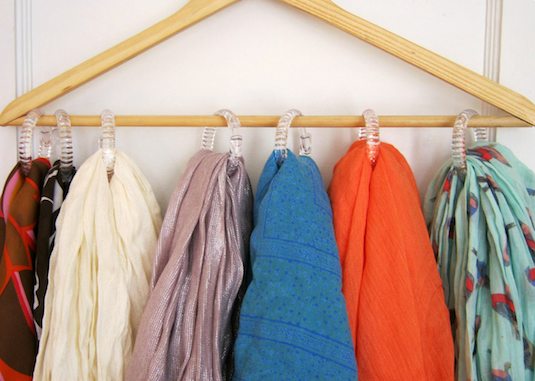 8. Recycled Creamer Bottles
I've been looking at food containers differently lately. I've always just thought of them as trash when I was done using them, but a lot of them can actually be very useful storage containers. The Coffee-Mate Creamer bottles are particularly nice for storing and keeping pantry items fresh. The small opening at the top is just the right size for dispersing small snacks, sugar, chocolate chips, nuts, etc. You can also use them as a water bottle!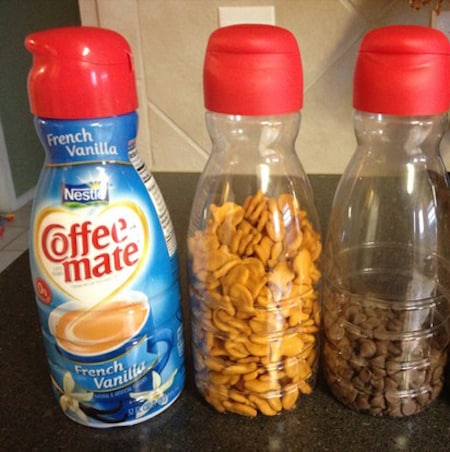 9. Vertical Bakeware Storage
Instead of stacking your pans and baking dishes on top of each other (when you have to remove every single one to get to the bottom), turn a bakeware organizer on its side and secure it to the cupboard with cable clips. It's like a mini shelf that's just the right size for all of those otherwise hard-to-get-to dishes.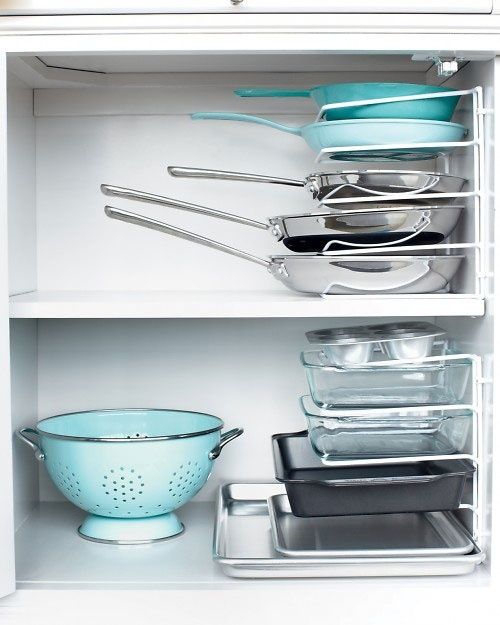 10. Under-Sink Storage Solution
I love this idea for the bathroom for all of those little hair accessories and miscellaneous cosmetics! It would probably work best for lighter items in the long run (I'm not entirely sure how much weight those adhesive utility hooks hold and for how long), but this idea takes up hardly any space. Simply use command hooks to keep the baskets securely hung to the back of a cabinet door. The Blogspot where I found this idea no longer exists, but this seems like a pretty simple DIY project.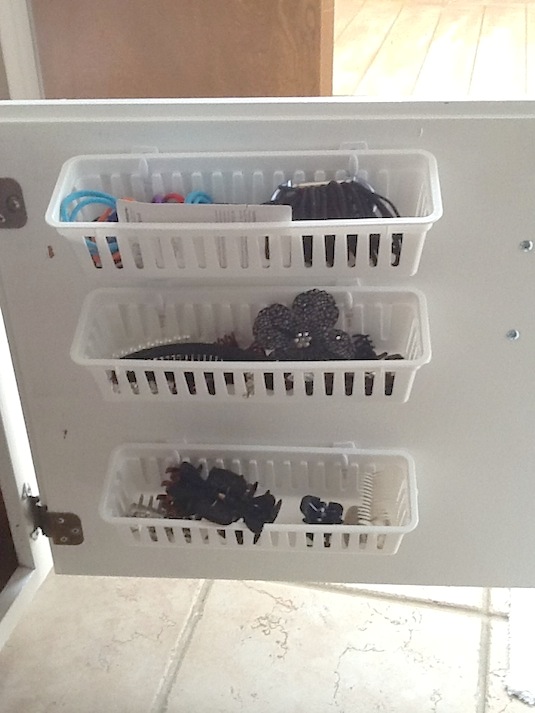 11. Budget-Friendly Drawer Dividers
Why spend the money when you probably have things around the house that will serve the purpose of drawer dividers without the added expense!? Get creative with things like silicone muffin liners, flat tupperware, an empty egg carton, or a shoe box lid. This way you can store all of your little odds and ends without losing them in the back of the drawer.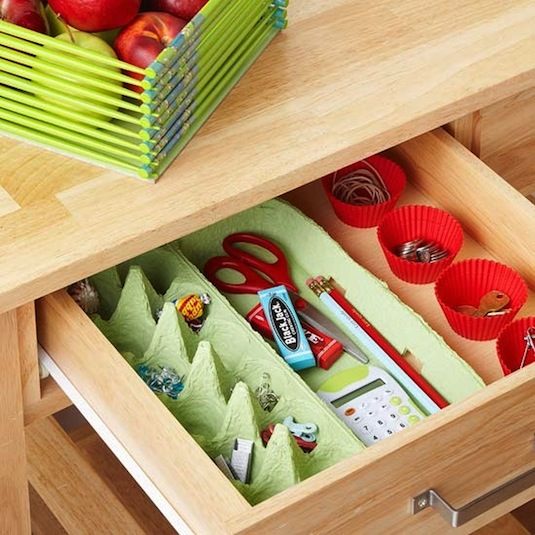 12. Egg Carton Storage
My family goes through a couple of egg cartons almost every week. Lately I've been buying the organic Eggland's Best that come in those clear plastic containers. They are really sturdy and easy to clean — brilliant for storing some of my daughter's small toys, like her Barbie accessories, pencil toppers, bouncy balls, jacks, etc. And, because they are made to keep a fragile egg from breaking, they are just perfect for storing your small Christmas ornaments, too!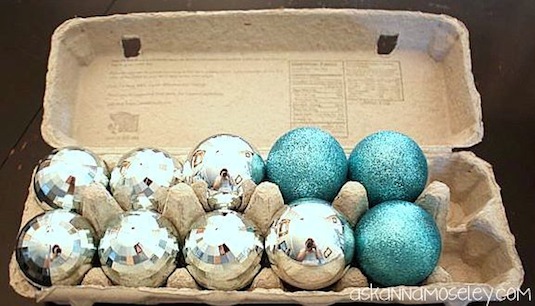 12. Egg Carton Storage
My family goes through a couple of egg cartons almost every week. Lately I've been buying the organic Eggland's Best that come in those clear plastic containers. They are really sturdy and easy to clean — brilliant for storing some of my daughter's small toys, like her Barbie accessories, pencil toppers, bouncy balls, jacks, etc. And, because they are made to keep a fragile egg from breaking, they are just perfect for storing your small Christmas ornaments, too!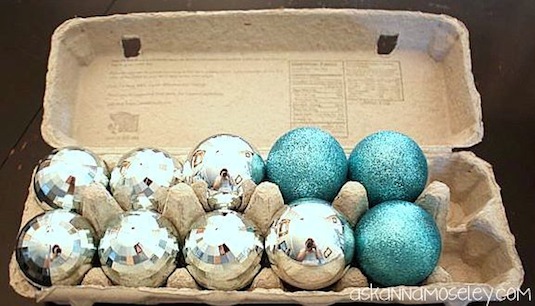 13. DIY Christmas Ornament Storage
Here's a cheap and easy way to store your fragile Christmas ornaments without the risk of them breaking! Glue plastic cups to cardboard, and then stack them in a storage bin. It will also keep the hooks from tangling. I know I'm guilty of piling my ornaments together in a box, and then dealing with the madness of separating them come next Christmas. Great solution!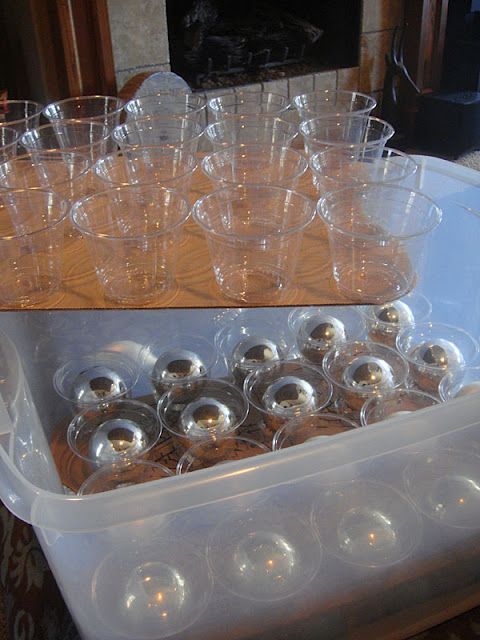 14. Ceiling Storage
What a great way to take advantage of empty space! Use the ceiling of a closet to store those pesky wrapping paper rolls that always get crumpled and lost in the closet. You could also do this on the side of a closet to keep them standing upright and out of the way.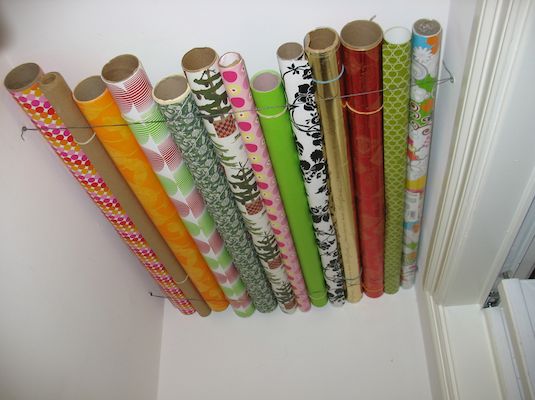 15. DIY Gift Wrap Organizer
I don't know how many times I've bought gift wrap only to use half of it, and then forget about the rest because it's buried deep in the back of my closet (probably crumpled and useless). I love this idea because you can hang it anywhere you'd like on a wall and then easily move it later if needed. It's really rather simple, too! Curtain rods, hooks, and a picture frame. Check out the full instructions here.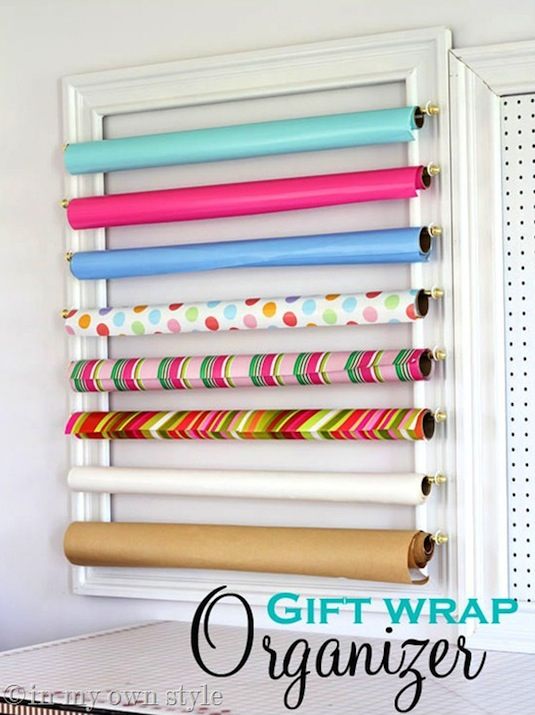 16. Repurposed Trash Can
A trash can is the perfect size to store long tubes of wrapping paper. You wouldn't even need the cardboard tubes that come with the gift wrap for this one. Just toss your paper in. To make it a little more mobile, add wheels on the bottom with cushioned tape. Check out the instructions for that here.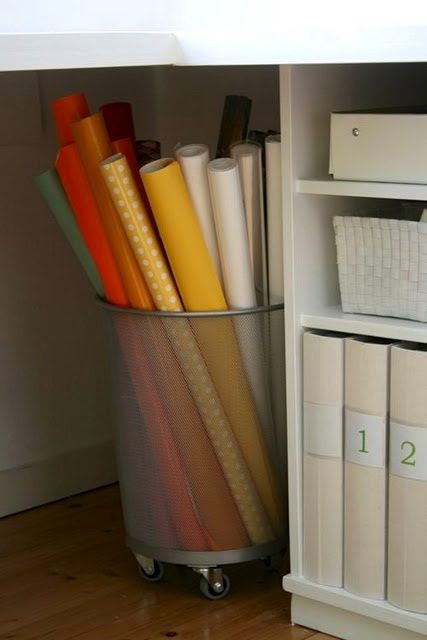 17. Easy Christmas Light Storage
Tangles, tangles, and more tangles! This is what we have to look forward to every year when we break out all of the Christmas lights. It gives me anxiety! Here's an easy and cheap solution to that problem: Wrap them around pieces of cardboard and long wrapping paper rolls to keep them better organized and tangle free.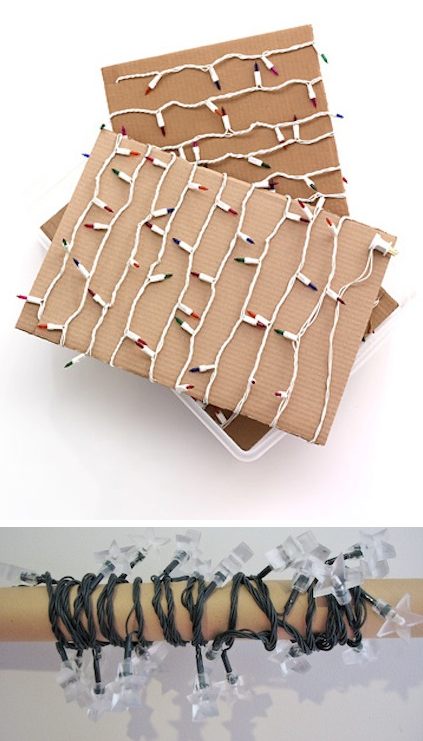 18. Foil & Plastic Wrap Storage
The back of a pantry door is the perfect place to store your rolls of plastic wrap and foil. It's out of the way, doesn't take up needed drawer or counter space, and it's easy to pull the wrap off of the box while it's secured to the door. You will find full instructions for this project over at Ask Anna.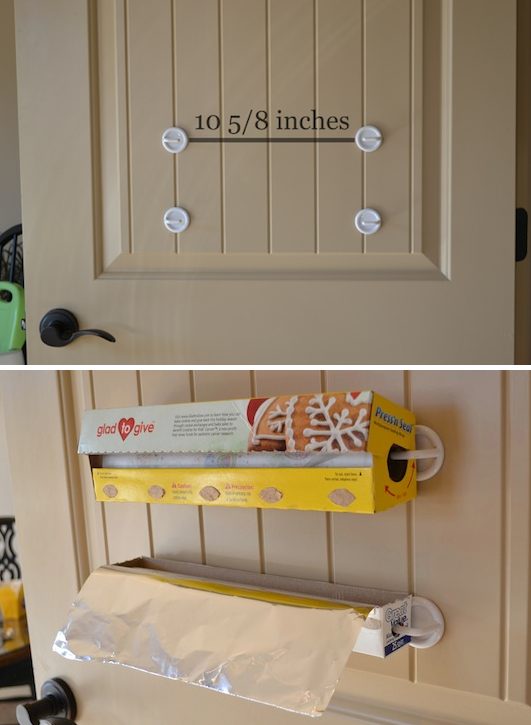 19. File Box Appliance Storage
If you're anything like me, you leave your hair dryer, curling iron, and hair straightener on the counter while it cools, and then it just ends up sitting there all day cluttering up your counter space. Check out this solution to that problem using a file box! Attach it to a wall or the side of a counter for easy access, yet still out of the way and aesthetically pleasing. Read more about how this was done here.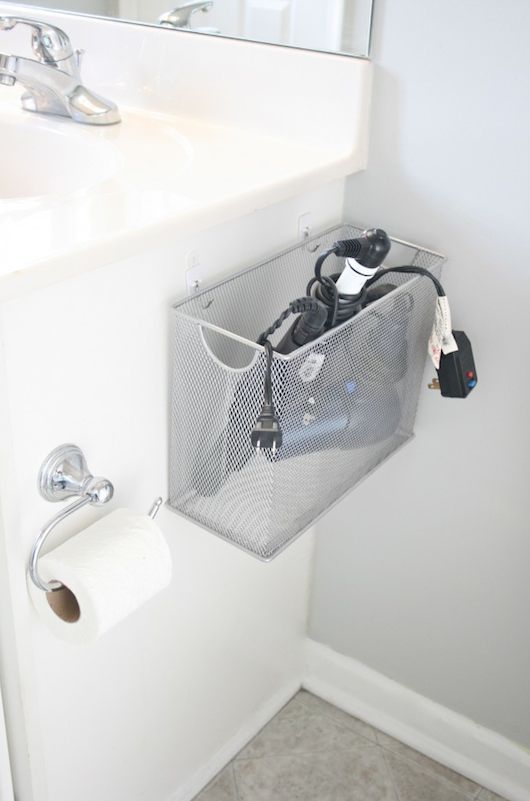 20. Pillow Case Storage
Tuck your matching sheet sets inside one of its own pillow cases to keep your linen closet organized! I especially like this idea for the fitted sheets. They're such a pain.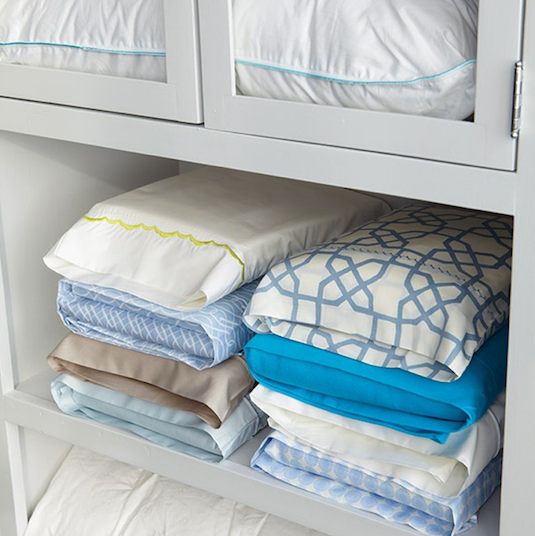 21. Repurposed Shoe Organizer
These shoe organizers work great for so many things! You can use it in the laundry room for cleaning supplies, in the garage for spray paint and tools, the kids' room for toys, or in the closet for scarves, socks, belts, and shoes. They are ideal for small spaces because they take up unused wall or door space instead of your much needed closets and cupboards.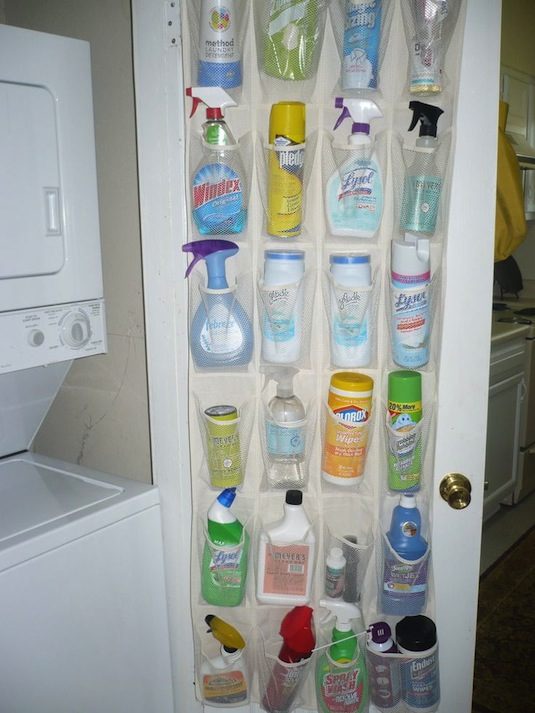 22. Magnetic Strip Bathroom Storage
Use a magnetic strip on the inside of a medicine cabinet door or in a drawer to keep your bobby pins, hair clips, nail file, tweezers, and other metal objects in one organized spot. See more on how this was done over at SuperWoman.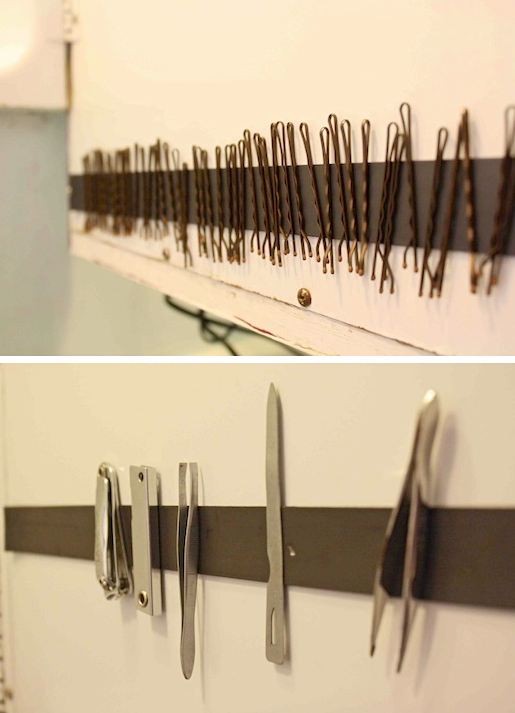 23. Repurposed Disinfectant Container
I have one of these in just about every room of my house. I get a little obsessed with disinfectant wipes. They're just so convenient to use, but I hate throwing away those perfectly good containers. For all of you pet lovers, use them to store and easily dispense dog poo bags! You can even decorate the container so it looks nice sitting within arm's reach on the counter. Hmmm, what else could you repurpose these for?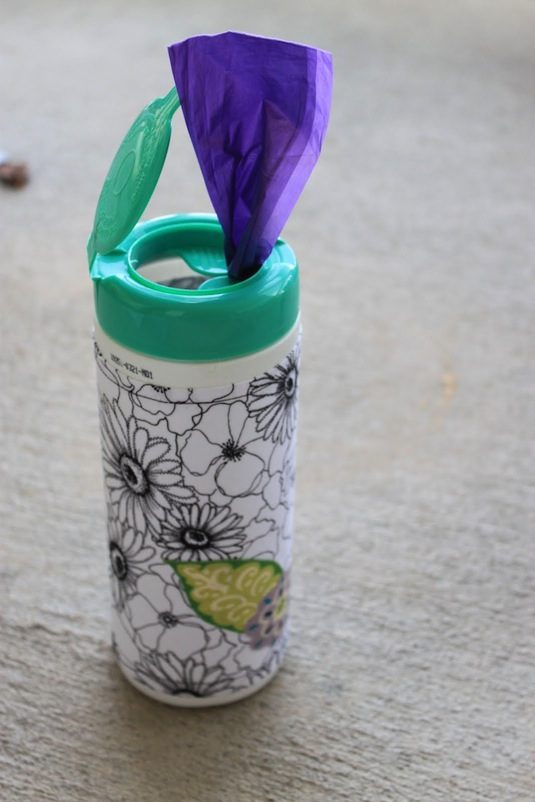 24. Tackle Box Battery Storage
Use a plastic tackle box to store batteries! The individual compartments are perfect for separating your batteries by their type and size. Or, if you're super obsessed with staying organized like me, check out this battery organizer. I have one in my junk drawer. 🙂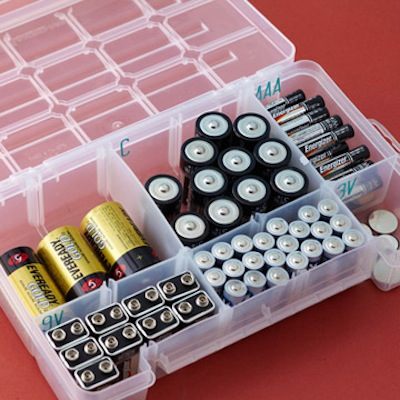 25. Ice Cube Tray Drawer Dividers
Place ice cube trays inside of a drawer to store and organize small items like jewelry, crafts supplies, push pins, paper clips, beads, and other little things that are easy to get mixed up or lost.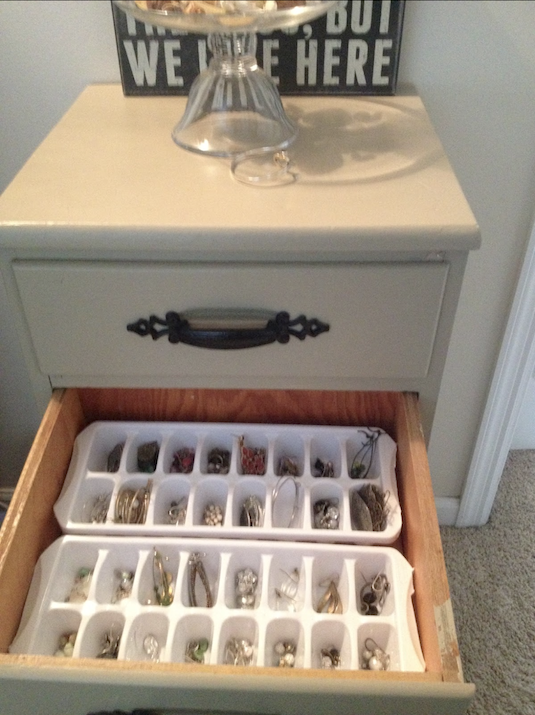 26. DIY Flip Flop Storage
For all of you flip flop fans, here is an easy and budget-friendly way to keep them organized and off the floor! I've always hated those wire hangers, but I do push them off to the side of the closet just in case they are ever needed. Well, here we go! Modify your hangers with a wire cutter and pair of pliers into a nifty storage solution for your flip flops and lightweight flats. Check out the full instructions here.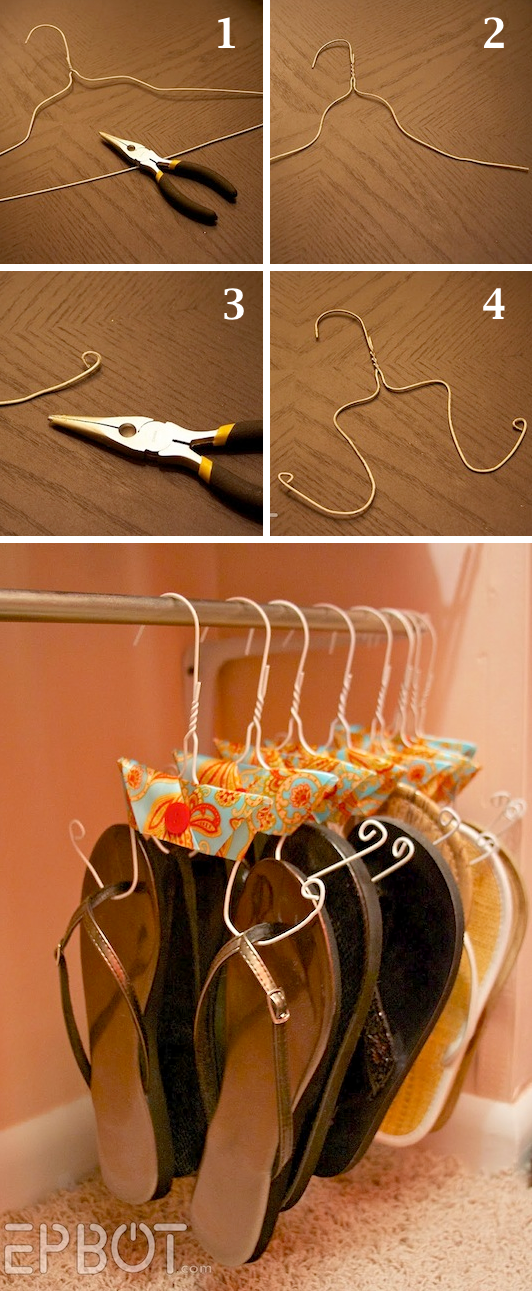 27. Organized Ribbon Storage
Use a swinging arm skirt rack or slack hanger to store your ribbon collection! Just take the clips off, swing the arms open, and slide your ribbon on. What a great solution for all of that unraveling ribbon that is otherwise thrown in a box.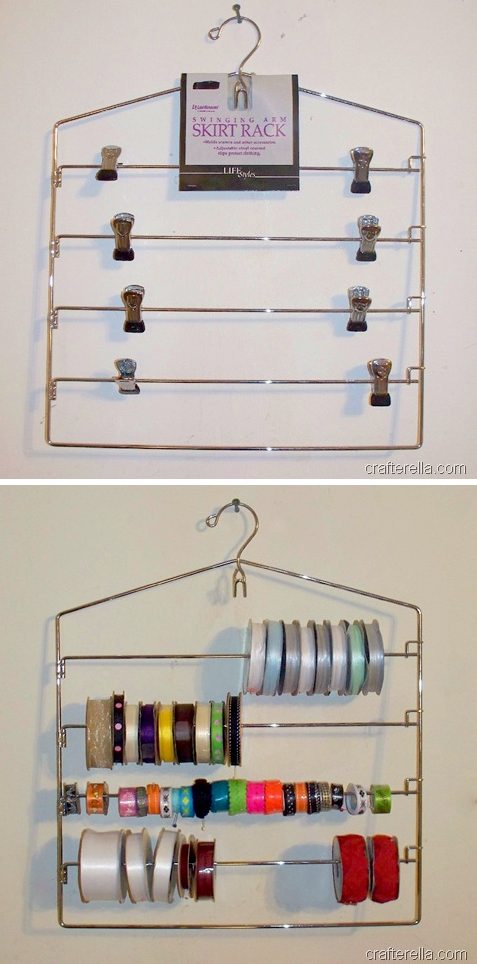 28. Wine Rack Towel Holder
This one speaks for itself. A wall mounted wine rack seems to hold rolled towels like a champ. This is a good solution for a small bathroom that doesn't have enough cupboard space, but perhaps has a free wall that can be utilized to store your towels.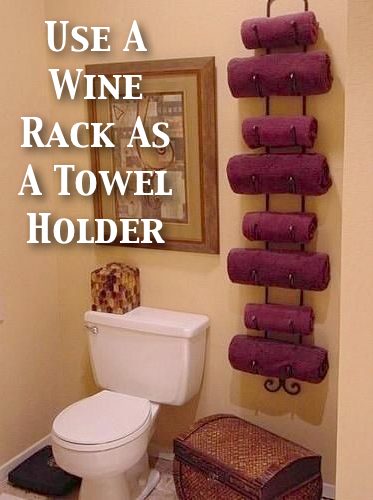 29. DIY Heel Wall Mount
Closet getting tight? If you've got a collection of high heels, this might work for you! Crown moulding angled just right against a piece of base molding will hold your heels up and out of the way. They're easy to access and actually look quite nice displayed like this.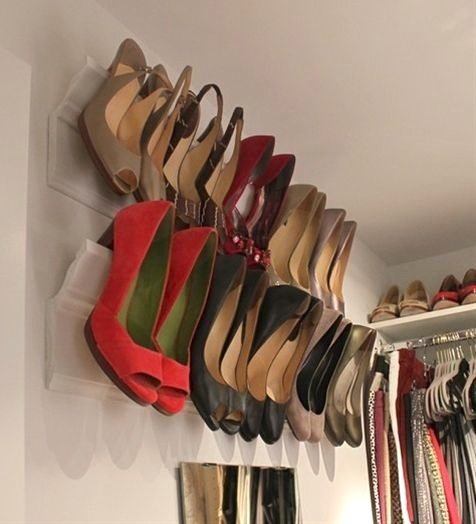 30. Laundry Basket Shelf
Use a shelving unit (you can get them from IKEA for cheap) to stack and store your assortment of laundry baskets. It doesn't use up any extra room as you're just taking advantage of unused vertical space. I'm just a little worried about that neon pink sock in the lights basket.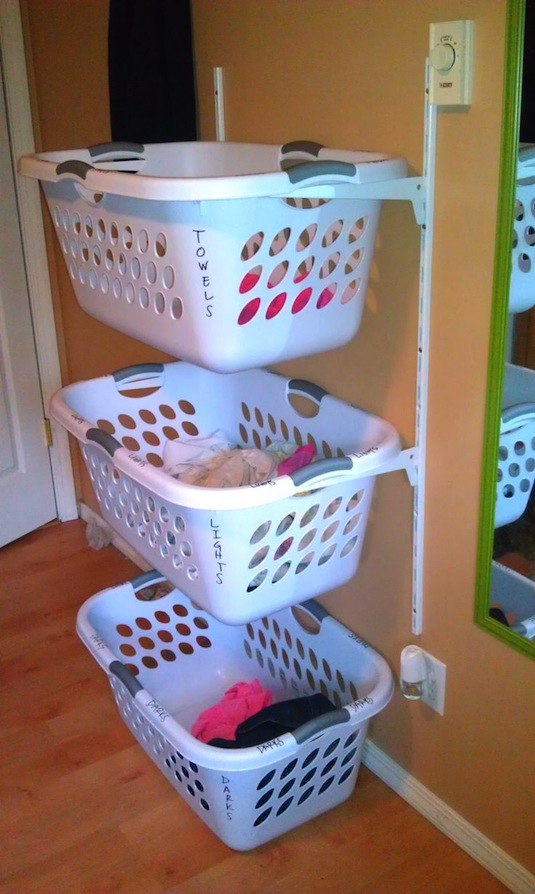 31. Hidden Toothbrush Storage
I, for one, do NOT like my toothbrush being out in the open, especially in a small or shared bathroom. It just doesn't seem sanitary, not to mention very pretty sitting on the counter. If you have a medicine cabinet, here is a unique solution to keep them inside without falling out every time the door opens.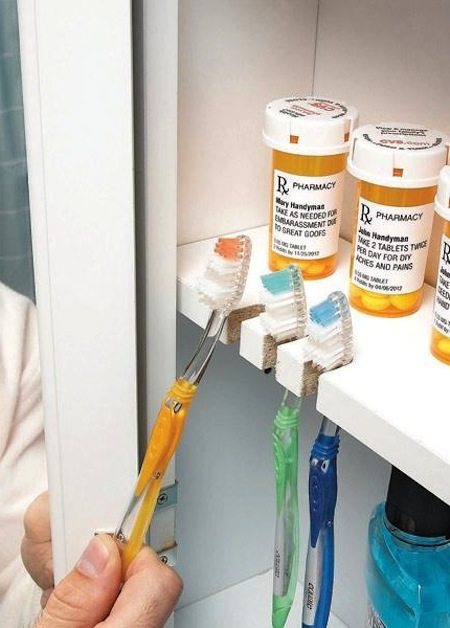 32. Under Sink Pocket Organizer
I've already discussed all of the wonder benefits of a a shoe organizer, but I really like the idea of cutting one in half to use under the kitchen or bathroom sink. It just never occurred to me that I could customize the size with a pair of scissors to fit where needed! Check out the full instructions for this here.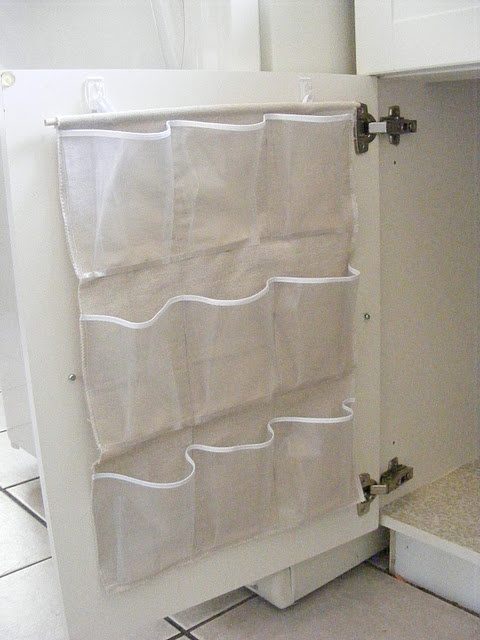 33. Basket Dividers
Use those cheap baskets you find a Walmart or The Dollar Store in your bathroom drawers to separate, organize and store all of your make up and other toiletries! You could have one basket for eyes, one for lips, one for brushes, one for nail supplies, etc.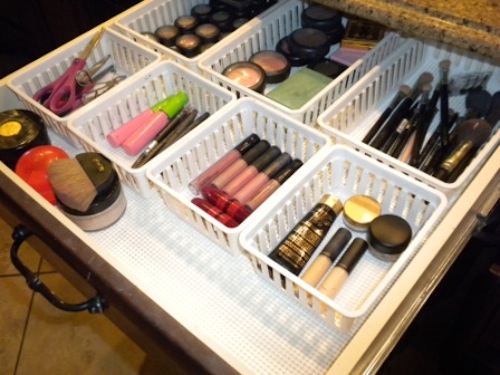 34. PVC Curling Iron Holsters
2-inch PVC pipe is just the right size barrel to store your curling irons. Mount them to the back of a cabinet door as an easy storage solution. You will find the full details and instructions here.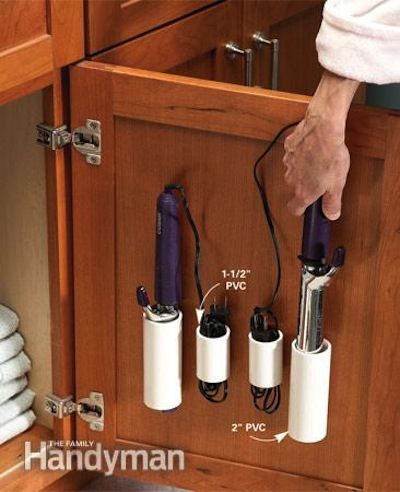 35. Outdoor Towel Storage Rack
You can purchase one of these on Etsy, but if you've got a handy man near by, you can also make something similar with PVC pipe! What a great resting spot for all of your wet towels, shorts and swimsuits. This way they can be used over and over instead of ending up in a pile somewhere.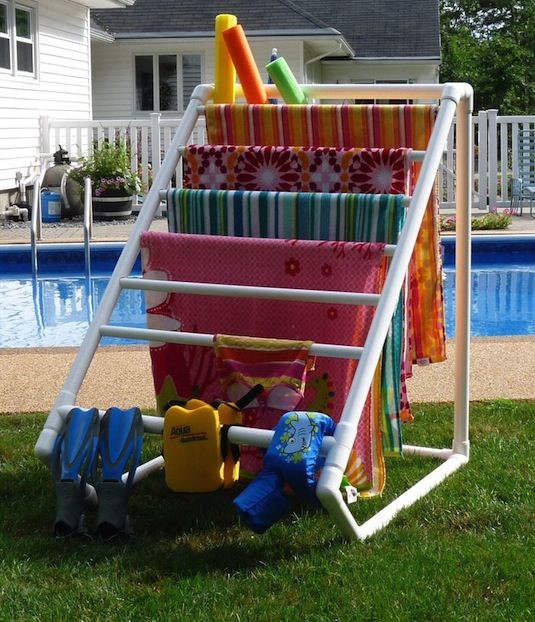 36. DIY Ball Storage
With a few pieces of scrap wood and a pack of bungee cords, you can create your very own section in the garage to store balls where they can easily be grabbed before practice and put back away when finished. How clever! The Blogspot account where I found this idea is no longer active, but the idea seems rather simple to figure out.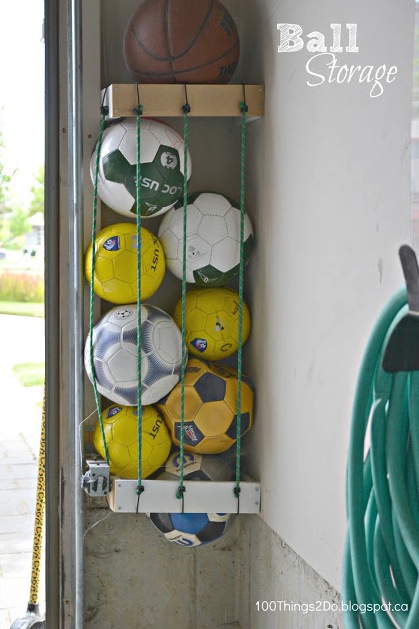 37. Baby Wipe Case Storage
Save those baby wipe cases for on-the-go storage! They're perfect for the kids' crayons, markers, and stickers.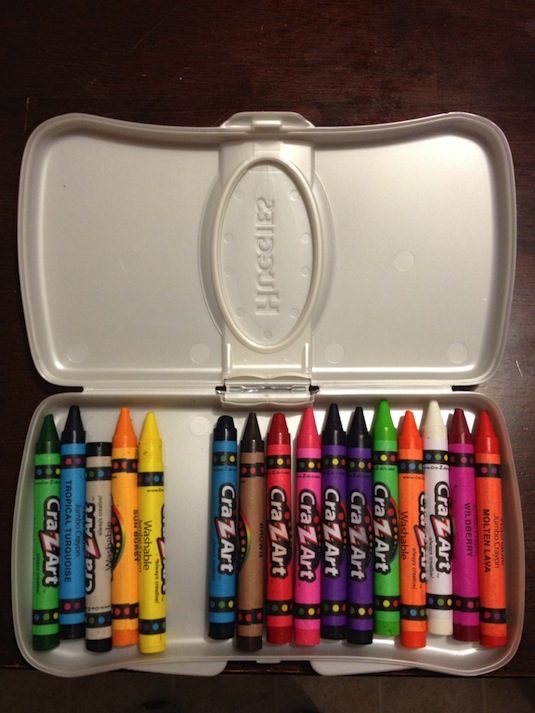 38. Spice Rack Storage
Just like the mop and broom racks they make for mounting on the wall, you can also buy these made just for spice containers! Mount them to the back of a cupboard door to save shelf space.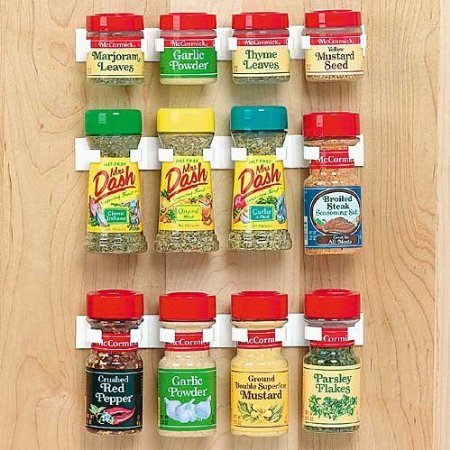 39. Clever Lid Storage
Install metal towel bars to the inside of a pantry door to store the lids to your pots! It really does seem like the lids never have anywhere to go and just get jumbled up in a mess. This will make them easy to see and grab.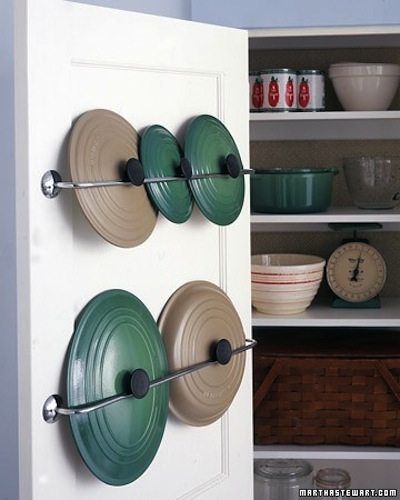 40. Repurposed Door Handles
Instead of putting your hand towels on a towel hook, consider using large, looped door handles. This might work better for a smaller spot on the wall where a bulky towel hook won't fit. It is also more secure, and the towel is less likely to slip off. In fact, I use the handle to the faux drawer front that is below the sink in my kitchen to hold a towel.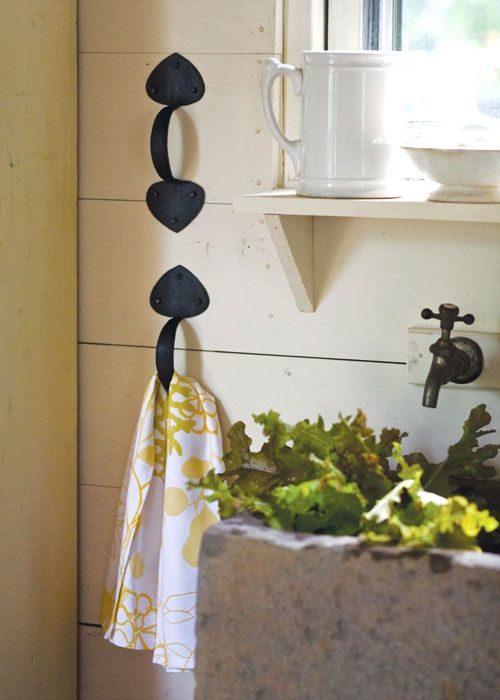 41. Q-Tip Dispenser
Keep your Q-tips handy with a Qtip dispenser! It keeps them neat while dispensing them one by one. I think I probably use more cotton swabs than anything else. It makes sense to have them right at your disposal.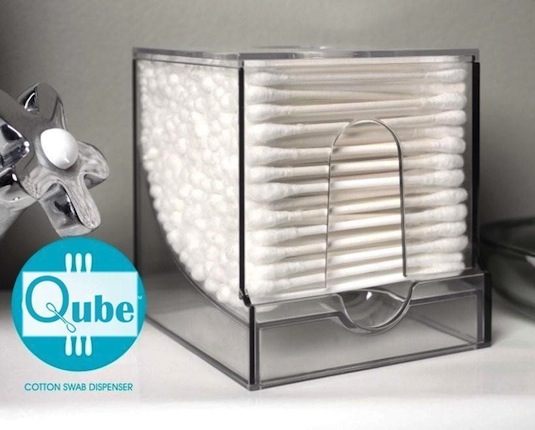 42. Magazine Holder To Store Kitchen Supplies
Instead of stacking your kitchen essentials in a drawer or cabinet, store them vertically in a magazine holder to make more room in your cupboards while keeping them easy to access.

43. Sneaky Ironing Board Storage
This is one of those things that makes you wonder why in the world you've never though of it! I too, have the same problem with my ironing board that many of you do…. the stupid thing gets in the way. I honestly only use it a couple of times a year (stop judging). I like the idea of storing it behind a laundry room or master walk-in closet door where you'll rarely see it but still have easy access to it. The secret: robe hooks!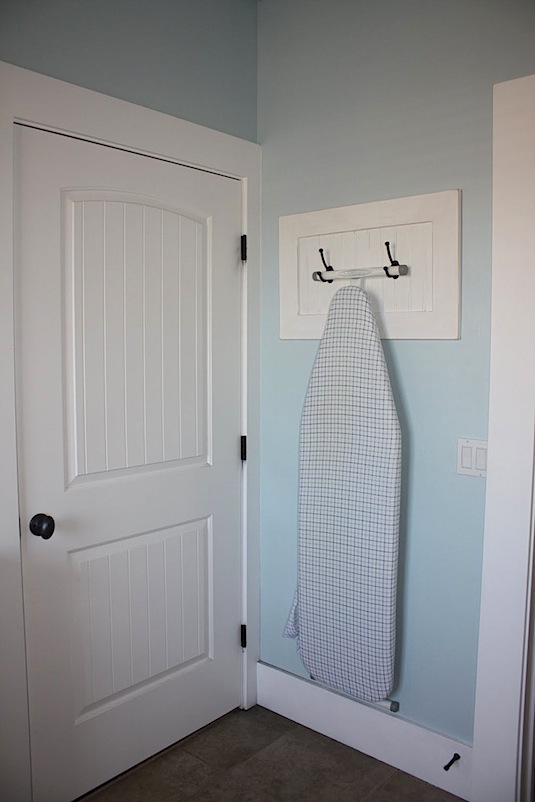 44. Easy Baggie Storage
Use push pins to store lunch bags to a wall in the pantry! This makes perfect sense if you don't have the shelf or drawer space. It's not like you were going to use that wall anyway.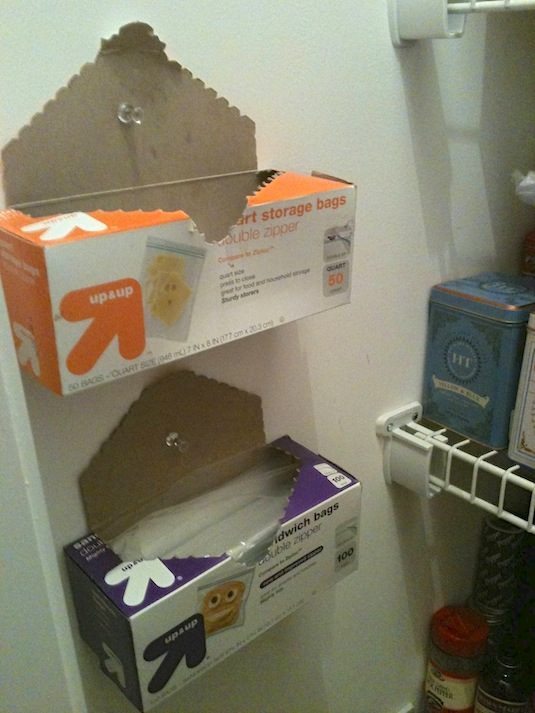 45. Repurposed Spice Rack
What!? My eyes are in amazement. I'm not much of a cook, so my spices are getting kicked to the curb right now. This really is brilliant. Use a spice rack to store all of your little odds and ends. Let's see… paper clips, push pins, rubber bands, nuts and bolts, miscellaneous screws, beads, googly eyes, stamps, labels, stickers… love it.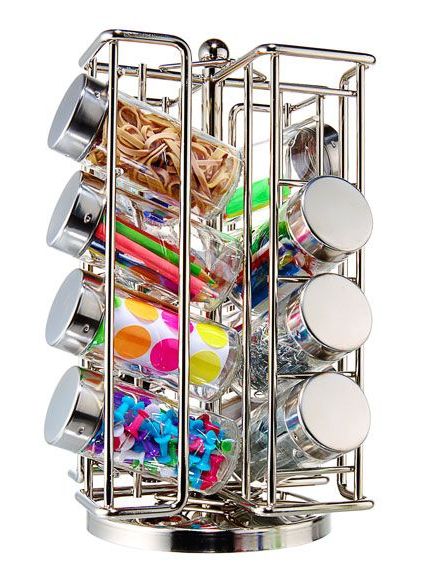 46. DIY Tape & Ribbon Holder
Yet another alternative use for those wire hangers! Cut one end with wire cutters and loop them with pliers. Now you can open it up to easily store ribbon and washi tape. Read more about this project here.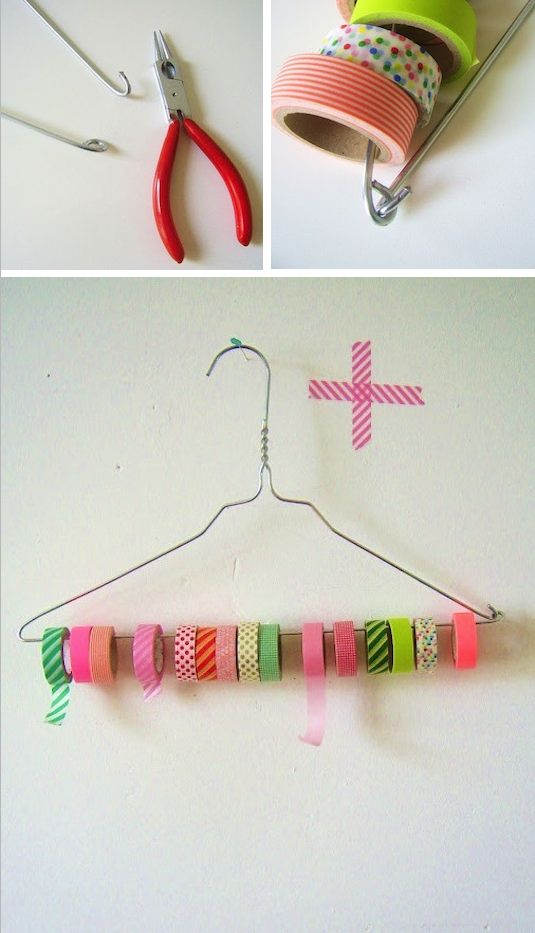 47. File Your Scrapbook Paper
Instead of piling up your scrap paper in a drawer or cabinet where you can't see it (therefor never use it), why not file your scrapbooking and craft paper in file folders? You can organize them by color or paper type, and now they'll be easy to file through and choose from for your next project.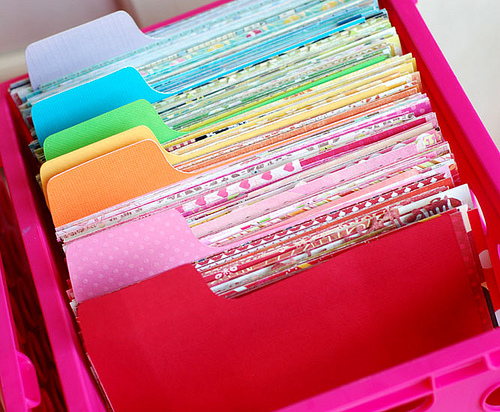 48. Garden Mailbox Toolshed
Keep your small garden tools and gloves handy in a mailbox! A vintage mailbox would be charming as part of your garden decor (perhaps even in a corner surrounded with flowers and vines trailing up and over). This will keep your tools dry, clean and at your fingertips. This is a great way to hide them from the husband who likes to use things and not put them back where they belong.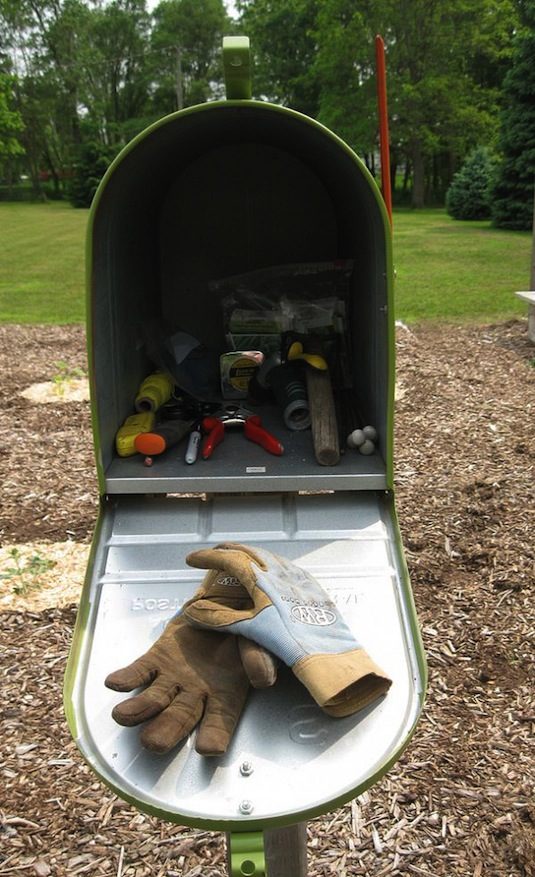 49. Wine Case Shoe Storage
Pick up a few wine case boxes from your local grocery store, restaurant, or bar to store small sandals and shoes. They already have the compartment inserts that make them ideal for long and small items like this.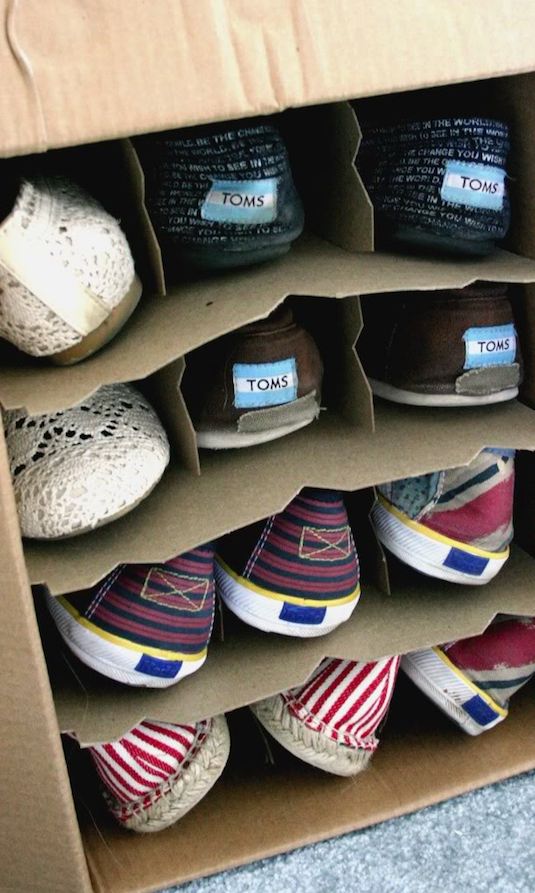 50. Power Strip Storage
Keep your power strips off the floor and out of view by hanging a wire basket under your desk. This is also a great solution for short cords that don't reach the top of your desk without an extension, like a phone charger.