First off, what is a pupcake you ask? Simply stated, it is a fun treat for your dog, also known as a dog cupcake! This pupcake is a fun dog cupcake recipe to celebrate that special dog in your life's birthday, gotcha day or just simply a canine cupcake for fun! No need to get out the mixing bowl. With one bowl and five simple ingredients, you'll have a delicious canine cupcake in minutes!
No celebration is complete without a delectable and delicious dog-friendly pupcake!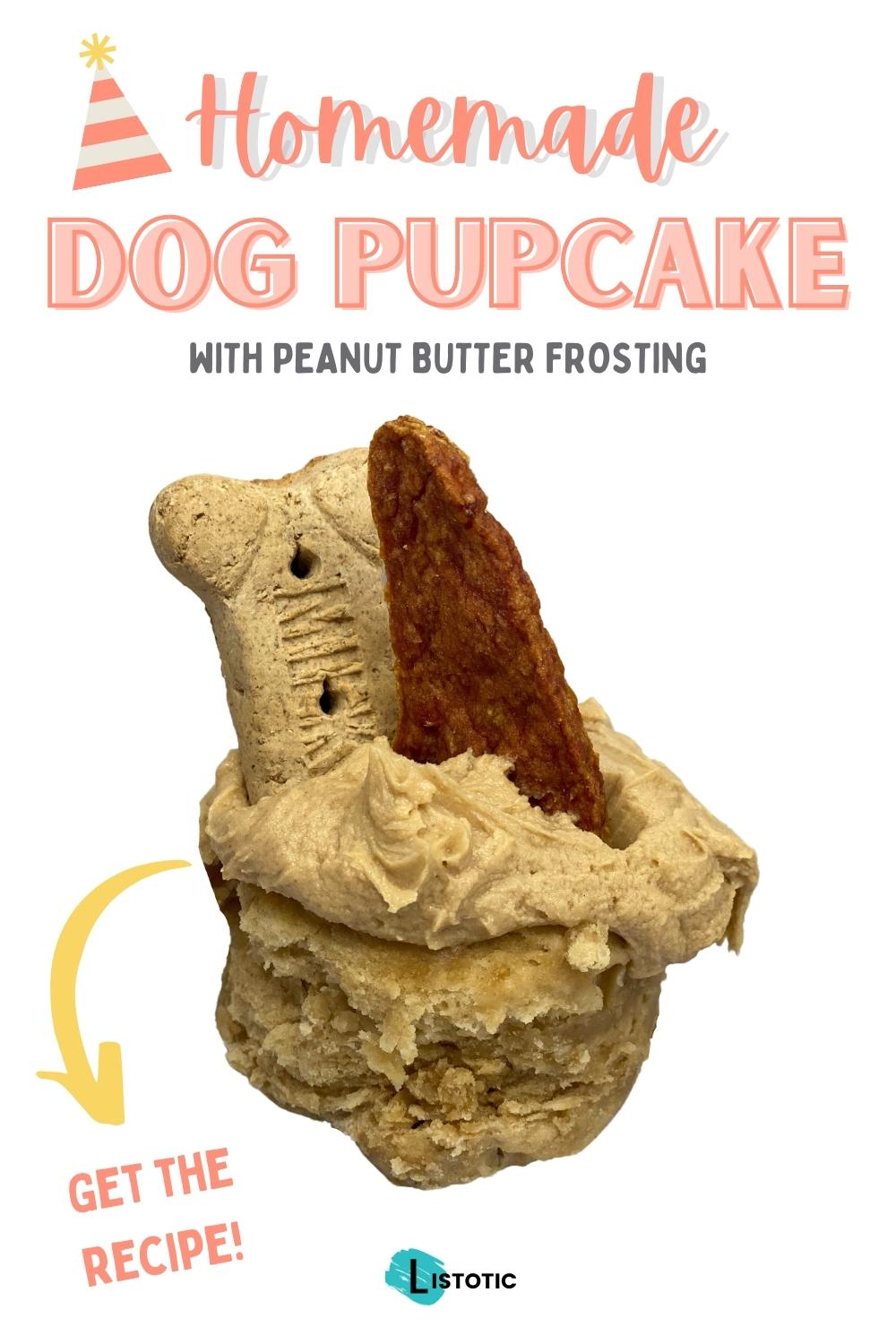 Make this a yearly tradition and be sure to Pin this recipe!
Why bake an entire cake when you can make just what you need for that sweet pup in just one mug? Best of all, if you have a dog that doesn't stop eating, this one serving pupcake is perfect! With this in mind, go ahead and top off their cupcake with their favorite dog treats!
Reasons why I love Dog Pupcakes:
First, they are a great way to celebrate that four-legged family member!
Second, this cupcake can be made in under 2 minutes!
Third, simple to make with ingredients you most likely have on hand!
Lastly, single-serving pupcakes are great so your dog doesn't overindulge!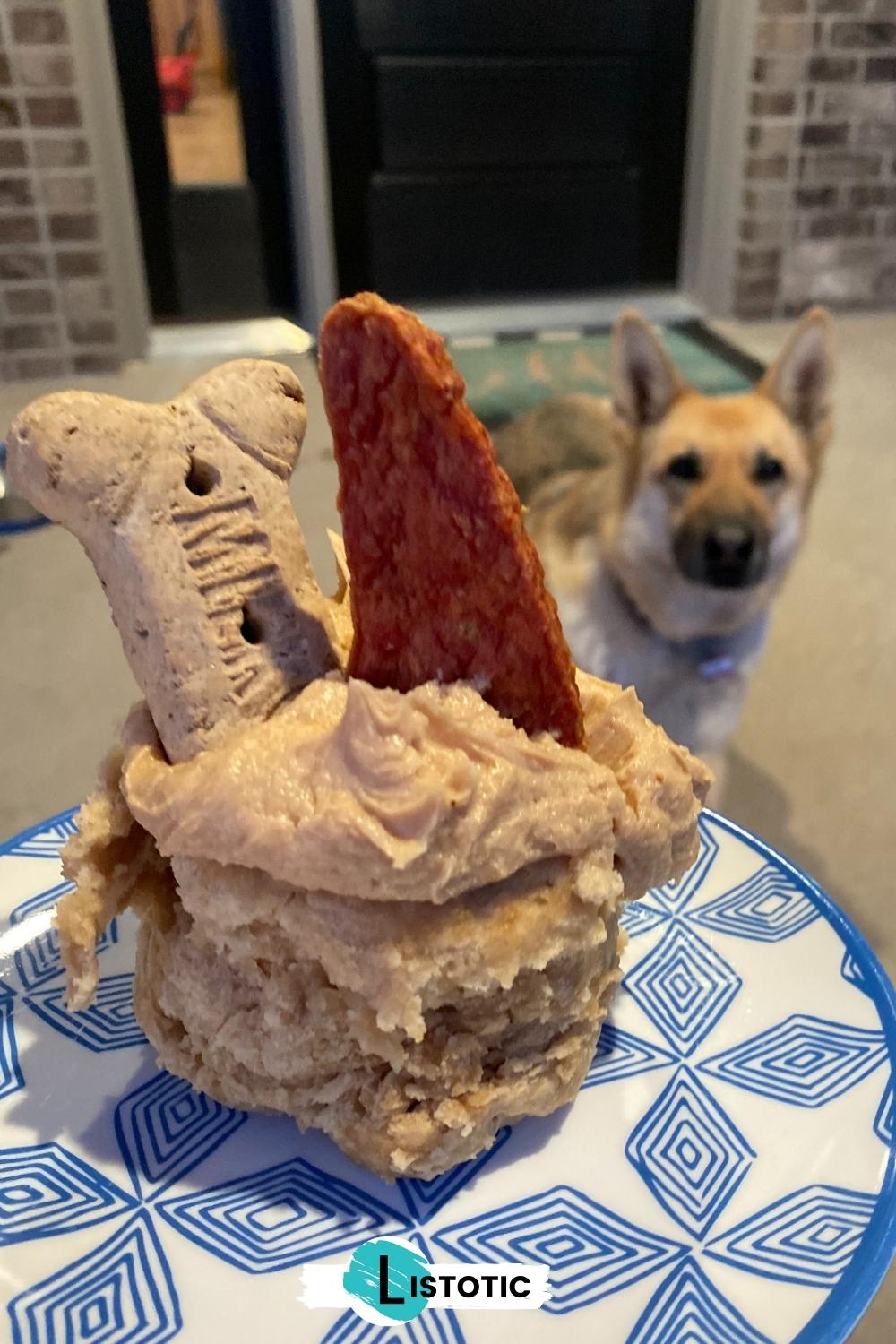 In the meantime, our girl Sadie was a very patient pup while I took this photo!
Ingredients to avoid:
Chocolate — Now, chocolate of any kind is toxic for your dog. In other words, do not use chocolate in any form for your doggie cupcake recipes.
Xylitol — Xylitol is an artificial sweetener and is extremely toxic for pups. With this in mind, be sure to check your peanut butter label. For instance, Xylitol can be found in some peanut butter brands.
Nuts — Consequently, it is best to steer clear of any type of nut and choose a safer option that will provide fewer calories.
Grapes and Raisins — Now, grapes and raisins are known to be dangerous to dogs and can cause kidney damage. So, it's best to skip these ingredients when making your pupcakes.
Coffee — Did you know your dog should avoid caffeine? In fact, caffeine is very dangerous to dogs. Besides, do you really want your pup zooming around the house all hopped up on caffeine? I sure wouldn't!
Dog Pupcake Substitutions:
Some families may not have peanut butter in their homes due to a peanut allergy, however, you may use other nut butters but please make sure you check the ingredients for the safety of your four-legged friend! You may choose to leave out the baking soda, as a result, your pupcakes will be dense but it will not change the taste of your dog's cupcake.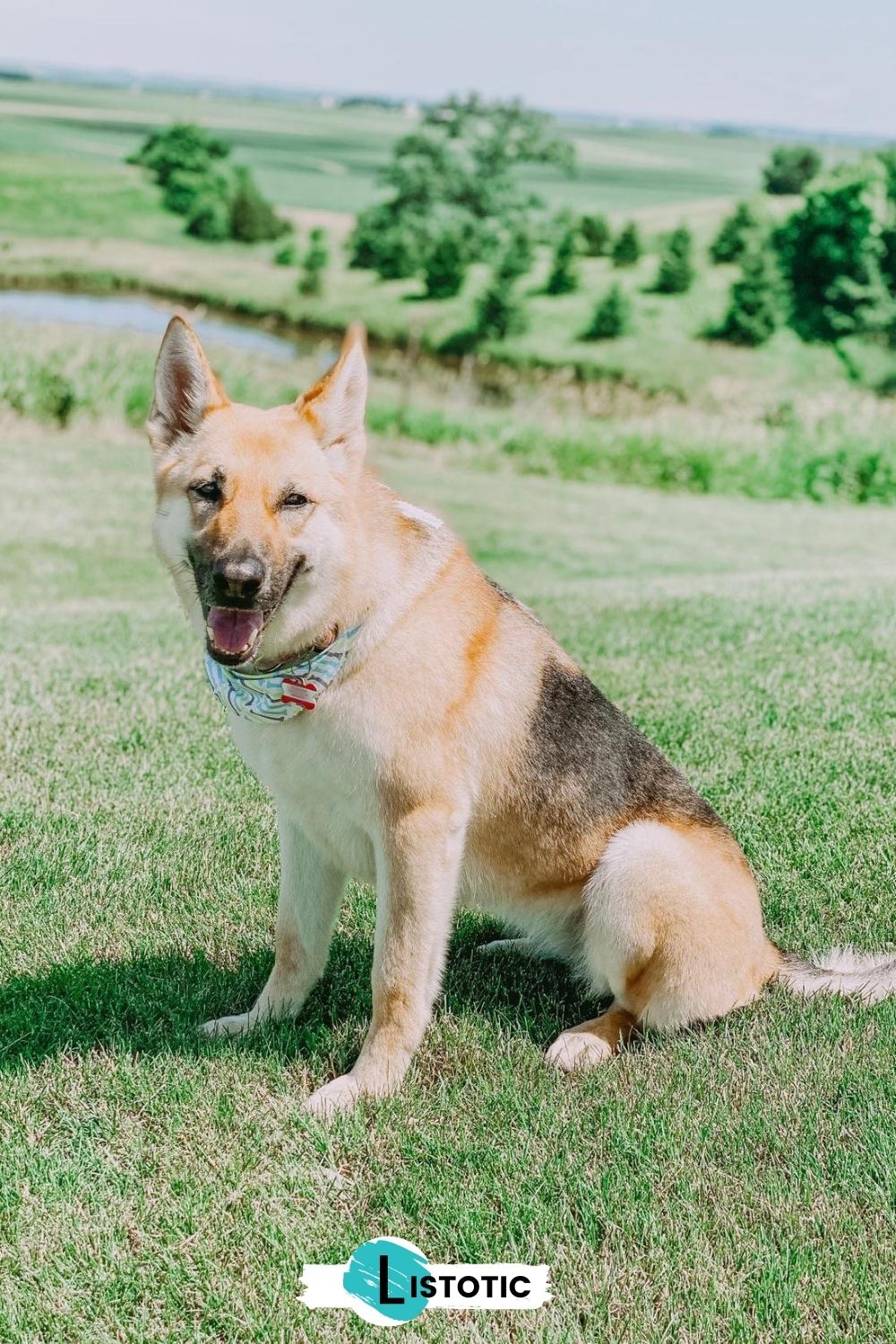 Every dog has its day, and today is your big day! Happy Birthday, Sadie girl!
Additional Safe Ingredients:
In addition, you may choose to include additional ingredients to your pupcake to make it specific to your dogs liking. After all, it is their special day. As a result, pumpkin, shredded carrots, bacon, homemade dog treats, blueberries and even cheese are safe!
Is this Pupcake edible for humans?
While it is safe for humans to eat, it doesn't contain any sugar so it will not taste like a traditional cake you may be expecting. But, yes it is 100% edible if you choose to take a bite! After all, it is a dog cupcake recipe!
Print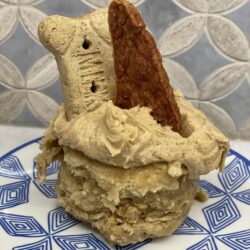 Single Serving Homemade Dog Pupcake
Author:

Prep Time:

1 minute

Cook Time:

90 seconds

Total Time:

3 minutes

Yield:

1

Pupcake

1

x
---
Description
Microwave Mug Pupcake – a fast, microwaveable canine cupcake! This pupcake bakes in 90 seconds and is topped with a simple two-ingredient frosting!
---
For the Pupcake:
2 tablespoons

peanut butter

4 tablespoons

wheat flour

1/2 teaspoon

baking powder

4 tablespoons

water

1/2 teaspoon

vanilla extract
For the Frosting
2 tablespoons

plain greek yogurt

1 tablespoon

peanut butter
Dry dog food or dog treat as decoration (optional)
---
Instructions
For the Mug Cake
Heat peanut butter in a microwaveable bowl or mug for 30 seconds or until it starts to melt.
Add the remaining ingredients to the mug/bowl and stir until well combined.
If you use a bowl to mix, transfer batter to a greased mug
Heat in microwave for 90 seconds.
For the Frosting:
In a small dish, combine peanut butter and plain greek yogurt
Spread frosting on mug cake or place in piping bag and pipe on pupcake
Top with their favorite dog treats or dry dog food for added decorations!
---
Nonetheless, this single-serving dog cupcake recipe is not only a fun treat for your furry friend but it is sure to get their tail wagging! As a result, be ready for this pupcake to be devoured in sheer seconds! Hence, it is dog-approved!
In addition, if you want to be included in the action, check out these absolutely delectable single serve mug cakes for humans! As an example, my favorite is the funfetti mug cake recipe!