Last Updated on September 27, 2021
Super-cute DIY gnome garden ideas and cute fairy garden gnomes!
Take your creativity back to childhood with these fun ideas. Super adorable gnome garden ideas. First, find your perfect fairy garden gnome that suits your garden. Next, have fun placing them in your magical fairy and gnome gardens. Scroll down to see all the cute fairy garden ideas. These miniature garden ideas are fun for kids or adults!
Miniature gardens aren't just for summer! You can make them in the fall too! When you are done scrolling this list check out how to make a Halloween Fairy Garden for fall.
This post contains affiliate links. Please see our Disclaimer Policy.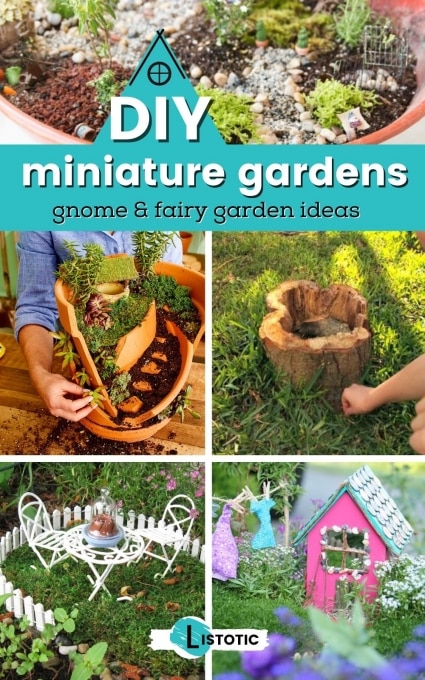 Creative Gnome Dwellings
First of all, let's answer the question.. what is a gnome garden? A gnome garden is a small garden with creative and inventive make-believe living space for a small garden gnome statue. Making gnome gardens is a tradition for me and my boys. As a boy-mom, my little guys aren't as excited about "girly" glittery pink fairy gardens. But they love the idea of "gnome gardens." Truly these two types of gardens are one and the same because they are both small make-believe living areas. Whether it is a gnome garden or fairy garden ideas, one thing is for sure… they are both so much fun to make!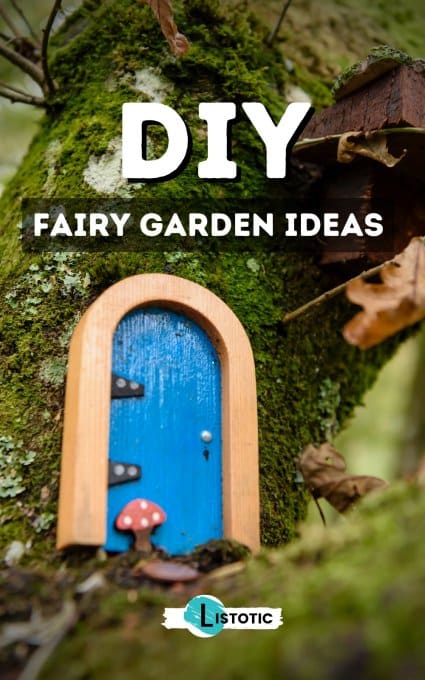 Broken Pot Gnome or Fairy Sanctuary
So, you were pulling out your gardening supplies and brock a terracotta pot? No worries! I know! Turn it to a darling gnome home with steps going up. This is a great idea because it is a fun way to recycle a broken planter. Not to mention after your done it's so much more magical than a regular old pot. Get instructions at Better Homes & Garden.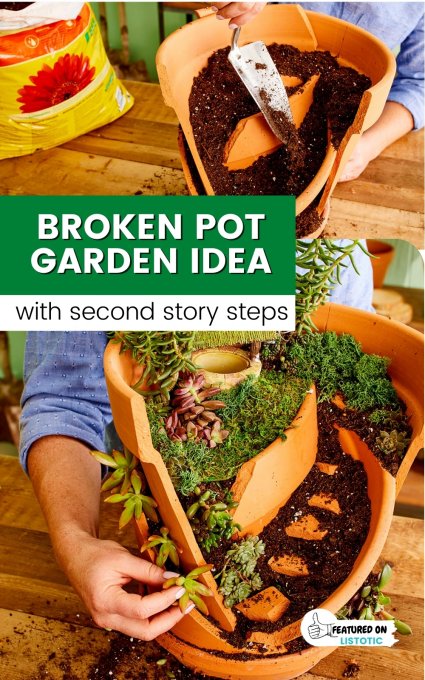 Kids Nature Gnome Garden
No garden pot or container is necessary for this garden. Just a fun imagination and some natural elements like sticks and tree roots. Get some inspiration on encouraging your child to use their imagination to build a miniature garden with this post from Run Wild My Child. I love this idea because it doesn't have to be complicated.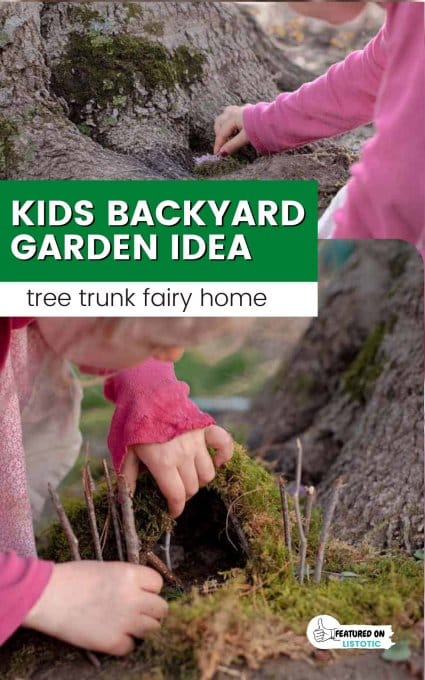 Container Garden
A metal container seems like the perfect sanctuary for a fairy garden. It also looks cute with your porch or deck decor. This container garden from burgh baby one of a kind but so inspiring. It's so fun to look at. I would love to have a container garden like this on my front porch. How fun to just keep adding to it all summer long. Just check out those details! I'm in love with the pennies on the roof of the house! See more on how The Burgh Baby Blog made their container garden. PLus get more creative garden container ideas on Lisotic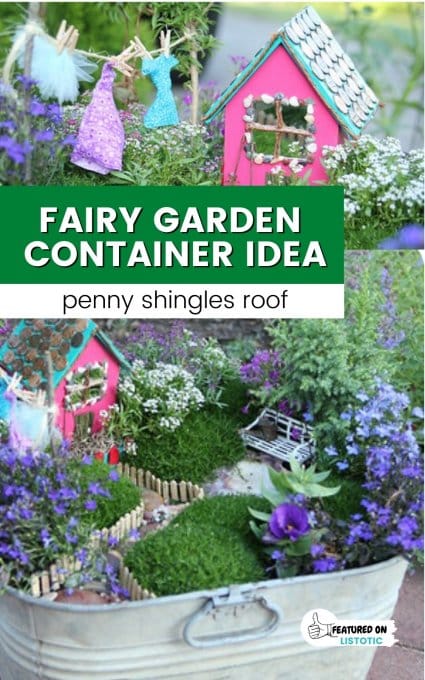 Wheel Barrel Garden
There is no better way to upcycle a rusty old wheelbarrow into a flower pot. Or better yet a gnome or fairy garden! Get tips and how-to instructions from Me and my inklings blog. Don't skip the part on how to create the best drainage for your garden inside the wheelbarrow! These tips are good for any container you might be building a miniature garden in.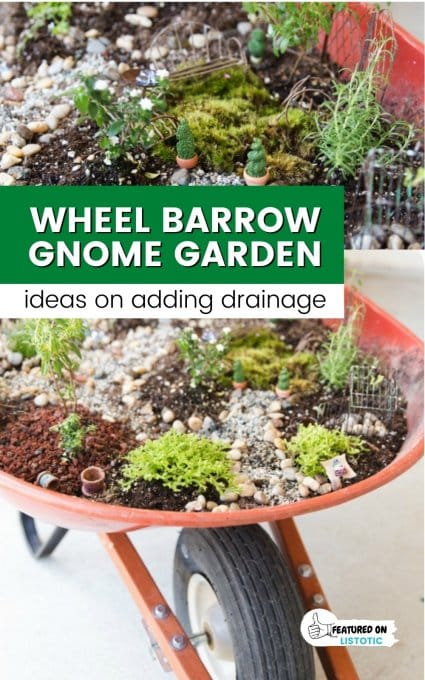 Window box enchanted garden
A miniature garden you can create in your window boxes. Window boxes are the perfect size to create a fun display because they aren't too big and you can change them out year after year. Window boxes add a lot of charm already to home but this takes charming to a new level. Check out all the tiny garden details on Moth and Sparrow blog.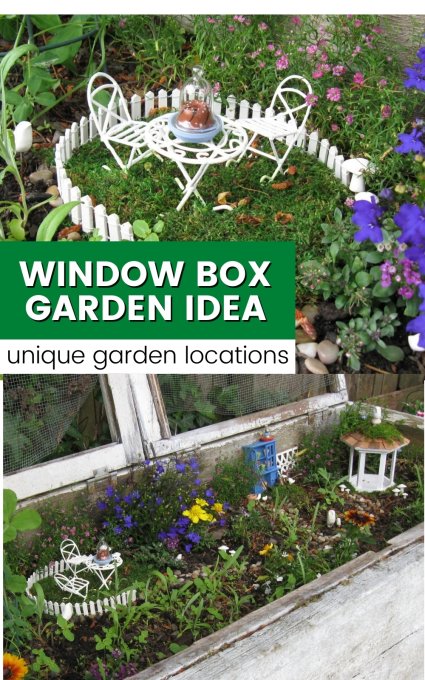 Little red wagon miniature garden ideas
Such a sweet wagon garden. This idea caught my eye because we have a little radio flyer wagon like this. We have had so many great memories with our wagon. This would be a fun way to create a new memory. I love this DIY whimsical and similar fairy garden idea within an upcycled little red wagon because you can move it around. You can get some great tips on how to create the perfect little stone path over at Norine's Nest.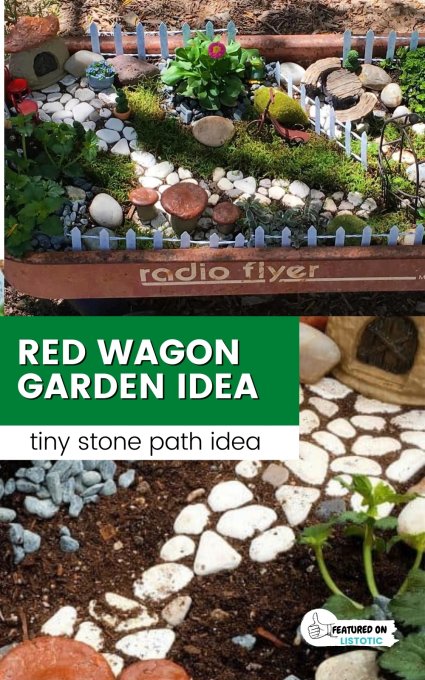 Tree stump Gnome House
Do you have the remains of a tree that had to be cut down? It's always sad to lose a tree in your yard but here is a way to turn that tree stump into something fun! Check out this tree stump gnome house on The Magic onions Blog! I really like how they used the fairy garden moss plant as a rooftop patio.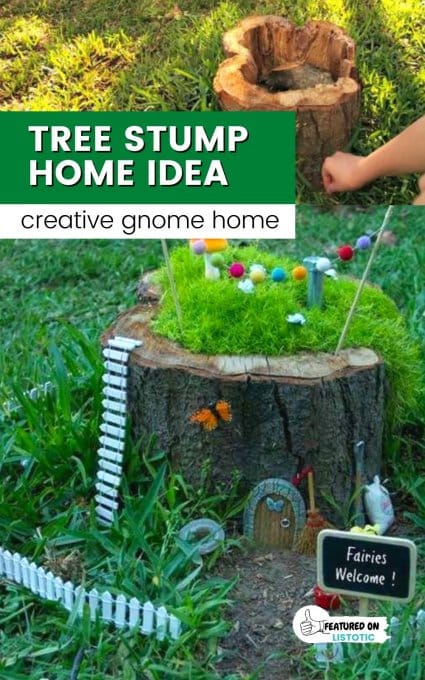 Easy Miniature Garden Ideas!
Take a shortcut and consider doing a pre-assembled fairy garden kit. Why? Because it's easier of course! A stem kit made for kids to learn all about gardening. With less time spent looking for all the pieces. This kit has all the fun and excitement of a magic garden in one box. Buy it here.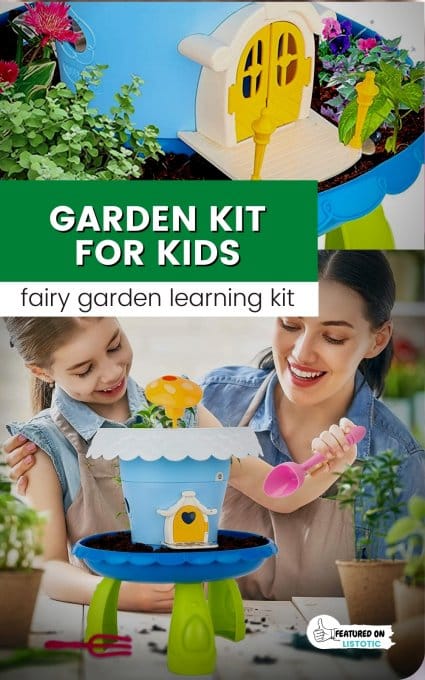 Fairy Garden Ideas: The Gnomes!
Finding the perfect fairy garden gnome is a fun summer task for families. Especially since this little friend is going to be hanging around all summer. So, everyone must agree. I can't decide for you. But I have narrowed down some excellent gnome garden choices and recommendations for your miniature garden ideas. Scroll on down because I have lots of fun stone gnome ideas.
Adorable concrete garden gnome statue you can paint yourself. We have these Stone Statue Gnomes at our house. I've been impressed by how they have withstood the Arctic Iowa winter temperatures. Kids or adults would really enjoy adding the details to these little guys. Or you can buy already painted gnomes as we did.

You can't really go wrong with a cute garden gnome. Or, bring joy to your garden with a classic garden gnome.

Are you going for a more humorous appeal to your gnome garden? What about a biker Garden Gnome? Or, Yikes! This dinosaur garden statue has just found its lunch. A bare butt garden gnome is sure to bring a chuckle to your fun gnome garden. Finally, I can't decide if this napping gnome on strike is funny or cute, but I love it.

If you are going to plant a gnome garden, I see no reason why you shouldn't have a solar gnome. So, go ahead and light up your fun garden with these solar gnome statues!

Want to add beauty to your miniature garden? Consider a graceful garden fairy. Gnomes are cute, but fairies are extra magical. You'll technically have what is considered a "fairy garden" vs a "gnome garden". But because these two live in harmony, I don't think you can go wrong either way.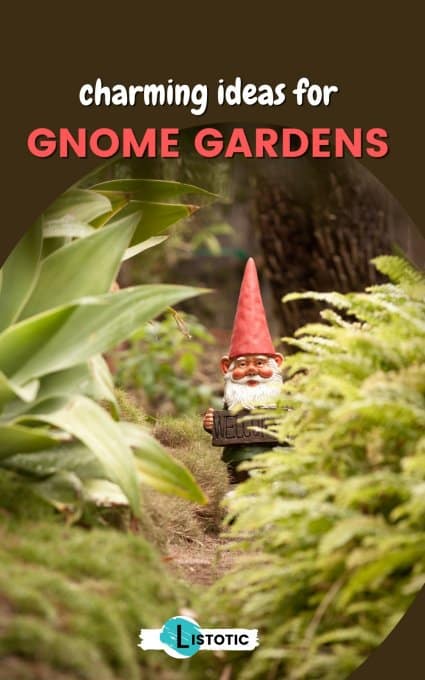 In conclusion, I hope you enjoyed these fun Gnome Garden ideas. Save the pin above on Pinterest so you can come back for more gnome & fairy garden inspiration.