Last Updated on May 12, 2021
List of 15 Best Fairy Garden Plants and Hardy Annual Flowers for a Tiny Garden.
Great, you decided to plant a fairy garden! Time to decide on the types of fairy garden flowers. So, what are the best plants for fairy gardens? This guide of fairy garden plants for miniature gardens is just what you need. We have a list of plants that grow low to the ground, so you can see tiny garden details. Also, some hardy annual flowers to grow beautifully in your enchanted flowerbeds all summer long.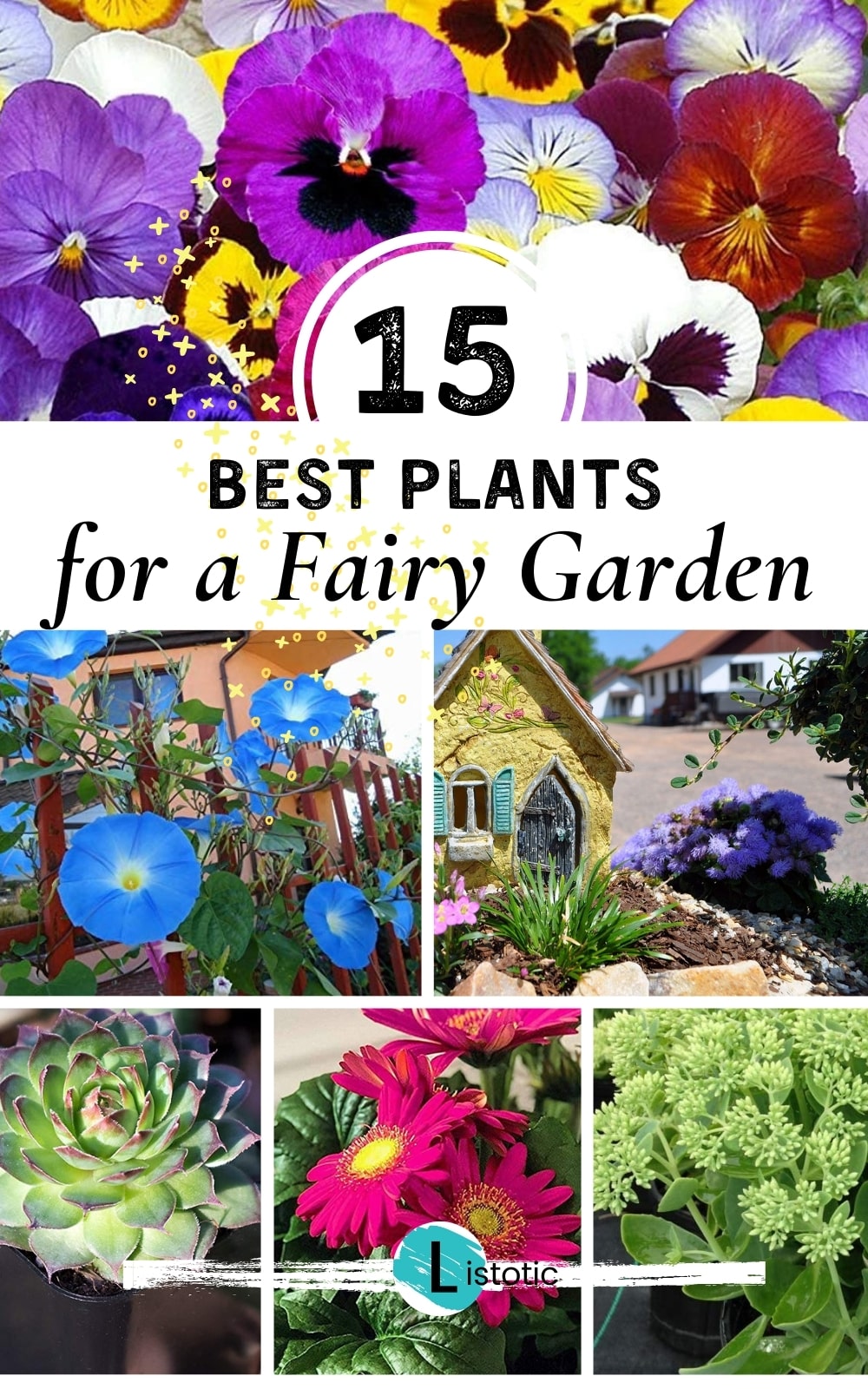 Hen and chicks are hardy succulents that reproduce on their own. Hen and chicks are some of the best plants for fairy gardens and gnome gardens because they are short. They can replicate little gardens or bushes in a miniature garden. Which makes them a perfect match for the best plants for a fairy garden. They are amazingly hardy plants that do well in a combination of sun and shade.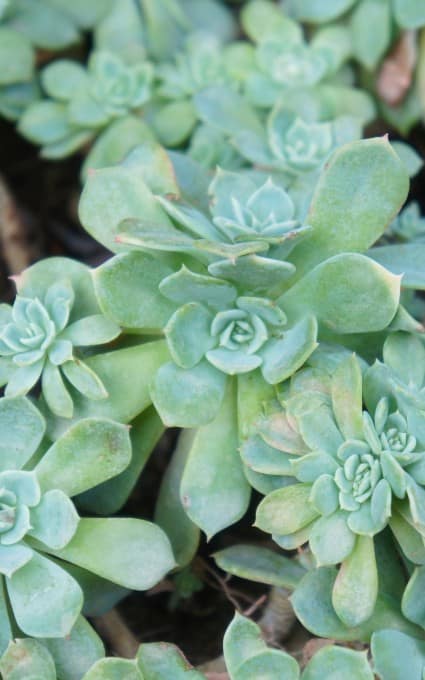 Sedum is another hardy plant that doesn't get a lot of credit for its beauty. The shape of smooth leaves and pleasant patterns make it a great plant for any fairy garden. I especially like sedum because it does well in the shade. Also, a bonus is the butterflies and hummingbirds love the flowers. Sedum is a perennial so it will come back year after year.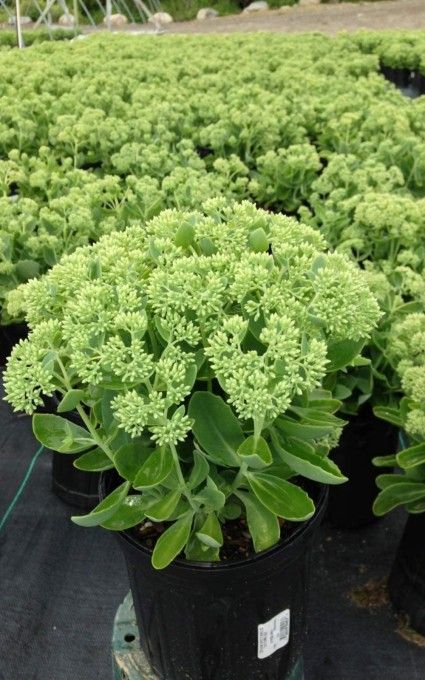 One year I planted a black-eyed Susan vine in the space under my fairy garden. I loved how it turned out. It grew up and around the container. The black-eyed Susan vines enclosed the little home I had placed inside the miniature garden. It looked so cozy! Black-eyed Susan vine plants are small bright flowers that can be trained to grow around the fairy garden container you are designing.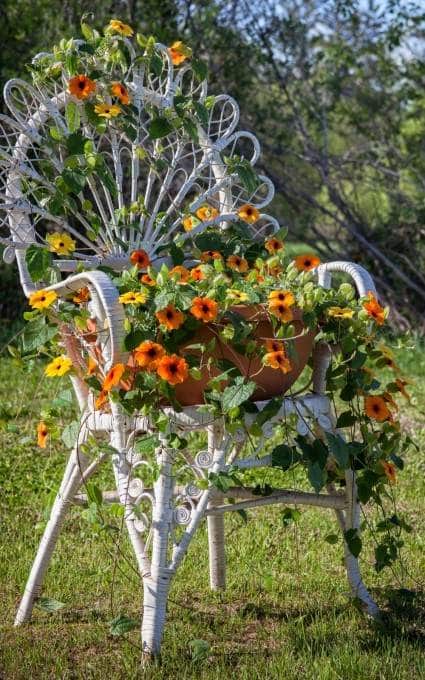 Trumpet-shaped morning glory vines have bright beautiful flowers that are blue or purple. Morning glory plants are magical because you can only admire their beauty in the morning. This curious flower sounds perfect for an enchanting fairy garden. Use the morning glory vines to create a magical privacy fence for your fairy garden inhabitants.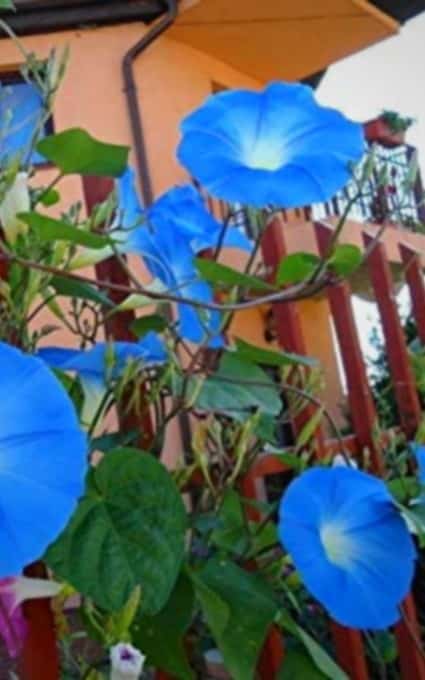 Plumed Celosia has an adorable pointed flower tuff. Celosia comes in a variety of bright colors. They are great for edging or making borders for your tiny gnome homes. I personally like using celosia for our Fairy garden plants because they do not require as much space as some of the other flowers. Celosia makes a noble entrance to any miniature garden.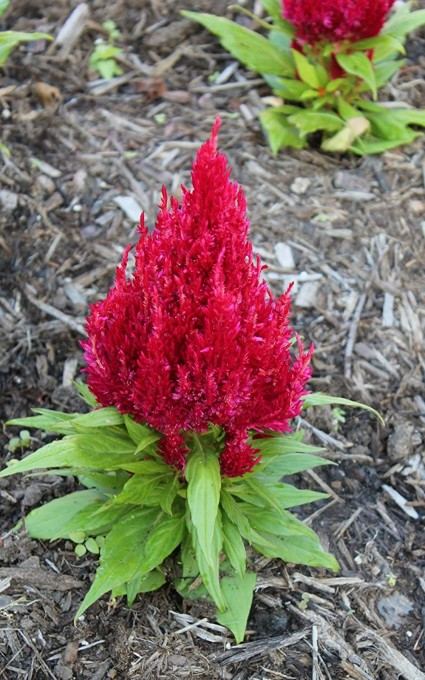 Shop For Fairy Garden Plants
Impatiens are one of those hardy annual flowers that stay low to the ground. You can't go wrong with impatiens in your fairy garden. They are good for making bright ground covers around your flower beds. Impatiens do really well in shady areas. They are perfect plants for a miniature garden and make gnome-home ideas come to life with color.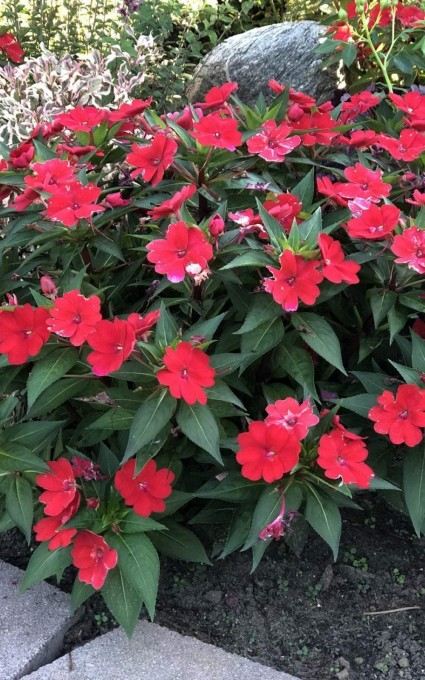 The pansy flower has a detailed pattern on the tiny petals. The delightful little fairy garden plants are so perfect for a tiny gnome garden. You might even think these little flowers have a character all of their own. Some gardeners describe the pansy flower as having a face-like appearance. If you have seen the movie Alice in wonderland you know what I'm talking about. Since the pansy flower does well in cool weather they are best to plant in the spring. An early spring gardener would enjoy this flower in their gnome home.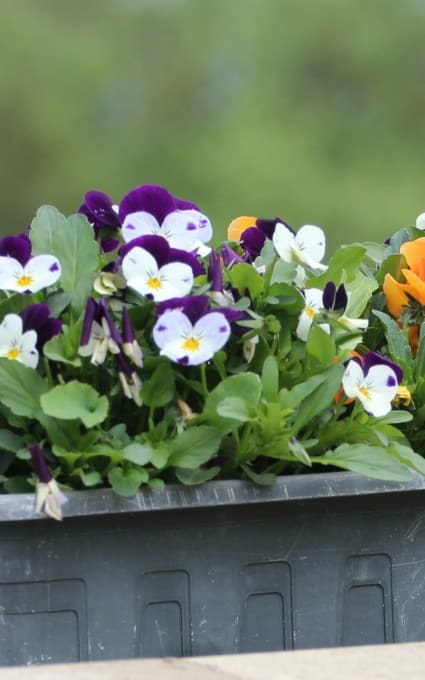 These yellow and gold flowers are incredibly easy to care for and they bloom all summer. They produce lots of buds on a single plant. Marigolds help to repel mosquitos, so they make a great addition to any garden including your gnome garden. Marigolds are another example of hardy annual flowers for your garden.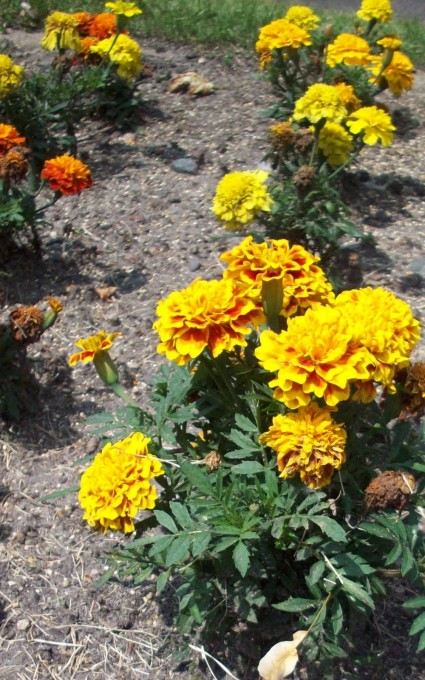 Petunias are known to provide beautiful flowers from spring until fall. They grow more and more beautiful as the summer months go on. Petunias enjoy a combination of sun and shade. Petunias are a beautiful focal point for many gardens. They do great in pots or window boxes too. The Petunia is the perfect fairy garden companion. My favorite petunias are the spreading petunia varieties because they will grow over the edge of your planter like a waterfall of flowers. Give these hardy annual flowers lots of space in your fairy garden.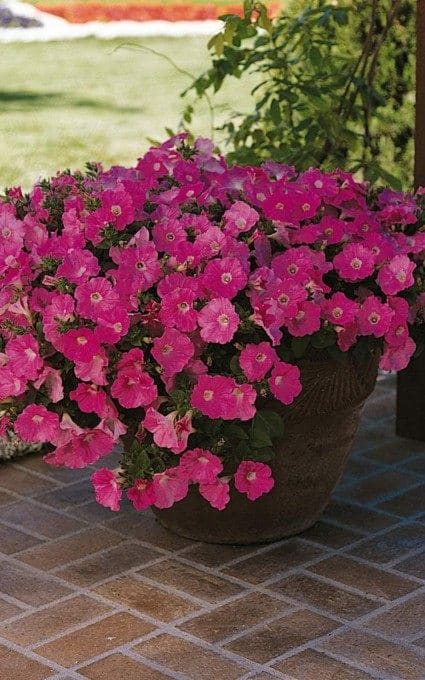 It's difficult to get the color blue into your flower beds. Blue flowers are finicky because they require certain soil temperatures. But Ageratum is one of the few blue flowers that are easy to care for and much less picky. Consequently, these fluffy blue flowers are desirable plants for a miniature garden. The small blue tuffs look so adorable in a small flowerpot gnome garden.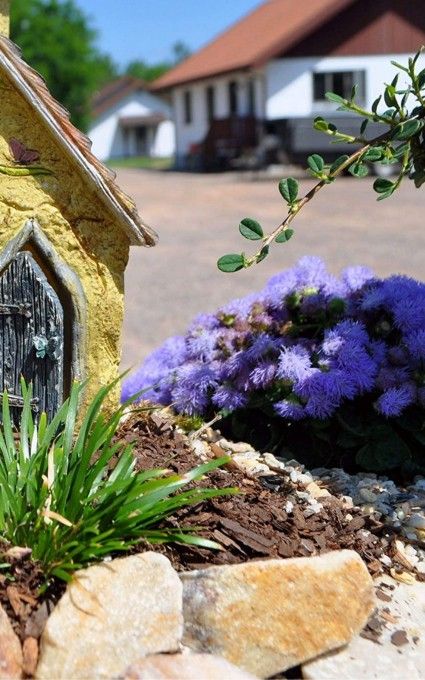 You can add a rainbow of color using Lantana in your flower bed. Lantana flowers can give the rainbow of colors you are looking for in your garden. Butterflies and hummingbirds are attracted to these bright flowers. Lantana flowers are so charming and provide so much beauty. They are the perfect fairy garden plants.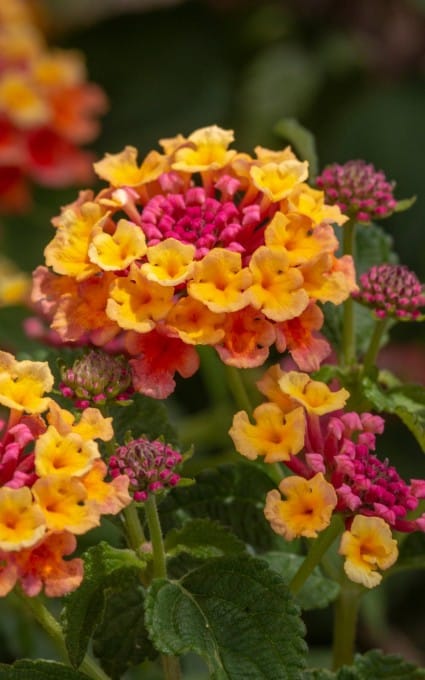 These annuals are a great Fairy garden plant to add to any flowerbed or container. Gerber Daisies are cheerful happy plants. They suit merry little fairy gardens well. Be careful if you live somewhere where deer can get into your garden. Because deer really enjoy munching on the leaves of Gerber daisies. They can eat them so far down to the stem they will not come back. (I know this from experience) If it wasn't for the deer population around my home I would have happy Gerber daisies everywhere!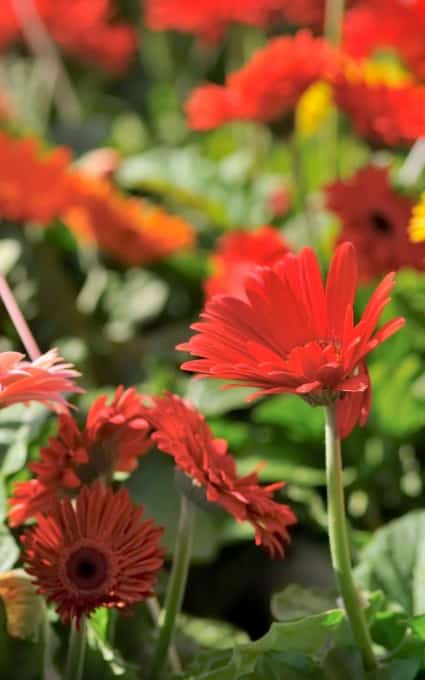 Mint is a go-to plant in my herb garden. I plant it every year because I enjoy it in my tea and cocktails in the summer months. But Mint is also perfect for fairy gardens. Mint has small and fragrant leaves that are also a wonderful addition to gnome dwellings. Beware mint can be invasive to garden spaces because it likes to spread. So if you are adding it, be sure to give it some room.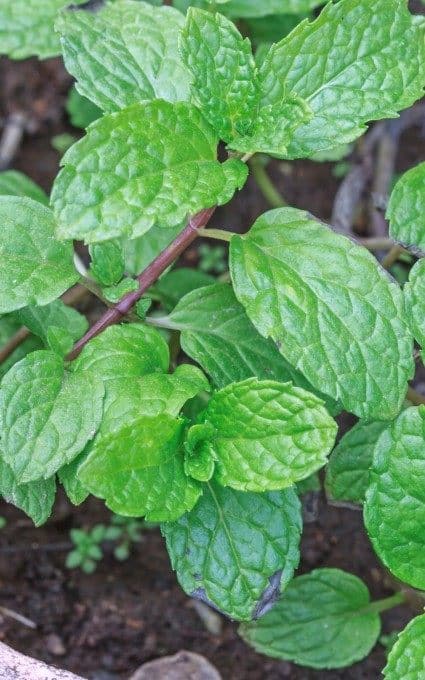 A beautiful small white flower is typically what you get when planting Alyssum. But of course, it comes in a variety of other colors too like yellow and purple. I love the sweet simplicity of these white flowers. The full cluster of blooms Alyssum some terrific plants for miniature garden.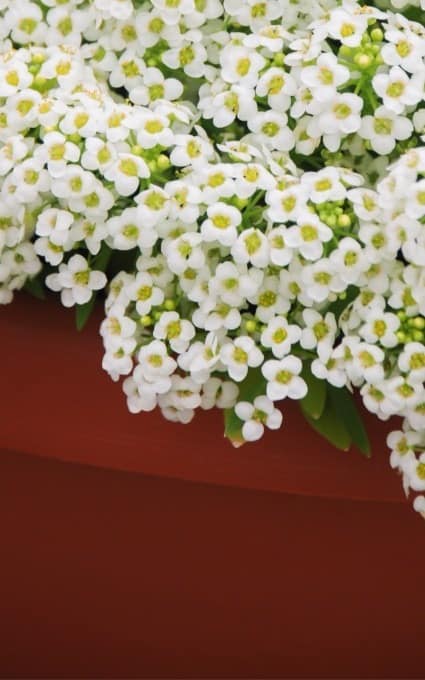 No fairy garden is complete without a soft bed of moss. Moss is a great filler around where you might place a DIY garden door because it looks like miniature front lawn grass. Moss comes in many varieties. Check out this great guide on different types of moss. Pillow moss or cushion moss is the texture and shape you want in Fairy garden plants.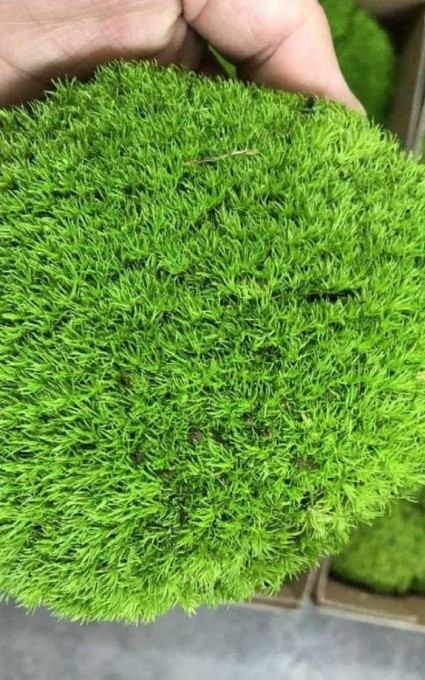 I hope you feel inspired to get planting! Make sure to pin this list to your Garden Ideas Pinterest board so you can refer back to it.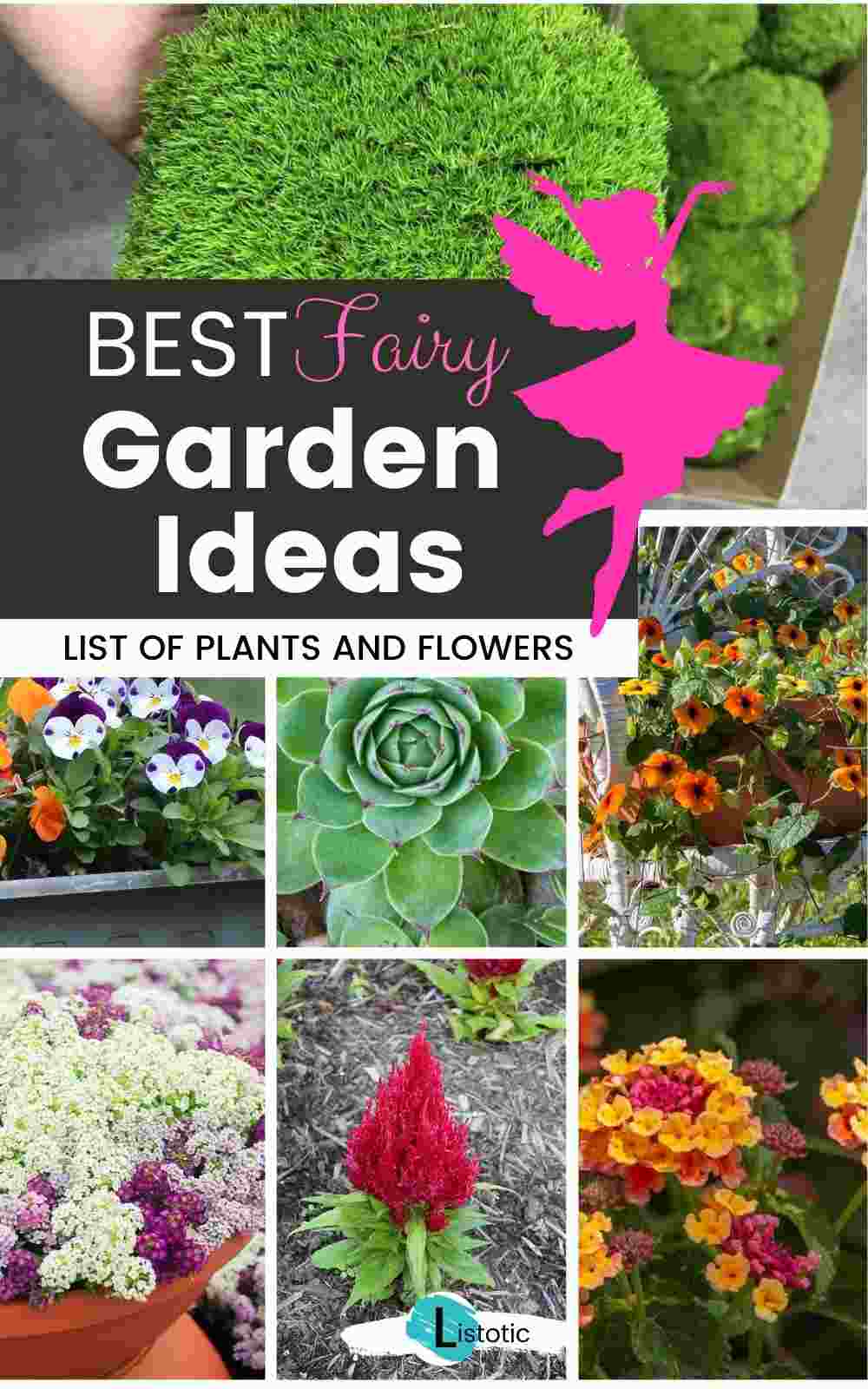 SHOP THE POST
Now that you have found your miniature garden plants, are you taking on a vegetable garden this year? Because I think you can do it! Especially with some help from Listotic. So let us help you take some of the guesswork out of growing your vegetable garden. Here is some helpful information about when to get your seeds started with a guide to when to plant your vegetable garden.