Last Updated on October 29, 2021
How to make a DIY Elf on the Shelf door
We have a DIY ice cream stick craft that's easy to do! Get your Elf on the Shelf door made especially for that special Christmas Elf with this easy DIY Elf Door craft. Listotic will show you just how to make an elf door yourself; the perfect size for your Elf on the Shelf to enter your home. The kids will be keeping their eyes peeled for those elf footprints leading into the new door.
Welcome your Christmas Elf back into your home with their own special door!
'Tis the season for your Elf on the shelf to move in! So, are you wondering how to make an Elf on the Shelf door for your elf? Listotic has step by step instructions for an easy ice cream stick door to welcome back your child's favorite Holiday guest.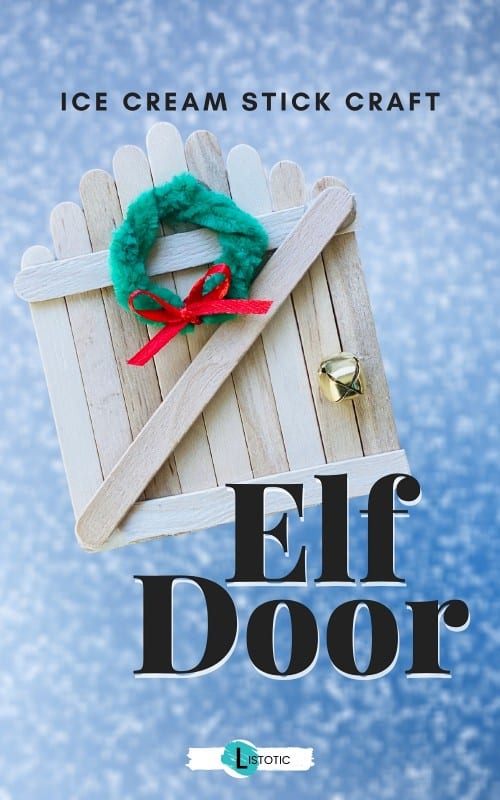 This post contains affiliate links. Please see our Disclaimer Policy.
Here is how it works. First, you'll want to gather all your materials. I was able to get all of these materials at the dollar store. But you might have all these materials in your craft box already.
Materials Needed:
13 Ice Cream Sticks for Crafts
Masking Tape
Wire Snips or scissors that will cut the popsicle sticks easily
Hot glue gun
Free Printable Poem (download)
Optional stencil to make elf footprints

But first, you'll need to explain some ground rules that come with having your own portal to the North Pole. Although this door looks like something fun for the kids to open and see what is on the other side, be sure the kids know that your Elf on the shelf is the only one with the key. Therefore you can use this free printable Elf on the shelf printable note to let everyone in the family know just how this magic entrance works.
Be sure to watch for the elf foot prints!
Download Here: Elf on the shelf Door Printable Note
Instructions
1. To start, Layout your materials
Firstly, get your materials together and plug in your hot glue gun. Of course, you will want to make sure your hot glue gun is safely away from where the kids are helping you construct the door.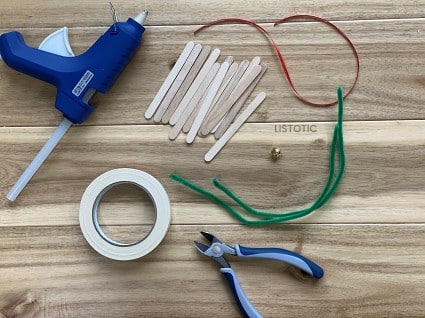 2. Count out 13 popsicle sticks
Secondly, using 9 popsicle sticks for the main portion of the door. Start with the middle popsicle stick as the highest and stair-step the other 4 popsicle sticks on each side.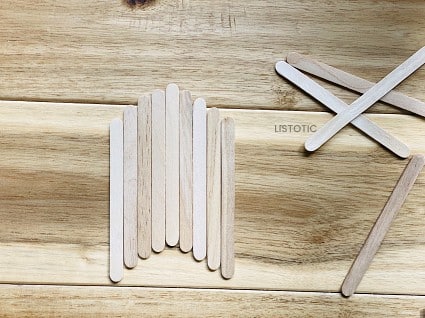 3. Tape in place
Next, using masking tape, tape the 9 popsicle sticks in place. Be sure to leave space for the stick that will secure the door horizontally near the top and bottom of the door.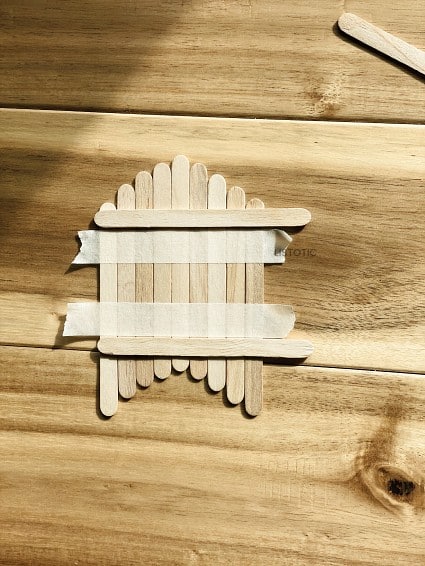 4. Hot glue the ice cream sticks.
Glue two of the sticks horizontally above and below the masking tape to secure the 9 sticks together. Leave one side hanging over, it will get trimmed off.
Next, Glue another popsicle stick diagonally on the front going from end to the other. Similarly, add another diagonal popsicle stick to the back of the door for added stability.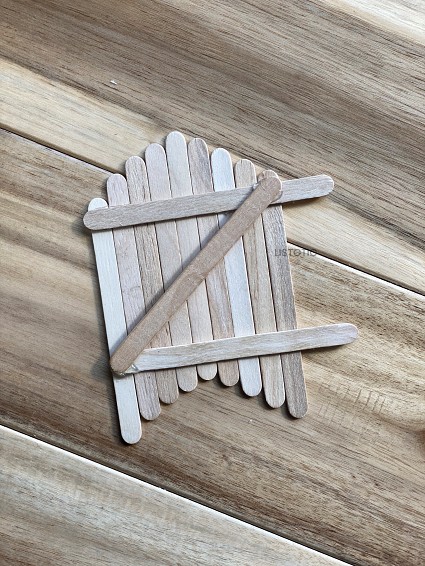 5. Attach a jingle bell doorknob
Using the hot glue gun as the doorknob. Although you don't have to use the jingle bell, you could similarly use a button, rock, or tack.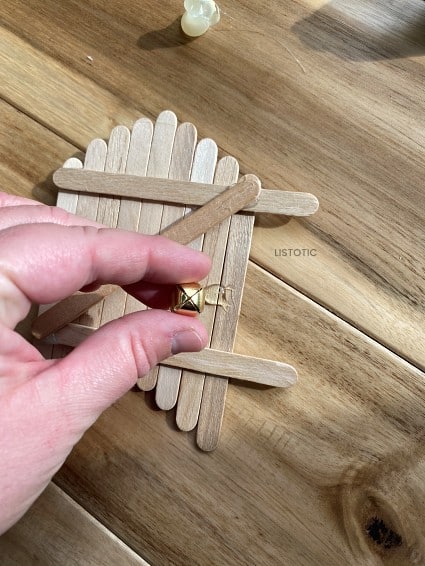 6. Trim the popsicle sticks
Finally, Using snips or clippers or sharp scissors trim off the edges of the popsicle sticks where they hang over or don't' line up. Snips work well for this but you could use scissors instead.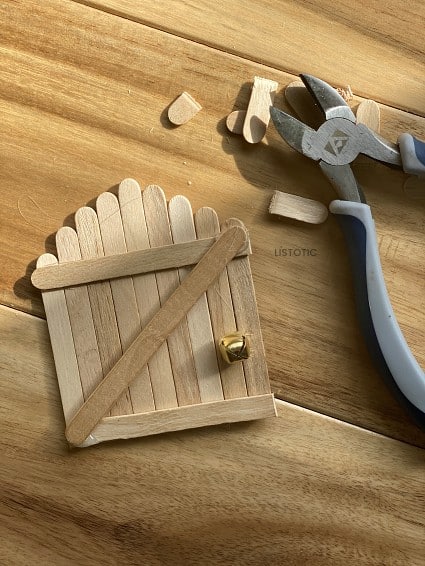 So, that is it! Now, check out that DIY Elf door!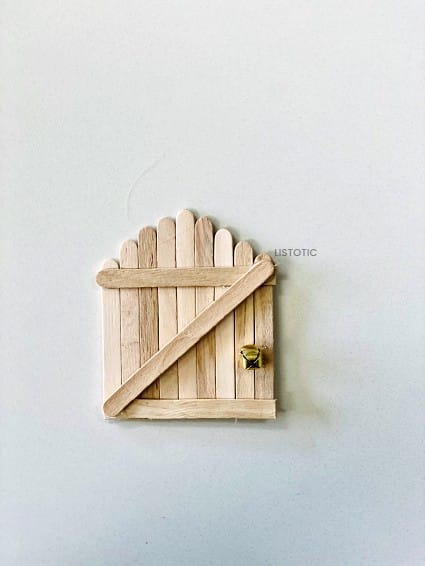 Make the Elf door Wreath
1. Get your green pipe cleaners.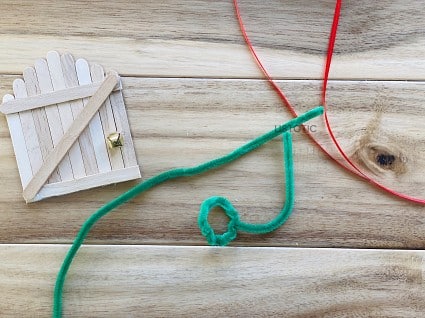 Start by wrapping the two pieces of the pipe cleaner around each other in circles slightly larger than a quarter.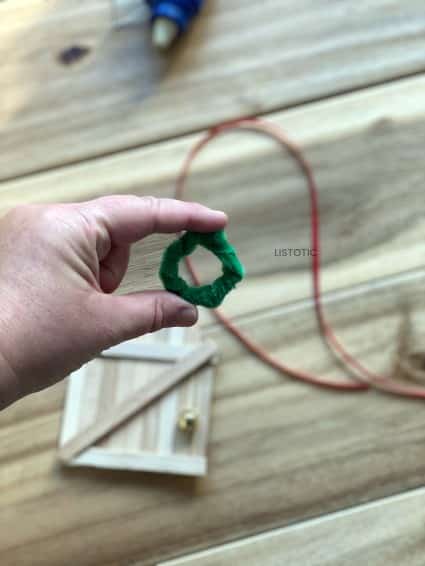 2. Tie the red ribbon
Now, using the red ribbon tie a small bow around the bottom of the wreath circle.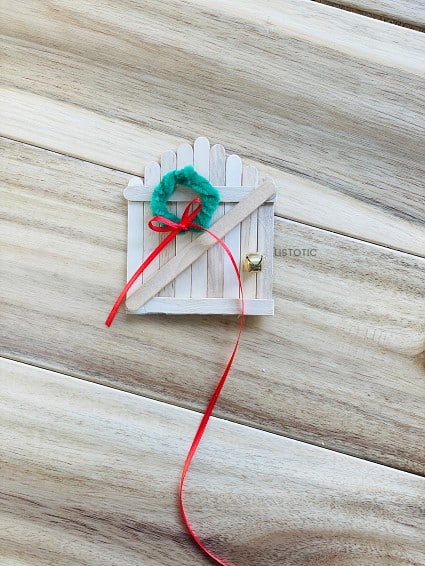 3. Glue on the door
Hot glue the wreath to the ice cream stick craft elf entrance so now it looks festive for visitors!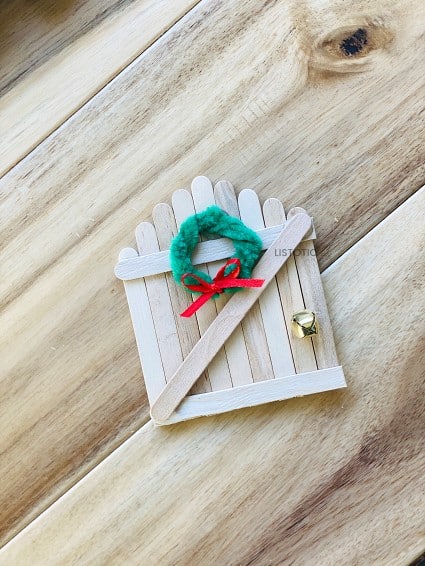 Finally, place your door on the trim of a wall where it is sure to be watched for incoming Elves! Now, that is how to make an elf door!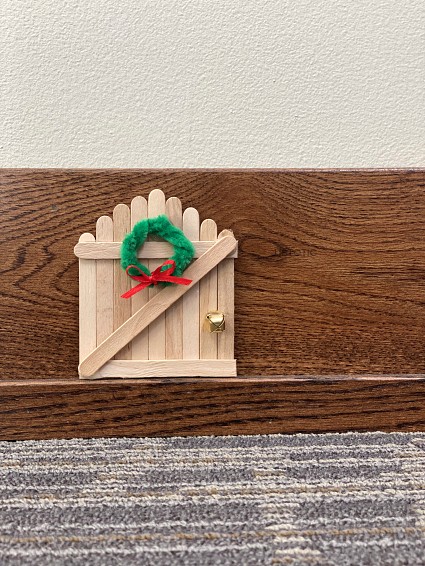 Whether you like it or not, Christmas is in fact coming and so is your Christmas Elf! So, be sure to save this idea on Pinterest!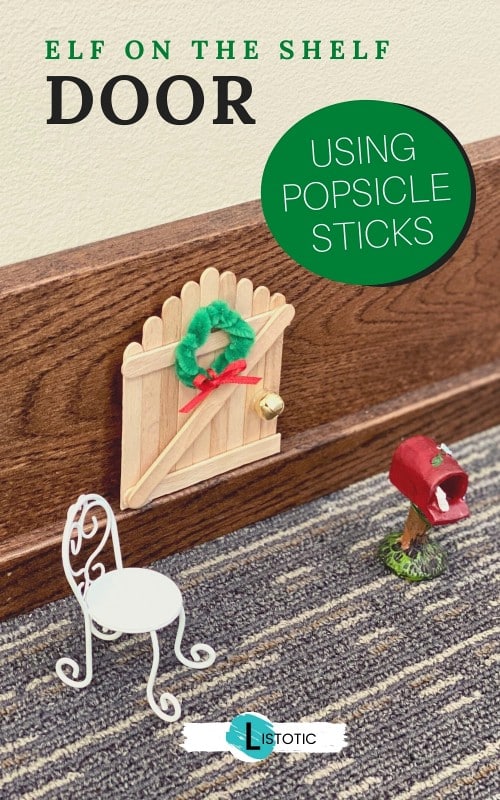 After you have completed your elf door feel free to add some extra whimsy. For example, some elf footprints would be a great addition leading to this door.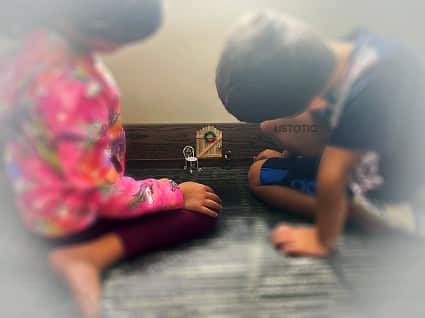 Get the elf footprints stencil here and use some baking flour or fake spray snow to show your elf has truly arrived for the season.
Want some other ideas for Elf on the Shelf Doors?
Elf on the shelf door ideas
1. Clay Elf Door
This cute fairy door is made of clay! Isn't it adorable? I'm guessing it takes much more time and patience than our ice cream stick craft – easy method because of all the details and drying time it takes. The ladder is what I especially loved the most! Since we have tall trim in our house, this was a great idea for allowing the elf to climb down. If you want to see how to make this door visit The Magic Onions to get the step by step instructions on this cute door craft.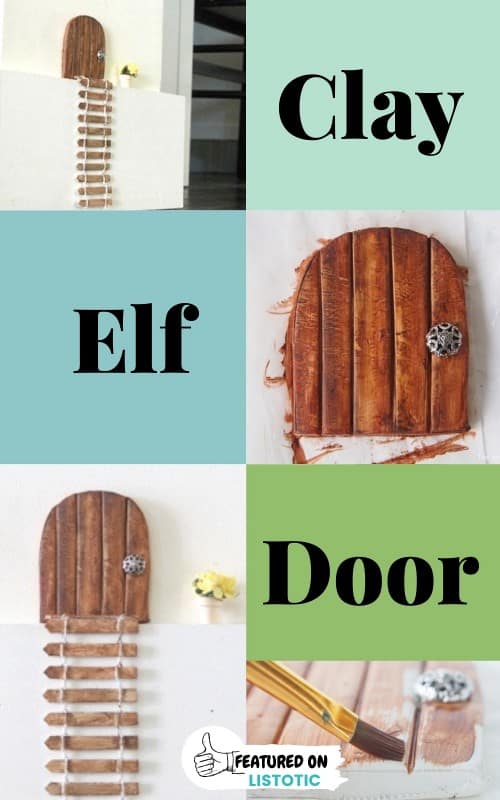 2. Forest Elf Rustic DIY
Is your elf a bit more on the Rustic side? I love this rustic elf entrance right out of the forest from A Few Shortcuts. This is actually a fairy garden door but still, I think it would be great for Christmas Elves too! What a fun and easy way to create an ice cream stick door! Similarly, you can find all these materials at the dollar store as well!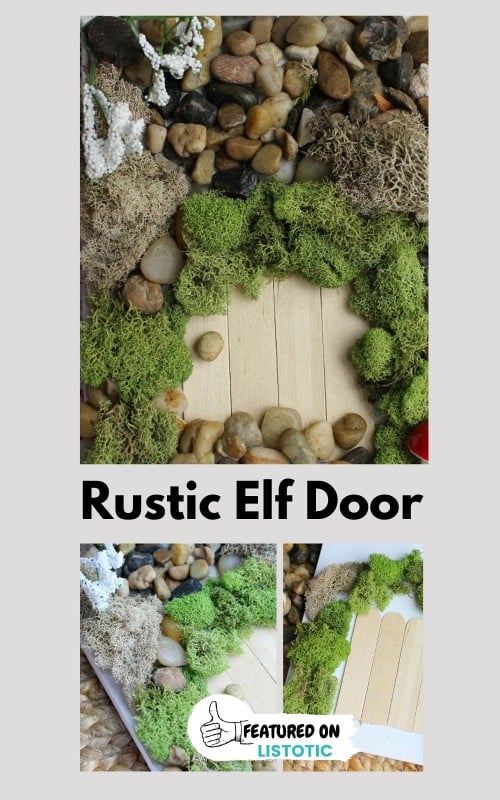 3. Glitzy Opening
Now, here's a sparkling elf door full of magic. I especially like how Jill at Create Craft Love used the premade dollhouse door to create the Elf on the shelf arrival door. What a magical shimmery door including the door frame! Click here to see how Jill at Create Craft Love makes her Elf on the Shelf door glitter and sparkle. This door will take a few days to dry, therefore your Elf on the Shelf will want to get an early start on their elf door.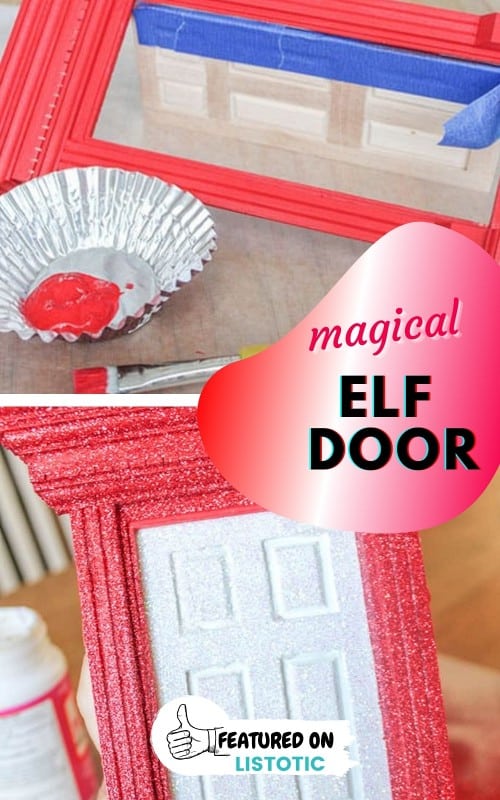 4. Rustic Barn Door
Now, this craftsman knows exactly how to make an elf entrance! This video is incredibly cute and especially since we live in the midwest it would be very appropriate for our elf on the shelf to come through a magical barn gate. While crafting the Elf entrances the crafter uses mini tools and even mini cinder blocks (my favorite) for the construction of this miniature farmhouse door. Thus, if you are in love with miniatures or intrigued by this trend you must check out this crafter's video. See all the fun Mini Materials can bring your handy Elf on the shelf this year!
5. Elf Jingle Bell Wreath
When it comes to decorating your elf or fairy entrances… a small wreath is always festive. But, If you don't want to use green pipe cleaners as we did above you could certainly make your Elf on the Shelf door wreath out of jingle bells. Check out this cute jingle bell ornament craft that would be perfect for your DIY Elf door.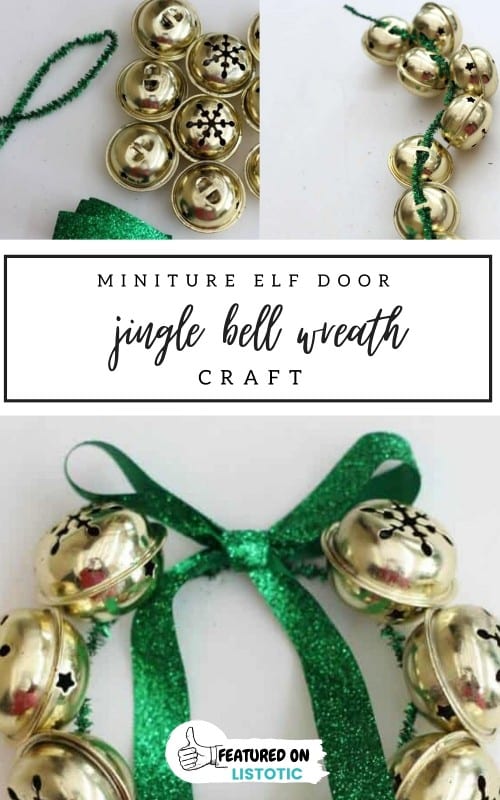 Surely not everyone has time to DIY their own elf door. So consequently Amazon is here to rescue you with some similarly adorable elf doors. Here are some shopping options for your miniature door if you don't want to make it yourself.

A classic. Complete with holiday lights!

Full of character. This curved door is adorable for your Elf on the shelf. It even included some fence and gifts to place outside the entrance. This would be a great spot to find some elf footprints.
When I was a little girl this pink elf door would have been my first choice. Unfortunately, Elves on the shelves didn't exist when I was growing up, or at least not in my house. Still, though, I get to have fun experiencing this tradition with my kids.
Since elves are small crafters indeed this rustic shop door is the perfect little entry into the workshop.
In conclusion, there are so many different Elf entrances for your Elf on the Shelf to make his or her arrival. Since we know each elf is different similarly each door has its own unique style. Enjoy your Elf on the Shelf door and embrace the magic of the season.