Last Updated on November 4, 2021
All the best Christmas books for kids!
Are you truly looking for the best Christmas books for kids? You're in luck! Listotic has all the best Christmas stories read aloud picture books. Find your Christmas gift ideas for kids in this list of Christmas bedtime stories. You will find all the Christmas classics. Plus new funny tales, seasonal stories, and meaningful picture books for kids.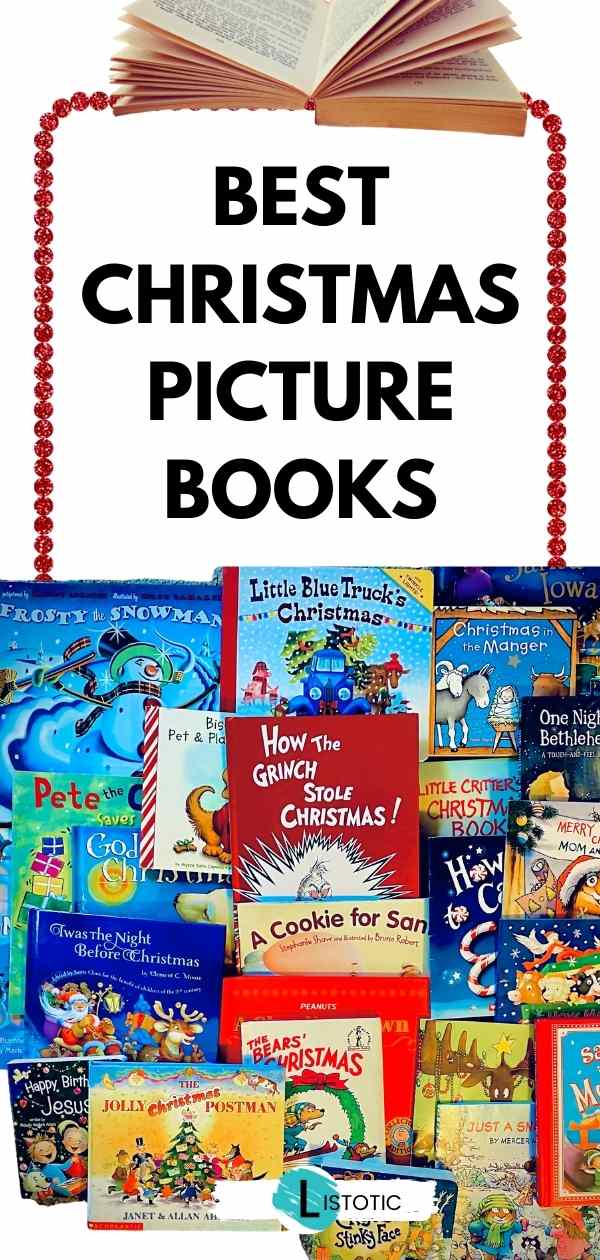 So, what are the best Christmas books for kids in 2021? Well, here is a list of over 25! Cute, funny, rhyming, meaningful, wholesome, etc. All beautifully illustrated Christmas storybooks, etc. all for kids! Read a Christmas bedtime story each day until Christmas! Although, these stories are great for any time of year!
So, with that certainly, it is the day to snuggle in with some of the best Christmas books for kids perfect for 2020.
First, let's start with the Classic Read-Aloud Stories
1. How the Grinch Stole Christmas By Dr. Seuss
Many of us have encountered a holiday Grinch from time to time. You are certainly lucky if you haven't because they tend to be a bother! To clarify a Grinch dislikes everything about Christmas. This is a rhyming Dr. Seuss classic book that tells the story of a grouchy Grinch who tries to steal Christmas–from his neighbors no-less! But, he ends up finding his heart instead.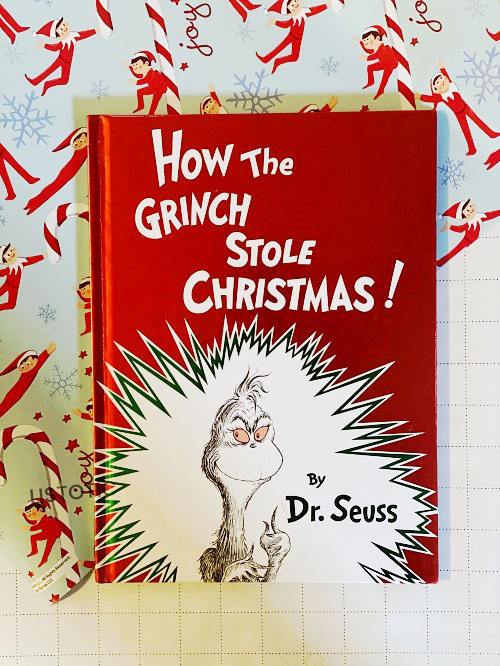 2. A Charlie Brown Christmas by Charles M. Schultz – a classic Christmas book for kids
Typical Charlie Brown, worried and nervous. He is anxious because he doesn't understand the meaning of Christmas this year. Charlie and his friends do all the typical Holiday activities. But, a small scraggly Christmas tree helps him find the love and magic of the season.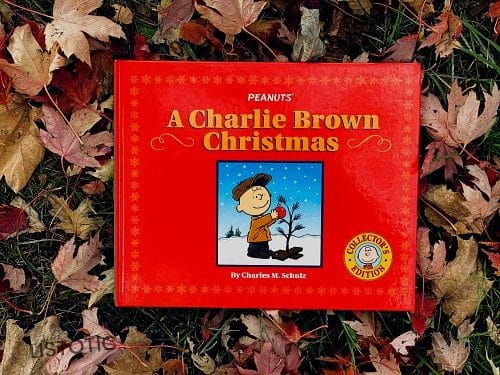 3. Frosty the Snowman by Steve Nelson and Jack Rollins
A classic such as Frosty the Snowman continues to live decade to decade. Frosty is a classic Christmas carol written into a children's storybook. It sparks the fantasy of all the kids. Every time I read it, it makes me want to get out and play in the snow! Who wouldn't want to dream about building your own friend? Of course, you'll want to sing this book rather than use your regular reading voice.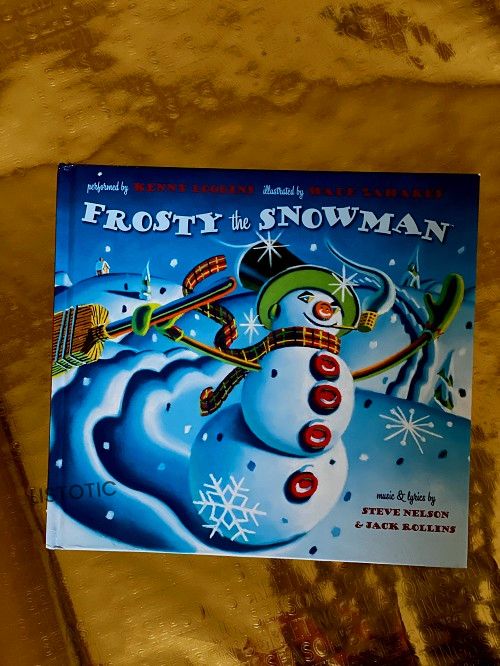 4. Twas the Night before Christmas by Clement C. Moore
A Christmas poem about the night St. Nicholas (aka Santa Claus) comes to visit a family. The author, Clement Moore, wrote the poem for his family and published in 1823. Initially, named by author Clement More "Account of a Visit from St. Nicholas" it was renamed to "Twas the Night Before Christmas". Surely, you have heard of this one before?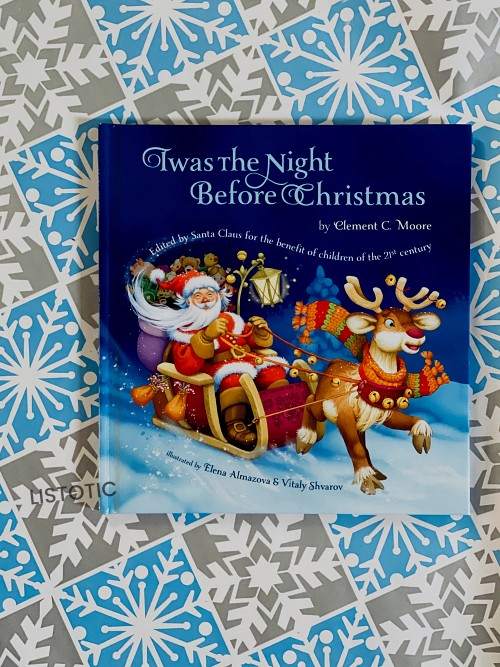 5. Disney's The Muppet Christmas Carol by Brooke Vitale & Illustrated by Luke Flowers
It's the story of the Christmas carol! But this time with detailed pictures of favorite Muppet characters. This is great for young kids and older ones, too. The message behind the Christmas carol is so deep. A meaningful must-have for a Christmas picture book collection.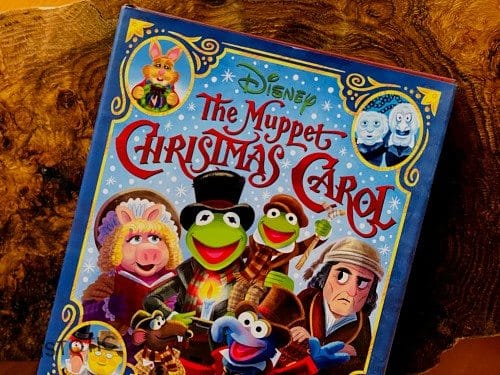 Secondly, Unique Books for the Holidays!
6. The Jolly Christmas Postman by Janet and Allen Ahlberg
A Christmas story for kids. This storybook uses classic fairy tale characters. The story is of a postman who delivers the holiday mail. The especially fun part is the fact you get to open up the mail. Pages designed with pockets for kids to reach in and get the mail. Readers get to "open the mail" and experience the Christmas packages themselves.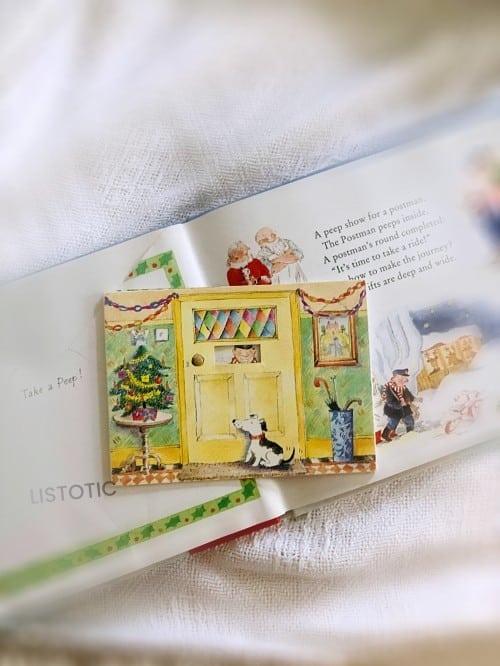 7. A Cookie for Santa by Stephanie Shaw
A little Gingerbread man worried about Christmas night. He tries his best to be a helpful cookie for Santa. Indeed, he successfully becomes the hero! In fact, in the end, he becomes one of Santa's helpers. It makes you think twice about eating your gingerbread cookies at Christmas time.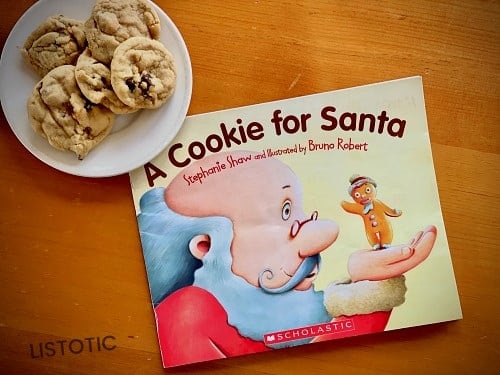 8. Santa is coming to …. [Your State] book By Steve Smallman and illustrated by Robert Dunn
Customized Christmas bedtime stories by the state your child lives in. Santa flies through well-known cities, above rivers, and monuments. Although, there's no mention of our specific hometown; Santa in fact flies over towns we do know. There is a different book for each state! Great gift for families who have recently moved. Also, great for kids visiting another state during the holidays.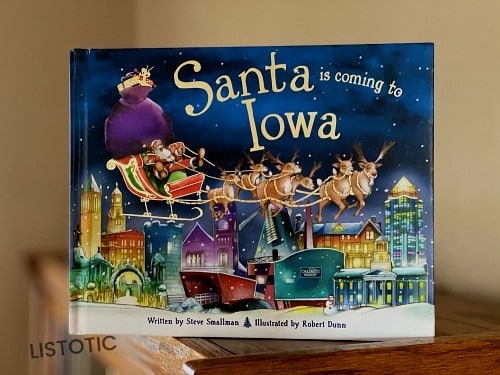 Now, the Cute Christmas Books for Kids
9. Pete the Cat Saves Christmas by Eric Litwin Illustrated by James Dean
So, Groovy Pete is singing his song once again at Christmas time! Pete pushes hard and motivates himself to deliver Christmas! Pete is truly such a cool cat everyone can't help but cheer him on. As a result, he makes the magic happen for Christmas day. A fun rhyming book you can't help but add to a Christmas story read aloud.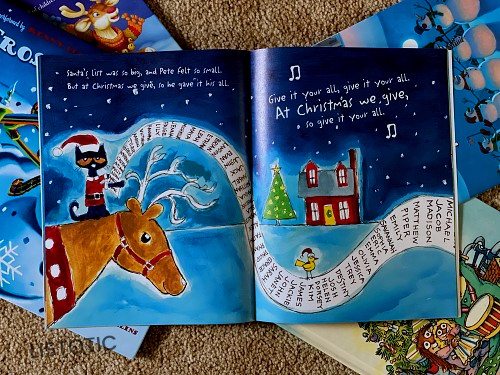 10. Snowmen at Night By Caralyn Buhner Illustrated by Mark Buehner
Snowmen books are a great series of picture books for kids. The Snowmen books are always about the adventures of some neighborhood snowmen. A short rhyming children's book for Christmas bedtime story read aloud. Perfect on winter days and nights. There is also a "Snowman at Christmas" book in this series.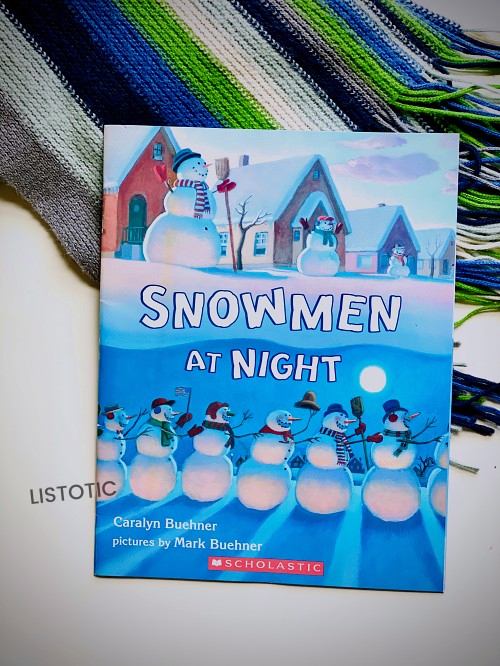 11. Snow By P.D. Eastman
If you haven't read "Go Dog Go" with your toddlers and kids, you should! This book is by the same author and it is a wonderful read. Great for kids learning all the terms about winter. A great read, with delightful pictures depicting all the best parts about snowfall.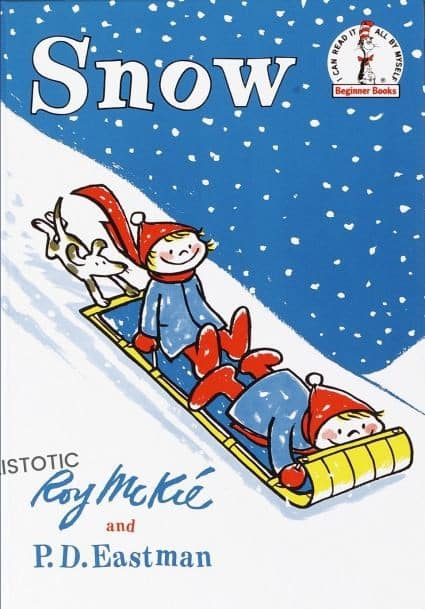 12. Merry Christmas Stinky Face By Lisa McCourt – favorite Christmas Books for kids
The "Stinky Face" books are cute stories. The overall lesson is that no matter what…a mother's love is always there. Even with far-fetched dreams, a mother still has a solution. A cute loving Christmas story.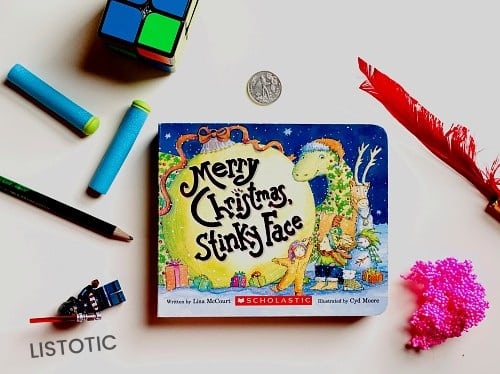 13. How to Catch an Elf by Adam Wallace and Andy Elkerton
Get ready elves, because the traps are set! Even though you won't catch them, it is still fun to try! A Christmas story with lots of genius ideas on how to catch an Elf. But in this story, the truly clever little elf indeed always gets away.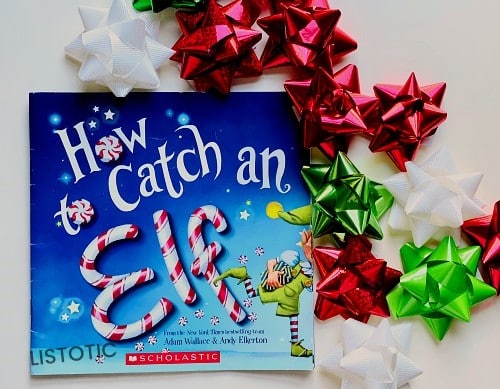 14. Little Critter: Merry Christmas Mom and Dad by Mercer Mayer
Little Critter always means well but tends to cause more trouble than good. I've enjoyed the Golden Look books since I was a little girl. Of course, my boys have the same love for them. I especially have fun sharing my joy of Little Critter books. As a result, my kids love finding other "Little Critter books" I haven't seen yet. I'm so happy we share this in common.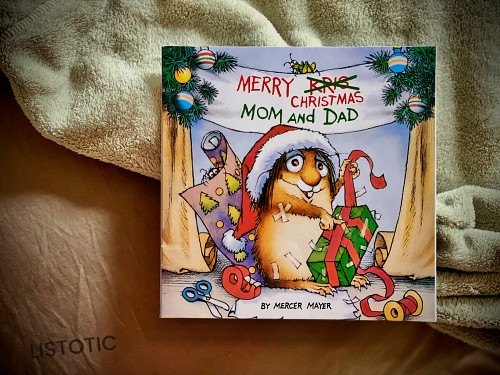 Next, Meaningful Christmas Stories Read Alouds
14. The Berenstain Bears and the Joy of Giving by Jan and Mike Berenstain
A surprising deeply learned lesson for Brother and Sister Bear. They find out what the true meaning of Christmas giving is all about. Based on the biblical story of the first Christmas, Sister and Brother Bear find out it's not just about receiving, but it's the joy from giving. A heartfelt story only the Berenstain Bears can do.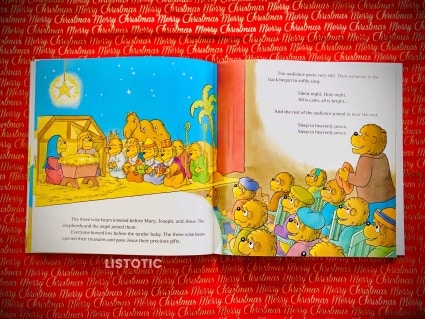 16. God Gave Us Christmas by Lisa Tawn Bergen Illustrated by David Hohn
A polar bear mom shows her little bear cub the answers to his questions. Asking, "who made Christmas?" To explain, she takes him on a journey to find and show him God. A wonderful book for kids who like to ask questions. A perfect Christmas bedtime story truly needed especially around Christmas.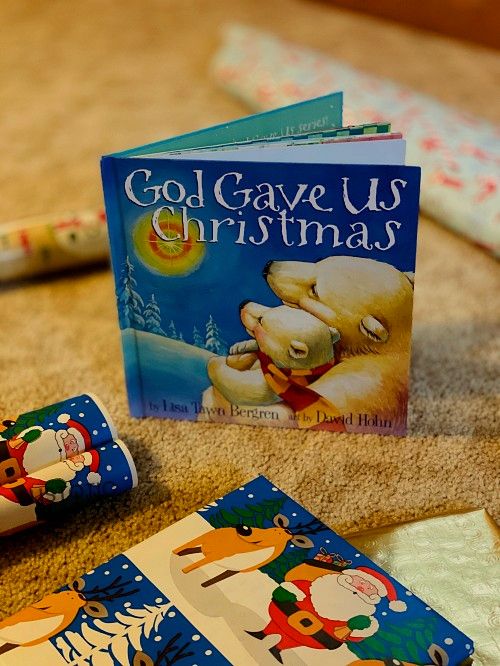 17. Secret Santa and the twelve days of Christmas by
This book is on my wish list. Eventually, I will add it to our collection. About encouraging kids to help make the holidays special for others. In other words, this book is about giving not receiving. In addition, gives kids the chance to be Santa's secret helper.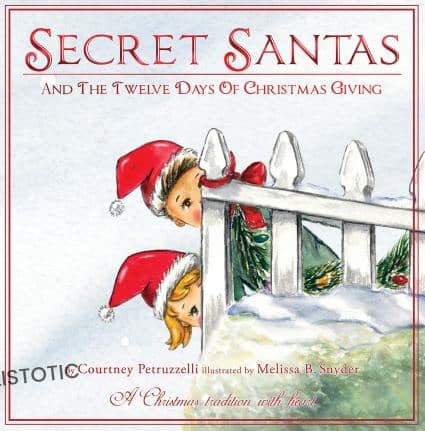 Counting and Number Christmas Books for kids
18. Little Blue Truck's Christmas by Alice Schertle
Truly, this is one of my favorites. My kids have always loved the "Little Blue Truck" books. A great story of rhyming, farm animal noises, and counting. A Christmas picture book for toddlers, preschoolers, and indeed all children.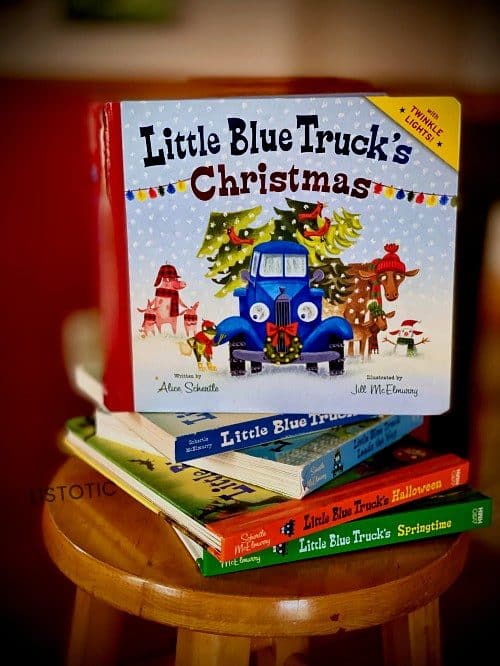 19. How Many Quacks till Christmas? By Mark Sperring and Illustrated by Ed Eaves
All the barnyard animals are anxious for Christmas. Each farm animal asks in its own farm noise "how many more days until Christmas?" It is exactly how the kids are each day until Christmas at my house. They love a good Christmas countdown. Eventually, they make it to Christmas day and celebrate.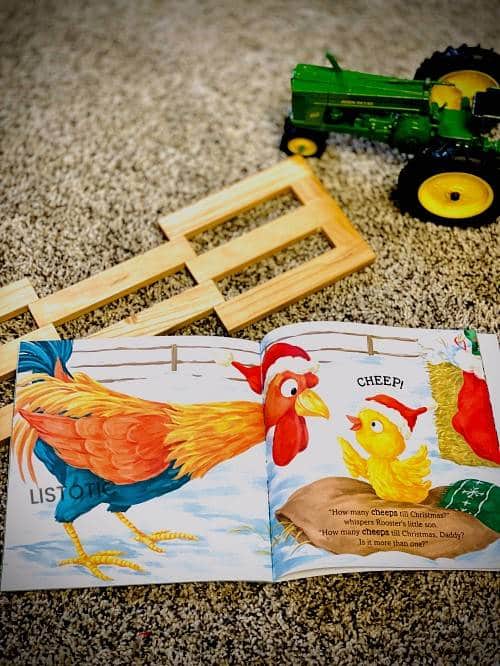 Really Funny Christmas Stories
20. That's not Santa by Leonard Kessler
A silly Santa can't find his Santa suit. So, it's up to his elves to help him find a replacement to wear on Christmas day. Again and again, Santa tries on different uniforms and costumes. Surely, the kids will laugh and laugh as you read this. A Christmas story read aloud of Santa trying on funny outfits. One of the funniest best Christmas picture books for sure!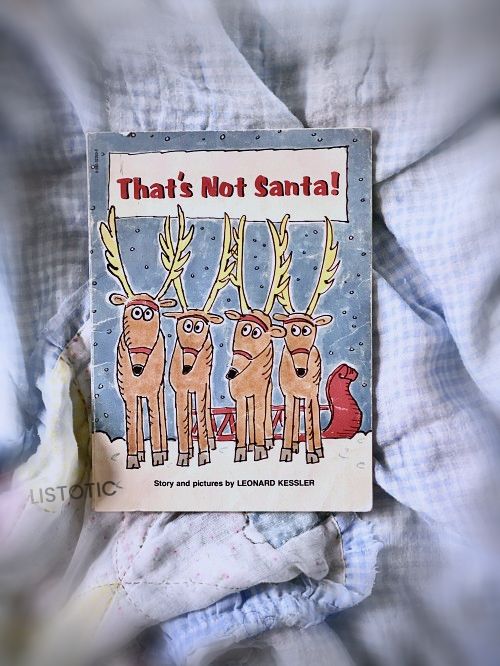 21. Mooseltoe by Margie Palatine and Illustrated by Henry Cole
Moose will stop at nothing to bring the joys of Christmas to his family. At first, he is checking off his to-do list with ease. But, when he forgets to set up the Christmas tree he at a loss. Moose must come up with a new idea. Eventually, he comes through for his family with the best idea yet. It is a cute and funny book kids will love.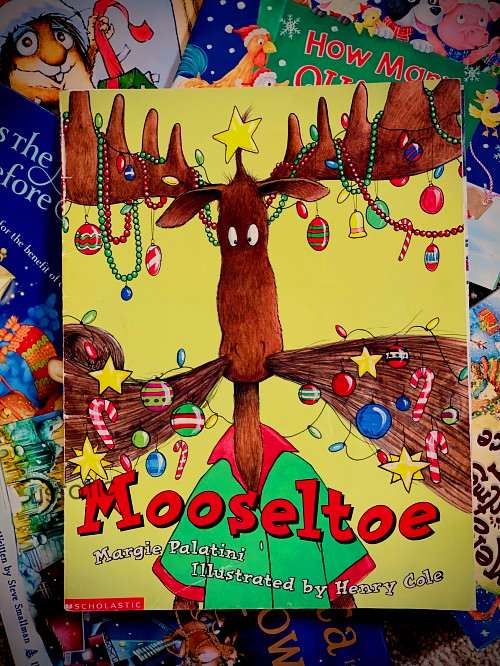 22. Santa Claus is on his way to My House by Rachel Ashford
My kids love this funny book. Of course, probably because the elf finds a gift of new underwear for Santa. The underwear is from Mrs. Claus. They think it is so hilarious. Cute for kids who enjoy all things about Santa, reindeer, and Christmas presents.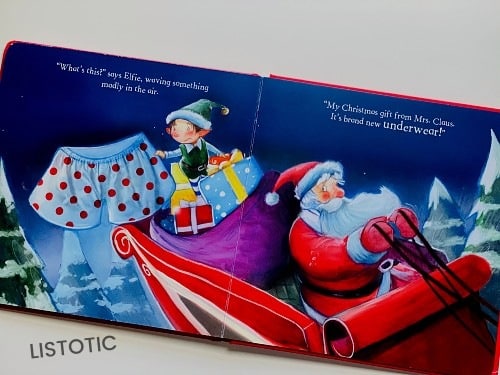 At last! Christmas Picture Books for Kids and Babies
23. Biscuit's Pet and Play Christmas by Alyssa Satin Capucilli
A touch and feel book picture book for babies at Christmas time. Biscuit is trouble but always a popular puppy. He indeed makes everything fun. This book is especially great for kids just learning to read. A short read, a board book for babies, and young kids.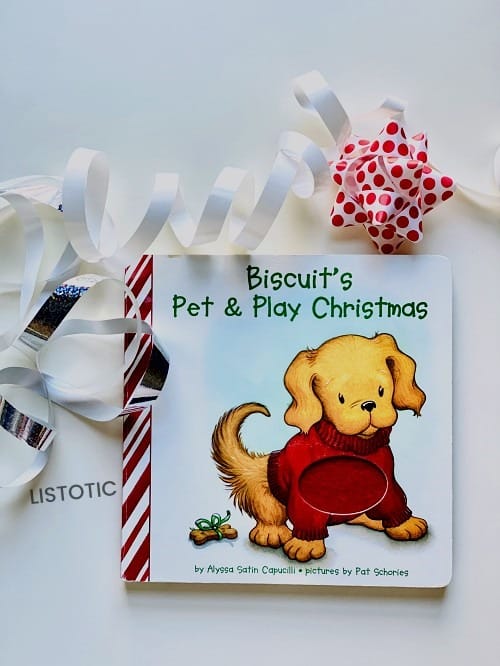 24. Dream Snow by Eric Carle
A short story about a farmer wishing for snow. Finally, he gets his wish! Colorful pictures in Eric Carle's unique artwork make this a fun read. Certainly a good read for a snowy night. There are flaps for the pages fun for babies and toddlers to pull open. Great for kids and adults to interact while reading the book.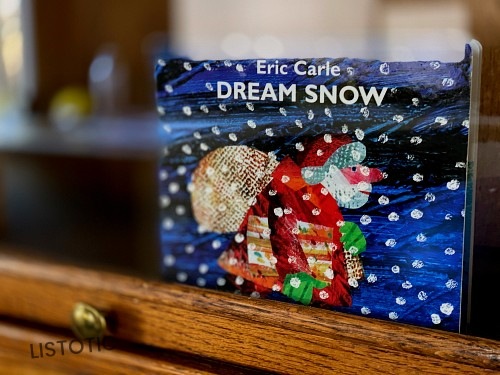 Finally, New Christmas bedtime stories for kids
25. Sneezy The Snowman by Maureen Wright Illustrated by Stephen Gilpin
AH-CHOO, I just ordered this book, I certainly can't wait to read it with the boys. I feel like it is a fitting book for 2020. Maybe because of all the talk around sneezing and coughing. Give the kids a fun read-aloud that makes sneezing just normal for winter. No need to check the CDC for other symptoms to go with this snowman's chills. It's a cute book about kids helping a chilly sneezy snowman. Oh, and bless you!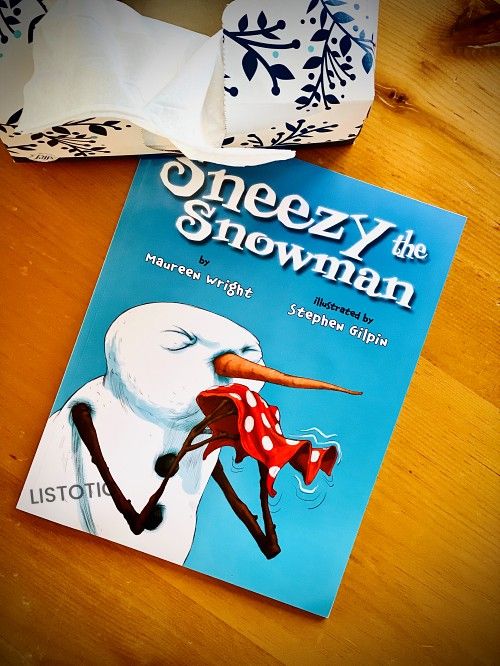 26. Bear Stays Up for Christmas by Karma Wilson Illustrated by Jane Chapman
Since my boys and I always like reading bear books together I surely had to add this one. The pictures are beautiful. Bear's friends are always up to something. This time, Bear's friends won't let him sleep through Christmas. A Christmas picture book reminder of things to do for Christmas. But, most importantly it's the people you spend time with.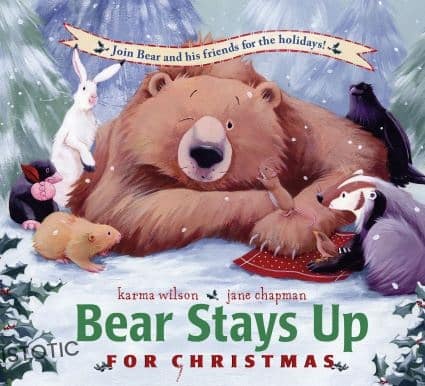 27. Santa's Underwear by Marty Rhodes Figley and illustrated by Marty Kelley
Make kids laugh during this Christmas book read-aloud. Oh! No, Santa's looking for his underwear. Which indeed, would surely have my boys belly laughing all the way to bedtime. Looks like a fun read, I for one, certainly can't wait to get my hands on a copy of it.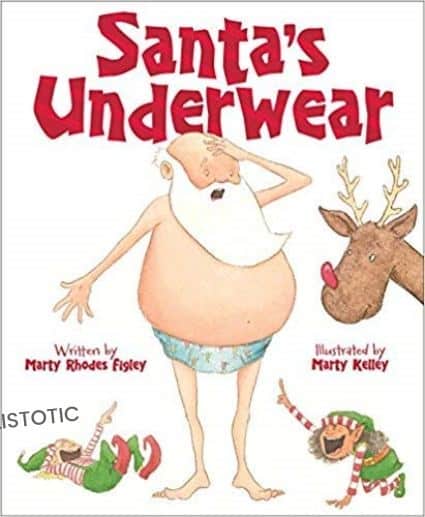 28. North Pole Ninjas: Misson: Christmas! By Tyler Knott Gregson Sarah Linden Illustrated by Piper Thibodeau
The first thing I noticed about this Christmas storybook was the word "Ninjas". My son is certainly going to be a fan. Of course, anything to do with Ninjas he is surely all about it. Then as I read on I saw in the description that the ninjas have missions. The missions are all about spreading Christmas cheer. "Teaches kids how to be thoughtful and kind to others," said one review. Specifically, this book includes 50 top-secret tasks for new recruits. North Pole Ninjas: Mission: Christmas! Is most certainly going to make it to our house for Christmas this year.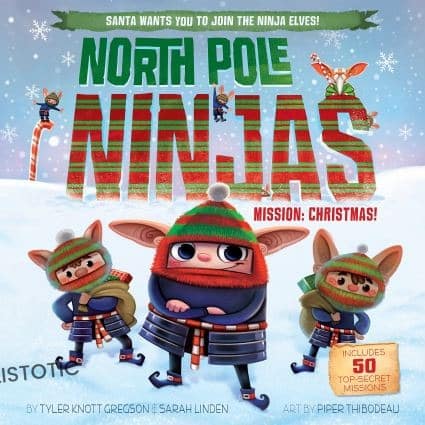 Finally, since I just know your kids will enjoy these fun Christmas stories read aloud you should save it. So, save this pin! Surely, you don't want to just focus on Christmas bedtime stories. Indeed you'll also want to check out these 15+ Fun Morning Christmas breakfast ideas for kids too!