One of the easiest ways to make Christmas morning special for kids is with a fun and creative breakfast. With a bit of imagination, you can turn pancakes, fruit, toast or even oatmeal into a fun Holiday character! Most of these cute recipes are easy enough for the kids to create, too. So while you're sipping on a cranberry mimosa cup of coffee, you can let them go crazy making Santa's beard out of a can of whipped cream.
This post contains affiliate links. Please see our Disclaimer Policy.

Santa Pancakes
Fruit and whipped cream make these cute little Santa pancakes easy to whip up. And who doesn't want to eat a banana beard for breakfast?

Penguin Pancakes
Kind of like Santa pancakes except for you get another excuse to eat Nutella and powdered sugar for breakfast.


Christmas Wreath Bagels
Simply top mini bagels with cream cheese, and then decorate them with sliced kiwi and pomegranate seeds. So festive!


Owly Breakfast
Owls love Christmas too, ya know? Create these adorable little guys with toast or pancakes!


Gingerbread Man Pancakes
Use holiday shaped cookie cutters to create unique designs in pancakes. These gingerbread pancakes are especially fun filled with Nutella! You can also sprinkle them with cinnamon or cocoa powder, and then decorate with sprinkles.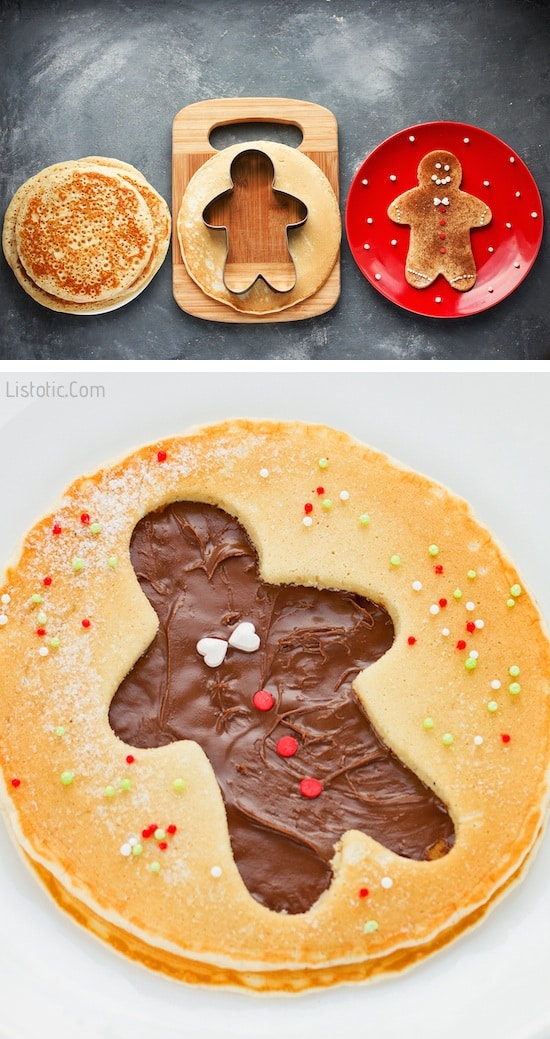 Snowman Pancakes
Because round pancakes are so easy to make (unless you're like me and they look more like blobs), these little guys are a breeze to put together! Make the pancakes in varying sizes, and then let the kiddos do the decorating. Fun!


Reindeer Pancakes
Are you seeing a trend here? Yeah, pancakes are the easiest way to make Christmas morning fun and delicious at the same time.


Christmas Egg In A Hole
Simply use small holiday shaped cookie cutters to create fun shapes in bread, and then cook scrambled eggs right in the bread cut-outs on a frying pan, or cook them separately in the cookie cutter shape of your choice for a cleaner look.


Christmas Morning Oatmeal
Top a bowl of oatmeal with fruit, coconut shavings, nuts, chocolate chips, chocolate syrup or anything else you can think up to make oatmeal festive and fun for the holidays.


Christmas Tree Pancakes
Stack a variety of different sized pancakes on top of each other (largest to smallest) to resemble a Christmas tree! I've also seen this done with a bit of green food coloring in the pancake batter, and then if you sprinkle it with powdered sugar it really looks like an actual snow covered tree. Decorate your new masterpiece with fruit, chocolate syrup, whipped cream or sprinkles for the finishing touch.


Festive Fruit Plates
Use colorful fruit to create fun holiday themed characters and objects, and then watch the kids chow down on fruit like they never have before! They get a kick out of eating Santa's nose or Rudolph's antlers.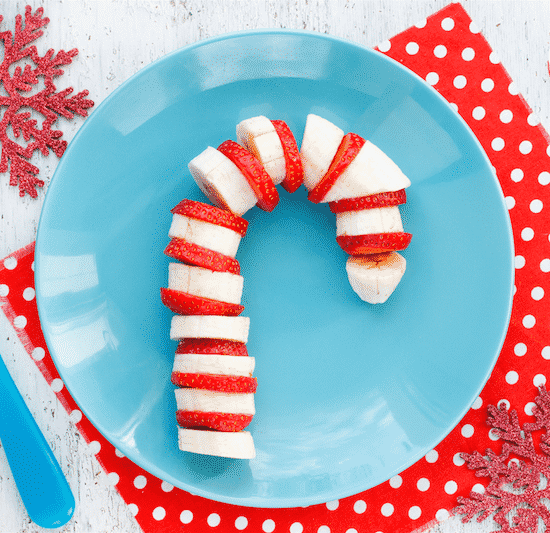 A pancake pen (or even squeeze bottle with the tip cut to make it a little larger) is perfect for making detailed pancake art for any holiday.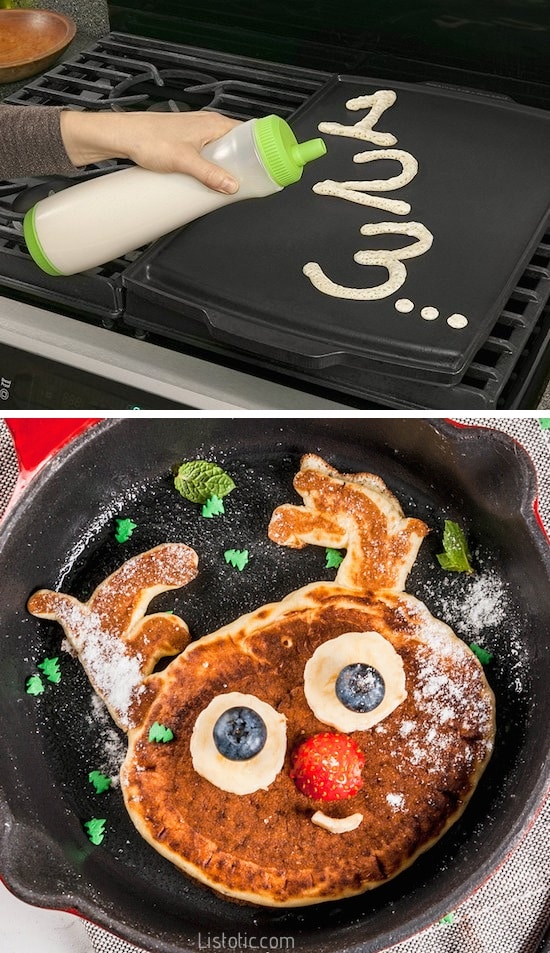 Large holiday shaped cookie cutters make it easy to whip up festive pancakes!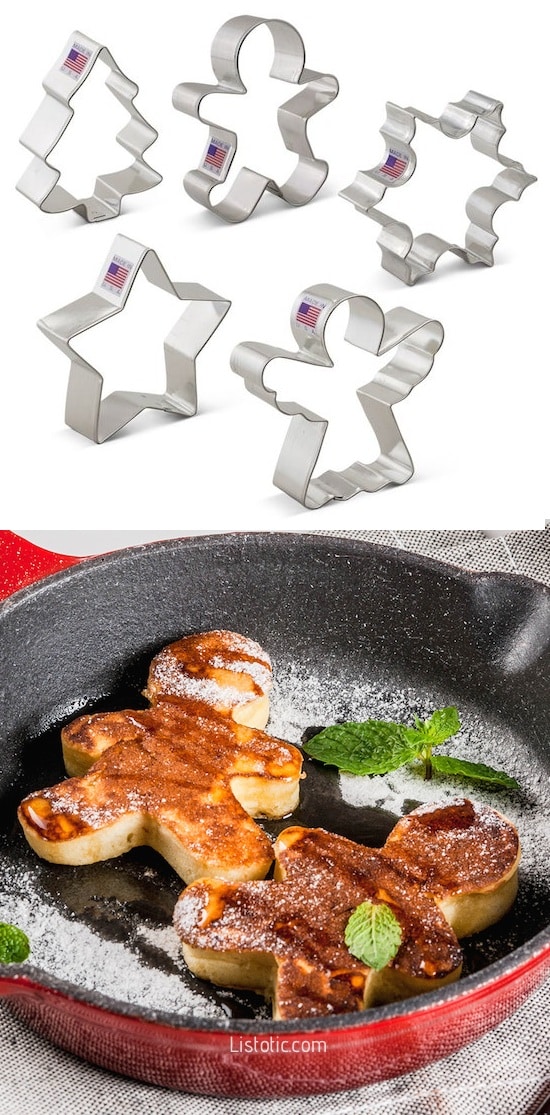 Happy Halloween!
Join our
Halloween Party Planning Facebook Group
.
Go to
Facebook
and click the "Visit Group" button.