Last Updated on October 12, 2021
Super fun creative garden container ideas
Creative garden container ideas have become a new trend in recent years. I suppose I've never been very creative in the garden; whenever I want to plant something, I always go for a boring old pot! But really, you can make a planter out of just about anything. Why not add a little bit of whimsy and charm to your garden with items you already have around the house? Here are a few of my favorite clever garden container ideas. Get inspired!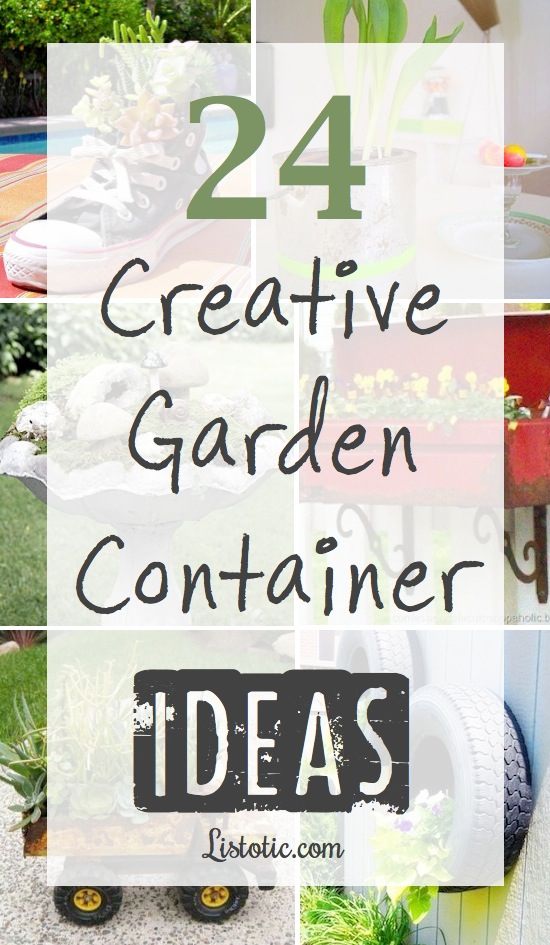 1. Shoe Planters
Drill a few holes in the bottom for proper drainage, and you've got a charming little container! This works well for plants with small root systems, like succulents or herbs.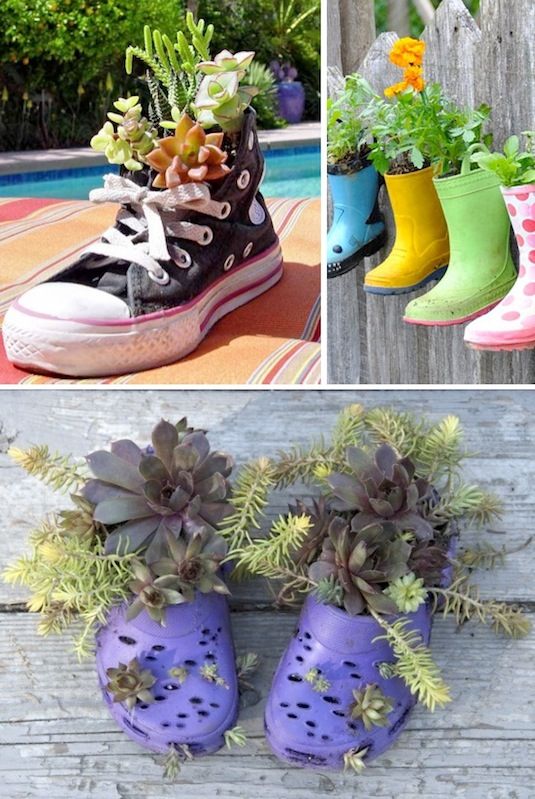 2. Vintage Bicycle Planters
A vintage bike is a whimsical way to show off your potted plants. Leave it as is, or spray paint it to match your garden's theme.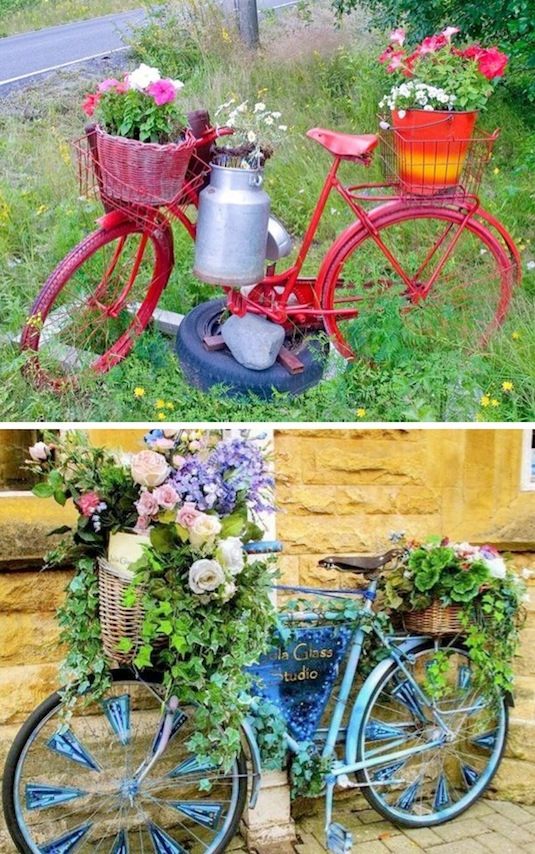 3. Cork Planters
You can't get much smaller than this! Succulents are perfect because they're so hardy and you can just use a small clipping. Attach a magnet and place them on your fridge!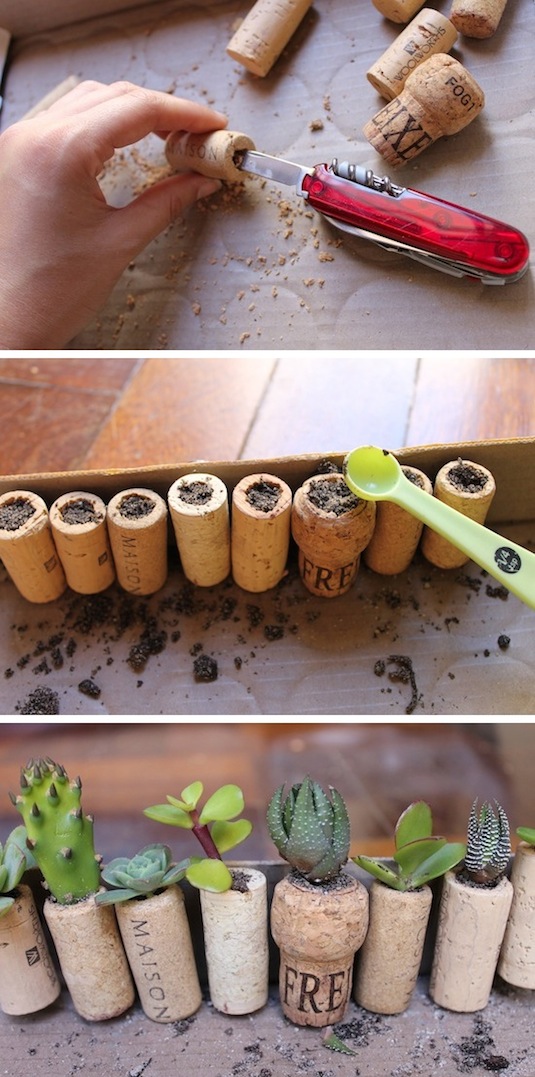 4. Tire Planters
I love the new tire trend; they're being upcycled in so many unique ways! With a little bit of creativity, you can incorporate them into your yard, too.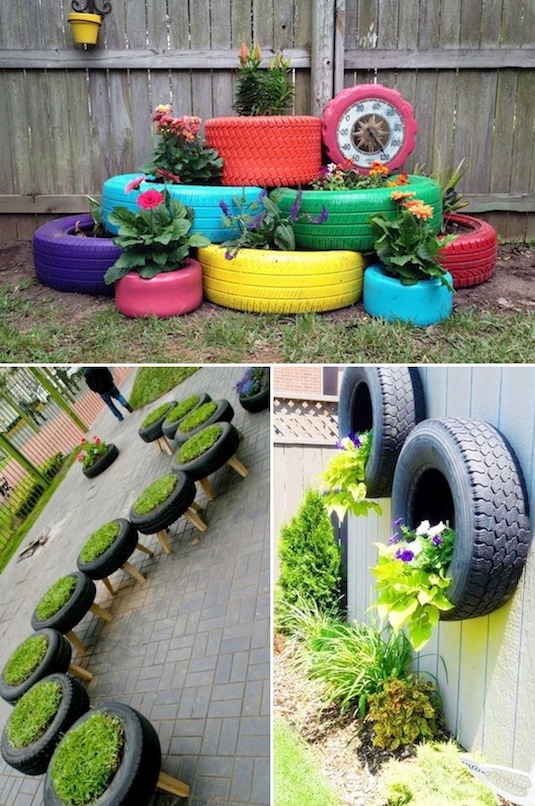 5. Water Fountain Planters
Water fountains make for enchanting petite gardens. How fun would it be to make a little garden with rocks, moss, small plants, and mini garden accessories?!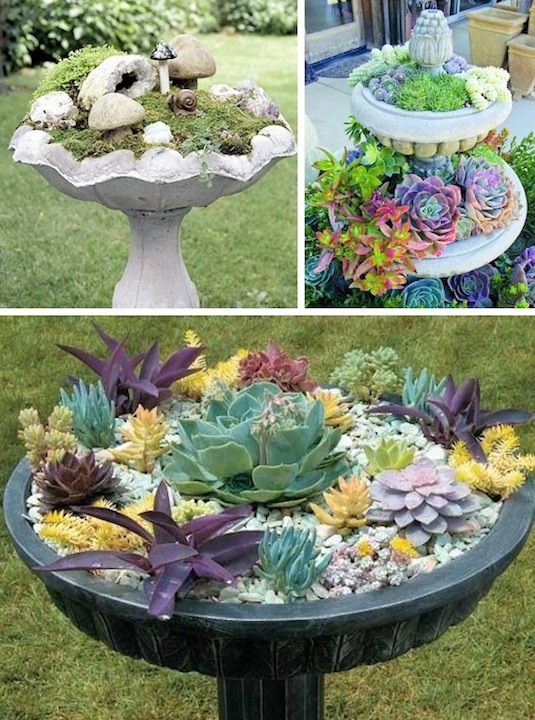 6. Sink Planters
How Clever! I suppose you could use just about anything as a planter. The sweet Alyssum on the first picture creates the illusion of soap suds around the carefully placed plates.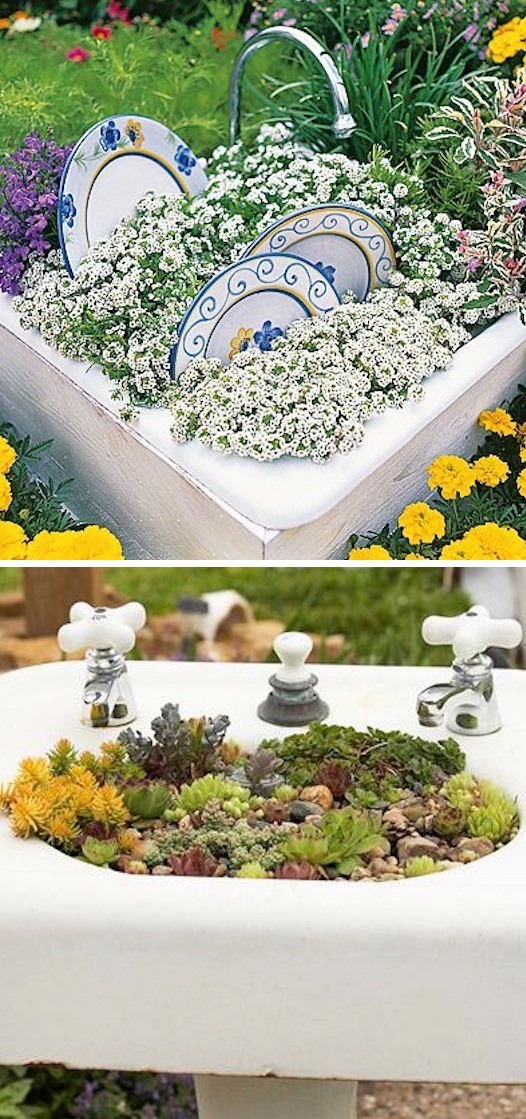 7. Strainer Planters
Because they've already got the holes for drainage, they're perfect for potting plants! I love the idea of using a colorful vintage pasta strainer. Lovely for indoors or out.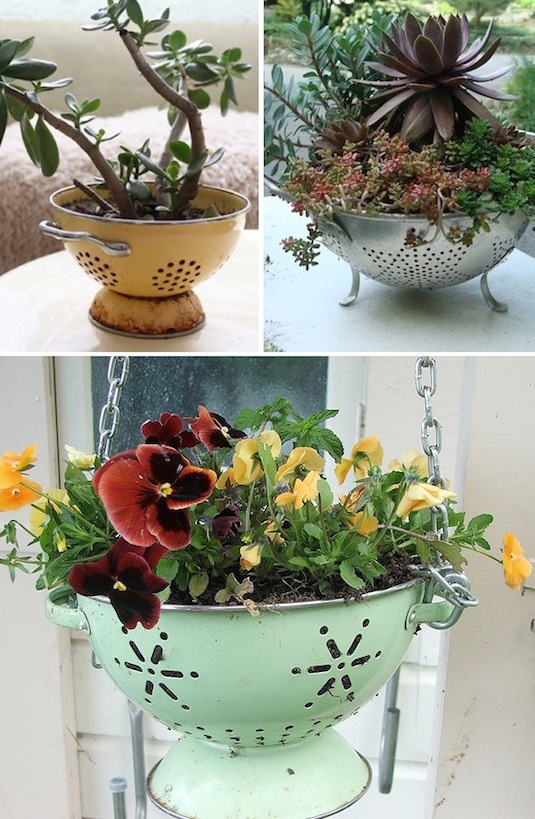 8. Tree Stump Planters
What might now be an eyesore, can be a beautiful and natural flower pot. Use a chisel and hammer to carve out the middle of a tree stump or log, fill with soil, and then plant flowers of your choice.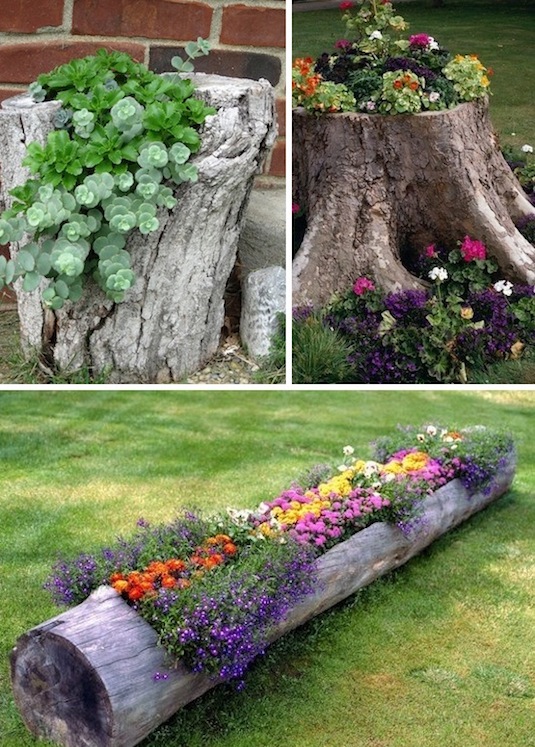 9. Natural Rock Planters
Similar to the idea of hollowing out a tree stump, there are also plants that will grow really well in shallow rocks. You might already have a few rocks that are hollow enough to support succulents or dessert plants, but you can also group a few rocks or stones together to create a natural little rock garden.

10. Wheel Barrow Planters
A wheel barrow planter is easy to move, making it convenient for watering, or moving out of bad weather or frigid temperatures.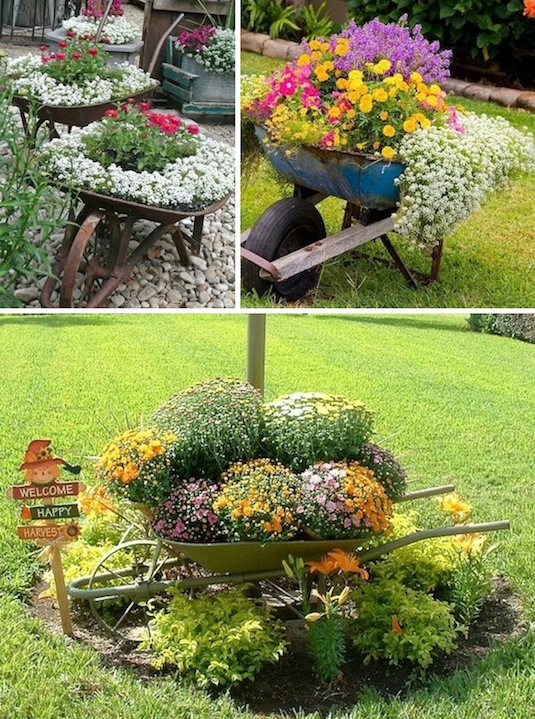 11. Toy Truck Planters
A dump truck! This has got to be a bachelor's ideal garden container. I think it's quite whimsical and fun, myself! I can't help but think of everything as a container for plants now. Who wants a boring old pot when you can have something unique like this!? The only thing I would suggest is to drill a few holes in the bottom for proper drainage.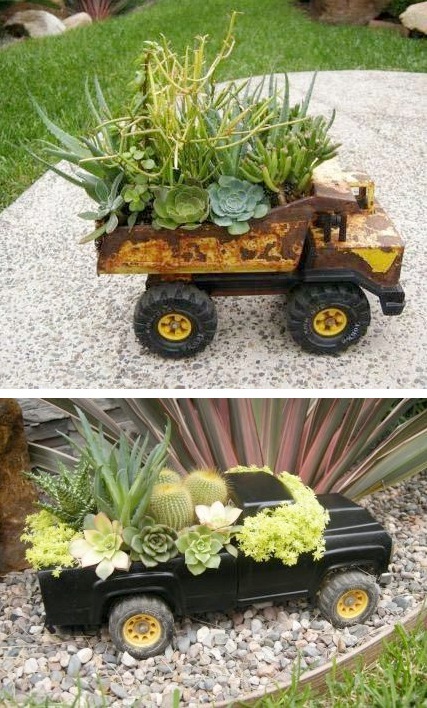 12. Birdcage Planters – as a fun garden container idea
Birdcages come in all kinds of shapes and sizes, and they're ideal for showcasing your plants, especially plants that tend to hang and droop; spilling out of the cage.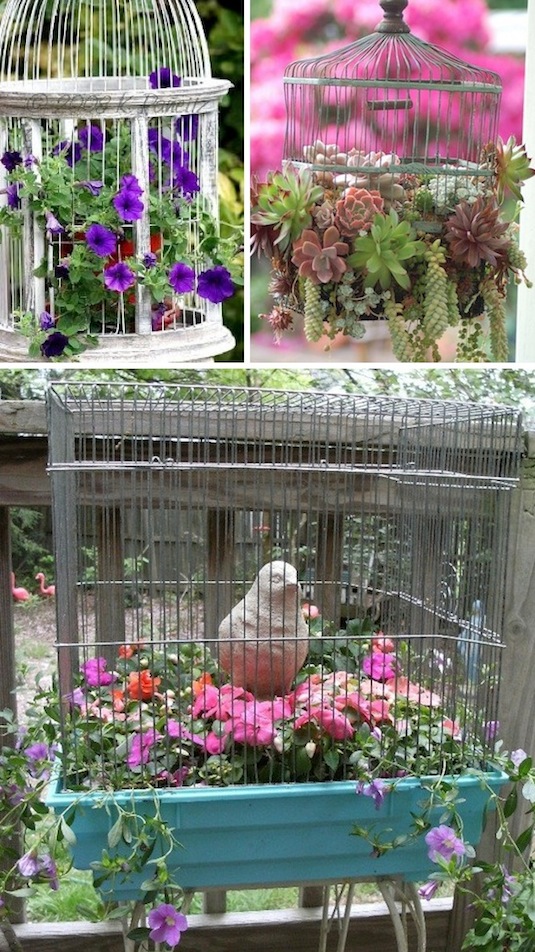 13. Paint Can Planters
They're just the right size and shape! Drill a few holes in the bottom and decorate them however you'd like. Or, don't decorate them at all! Just remove the label. I like the way they look in their natural state.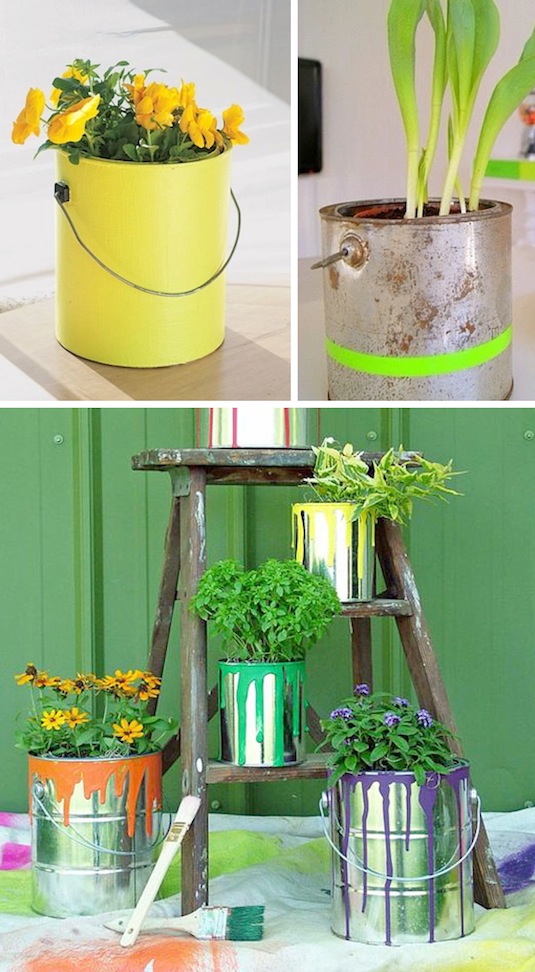 14. Tin Can Planters
There are always an abundance of tin cans, and they make for cute gifts! I like this idea as a teacher's gift. You could even write a special message on the outside.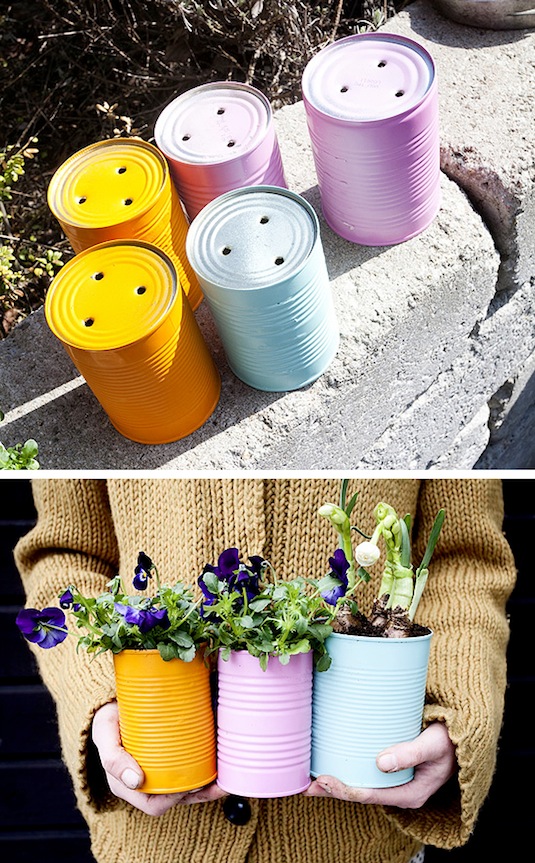 15. Chandelier Planters
What an awesome idea for a patio or hung from a tree! Use cascading plants like Ivy for the best result.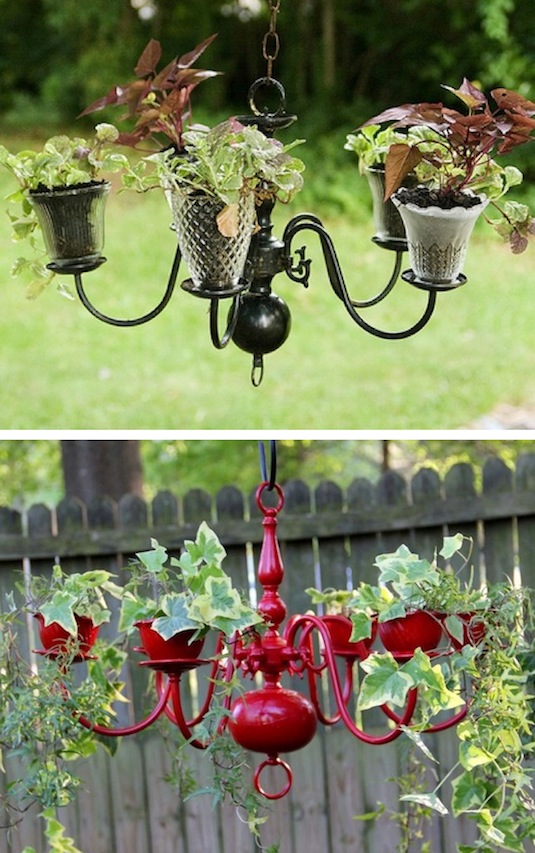 16. Cinder Block Planters
Stacked cinder blocks have readymade compartments that are ideal for a variety of plants. You can stack and build them to create a wall or fit a custom space.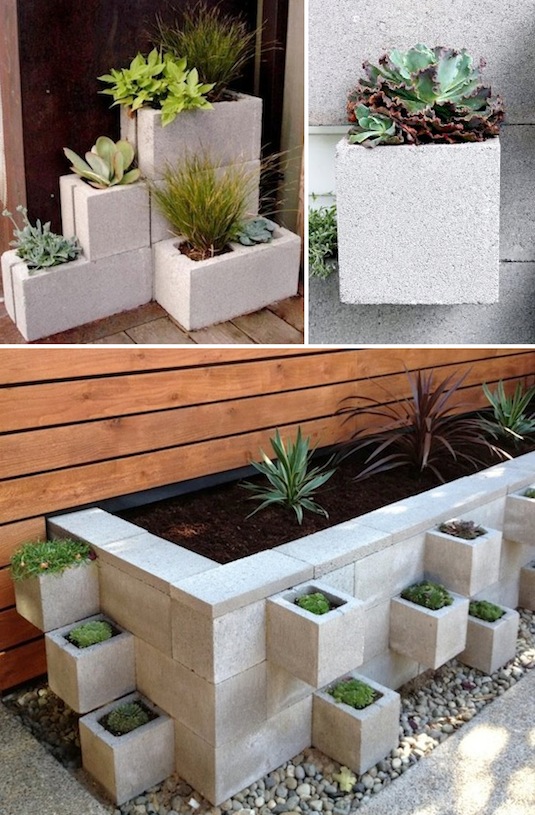 17. Repurposed Shoe Holder
Take advantage of vertical space with an over-the-door shoe holder! Use it to plant herbs for cooking, or just to decorate a wall or fence.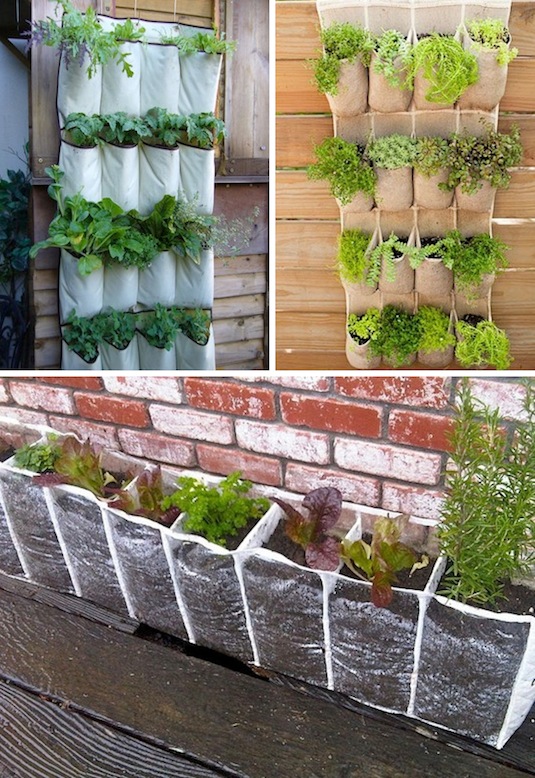 18. Chair Planter
Simply remove the seat so that your pot can rest in the frame! This would be an awesome decoration in any garden.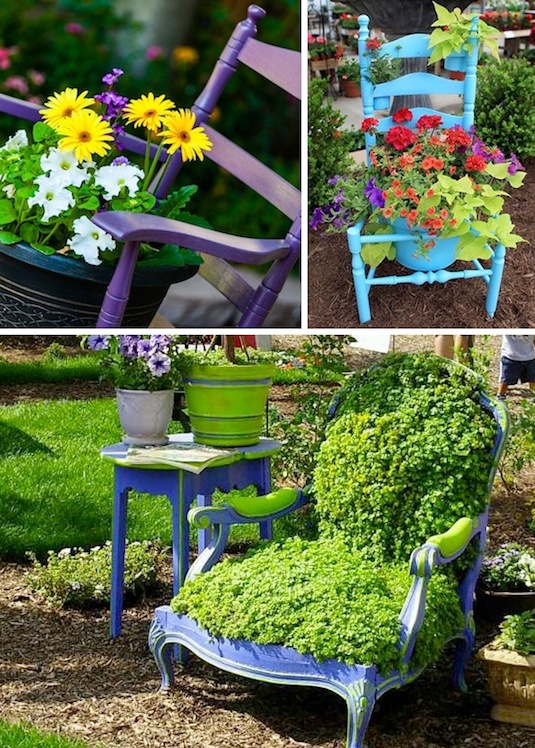 19. Homemade Book Planters
Pretty sweet way to decorate your home! Any book lover can appreciate this. And, you can find beautiful vintage books at thrift stores and antique malls for just pennies.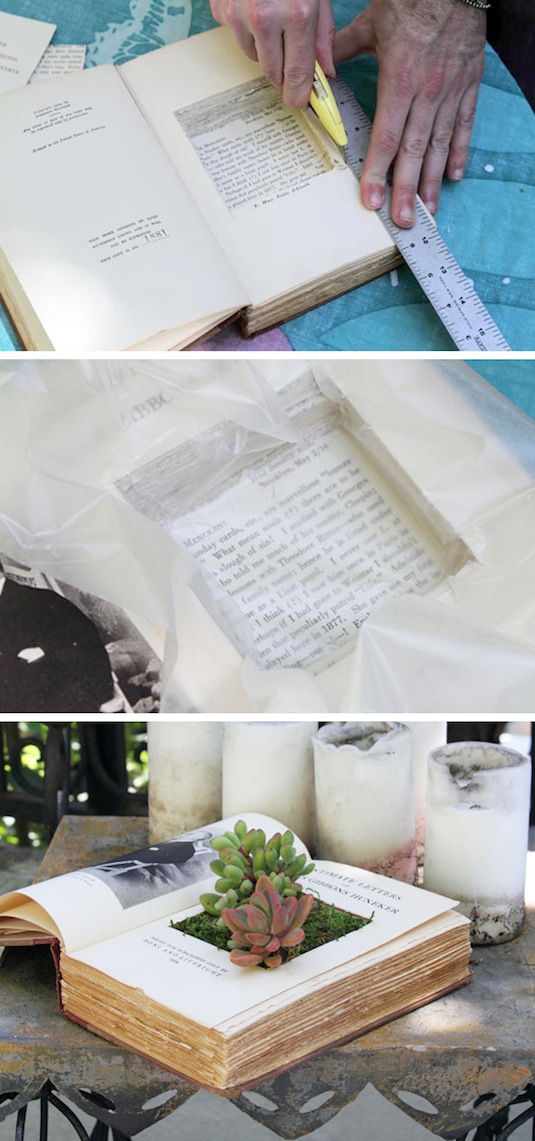 20. Milk Carton Planters are great small garden container ideas
This is a cheap and easy way to create a one-of-a-kind centerpiece! You would never guess it was made out of a milk carton.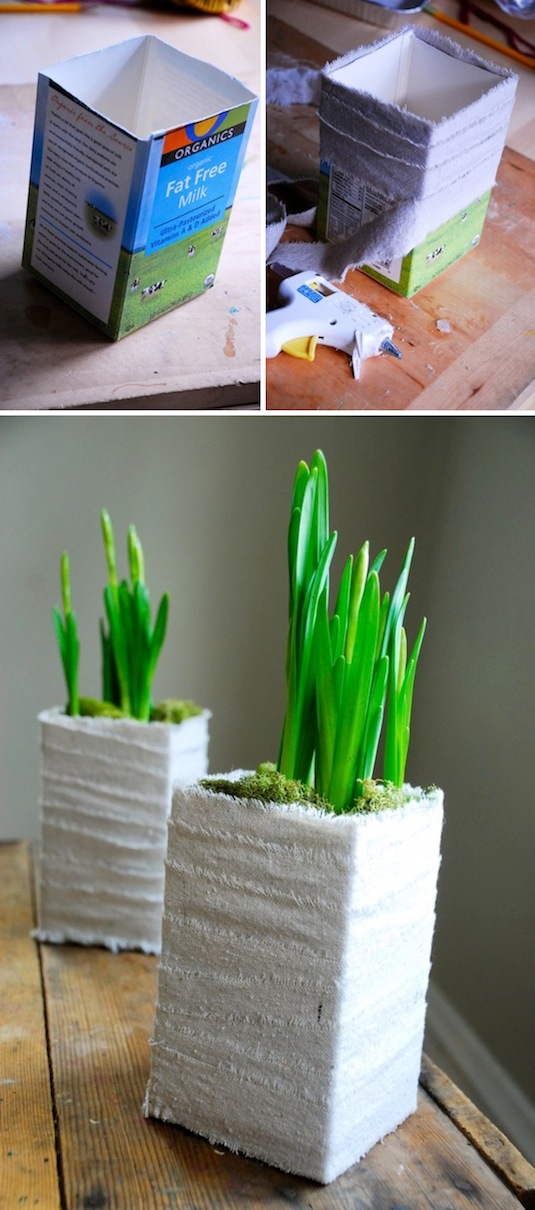 21.Tool Box Planters
Tool boxes have that upper and lower level, making them ideal for showcasing a mini garden. Toolboxes would also be an adorable idea for a DIY gnome garden or Fairy Garden too!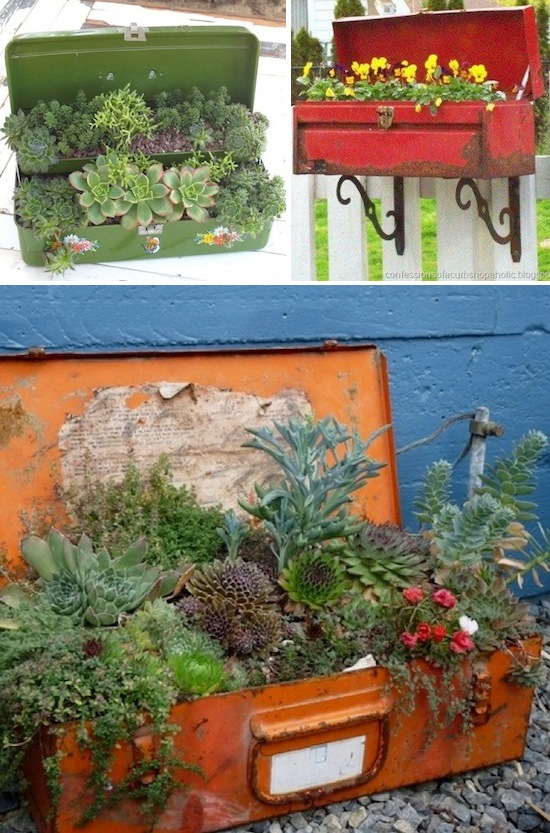 22. Shell Planters
Put all of those collected shells to use! Place them in your garden or use them as a table centerpiece.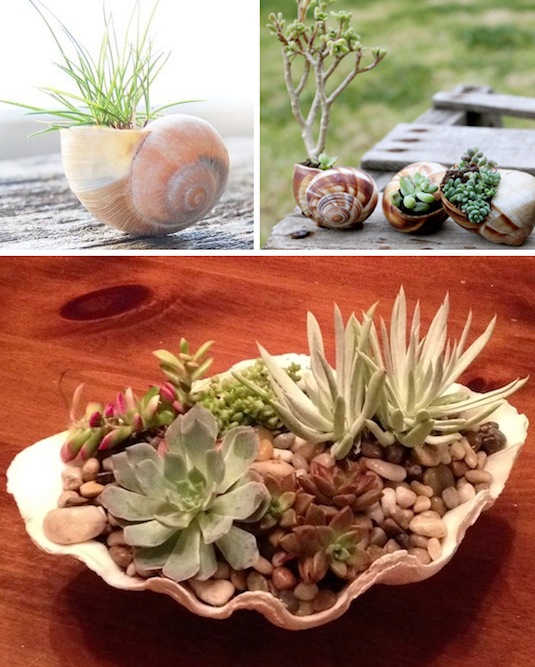 23. Boat Planters
Talk about a boatload of flowers! You could plant an entire garden in there.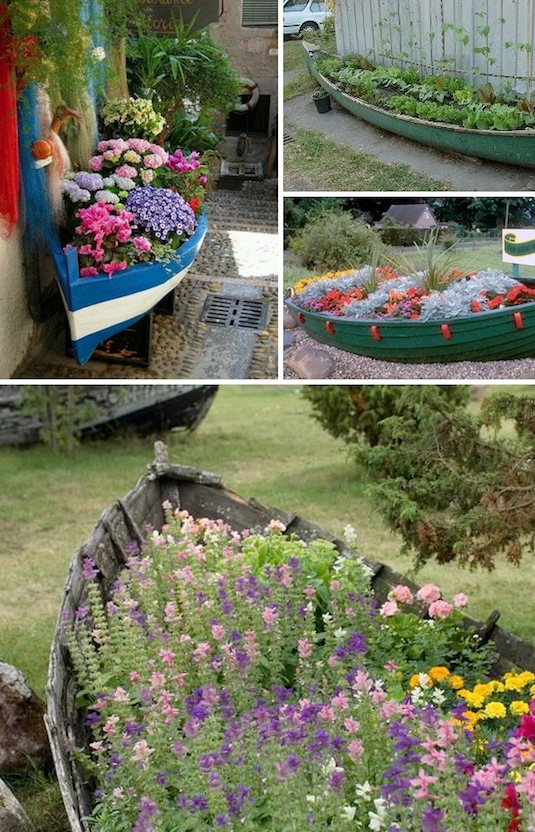 24. Plantation Shutter Planters
This is great way to cover up ugly wall space or even add a little privacy to your yard.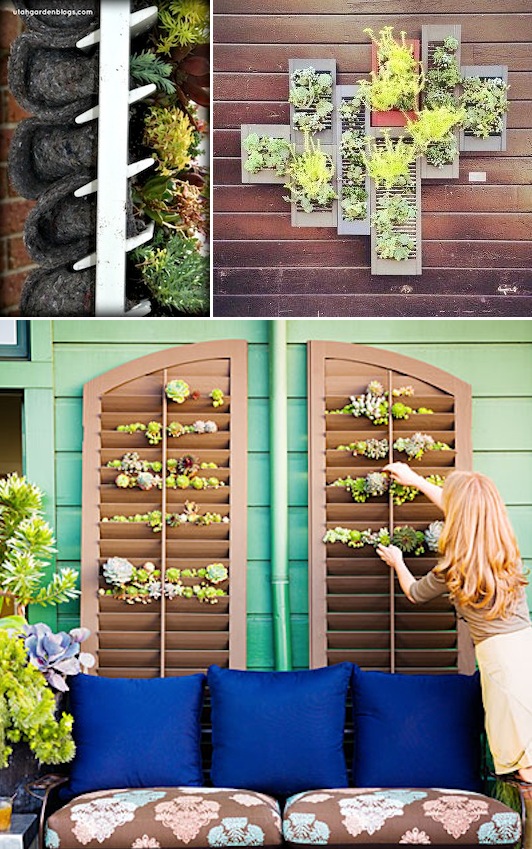 25. Succulent Wreath
Spring always has me thinking of diy garden ideas and nothing says "welcome" better than a flourishing door wreath made out of living succulents. Reuse and up-cycle an old wreath into a living succulent garden that can be displayed front and center to your home or garden. This DIY succulent wreath project is fun and easy to make.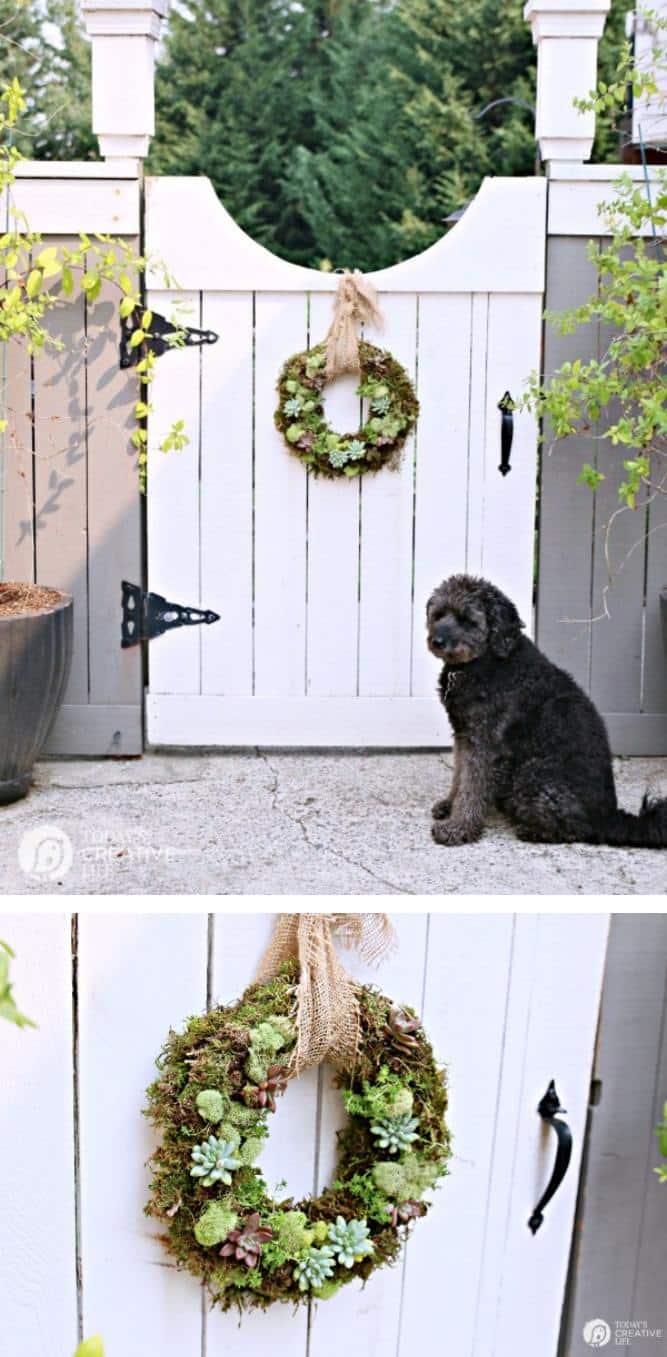 Did you know strawberry plants bloom an adorable white flower before they produce bright red fruit. Thus, strawberry plants are not only a tasty plant to have around they are also beautiful. This cleverly stacked garden pot is the perfect way to enjoy a delicious breakfast long with some springtime flowers! A vertical garden pot works well for a porch, deck, or patio. I'm sure you have a sunny corner of your world that would like to grow some strawberries!