Last Updated on November 13, 2021
8. Simple Thousand Island
If you like ketchup and pickles, then you probably also like thousand island salad dressing. It's so savory mixed with a good crunchy lettuce, cucumbers, tomatoes, and mushrooms. BUT, my family loves it spread on a juicy burger or sandwich.
Print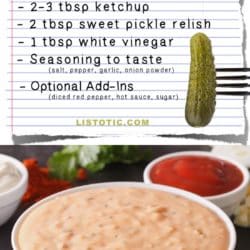 Simple Thousand Island
Author:

Prep Time:

5 Minutes

Total Time:

5 minutes
---
3/4 Cup  Mayonaise
2–3 tbsp Ketchup
2 tbsp Sweet Pickle Relish
1 tbsp White Vinegar
Seasoning To Taste
Optional Add- Ins ( Diced Red Pepper, Hot Sauce, Sugar)
---
Notes
In addition, you can use this as a spread for burgers or sandwiches. If you are using it as a spread, try adding in a little mustard and/or barbecue sauce.
A lot of recipes call for mixing in a mashed hard-boiled egg, but I've never tried it. I don't see how it could hurt, though!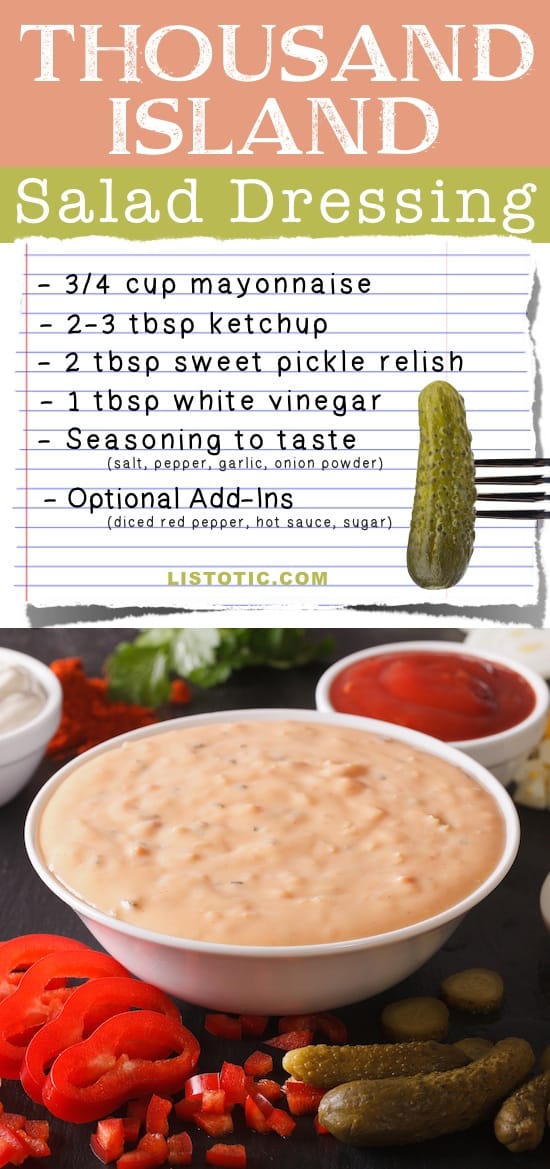 ---
This post contains affiliate links. Please see our Disclaimer Policy.
***Blend all of these recipes together with a whisk, or by simply shaking them in a jar or bottle. I use these squeeze bottles for most of my dressings and sauces, and this amazing salad dressing shaker for the balsamic vinaigrette I always have on hand.***
---
Images Below Link To The Full Instructions
---