Last Updated on November 13, 2021
Basic Salad Dressing Recipes
I don't know about you, but a salad is usually my go-to meal. It's just too easy to dump a bunch of fresh greens in a bowl, drizzle them with a tasty salad dressing recipe, and enjoy without too much guilt. Although, I feel much better about what I'm eating when I know what's actually in it! Unfortunately, most store-bought dressings have an ingredient list that's longer than a DMV line. On top of that, who the hell can pronounce disodium guanylate??
In the past, I've always resisted making my own dressings because I made the bogus assumption that they were too difficult or time-consuming. The truth is, most salad dressing recipes are quite easy! They're so simple that they usually only require a few main ingredients, and then you can customize to your taste from there.
Salad Dressing Recipes Customized to Your Dietary Needs
Because I wanted to be able to experiment with different quick, homemade dressings without having to pull up a recipe every time, I figured I'd do some research and see what some of the most popular salad dressing ingredients are, and how to completely customize them to my own taste or dietary needs. You would be surprised at all of the substitutions you can make to avoid things like dairy, eggs or sugar.
I put together this list of salad dressing recipe graphics for some of the most popular and widely-used dressing flavors, mostly as a general guide for when you might need to throw together a quick dressing. And, most of the ingredients you probably already have at home!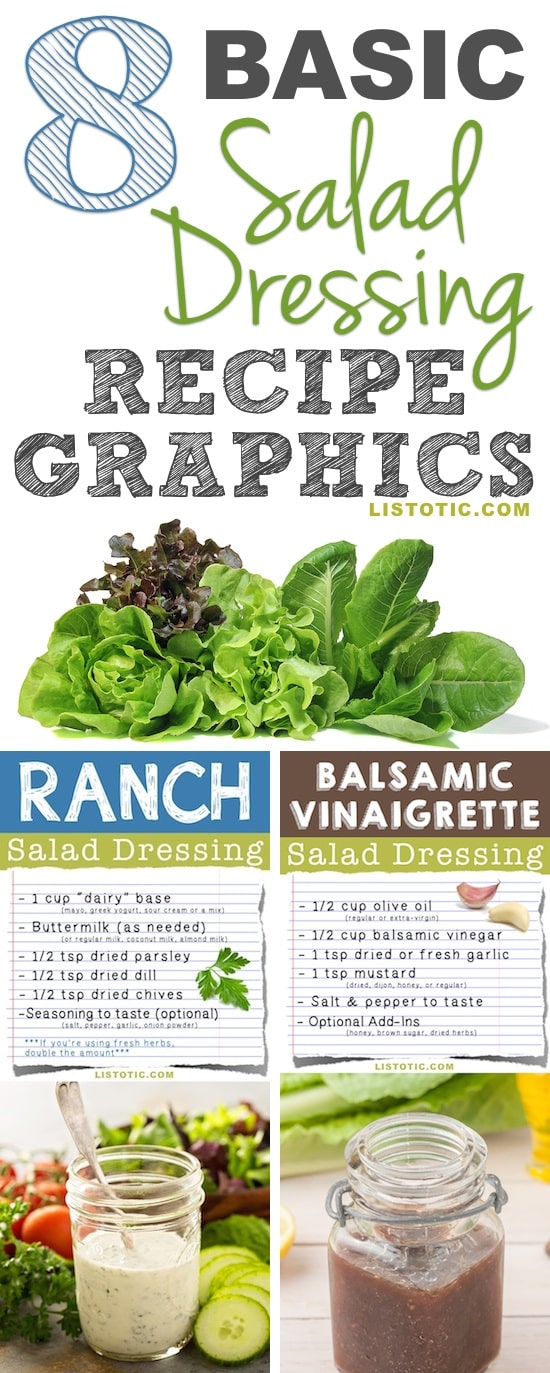 ---
This post contains affiliate links. Please see our Disclaimer Policy.
***Blend all of these recipes together with a whisk, or by simply shaking them in a jar or bottle. I use these squeeze bottles for most of my dressings and sauces, and this amazing salad dressing shaker for the balsamic vinaigrette I always have on hand.***
---
Images Below Link To The Full Instructions
---