Last Updated on November 4, 2021
The awesome thing about these darling snowman cookies is that you can make them as easy or as hard as you want. No baking even required! Yeah, it's cheating, but I'm telling you, for whatever reason, kids are not prejudiced against their sugar cookies. You can either make your own sugar cookies from scratch, buy the refrigerated sugar cookie dough, or even buy pre-made sugar cookies from the bakery section in the grocery store.
These easy-melted snowman cookies are a really fun activity for kids! You really can't mess up a melted snowman.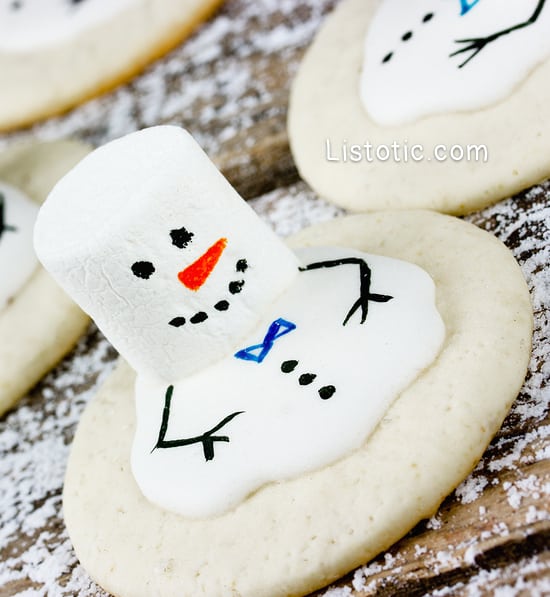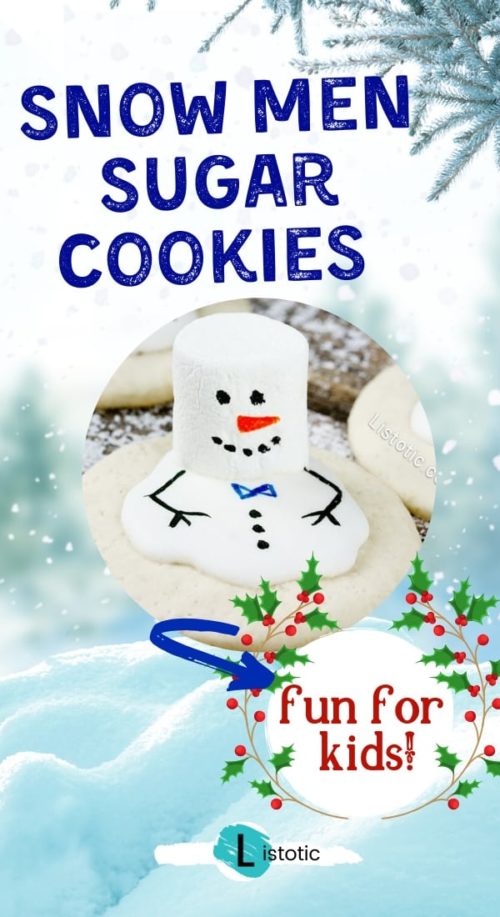 Print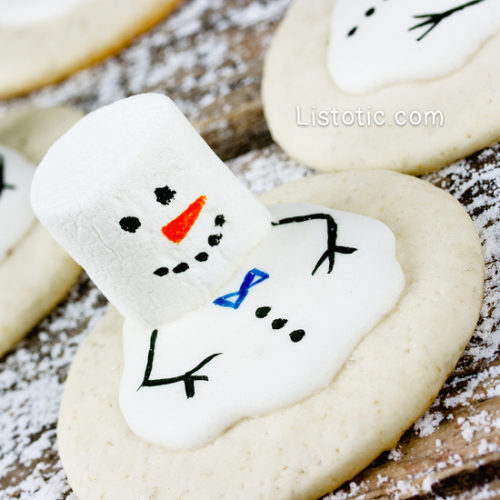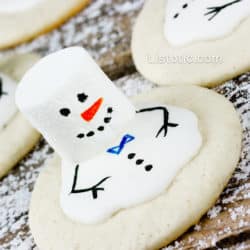 The Easiest Melted Snowman Cookies You Will Ever Make
Author:

Prep Time:

10 Minutes

Cook Time:

30 Minutes

Total Time:

40 Minutes
---
Store-bought Sugar Cookies (or make your own)
Cookie Icing (Store-bought or the easy recipe below)
Large Marshmallows
Food Coloring Markers
---
Instructions
If you're making your own sugar cookies, wait for them to cool. Use the cookie icing to make a "snow puddle" in the center of each cookie. You can make them as small or as large as you'd like. Even if the icing drips off of the cookie a bit, that's ok! It's a puddle, after all. I like to make the outline of the puddle first, and then fill it in (use a butter knife or small spatula to spread, or even just the tip of the icing bag).
While the icing is still wet, immediately place a large marshmallow into one side of the "snow puddle".
Once the icing has set (about 30 minutes depending on how thick your puddles are), use your food markers to decorate your snowmen however you'd like! You can also use colored icing or decorating gel if you'd prefer. Keep in mind that the food coloring markers often times don't come with orange for the nose, so either use icing for that or blend a red and yellow marker together if you have them.
---
Notes
Use colored icing or licorice string as a scarf.
Use Reese's Mini Peanut Butter Cups and/or Mini Oreos as a hat.
Use Pretzel sticks for arms.
Draw on eyelashes and blushing cheeks to make them girly. 🙂
Cut your marshmallows in half and place two candy eyeballs on top.
Use mini chocolate chips for the buttons.
Sprinkle on a bit of decorating sugar to the icing before it hardens for a little added texture and sparkle.
Replace the sugar cookies with gingerbread cookies.
Print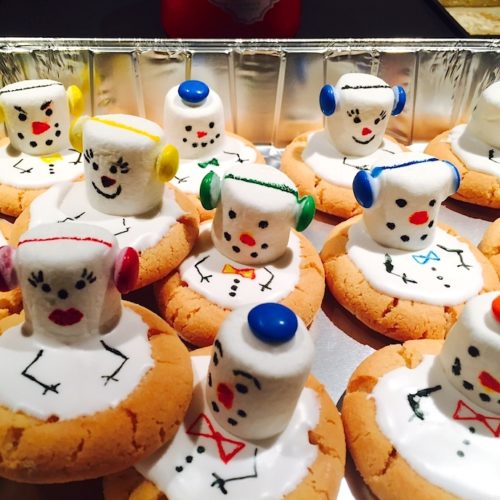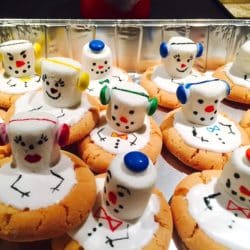 MAKE YOUR OWN COOKIE ICING
---
1 cup

of powdered sugar

4

tsps of milk
---
Instructions
it's easy! Use a fork to mix 1 cup of powdered sugar with 4tsps of milk. Customize the consistency by adding milk to make it thinner, or more powdered sugar to make it thicker. The reason cookie icing hardens is because it is low in fat, so do not add butter or use a heavy cream. Use a plastic sandwich bag with a hole cut in one corner to pipe the icing onto the cookies, or, with these cookies, you can just plop it on there with a spoon if you want. ***The store-bought Betty Crocker cookie icing is less transparent and blends in better with the marshmallows. I think it looks better than homemade.***
---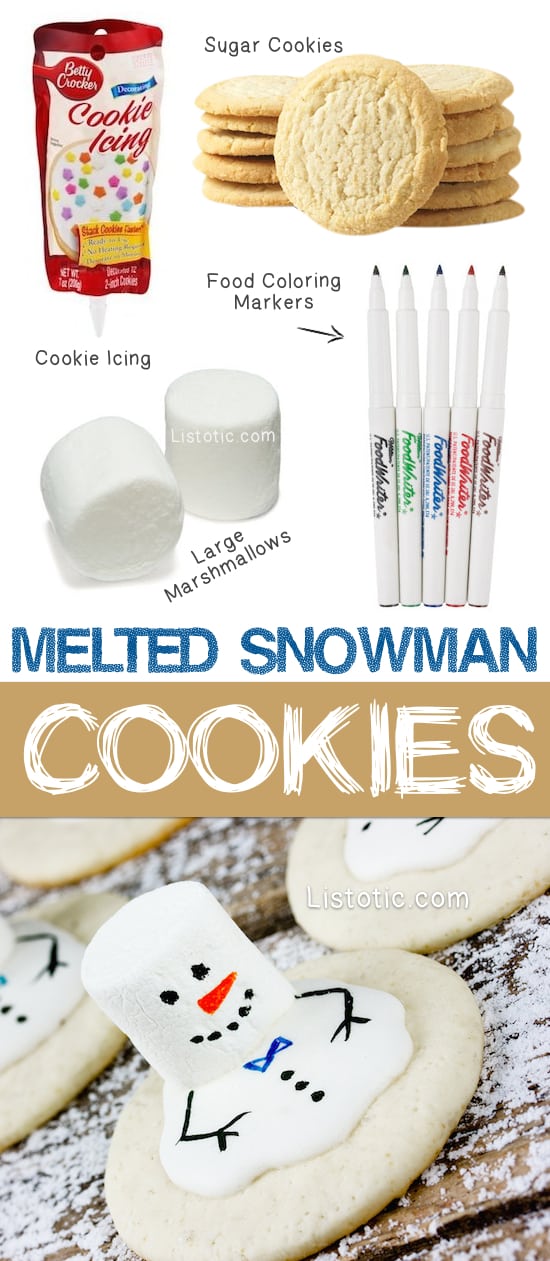 If you like this recipe, you might also like these:
Super Easy & Cute Reindeer Cupcakes
Healthy Chocolate Frosty (Just like Wendy's!)
3 Ingredient Healthy Chocolate Cookies
30 Surprise-Inside Cake & Treat Ideas