Last Updated on May 28, 2020
I've been making 3 ingredient banana oat cookies for a while now, in fact, I've tried just about every optional mix-in you can imagine with this simple cookie recipe: white chocolate cranberry, cinnamon raisin, chocolate walnut, raspberry vanilla, you name it! My family eats them a lot for breakfast.
The base of these cookies is very simple, just bananas and oats. Customize to your liking after that.
But, the other day I got to thinking. I make this really good chocolate banana smoothie for my daughter (frozen bananas, cacao powder, greek yogurt, flax-meal, and almond milk), and it hit me. What if I incorporate cacao powder into the banana cookies and make them SUPER chocolatey! How could I possibly go wrong?
Well, they turned out amazing! My daughter loved these 3 ingredient chocolate banana cookies. I would definitely recommend adding in other mix-ins of your choice (like chocolate chips or nuts for added flavor and texture), but even just these 3 ingredients alone are surprisingly delish. They definitely hit the spot when I'm craving something sweet!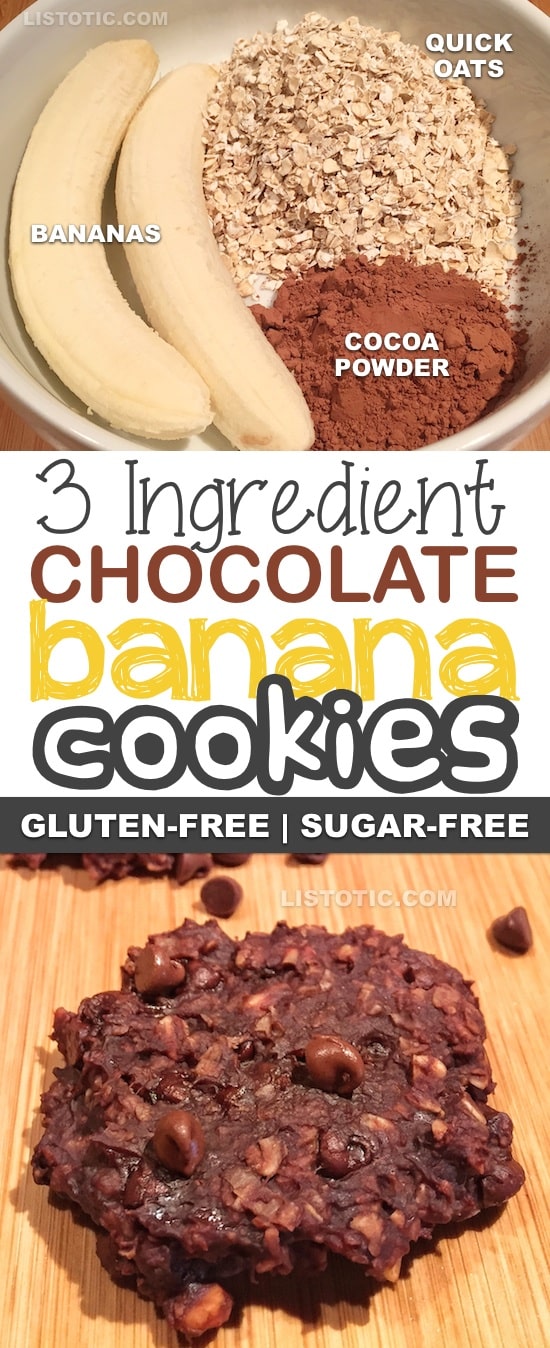 3 Ingredient Chocolate Banana Cookies
SERVINGS: Approximately 15 cookies
INGREDIENTS:
2 very ripe large bananas
1 cup of quick oats (look for gluten-free oats if you have an allergy– some oats are contaminated with small traces of wheat)
2 small tbsp of unsweetened cacao
Optional mix-ins of your choice (chocolate chips, cacao nibs, chopped nuts, raisins, coconut flakes, flax seed, vanilla, diced raspberries, dried cranberries, etc.)
DIRECTIONS:
Preheat your oven to 350 degrees and line a baking sheet with non-stick foil or parchment paper.
Mash 2 ripe bananas in a bowl, and then mix in up to 2 tbsp of unsweetened cacao powder and 1 cup of quick oats until a cookiedough-like batter is formed (the amount of oats you need depends on the size of your bananas, so start with 3/4 of a cup and add more as needed). The mixture will seem dry at first, but after a few minutes of mixing with a spoon it will turn into a nice consistency.
Fold in any mix-ins you plan on adding to the batter (I added a large handful of chocolate chips).
Place about 15 clumps of your cookie dough mixture evenly on your baking sheet. Flatten and mold them with your hands to form "cookie" shapes (these cookies will not flatten or change shape with baking).
Bake at 350 degrees for 10-15 minutes.
Enjoy!! Like most cookies, these are best when served warm, right out of the oven, but you can also store them in a tupperware container or ziplock bag for later.
TIPS:
These can also be made the traditional way without the cacao powder which makes the recipe more versatile (cinnamon raisin, white chocolate cranberry, etc.). You can see that recipe here.
Try rubbing a little coconut oil on your fingers before shaping your cookies to prevent them from sticking to your hands.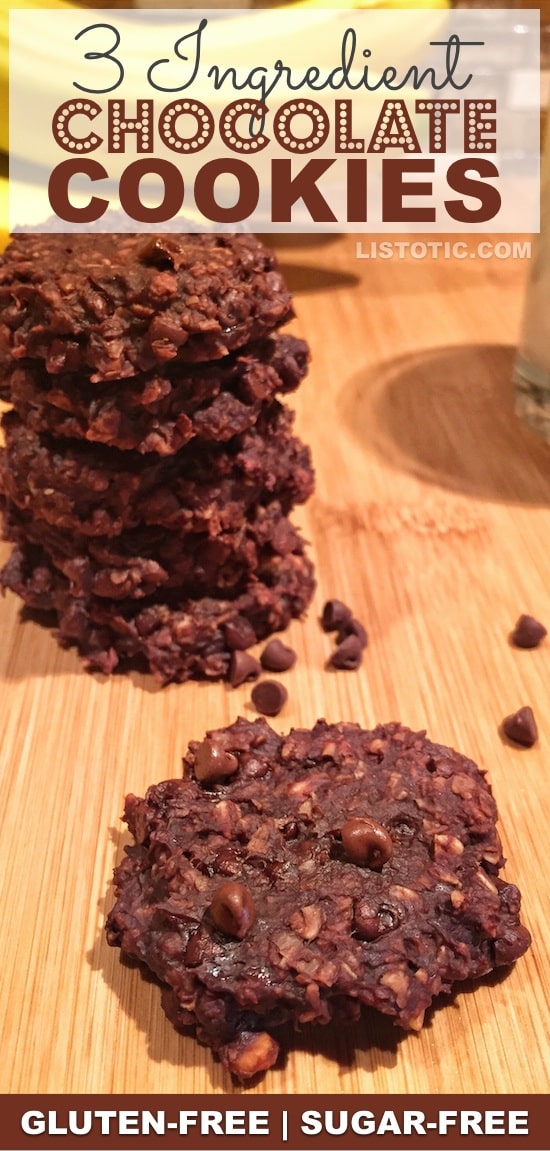 Keto Friendly Recipes You Might Enjoy!
And, Keto-Friendly Drink Recipes