Last Updated on November 4, 2021
Christmas Reindeer Cupcakes for kids party!
If you like to make adorable Christmas treats, but are super lazy like me, then you're going to love these easy Christmas reindeer cupcakes! I'm a bit of a cheater when it comes to baking, so I buy chocolate cupcakes from the bakery and simply add all of the fun treats on top. You can, of course, bake your own– whichever way works best for you!
This post contains affiliate links. Please see our Disclaimer Policy.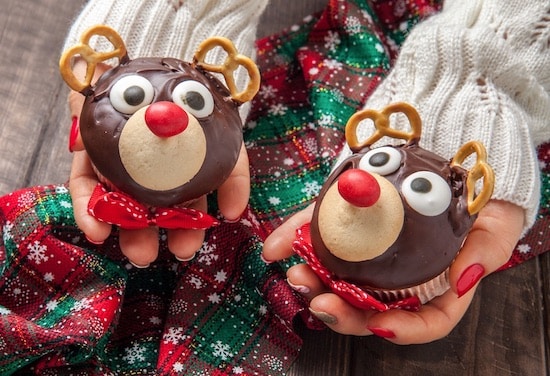 INGREDIENTS:
Store-bought chocolate cupcakes (or bake your own)
Pretzels
Regular or Peanut M&Ms (regular M&M's tend to stay put a little easier)
Vanilla Wafers
Candy Eyeballs (large or small)
INSTRUCTIONS:
If you're buying cupcakes from a bakery, you can either order them ahead of time without the frosting (and buy or make the frosting separately) or simply use a butter knife or spatula to flatten and smooth the frosting a bit. You basically just want to get a good base for your reindeer face. Save some of the extra frosting to glue on the M&M noses.
Now, just place everything on top! You can either stick the pretzels into the cupcakes or just lay them on top, whichever way you think looks best. Use frosting as a glue to adhere to the M&M noses to the wafers. I think the red M&Ms look best (Rudolph!), but the brown M&Ms also work. If you've purchased a small bag of M&M's, you probably won't have enough of the red ones anyway.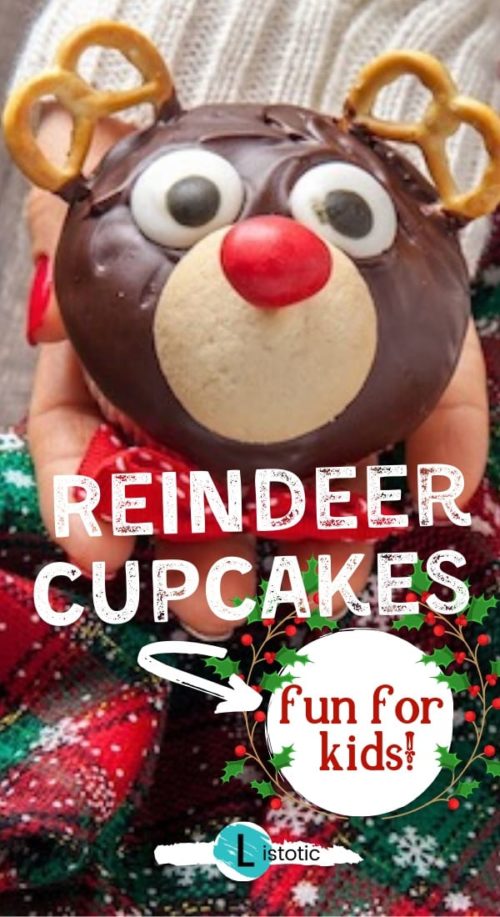 Kids and adults will love these Christmas reindeer cupcakes at holiday parties and just for a fun treat.