Last Updated on November 5, 2021
Perfect crafts for DIY Gift Ideas
A homemade gift is always better than something you can buy at the store! Especially for someone who has everything or is hard to buy for. Even if it's something as simple as personalizing a coffee mug, monogramming a casserole dish, or making a fun candy bouquet! Most of these DIY gift ideas are relatively easy and can be done last minute, while a few may take a little bit of planning, but they are all simple enough for just about anyone to do (no crocheting or sewing here).
Whether you're looking for something special for mom, a boyfriend, your best friend, or your favorite teacher, I think you'll find something you like!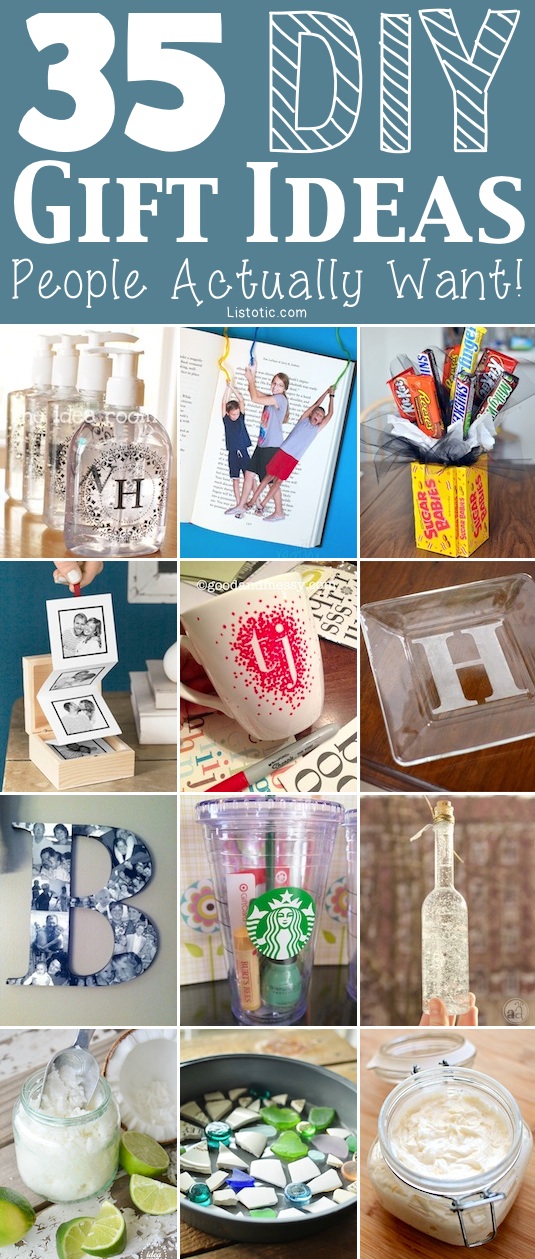 This post contains affiliate links. Please see our Disclaimer Policy.
Watch the video below to check out the 35+ DIY gift Ideas.
Then, scroll to the bottom of the page and click on "View the entire list…" to access instructions quickly or click next to view each idea.
1. Monogrammed Sharpie Mug
This is something you could make for less than a dollar, assuming you have a few oil-based Sharpies on hand (regular Sharpies DO NOT work). You really could customize it however you'd like, but I'm digging the idea of using stickers and then using your pen around them. Once you pull them off, it looks really impressive! Check out the full instructions and details over at Good and Messy!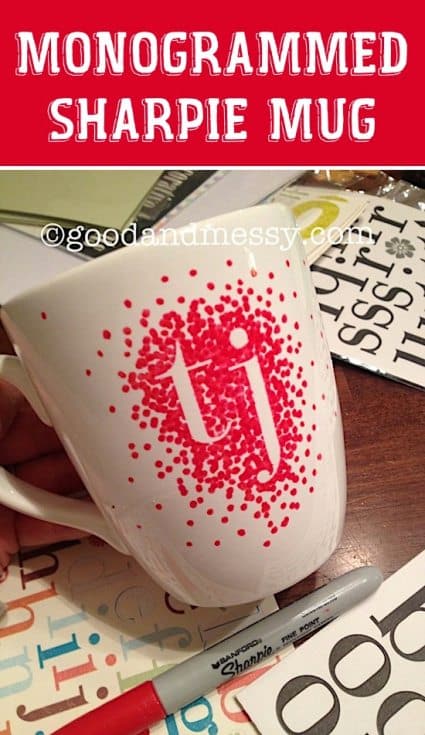 2. Fun Photo Bookmarks DIY Gift Idea
These custom photo bookmarks would be perfect for the grandparents! And just think of how much fun the photoshoot would be? This tutorial also comes with instructions on how to make the colorful tassels.

3. DIY Bath Bombs
Had I known you can make these in a mini-muffin pan, I would have made them a long, long time ago! I take more baths than showers these days. If you like working in the kitchen, this might be the perfect gift idea for you. they're finished, package them up in mason jars with a pretty ribbon. Go check out the full instructions.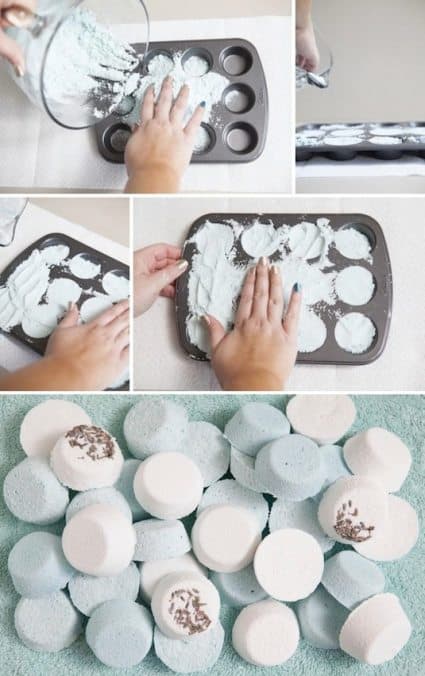 4. Photo Collage Monogram DIY Gift Idea
Mod Podge — A crafty girl's best friend! Use it to make one of these clever picture monograms. You can buy the wooden letters from just about any craft store, and then print out some of your favorite photos onto regular printer paper. I think this would look nice on a bookshelf or mantel. What a great idea for your bestie!
Paint a large wooden letter with acrylic paint (if desired, or leave it in it's natural wood state).
Next, print out your desired photos on regular printer paper, and then cut them out.
Once the paint is dry, use a sponge brush and mod podge (I prefer the matte) to apply the paper photos to your wooden letter. You will want to evenly apply the mod podge to the front and back of the photos without leaving any thick streaks of the glue behind.
Once the glue is dry (this should take less than 30 minutes), use scissors or an x-acto knife to remove the excess parts of the photos that hang outside of the boundary of your letter.
That's it! You can also add paper flowers, quote stickers, rhinestones or any other details that you would like.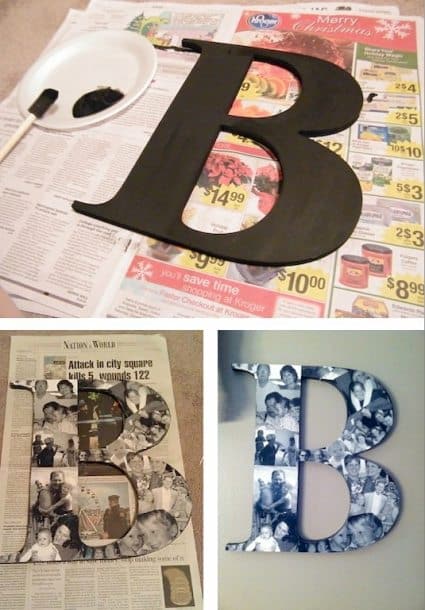 5. Candy Bouquet
A bouquet of candy is the perfect diy gift idea for someone who is hard to shop for! Who doesn't love candy, right? I like this idea for a teenager, or perhaps for dad on Father's Day. Get the full instructions over at Funky Polkadot Giraffe.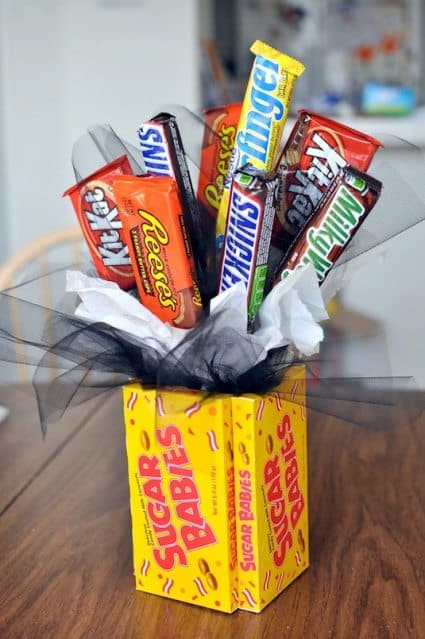 6. Liquor Bouquet
This has got to be the ULTIMATE man gift — liquor bottles, cigars, beef jerky sticks, chocolate and shot glasses. Perfect for a 21st birthday! A smaller version in a large beer mug would also be nice.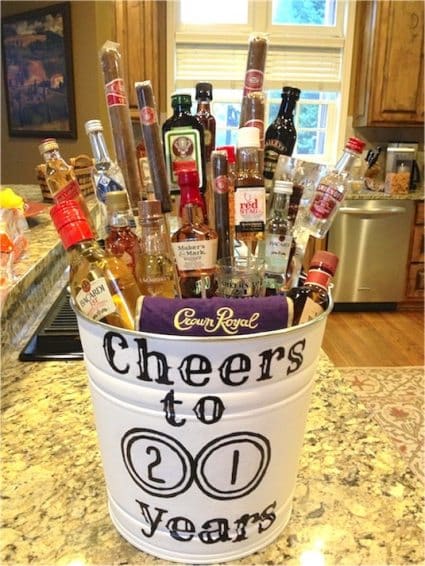 7. Custom Stepping Stone
A custom stepping stone would make for a nice house warming gift, don't you think? You could even do something a little more simple by carving initials or doing handprints. The grandparents would love this, too! Get the full details and instructions here.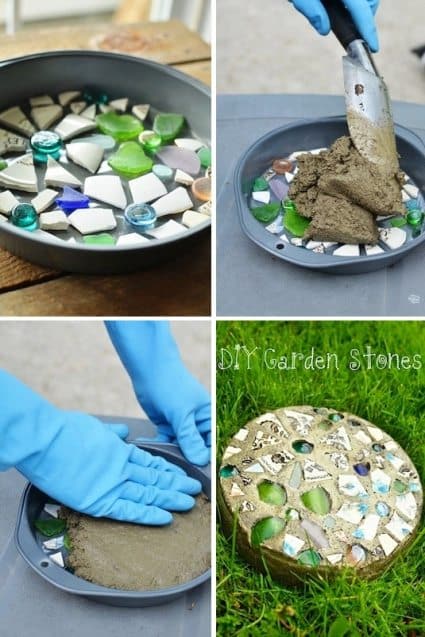 8. Gift In A Jar
You could do this for just about any occasion — a new mommy jar, a get well jar, a spa pampering jar, or anything else you can think up! Classy Clutter has quite a few good ideas and free printable labels.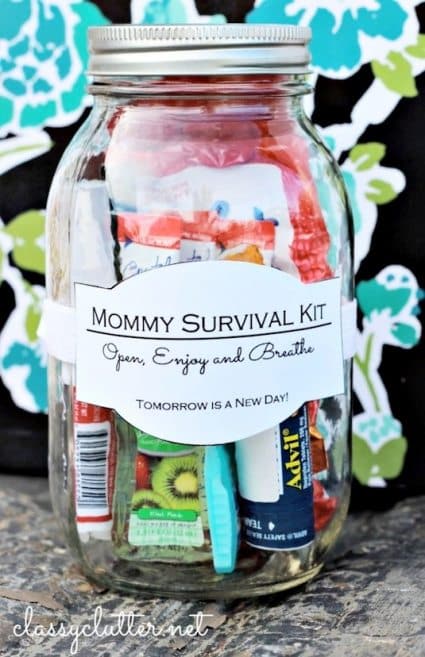 9. Gift In A Cup
Who couldn't use an on-the-go insulated cup?! Fill it up with some of their favorite goodies (gift cards, drink packets, lip gloss, nail polish, candy, or anything else that will fit) and you've got a gift that works for just about anyone!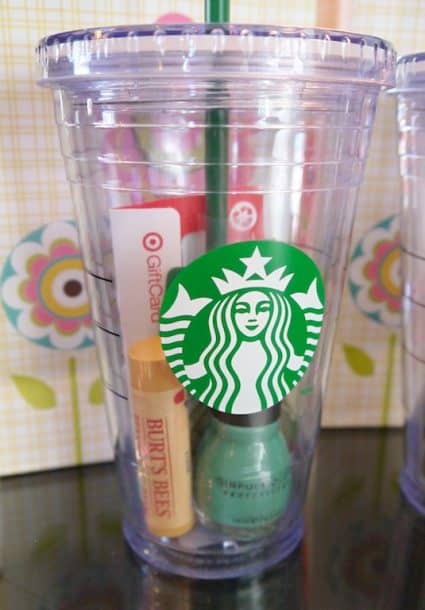 10. Photo Pendants or Magnets Gift Idea
I'm thinking Mother's Day or perhaps for a best friend's birthday? They are actually really cheap (less than $2.50 each), and you could put a magnet on the back as an alternative to the pendant just in case they are not the necklace-wearing type. Hop on over to Saving with Sarah for the instructions.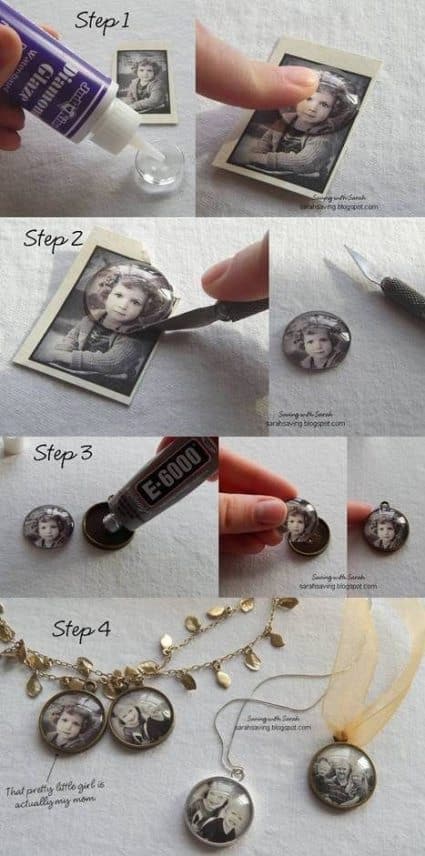 11. Pull-Out Photo Album DIY Gift Idea
This is a great alternative to your traditional photo album! You can buy those little wooden boxes online, but they are also available at craft stores like Hobby Lobby or Michael's. The rest is made with card stock and photos. I would call it a "memory box". This might be a nice Anniversary or Valentine's Day gift. Check it out here.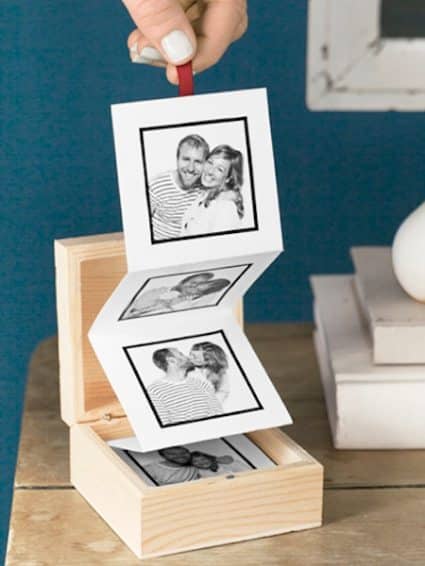 12. DIY Glitter Cup
Are you wondering how in the world she did that? It's a double-walled cup! Don't worry, you won't be drinking the glitter. Starbucks used to sell them, but you can also find them on Amazon (it's actually made for the purpose of designing your own). You can also do this with photos! Check out the full instructions here.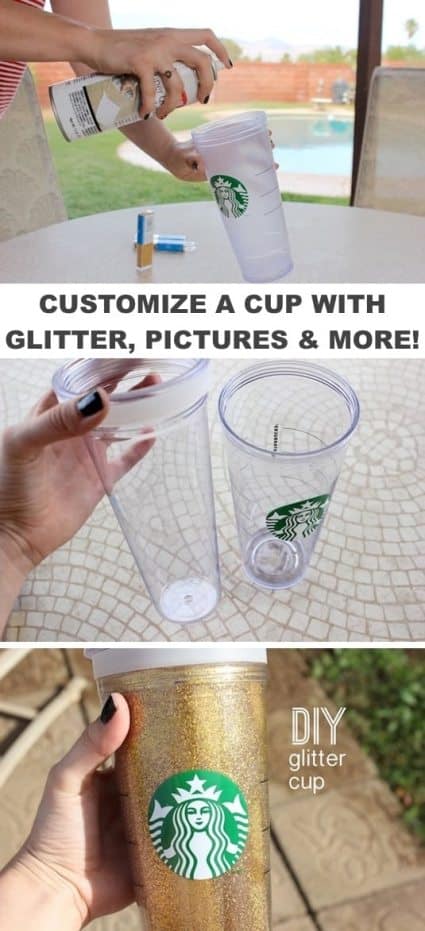 13. DIY Personalized Glass
I've been fascinated by etching cream lately. With what it does to glass, I would be afraid to get that stuff on my hands! It's amazing. Customize a casserole dish, wine glass, mirror or anything else glass with a personalized monogram, name or even quote. If you have a computer and a printer, then you can just find the font you like and print it out in the size you need for the stencil, or check out this glass etching starter kit. Additionally, you will also find a detailed tutorial over at The Thinking Closet.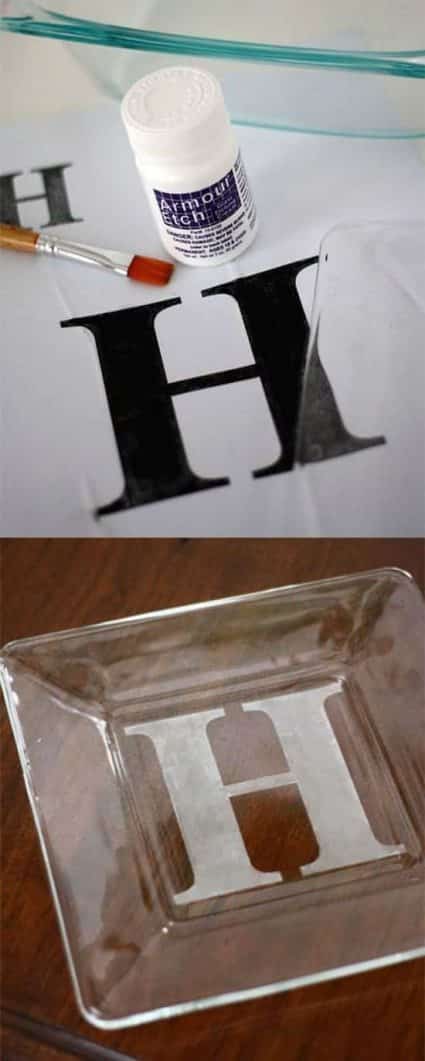 14. Homemade Body Butter
With just 3 ingredients you can make a homemade body butter that doubles as shaving cream and lip balm. It's all natural, too! In the winter months, I can never get enough moisture; I would love to receive this as a gift. You could even make a little tag with the recipe and instructions in case they want to make their own once they run out. She Wears Many Hats has the full recipe and instructions.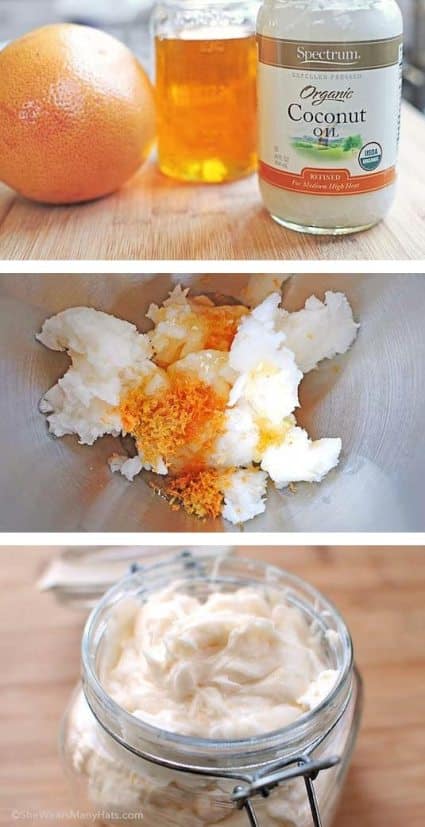 15. Homemade Soap
Homemade soap is easier than it looks! You can actually just buy soap base that melts in the microwave, then you can add a few other ingredients to your liking (fragrance oil, coffee beans, etc.) and then pour the melted mixture into soap molds. How fun! Get the full tutorial here.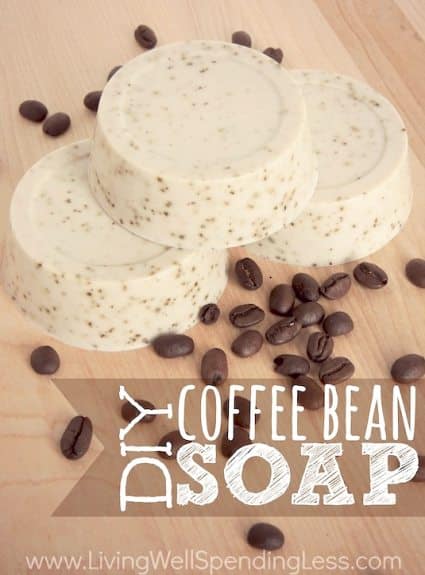 16. Easy Monogrammed Soap Bottle
Believe it or not, that monogram is actually on the inside of the bottle. It was printed on transparent overhead paper and then inserted into the bottle. Clever! The idea Room has a free printable for this, too. Go check it out!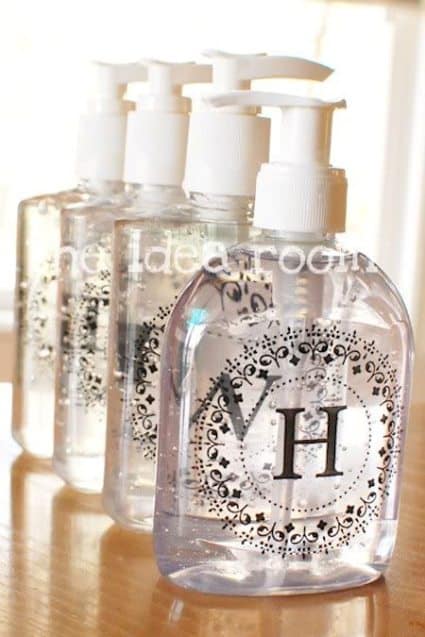 17. DIY Mason Jar Candles
If you like melting stuff, then this project is for you! I pretty much dig anything that has to do with mason jars, and I've always got a candle burning (I think I might keep Bath & Body Works in business these days). I would love to start making candles, and these wax chips make it an easy, do-able project. What a fabulous diy gift idea, too! Especially since I love the burlap top and cute gift tag. So, hop on over to Everyday Family for the instructions.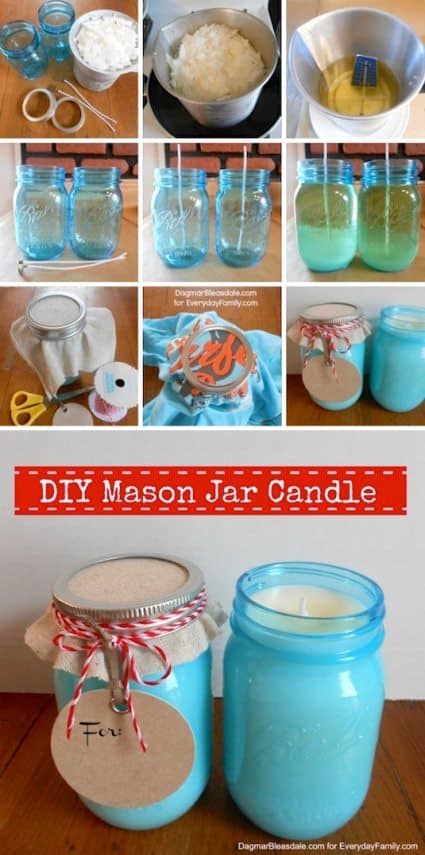 18. Homemade Extracts DIY Gift Idea
This one takes some planning ahead (it needs to sit for 2-4weeks), but most of the work is just waiting. They can be added to baked goods for amazing flavor enhancement, but also look so pretty just sitting on the kitchen counter! Get the full instructions here.

Even More DIY Gift Ideas
19. Custom Scrabble Coasters
It turns out you don't have to buy a dozen Scrabble games to do this project; You can buy a pack of 100 tiles for less than $5 on Amazon. This opens up so many possibilities! I love the way these Scrabble tile coasters turned out, and you can customize them with different words. Maybe even use blank tiles (or the back) to make spaces in between words to write a message.

20. Bath Goodies In A Washcloth
What a unique way to package up a few bath goodies! You could make this into just about any animal, too (maybe a bunny or kitten?). This way it doesn't have to be Christmas themed. Get more details for this project over at Bumble Bee's Craft Den.

21. Recipe Ring Gift Idea
This is brilliant! Type out and laminate your favorite recipes and attach them to a handy ring. I would actually like to do this for myself; maybe hang it on a hook in the kitchen where it's easily seen. Then I can just scroll through them when I'm looking for dinner ideas and have the recipe and instructions right at my fingertips. Go get the full instructions over at Lil' Luna.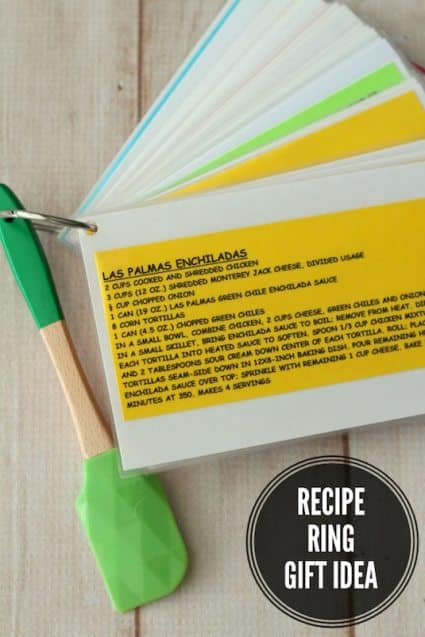 22. Secret Stash Book
What a fun surprise! It's not just a book, but a secret place to stash your valuables, or just something pretty awesome to have hanging out on your bookshelf. For example, you could also fill it with candy, money, bookmarks, or anything else practical for whoever you're giving it to. Read the full tutorial here.

23. Homemade Sugar Scrub
I can only imagine how good this must smell! I have this weird obsession with anything coconut; I'd probably end up eating it. But that's ok because it's actually edible and all natural. The instructions are easy and include those cute little labels for you to print out.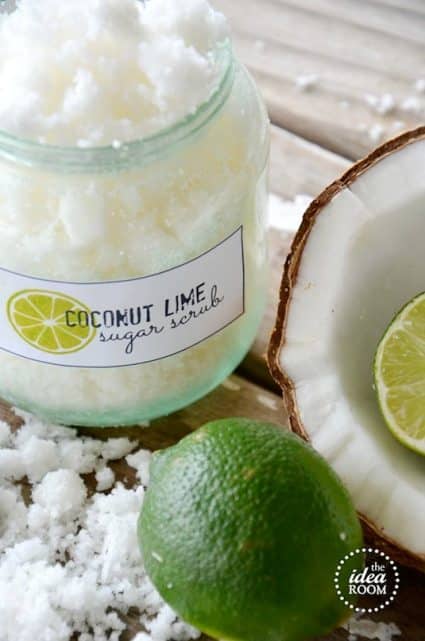 24. Send A Hug
If you have grandparents or other relatives that live out of state, this is a fun and cute way to let them know how much they are loved! It's so simple, but definitely a sweet and sentimental gift that they are sure to love. Read the full details here.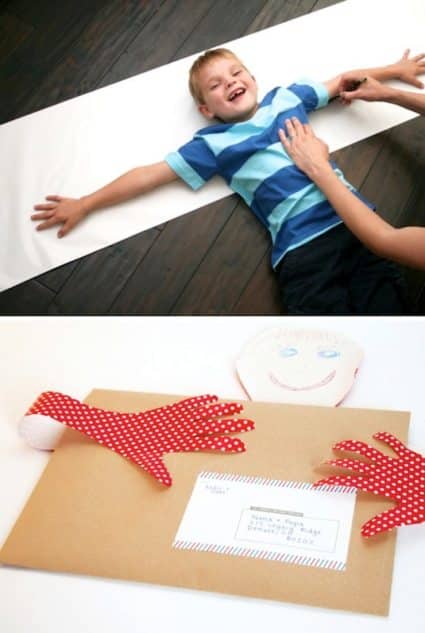 25. Creative Gift Wrap
Sometimes it's all about the packaging! This is such a great idea for someone who is hard to shop for, like teenage boys. You just can't go wrong with money and candy. And, it doesn't get much easier than this.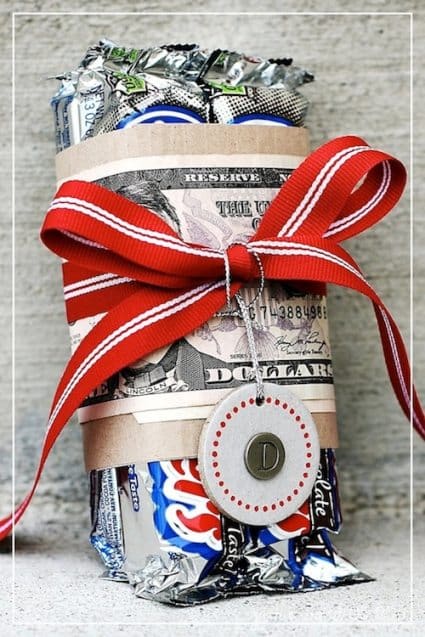 26. Bouquet of Suckers
30! I beg to differ. I happen to like the 30's, but really this could work for any age. This is a fun and creative gift for a co-worker or sibling. You could also put the suckers in something that is usable like a coffee mug.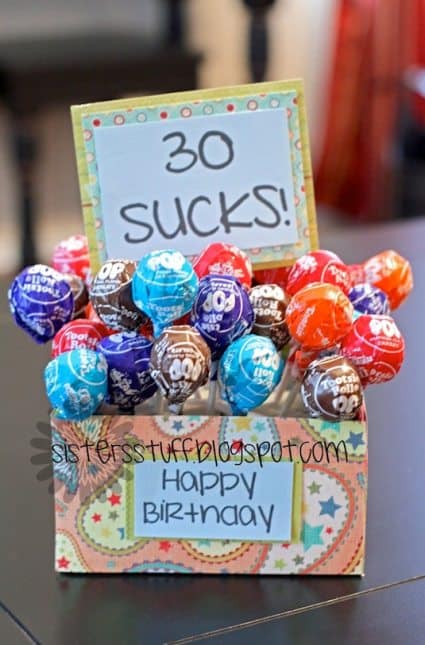 27. Photo Tile Coasters DIY Gift Idea
I've never seen this technique before, but I like it! I've always got nail polish on hand, and I have those same tiles leftover from our bathroom renovation. I like how the photos don't transfer perfectly– It gives them more of a vintage look and feel. You will find the full tutorial for this project here.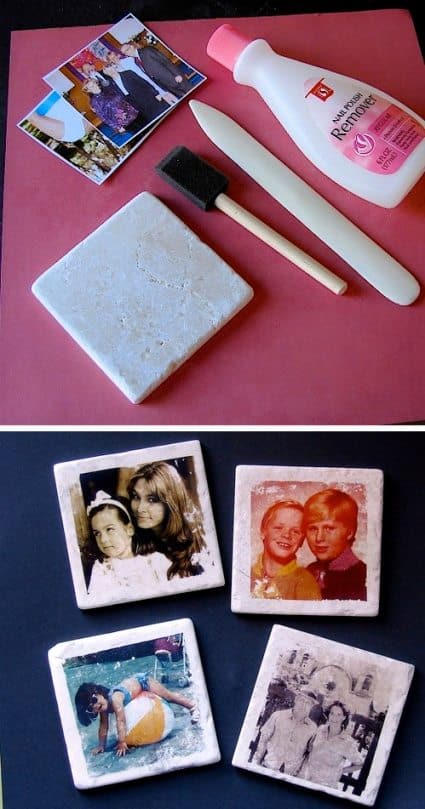 28. DIY S'mores Kit
This is a super easy, last-minute DIY gift idea everyone will love! I like how Kimberly put this together with colorful M&M's to represent Christmas. You could use other seasonal colored candy for other holidays, as well. Teddy Grahams and pink M&M's would be really cute for Valentine's Day! Go get the free printable and more details for this project over at A Night Owl Blog. (P.S. The printable tags are actually red and green. I'm not sure why they look pink and teal in the pictures). 🙂

29. Stay-Put Elastic Bookmarks
Why is this the first time I've come across these? I'm not sure if you can buy them or not, but you can certainly make them. They mark your page and keep your book securely closed at the same time. This would be a brilliant gift for a traveler and/or book lover! Get the full instructions over at Make It & Love It.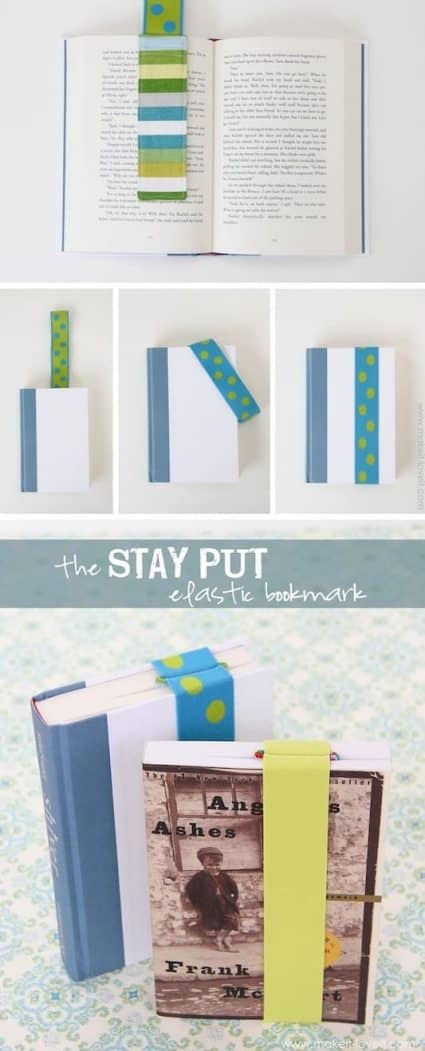 30. Bottle Of Memories
If you're looking for something a little more personal or sentimental, then this is it! Fill a bottle with mini items (doll house section of the craft store) that remind you of the person receiving the gift or of things you have both done together over the years. I LOVE this! Further, read more here.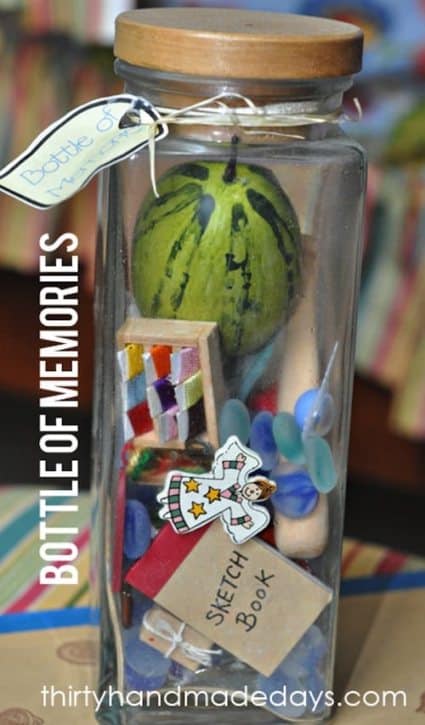 31. Create A Magic Bottle DIY Gift Idea
There really is something so magical about these, especially to little girls. You can fill it with glitter, sequins, plastic confetti, or anything else that sparkles. They are fun to shake and then watch as all of the stuff sinks to the bottom. Arty Ants has the full instructions.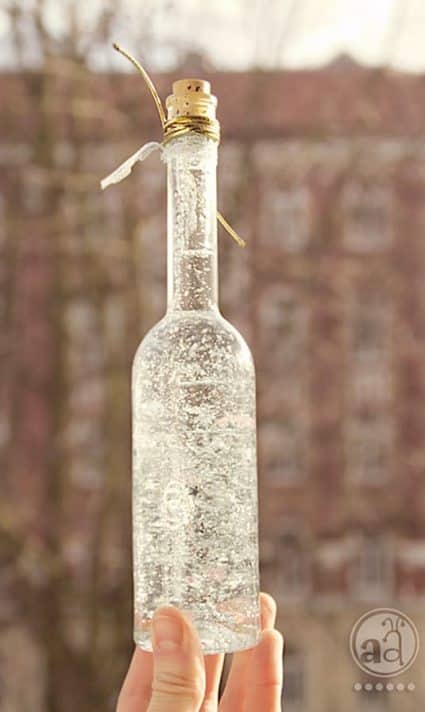 32. Succulents In A Tea Cup
Succulents are my favorite plants, mainly because they are really easy to take care of. Place a few in a teacup for a charming diy gift idea! Certainly, you could even easily customize the cup with oil-based Sharpies to make it more personalized.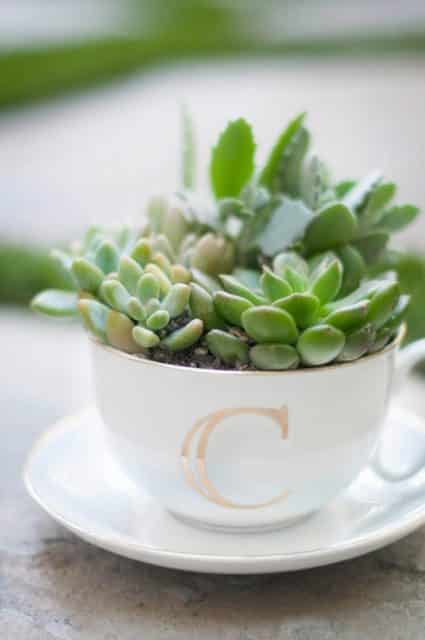 33. Framed Scrabble Tiles DIY Gift Idea
I just plain like the idea of using scrabble tiles, I guess they are my new obsession next to wine corks. You could frame them with a quote, family names, or anything else you'd like. Certainly, a neat diy gift idea! Check out the full details here.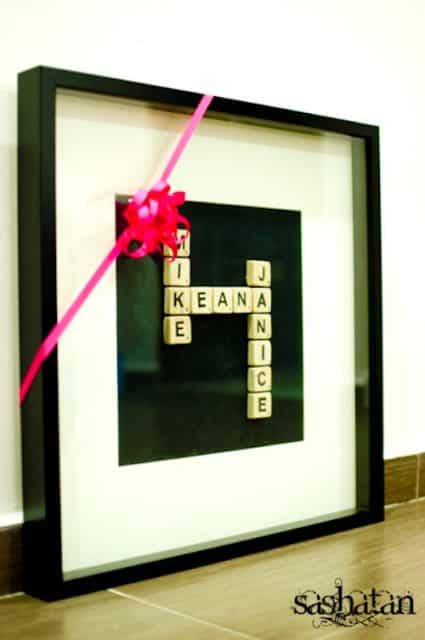 34. Homemade Cleaning Slime
That fun goop your kids have probably played with… you can clean with it too! What? Well, yes you can because it gets into all of those hard-to-reach nooks and crannies. Bonus: It's really easy and fun to make! This could be an awesome diy gift idea for kids and adults. Check out this video tutorial.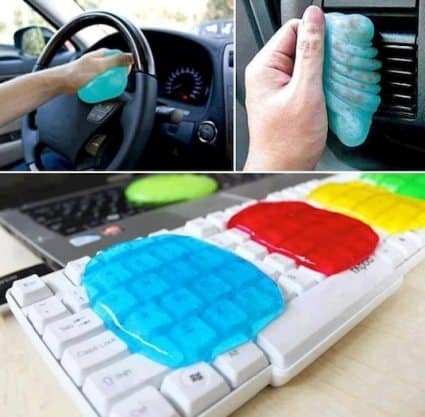 35. Monogrammed Journal Gift Idea
Customize a journal or book with alphabet stamps! I love the idea of writing or stamping on the page ends. Use a clamp or large binder clip to keep it closed while you're stamping. Also, you could use a ruler to get straighter lines for your letters on the inside of the journal.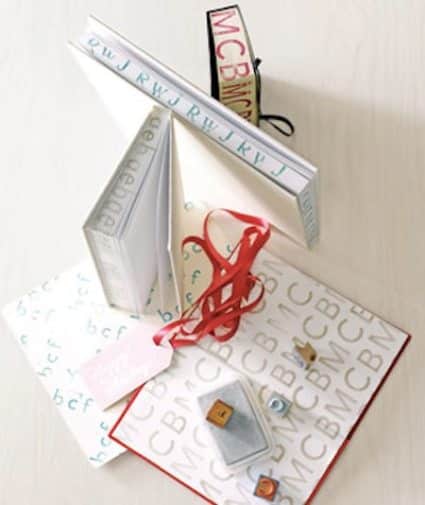 36. DIY Holiday Ornaments
Homemade holiday ornaments are the perfect gift for just about anyone (except for maybe the Grinch) since you can completely personalize them however you would like. I found this YouTube video with 8 easy designs and ideas that just about anyone can do. After all, this adorable snowman ornament is my favorite out of the bunch!
The hat is made with an old sock and tied at the top with a small ribbon, and it's simply filled with a little bit of white paint to resemble the snowman's head, afterward, use a permanent marker or nail polish to create the face, and you're done. Easy enough!

VIDEO TUTORIAL
37. Beer Bottle Drinking Glasses
Oh, boy do I know some guys who would love this perfect Father's day gift idea. Actually, I know lots of women who would love it just as much (if not more)! So that makes this Beer bottle drinking glass is the perfect DIY gift for men or women. Turn your favorite beverages (must come in glass bottles) into your own custom set of drink wear. The best part is someone must drink the beer in order to have an empty bottle for this DIY project.😉 Follow these simple instructions from DIY Projects & Cheers to the perfect DIY gift!