Last Updated on January 20, 2022
Easy DIY Craft Ideas for Adults
There's something about creating things with your own two hands that makes life fun and rewarding. Just the satisfaction of making something that didn't exist before is good enough for me! I especially love a good project that doesn't require any skill and uses recycled materials or things that I happen to already have laying around the house. Because, you know, I'm looking for some easy DIY craft ideas for adults.
If you're a craft lover like myself, then you are going to love this round-up of unique projects! You will find everything from DIY home decor to creative gift ideas for the holidays.

This post contains affiliate links. Please see our Disclaimer Policy.
1. Paint Sample Calendar
This colorful calendar was made using paint swatches and a frame that doubles as a dry erase board. As a result, you can use it for every month of the year! A 16×20 frame will fit your paint samples nicely (with a little extra room on each side as this frame is a bit smaller). Go check out all of the details for this craft over at Chicisms!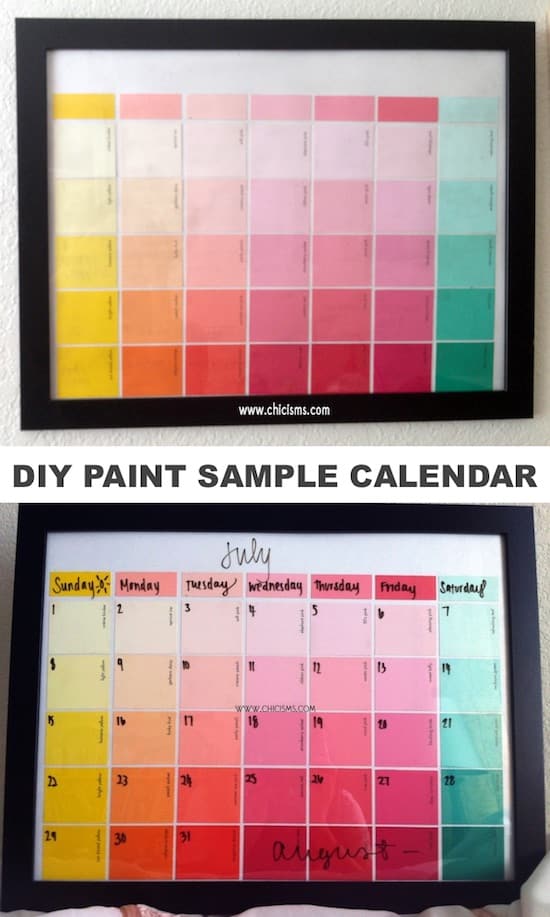 2. Repurposed Coffee Beans
This is not only practical, it also doubles as an air freshener! Fill up a small vase or glass jar with things like coffee beans, dried beans, marbles, popcorn kernels, rice, or mini crystals, and use it to store all of your makeup brushes. Surprisingly, it's a fantastic idea for table centerpieces. With this in mind, simply throw a tea light or battery-operated candle in there. 🙂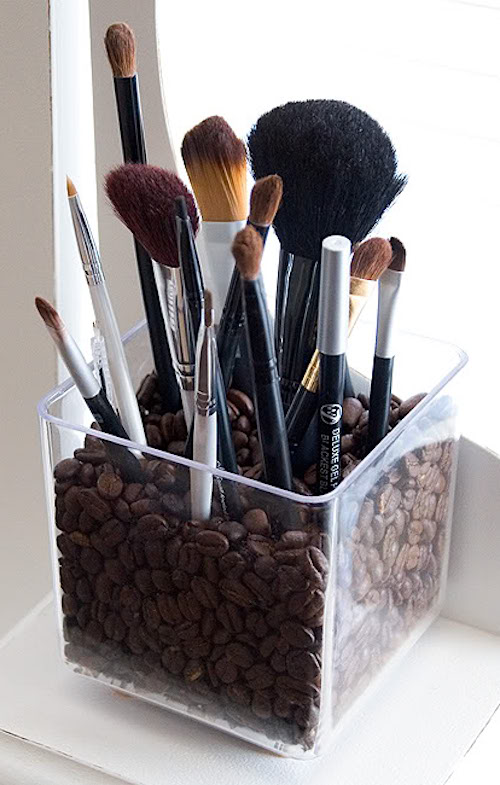 3. Clothespin Flower Pot
Now THIS is particularly crafty. Talk about being resourceful! What's more, a recycled tuna can and a few clothespins are all you need to make quite the unique flower pot or candle holder. To that end, you don't even need any glue for this simple project! However, you could try spray painting the clothespins for a unique look.

4. Repurposed Shirts
This project might just be worth making a trip to a thrift store (or raiding your husband's side of the closet– he'll never notice.)! In detail, you will find the step-by-step instructions for this clever idea over at The Thrifty Quilter. I'm not much of a seamstress, but I think even I could tackle this project.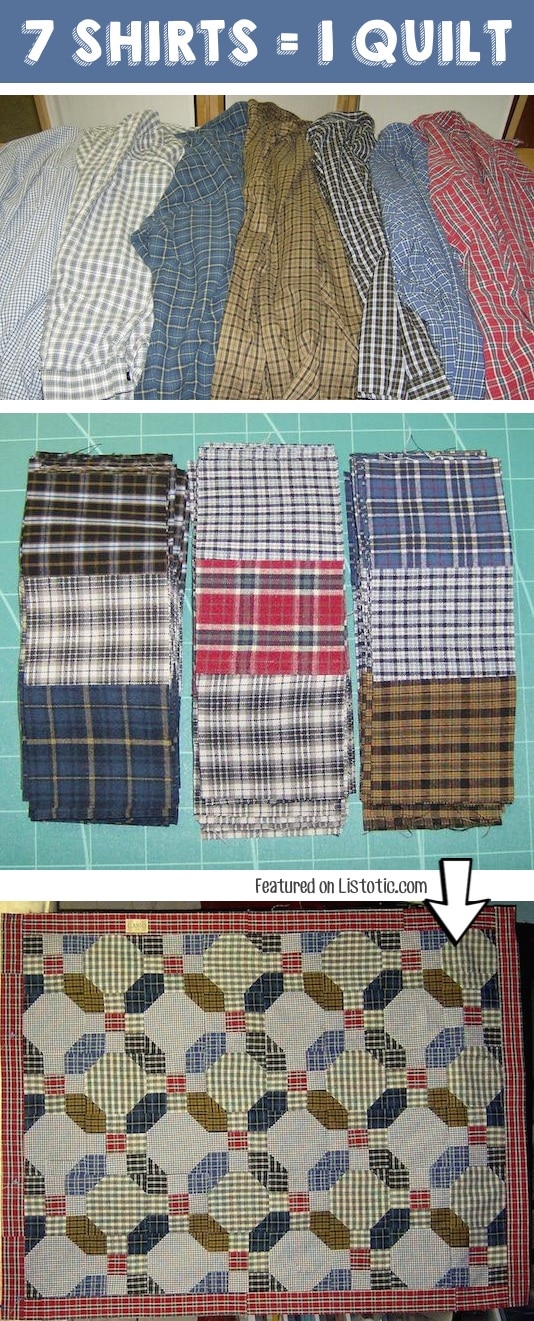 5. Homemade Charging Station
Keep those cords and power strips hidden with your very own charging station made out of a ribbon dispenser box. Use a utility knife to cut a hole for your power strip cord to pass through, then label the holes, and decorate the box!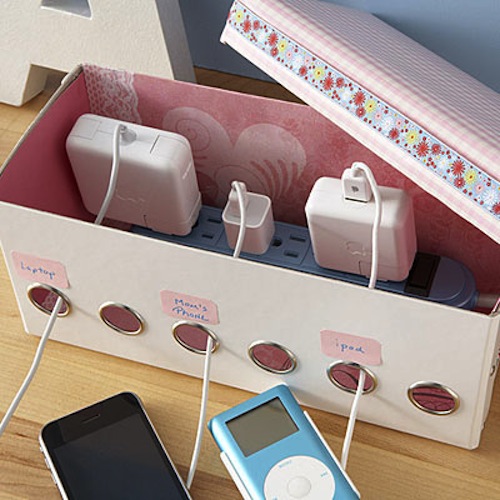 6.Wine Cork Garden Markers
Put that collection of wine corks to good use! Label your garden herbs and other plants in style with these homemade wine cork garden markers from Cambria Wines. I know that there are a lot of wine cork crafts out there, but I love how effortless this one is. You can find the full instructions in detail here.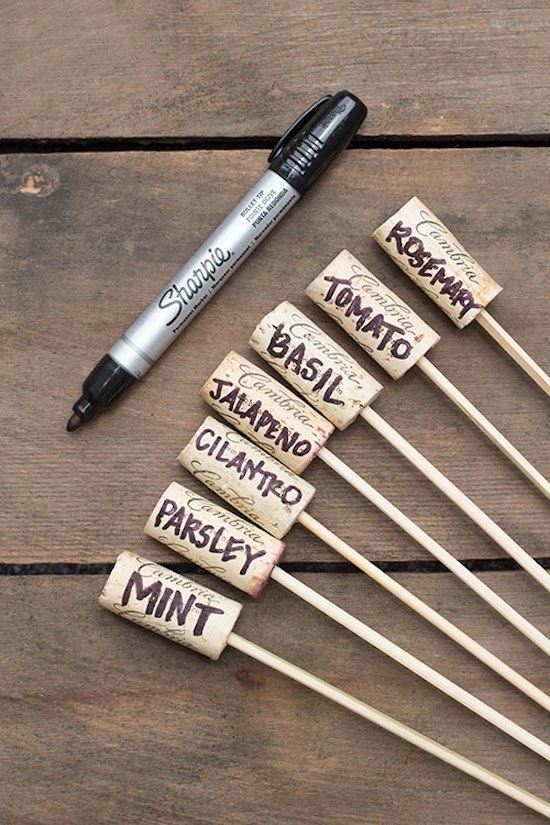 7. Ribbon Wreath Plates
Take what used to be an ordinary paper plate and turn it into a decorative and festive way to serve treats for parties, holidays, potlucks, bake sales, and gifts! In brief, simply use a hole punch and decorative ribbon. How clever is that? Indeed, check out the details here.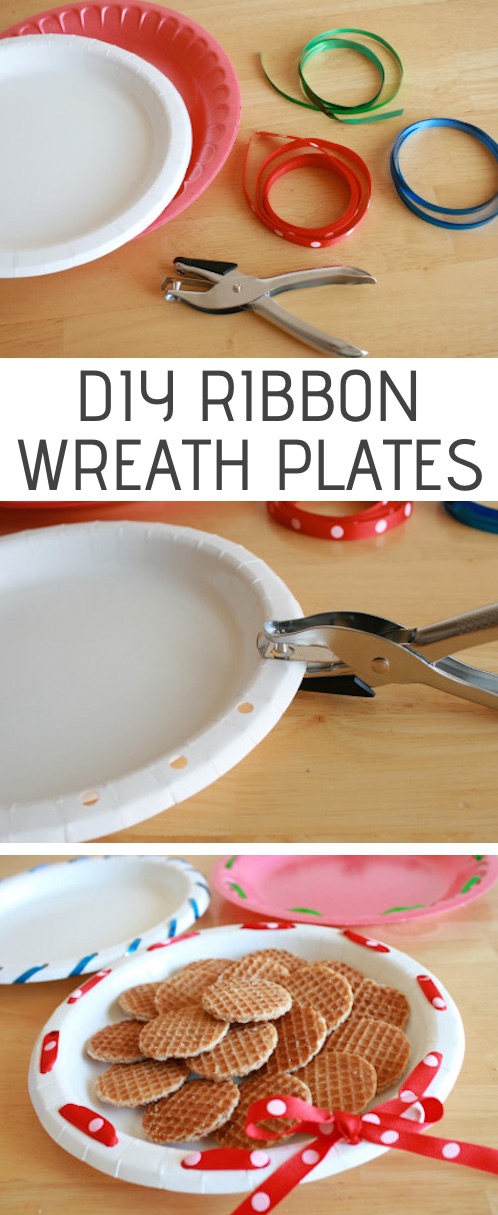 8. Gift Wrap Organizer
We could ALL use a better place to store those long tubes of wrapping paper and other gift supplies! Mine always seem to go to waste because they are forgotten about and crumpled in the back of a closet somewhere. Needless to say, this is the coolest DIY gift wrap organizer I think I've ever laid eyes on! It's made using an upside-down stool as it's base, so a lot of the work is already done before you even get started. It even has little wheels attached to the bottom for easy maneuvering. Awesome! Go check out the step-by-step instructions for this project over at 2 Little Hooligans.

9. Heart-Shaped Basket
This ingenious craft only requires cardboard, toothpicks, felt, and yarn! You can also embellish it with pretty ribbon or charms. I went on a long hunt for the source and original instructions for this project, so if you happen to know, please email me so I can give credit.
The picture itself is pretty explanatory, but here are the simple instructions:
First you will need to determine what size you want your heart to be, and then cut it out using thick cardboard (you can print off a perfectly shaped heart online to use as your template). While you're doing this, cut a piece of felt in the shape of your cardboard cut-out that is about a 1/4 inch smaller.
Personally, I would lay the felt down first, before attaching the toothpicks (not shown this way in the photo). This will eventually be the bottom of the inside of your basket, and I think you will get a cleaner look this way. Choose a felt color that coordinates with your yarn, and use a thin layer of glue to attach it to the cardboard.
Next attach toothpicks along the outer edge by inserting them into the cardboard, and then securing them with hot glue about every 1/2 inch.
Determine your starting point, and then tie a ball of yarn to one of the toothpicks– now get to weaving! Weave the yarn in and out of the toothpicks, pushing it down every once in a while so that you have a thick, secure wall of yarn.
Once you come to the end, cut the yarn and secure it with a dab of hot glue.
Use ribbon or other embellishments to trim the edges. The basket shown in the picture had pearl beads placed on the toothpicks half way through weaving, which I think looks really nice!
P.S. You can do this in any shape!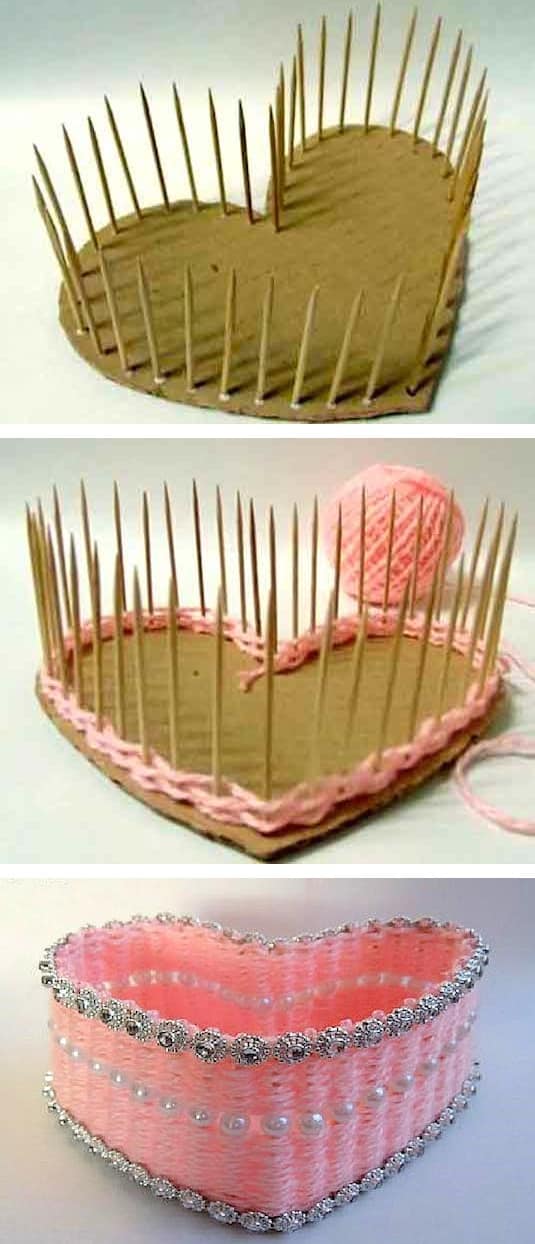 More Craft Ideas for Adults To Spark Your Creativity
10. Repurposed Crib
This repurposed crib is just the right size and height for kids to craft and play! In any case, every kid should have a little arts and craft area like this. That's a nice touch with the chalkboard paint, too. Kudos. You can see instructions in detail for this project over at A Little Learning For Two.

11. Easy Marker Caddy
Why is it always so hard to find a pen, pencil or marker when you need one? Even when I've just purchased a 24 pack of them? Oh, because I have kids. That's why! Which is why I love this inexpensive and easy way to store art and office supplies using toilet paper rolls and a shoe box. That's it! So, start stock piling those rolls, and get crafty with this simple project by Aunt Peaches.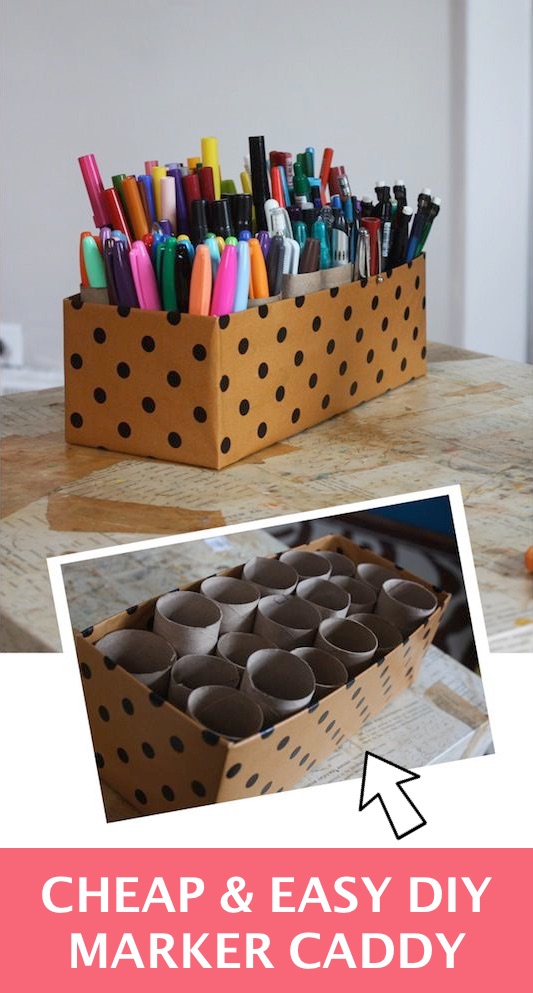 12. Cherry Blossom Art
Yet another clever stamp idea using the bottom of a recycled 2-liter soda bottle! This would be really cute for a little girl's room or nursery. I would test it out on scratch paper first, and then make a piece of art work out of it on a white canvas. Check out the details and full instructions over at Alpha Mom.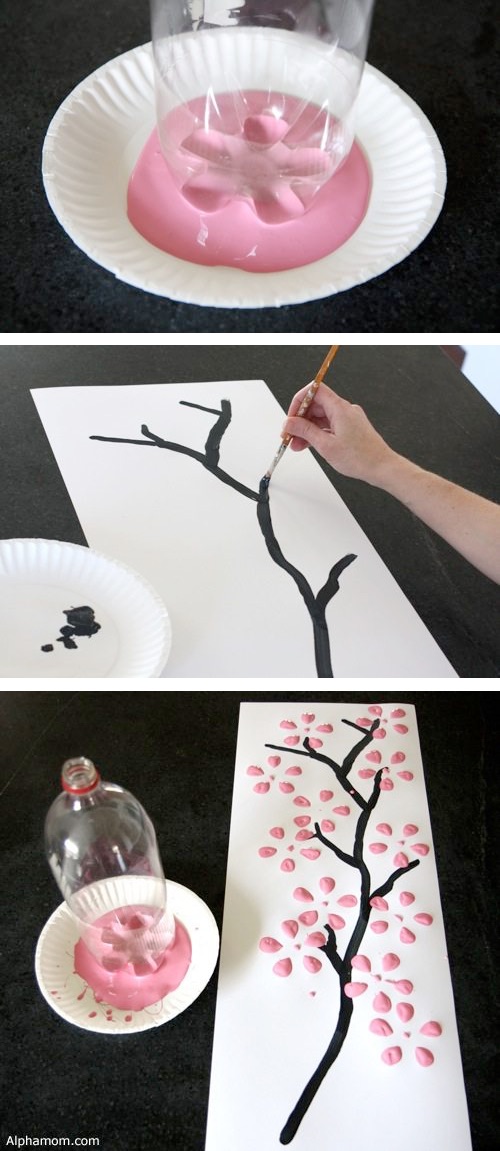 13. Mosaic Ornaments from CDs
If you happen to have any broken, scratched or useless CDs, then you are in luck. Because I have a solution for you. Specifically, you start by breaking them apart to create a mosaic effect for just about any art project. I especially love this idea on Christmas ornaments! Whether you make them to give away as gifts or to hang on your own tree, these creative ornaments are sure to sparkle! Check out the full instructions over at Creme de la Craft.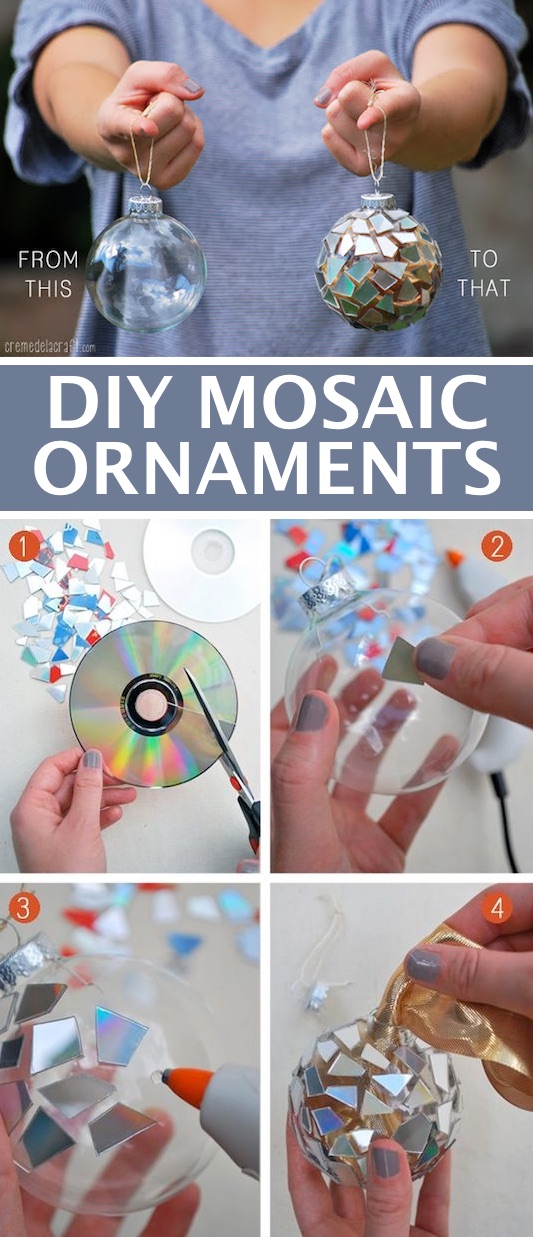 14. DIY Outdoor Candle Lantern
You would never guess that this little candle lantern was made out of a tuna can! You could make a few variations using a hurricane, stemless wine glass, or small vase– or whatever you can find for a reasonable price at thrift stores. Check out the full instructions for this clever project over at In My Own Style.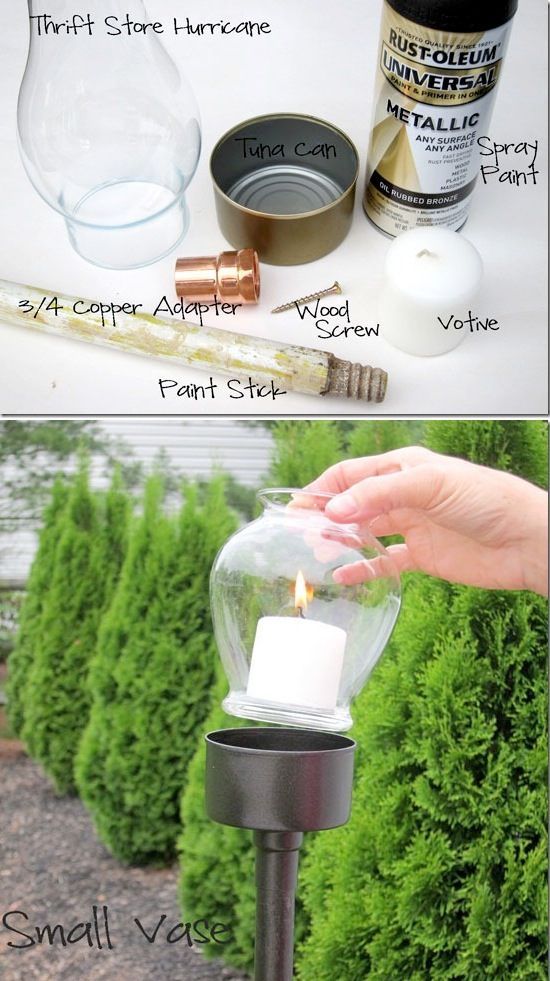 15. Tin Can Caddy
Just look at how much stuff this DIY tin can art caddy can hold! Certainly, it keeps everything organized and in view for easy access. Simply rest it on top of a lazy susan to make it even handier. Check out the full details and instructions here.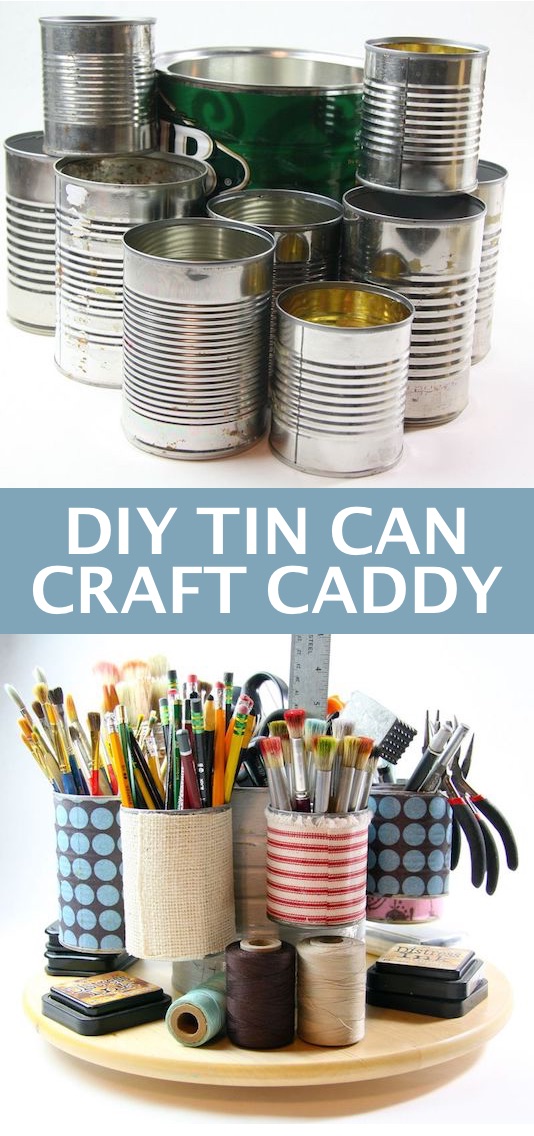 Even easier, if you need an art caddy that is portable and interchangeable, simply fill a large muffin tin with plastic cups to store all kinds of supplies.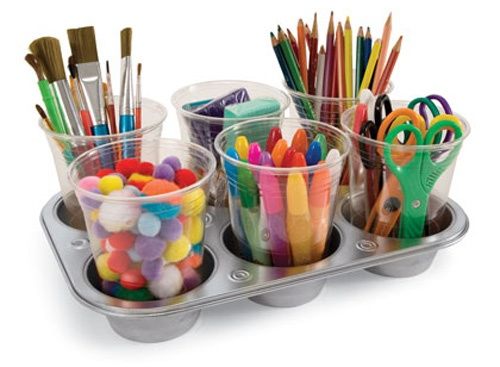 16. Plaster of Paris Flowers
I don't know if you have ever used plaster of paris before, but that stuff is like magic! Take the advice from Artsy Vava and dip artificial flowers in this stuff to make these gorgeous storage jars. What else could you put them on?! Check out the full tutorial here.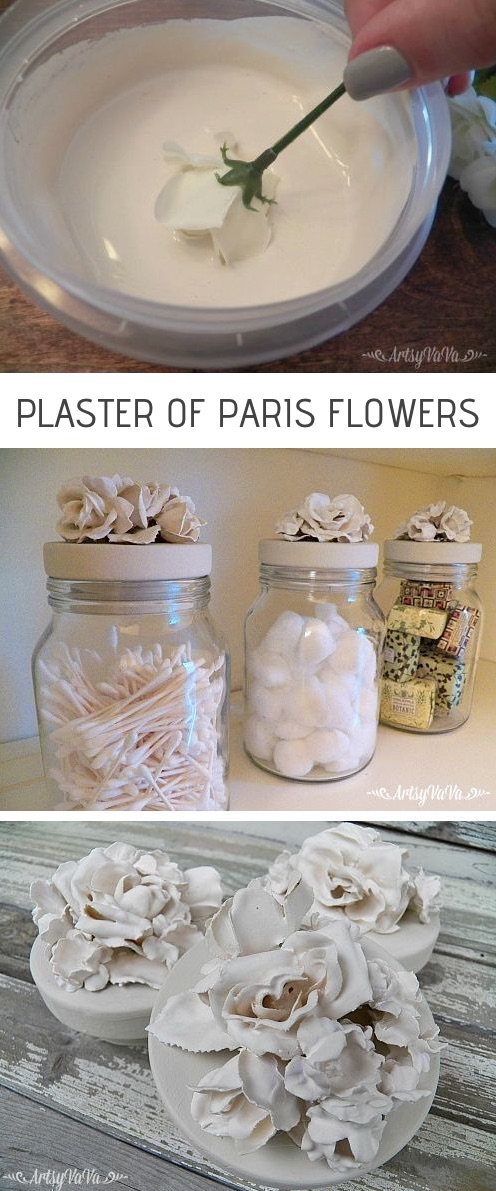 17. DIY Soda Tab Bracelet
This is the ultimate craft when it comes to recycling! This DIY bracelet is actually pretty darn cute, too. My daughter would be all over this project. You can also use colorful ribbons or strings in place of hemp. Just don't forget to save those soda can tabs! Check it out here. And another great tutorial here.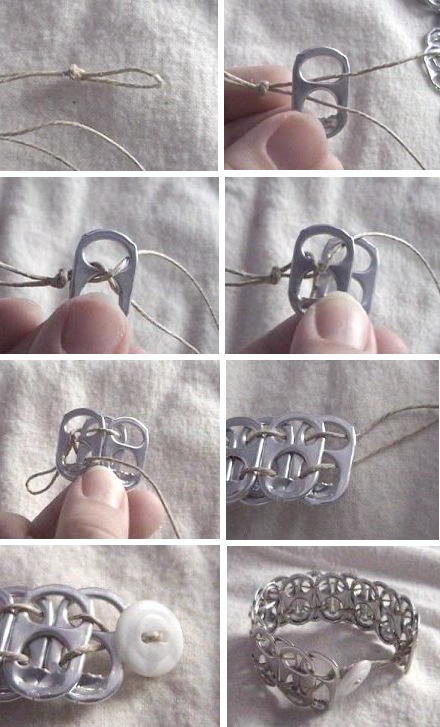 18. DIY Ball Maze
This will keep the little ones busy for hours, and it won't cost a dime! With just a little bit of cutting and glueing, your kids will have their very own ball maze. Let them experiment with marbles, golf balls, and mini toy cars. Check out the tutorial here.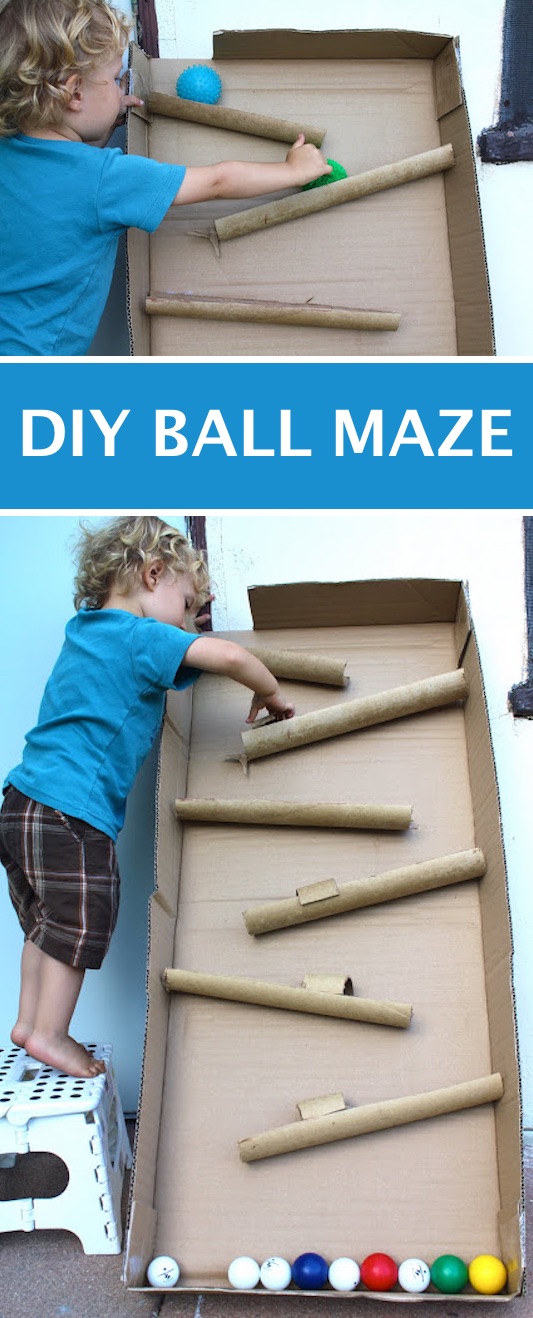 19. Light Bulb Vase
Upcycle those used bulbs into cute little flower vases using pliers to disassemble the hardware. You can either make a wire stand or hang them using twine — these would be super cute for outdoor gatherings! Check out the detailed tutorial over at The Merry Thought.

20. PVC Pipe Wine Rack
Free up some space and make those wine bottles easy to see and access with a DIY wine rack made out of 4-inch PVC pipe! You can customize it to fit into a cabinet, or simply leave it out on the counter to be admired. Check out the instructions over at Martha Stewart.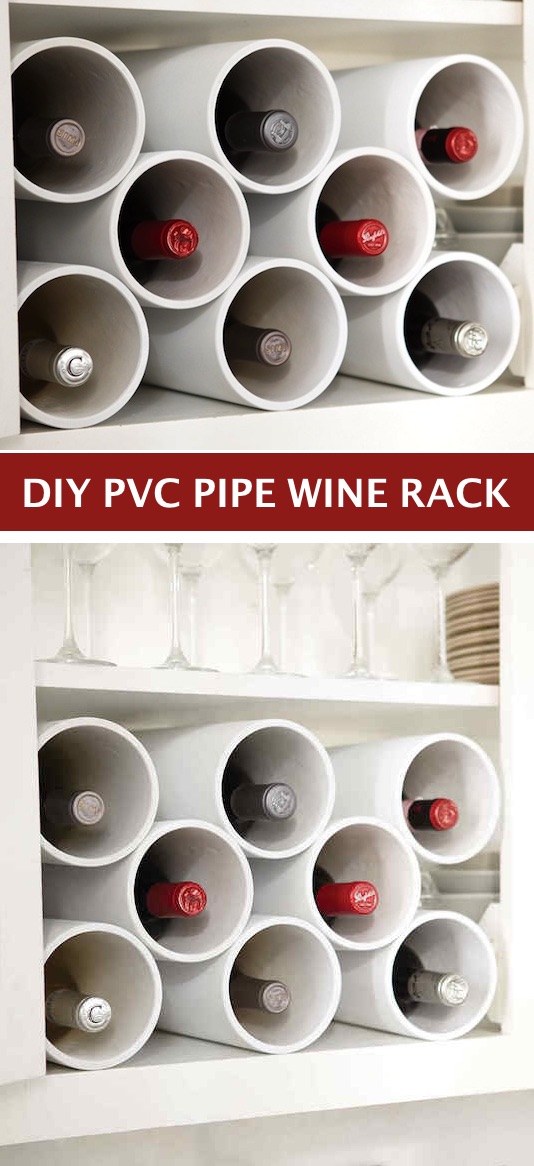 Have Fun with These Craft Ideas for Adults and Teens!
21. Maple Leaf Roses
A maple leaf bouquet of flowers will leave everyone amazed! Or, if you don't have the time on your hands for this project, you can make a single rose just for fun (or to give to your sweetheart). Check out all of the step-by-step photos and instructions over at Shelterness.

22. Yarn Eggs
Yarn, balloons, and glue! That's it. This is a really fun holiday decoration to make. I've also see these done filled with candy, stickers, and mini toys. Simply fill your balloons with treats before blowing them up, and give them away as gifts, or let the kids have fun finding them hidden around the house. Check out the full tutorial over at Happy Hour Projects!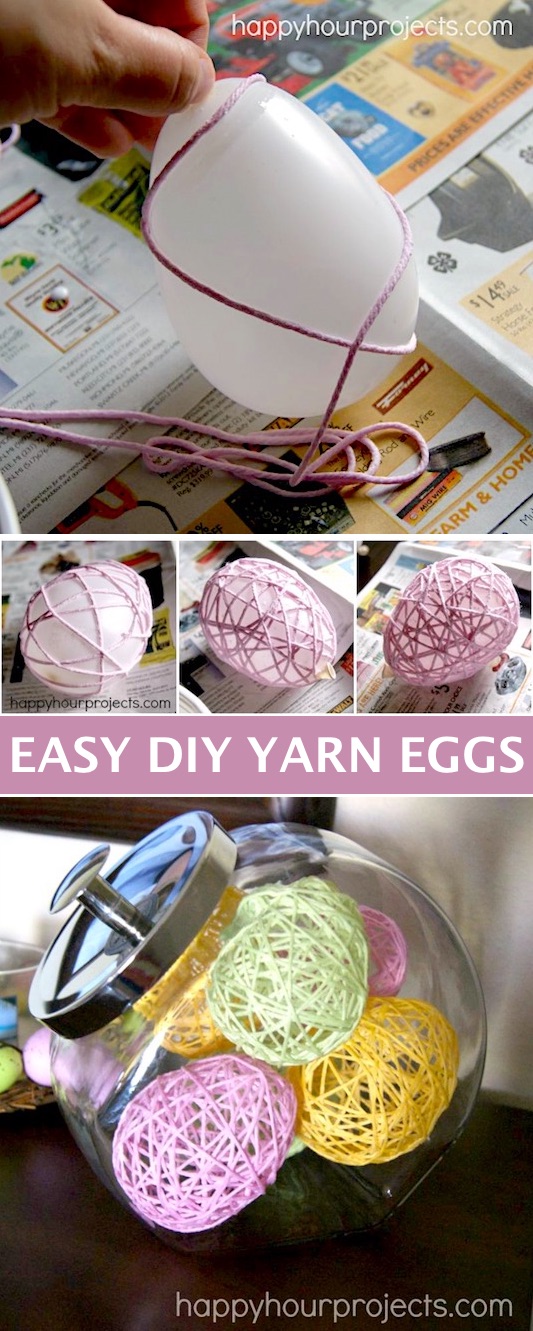 23.Water Balloon Luminaries
Use water balloons and candle wax to create beautiful luminaries! What I really like about this project is that you simply fill them with tea light once they arse finished, so they should last for a long time. You can see the full tutorial and step-by-step photos over at Candle Tech.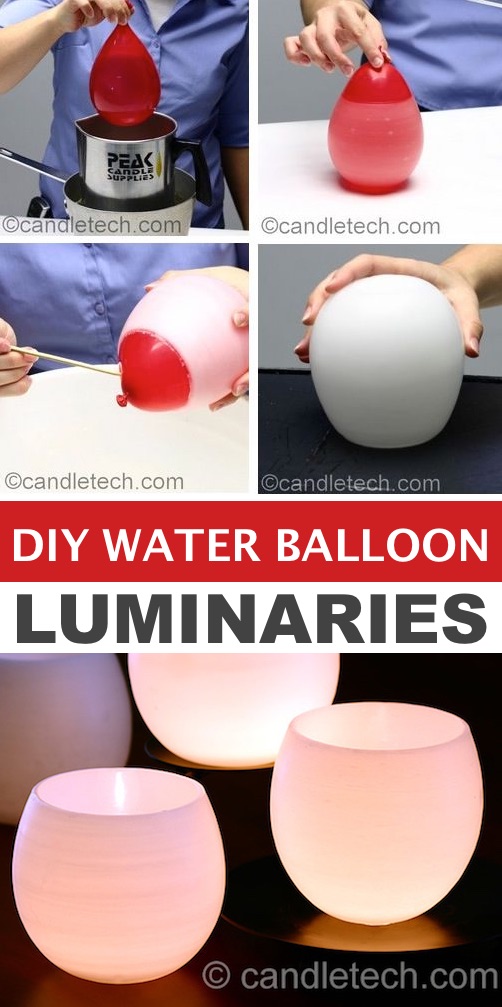 24. DIY Lace Lamp
If you can find a few doilies or lace table cloths at a thrift store or flea market, this project will cost you next to nothing! Next to the actual electrical parts, a round party ballon and wallpaper glue is all you will need to make this gorgeous hanging light! Check out the instructions over at Dos Family.

25. DIY Missoni Sneakers
I have to say, these shoes look like they took a bit of patience, but it was definitely worth it! You can buy white canvas shoes just about anywhere. Now that's all you will need are a few fabric markers, a ruler and a little bit of time. Check out the full tutorial and step-by-step photos over at Refinery 29!

Source: Refinery 29
26. DIY License Plate Box
If you happen to have a few old license plates laying around, this project is for you! With just a pair of tin snips and pliers, you can easily turn them into cute little boxes that can be used as planters, storage containers or as a charming home decoration. Check out the full instructions along with more pictures over at Hometalk.

Source:
Hometalk
27. Button Dish
You know that big bag of buttons you have laying around? Well, it's time to finally put them to good use! This easy button bowl tutorial from Hometalk includes lots of step-by-step photos and a helpful video. I think the bowl would be perfect for keys, jewelry, coins, potpourri or as the perfect homemade gift!

28. DIY Canvas Art
This creative wall art idea would be perfect for any room of the house! My tween daughter would love this in her bedroom. I absolutely love the idea of taping 4 canvases together to create separate art pieces that go together like a beautiful puzzle. Check out the full details and instructions over at Hometalk!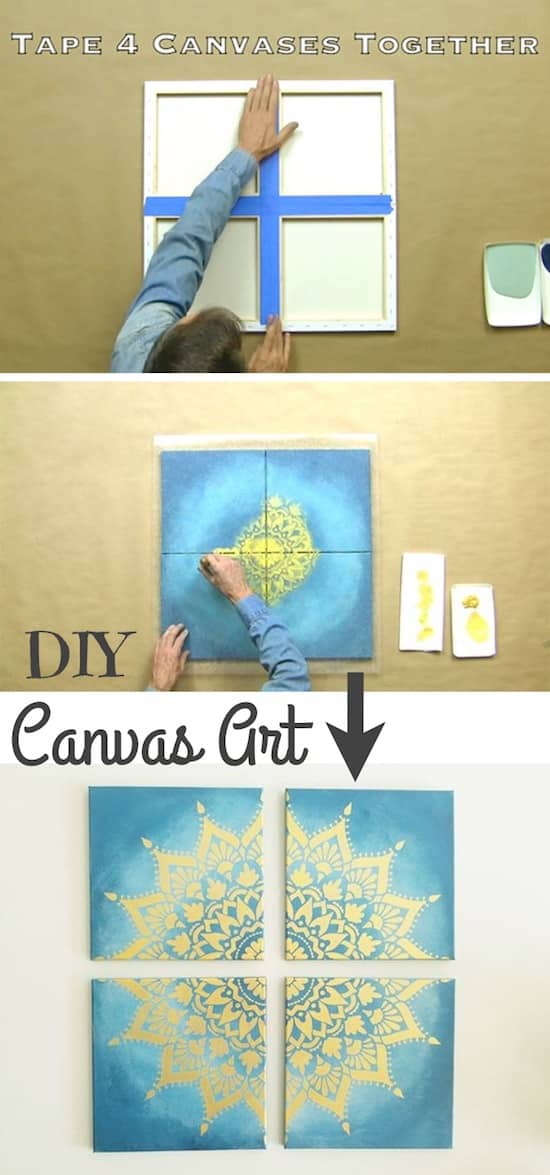 29. DIY Pinecone Projects
This easy and low-cost pinecone tree is perfect for Christmas! Inspired by HGTV. We have step by step instructions on creating a Rustic DIY Pinecone Tree for your home. CLICK HERE to see the full tutorial along with lots of tips and tricks to make this project.


And, if you like the pinecone tree, you are really going to love this super easy pinecone wreath from Dannyelle over at Life Is A Party! I love how she painted it to look like it was covered in snow. This could work for both Fall and Christmas! Check out the full instructions and tips for this project here. Another great tutorial is our very own with rustic metal stars. Check out the step-by-step Pinecone Tree tutorial.

30. DIY Wool Felt Coasters
Just looking at these wool coasters puts me in a good mood. Unquestionably, the texture is soft and inviting, and the colors are cheery and vibrant. Nonetheless, combining these cork coasters and wool felt balls is a diy project that will leave you feeling cozy and cheerful. Your coffee table will thank you for this fuzzy pop of color.
Get the instructions from Michael at Inspired by Charm HERE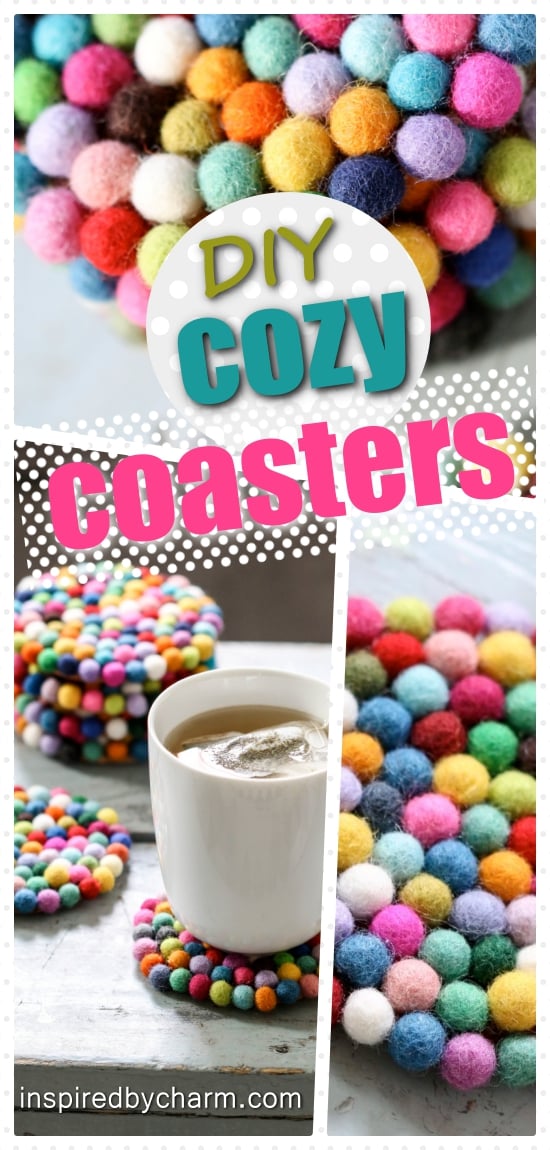 31. DIY Vintage Spoon Hook
Making something for those you love is pretty special. But, taking something vintage from a previous generation and recycling it makes the gift even better.
Surprisingly, it really doesn't take too much to turn an old silver spoon into a personalized hook for your loved one. So, follow along as Cammie gives you step-by-step instructions and tells you exactly what you need to finish this craft in no time.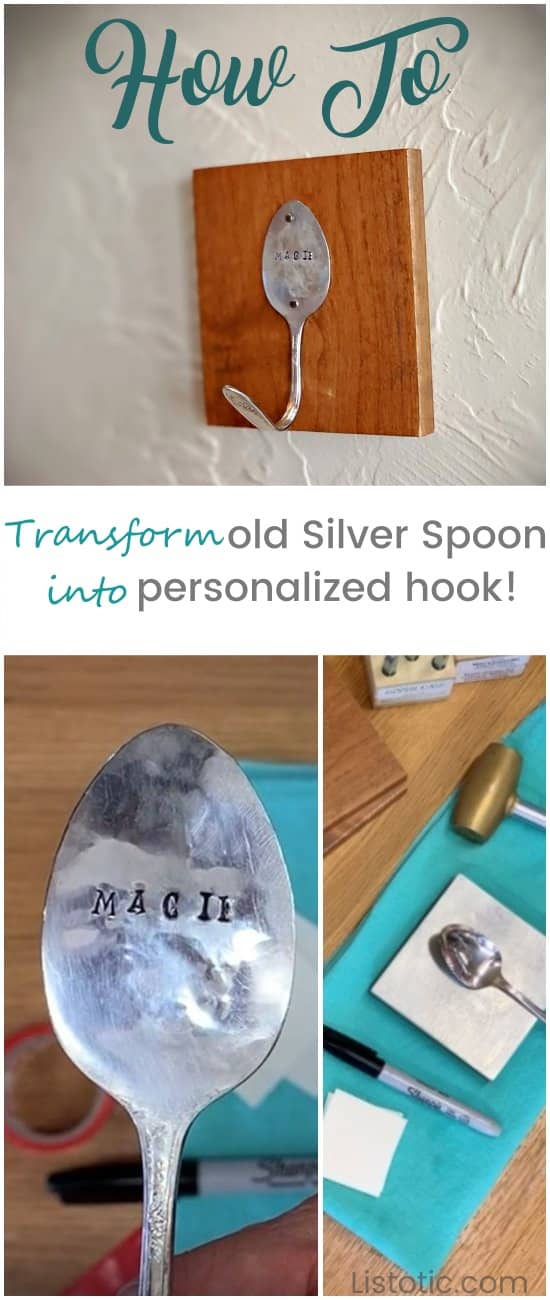 32. Waterless Snow Globe
Who doesn't love a snow globe? This waterless snow globe adult craft is easy to make. For instance, in under 30 minutes and less than $5, you can create your very own customized snow globe. This is a great DIY craft project and would make a beautiful holiday gift. Of course, you can customize it any way you'd like, making it a very sentimental gift.