Last Updated on May 18, 2021
Trash to treasure with very little effort!
Because of all the new options in color and texture, spray painting has become somewhat of a trend. It is probably the most popular thing used for remodeling and repair on a budget. It can also be used for fun craft and art projects, or for adding character to things you already have around the house. I was so inspired by some of these brilliant ideas, I thought I would put together a list of some of my favorite, cool spray paint ideas! Pretty soon you might find yourself with a cabinet full of spray paint, even metallic spray paint! Not to mention an endless list of projects.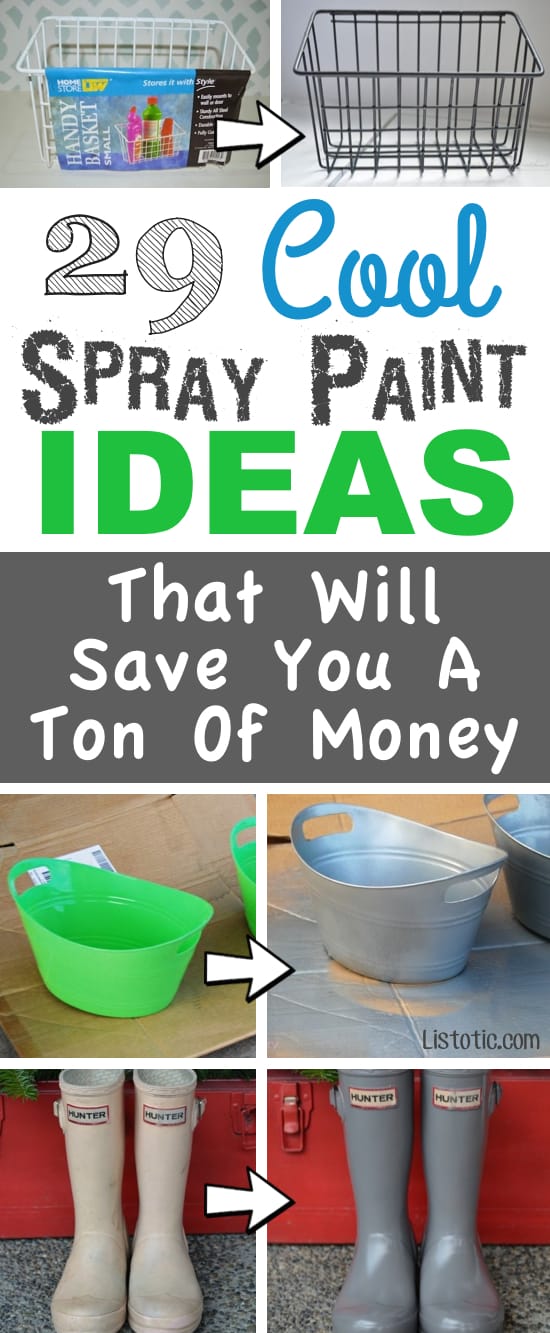 This post contains affiliate links. Please see our Disclaimer Policy.
Check out these cool spray paint ideas!
1. Faux Galvanized Plastic Tubs
Make your very own galvanized-looking drink tubs with plastic bins you can find at the Dollar Store, Party City, or even Amazon. I'll bet you could pick up a few of these at Walmart or Target, too.
It's just one example of how a few coats of spray paint can save you a ton of money. Hop on over to The TipToe Fairy to see how it's done!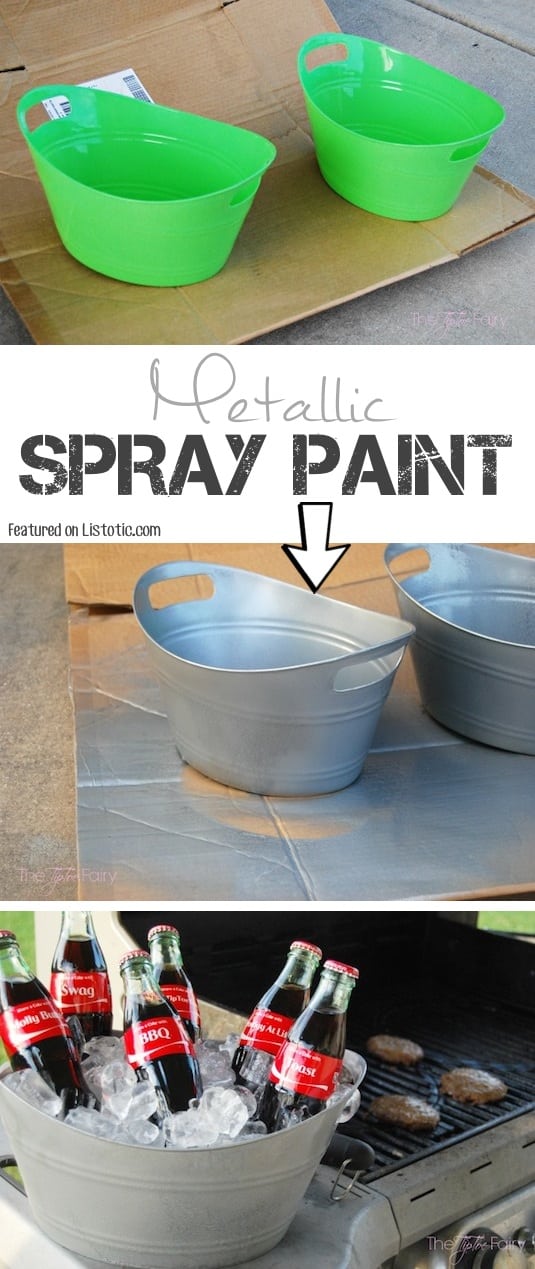 2. DIY Metallic Spray Paint Flower Pots
Modernize low-cost terra cotta pots with a couple of coats of spray paint (metallic spray paint, chalkboard, glitter blast, etc.). With the help of painter's tape or stencils, you could also decorate them with a pretty design.
Just be sure to clean the pot(s) in warm water to get all of the dust off, and perhaps sand it a bit to help the paint adhere. These pots are extremely porous, so you will probably need a primer and several coats of paint.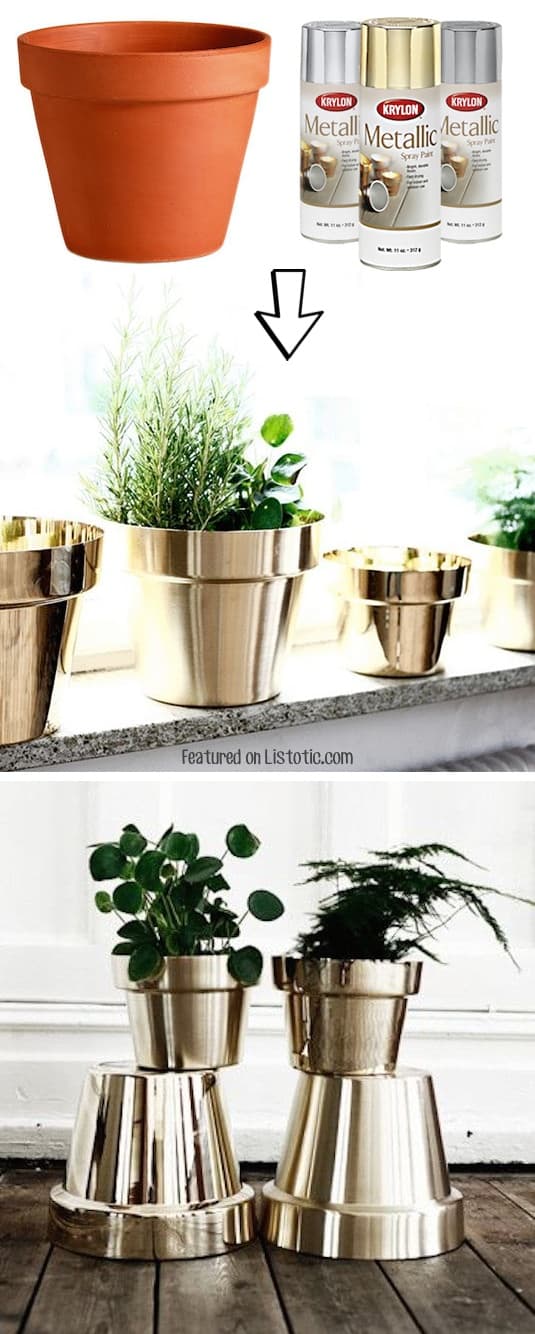 3. Rubber Boots Revamped
If you have a pair of rubber boots that still serve the purpose, but are just getting old, funky or faded, consider a coat of spray paint to make them look brand new! You may get a few runs, but you can easily sand them down.
I suppose if your boots look that bad to begin with, what do you have to lose? Go check out the instructions for this easy project over at Jen Gilday Interiors.

4. DIY Mercury Glass
Mercury glass is on it's way to being more popular than bacon and mustaches, and I can definitely see why it is so beloved! But, unfortunately, it's also pricey. I'm seeing mercury glass on everything from ornaments to lamps, but who would have guessed that there is a mirror effect spray paint that makes this an easy DIY project even for craft-challenged folks to make their very own mercury glass!
I especially like this idea for an old vase (probably because I have a dozen of them tucked away in a closet just begging to get used). Go check out Amanda's simple instructions for this over at Hammer & Heels!
***Tip*** I've also seen this project done by first misting an equal mixture of vinegar and water on the glass before spray painting it if you want more splotches in the final effect.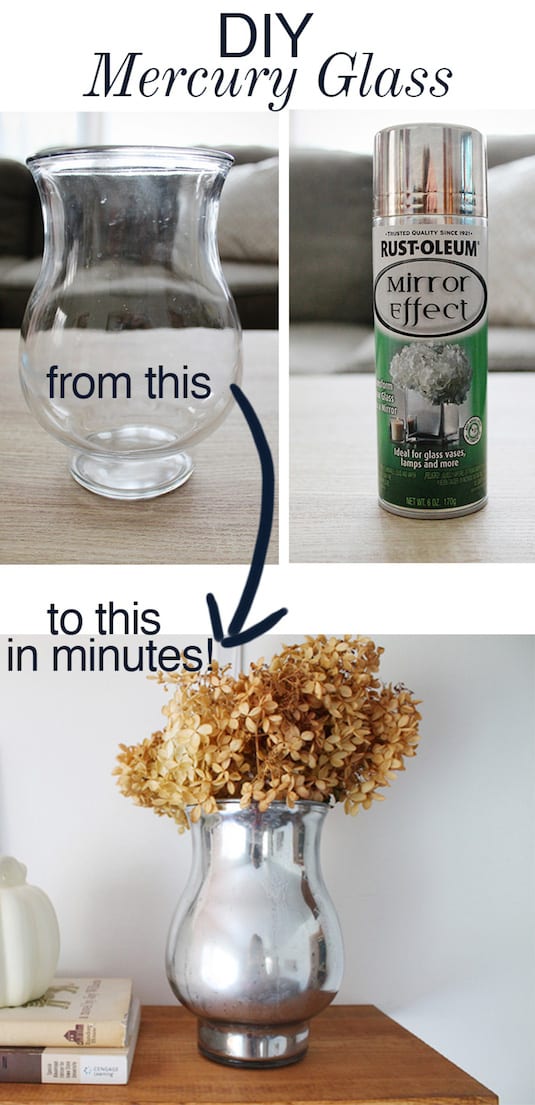 5. DIY "Industrial" Wire Baskets
Wire baskets look so pretty on a wall or on a countertop to organize your mail, kitchen bottles, or other small items, and I'll bet you've never thought of spray painting the cheapo baskets to look modern and stylish!
See how it's done and where to buy these baskets over at A House Full Of Sunshine.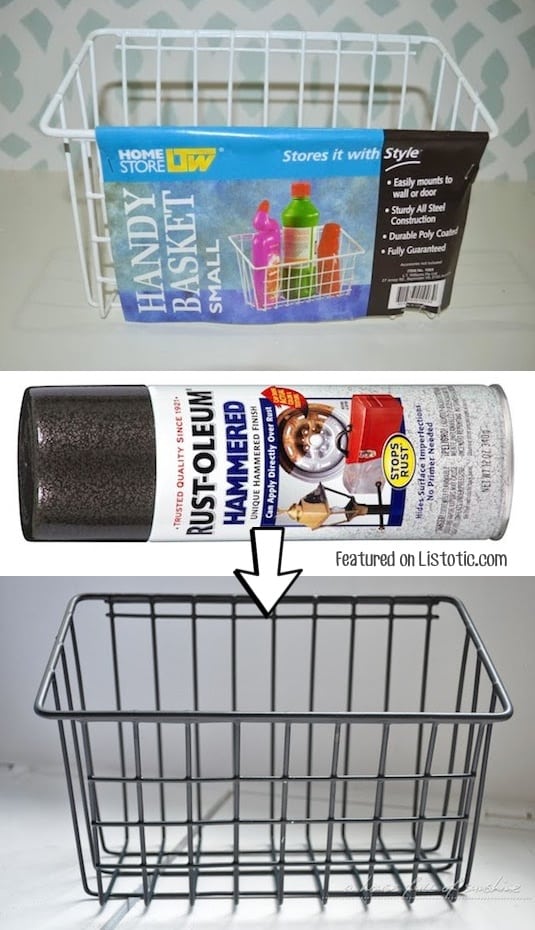 6. DIY Copper Tin Cans
Hard to believe you can transform tin cans into something as pretty as these! And, the chalkboard labels are the perfect finishing touch.
Go check out this project and all of the details over at HOMEY Oh My! Amy will show you which paint gave her that perfect copper color.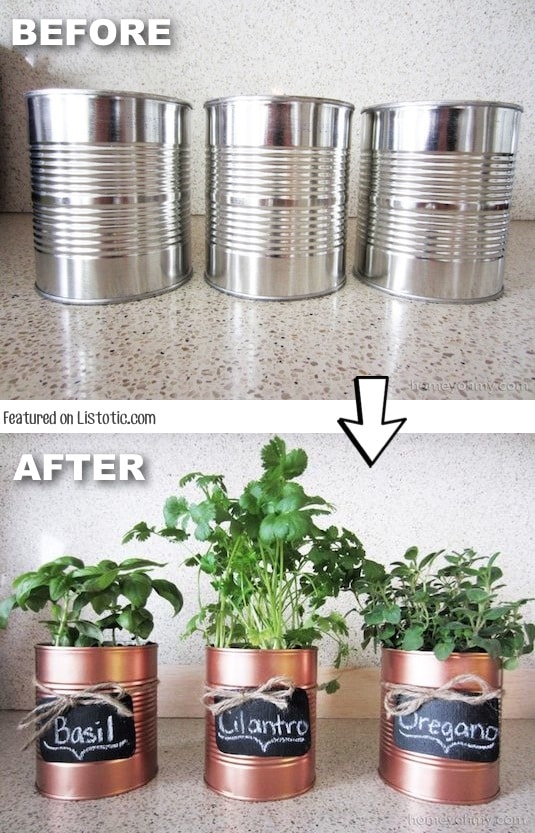 7. Painted Pinecones
This is a simple idea with a lot of pizzazz! And, if you happen to have a few pine trees in your neighborhood, the only expense is metallic spray paint. I also like the idea of using glitter spray paint on these for the holidays.
Get all of the details and more pictures for this spray paint project over at tatertots & jello!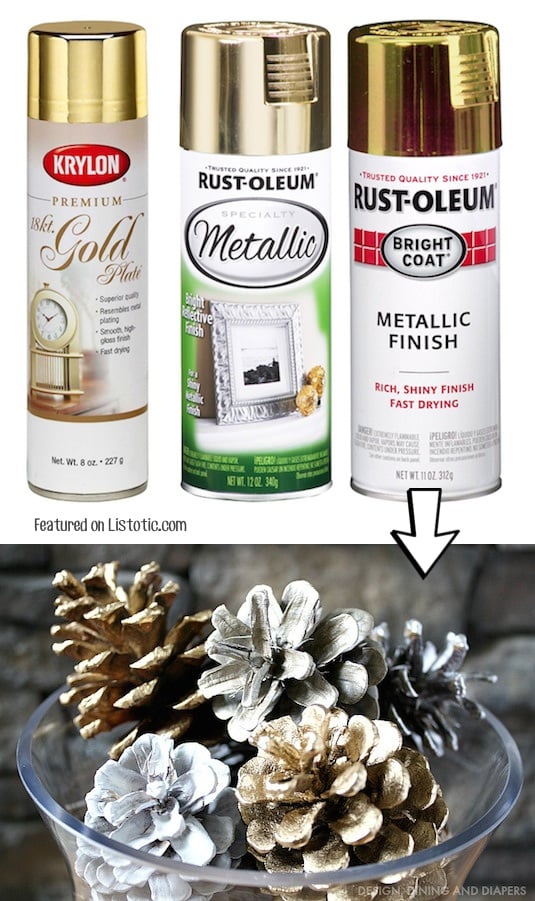 8. Refurbished Furniture Cushions
Hard to believe you can spray paint fabric, and then there is also the question of how long it will last, does it rub off on clothes, and does it smell, but I've heard great things about the results!
You can see the instructions and tips for this project over at The Happier Homemaker, and Melissa also provides a link where you can purchase the paint.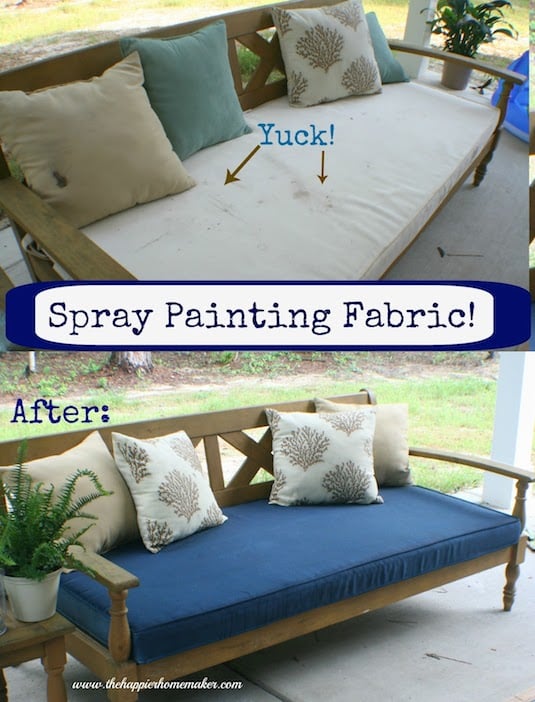 SHOP THE POST
9. Alphabet Magnet Letters
Remember these magnetic letters?! They were my favorite growing up, and I'm sure my mother just adored the bright letters all over the fridge. To fancy them up a bit, consider spray painting them with a metallic spray paint color. This way you can have a more adult-looking fridge or even a magnetic wall for inspirational quotes or reminders. Go check out the instructions over at Inspired by Charm!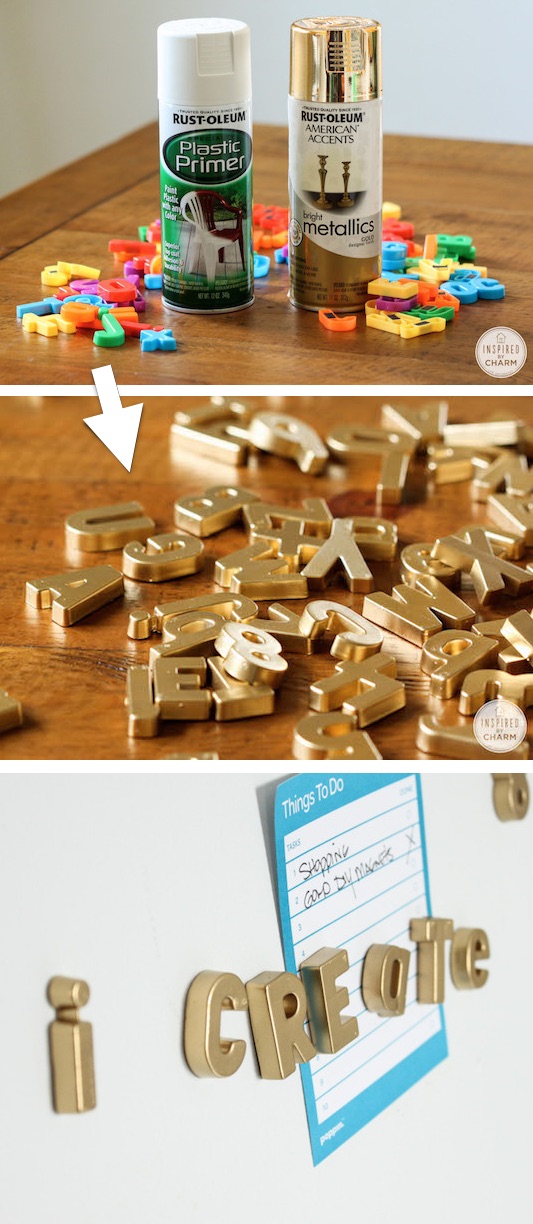 10. Painted Branch Decor
This project is a great way to bring a little bit of nature indoors but with your own decorative touch. I really like the metallic spray paint idea, but a snow spray would also be really pretty for Christmas in addition to the shiny metallics. Get more details and pictures for this project over at Popsugar.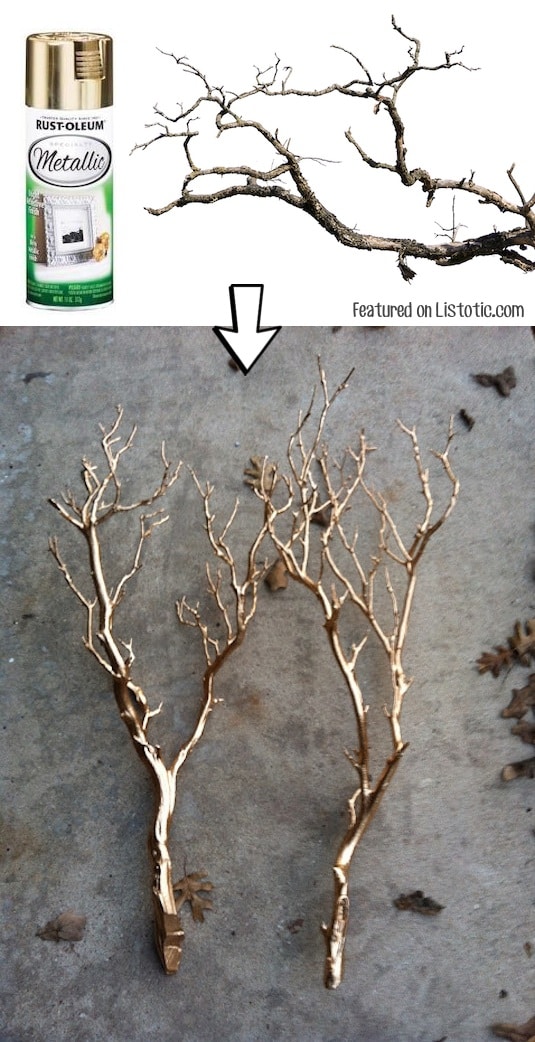 11. DIY Spray Paint Wall Art
Don't you just LOVE this idea!? The possibilities are endless– feathers, flowers, stencil letters, etc. For a large wall, you could make 4 spray painted canvases, all with a similar theme but in different colors. Go check it out over at Simply Real Moms.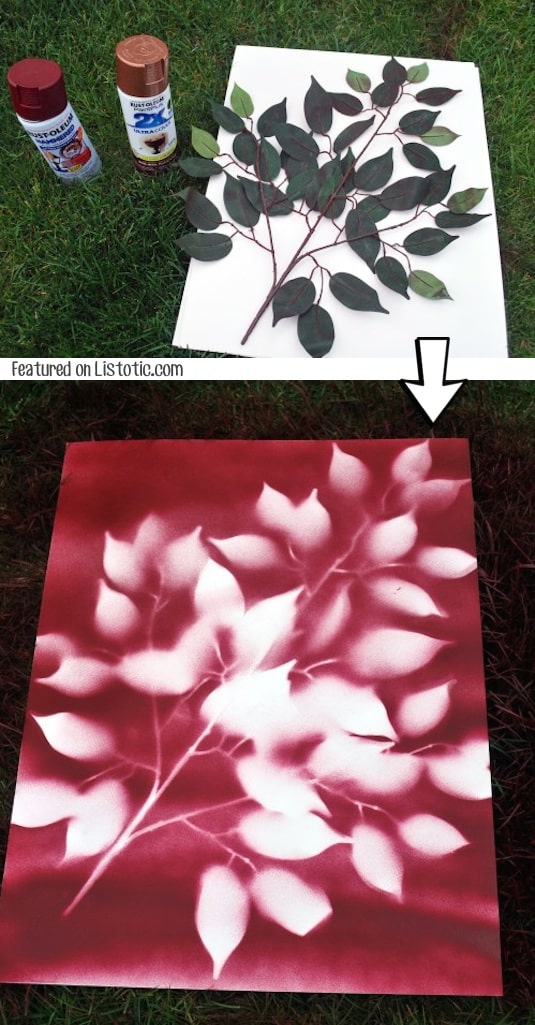 12. Mirrored Gazing Garden Ball
Mirrored balls are a unique way to add character to your yard or garden, and the mirror effect can also make it look larger. I think these would be really charming resting in a flower bed as part of the landscape! To make your own gazing ball, you can find used bowling balls at thrift stores and spray them with a mirror-like spray paint. Just be sure the holes are face down so that they aren't visible. You can find more details on this here, although I would suggest cleaning the ball really well to remove all of the oils and residue before spray painting.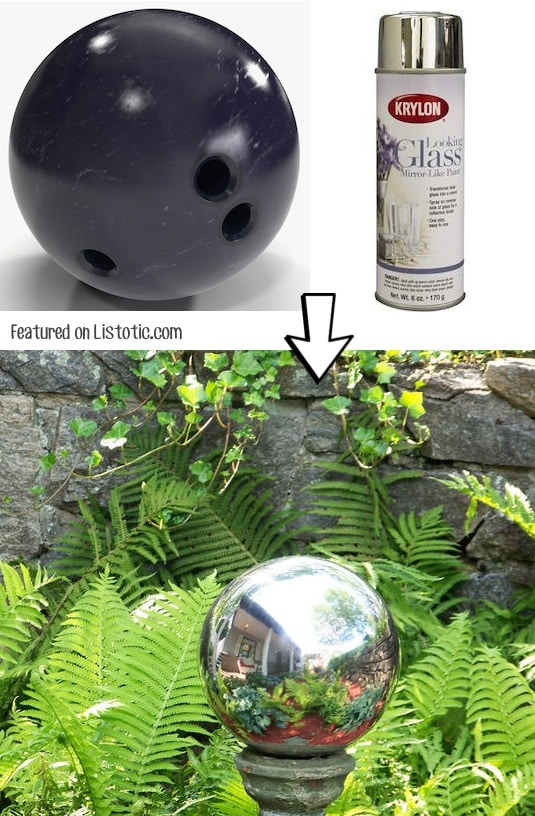 13. Update Your Vases
Turn a boring vase into beautiful and modernistic home decor with just gold spray paint and these instructions from Two Twenty One— Love, love!! I have so many old vases that I just can't seem to part with, and now I'm so happy that I've been hoarding them all these years! You can also find vases at thrift stores for just a buck or two.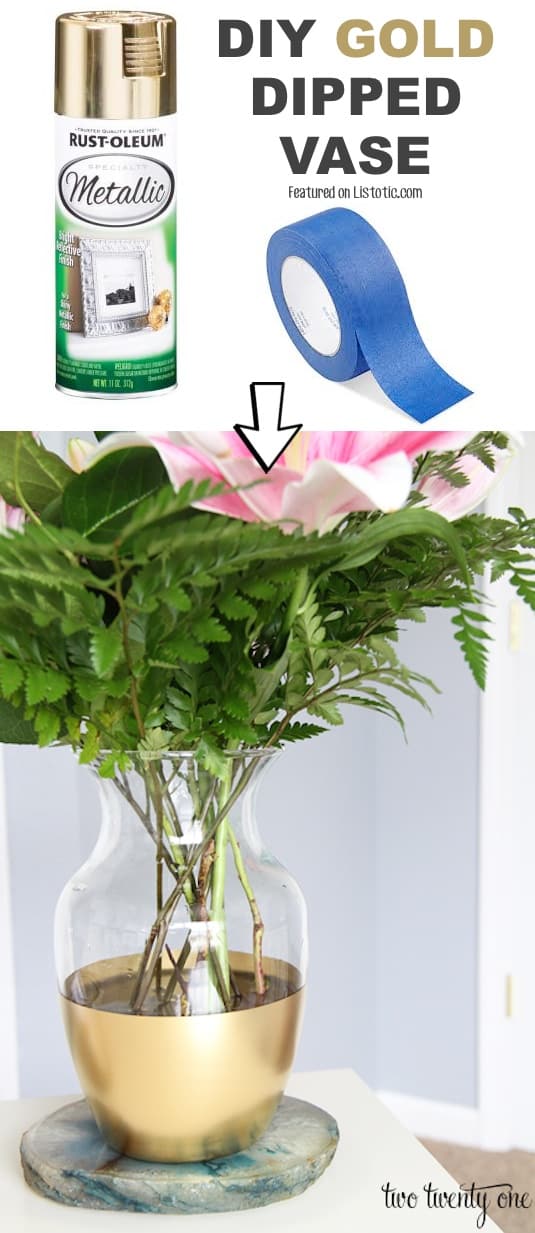 14. Re-purposed Canisters
I always feel so guilty throwing away those sturdy, thick plastic canisters that are sold with nuts, trail mix, cookies, etc., and now I've been inspired to keep just about every single one of them, because just look at what you can do with them! These would also be great re-purposed for craft supplies and other small trinkets (like in the garage for screws and nails). Even better, make them pretty with spray paint and labels! Check out the details here.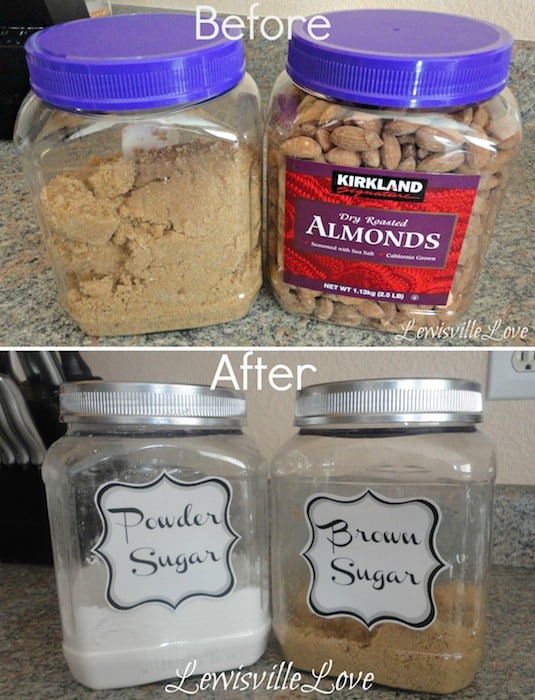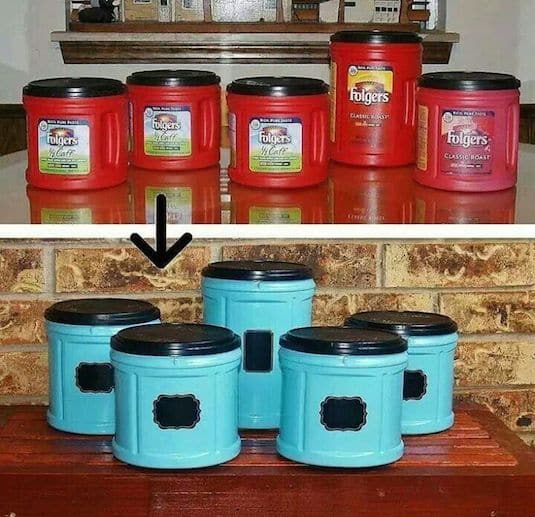 15. DIY Starburst Ornaments
Spray paint and straws? Yes! For this project, use a zip tie to tightly hold together about 2 dozen straws. One by one, pull the straws out to form a "starburst", and spray it with spray paint in the color of your choice. Because they are light weight, they can simply rest in an indoor tree, but for outdoor use or to hang elsewhere as a decoration, staple fishing wire on the end of one of the straws to form a loop.
I could not find step-by-step instructions for this– arg! But for the most part, I think the picture says it all. 🙂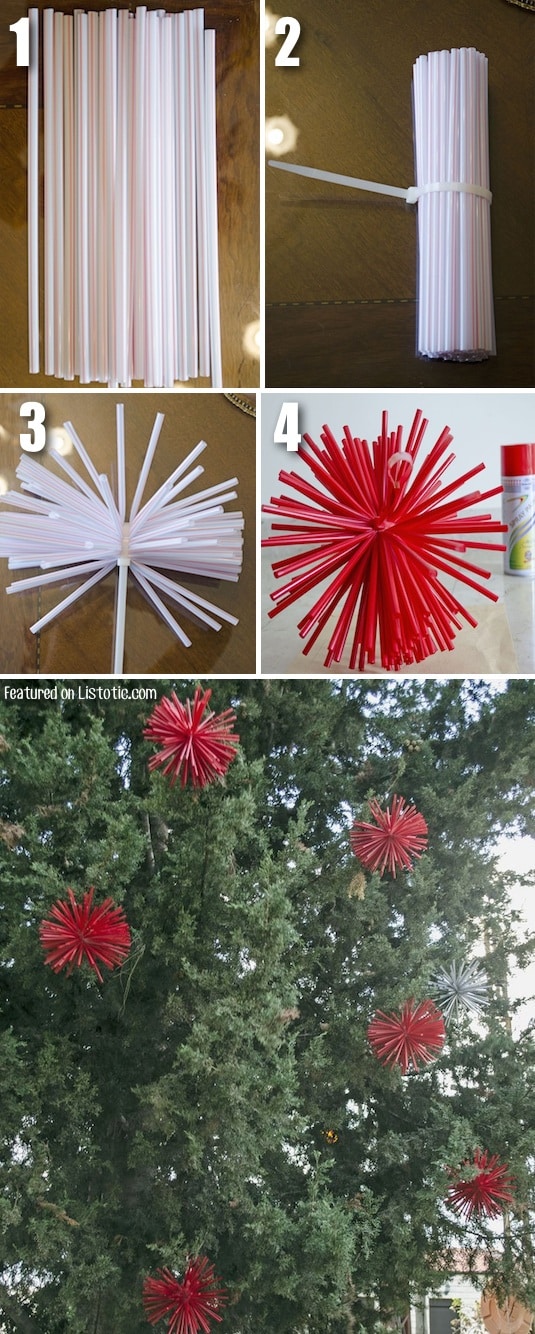 16. Spruce Up Plastic Storage Drawers with Metalic Spray Paint
Simply genius! Fancy up plastic storage drawers with spray paint! Now you can leave them out without them looking like a cheap eyesore. Go check out the details and instructions for this spray paint project over at Scottsdale Moms Blog. I also like this idea for those smaller drawers that sit on a desk or on the counter in your bathroom.

17. DIY Outdoor Planters
Well, isn't that just the smartest idea!? Turn plastic trash cans into large outdoor planters, and save a couple hundred bucks! With the hammered spray paint, you would never guess that these planters were made out of plastic! The original source and instructions for this no longer exists (I think the website expired), but the idea is to spray paint cheap, plastic trash cans and fill them with cinder block or rocks before adding soil to weigh them down.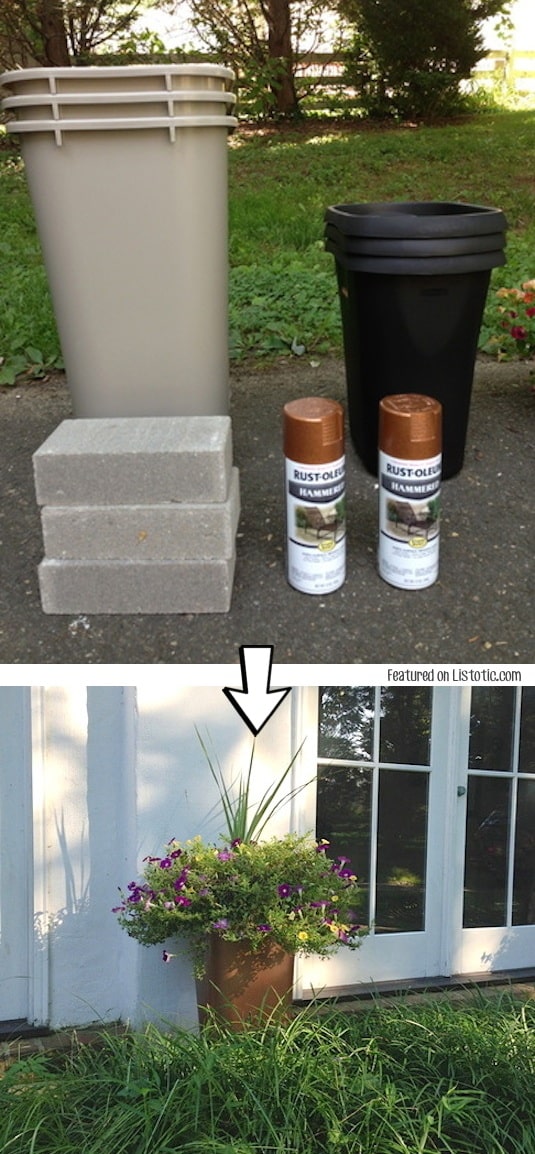 18. Update Your Countertops
I'll bet you never thought you could transform an ugly laminate countertop for less than $10 with spray paint! And, the Bright Green Door will give you all of the details and instructions for this money-saving project. You won't believe the before and after pics! I just love remodeling projects that cost next to nothing.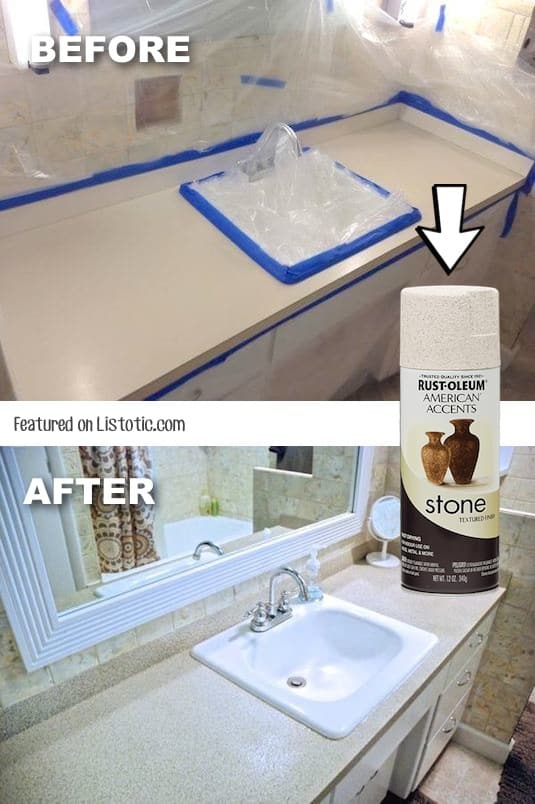 19. Overhaul An Old Rug
Spray painting a rug may sound kind of scary, but there is a paint that is made just for this! Apparently it dries soft (that's pretty important for a rug), but keep in mind that you will need several coats depending on what you are painting. Check out the instructions and tips for this project over at The Good, The Bad & The Truth!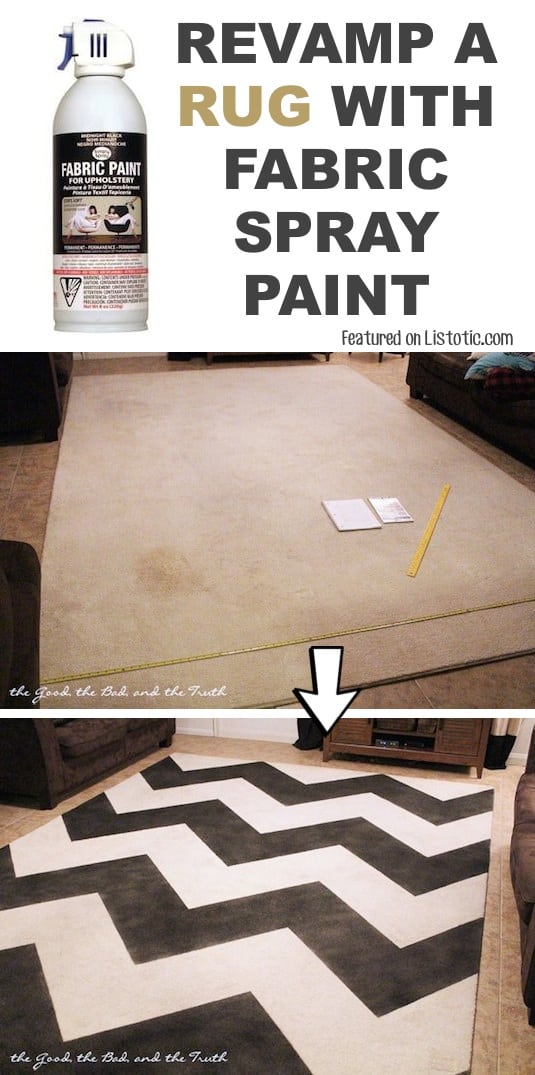 20. Update Your Vent Covers
If you have vent covers that look battered and dingy, don't even think about replacing them when you can spray paint them for about ten bucks! This also works really well for outdated light fixtures. Just visit The Frugal Homemaker to see how it's done!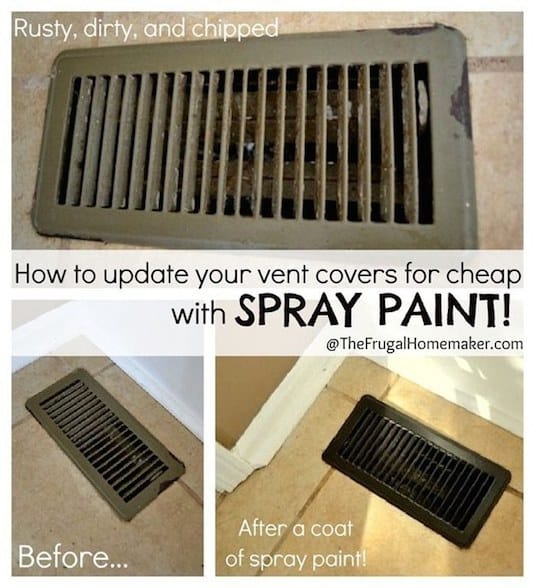 21. PVC Pipe Curtain Rods
What a clever idea! Use PVC pipe and spray paint for plastic to make curtain rods for so much less than you could buy them for. Not only that, but you can completely customize them that way, which may come in handy if you have an odd size or an irregular corner. Visit 7 Layer Studio for the instructions (including what she did for the ends).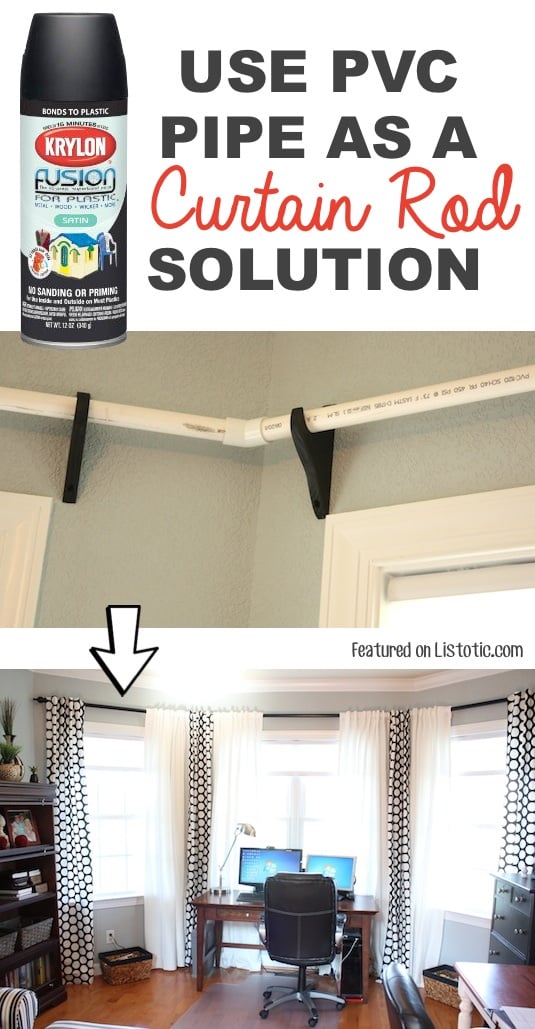 22. Beautify A Basket
Two Delighted will show you how to use spray paint on baskets to give them a quick update and make them more interesting. I love the metallic spray paint in silver they chose for this laundry basket! You could also use bright or pastel colors for a kid's room, or even just a darker brown on old baskets that need a little modernizing.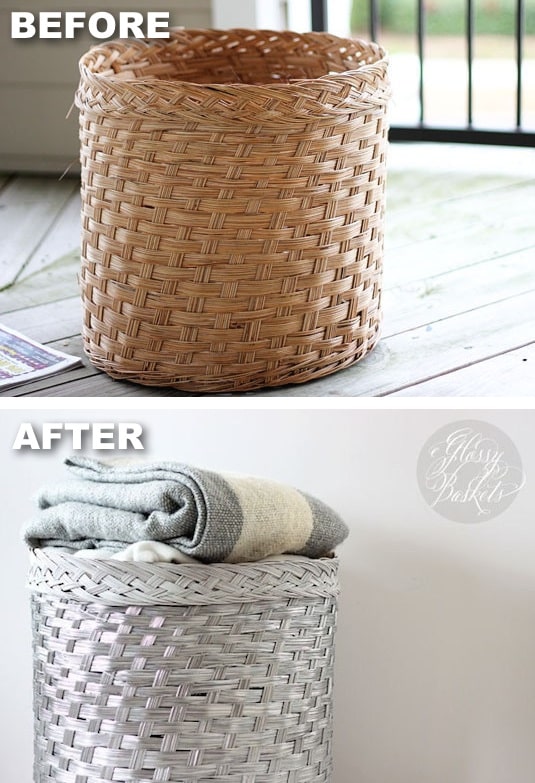 23. Painted Rocks Rock
Take rocks from blah to beautiful with metallic spray paint! I love how Club Chica Circle (instructions there) incorporated them into a candle centerpiece, but you could also use painted rocks as a vase filler for twigs and branches.

24. Customize Your String Lights
This would be incredibly difficult for the small string lights (because the bulbs don't come out), but any of the string lights with removable bulbs can be easily painted with these instructions and tips from Landeelu! These could be used for any time of the year, and customized to match your decor. The gold spray paint is very festive!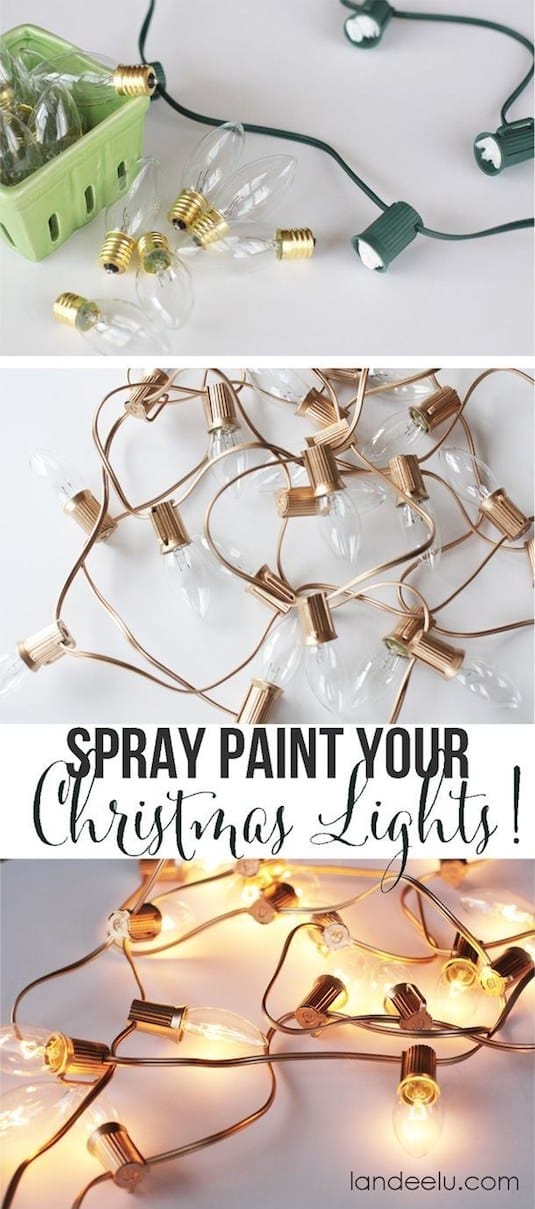 25. Refurbish Outdoor Furniture
Just about any type of furniture can be spray painted, but wicker is especially easy with a nice looking outcome because of how it's constructed. Outdoor wicker tends to fade in the sun very easily, so I'm certain that there are plenty of wicker pieces just waiting to be spruced up! Check out more details here.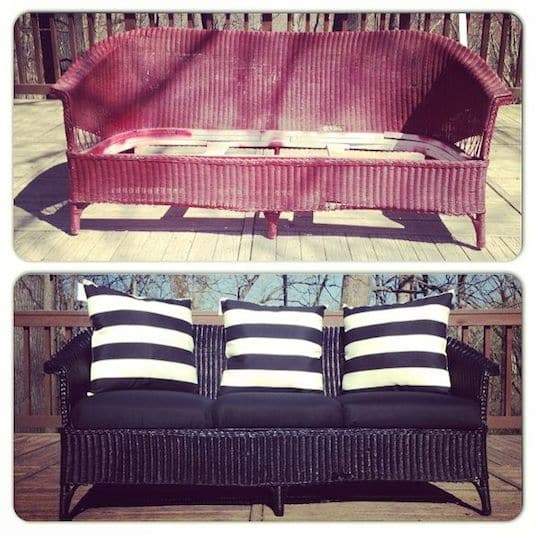 26. Improve Your Trash Can
Personalize a metal trash can with spray paint to match your room's decor! Great idea considering that these trash bins usually only come in a few select colors. It might also look cool to tape off the bottom or top part of a trash can, and then only paint half of it. Just check out how chic that gold spray paint makes that garbage can look after!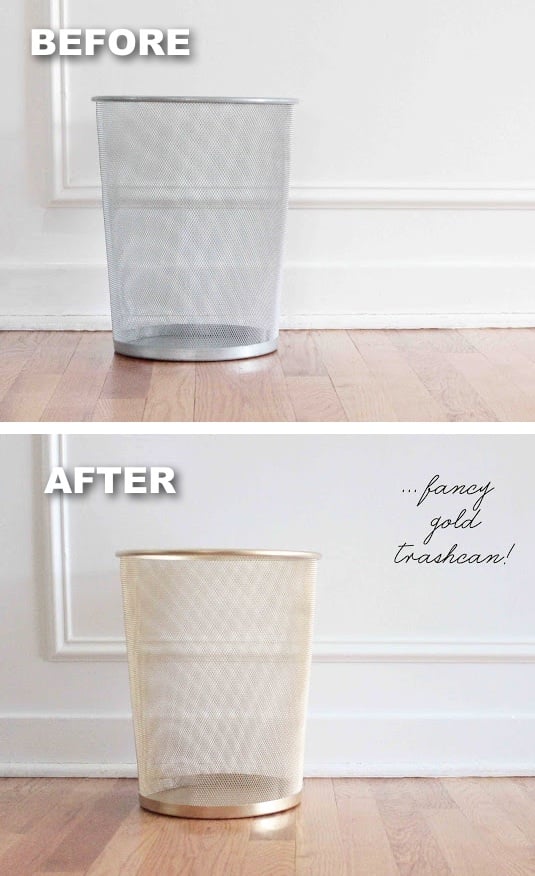 27. Modernize Outdated Faucets
Why replace a perfectly good functioning faucet, when you can spray paint it!? You may be wondering how well this would hold up considering faucets get wet and handled a lot, but you would be surprised at the longevity with a good primer. Get all of the instructions and tips and tricks for this over at Bonfires & Wine. The entire bathroom remodel is really charming!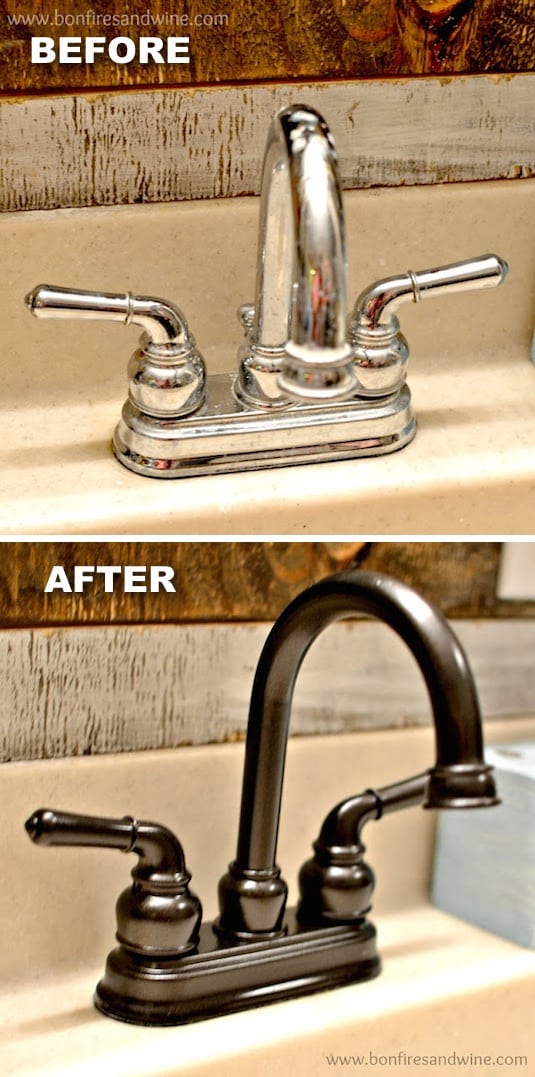 28. Up-Cycle Old Folding Chairs
How fun would these be for a backyard BBQ!? I love the rainbow of colors, but you could also go a little more neutral with a bronze or grey finish. Keep in mind that they do need to be lightly sanded and cleaned if you want them to last for a long time. You can find more information here.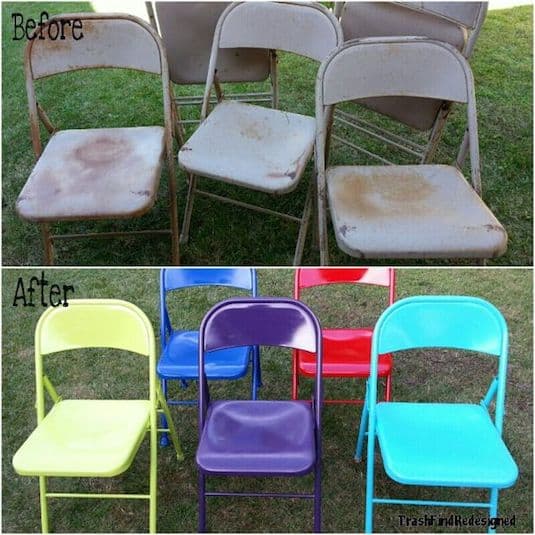 29. Thrift Shop Treasures
The next time you go to a thrift store or are getting ready to throw something away that appears to be junk, just imagine the possibilities of spray paint! There are so many things that can be transformed, especially old frames. You can find them everywhere for next to nothing! Live Love DIY has some great thrift store tips if you're thinking about hunting for a few treasures.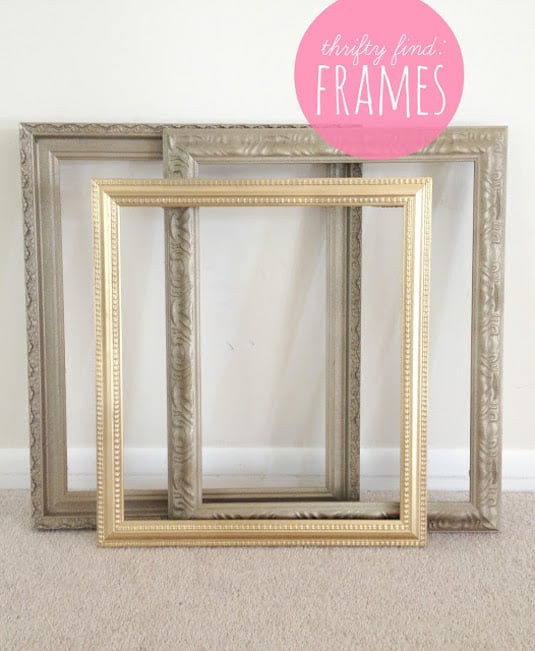 30. Lace & Spray Paint
It's amazing how you can completely transform a piece of furniture with a little bit of spray paint, but this lace technique is off the hook! Even if you don't get an even texture with your paint distribution, it would still have a cool vintage vibe. Check out all of the details over at Home Dzine!

31. Burlap Spray Paint Technique
Making your own wall art has never been so much fun! Check out this cool burlap technique from 52 Mantels. Emily gives a step-by-step tutorial on how to get the look. The gold spray paint really stands out under the black burlap pattern!

32. Ceramic Sprayed for Style
I love this quote "simple: make the most of what you've got – which usually involves finding innovative ways of turning trash into treasure" – Kristine, The Painted Hive. When I stumbled across this spray paint project I was in total awe! What a transformation! Simple mis-matched garage sale finds are transformed into a matching set of modern sleek and stylish bath accessories. Check out the full instructions, spray paint colors and helpful tips at The Painted Hive.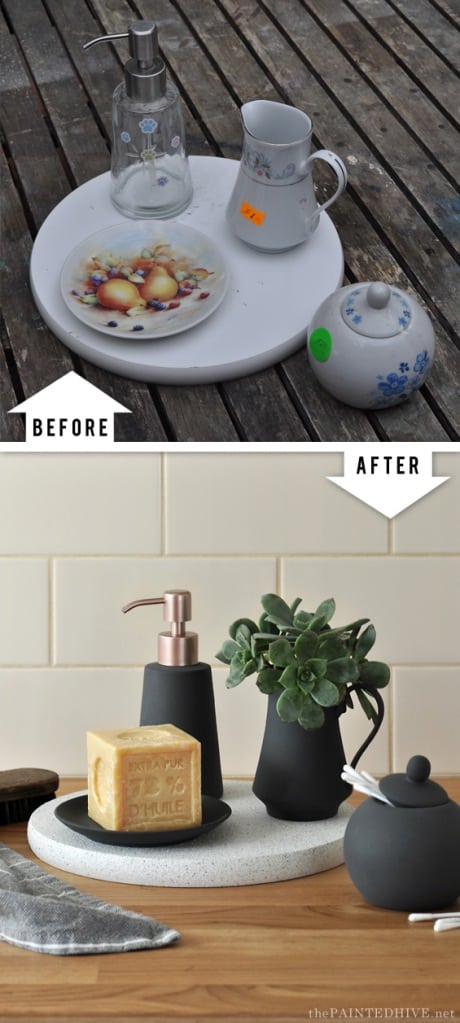 33. Spray Paint Bicycle Craft
I want to ride my bicycle… or spray paint it and hang it on the front door! Linda with Life On Summerhill outdid herself with this up-cycle bicycle craft. What a fun way to welcome guests into your home with a unique door wreath using upcycled bicycles. Metallic spray paint gives this old bicycle rim a completely new look. See all the easy-to-follow step-by-step instructions for this bicycle over at Life On Summerhill.