Updated on
Trash to treasure with very little effort!
Because of all the new options in color and texture, spray painting has become somewhat of a trend. It is probably the most popular thing used for remodeling and repair on a budget. It can also be used for fun craft and art projects, or for adding character to things you already have around the house. I was so inspired by some of these brilliant ideas, I thought I would put together a list of some of my favorite, cool spray paint ideas! Pretty soon you might find yourself with a cabinet full of spray paint, and an endless list of projects.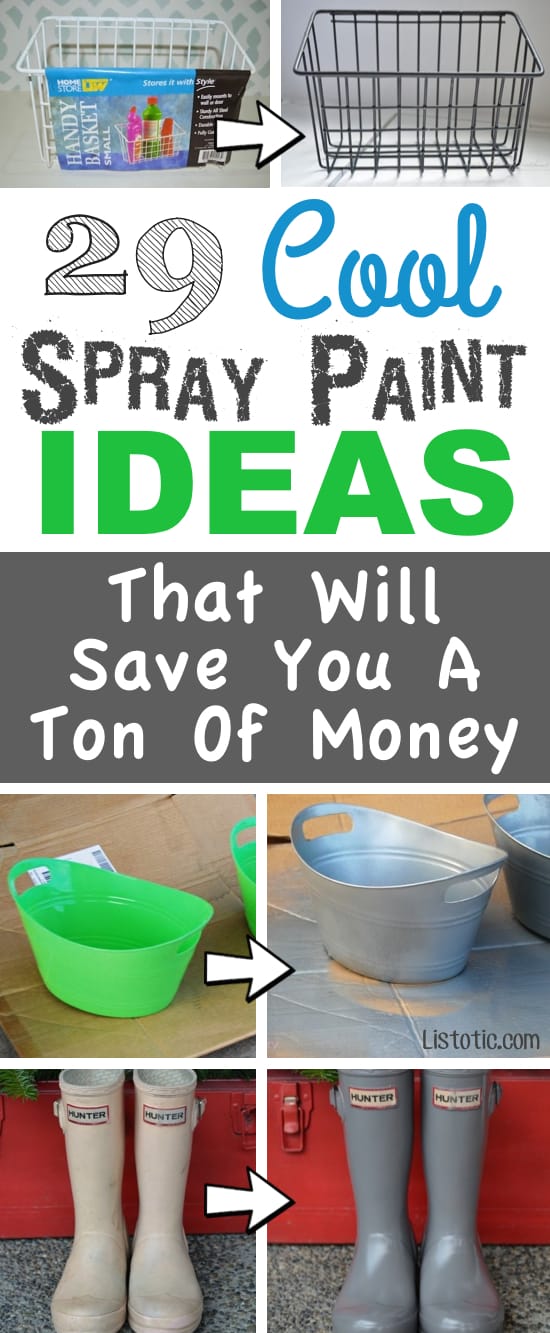 This post contains affiliate links. Please see our Disclaimer Policy.
Check out these cool spray paint ideas!
1. Faux Galvanized Plastic Tubs
Make your very own galvanized looking drink tubs with plastic bins you can find at the Dollar Store, Party City, or even Amazon. I'll bet you could pick up a few of these at Walmart or Target, too.
It's just one example of how a few coats of spray paint can save you a ton of money. Hop on over to The TipToe Fairy to see how it's done!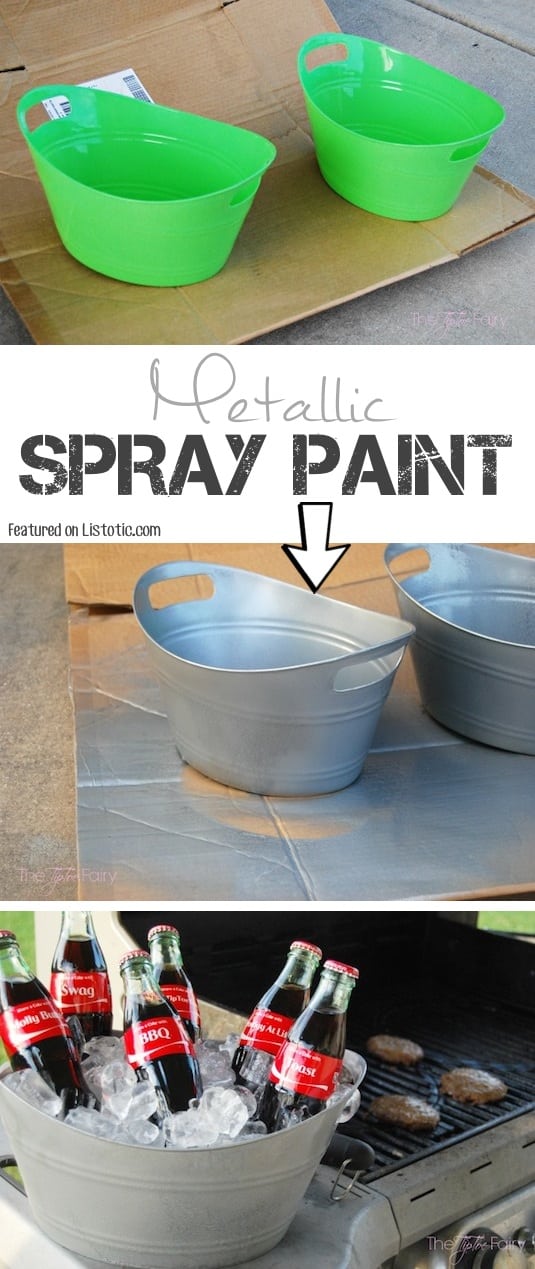 2. DIY Metallic Flower Pots
Modernize low-cost terra cotta pots with a couple of coats of spray paint (metallic, chalkboard, glitter blast, etc.). With the help of painter's tape or stencils, you could also decorate them with a pretty design.
Just be sure to clean the pot(s) in warm water to get all of the dust off, and perhaps sand it a bit to help the paint adhere. These pots are extremely porous, so you will probably need a primer and several coats of paint.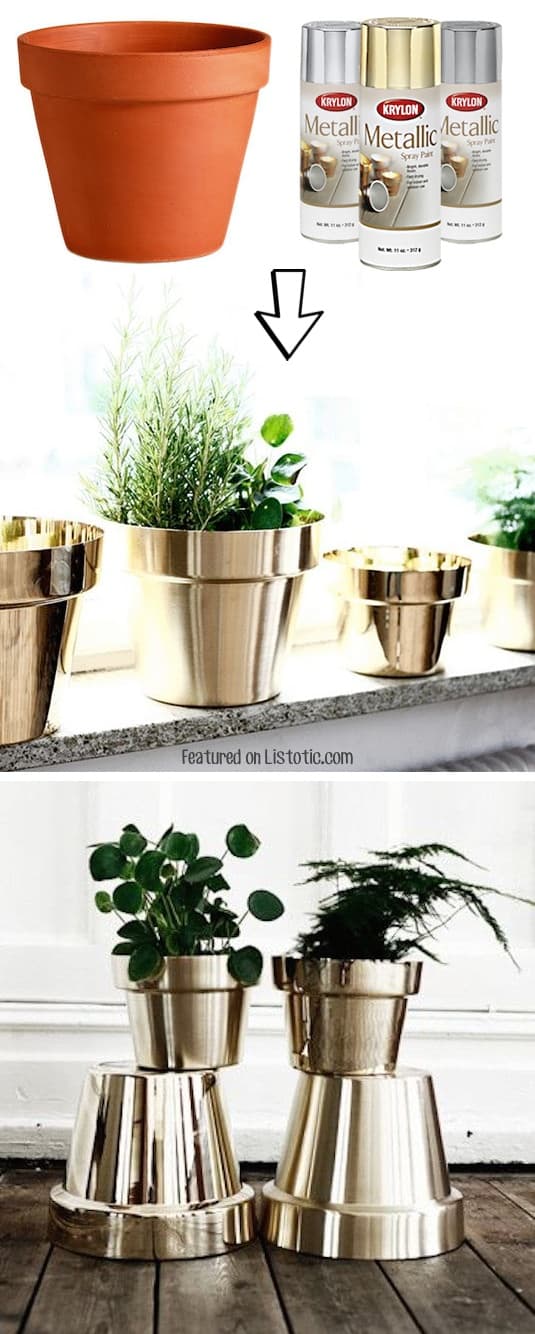 3. Rubber Boots Revamped
If you have a pair of rubber boots that still serve the purpose, but are just getting old, funky or faded, consider a coat of spray paint to make them look brand new! You may get a few runs, but you can easily sand them down.
I suppose if your boots look that bad to begin with, what do you have to lose? Go check out the instructions for this easy project over at Jen Gilday Interiors.

4. DIY Mercury Glass
Mercury glass is on it's way to being more popular than bacon and mustaches, and I can definitely see why it is so beloved! But, unfortunately, it's also pricey. I'm seeing mercury glass on everything from ornaments to lamps, but who would have guessed that there is a mirror effect spray paint that makes this an easy DIY project even for craft-challenged folks to make their very own mercury glass!
I especially like this idea for an old vase (probably because I have a dozen of them tucked away in a closet just begging to get used). Go check out Amanda's simple instructions for this over at Hammer & Heels!
***Tip*** I've also seen this project done by first misting an equal mixture of vinegar and water on the glass before spray painting it if you want more splotches in the final effect.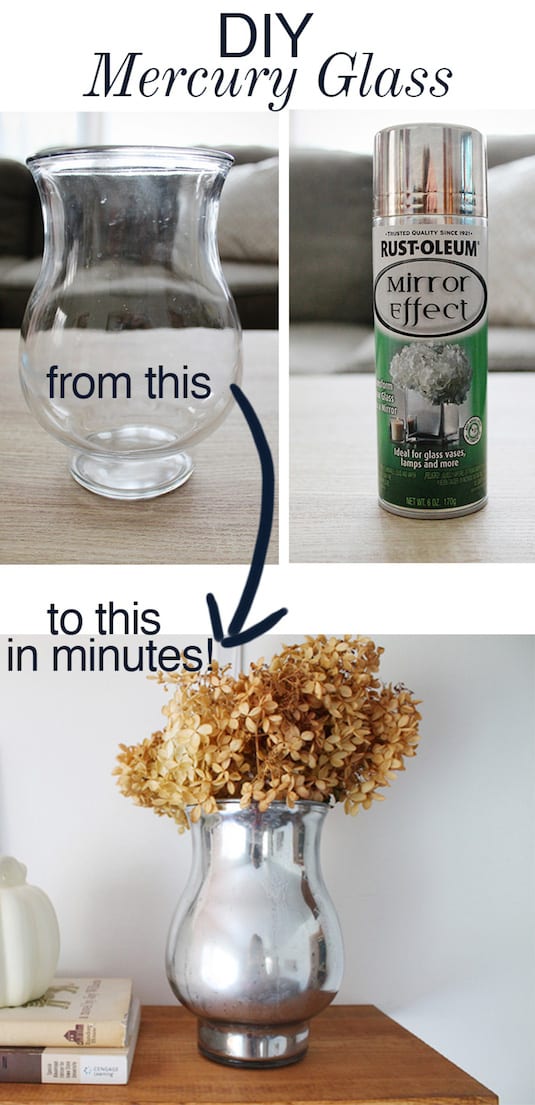 5. DIY "Industrial" Wire Baskets
Wire baskets look so pretty on a wall or on a countertop to organize your mail, kitchen bottles, or other small items, and I'll bet you've never thought of spray painting the cheapo baskets to look modern and stylish!
See how it's done and where to buy these baskets over at A House Full Of Sunshine.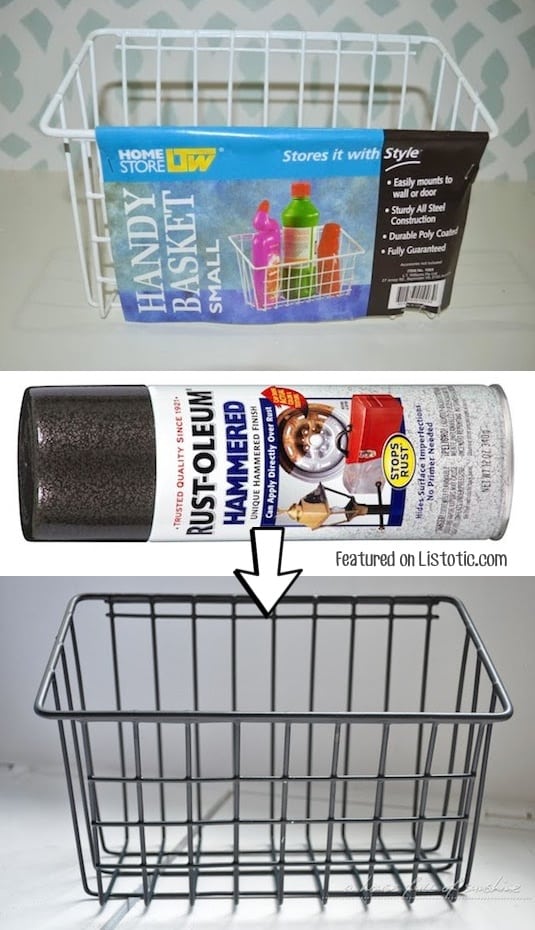 6. DIY Copper Tin Cans
Hard to believe you can transform tin cans into something as pretty as these! And, the chalkboard labels are the perfect finishing touch.
Go check out this project and all of the details over at HOMEY Oh My! Amy will show you which paint gave her that perfect copper color.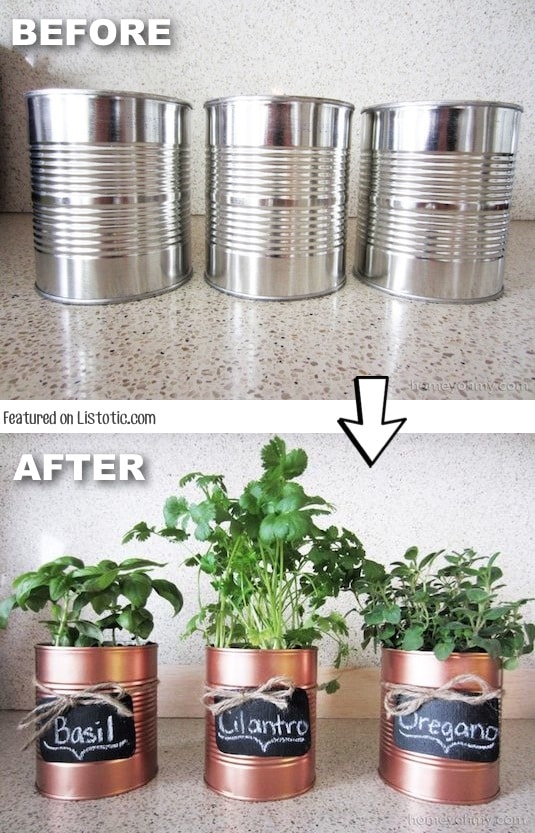 7. Painted Pinecones
This is a simple idea with a lot of pizzazz! And, if you happen to have a few pine trees in your neighborhood, the only expense is spray paint. I also like the idea of using a glitter spray paint on these for the holidays.
Get all of the details and more pictures for this spray paint project over at tatertots & jello!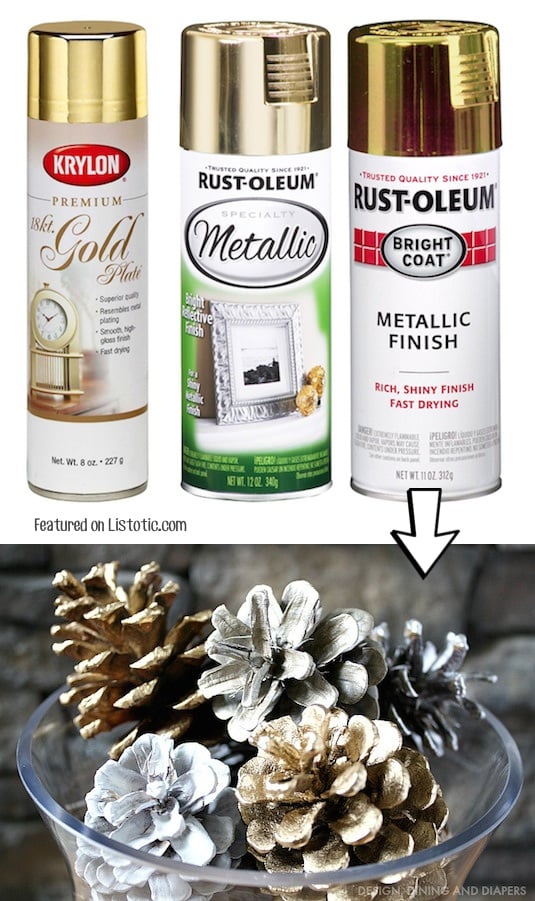 8. Refurbished Furniture Cushions
Hard to believe you can spray paint fabric, and then there is also the question of how long it will last, does it rub off on clothes, and does it smell, but I've heard great things about the results!
You can see the instructions and tips for this project over at The Happier Homemaker, and Melissa also provides a link where you can purchase the paint.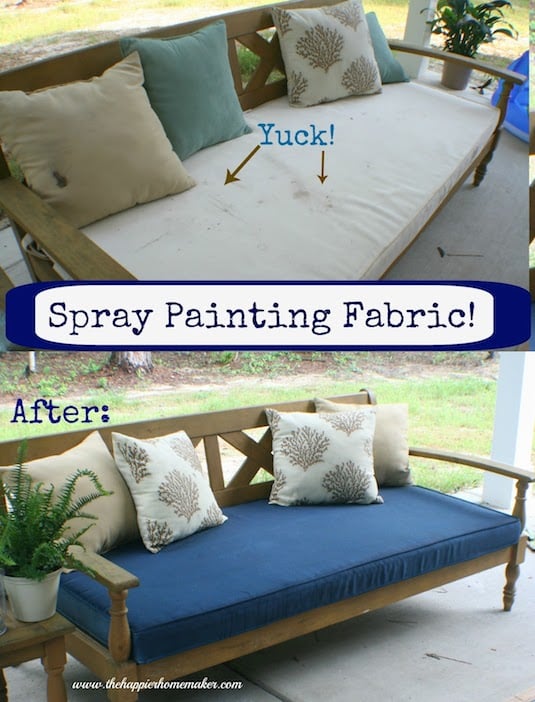 View the entire list of Cool Spray Paint Ideas That Will Save You A Ton of Money.
---