Last Updated on February 15, 2022
Valentine's Day parties made easy
Planning a Valentine's party for kids doesn't have to be a hassle with this handy list of Valentine's Day themed games and activities. The DIY games on this list are inexpensive, easy for kids to understand, and super simple to put together. As a result, these games are perfect for the classroom!
Looking for more easy Valentine's Day ideas? Try these Valentine's breakfast ideas or this fun and healthy Valentine's day drink for kids.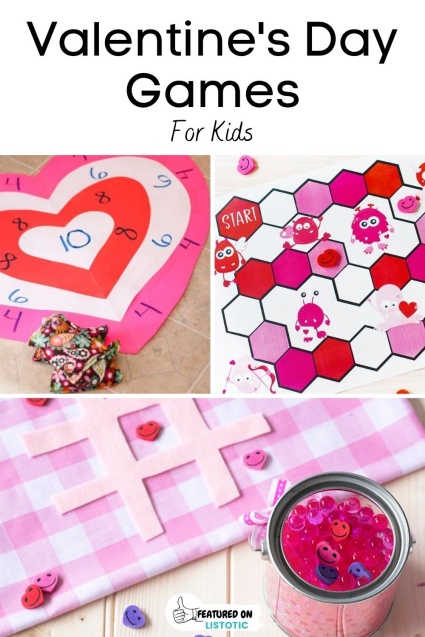 This post contains affiliate links. Please see our Disclaimer Policy.
1. Valentine's Day Family Feud
Family Feud is fun for the whole family and perfect for any occasion! In addition, this game is super easy to set up especially with these Valentine's Day Family Feud Questions and Answers from Play Party Plan.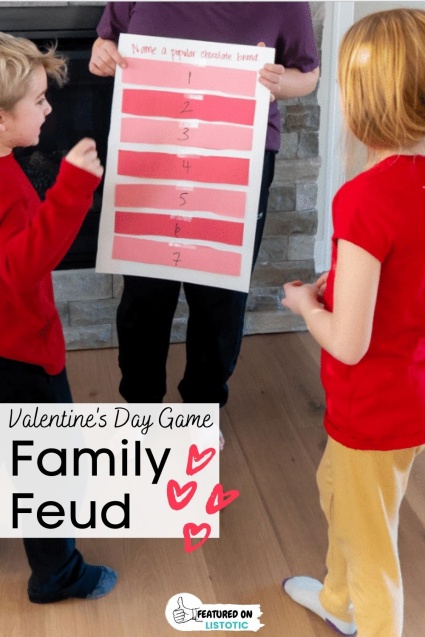 2. Musical Hearts
Get the kids up and moving with this fun Musical Hearts activity! Additionally, this game is perfect for helping kids practice reading in a fun, exciting way. Furthermore, musical hearts are super easy to set up. Since the hearts will be stepped on, I recommend making them out of these craft foam sheets for durability. Head on over to Teach Mama to learn how to set up the Musical Hearts game.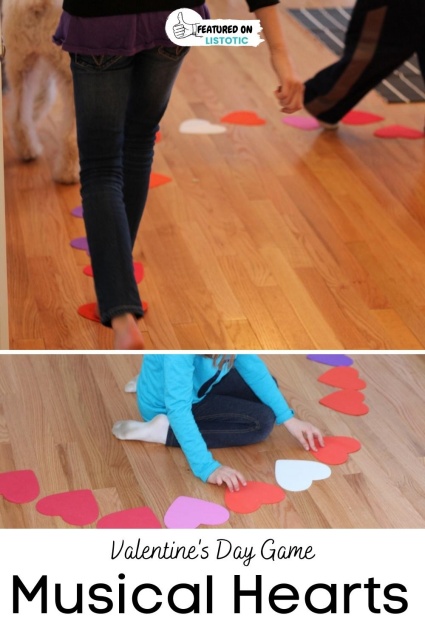 3. Valentine's Day Minute to Win it Games
Minute to win it activities make the perfect Valentine's day game! These Valentine themed minute to win in games from Together as Family is the perfect activities to put together your Valentine's minute to win it. Additionally, they're super quick, easy, and inexpensive! Perfect for kids of all ages.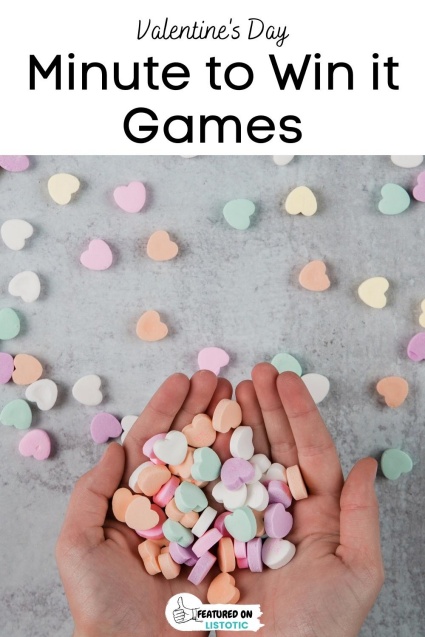 4. Ring Toss Valentine's Day Game
You can never go wrong with a simple ring toss, and besides, you wouldn't believe how easy it is to give this classic game a Valentine's Day twist. With just some empty glass bottles, acrylic paint, and pipe cleaners, you can create your own Valentine's ring toss. Learn how over at Handmade Charlotte's DIY Valentine's Day Ring Toss Tutorial.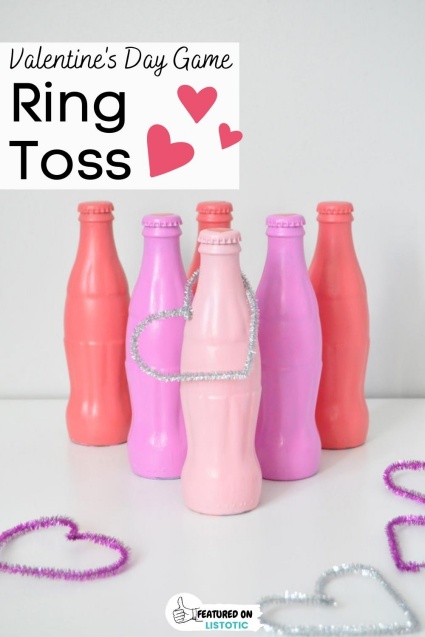 5. Free Printable Valentine's Board Game
Board games are good wholesome fun for the whole family! Additionally, this board game is free to print and you can use pretty much anything as gameboard pieces. Learn how to play this Valentine's Day themed board game over at Wondermom Wannabe.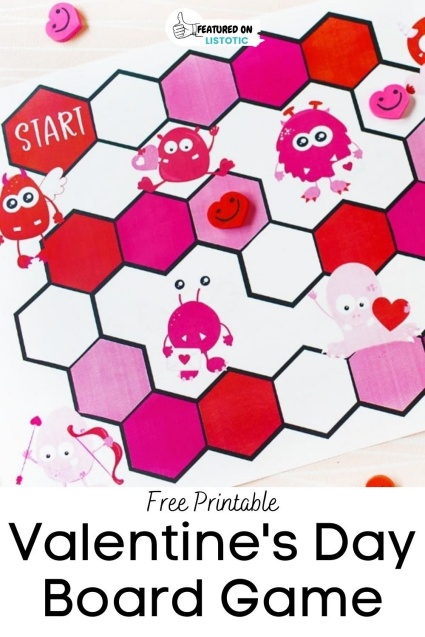 6. Candy Hearts Bingo
Make bingo fun for kids by adding sweet treats to the game! Additionally, all you'll need to do is print out the cards and supply the conversation hearts. Furthermore, this Valentine's Day Bingo makes the perfect game for the classroom! Learn how to play Conversation Hearts Bingo over on Playground Park Bench.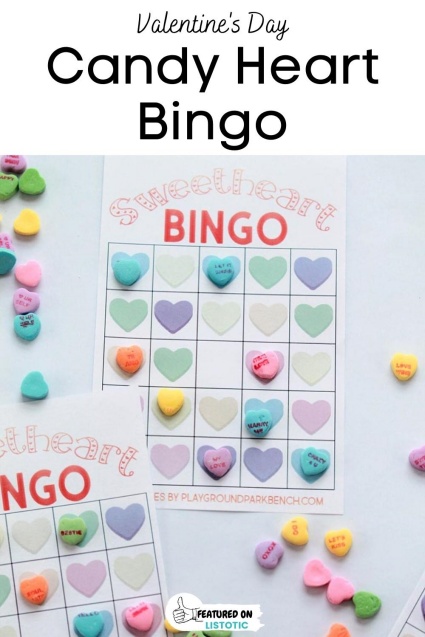 7. Free Printable Valentine's Day Scramble
If you're looking for the perfect Valentine's Day games for the classroom, then this may be your winner. It doesn't get much easier than simply printing out a sheet. Additionally, this scramble game is perfect for kids who are learning how to spell! Get the free Valentine's Day scramble printable over at White House Crafts.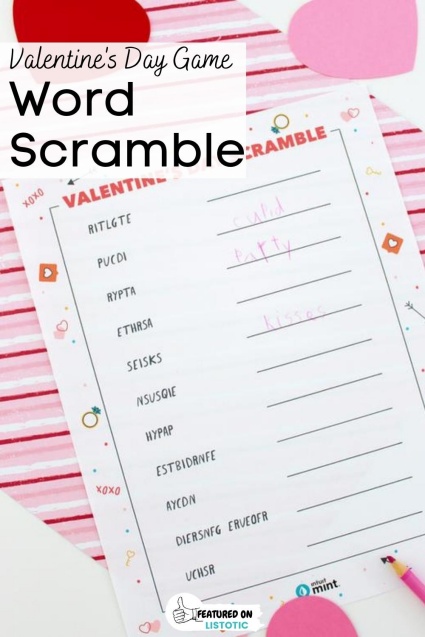 8. Sensory Heart Tic Tac Toe
For kiddos who respond well to sensory play, consider this sensory heart tic tac toe game! Kids will love digging around in the water beads to find their game pieces. Indeed, this game can be put together with just a container, mini heart erasers, water beads, and some kind of game board. Learn more about sensory heart tic tac toe over at Mum in the Madhouse.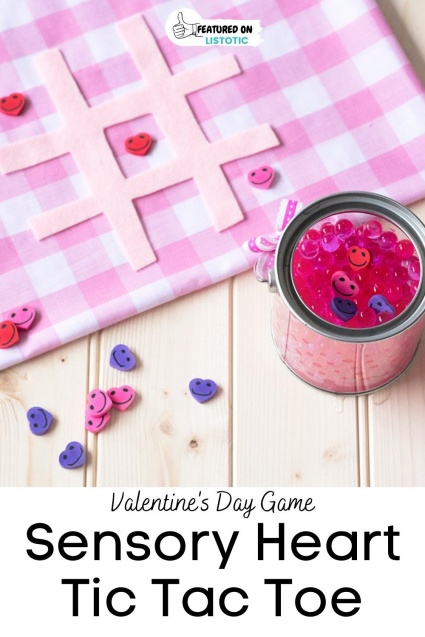 9. Heart Bean Bag Toss
Bean bag tosses truly are the perfect game for every event. Additionally, this one is homemade and super easy to make! Learn how to put together your own DIY Valentine's Day bean bag toss over at Real Creative Real Organized.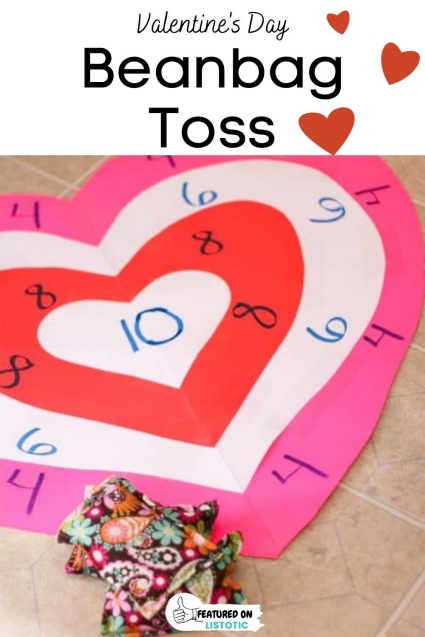 10. Matching Game with Hershey Kisses
You can never go wrong with a good old matching game; get your kids excited about testing their memory skills with Hershey's Kisses! This fun Valentine's Day game uses chocolates with free printable icons taped to the bottom instead of cards. Learn more about this matching game with Hershey kisses over at Creations by Cara.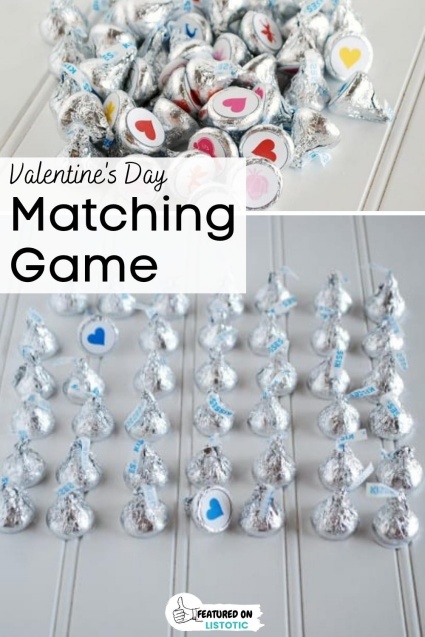 11. Heart Hopscotch Valentine's Day Game
Hopscotch makes the perfect learning game for young kids! Plus, you can add a Valentine's Day twist to it with this heart hopscotch learning game from Toddler Approved. Additionally, it's super easy to set up and play. Get the kids up, moving, and learning!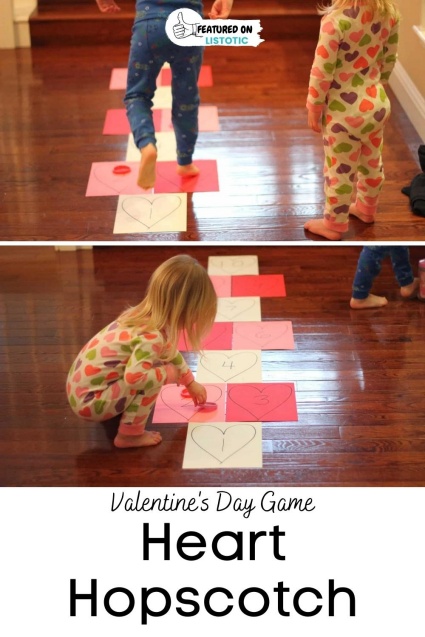 12. Valentine's Day Gross Motor Activities
Help your kiddos develop their gross motor skills with these Valentine's Day themed gross motor activities from And Next Comes L! Additionally, these games are super inexpensive and easy to set up. Get the kids up and moving this Valentine's Day!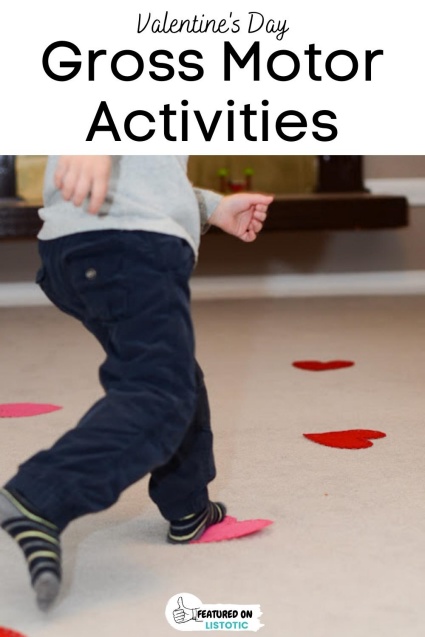 13. Cupid's Arrow Toss Valentine's Day Game
Get the kids up and moving with this fun Cupid's arrow toss Valentine's Day game from Playground Park Bench! Furthermore, this game is affordable, DIY, and super easy! It's not played with real arrows of course, haha. How fun!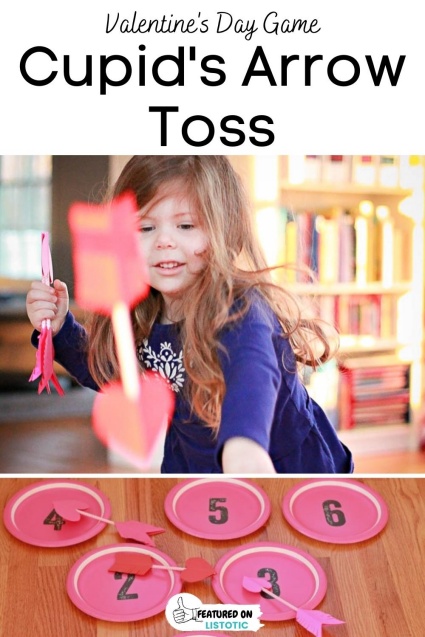 Now that activities are sorted, why not check out this list of candy free Valentine ideas for your child's classroom Valentine exchange? Needing an idea for your teacher? Check out this great list of clever teacher valentine gifts they will love.