Last Updated on June 11, 2020
8. Yummy Mummy Cupcakes
I think I know why Halloween is my favorite holiday– I LOVE sugar! I also look forward to making cute and spooky treats "for the kids" every year. To make these mummy cupcakes, you will just need your favorite chocolate cupcake recipe, vanilla or cream cheese frosting, and candy eyes. Once your cupcakes are completely cool, use a bit of your frosting as a glue to hold the eyes down, and then use a pastry bag with a ribbon decorating tip, and pipe strips across the cupcakes in a criss-cross pattern, avoiding the eye area. That's it! Aren't they cute?

9. Vampire Teeth Cookies
These are probably my favorite Halloween treats to make because the kids always get a huge kick out of them! That, and they're so easy to make. You will just need store-bought chocolate chip cookies (or you can make your own if you want), mini marshmallows, red decorating gel or frosting, and almond slivers.
Cut your cookies in half (make sure that you use a good knife and that your cookies are the softer kind or they'll just break into pieces), and then use the gel or frosting as a glue to hold your marshmallows in place. In addition to the outer rim of the cookies, you will also need marshmallows in the center of the cookies to keep them stable. Place the almond slivers in-between the mini marshmallows where you want the "fangs" to be. You may need to add a little extra frosting to the almonds to keep them in place.
If you're making these for a party, assemble them the day of so that the marshmallows will still be soft. They don't keep well sitting out too long. These are great for school parties! The kids think that they are SO cool. 🙂

10. Finger Cookies
Finger cookies are a must for every Halloween party! But for the most realistic looking fingers, you should try to use a shortbread cookie recipe NOT a sugar cookie recipe, unless you want round, blobby fingers. I used a store-bought sugar cookie dough and added a bit of flour to the dough. They turned out OK, but not super realistic.
Roll your dough into finger shapes (you can even go as far as shaping them with knuckles, and slashing them with a knife to create the knuckle wrinkles), and then place a whole almond or almond sliver into the dough where the nail should be. ***If you're taking your time making the fingers, you may need to leave some of the shortbread dough in the fridge to keep it from getting too soft, and also place your dough that has already been shaped into fingers back in the fridge until they're ready for the oven.*** Bake them according to your recipe instructions.
That's it! But, if you want to take it a step further, try putting a little red decorating gel on the ends of the finger cookies to make it look like the fingers were sliced off. Gross! If you want to make witch finger cookies, just add a bit of green food coloring to the dough.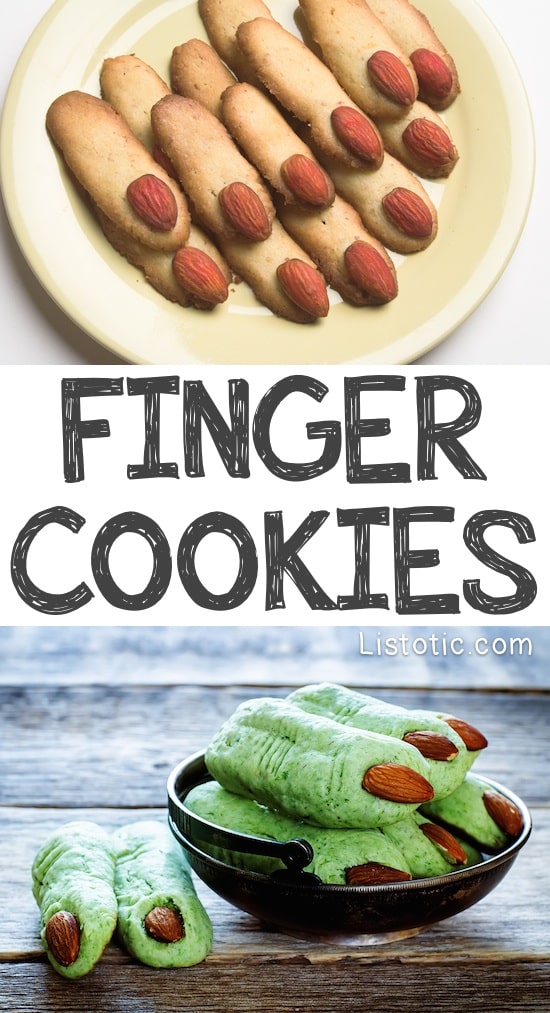 View the entire list of Super Easy Halloween Treats for Kids and Adults.
---