Last Updated on December 26, 2022
Sweet and Savory! Candy Corn Butterfinger Fudge
Halloween, the perfect holiday for inviting friends over. Enjoying some laughs, cocktails, food and treats like this candy corn Butterfinger fudge! You don't even have to vacuum up cobwebs that might be hanging around your house. Not when it's a Halloween Party! Guests will think it's all part of the authentic Halloween décor.
Let's throw a Halloween Party!
Listotic's Candy Corn Butterfinger Fudge recipe is a Halloween Party must! The sweet Halloween treat was first published by Lilly. The Halloween recipe has been a popular several seasons in a row. So, I thought; why not try it out for myself?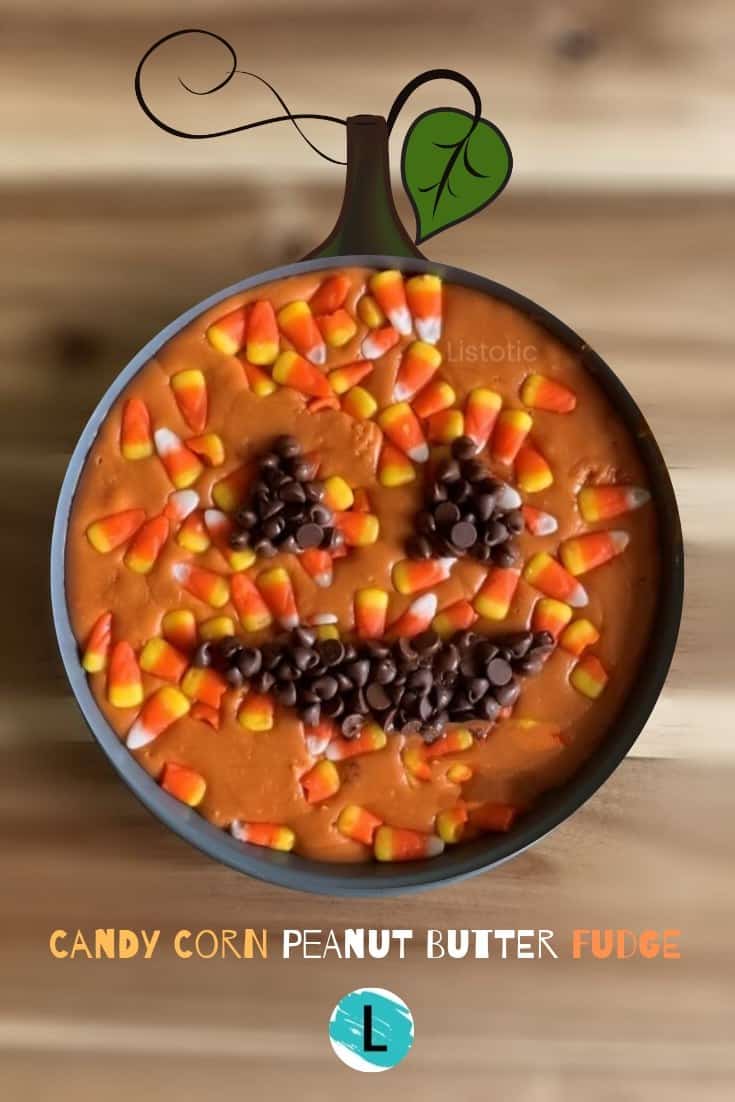 This post contains affiliate links. Please see our Disclaimer Policy.
After making this Halloween party dessert recipe, there were some creative ideas and tips I wanted to share. For instance, I added some more fun by decorating this fudge into a sweet Jack o Lantern. Check it out below!
A cute addition to your Halloween party treats.
Here is an idea… make a Jack o lantern out of your candy corn Butterfinger fudge. Simply make this recipe in an 8 inch or 9 inch round cake pan instead of square. Or, you can use a pie plate! Check out this Pumpkin dessert dish. Wouldn't that be adorable on your Halloween party treat table?
Create a Jack O Lantern eyes and mouth using chocolate chips. Or possibly try out these Halloween Candy Corn M&M candies? The addition of semi-sweet or milk chocolate is a win-win for this candy corn Butterfinger fudge recipe.
Watch this video to see how easy this recipe comes together in a pinch!
Some might say this dessert is too sugary. I'll admit, this fudge is a rich and indulgent treat. But who cares – it's Halloween!
Here is a tip so to cut down on everyone's sugar overload… cut small square pieces!
Cutting the circular pan into small squares is a bit tricky. So that you keep the Jack o lantern shape you can cut the fudge just like you would a jack o lantern. See the image below for cutting suggestions.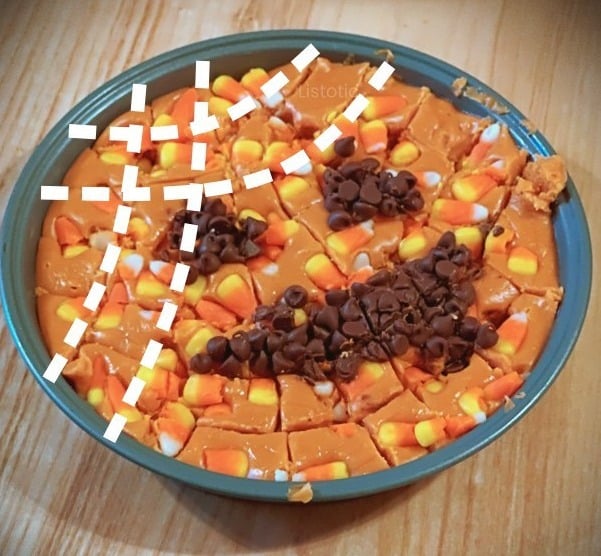 The smaller the pieces; the more times you can come back for more!
Be ready for someone to ask you for a piece from the middle with Chocolate Chips on top! But who could blame them? Peanut Butter and chocolate are always welcome together at my Halloween Party!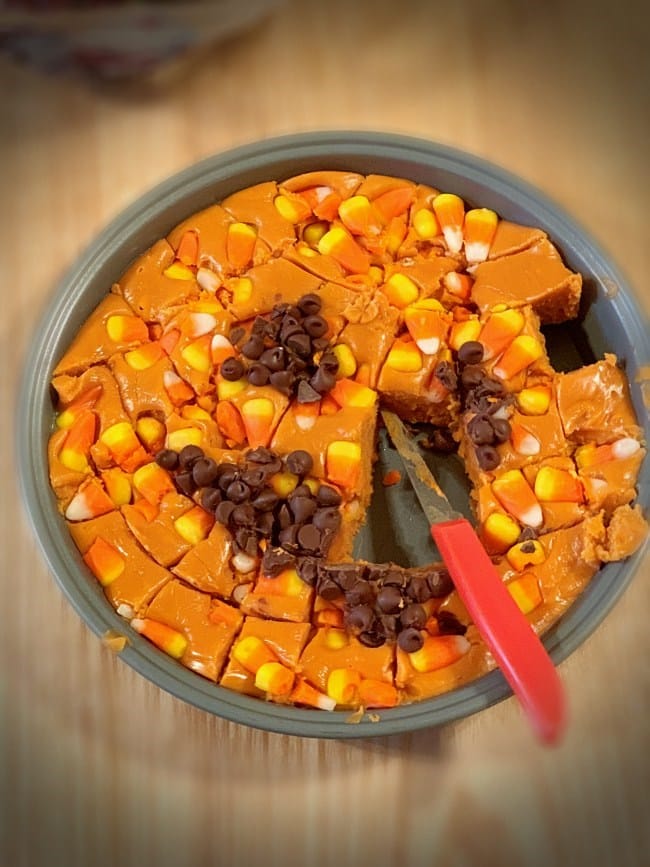 I'll be completely honest. I had no idea if anyone was going to like this Candy Corn Fudge when I took it to my in-laws' house. The bright orange color and dense candy appearance didn't quite look like typical fudge they might expect.
But my worries faded when everyone dug right and love it! It helps the first two ingredients are candy corn and peanut butter!
It tastes like a soft peanut butter cookie straight out of the oven!
My mother and sister in law both agreed "it tastes like a soft peanut butter cookie straight out of the oven." My kids absolutely loved this Halloween Dessert. I expected they would because they get their love of sweet treats from their Mamma!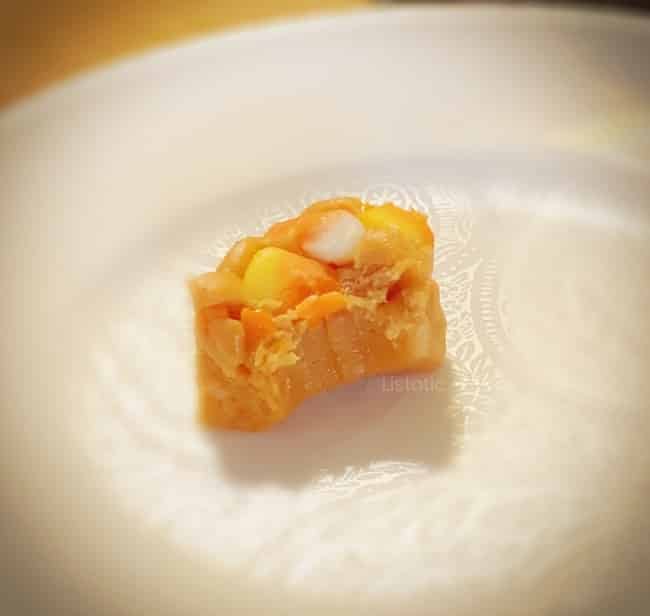 This batch of Candy Corn Peanut Butter Fudge made enough for 3 (sugar-loving) families. Not to mention, there was enough for everyone to take some pieces home for a midnight treat. So, it's the perfect dessert you could make to feed a Halloween party crowd.
Candy Corn Butterfinger Fudge Recipe
INGREDIENTS
INSTRUCTIONS
Line an 8×8 pan with foil and spray it with non-stick cooking spray. Set aside for later. Note: I didn't have foil so I greased my pan with butter. Either method will work great!
In a pan combine 1 cup of peanut butter and 3 of the 4 cups of the candy corn (set 1 cup aside for later to use on top). Set your burner on MEDIUM and cook until they are almost completely melted, stirring occasionally. After they are almost melted, add in the can of sweetened condensed milk, and stir constantly.
Next, stir in the white chocolate chips until melted. At this point, it should be VERY thick.
Fudge mixture gets very thick!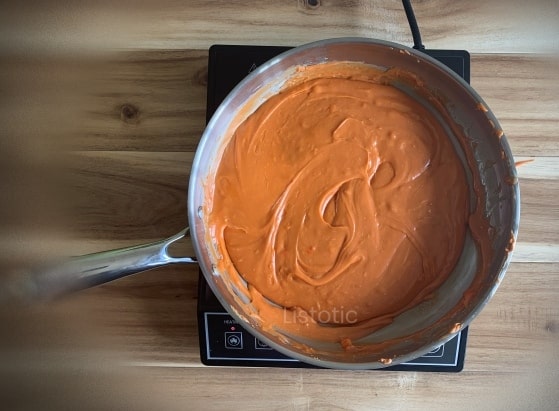 Pour the mixture into your prepared baking pan.
Let it cool on the counter for about 20 minutes, and then sprinkle the rest of your candy corn on top.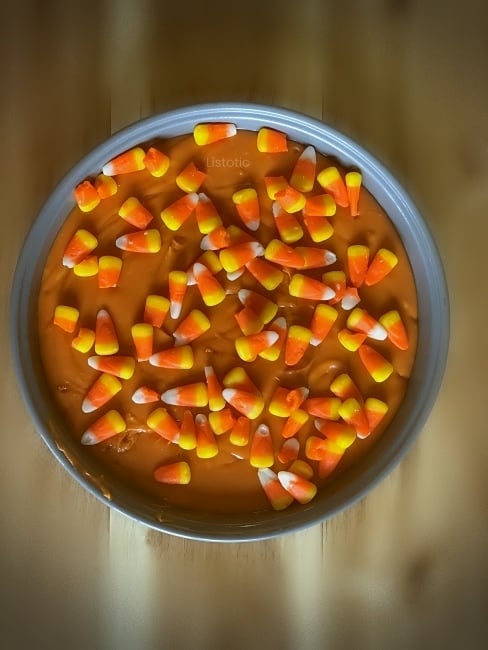 Note: Use the bottom of a glass to push the candy corn pieces down into the fudge mixture and flatten the top.
Chill in the fridge for 2 or more hours before cutting.
Products for the Recipe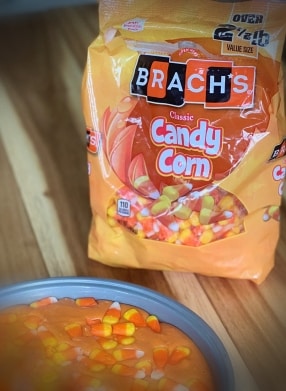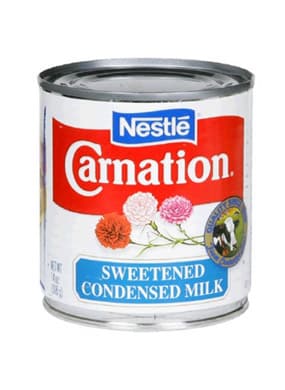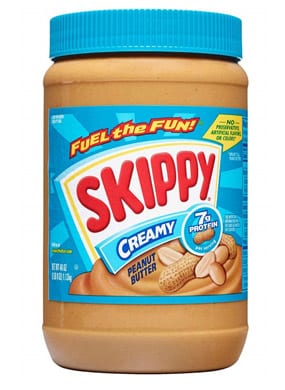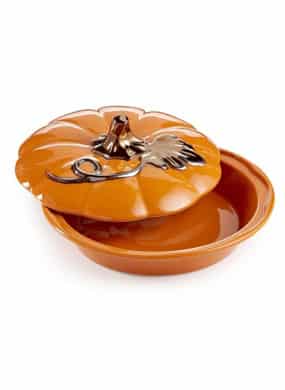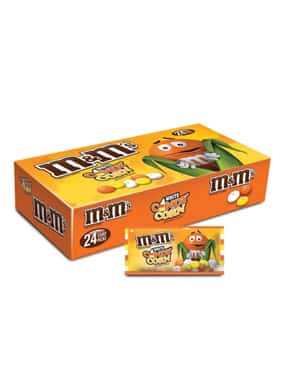 If you want to try out some fun Halloween Inspired Ideas be sure to join Listotic's Halloween Party Planning Facebook group.
Don't forget to pin the recipe on Pinterest so you have it handy when you're asked to make it again! Because it will happen, trust me.