Last Updated on October 3, 2022
Scary Fun Easy Halloween Treats for Kids and Adults
Halloween is my favorite time of year, and it's not just because I love eating half of my kids' candy or decorating my house to scare all of the neighborhood children, I also love to make fun easy Halloween treats for kids and adults!
BUT, only if they're super, super easy. Not because I'm lazy (maybe sometimes), but because I have a short attention span when it comes to cooking and baking. If you're anything like me, you are going to love to make all of these easy and insanely cute Halloween treats!
This post contains affiliate links. Please see our Disclaimer Policy.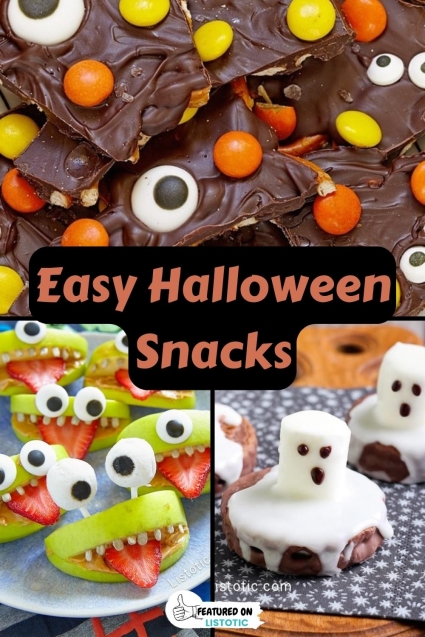 1. Fruit Monsters
These cute, little fruit monsters are not only adorable as can be, but they're also a healthy snack option for Halloween!
INSTRUCTIONS:
Cut several strawberries lengthwise into little slivers to use as the tongues. Depending on the size of your strawberries, you should get about 2-4 "tongues" each.
Cut your apples into quarters avoiding the core, and then carefully carve the mouth out with a knife. You should be able to make about four of these guys per apple. Spray or rub them with a little bit of lemon juice if you'd like to prevent them from browning.
Spread peanut or almond butter on the inside of the "mouths", mostly on the bottom where the strawberry tongues will be.
Use sunflower seeds or almond slivers for the teeth. Gently push them into the flesh of the apples.
Place your strawberry tongues inside of the mouths, using the peanut or almond butter as a glue.
Now here's the fun best part! Use a little bit of your nut butter to glue on candy eyes. You can find candy eyes in the baking section of most grocery stores, as well as craft stores such as Michael's or Hobby Lobby. You can also cut mini marshmallows in half, and use a black food marker to make them look likes eyes.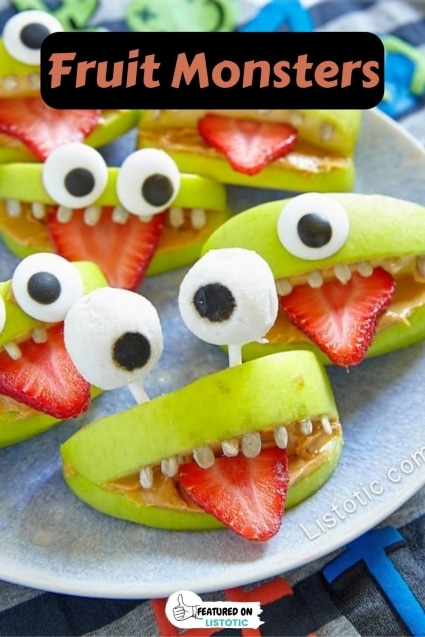 2. Spider Cookies
These are the easiest and cutest Halloween cookies you will ever make! The instructions are pretty self explanatory, but here are a few little tips that might help.
INSTRUCTIONS:
Bake your favorite cookies (I like to use peanut butter cookies for this but sugar cookies also look nice). I usually just use store-bought refrigerated cookies because I'm lazy.
After your cookies are done baking, immediately press the middle of each cookie down with the blunt end of a spoon to create a dome for your spider's body to rest.
Let your cookies cool to just above room temperature, and then place your spider's body (chocolate truffles, malt balls, or small peanut butter cups) onto the center of each cookie. You want the cookies to be just warm enough to melt the chocolate on the bottom a bit so that it sticks to the cookie.
Use chocolate frosting to pipe on the legs and attach the candy eyes to the spider's body. You can also use the chocolate frosting to help adhere the bodies to the cookies if they're not sticking well.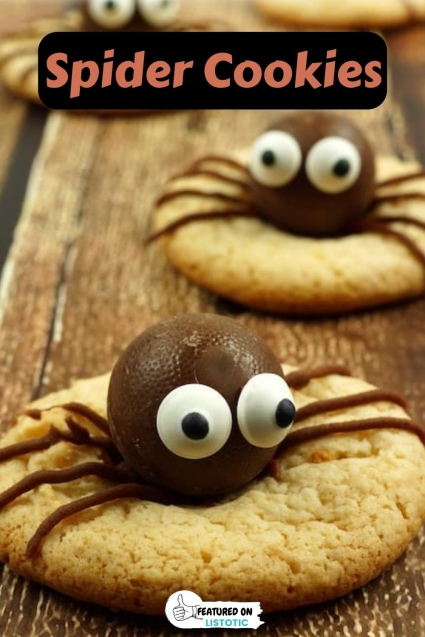 3. Spider Cupcakes
These spooky cupcakes are a huge hit at Halloween parties! They're also super easy to make, and if you don't feel like baking you can simply buy chocolate cupcakes (or any flavor of cupcake you would like). Simply spread on a flat layer of chocolate frosting, generously sprinkle black sugar sprinkles on top, and use small red candies like Red Hots for the eyes (or pipe on red frosting if you'd prefer). Finish them off with black licorice lace for the legs. I told you they were easy! 🙂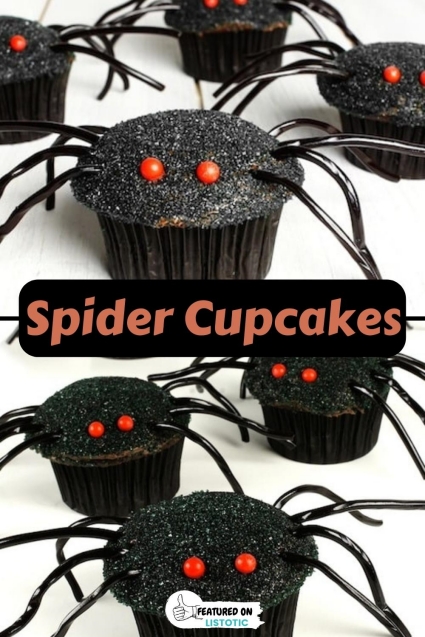 4. Spooky Cookies
Are these ghost cookies awesome or what?! Although they look a little complicated, they are actually really simple to make. You can make everything from scratch, or just buy pre-made cookies and frosting like I do. You will just need large cookies (preferably chocolate), large marshmallows, white frosting, and a black icing pen. Let's get started!
INSTRUCTIONS:
Get your cookies ready (I use store-bought) by placing them on a large piece of parchment paper. This will get a little messy! I find that large, chocolate cookies work best because it makes the features of the "ghost" really stand out.
Use store-bought vanilla frosting to glue a single large marshmallow onto the center of each cookie.
Heat what's left of the frosting in a bowl in the microwave for 30-45 seconds. It should be runny enough to run down the sides of the cookies.
Use a spoon and pour the frosting over each marshmallow until it runs down the sides.
Let them cool for about 10-15 minutes, and then use a black icing pen or melted chocolate to draw on the eyes and mouth for each marshmallow ghost.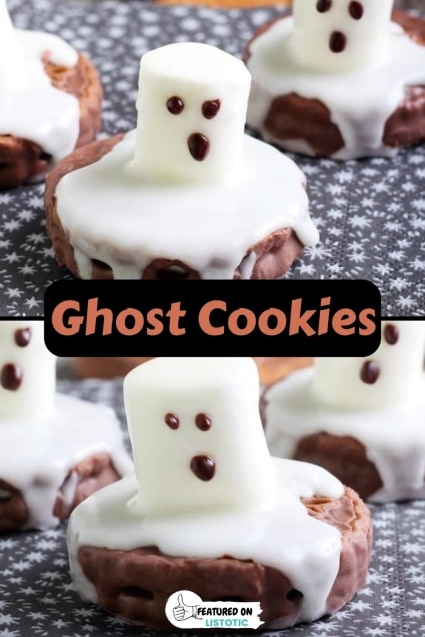 5. Frankenstein Cups
Just fill a clear plastic cup full of green grapes! Easy, peasy. I found these cups with lids on Amazon (smaller than what's shown in the picture), and then simply drew on a monster face with a permanent marker! You can use marshmallows for the eyes, or just draw them on. These plastic cups are also cute with green colored pudding (pistachio or vanilla pudding with green food dye), and crushed Oreos on top for the "hair". They are perfect for school parties!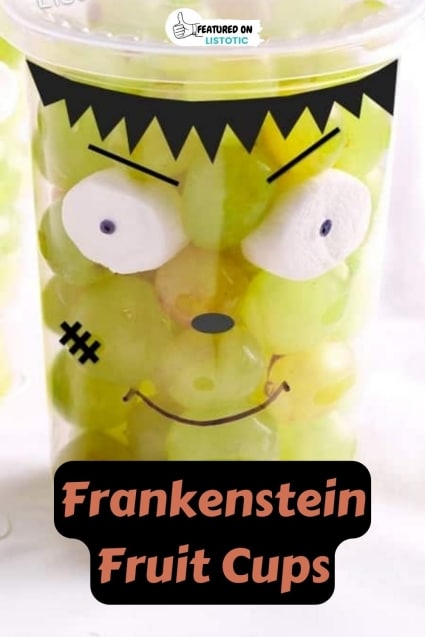 6. Worm Cupcakes
These gummy worm cupcakes are so simple, there's not even any baking involved– unless, of course, you want to make your cupcakes from scratch, but who has time for that?! 🙂 Use chocolate cupcakes with vanilla or chocolate frosting, and either use crushed Oreos or crumbled chocolate cake for the "dirt". Top them with a few gummy worms, and you've got a super cute Halloween treat for the kids!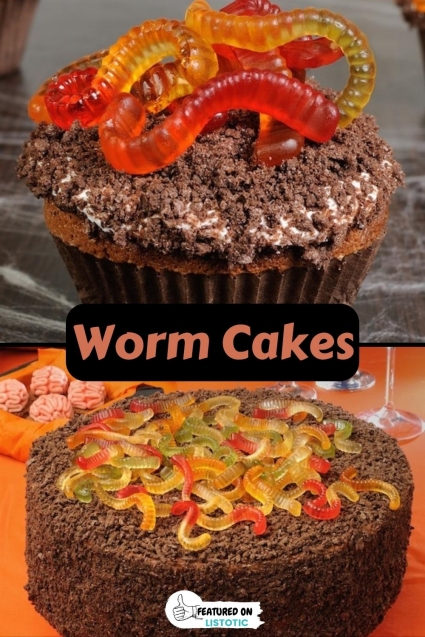 7. Ghost Meringues
These Halloween treats just keep getting easier and easier! For these ghost meringues, you can simply buy vanilla meringue cookies from Trader Joe's for about $3. I'm sure that you can purchase them from other grocery stores as well. Use a food coloring marker to draw on ghost faces, and you've got a super fun party treat for Halloween.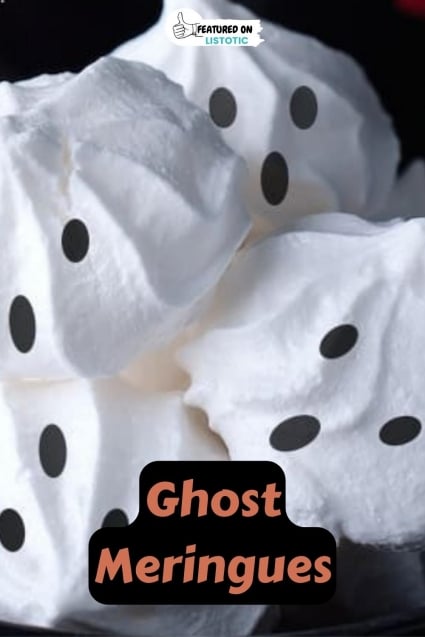 8. Yummy Mummy Cupcakes
I think I know why Halloween is my favorite holiday– I LOVE sugar! I also look forward to making cute and spooky treats "for the kids" every year. To make these mummy cupcakes, you will just need your favorite chocolate cupcake recipe, vanilla or cream cheese frosting, and candy eyes. Once your cupcakes are completely cool, use a bit of your frosting as a glue to hold the eyes down, and then use a pastry bag with a ribbon decorating tip, and pipe strips across the cupcakes in a criss-cross pattern, avoiding the eye area. That's it! Aren't they cute?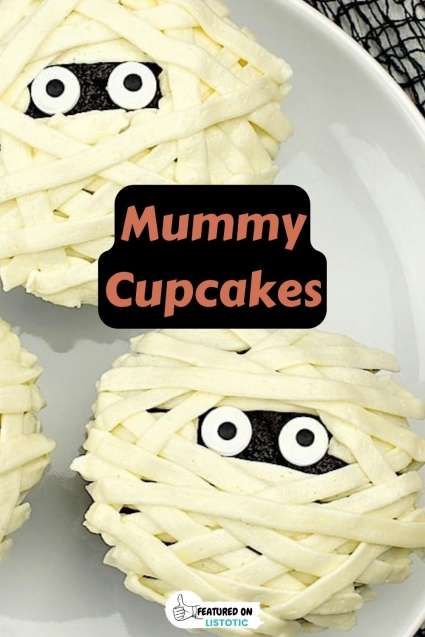 9. Vampire Teeth Cookies
These are probably my favorite Halloween treats to make because the kids always get a huge kick out of them! That, and they're so easy to make. You will just need store-bought chocolate chip cookies (or you can make your own if you want), mini marshmallows, red decorating gel or frosting, and almond slivers.
Cut your cookies in half (make sure that you use a good knife and that your cookies are the softer kind or they'll just break into pieces), and then use the gel or frosting as a glue to hold your marshmallows in place. In addition to the outer rim of the cookies, you will also need marshmallows in the center of the cookies to keep them stable. Place the almond slivers in-between the mini marshmallows where you want the "fangs" to be. You may need to add a little extra frosting to the almonds to keep them in place.
If you're making these for a party, assemble them the day of so that the marshmallows will still be soft. They don't keep well sitting out too long. These are great for school parties! The kids think that they are SO cool. 🙂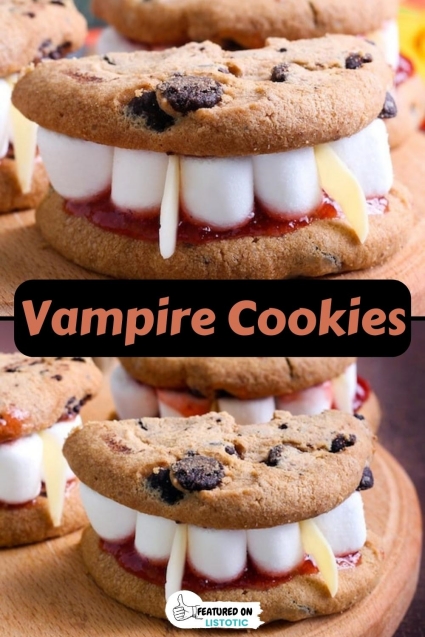 10. Finger Cookies
Finger cookies are a must for every Halloween party! But for the most realistic looking fingers, you should try to use a shortbread cookie recipe NOT a sugar cookie recipe, unless you want round, blobby fingers. I used a store-bought sugar cookie dough and added a bit of flour to the dough. They turned out OK, but not super realistic.
Roll your dough into finger shapes (you can even go as far as shaping them with knuckles, and slashing them with a knife to create the knuckle wrinkles), and then place a whole almond or almond sliver into the dough where the nail should be. ***If you're taking your time making the fingers, you may need to leave some of the shortbread dough in the fridge to keep it from getting too soft, and also place your dough that has already been shaped into fingers back in the fridge until they're ready for the oven.*** Bake them according to your recipe instructions.
That's it! But, if you want to take it a step further, try putting a little red decorating gel on the ends of the finger cookies to make it look like the fingers were sliced off. Gross! If you want to make witch finger cookies, just add a bit of green food coloring to the dough.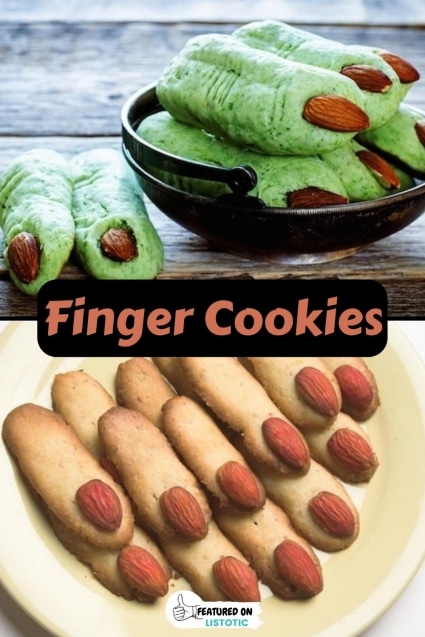 11. Halloween Bark
Chocolate bark is the easiest way to make a holiday themed candy, especially for Halloween! I love using candy eyes because they really give you the full effect. You will just need melting chocolate and an assortment of candy for this recipe.
INSTRUCTIONS:
Line a baking sheet with parchment paper.
Melt your chocolate in the microwave until smooth (you can use melting chocolate or chocolate chips).
Pour the chocolate onto the parchment paper, and use a spatula to smooth it out. It should be about a 1/4 inch thick.
Place the candy of your choice onto the chocolate: candy eyes, Reese's pieces, candy corn, pretzels, chopped Oreos, toffee bits, nuts, sea salt or any chopped candy bars.
Chill it in the refrigerator for about 45 minutes or until the chocolate has fully hardened.
Slide the bark onto a cutting board and then chop it up into random size pieces.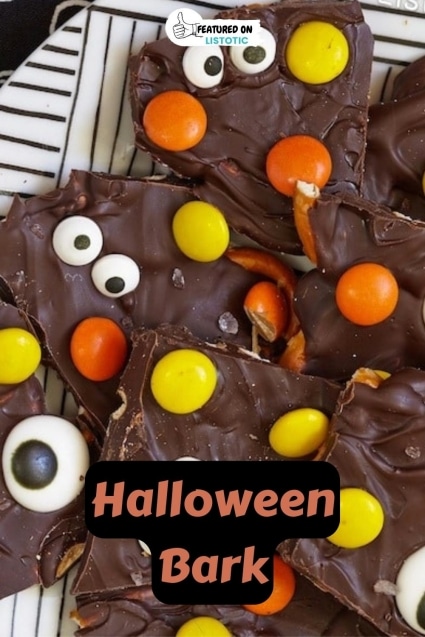 You might find this to be a bit strange, but there isn't any ACTUAL Butterfinger in this fudge. So why is it called Butterfinger Fudge? Because it tastes just like it! Just like most fudge, it's super-rich and extremely satisfying. Get the recipe right here on Listotic.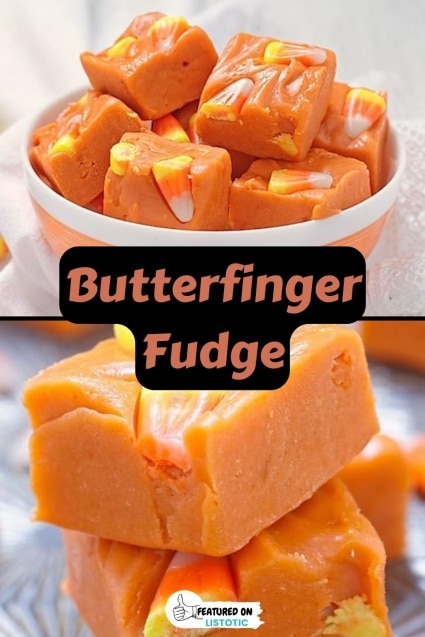 13. Oreo Owl Cupcakes
Ok, there aren't any actual instructions needed for these adorable owl cupcakes. As long as you know what an Oreo is, I think you can figure it out. I just get store-bought chocolate cupcakes, and then I'm only left with the fun part– assembling the cute little owl face! The only bad thing about these cupcakes is figuring out what to do with the non-frosted side of the Oreos? I guess you'll just have to eat them. By the way, a candy corn or M&M nose also looks super cute in place of the orange frosting!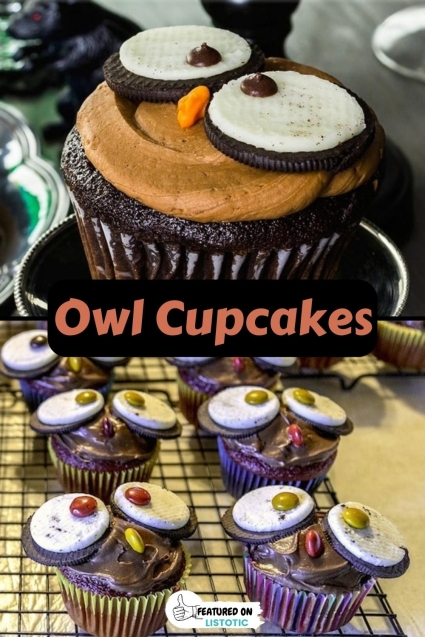 14. Halloween Fruit Snacks
Healthy Halloween snacks aren't always something to get excited about, but if you're creative enough, the kids will eat just about anything that is as cute and fun as these ghost bananas and clementines! Just use your imagination when serving snacks and meals to the kiddos around the holidays. Sometimes it's the little things that will get you the biggest smiles.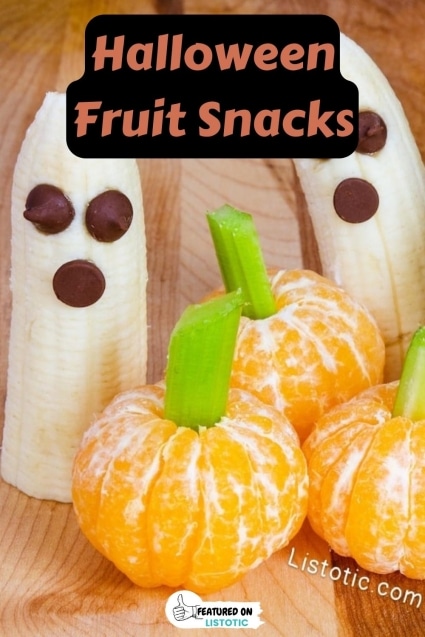 15. Eyeball Treats
If you're looking for a last-minute Halloween treat to put together, that's all you have to do is put candy eyes on just about anything! Put them on top of cookies, cupcakes, pudding cups, fudge squares, cake pops, fruit, or anything else you can think of! Last year I bought 2 dozen cupcakes and decorated them with candy eyes for a school party. They were so easy, and yet a big hit with the kids!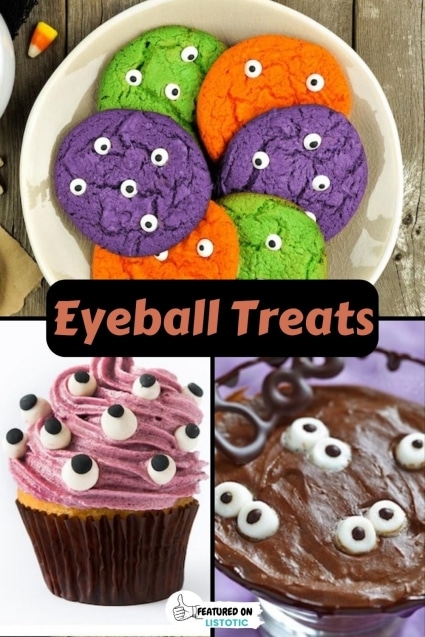 This might be the quickest and easiest Halloween Treat on the list! If you like peanut butter cups you'll enjoy these pretzel witches broomstick treats. Get step-by-step instructions for these super quick last-minute Halloween treats right here on Listotic!