No-bake Halloween Chocolate Witches Broom Pretzel Treats
So, did you run out of time to make Halloween party treats? Witches broom pretzel treats are no-bake Halloween treats for a party! These would be great for a Halloween movie night but that certainly isn't all, you can make them for just about anything. How fun would these be to bring to the October book club party? Witches brooms are fun finger-friendly snacks kids and adults will be snatching up. They are great for kids because they come with have a handle to pick them up, with no hands digging around the candy bowl! Another perk is since they are already unwrapped kids won't be getting melty chocolate hands all over their costumes.
This post contains affiliate links. Please see our Disclaimer Policy.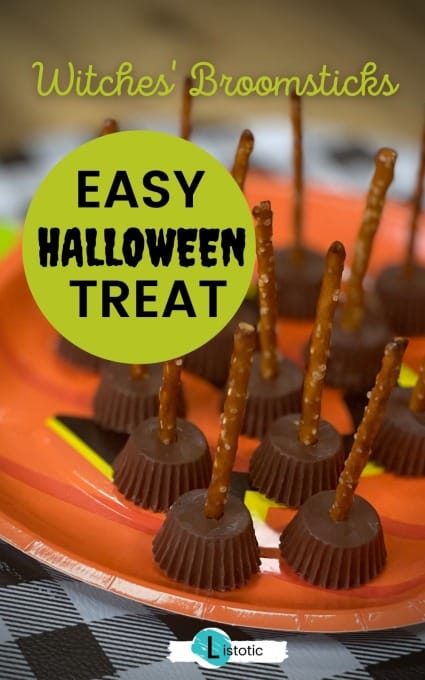 Witches broom pretzel treats are a great edible Halloween craft idea to do with the kids! The shopping list is small and the witchcraft satisfaction is big! These take under 10 minutes to make, certainly, you have time for that, don't you?
How to make Witches Broom Pretzel Treats
All you need for this simple treat are two ingredients. Peanut butter cups and pretzel sticks. And guess what? You are in luck because you can find these two ingredients at just about any convenience store. But be careful about the thickness of those pretzel sticks. I find Old Dutch pretzel sticks to be a perfect size.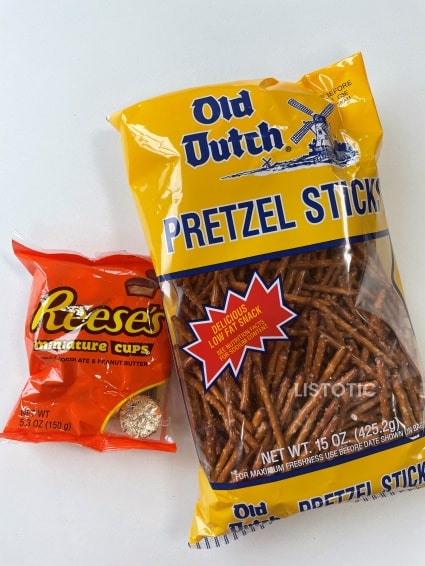 Ingredients:
Materials:
0.2-inch diameter plastic or metal Straw (or two)

Instructions:
Firstly, place Reese's miniatures in the freezer. Don't skip this step because it will help get the wax wrapper off. You certainly do not want the chocolate sticking to the sides. Leave them in the freezer for 5 minutes, so they can get firm.
Secondly, quickly unwrap your Reese's miniatures before they warm up. Place them with the larger side down on the wax wrapper. You want the smaller side up because it looks more like a broom that way.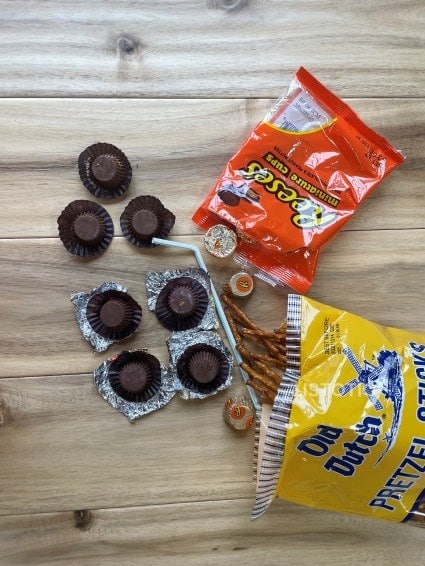 Let the candies come to room temperature before you do the next step because it will make the next step much easier for you.
Using the straw Poke a hole into the center of the candy. Push it about 3/4 of the way through but not all the way through. The straw will remove just the right amount from the center.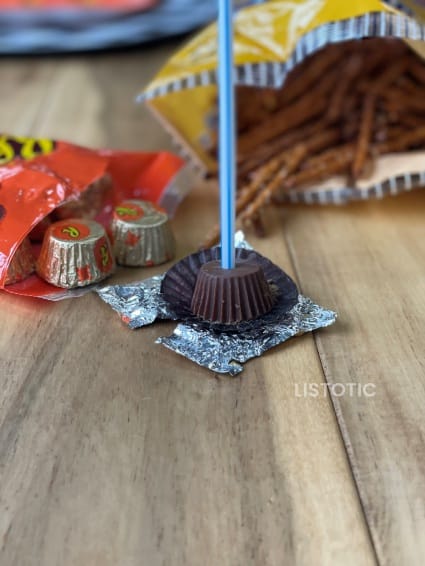 Finally, place a pretzel stick into the hole but don't push too much, because you could break the chocolate.
Repeat! I think your kids will really enjoy making these because they are so easy. Be sure to make a bunch because they look even better when all together. So, all you have left to do is to add to your Halloween Dessert Stand!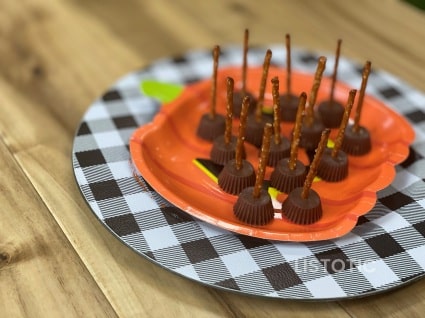 NOTE: Most importantly be sure not to push the straw all the way to the other end of the candy. Why do you ask? Because going all the way through could break or crack the peanut buttercup… and then you will have to eat it… but that's not such a bad idea. So, you could just try it once to understand what I'm saying here. (wink, wink)
Print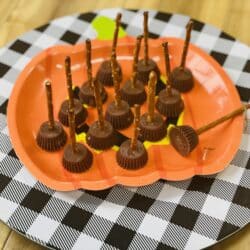 Witches Broom Pretzel No-Bake Halloween Treats
Author:

Prep Time:

5 minutes

Total Time:

7 minutes

Yield:

20

Category:

treats

Method:

quick
---
Description
Easy fun no-bake Halloween treat kids will love!
---
Reese's Peanut Butter Cup – Miniatures
Rold Gold Pretzel Sticks – or any thin pretzel sticks.
---
Instructions
Freeze Reeses Peanut butter cups for 5 minutes
Quickly and gently remove the peanut butter cup from its paper lining
Flip the peanut butter cup over so that the larger surface is down and the smaller surface is up
Using a plastic or metal straw. Poke a hole into the peanut butter cup. Push the straw about 3/4 through the candy. Remove the straw.
Place a pretzel stick into the open hole
Repeat!
---
Notes
0.2-inch Diameter plastic straw works best for the pretzel stick hole.
Make sure you don't go all the way through the candy otherwise the outside chocolate will crack and it will break apart.
You might need a couple of straws if the ends get too full. Don't forget you can turn them over and use both sides.
Keywords: kids, Halloween, Treats, Peanut butter cups, witches broomsticks, pretzel witches brooms
In conclusion, these threats are some of the easiest treats you could make for Halloween but also the quickest! So, are you going to try it? I think you should because it's really easy, plus it looks great with your other Halloween recipes. Be sure to save this PIN on Pinterest too. Because I'm certain you are going to want to remember next year.