Last Updated on November 1, 2023
Spooky Fun Healthy Halloween Snacks
Can Halloween be fun with healthy Halloween snacks? What is a "healthy" Halloween treat even? Don't get me wrong, I have a HUGE sweet tooth! I can't resist candy corn or caramel apple pops; two serious weaknesses of mine. I spoil my kids in the month of October with lots of sweets, but we all know that overloading on sugar obviously isn't healthy. It also changes our tastebuds, leaving nutritious food not as appealing.
I've found that the trick to getting my kids to eat healthier options is to just make it FUN! That's what Halloween is all about, right? It's amazing how I can get my kids to eat things they wouldn't otherwise touch with just a few clever ways of preparing and putting it together. Here are some really creative non-candy Halloween snack ideas to get you inspired!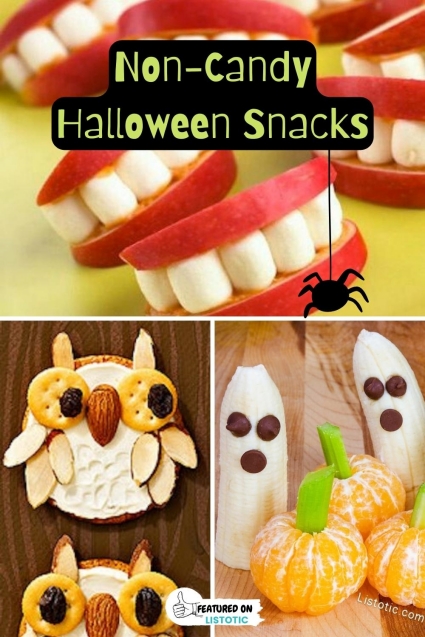 This post contains affiliate links. Please see our Disclaimer Policy.
1. Mummy Toast
With few clever placements of sliced cheese and olives, turn a plain piece of toast or pizza into a creepy little mummy snack!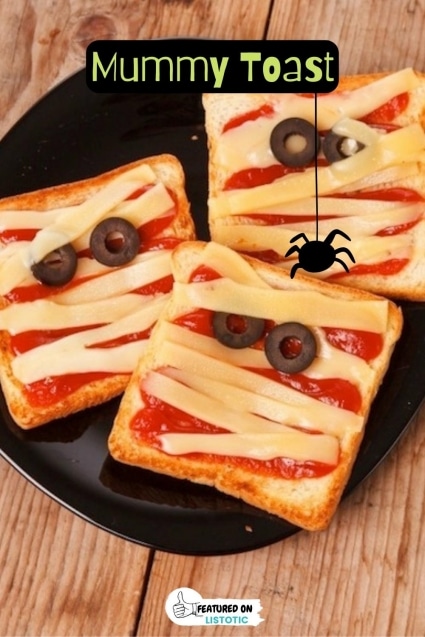 2. Pizza Fingers
My family's favorite dinner: PIZZA! Slice it nice and thin and place a triangular-shaped piece of red bell pepper on the ends to form ugly but tasty fingers.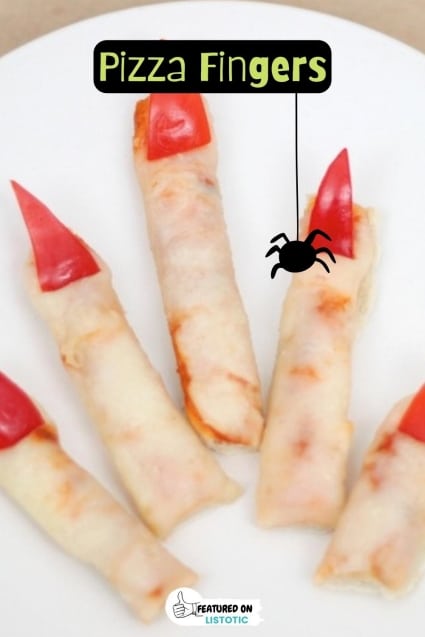 3. "Candy Corn" Veggie Platter
This arrangement will make the kids forget they're eating something healthy! It's also very colorful and festive on a party table. Serve it with a side of ranch, hummus, or your favorite veggie dip. Not only is the candy corn veggie tray cute but check out that pumpkin filled with hummus! I just can't get over how cute these healthy Halloween snacks look together side by side.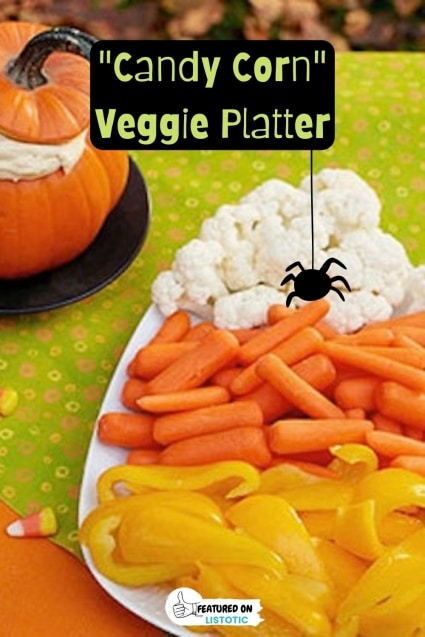 4. "Boo"Nana Pops
Although this is made with white chocolate (only half an ounce each pop), it's much healthier than candy, and certainly, a frozen Halloween snack that the kids will love! They will also enjoy being your little kitchen assistant on this one.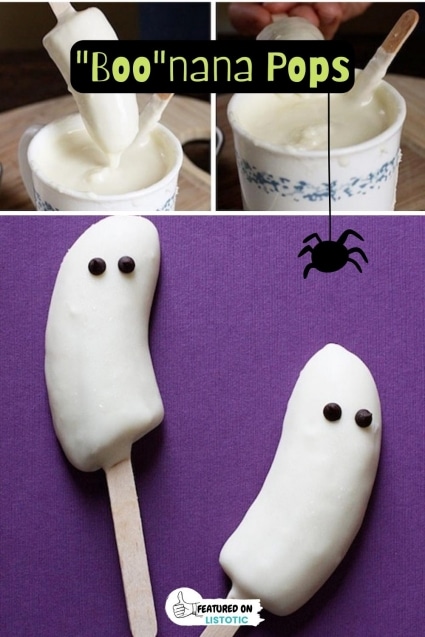 5. Spooky Fruit Spider Snack
This actually IS scary! Although it's just made with fruit, I can't help but think it's going to start crawling around on that plate. And, the edible eyeballs are the icing on the cake.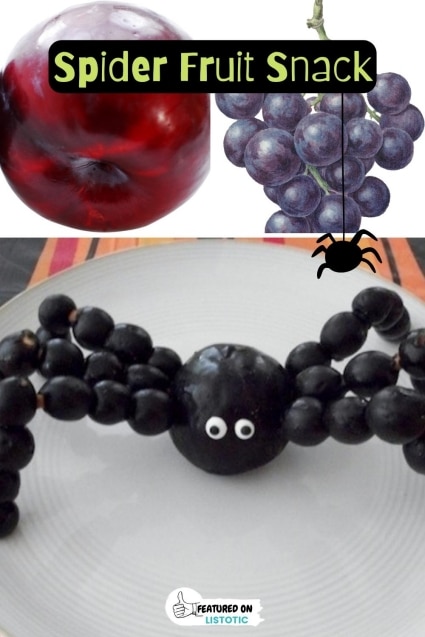 6. Spider Web Pizza
How creative! Not enough cheese for me, but I'm a cheese maniac (I'd douse mine in a bottle of parmesan). I love the spider detail with the black olive, too.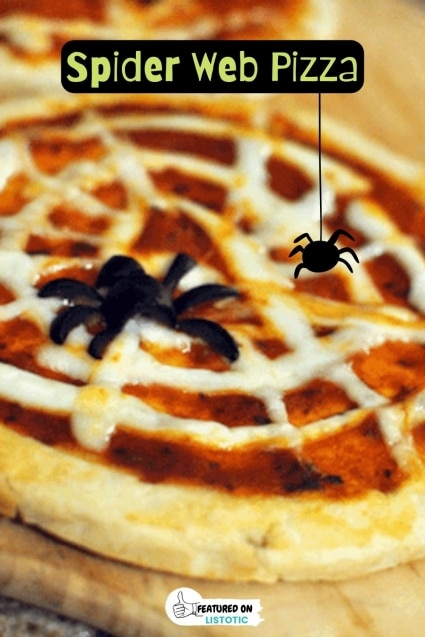 7. Cheesy Witch Brooms
These edible witch brooms are just perfect packed away in a school lunch or displayed on a party platter. Use kitchen scissors to slice the bottom half of a cheese slice, wrap it around a pretzel stick, and then use a fresh chive as a string to hold it in place. So easy!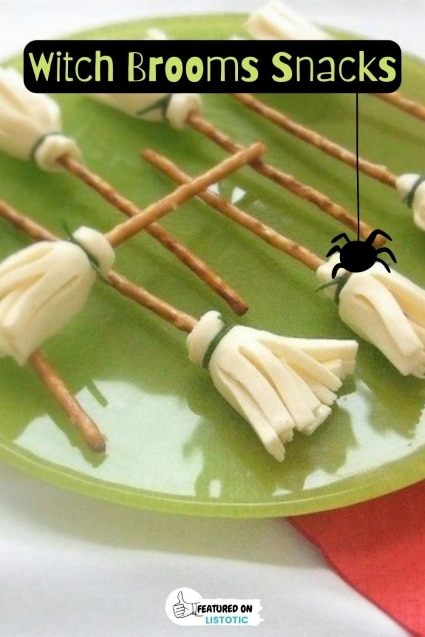 8. Banana Ghosts
It doesn't get much easier than this! Surprise the kiddos with this for breakfast or as an after-school snack.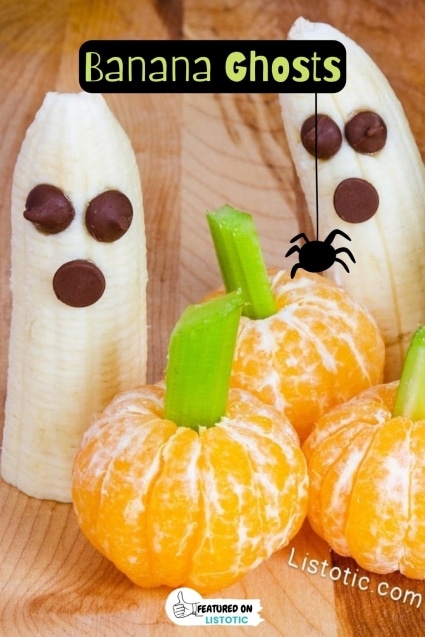 9. Spider Crackers
These little cracker spiders would be a hit for a school party! Peanut butter sounds better to me as the stuffing, but cream cheese is more allergy-friendly–maybe make a few of both?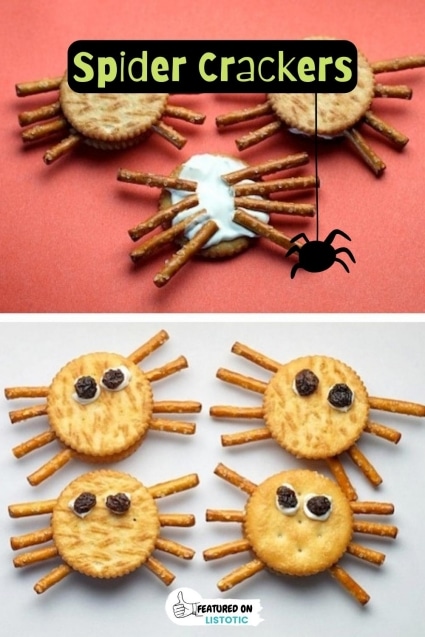 10. Spiderweb Nacho Spread
The BEST Halloween party dip! Who doesn't love a bunch of yummy layers topped with a sour cream spider web?? Serve this party dish with a side of tortilla chips and you're set.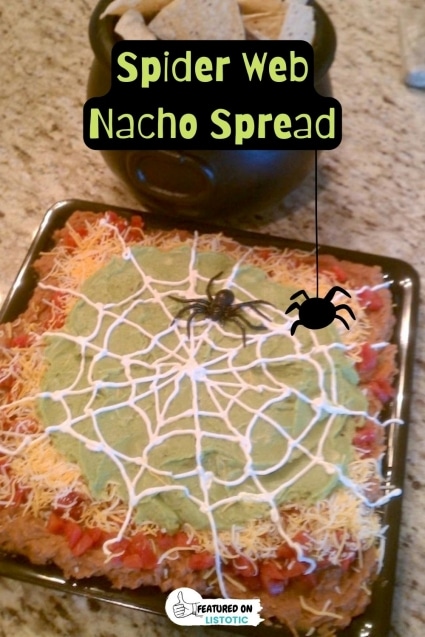 More Healthy Halloween Snacks!
11. Jack o' Lantern Hummus Plate
This Halloween-inspired party dish is made with a roasted red pepper hummus (for the orange hue), and black beans or olives for the jack o' lantern face. Serve it with crackers, chips, or veggies! I would use a celery stick for the stem, too.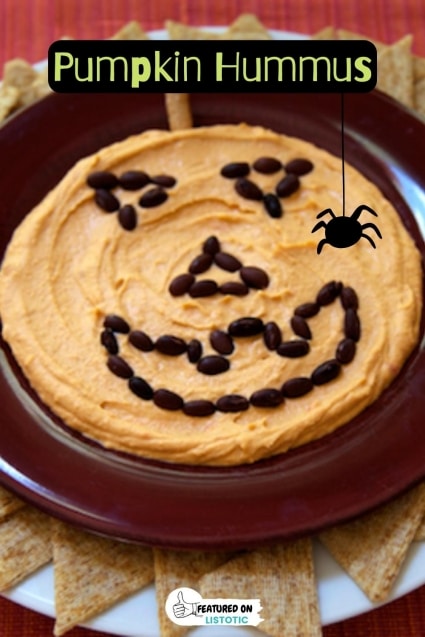 12. Clementine Pumpkins Healthy Halloween Treat
It's amazing how such a small detail can turn an ordinary clementine into such a fun Halloween snack for kids! It will also dress up a fruit tray quite nicely.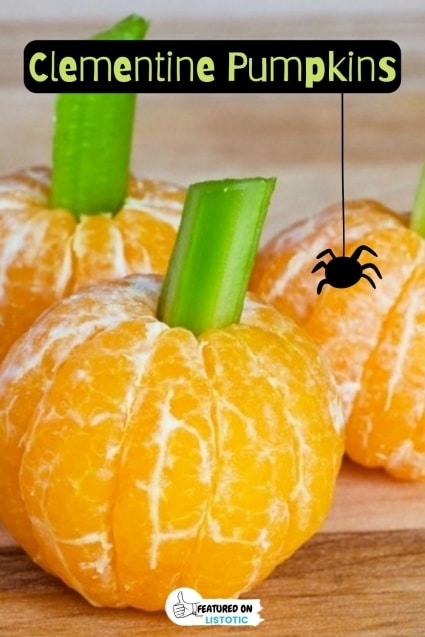 13. Mini Spider Sandwiches
School lunch just isn't complete without these mini spider sandwiches! Surprise the kids on Halloween with a creative and fun version of their favorite sandwich.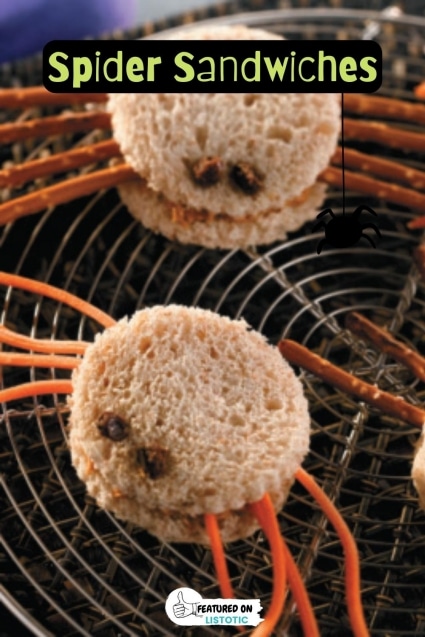 14. Cheese Pumpkins
Form soft cheese into balls, and then carve out the pumpkin lines with a toothpick. Now, insert a pretzel as the stem and enjoy with your favorite crackers! You could even do a larger version of this with your favorite soft cheese dip.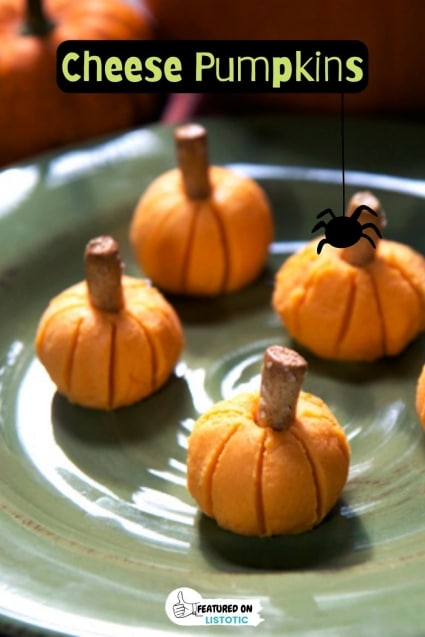 15. Octopus Hot Dogs
Our eight-legged friend here is easy to make and the kids really get a kick out of them! Use a bit of ketchup or mustard to make eyes.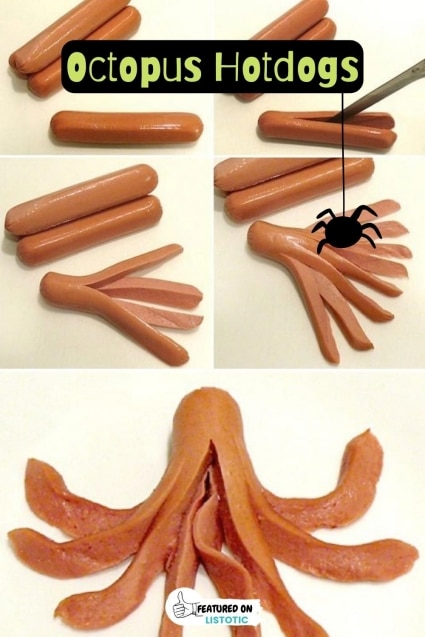 16. Salty Bones
Easier than it looks! These salty bones can be made with refrigerated bread stick dough. Just slit them a bit on each end, and then fold the flaps to look like the end of a bone, bake, and serve them with a bowl of warm soup!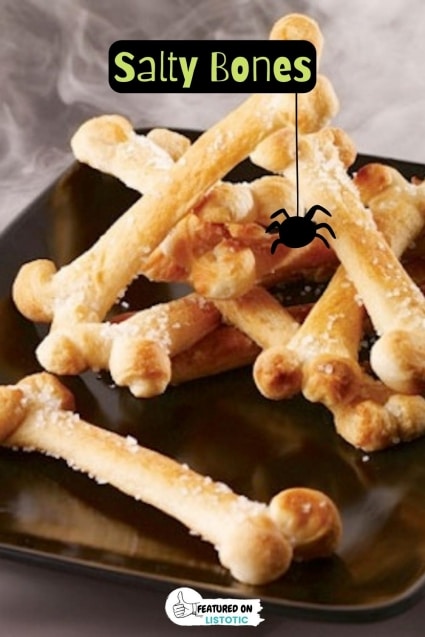 17. Popcorn Witch's Hand
These are perfect little Halloween party favors! Fill a non-latex glove with popcorn and something in each finger to resemble the nails (raisins, candy corn, almonds), tie off the end, and maybe even accessorize with a plastic spider ring. Easy and fun!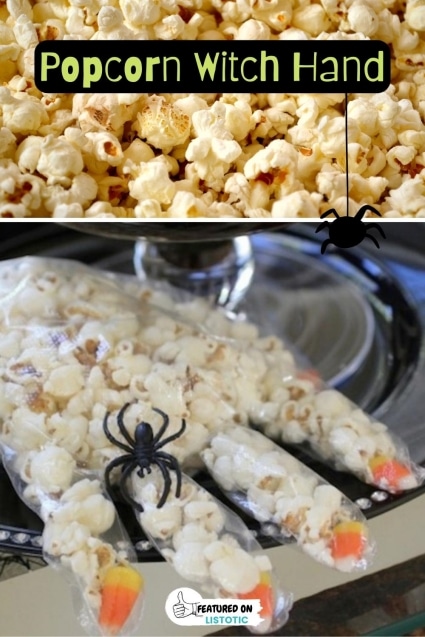 18. Apple Monster
This apple monster is just begging to be eaten! I love how the almond slivers make for such gnarly teeth. You could even place a bit of peanut butter in the mouth or use another piece of apple to make a tongue.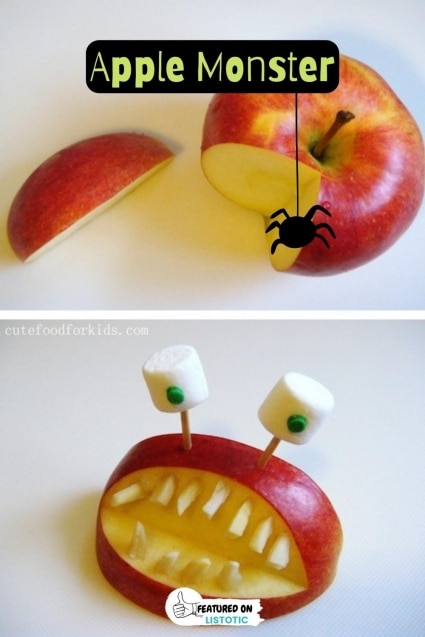 19. Olive Snake
This slithering olive snake is the perfect addition to your favorite cheese or hummus dip. Add little cheese eyes and a carrot tongue to really get the full effect. You could also serve this alongside a salad or on a snack plate for the kids. Here's a link to candy eyes to make your snake life-like.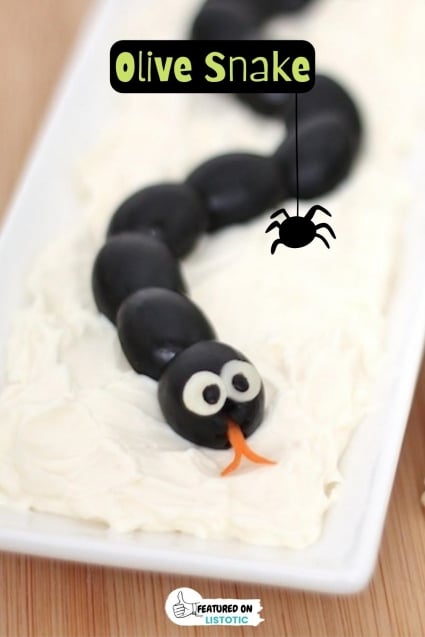 20. Hot Dog Mummies
Pigs in a blanket, Halloween style! What a fun party idea or after school snack for the kids. Bonus: these hot dog mummies are so easy to make and take very little time.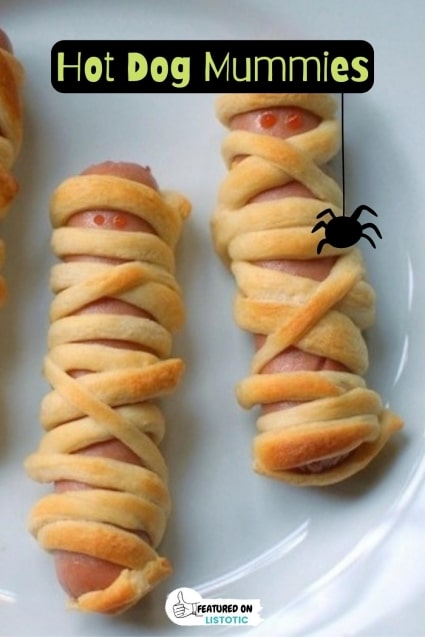 21. Jack o' Lantern Orange Packets
If you're looking for something easy and healthy to take to a school party, this is it! The mandarin oranges are already packaged for easy transport, now all you have to do is draw on jack o' lantern faces with a Sharpie. You could also draw other Halloween characters (bats, black birds, Frankenstein, etc.), or write the word "Boo!".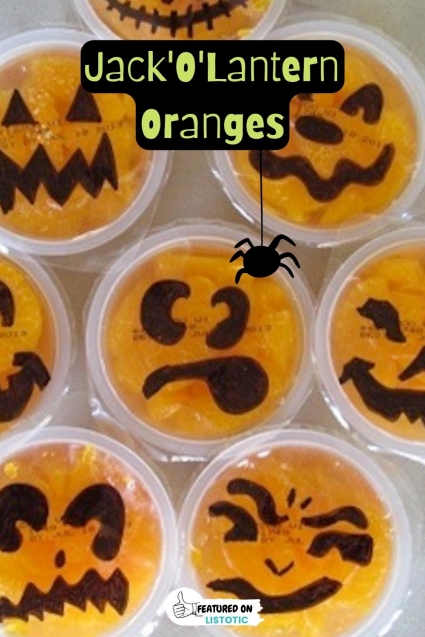 22. Celery Mummies
Garden vegetable cream cheese and deli meat make up these cute celery mummies! It's easiest to pipe the cream cheese on for a cleaner look, and then cut your deli meat into small strips and place them in a criss-cross pattern. Then, use raisins or dried cranberries for the eyes.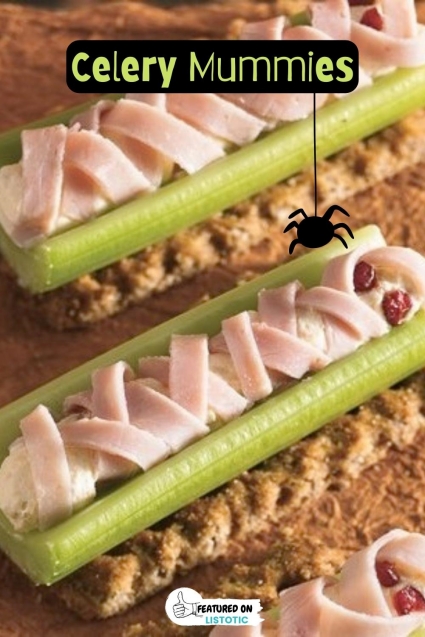 23. Goblin Grins
These goblin grins are a nice addition to a vegetable tray! You could also use them on a snack plate and use other veggies for the eyes and nose. Cute!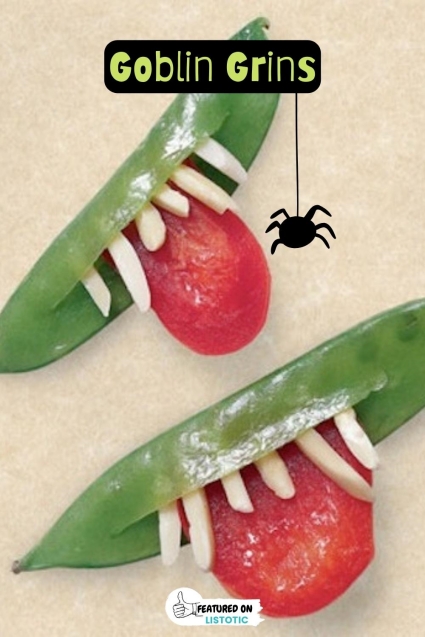 24. Cheese Eyeballs
Everyone loves those yummy little Babybel cheese rounds, and they just happen to be perfect for making edible eyeballs. The kids are in for a surprise when they open up their school lunch and see what's waiting for them!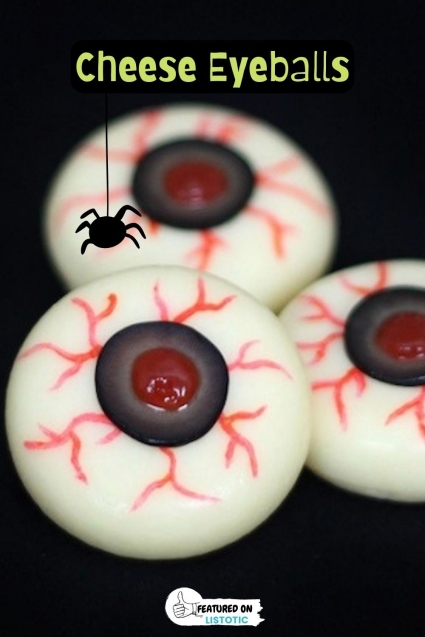 25. "Candy Corn" Fruit Cup
It's all about the presentation! Stack pineapple, orange slices, and whipped cream or yogurt to create a healthier take on candy corn.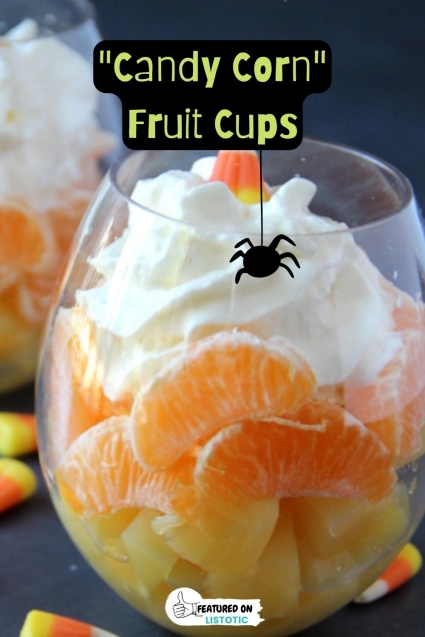 26. Ghost Cheese
Another creative cheese idea for Halloween! These octopus ghosts are pretty easy to pull off considering the string cheese is made to be easily strung and taken apart. Ultimately, add them to a snack plate with crackers and fruit, and the kids are sure to love them!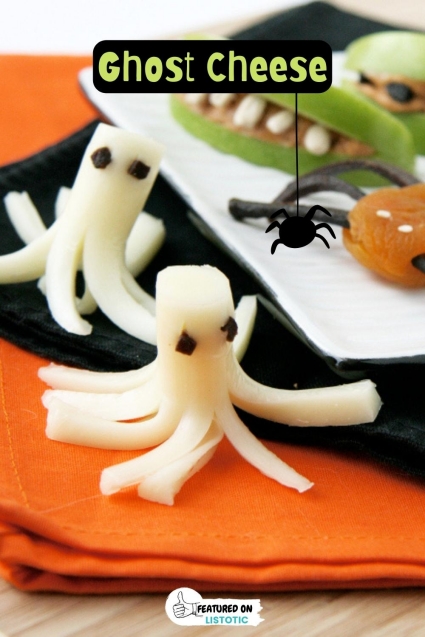 27. Stuffed Roaches
Ewww! Well, wait. They're just dates stuffed with cream cheese. Yum! If you're serving at a party, be sure to make a little sign that says "Stuffed Roaches" to make sure everyone is grossed out.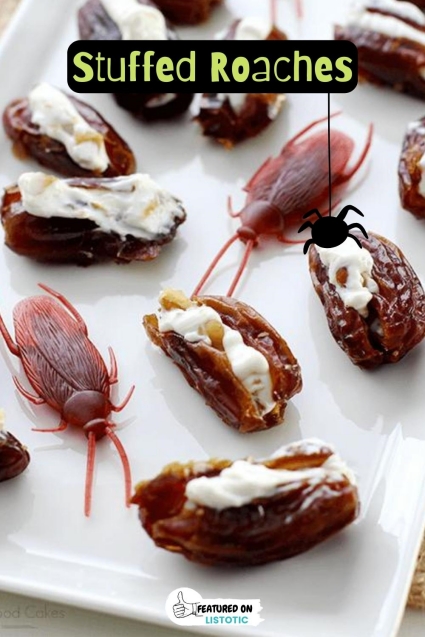 28. Hot Dog Fingers
Those little knuckle slices are just enough to make these hot dog fingers repulsive enough for Halloween! Garnish them with ketchup to resemble blood, and an onion slice for the yucky nail.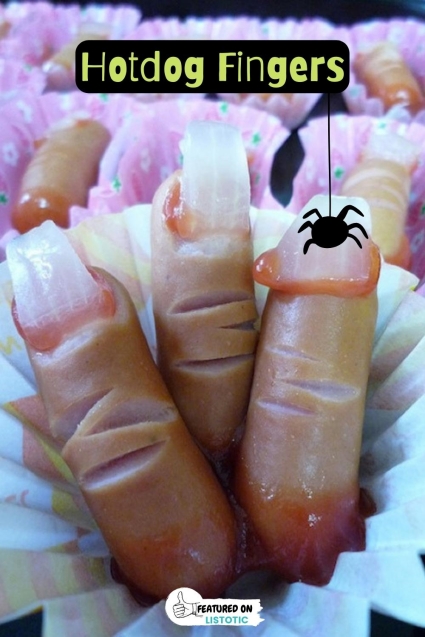 29. Veggie Skeleton
This vegetable skeleton covers just about every veggie you could ever want on a veggie tray! I love how the head is the dip bowl, too.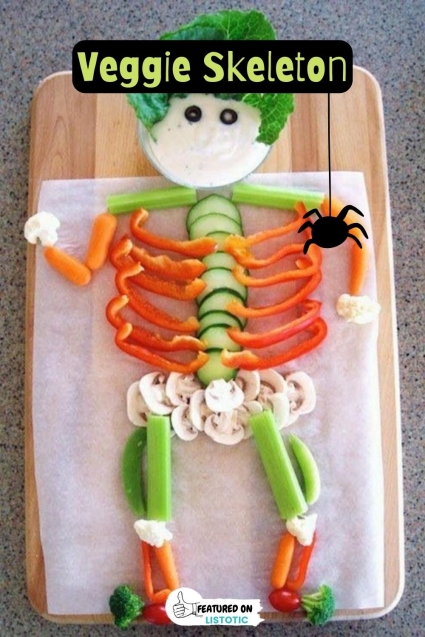 30. Eerie Eyeballs
Stack different-sized dried fruit to make these sweet but nutritious eerie eyeballs for Halloween!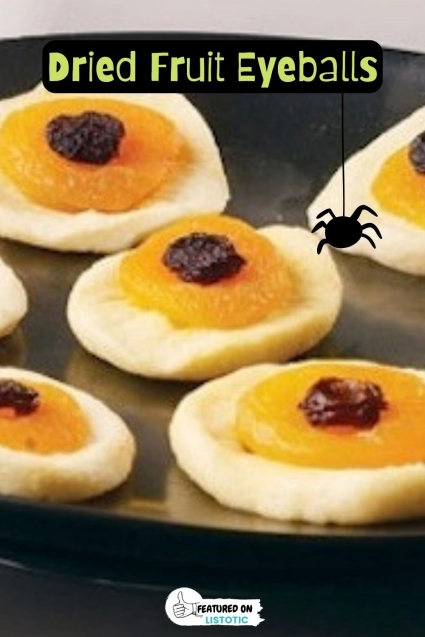 Keep scrolling for more healthy Halloween snack ideas!
31. Halloween Deviled Eggs
Deviled eggs have always been my favorite snack to bring to a party, although mine are usually pretty boring. Get creative with them this Halloween by topping them with an olive spider or eyeball, or how about those little "pumpkins" with the chive stem?! For more inspiration, check out these 8 creative deviled egg ideas and recipes.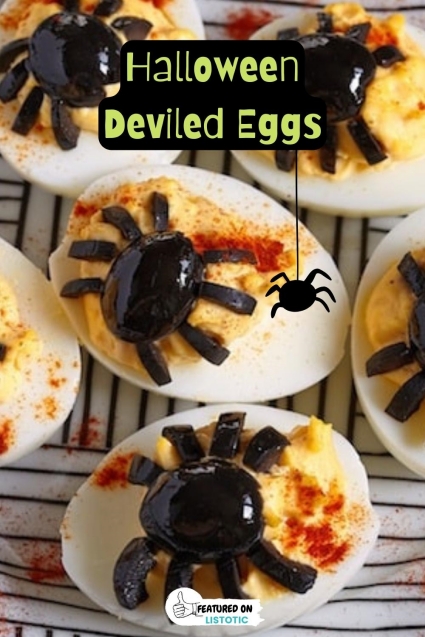 32. Eye-Popping Soup
Bite-size mozzarella balls and pimiento-stuffed green olives are just right for floating eyeballs in your soup. And, check out the olive bug crawling on the side of the bowl. How creepy!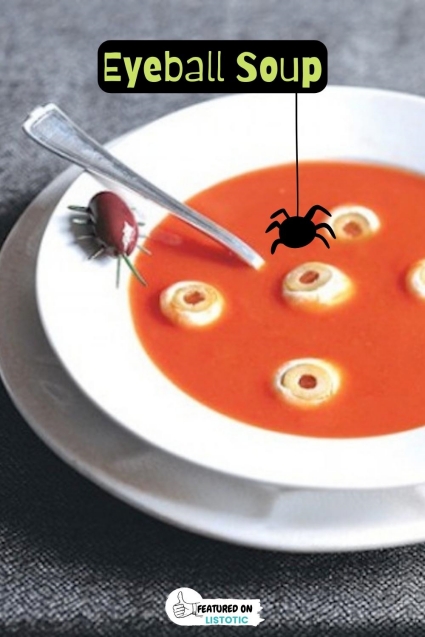 33. Spooky Cheese Pops
You put anything on a stick, and my kids will eat it up like it's candy. Babybel cheese is so much fun to eat AND decorate, kind of like these spooky cheese pops for Halloween!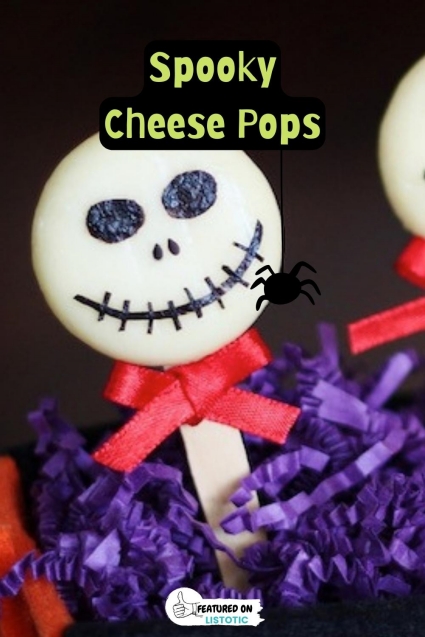 34. Edible Eyeballs
Edible and healthy Halloween snacks! Carrots, cream cheese, and sliced black olives make up these fun edible eyeballs for Halloween.
35. Jack o' Lantern Cuties
Let the kids have fun decorating the peel of their own cutie, and then have all of the fun eating them, too! Or, surprise them with one in their lunchbox.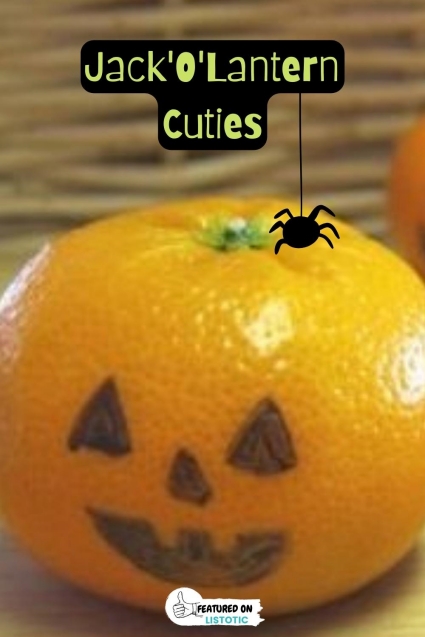 36. Stuffed Jack o' Lantern Peppers
Stuffed peppers are one of my new favorite healthy dinner options. Make a few cuts in the face to resemble a jack o' lantern, and the kids will love them just as much as you! Get the recipe and instructions here.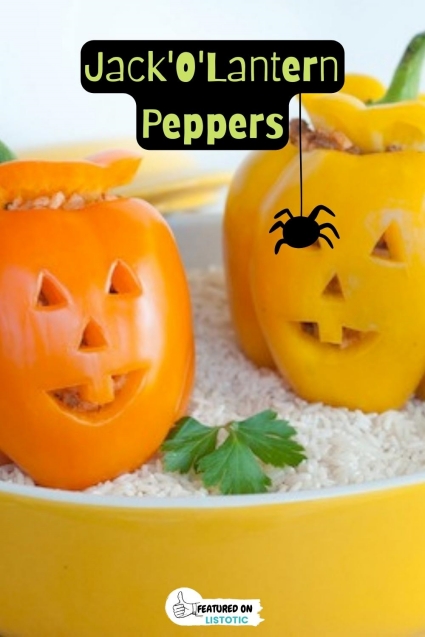 37. Hot Dog Caterpillar
Hot dogs, AGAIN! No wonder kids love these things. They're so versatile and fun to make cute food creations with. This caterpillar is a cute after-school snack, or alongside dinner just to make it a little more festive.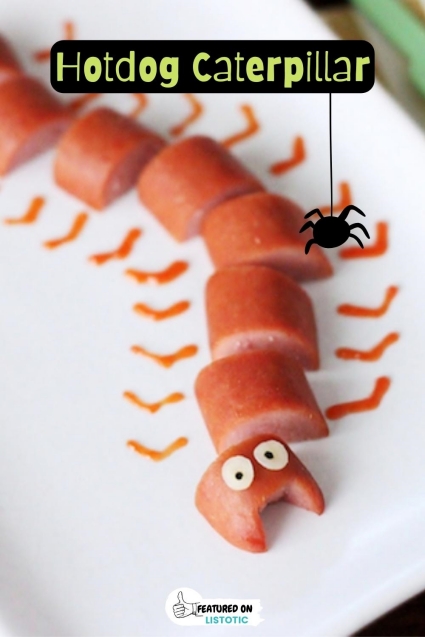 38. Caterpillar Grape Kabobs
While we are on our caterpillar kick, here is my favorite way to serve grapes! They're perfect for a party or as a Halloween snack for the kids.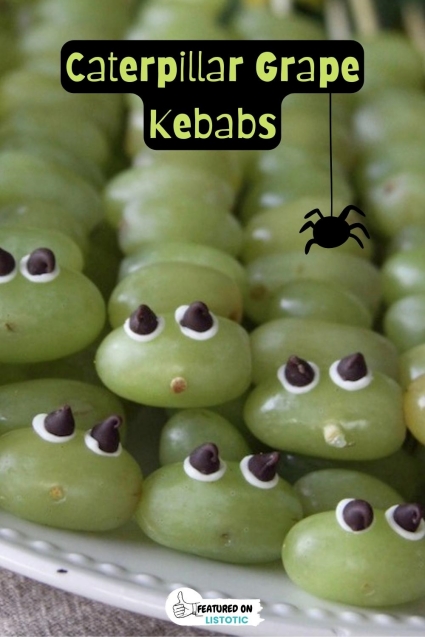 39. Jack o' Lantern Snack Plate
Make the kids' snack plate that much more fun with just a few creative arrangements! For instance, think jack o lanterns, witches hats, scarecrows, ghosts and more!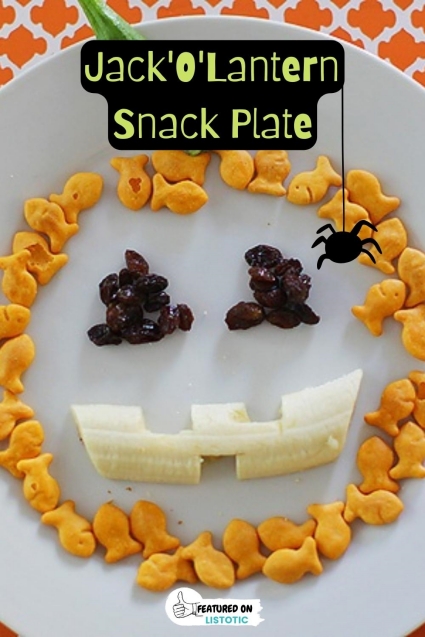 40. Cheese Creatures
Get creative with those cookie cutters and use them for things other than cookies!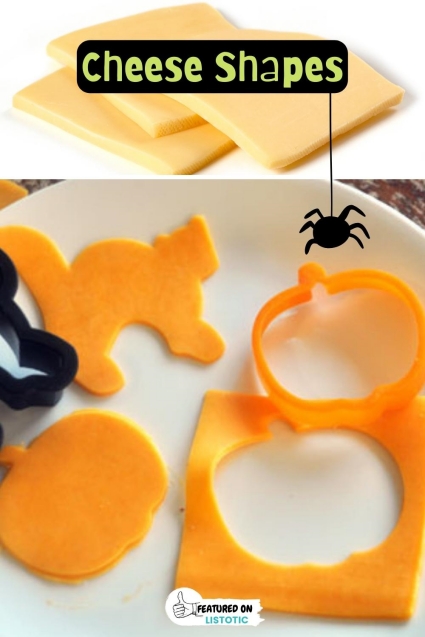 41. Carrot Fingers
A creepy carrot hand sticking out of your cheese dip is the perfect way to dress it up for a healthy Halloween treat! By all means, you will want to serve it with more carrots, veggies, and crackers or your hand will disappear!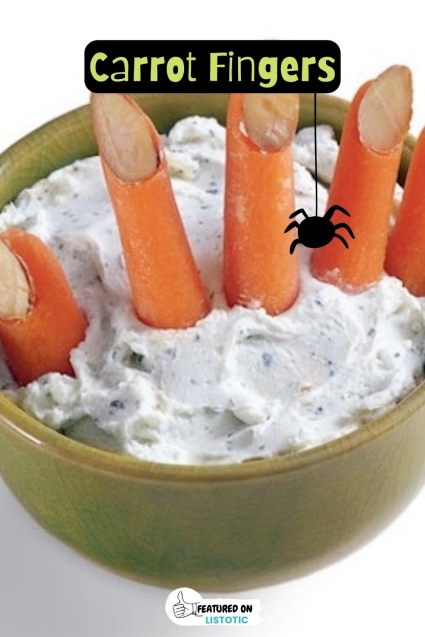 42. "Candy Corn" Pizza
No candy here, folks. But check out how easy it is to make a candy corn-themed pizza! Just rim the edges with cheddar and bake!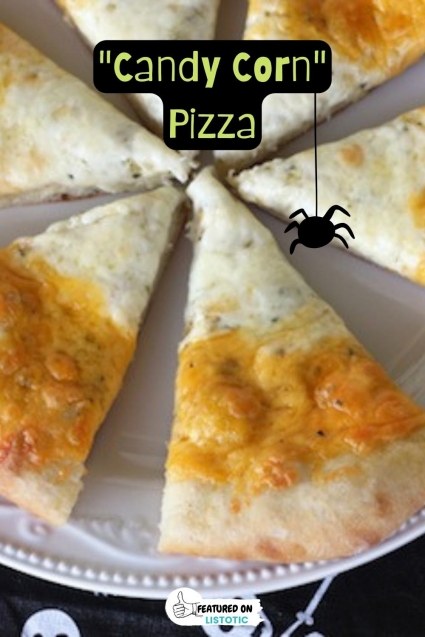 43. Bloody Band-Aids
No actual blood here, but the simple use of graham crackers, cream cheese, and strawberry jelly is enough to put you in the Halloween spirit!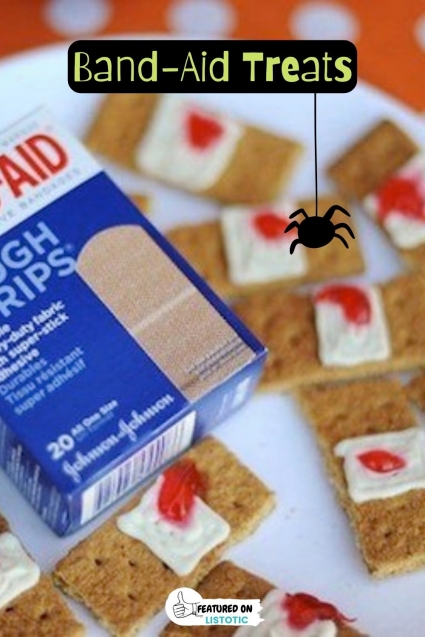 44. Spiders On A Log
Self-explanatory, really. Little plastic spiders will make any healthy Halloween snack or treat frightening! Plus, you could use black olives to make edible spiders.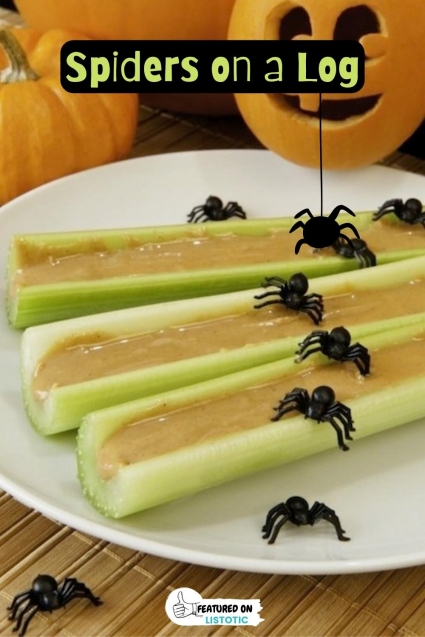 45. Breakfast Ghost
The Halloween breakfast of champions! The clever use of bananas and Cheerios makes breakfast so much more fun and festive.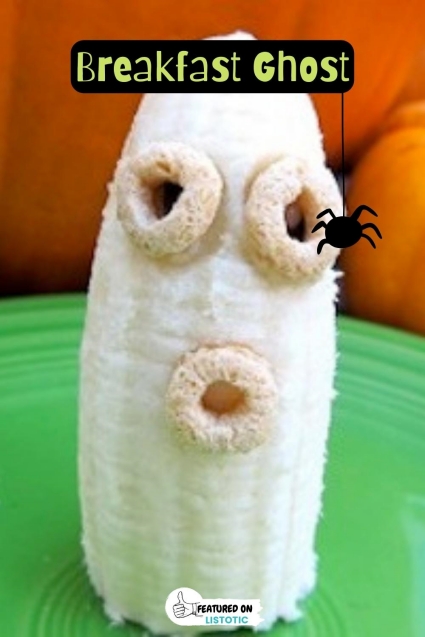 46. Jack o' Lantern Carrot Platter
This pumpkin veggie tray has it all! The eyes and nose are used for the dip, and broccoli for the stem. Just arrange it on a large round platter for a Halloween party.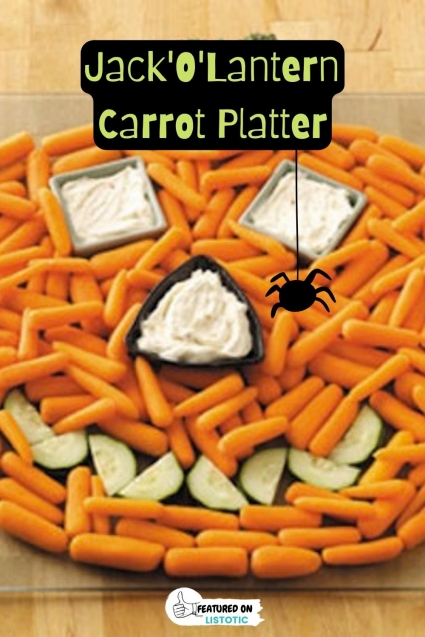 47. Apple Smiles
I've been doing these apple smiles for some time now, and the kids LOVE them! They're just as fun to make as they are to eat. Use peanut butter as your glue to hold the mini marshmallows in place. You can make quite a few of these from just one apple.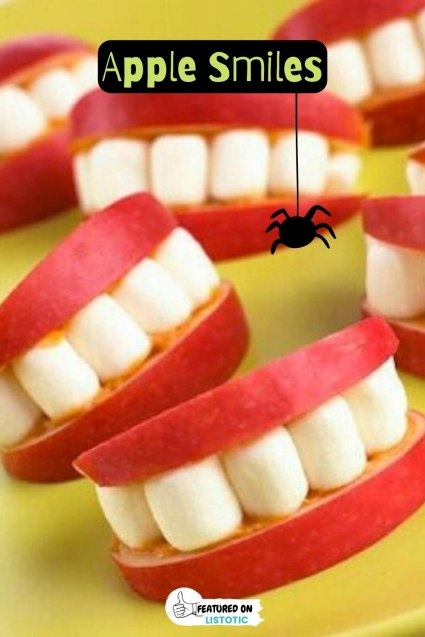 48. Haunted Pizza
A ghost-shaped cookie cutter will do the trick! The cheese tends to melt and turn into a big blob if baked too long, so bake your pizza first, and then add your cheese 5 minutes before it's done. Then, use pieces of olives or capers for your eyes.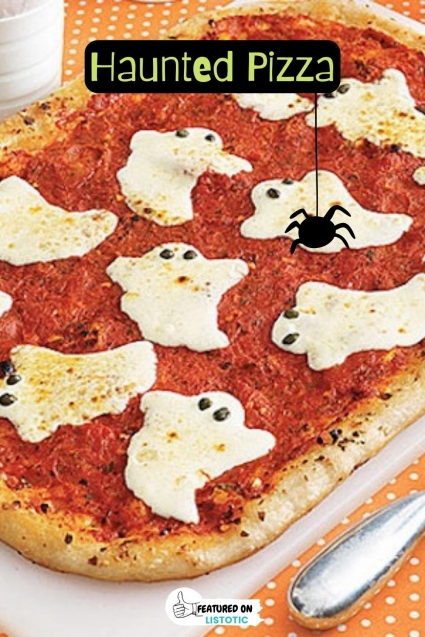 49. Tombstone Sandwiches
Turn their favorite sandwich into a tombstone! You can get two of these out of one sandwich (depending on the size of your bread). First, make your sandwich. Then, just cut them to shape with a knife, perhaps using a round cookie cutter as your guide for the top. Finally, place black paste food coloring, ketchup, jelly or mustard in a plastic sandwich bag and cut a very small piece off of one of the corners to use as a piping bag to write your heading.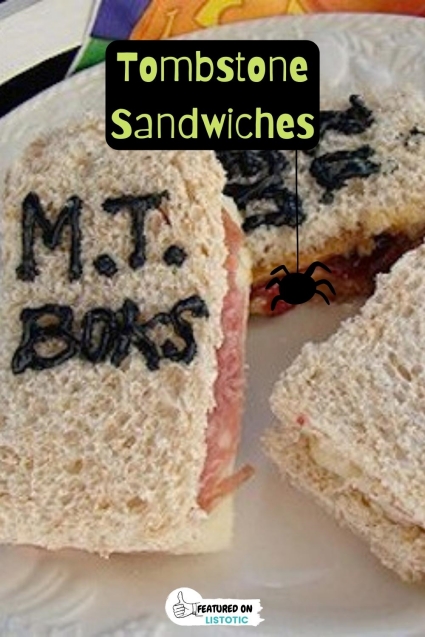 50. Apple Bites
If you or your family likes apples with peanut butter, this is for you! The slivered almonds make them look just like little monster mouths! A perfect little healthy Halloween snack that the kids will love.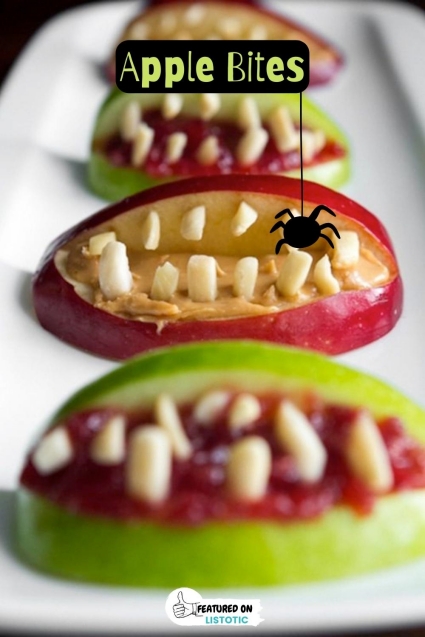 51. Lil' Cucumber Monsters
Let the kids get creative and build their own little edible monsters made out of cucumber disks. Hummus or cream cheese makes for the perfect glue to hold it all together.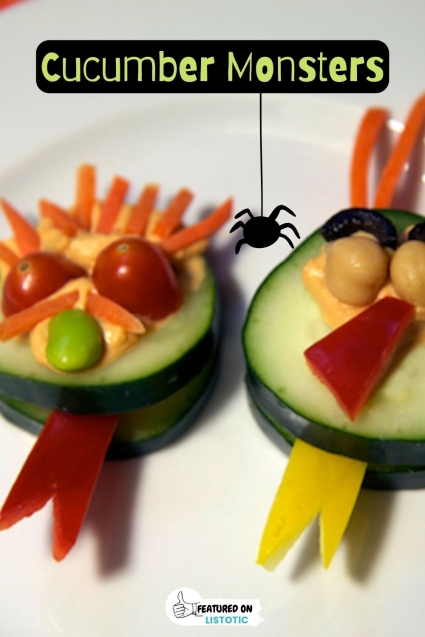 52. Carrot Patch Hummus
Slice carrots into disks, slide them on toothpicks with a piece of parsley (for the "pumpkin stem"), and serve them with your favorite hummus dip. Additionally, you could lay these on a plate with a bowl of ranch for dip or add them to the kids' lunchbox as a healthy side.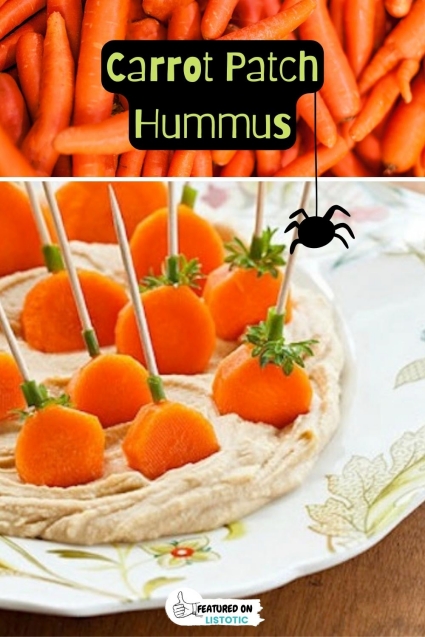 53. Puking Monster Melon
Out of all of the creative watermelon displays I've seen, this one is my favorite for Halloween. It's actually pretty manageable, too. The only carving required is the monster mouth. Use the watermelon and other fruit to fill and let spill out of its mouth for display.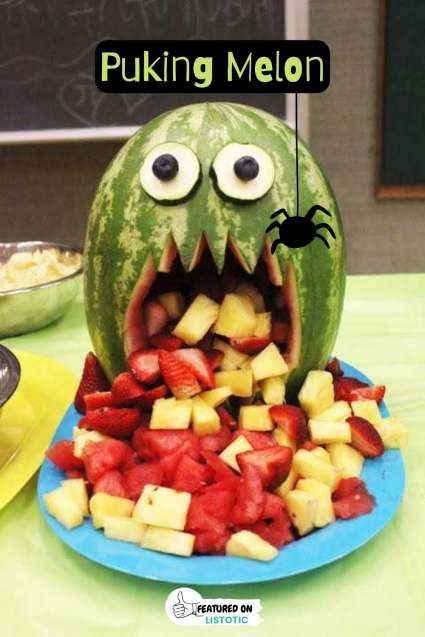 54. Cottage Cheese Ghost
A cute Halloween snack, especially for the really little ones! Use cottage cheese as your paint and a plate for the canvas. Perfect for a ghost!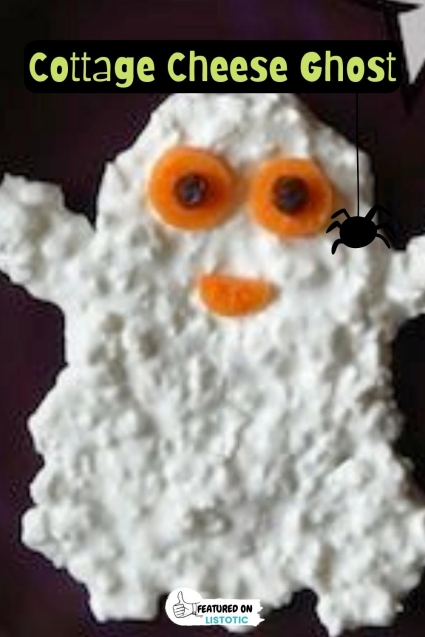 55. Jack O' Lantern Fruit Bowl
Just like the veggie jack o' lantern tray, you can also do this with fruit. I love how this one is placed in a bowl with orange slices, apple wedges, grapes, and a green apple for the stem.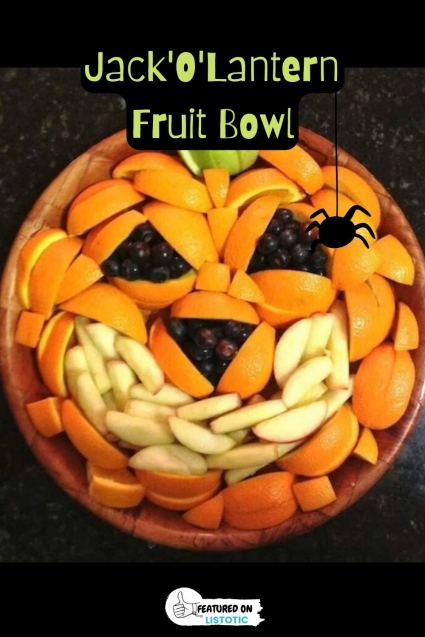 56. Frankenstein Veggie Platter
With all of the candy being passed around, a veggie platter really is a nice change. Make it fun and the kids will love AND eat it!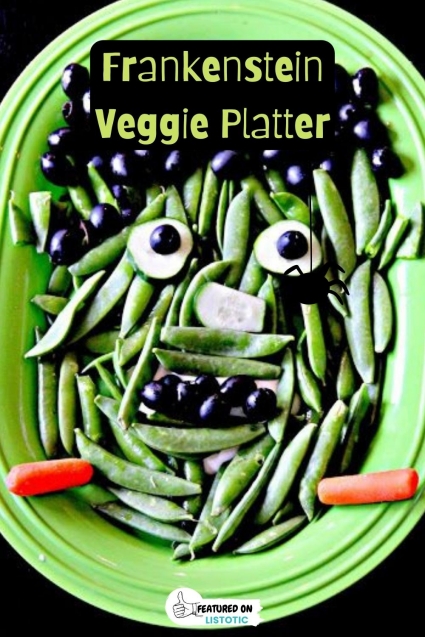 57. Zombie Eyeballs
Sometimes all you need is a sign! There's nothing special about these grapes, but the "Zombie Eyeballs" sign makes them seem disgusting! As a result, they are perfect for a Halloween party table.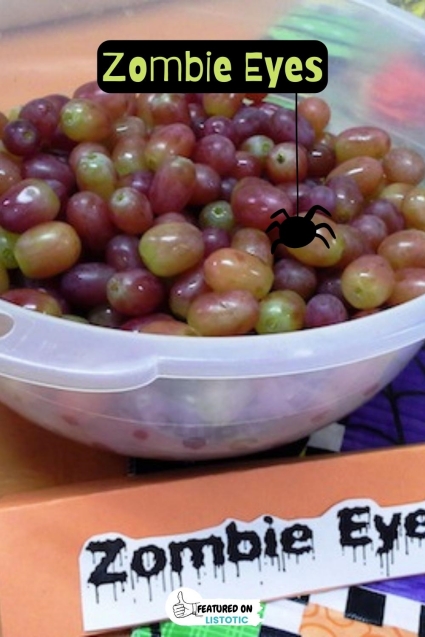 58. Sand"Witch" With A Celery Broom
By now you've probably seen the cheesy witch brooms, but you can also do this with celery. First, cut up the ends a bit and serve with peanut butter for a dip, or perhaps alongside this enchanting grilled cheese sandwich.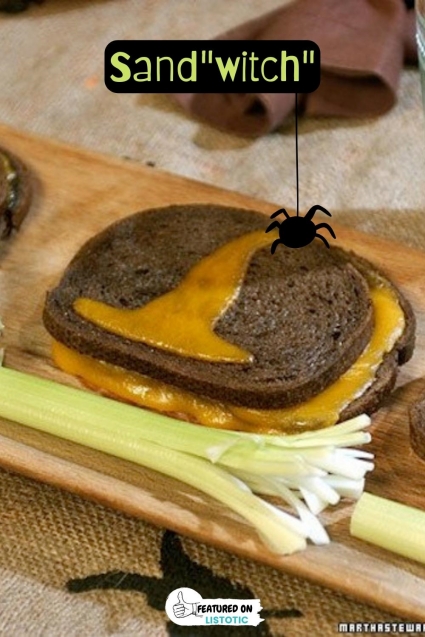 59. Owl Crackers
How cute for any Fall party or after school snack! Crackers, cream cheese, raisins, and almonds; all stacked together to create these adorable owl crackers.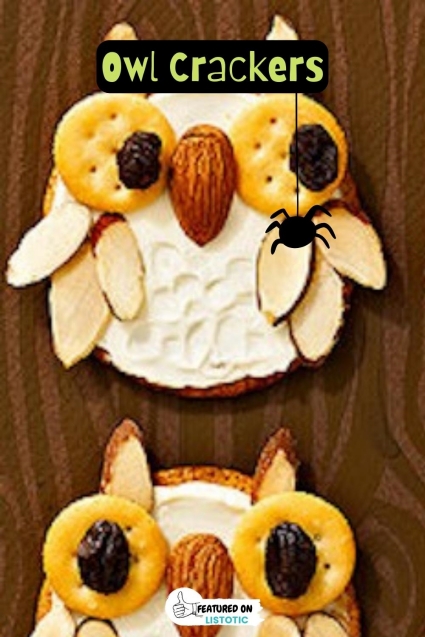 60. Edible Eyeballs
Add edible eyeballs to just about anything to create fun snacks for Halloween! Or, you can use smaller candy eyes from Amazon. They can also be purchased from craft and hobby stores and some supermarkets. If you are so inclined, you can also make your own with royal icing and black food coloring.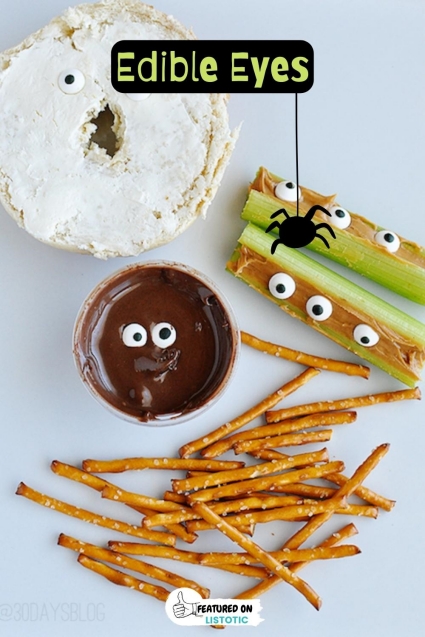 61. Fruity Pumpkin Afro
What a unique way to display fruit kabobs for a party! Simply, stick your skewers right into the top of a pumpkin. Certainly, this could be the party table centerpiece! This is a favorite healthy Halloween treat because it looks so great on the table plus it tastes amazing!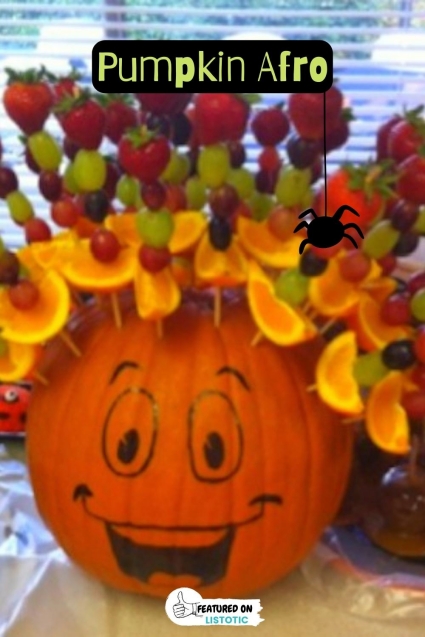 62. Pumpkin Granola
Now, THIS is my kind of Fall treat! You could eat this for breakfast with fresh fruit, or use it on top of yogurt or vanilla ice cream. In any event, make a large batch and pack it away in jars to give away as gifts, too.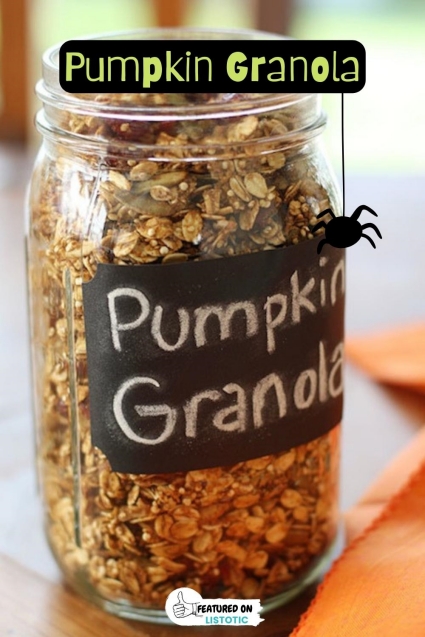 63. Fruity Eyeballs Healthy Halloween Snacks
Green grapes and blueberries make for the perfect monster eyeballs! What a healthy Halloween treat this is! I like the idea of freezing them for punch, but you could also use them as an ice replacement in the kids' drinks.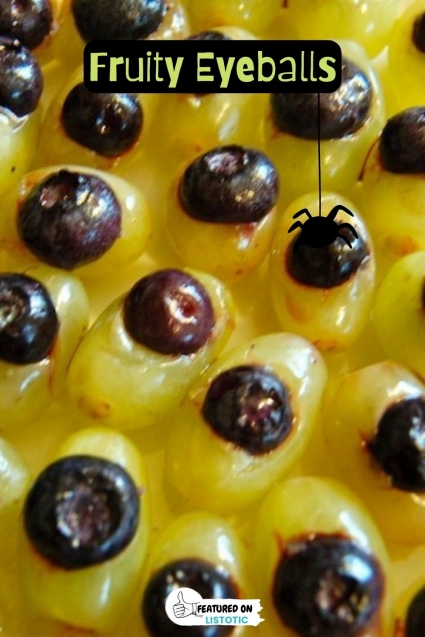 64. Spider Cheese Balls
First, cover your favorite cheese ball recipe with a black olive diced up to look like a creepy little spider. Next, you can place the cheese on a carrot disk, cucumber disk, or cracker round. I love this idea because they make great finger food appetizers!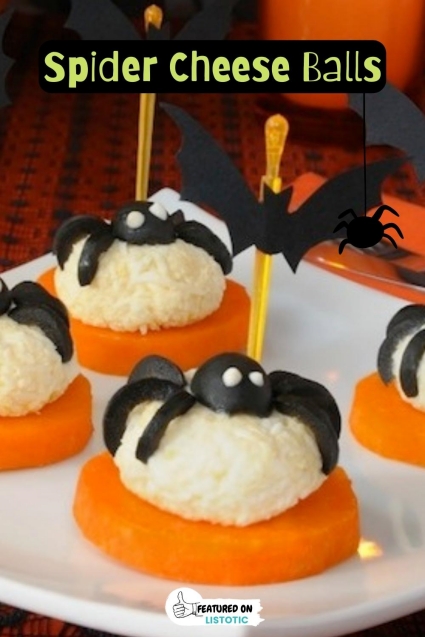 65. Pizza Skulls
How awesome are these?! You really can't go wrong with pizza for Halloween, especially when it's in the form of a skull and stuffed with cheesy goodness. In fact, check out the recipe and instructions over at Hungry Happenings! Here is a skeleton pan from Amazon.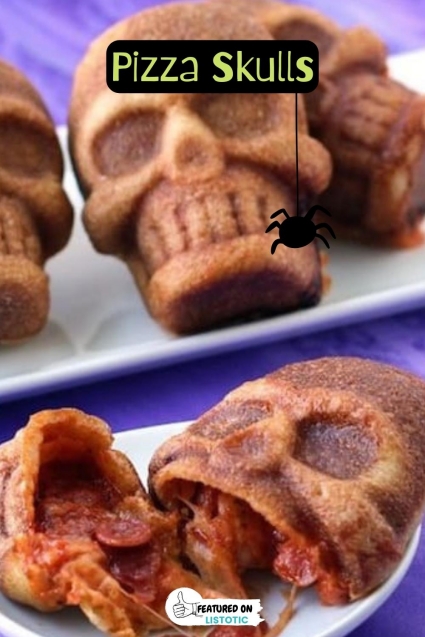 You thought we were done? Here are a few more healthy Halloween snack ideas
66. Halloween Quesadilla
First, this Halloween Quesadilla is super easy to make, and you can make them so much fun! Second, the kids can even help carve faces into the tortillas and make them look like Jack-o-lanterns. As a result, create your very own healthy scary, or spooky-faced Halloween Quesadilla. Get the step-by-step instructions at One Little Project.
67. Chocolate Bat Energy Bites
Chocolate Energy Bat Bites use a few simple and easy ingredients you most likely have on hand. Serve them at your next Halloween party or as a fun after-school snack. Get the recipe for these tasty bites at
Chelseas Messy Apron
.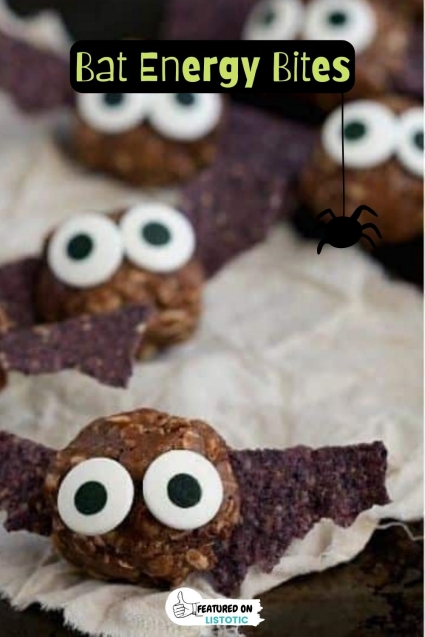 68. Halloween Roasted Veggies
These sweet potato jack-o-lanterns, beetroot witch's hats, and spooky potato ghosts. Halloween Roasted Veggies are a healthy Halloween treat or dinner side. For example, maybe your picky eater will even give these a try! Head over to Live Eat Learn for the details!
69.
Cinnamon Sugar Flour Tortilla Crisps
This easy Halloween treat is too good not to share! Cinnamon sugar crisps made with flour tortillas, cinnamon, sugar, and butter. You've got to try them with Fruit salsa for an extra special treat. (see number #70 below) Use a bat or ghost cookie cutter, the choice is yours! As a result, this easy recipe can be used any time of the year.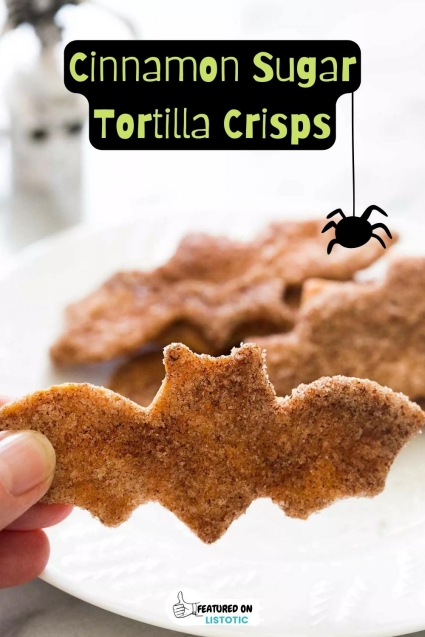 70. Easy Fruit Salsa Healthy Halloween Treat
Anything red around Halloween can be super creepy. This loaded fresh fruit and berry salsa is the perfect pairing with the cinnamon sugar tortilla crisp bats! (see healthy Halloween treat #69)Additionally, this easy fresh fruit salsa recipe is a crowd-pleaser. As a result, everyone will want the recipe! You can customize it to your liking as well. I've made it with mangos, kiwis, and diced peaches. Get this bloody, oops I mean yummy… recipe at Spend With Pennies.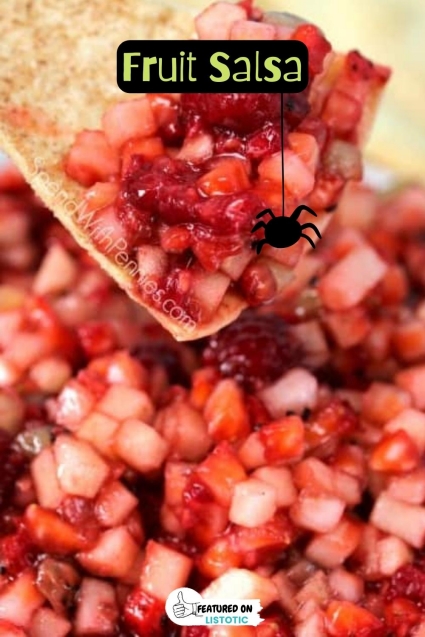 Lastly, here are some other Halloween Ideas you might be interested in.