Last Updated on September 12, 2023
Although it's still August (and boy does it feel like it!), with Fall finally approaching, I've already started planning my Halloween party, especially my Halloween party appetizers. I really enjoy getting creative with food and making it as creepy as possible in celebration of the changing season.
I'm not sure why Halloween is my favorite "holiday", but it may have something to do with Snickers. I definitely have a sweet tooth! Sometimes I last a few days without rummaging through the kids' candy bags, but I eventually end up with my fair share of chocolate by the time Thanksgiving hits. And, although I do love me some sugar, I also try to balance it out with a least a few healthy things thrown in the mix.
Deviled eggs are my go-to party appetizer because even though they smell foul sometimes, they're always a hit! And, as you can probably see by now, there are so many creative and fun ways to decorate them for Halloween!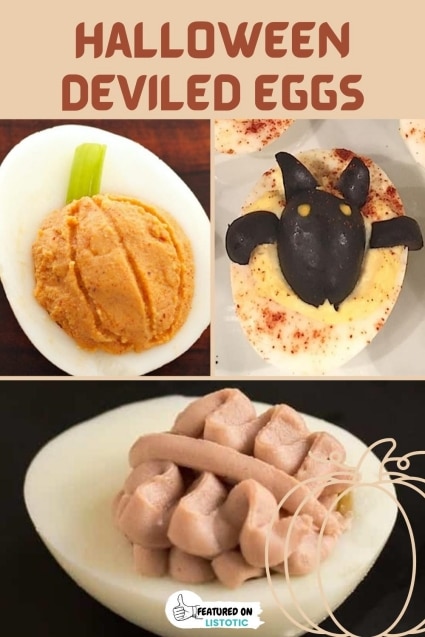 1. Owl O' Ween Deviled Eggs
Aren't these just the cutest!? Not quite as creepy as some of the others, but they're adorable for Halloween or Thanksgiving.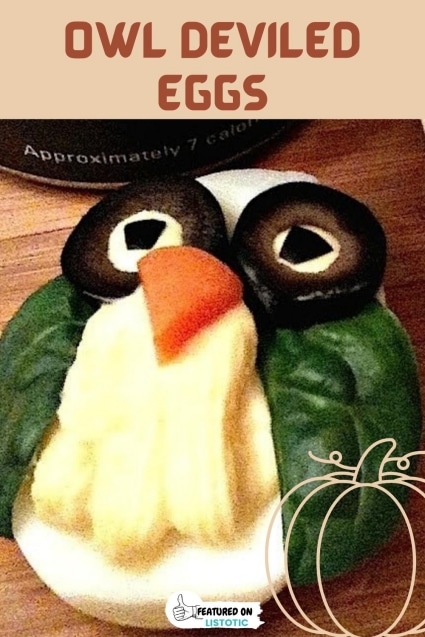 2. Olive Spider Deviled Eggs
These creepy deviled eggs are probably my favorite because they're super easy and kids love them! Simply whip up your favorite deviled egg recipe (this is a good one), and cut several black olives in half, using one half as the body and the other half to make 8 little spider legs. Sprinkle with paprika for the finishing touch.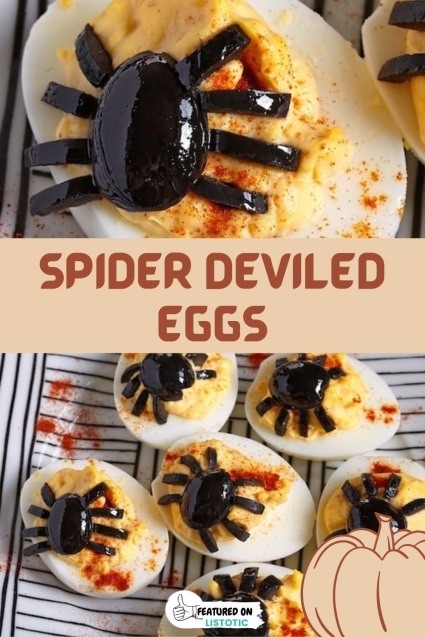 These spooky monster eyes may not look appetizing, but they're delightfully delicious! Don't let the green scare you away, it's just avocado. 🙂 Check out the recipe and instructions over at Scattered Thoughts of a Crafty Mom.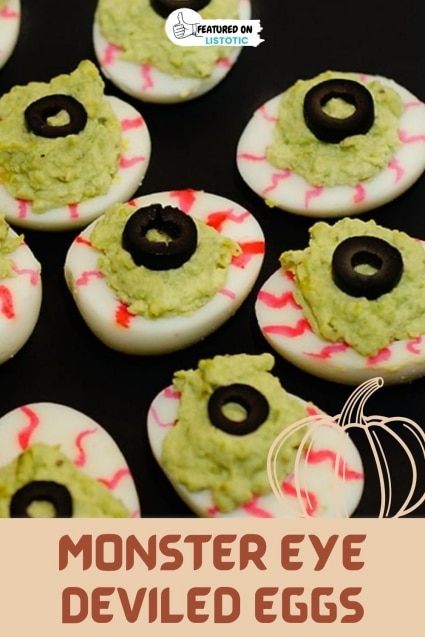 Is the color of these Brainy deviled eggs spot on or what?! It really is kinda grossing me out… in a good "creepy Halloween" kind of way. You will find the recipe and full instructions for these scary deviled eggs over at Brit+Co.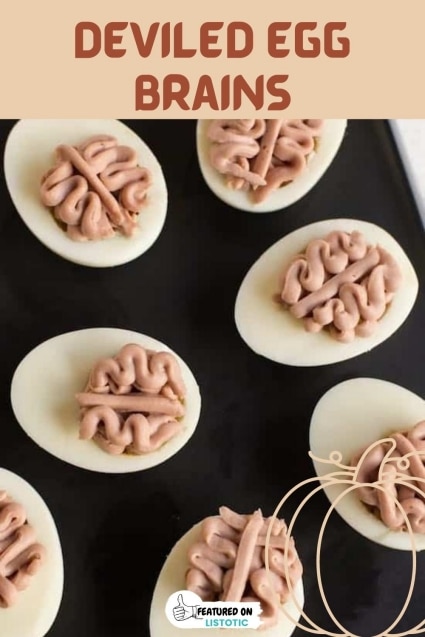 5. Rotten Deviled Eggs
Ok, these eggs aren't actually rotten, but they sure do look like it! Which is kind of the whole idea here, right? You can find the detailed instructions on how to get that spider web effect on your egg whites over at Tablespoon. For the yolk, simply add in a little green food coloring to your favorite deviled egg recipe (this is a good one), or better yet, use avocado to get that ghoulish green color. Top with chia seeds for the finishing touch.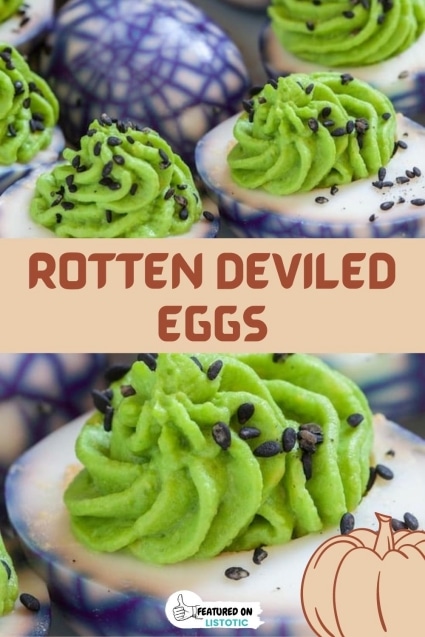 You won't believe how easy these Halloween party appetizers are to make, and WITHOUT food coloring! They're perfect for any Fall holiday party, but if you'd like to make them a little more spooky for Halloween, I've seen them made into jack o' lanterns by cutting sea weed or black olives into face shapes. Check out the recipe and instructions for these darling little deviled eggs over at Build A Menu.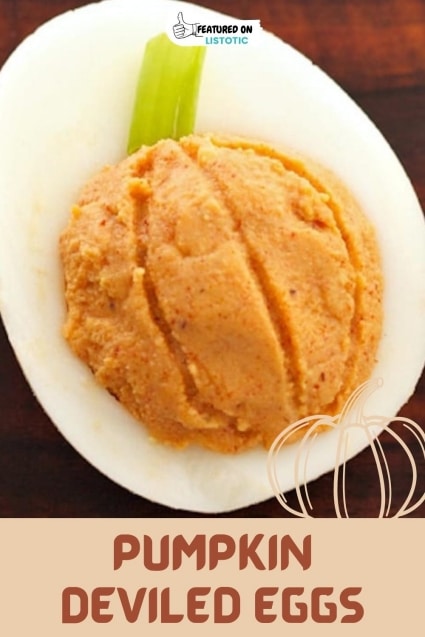 7. Devil Deviled Eggs (get it?)
Simply throw together your favorite deviled egg recipe (like this one), and cut devil horns out of red bell peppers to creative these evil eggs. I think a devil goatee made out of bell pepper would also be delightful here. Simply use diced black olives to make the face, and voila!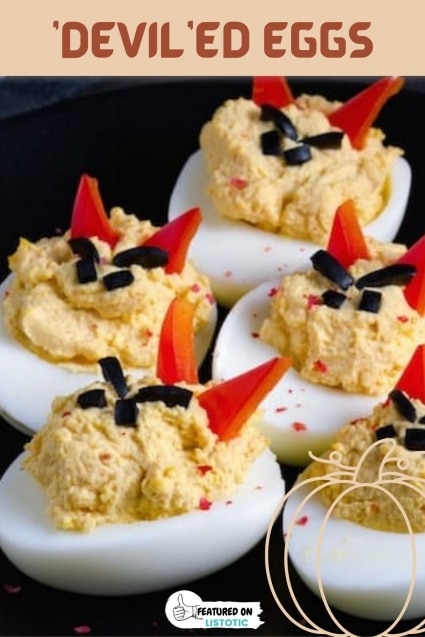 Are you seeing a trend here!? Black olives seem to be popular in all of these Halloween deviled egg recipes, and I can see why. They're super tasty and easy to manipulate into spooky little creatures! I found these olive bat deviled eggs over at Marie Spano, along with a few other cute party food ideas.