Last Updated on January 2, 2022
The perfect finger food for a crowd…Italian Tortellini appetizer.
First, I find myself looking for quick and easy appetizers that I can throw together for a crowd almost on a monthly basis. Secondly, I just don't like the idea of slaving over a recipe that doesn't do well sitting on the counter all day, and takes maintenance to keep warm or cold while you're trying to enjoy your company. Lastly, it's also important to have an appetizer or dish that travels well when you're not the host– they're hard to come by! In this case, you have to try this Italian Tortellini appetizer recipe!
Consequently, I discovered the idea of tortellini skewers a few years ago, and have come up with what is my go-to party appetizer– Mini Italian Kebabs! Not only because they're easy to make, but these little skewers always disappear before my eyes! In addition, you could probably consider them to be the perfect finger food for a crowd.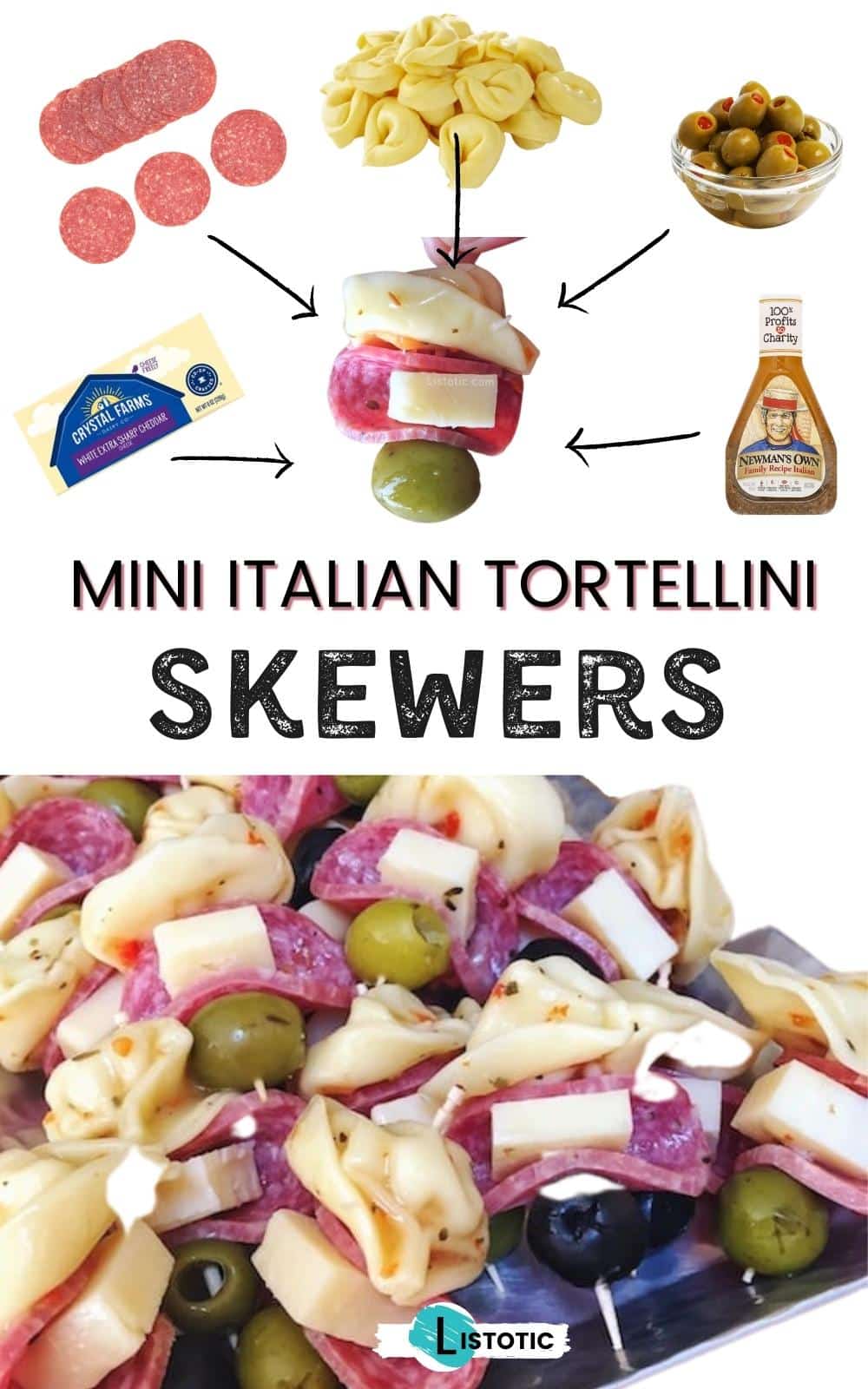 WHAT YOU NEED TO MAKE THESE SKEWERS
First off, you most likely have a few of these ingredients on hand already if not all of them. In the event that you do not have some of these ingredients, don't worry! The nice thing about this is you don't need all of these ingredients to make the perfect Italian appetizer. In addition, you can customize them to your liking or what you have on hand. For example, if you do not have green olives yet you have black olives, sub the black olives in place of the green olives! For mine, I like to use tortellini noodles, salami, green or kalamata olives, sharp white cheddar cheese, and sometimes an extra cube of pepper jack cheese for a little spice! Next, marinate your skewers in your favorite Italian dressing. In addition, you could also make your own fresh Italian dressing for a homemade version like the one below.
Homemade Italian Dressing to perfect your Mini Italian appetizer!
Next, check out this video tutorial for easy step-by-step instructions. To demonstrate, the perfect placement of items does exist for this mini Italian tortellini skewer appetizer! Our Italian Tortellini Skewers make a great quick and easy appetizer for summer BBQs or Potlucks. Perfect for picking up and eating on the go, each skewer is loaded with fresh veggies, cheese, and pasta marinated with Italian Dressing.
Make the dressing. First, start by making the Italian Dressing and set aside.
Prepare the pasta. Second, cook the tortellini pasta according to package instructions; drain and rinse under cold water. Next, in a plastic ziplock bag, combine the tortellini and salad dressing; seal bag and refrigerate for 2 hours. Last, drain the tortellini and discard the marinade.
Assemble. Finally, on a toothpick, assemble pasta, salami, and 1-2 slices of cheese, followed by an olive. Then, serve and enjoy!
SUBSTITUTIONS + ADDITIONS
Kalamata Olives
Artichoke Hearts
Pepperoni
Bell Peppers
Mushrooms
Prosciutto
Other types of cheese (I love pepper jack or a specialty cheese from our locally owned barn)
Meat (grilled chicken or shrimp)
Balsamic Vinaigrette (instead of Italian Dressing)
Pesto (instead of Italian Dressing)
Print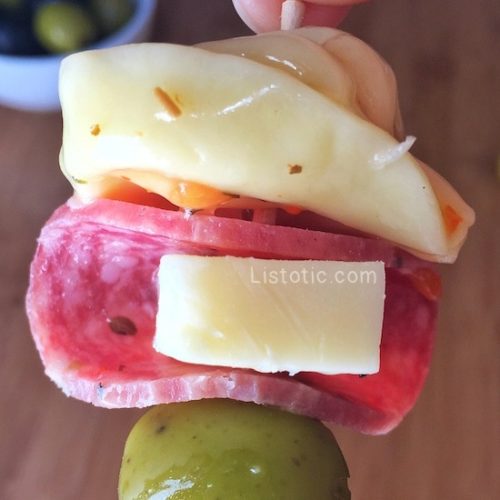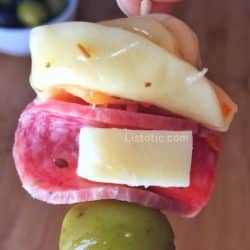 Easy Mini Italian Appetizer Skewers
Author:

Prep Time:

20 Min

Cook Time:

4 Minutes To Cook Tortolini, 2 Hours To Marinade

Total Time:

2.5 Hours

Yield:

50

Skewers

1

x
---
1

(8-9 ounce) package of refrigerated cheese tortellini
Approximately

50

salami slices (usually

2

small packages)
About

50

cubes of sharp white cheddar (I just buy a block and cut it into

1/4

inch thick pieces)

1

bottle of your favorite Italian salad dressing

1

(6 ounce) can or jar of medium olives (green, black, pimiento stuffed, kalamata, or a combination– your choice!)
Toothpicks
---
Instructions
Cook the tortellini according to the package directions (about 4 minutes). You do not want to overcook them! They're more likely to fall apart if they're too soft.
After cooking, drain the water and let the tortellini cool on the counter for about 10 minutes before placing them in a large ziplock bag or bowl. Dump the entire bottle of Italian dressing in with the tortellini, and let them marinate for at least 2 hours (or overnight) in the refrigerator.
Next, on each toothpick, thread the marinated tortellini, salami, cheese slices, and olives however you would like. As you can see in the pictures, I like to stuff the cheese in-between the salami slices. I also place the olives on the end so that picky eaters can pull them off.
Last, arrange the skewers on a platter, and watch as they quickly disappear! You can make these ahead of time and let them sit in the fridge so that you don't have to worry about food prep while you're trying to enjoy the party. 🙂
---
Notes
This also makes for a super yummy cold pasta salad! Simply combine all of the ingredients together in a bowl. You can also add things like chopped red bell pepper, cherry tomatoes, artichoke hearts or grated parmesan cheese. I'd also slice the salami into smaller pieces.
Some reviewers have said that the cheese crumbles and falls apart when placed on the toothpick. I haven't had a problem with the brand of sharp white cheddar that I've used in the past, but consider this when buying your cheese. Mozzarella would probably be a safe bet if you're worried about it.
For vegetarians, consider making a handful of skewers without the salami.
If you are serving mostly adults, a spicy salami is the way to go!
If you plan on taking pictures of these beautiful skewers, get a manicure first. Geez! My poor neglected nails.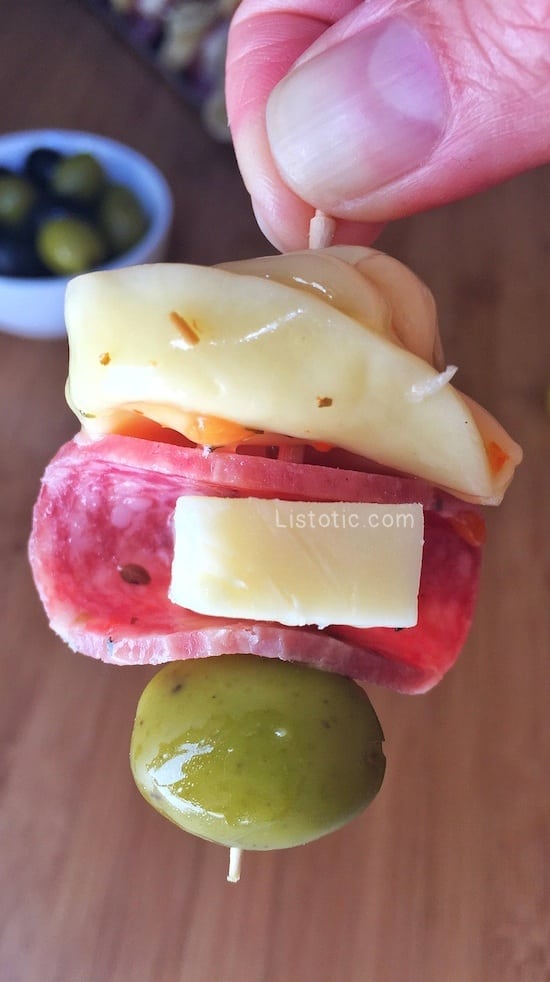 So, what do you think? Are you going to whip up mini skewer Italian appetizers?
Lastly, make sure you check out this list of our must-try cold dips or individual charcuterie boxes for your next gathering! From time to time, I like to make this as a fun appetizer for friends or at home for a quick family snack. After all, I love an appetizer that is no fuss and is quick to put together! Ultimately, this is an appetizer you won't have to worry about.
Next, be sure not to miss a recipe! Follow us on Pinterest!