Last Updated on June 11, 2020
2. Spider Cookies
These are the easiest and cutest Halloween cookies you will ever make! The instructions are pretty self explanatory, but here are a few little tips that might help.
INSTRUCTIONS:
Bake your favorite cookies (I like to use peanut butter cookies for this but sugar cookies also look nice). I usually just use store-bought refrigerated cookies because I'm lazy.
After your cookies are done baking, immediately press the middle of each cookie down with the blunt end of a spoon to create a dome for your spider's body to rest.
Let your cookies cool to just above room temperature, and then place your spider's body (chocolate truffles, malt balls, or small peanut butter cups) onto the center of each cookie. You want the cookies to be just warm enough to melt the chocolate on the bottom a bit so that it sticks to the cookie.
Use chocolate frosting to pipe on the legs and attach the candy eyes to the spider's body. You can also use the chocolate frosting to help adhere the bodies to the cookies if they're not sticking well.

3. Spider Cupcakes
These spooky cupcakes are a huge hit at Halloween parties! They're also super easy to make, and if you don't feel like baking you can simply buy chocolate cupcakes (or any flavor of cupcake you would like). Simply spread on a flat layer of chocolate frosting, generously sprinkle black sugar sprinkles on top, and use small red candies like Red Hots for the eyes (or pipe on red frosting if you'd prefer). Finish them off with black licorice lace for the legs. I told you they were easy! 🙂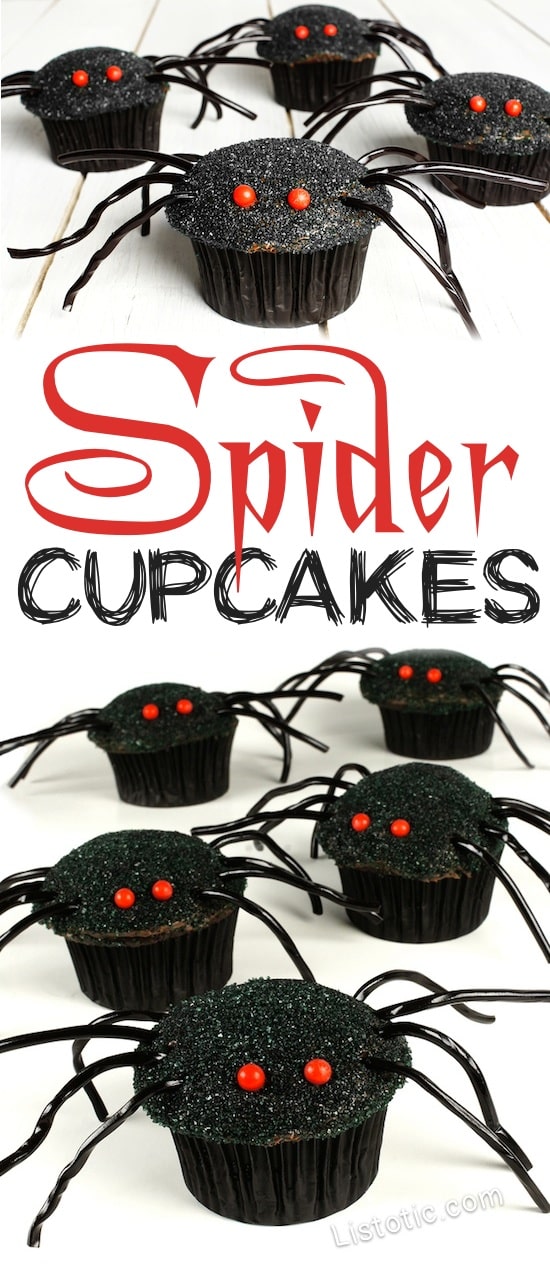 4. Spooky Cookies
Are these ghost cookies awesome or what?! Although they look a little complicated, they are actually really simple to make. You can make everything from scratch, or just buy pre-made cookies and frosting like I do. You will just need large cookies (preferably chocolate), large marshmallows, white frosting, and a black icing pen. Let's get started!
INSTRUCTIONS:
Get your cookies ready (I use store-bought) by placing them on a large piece of parchment paper. This will get a little messy! I find that large, chocolate cookies work best because it makes the features of the "ghost" really stand out.
Use store-bought vanilla frosting to glue a single large marshmallow onto the center of each cookie.
Heat what's left of the frosting in a bowl in the microwave for 30-45 seconds. It should be runny enough to run down the sides of the cookies.
 Use a spoon and pour the frosting over each marshmallow until it runs down the sides.
Let them cool for about 10-15 minutes, and then use a black icing pen or melted chocolate to draw on the eyes and mouth for each marshmallow ghost.

View the entire list of Super Easy Halloween Treats for Kids and Adults.
---