Last Updated on November 5, 2021
The best no-bake cookie recipe for chocolate cravings. Easy step-by-step instructions on how to make chocolate no bake cookies.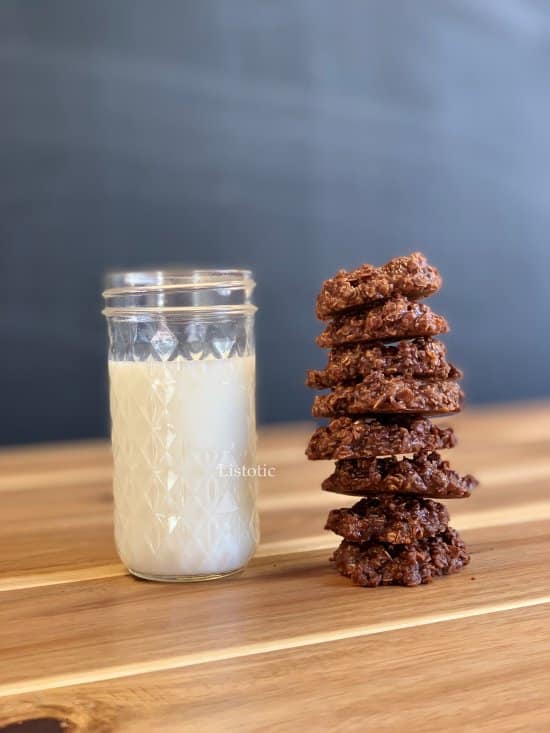 I crave chocolate from time to time… well let's be honest, ALL of the time! When a chocolate craving is strong it calls for a recipe that uses a good amount of cocoa powder, it's sweet, dense, and in my hands asap! Mom's classic no-bake chocolate cookie recipe is just what the doctor ordered for this type of situation.
No-bake chocolate cookie recipe is just what the doctor ordered.
I can remember during the summer, would search the kitchen for something sweet to eat while Mom and Dad were away at work. There was usually something to be found in a white rectangular Tupperware on the counter, the back right corner of the freezer, or in one of the tallest cupboards. With any luck, we would find Mom's classic no-bake chocolate cookies. I can remember one day we were craving chocolate. Opening the baking cupboard we could smell the rich chocolatey aroma of the cocoa powdered. I was too young to know better when my sister said I should try it. When I took a whiff of the cocoa it smelled just like fudge. When something smells good your brain tells you to go ahead and try it. So I did. Yeah… that was a mistake.
Let me warn you, plain cocoa is very bitter.
If you haven't tried it before I'll tell you it's bitter. Very bitter. There is a reason we add sweetener to cocoa powder and there is a reason there are 2 cups of sugar in this recipe 😊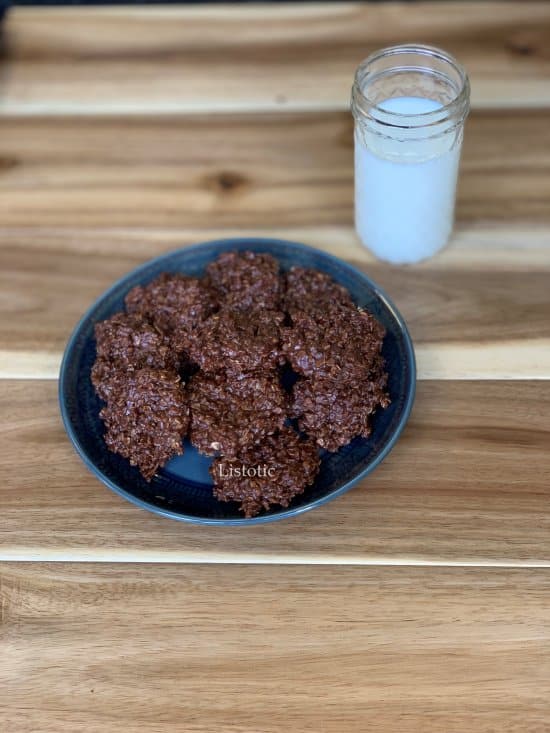 Mom's classic No-Bake chocolate cookies recipe is one of those super simple recipes that you can keep all the ingredients on hand for any chocolate craving. This is the perfect recipe to make when you aren't wasting a ton of dishes to clean and there is no need to warm up the oven. Kids love to help make this recipe and it is a good lesson in measuring!

You'll find all the ingredients for Mom's classic no-bake chocolate cookie recipe in your cupboard.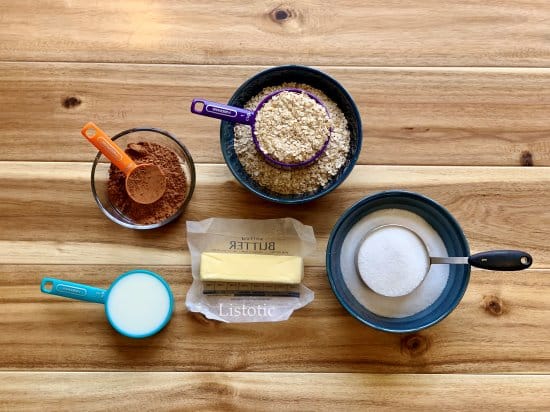 No-Bake Chocolate Cookies
Ingredients
2 cups of sugar
6 tablespoons cocoa
½ cup milk
½ cup butter
Cook 3 minutes
Add 1 tsp vanilla
3 cups of quick oats
Instructions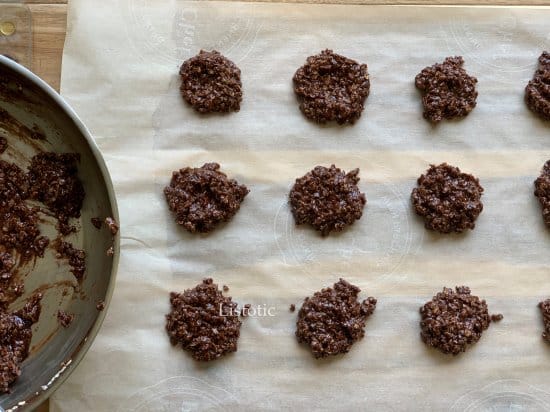 On your stovetop melt the butter and stir in the sugar. Add cocoa and milk. Mix well until everything is melted and the mixture begins to simmer. Allow it to simmer for 1-3 minutes before stirring in the oats. Drop small spoon fulls on waxed paper to cool and dry.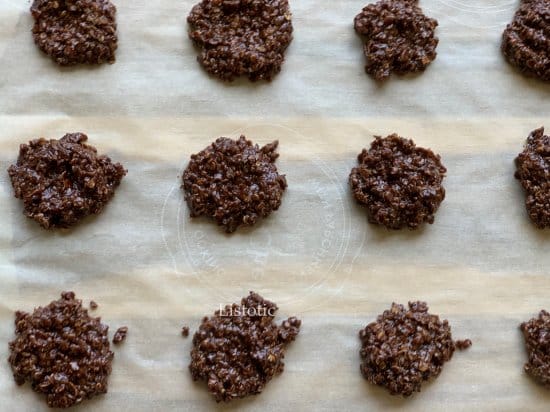 In order to pick these no-bake chocolate cookies up off the wax paper, they must be fully dried (although that has never stopped me from trying one while they are a gooey mess). Place cookies in an airtight container, once they have been cooled.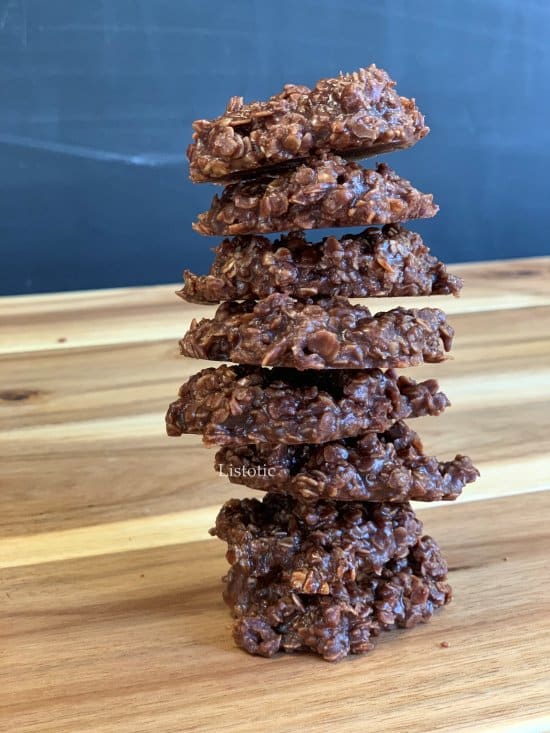 WATCH THE VIDEO BELOW TO SEE HOW TO MAKE NO-BAKE CHOCOLATE COOKIES
Mom's Classic No-bake chocolate cookies are great to pop in the freezer after they have cooled and dried!
Note: if you live in a humid environment these cookies might take extra long to dry. To help I recommend letting the mixture simmer a few minutes longer before removing from the stovetop heat.
These are great cookies to make for parties and holidays. They were even featured on a Listotic list of Fourth of July Cookies!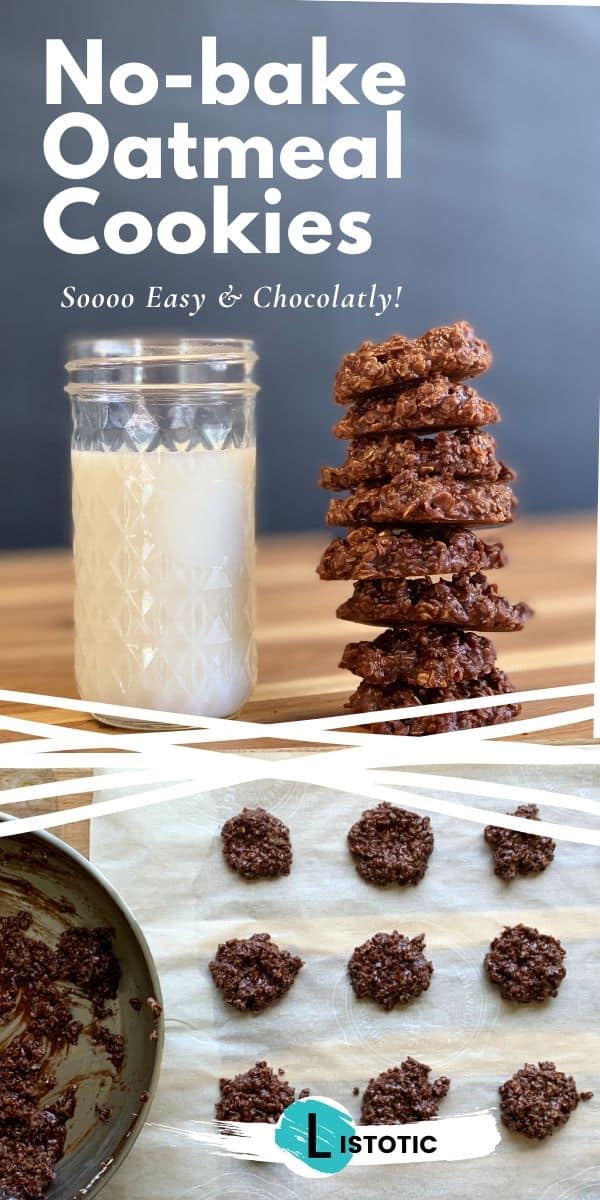 Watching your sugar and fat? Check out this 3 ingredient healthy no-bake chocolate cookie recipe from Listotic. It's quite different from Mom's Classic no-bake chocolate cookies but the cocoa and oatmeal give this cookie a similar texture.